Google is the largest search engine in the world with over 5.6 billion searches per day.
They have built a multi-billion dollar business around searching the web. This has enabled Google to create a number of great free SEO tools that SEOs, webmasters, and agencies can use to optimize their website, rank better, and get more traffic.
In this guide, I am going to show you all of Google's free SEO Tools:
1. Google Keyword Planner
The Google Keyword Planner was built by Google for its Adwords (now Google Ads) platform.
The Keyword Planner tool will allow you to search keyword volumes, CPC (cost per click) prices, and keyword competitiveness. In order to use the Google Keyword Planner, you must have a Google Ads account, which you can register for free, here.
Once you have a Google Ads account, you can head to the Keyword Planner here.
You have the option to choose between 'Discover new keywords' and 'Get search volume and forecasts'.

If you aren't quite sure what keywords you are looking for then choose 'Discover new keywords'.
Enter products or services that closely relate to your business and the tool will look for keywords that you want to rank for.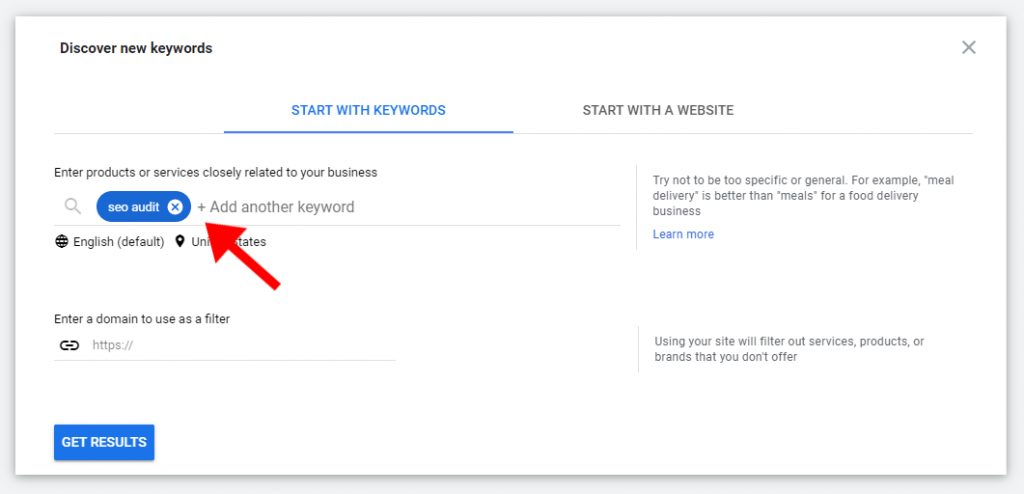 Alternatively, you can enter your website or a competitor's website to get keyword ideas. Google will crawl the website and try to find similar keywords that have volume.
Click the 'Get Results' button and Google will pull back a list of keywords, their monthly searches, that competition, and the CPC prices for Google Ads.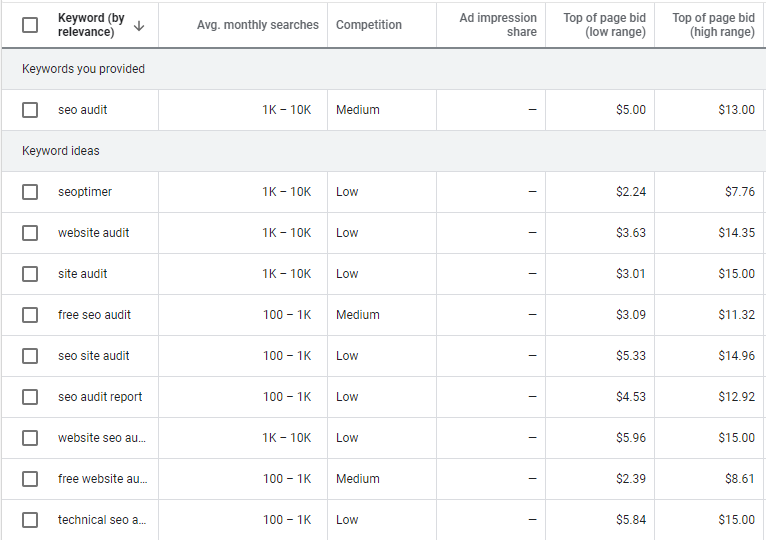 This can give you a great idea of what keywords you should target on your website and/or Google Ads.
If you have a list of target keywords or you know which keywords you want to target, then choose 'Get search volume and forecasts'.
It will pull back a similar data with the keyword list you entered into the tool.
2. Google PageSpeed Insights
The next free tool from Google is called Google PageSpeed Insights.
This tool will scan your website to test its performance, speed, and load times. This is a great free tool for webmasters, developers, and site owners who want to test their site speed to make sure it's not too slow. Having a slow website is very bad for SEO, so Google provided this tool to keep webmasters in the know.
The tool is really easy to use.
Simply head to Google Pagespeed Insights, enter in your URL, and click 'Analyze'.

It will scan a number of different factors and pull back an overall score and how long it took to load the page.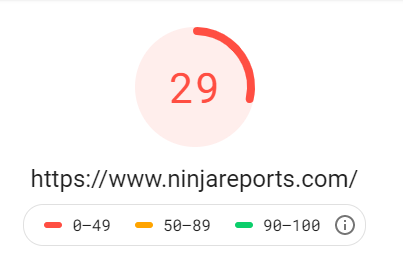 The score is a scale from 0-100, 100 being the "best" or fastest. It's important to mention that the actual speed is more important than the score itself. If your website takes longer than 4-5 seconds to load, it's too slow.
If you scroll down, you will see a table of opportunities that Google recommends to make your website faster.
You can see we have a lot of render-blocking resources, some unused CSS, and a few other items we could optimize for faster speeds.
This is a good free tool for anyone looking to increase the speed of their websites.
3. Google Analytics
Google Analytics is another great free SEO tool by Google that allows webmasters to track their website traffic, activity, and a whole lot more.
You can easily install Google Analytics on your website and see where people are coming from, what pages they are visiting, and a treasure trove of marketing information that is vital to growing your online presence.
Google even provides a free Google Analytics for Beginners course if you are interested in learning more about this tool.
Once you install the small javascript code on your website pages, you will be able to see shopping behavior, historic traffic and a ton of great info.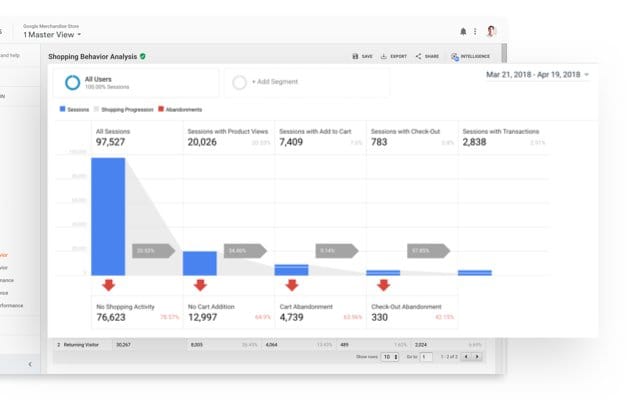 You can even set up goals, events, and alerts when certain actions take place. It's a very powerful free tool and highly recommended for any webmaster.
4. Google Search Console
Google Search Console (previously Google Webmaster Tools) is a free tool provided by Google to manage your website's presence in Google.
With Google Search Console, you can submit your sitemap to Google, view keyword rankings, traffic, view core web vitals, see errors, schema data, and more.
On the performance tab, you can see what queries people are searching for to find your website, where you are ranked, and a ton of other great information for SEOs and webmasters.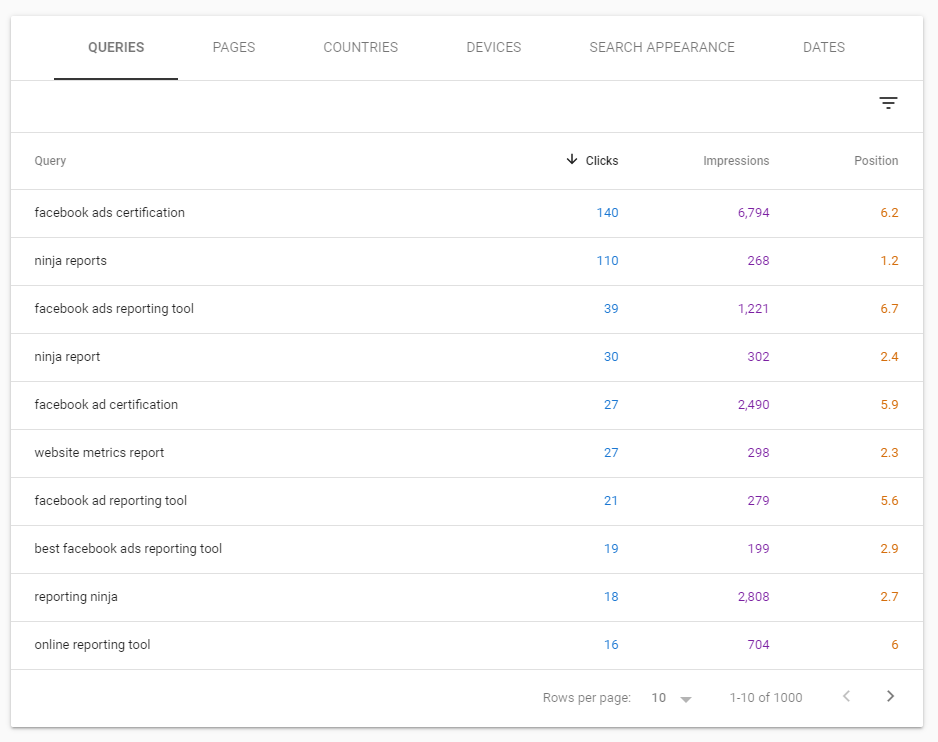 There are a number of other data sets you can view about your website in GSC:
Coverage
Core Web Vitals
Mobile Usability
Breadcrumbs
Logos
Review Snippets
Sitelinks Searchbox
We have a great guide on Google Search Console that goes into all of this data and how to use it to manage your website in Google Search, Images, and other Google products.
5. Google Data Studio
Google Data Studio may still be one of the most powerful reporting tools available…and it's a completely free tool from Google.
Google Data Studio will allow you to connect multiple data sources and create stunning marketing reports, SEO reports, audits, and almost any other type of report you can think of.
They even have a bunch of great templates that you can choose from or you can create one from scratch.

Simply click on the template and then you can add your own data sources to reveal stunning analytics and marketing reports for yourself or clients.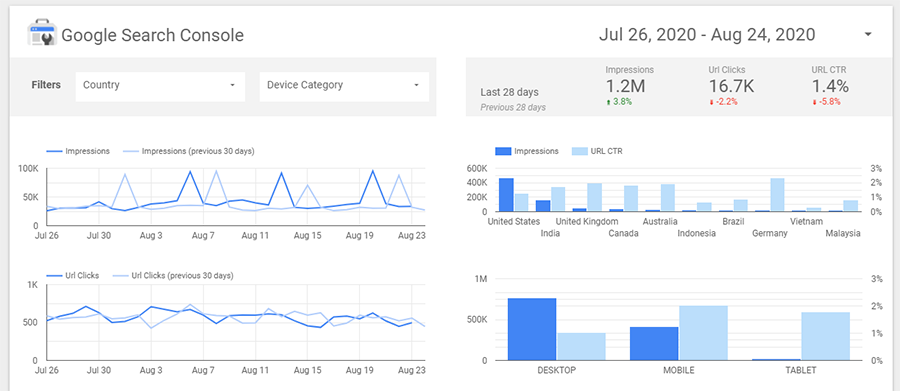 If you want to learn even more about Google Data Studio and how to use it, check out our Google Data Studio Tutorial.
6. Google Schema Data Tester (Now Rich Tester)
The Google Schema Data Tester (Now Rich Tester) is a free SEO tool by Google that will allow you to scan your website's schema tags to make sure they are set up correctly.
Schema markup is a code snippet that you add in your HTML web pages to help search engines consume your data and display this data to searchers.
You can enter in a URL or you can simply paste a code snippet to test if its set up correctly.

This test will test the accuracy of the following schema tags (if set up on your website):
Article
Book
Logos
Course
Review snippets
Organization
Products
Event
How-to
Local Business
Breadcrumbs
Recipe
Movie
Sitelink Search Box
Software App
Video
You can read more about each schema type in the Schema search gallery.
When you set up schema tags on your website, you can increase your rankings by providing more data to searchers, resulting in higher click-through rates and better rankings.
7. Google Tag Manager
Lastly, is the Google Tag Manager which is our last free SEO tool provided by Google.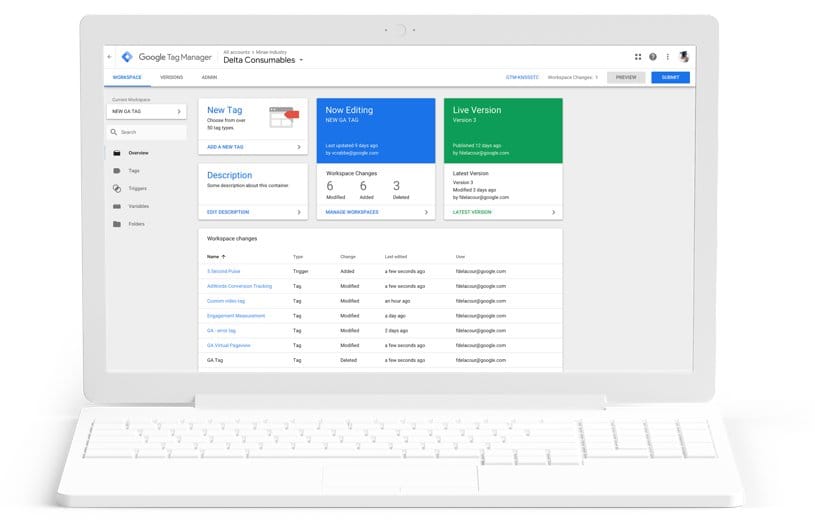 The Google Tag Manager is a powerful reporting tag that you install on your website (like Google Analytics) and it will allow you to easily set up tracking, analytics, and other connected apps without changing the code on your website.
For example, you can enable goals, eCommerce revenue tracking, and alerts, or even outbound clicks, right inside the Gooogle Tag Manager console.
There is a little bit higher of a learning curve for GTM but once you get the hang of it, its a very powerful tool for marketers.
Wrapping Up
In conclusion, Google has provided a plethora of amazing free SEO tools for webmasters, marketers, and agencies. All of the tools listed above are completely free and may only require an account to sign up.