Backlink Checker Tool
Ninja Report's backlink checker will crawl and find all your backlinks, link toxicity, link power and more.

Know Who's Linking To You
With Ninja Report's SEO Backlink Checker tool, you can find all of the websites linking to you and view vital information about your backlink profile.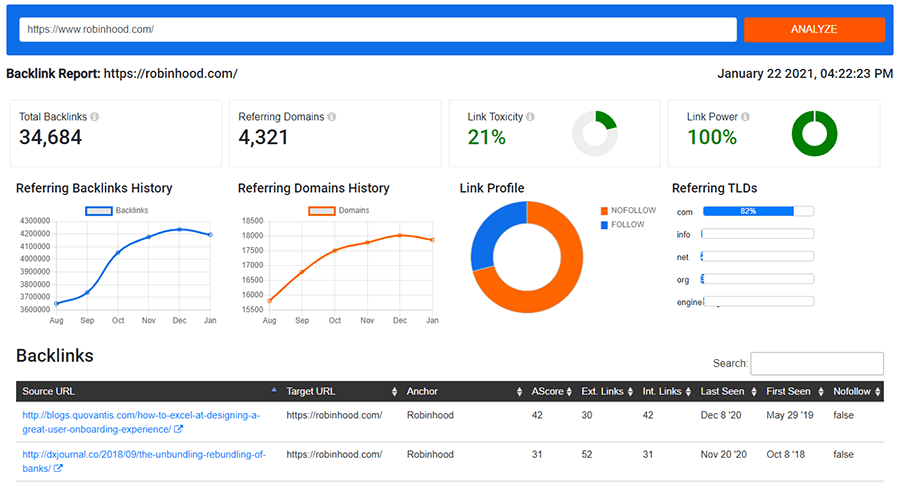 View Backlink History
The backlink checker tool will scan your URL and show you every website that is linking to your website, including the type of the, the link power, link toxicity and other vital backlink data.
This will allow you to remove toxic backlinks so they don't hurt your SEO or brand. Try our free trial today and run a backlinks report.
Toxic Links
Toxic backlinks can hurt your SEO and decrease your rankings in search engines. When a ton of spammy backlinks are pointing to your website, the big G notices.
With this tool, you can keep an eye on your backlink profile's link toxicity to make sure you are getting high quality links pointing to your website.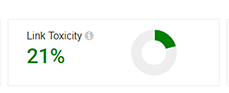 Backlink Power
Your backlink power determines how well your website can rank in search engines. Established and auhtoriative websites are the ones who rank on the first page.
The backlink power will show you how well and fast your website can rank for new and exisintg keywords.
Affordable Pricing & Plans
What Customers Say
Great SEO Tool

I save a lot of time using this product. Weekly reports of my website audit in my inbox are a dream come true for any SEO agency or marketer!
Brandon S.
Great All Around Tool

Makes audit reporting much faster than it was before with other tools. I estimate I save 10-20 minutes per report with this tool after all my client profiles were setup.
Megan R.
Easy to use and understand visual reporting tool

The easy integrations take seconds and setting up audit reports is a snap. You can get updates daily, weekly or monthly.
Mark M.
Great overall products

Organization, ease of use and easy to read and comprehend. The best easy to use marketing software in my opinion. The detail of analytics is unmatched by most competitors' websites. Love love love the audit reporting tool.
Kevin M.
FAQ
Have a question about our SEO tools or a general inquiry about Ninja Reports? It's likely someone has already asked that question and we have an answer here:
Who is Ninja Reports For?
Ninja Reports is perfect for agencies, freelancers or marketers who want to grow their website traffic with SEO tools.
Is Ninja Reports Free?
Ninja Reports offers a free 7-day trial so you can see what it can do before paying anything. Click here to sign up for our free 7-day trial.
What are Backlinks?
In Search Engine Optimization (SEO), a backlink refers to an external hyperlink from one website page or URL to another.
You can think of a backlink as a vote of confidence from another website. The more votes your pages have, the higher they often rank in search engines.
There are a number of different types of backlinks that we will get into later in this guide, but any hyperlink pointing to your website is counted as a backlink.
Why are Backlinks Important?
Backlinks are arguably the #1 ranking factor in search engines. The number, quality, and relevance of backlinks have been the most important ranking factor since the world wide web began.
It's one of the most accurate ways to judge a website's ranking power and ability. Of course, hundreds of other factors go into the algorithm but over the 15 years I have been doing SEO, backlinks have been the most important ranking factor.
That is why it's important to constantly be monitoring and building backlinks to your website to increase its ranking over time.
Measuring Backlink Power
When building backlinks to your website, its important to note the backlink power of the domain linking to you.
Link power is passed from domain to domain depending on the power of the linking domain. The more higher-powered backlinks pointing to your website, the higher your website rankings will be.
But how do you know how powerful a backlink is?
There are a few different measurement stats you can use to measure the link power:
PageRank: PageRank (PR) is an algorithm used by Google Search to rank web pages in their search engine results. PageRank was named after Larry Page,[1] one of the founders of Google. PageRank is a way of measuring the importance of website pages. Google stated they no longer use PageRank as a ranking factor, but it's been argued they they still do.
Domain Authority: Moz's Domain Authority (DA) is a search engine ranking score developed by Moz that predicts how well a website will rank on search engine result pages (SERPs). A Domain Authority score ranges from one to 100, with higher scores corresponding to a greater ability to rank.
Domain Rating: Ahref's Domain Rating (DR) is a proprietary Ahrefs' metric that shows the strength of a target website's total backlink profile (in terms of its size and quality). DR is measured on a logarithmic scale from 0 to 100, with the latter being the strongest.
What are you waiting for?
Whether you are an agency or a webmaster, you can grow your website traffic today with Ninja Report's SEO tools.