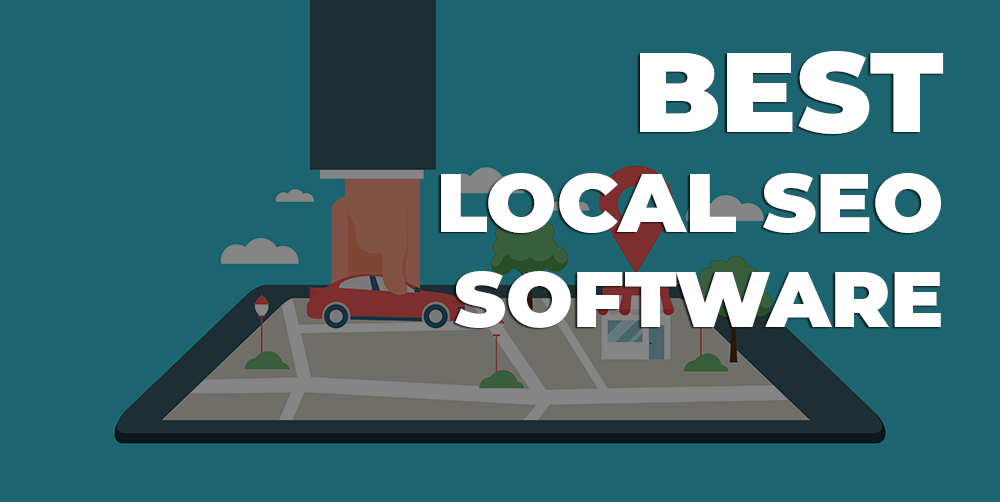 Sometimes business owners may wonder why they should focus on online visibility when most of their operations are locally based. But the truth is that most people, including customers, are becoming overly dependent on the internet for their needs.
This is why digital marketing strategies like search engine optimization (SEO) have become popular among businesses across the world.
The good news is that there are a lot of amazing local SEO tools that can help businesses improve their local marketing efforts. Such local SEO tools have features that include the ability to automatically information on listings, an automated listings finder, review management as analytic tools.
What is Local SEO?
Local SEO is the methodology of gaining traffic from search engines based on geo-located searches by customers.
Best Local SEO Software
Best Overall
BrightLocal
BrightLocal has a sophisticated local SEO function that allows you to monitor, optimize, and audit the performance of your local business.
Most Affordable
Moz Local
Moz Local guarantees business listings on all reputable online directories and aggregators.
Runner Up
SEMRush
SEMRush is also among the top SEO software for businesses that are interested in seeing their local search rankings improve
BrightLocal was founded in 2009 by Myles Anderson and ED Eliot. It is one of the most popular local SEO software with more than 60,000 businesses, freelancers, and agencies for reporting and analytic functions. It has a sophisticated SEO function that allows you to monitor, optimize, and audit performance.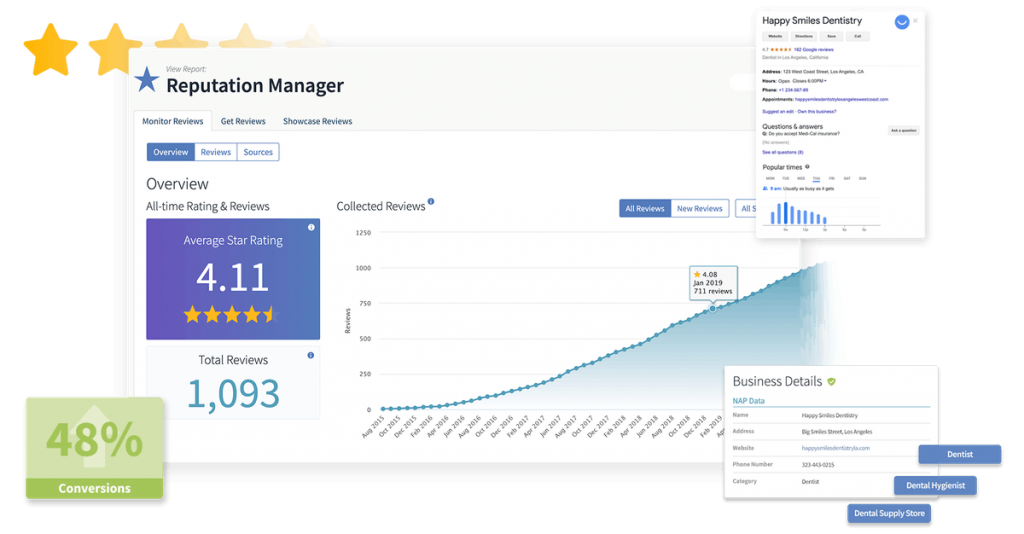 This means you are able to analyze the performance of your data like organic search results, local business listings, Google My Business (GMB) insights, social media interactions, and Google Analytics data.
Here are the common features of BrightLocal:
Lead generation tools that allow you to manage and reply to users in a single place. The lead generation widget makes it easy for web visitors to generate personalized and branded audits for their businesses.
A customized dashboard that allows you to easily monitor data
Ability to track local and mobile search rankings
NAP audits and Google My Business
New online review alerts
Ability to scan and audit directory websites for updates
White label solution for marketers
BrightLocal charges a subscription fee of $29 every month for one business or agency.
14-Day Free Trial
WhiteSpark started by offering web design services before shifting its focus to SEO services. The company now provides amazing local SEO tools aimed at helping businesses with their local search marketing efforts.
One of its notable features is the Citation Finder tool. It gives you a chance to search for citation opportunities unavailable so that you can improve your local search rankings.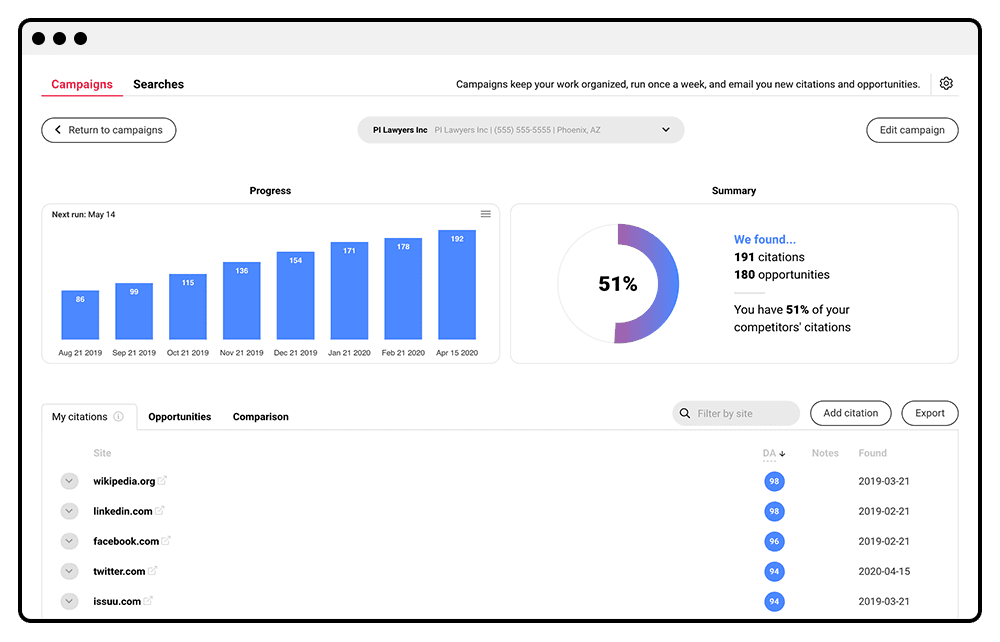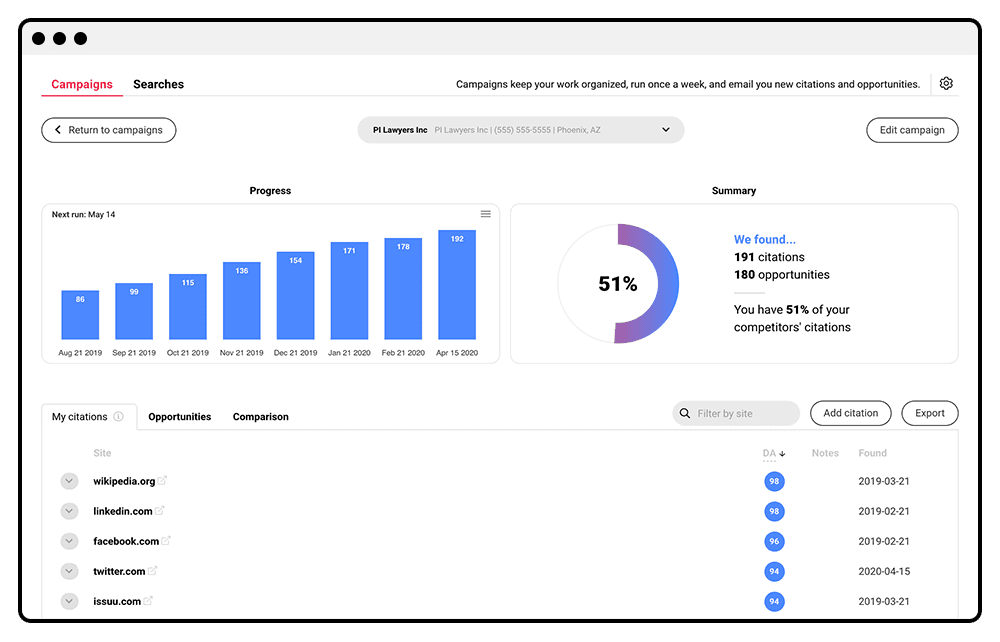 The tool is available for up to 3 free searches per day. This is ideal for someone who wants to be sure about the tool before investing in it.
Other WhiteSparks' popular tools include:
Local rank tracker: This tool makes use of your location settings to offer insights into your general SEO performance. Just like Ahref's tracker, it gives you an opportunity to understand how you measure up with your competitors. The feature also shows how you rank in different search engines.
Reputation builder: is a tool designed to prompt customers to share their reviews on a website of their choice via emails or SMSs. Besides, the feature is also able to calculate your Net Profit Score (NPS). NPS is an indicator showing customer's overall experience with your website.
Review monitoring: This feature or tool in case there is any bad or good review about your products or services. Its main purpose is to allow you to take quick action, especially in the case of negative reviews on your site.
Generally speaking, WhiteSpark has a lot of useful features that can help grow your business. Unlike most of the local SEO tools, WhiteSpark is tailor-made to suit your business needs.
VISIT WEBSITE
SEMRush is also among the top local SEO software for businesses that are interested in seeing their local search rankings improve. It is popular among brands like HP, Quora, and eBay.

SEMRush offers users information about the level of traffic, keywords, and other useful local SEO information including what your competitors are doing. This keeps you on the edge, knowing which SEO strategies to use at what time.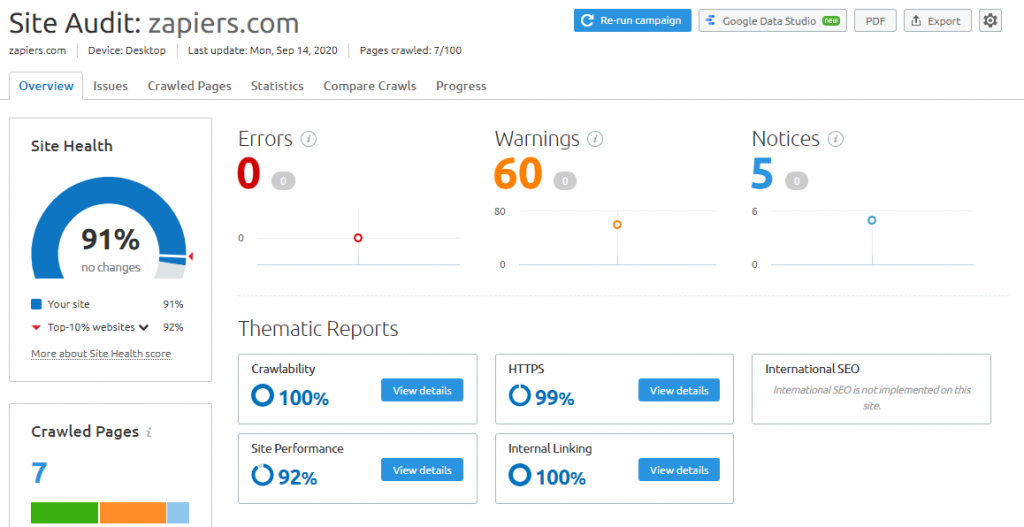 The three most popular tools or features of SEMRush are backlink checkers, competitor analysis, and keyword search.
Recently, SEMRush joined hands with Yext to start providing the management of their own listing tool. The management tool is expected to be a major boost for businesses that rely on local SEO techniques.
The tool is quite easy to use. All you have to do is to key in your data or information to search for your location. After which, the tool will give you a list of all your listings as well as the status of each website category. As soon as you are done with the edits, SEMRush will handle the rest of the work.
In order to sign up with this feature, you will be required to subscribe to a SEMRush plan that starts from $99.95 per month.
Free Trial
Moz Local is probably the most popular tool you can ever come across. The good thing about this tool is that it can be used both by big enterprises and small businesses that would like to increase their online visibility.
Moz Local guarantees business listings on all reputable online directories and aggregators. It also helps in removing duplicates and incorrect information about your website or business.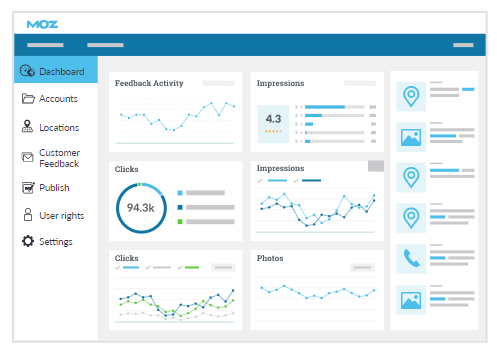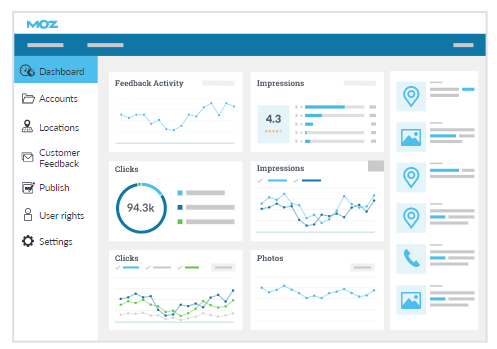 In other words, Moz ensures that all listings as consistent and correct. As if that's not enough, the tool fosters your relationship with that of your audience by providing you with instant notifications whenever there's a new review, on a real-time basis.
Below are some of the local SEO solutions offered by Moz Local to your business:
Directory and aggregator submission: It shares listings across the search distribution
Social media verification account: ensures that your business has a verified Facebook and Twitter accounts
Google My Business sync: This allows you to claim your business and synch information for correct NAP information
Local listing distribution: helps you to set up your business listing
Review monitoring: helps in monitoring your reviews as well as ratings
14-Day Free Trial
GeoRanker is a platform with several local SEO software. The good thing with this platform is that it can be used both as a local rank checker as well as a local citation finder. It operates in more than 150 countries with over 50,000 cites citation source discovery, SERP ranking reports, and local SEO competition analysis.
Here are some of the common GeoRanker features and how to use them:
Leads database: This allows you to pick a position, fill, and create a database for leads
Business database: Helps you to find and build keywords for any area of your choice found on the internet
Image crawling: This feature helps to protect you and your business from copyright infringement by keenly following how they are used on the web.
Local rank checker: This one makes it easy for you to check the position of various websites using different browsers
What are the advantages of GeoRanker?
Google Ads audit is free
24/7 customer support
You can try some of the feature free of charge
7-Day Free Trial
GrowthBar is a search engine optimization tool that makes it easy for you to search keywords, perform competitive analysis, generate content, and track keywords. The software provides a Google Chrome extension designed to give SEO analytics right from the Google search results.
This means you can basically use Google search to find any keyword that you would want to use for your marketing purposes. GrowthBar will then offer you meaningful insights concerning anything you want – whether it is information about your competitors, keyword research, and many more.
What features does GrowthBar have?
Site Inspector: After logging into GrowthBar, you will be able to see three different tabs. The first one is called Site Inspector that allows you to input any domain URL – for instance, you can type in your competitor's URL and access a lot of information about them like their organic traffic, domain authority, organic keywords, their Facebook ads, backlinks and many more.
Rank Tracker: The second dashboard has a Rank Tracker where you are able to track the performance of your SEO efforts and share the report with your sales and marketing team. You will be able to see the traffic flow of your website every month and track the rankings of your target keywords in the search results.
Content and keyword tab: Lastly, there's the last tab that allows users to take advantage of the sophisticated OpenAI GPT-3 AI technology. This AI technology helps you in creating optimized content for the purposes of ranking high in different search engines. You can input any keyword you like and instantly get the content outline you need.
In short, GrowthBar has very powerful features and technology that make your local SEO efforts easier. From finding the keywords to generating a content outline, you are assured of ranking on the first page of Google. You need at least $29 per month to subscribe to this service.
14-Day Free Trial
Synup is an all-in-one marketing software used in managing and optimizing local business content. The software works by scanning through information about your business online and shows you where your business has been listed.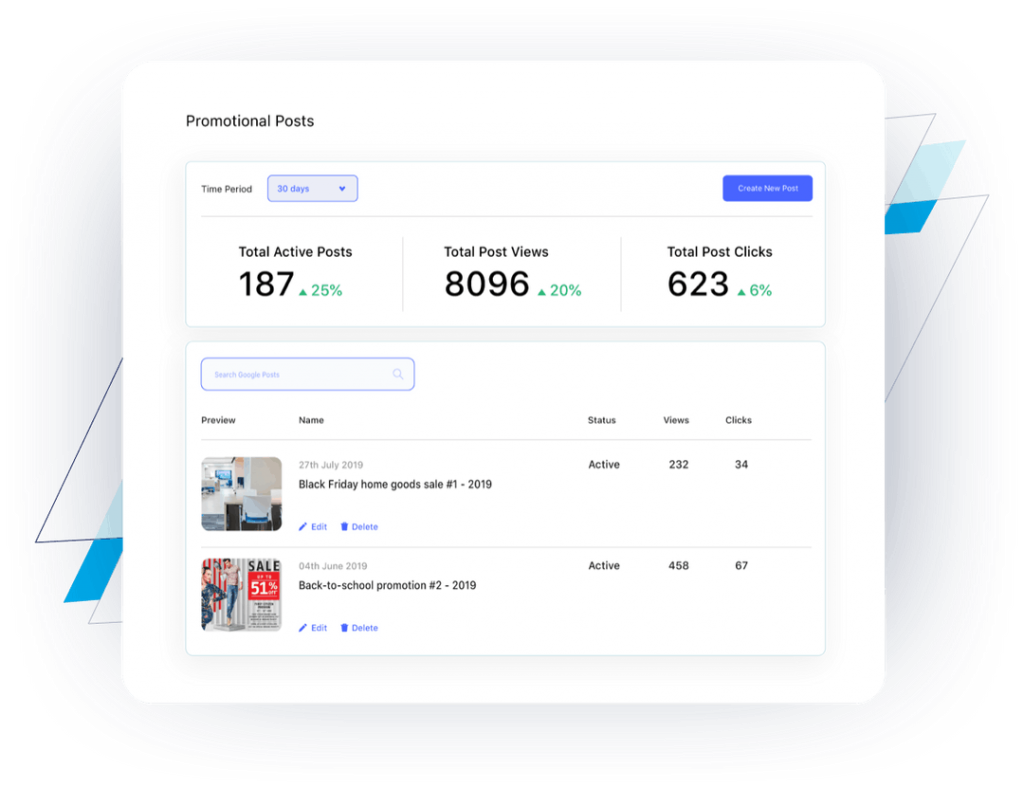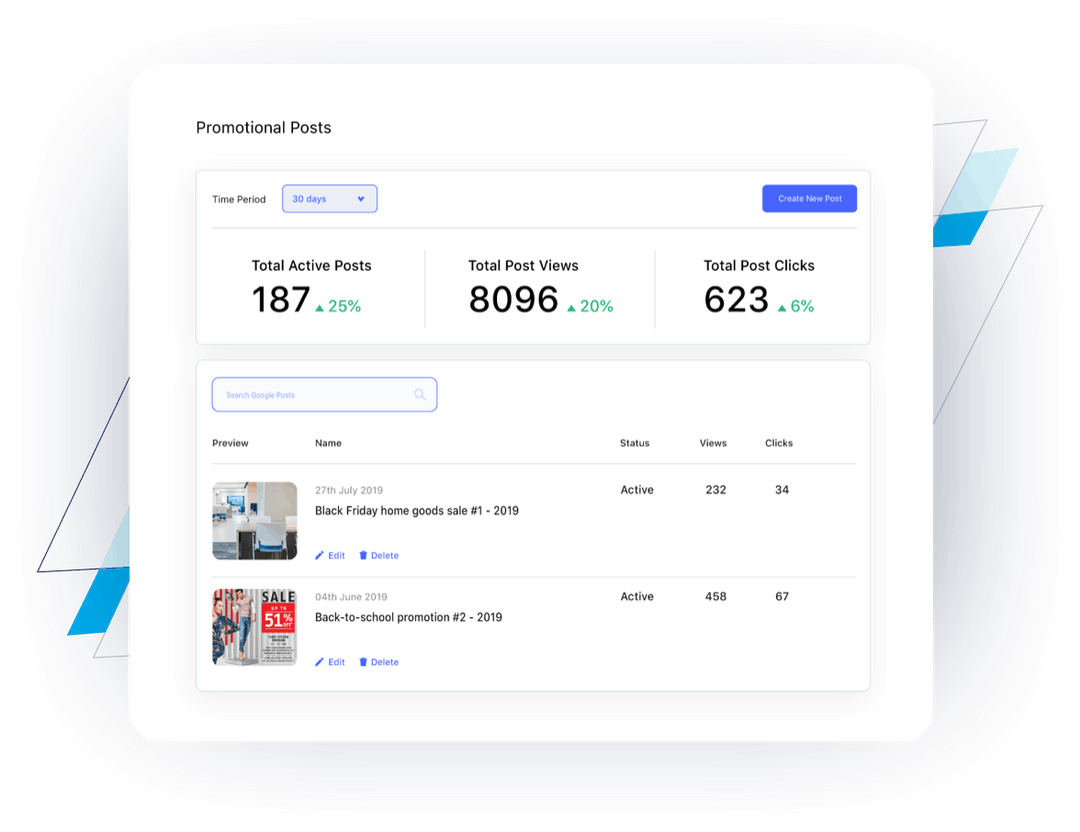 It is quite easy to use the tool – it is automated in a way that allows you to analyze listings, analytic data, and reputation.
Below are some of the common features you will find in Synup:
Management of Local listings: the software crawls location data on over 200 directories and local search engines and puts that information in a single place that can be easily managed
Monitor your analytics: Ability to automatically track analytics related to the location of your business as well as performance
Aggregated interactions: Instant notifications in case a customer or user leaves reviews on your website
Reporting: This feature makes it easy for you to export all the important information you may need in any format of your choice including CSV, excel, or PDF.
14-Day Free Trial
Advice Local is also a popular listings management tool that works almost the same way as Yext and the likes. It is however more advantageous than Yext because it allows one to build local citations manually rather than API.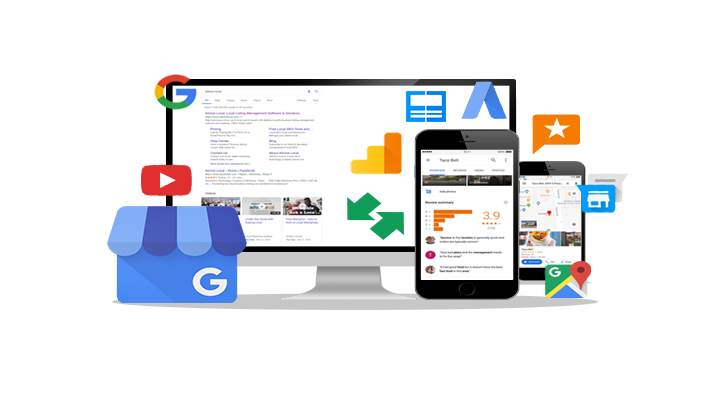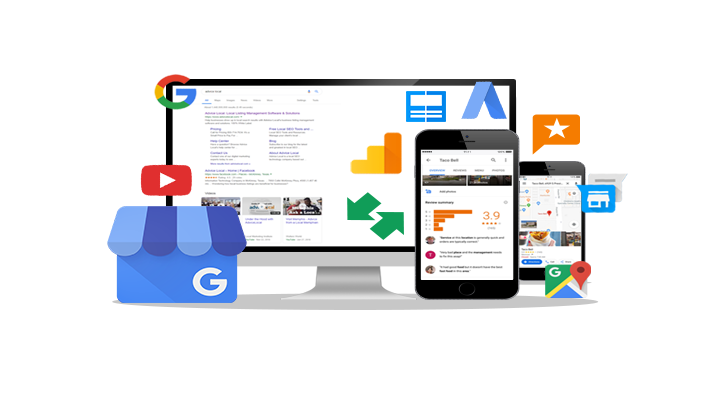 However, it takes more time for Advice Local to gain a score of 80 percent when it comes to local directory submissions. Besides, the data that can be supported is limited to NAP basics like address, name, and phone number.
14-Day Free Trial
Bottom line
The world is becoming digitized every day, thanks to technology. That means that businesses need to adapt to the changing trends, especially when it comes to marketing strategies and customer interactions.
Local SEO has proved to be a game-changer in the digital marketing industry. As a business owner, you need to find local SEO tools that are able to increase your online visibility and help grow your business.