In today's business market, companies are investing a lot of resources into digital marketing in order to sell products and services online and increase overall brand exposure.
Organizations take varied approaches to accomplish the same goal of digital prominence. Many are investing money to hire in-house teams.
Others hire experienced SEO consultants, SEO agencies, or freelancers to perfect their SEO practices.
No matter what your specific approach is, you know that SEO tools play a vital role in bringing more exposure to your website and landing pages through high search engine results on keywords that rank well in your industry.
To help you gain a better understanding of where your website currently ranks in the world of SEO, you need to perform a thorough SEO analysis. Free SEO audit tools are the best place to start your analysis.
Here, we'll take a look at 34 free SEO audit tools that will give you the best insights into perfecting your SEO practices:
SE Ranking SEO checker will bring your optimization to a new level. It's an all-in-one platform covering the full cycle of your SEO process, including website technical audit, keyword and traffic analysis, competitor research, backlink monitoring, and more. All data comes in easy-to-read clickable graphs and dashboards so everything important is in front of your eyes.
The platform supports the most popular search engines, all locations, and has a worldwide keyword base to support your marketing initiatives.

Features:
Easy project setup

Website rank tracking

Website health check in a couple of clicks

Traffic analysis

On-page SEO analysis

Backlink profile analysis

Competitive research covering both organic and PPC data

Supports all most popular search engines + YouTube
SE Ranking SEO platform offers one of the best value to money ratio on the market so we definitely recommend it. Give it a try by clicking on the button below.
FREE TRIAL
SEMRush is another powerful research and auditing tool that's used for tracking organic keywords, backlinks, researching competitors, and PPC keywords.
Use SEMRush when you're looking to track the data of your competition so that you can utilize what's working for them to improve your website rankings.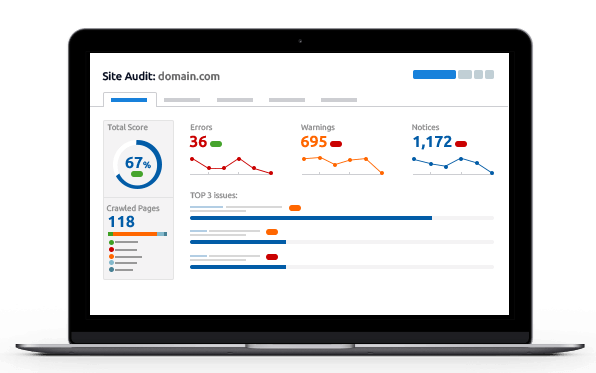 Some of the main features in SEMRush include:
Locating ad copies of competitors
Visibility of a competitor's ad budgets and strategies
Analyzing backlinks
Locating top advertisers and publishers
Build effective advertising campaigns
Locate the top-performing keywords for PPC and SEO
Export detailed analytical reports into an Excel file
Thorough website audit and position tracking
SEMRush is definitely a tool you should check out. Click the link below to get a free trial of SEMRush.
FREE TRIAL
3. Woorank SEO Audit Tool
Woorank is the perfect tool that allows you to analyze your website, whether you're an SEO agency, digital marketing company or website owner.
The tool gives you detailed information on off-page SEO, on-page SEO, backlinks, broken links and broken pages. It then gives you practical recommendations that help you improve overall site ranking and visibility.
Woorank offers users free and paid versions. All your audit reports can be downloaded in PDF format. Their reports are simple to read and understand and allow you to easily repair and improve issues with your websites.
4. Raventools On-Page SEO Checker
The Raventools analysis software provides high-quality reports of all SEO issues and suggestions. The tool provides recommendations for on-site design, backlinks, social media reputation, page load speeds, and overall online reputation.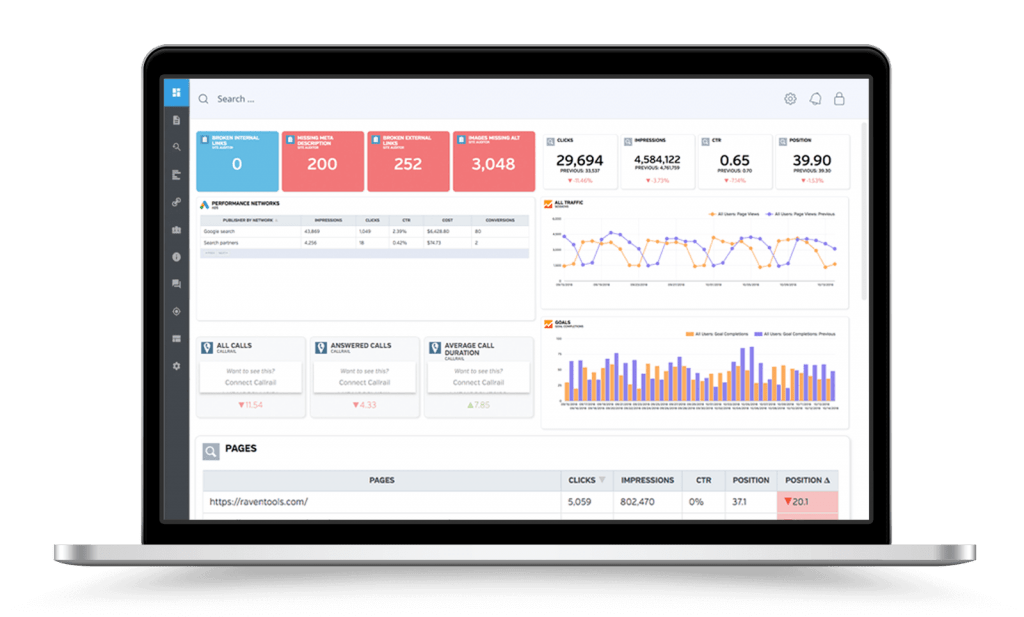 It also gives you a list of additional SEO tools you can use for research and website optimization. Raven Tools is simple to use when you want to create reports that help you with marketing, auditing, and social media prowess.
This is a great solution for businesses that want to increase their website rankings and run effective marketing campaigns.
5. Moz SEO Audit Tool
You probably know that Moz is considered to be one of the best SEO tool providers and is also an SEO agency themselves. Seasoned website owners utilize Moz tools very extensively for SEO purposes.
You can use Moz Rank, Domain Authority, and Page Authority as metrics when you're link-building with other websites.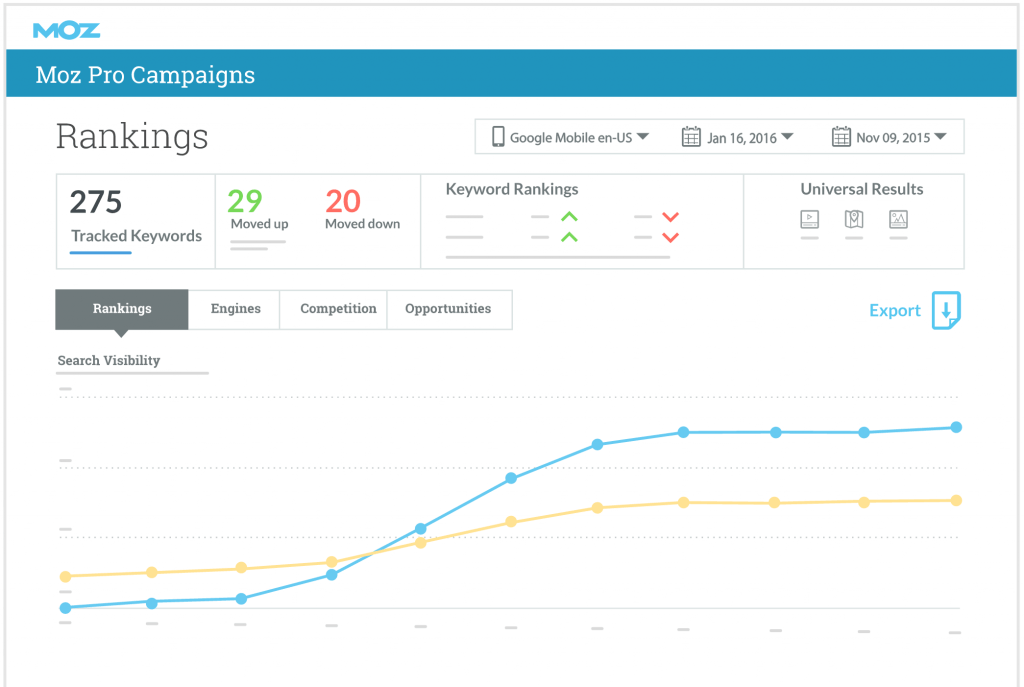 Moz provides free and professional (paid) tools that are targeted for small businesses as well as enterprise-level businesses. The tools they offer include:
MozBar
Keyword explorer
Open site explorer
Business console
Business listing
Complete research categories
No matter the size of your business, Moz is a must-have for your SEO.
6. WebCEO Audit Tool
WebCEO is a powerful auditing tool that locates any and all problems on your site. Some of the features of WebCEO include:
Link building
Keyword optimization
SEO performance reporting
Competitor analysis
This tool is a SaaS platform that's mostly used to monitor and track SEM campaigns, managing links, keeping up with competitor activity and optimizing keywords.
7. SpyFu On-Page SEO Tool
SpyFu is one of the best tools for extracting your competition's insights and allowing you to see all of their online activity. It's extremely useful for businesses and enterprises for the purposes of digital marketing and sales activities.

SpyFu's main features include:
Inbound click visibility
Organic search
Top keywords
PPC search
When you put a URL into the SpyFu homepage, you'll instantly receive all the insights of that website and its competitors. This information will include the keywords they are using, the number of searches, backlinks and more.
8. SEO Site Checkup
SEO Site Checkup is a completely free SEO auditing tool that'll analyze an entire website and give results in six different categories of SEO such as SEO issues, mobile usability, server functionality, social media prowess, semantic web, and site security.
SEO Site Checkup has features such as:
SEO reporting
Competition analysis
SEO monitoring
SEO issues repair
This is truly a comprehensive and complete SEO tool that provides website owners and agencies with data that pertains to site health, search engine rankings, website performance and failed site checks.
9. Found's SEO Audit Tool
Found's SEO Audit tool allows digital marketers and SEO agencies to track down problems with websites and figure out how to fix them.
All you need to do is put a URL into this tool and you'll get complete audit details as they relate to content issues, technical issues, and external link analysis.
You can then download the results directly into a PDF for future reference, or to share with clients.
10. SEOptimer all in one SEO Tool
SEOptimer is your free go-to auditing tool when you need to find errors on websites. After you paste in a URL, it'll recommend the right procedures to improve how the site ranks in search engines.
You can also download the Chrome extension for better ease of use.
11. Screaming Frog SEO Crawling Tool
Screaming Frog is a crawling tool and desktop program to use when you want to analyze and audit an entire website. It gives you key insights on any SEO issues on your site by crawling every detail of it.
Screaming Frog will examine parameters such as outbound links, site links, anchor texts, meta descriptions, broken links, website security, ALT tags, response times and much more.
It will allow you to crawl up to 500 URLs completely free. After this, you will need to pay for the service. But do you really have 500 URLs to audit?
12. Bing Webmaster Tools
Even though Google's Webmaster Tools seem to get all the attention, Bing Webmaster Tools offer an incredible suite of site and search analytics.
Some of Bing's most useful tools include keyword research, keyword reports, and crawling data.
13. Google Data Studio Reporting Tool
When you need to merge data that comes from differing sources (such as Google Analytics and Search Console), then need to visualize and share it, Google's Data Studio is your go-to.
To get a better idea of the SEO dashboards and tests that you can build free of charge, take a look at the Google Data Studio Resources.
14. Enhanced Google Analytics Annotations
Enhanced Google Analytics Annotation is a powerful Chrome plugin that overlays useful data over the top of your analytics. For example, do you know if your dip-tin traffic is due to a recent Google algorithm update, or is it because of an upcoming holiday?
This plugin will show you exactly which outside influences are impacting your traffic. You can easily screenshot this information for future reference, or to send to clients that count on your for better understanding of their site traffic.
15. Google Analytics
We'd be amiss if we didn't showcase Google Analytics as a key SEO audit and analysis tool. Since 2005, it's been the big dog in the world of SEO. In fact, it's the most widely used analytics package in the world.
Even as a completely free tool, it's incredibly robust and works in conjunction with other products from Google, such as Search Console, Optimize and Data Studio.
Some users have voiced concerns that Google Analytics uses its data in ways that cause privacy concerns. However, Google states that they don't use any user data provided in Google Analytics for marketing or unfair manipulation of search rankings.
16. Google Search Console
The Google Search Console could be the most useful free SEO tool on this entire list. In fact, it's nearly impossible to perfect modern-day SEO without accessing the data you'll get inside of Search Console.
Simply stated, it's by far the most reliable place for finding information about how Google crawls and ranks your websites. It's also one of only a few places that you can gain access to 100% reliable keyword data.
17. Keyword Hero
Keyword Hero is a tool that solves the issue of missing keyword data by using abundant advanced machine learning and mathematics. Although it's not a perfect tool, if you're struggling to match keywords with on-site metrics such as conversions, Keyword Hero is a positive step in the right direction for your business.
Best of all, the tool is completely free for up to 2,000 sessions each month. That should be enough to allow you to thoroughly explore the keyword situations on your websites.
18. MozCast
MozCast is the idea of Dr. Pete and is the original tracker of Google SERP.
Think of it as your go-to tracker for when there are changes in search algorithms or other large-scale changes. But it doesn't just find the big changes. It'll also alert you to changes that fly under the radar.
Additionally, its SERP tracking features are also useful by showcasing how prominent your ads are, and gives you access to important knowledge panels.
19. Beam Us Up
If you're looking for a completely free crawler for your desktop, it's hard to do better than Beam Us Up. While it doesn't employ that amount of features that Screaming Frog does, it offers 100% free crawling without any limits whatsoever.
Note that Beam Us Up can only be used in Windows environments.
20. Link Redirect Trace
Link Redirect Trace is a free extension you'll find on Google Chrome. Many expert SEO professionals highly recommend this tool as an "all-in-on redirect path analyzer."
The extension works to reveal info about basic link metrics, HTTP headers, robots.txt and rel canonicals. When you want to capture data for later reference, the "Save Screenshot" tool comes in very handy.
Get this extension into your SEO analysis toolbox.
21. Redirect Path
This tool is similar to Link Redirect Trace. Ayima's Redirect Path showcases header information and current redirect paths for every single URL you land on.
Once you start using this extension, you'll never turn it off. The insights Redirect Path provides are that powerful.
22. SEOlyzer
SEOlyzer is a tool for log analysis that's been recommended by Aleyda Solis during her SEO podcast "Crawling Mondays."
This tool is a robust log analysis tool with some extra features such as page categorization and real-time analysis.
23. Xenu
Xenu is on nearly every free SEO audit tools list and has been for years. And there's a good reason for that.
Xenu is a Windows-based desktop crawler that has remained almost unchanged for the past 10+ years. Even after all of this time, many SEO experts still use and love this tool when looking for broken links and basic site auditing.
We'll leave this recommendation here for both useful and sentimental reasons. If you haven't used Xenu yet, it's definitely worth a shot.
24. Moz Keyword Explorer
To succeed, you want to outrank your competition on all fronts. The Keyword Explorer from Moz allows you to do just that.
If you're not already familiar with this all-in-one keyword research tool, it's time to put it in your toolbox. It gives over 500 million keyword suggestions with the most accurate ranges of volume in the entire industry.
You'll also get the famous Moz Keyword Difficulty Score, along with other CTR data. A free community account allows you to perform 10 queries each month. Each query gives you up to 1,000 keyword suggestions, including full SERP analysis.
Conclusion
These 25 SEO audit tools detailed here are a comprehensive list of what you'll need for auditing and analyzing your websites on a regular basis. If you ignore your SEO website health, your site rankings and overall business performance will quickly begin to suffer.
Start using these tools today and see what a difference they can make in how your websites perform in search engines.