SEO audits should be a monthly action that you take as a preventative measure to make sure your website adheres to the latest SEO factors.
When you don't scan your website for SEO vulnerabilities, you can lose your rankings and potentially lose a lot of business.
In this guide, we are going to show you the best SEO audit tools and how to run SEO audits on your website to make sure it has 100% SEO health.
What is an SEO Audit?
An SEO audit is a full scan of your entire website including all URLs, images, media, and looking for issues that will negatively affect your SEO performance.
Depending on the software or auditor, there can be a wide array of issues that can hold you back in the search engines. For a full, in-depth SEO website audit, try Ninja Report's SEO Audit Tool.
In this guide, we are going to look at these issues and how to fix them.
Why Run an SEO Audit on Your Website?
As I touched on before, SEO audits are important because when your site adheres to all SEO factors, the chances of you ranking higher are in your favor.
There are a number of issues that websites can have that can dramatically affect their search engine rankings, resulting in no traffic and no organic visitors.
When your website is fully optimized, you can capitalize on the 5.6 billion searches a day that people make on Google and other search engines.
So now you know how important it is to regularly analyze your website for SEO issues, let's look at the best software to do SEO audits.
How to do an SEO Audit
There are a number of SEO tools out there that you can use to run an audit on a website but we are going to go over the following SEO analysis tools:
Ahrefs SEO Audit
Running a full website SEO audit is super easy with Ahrefs and I would argue it's becoming one of the best SEO tools out there.
To start an audit you can either add a project or go to the 'Site Audit' tab to add a new product there.

Now just enter the domain that you want to run the SEO scan on and you will be prompted to change a few options.
If you would like, you can set up scheduled crawls so that you are aware of any new SEO issues that arise. You can set it to run weekly or monthly and you can even choose what time to start the scan so it doesn't affect your server in peak times.

Next, you can click the 'Crawl Settings' tab to edit some settings for the crawler.
I would recommend using the below settings for crawling your websites. If you would like the scan to go faster, but potentially slow down your website, you can increase the number of parral request and delay between request to speed up or slow down the crawl.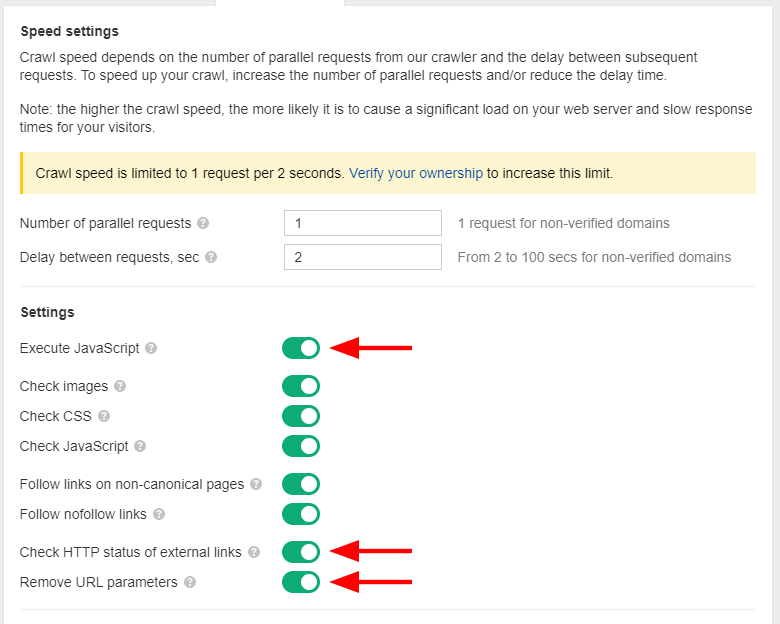 Next, it will prompt you to add keywords that you are wanting to track. This piece is not relevant for the SEO audits so we are going to skip this part.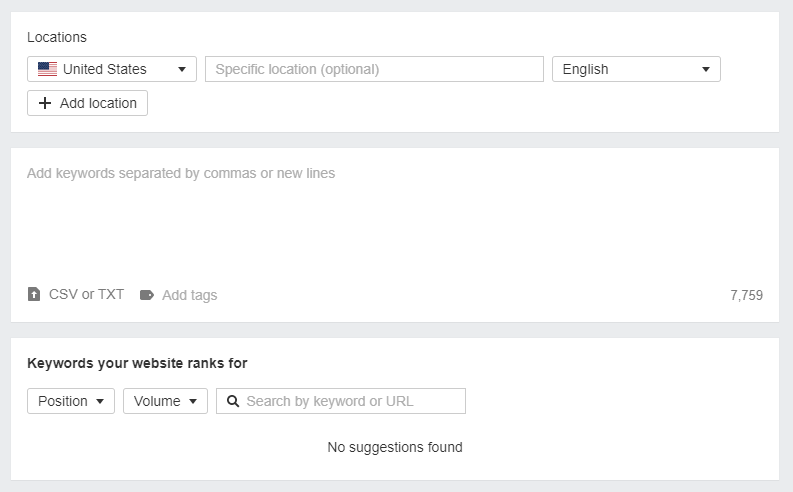 Click 'Continue' and Ahrefs will start crawling all of your website pages. You can watch the crawl log as it goes through your website and scans for any SEO issues.

Once it's done crawling, you will see the results of the scan, an SEO health score, and any issues that arose during the scan.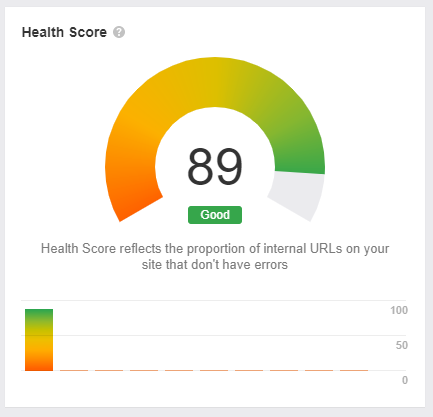 The score represents the overall SEO health of your website based on the errors, warnings, and notices that come back from the SEO scan.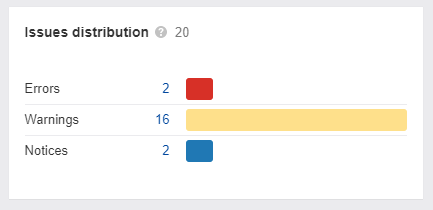 In order to get 100% SEO health, you will need to fix all of the errors that the audit comes back with.

To get more information on each issue and how to fix it, just click on the issue and Ahrefs give details on how to fix that issue. You can even click 'Learn more' to read their high-quality blog post on how to fix the issues.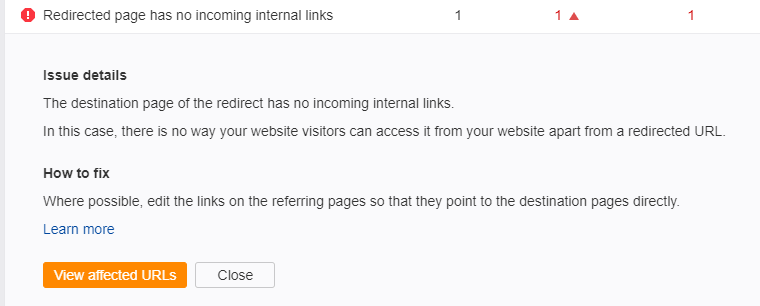 Alternatively, you can click on 'View affected URLs' to see the URLs that are causing the issue.
And that is exactly how you run an SEO audit using Ahrefs.
SEMRush SEO Audit
Next, I am going to show you how to do an SEO audit using SEMRush.
The process is pretty similar to running an audit with Ahrefs, but there are a few differences.
First, you will need to add a project to SEMRush in order to run the SEO audit. Add your domain with no HTTP, https, or www.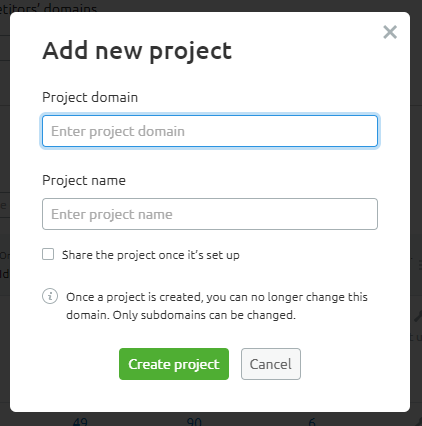 Click the 'Create project' button to add the website to your projects. Once you do that, you will be forwarded to your projects dashboard page where you can set up the site audit.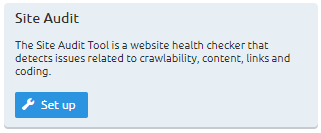 The 'Set up' button will direct you to the site audit settings.
Like Ahrefs, there are a number of options you can change to speed up, slow down, or remove URLs from the crawl.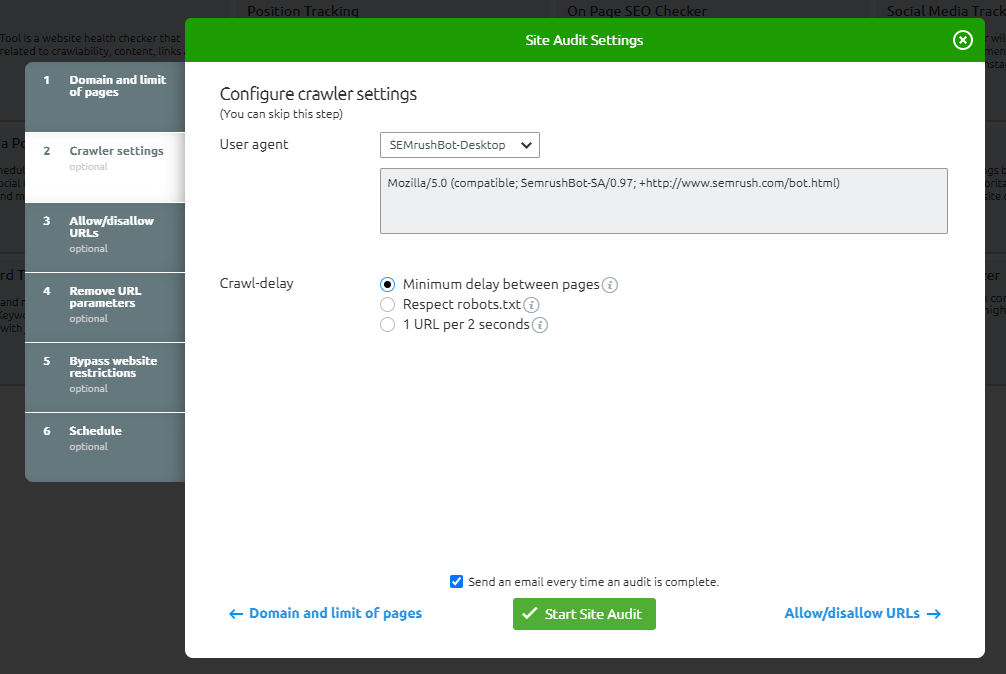 When you are ready, click the 'Start Site Audit' button and SEMrush will begin crawling your pages.
The crawler will take some time to analyze your pages, but when it's complete you will see your Site Health score, errors, warnings, and notices.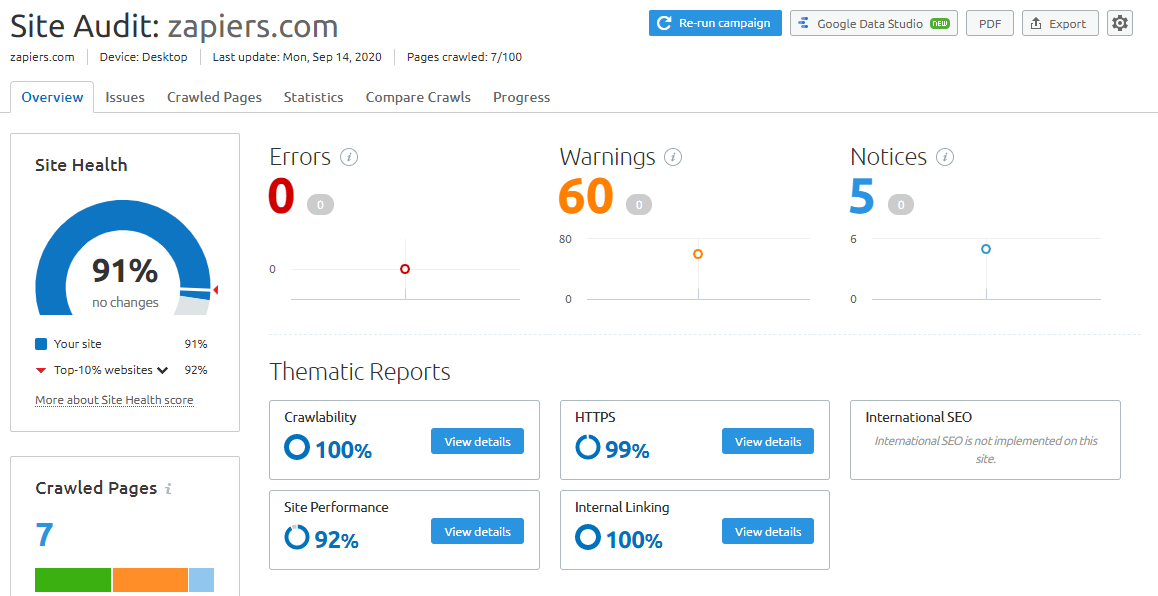 Just like Ahrefs, you can click on the errors to view a list of errors and how to fix them. You can also schedule regular crawls so that your website SEO health is always 100%.
Common SEO Errors & How to Fix Them
Errors
Page Returned 4XX Status Code
When a page returns a 4XX code, it typically means that a link is broken. If you are receiving an error for an internal link, you will need to check the permalink to make sure it is correct and make sure you are using the correct link on other pages.
If the 4XX error is for an outbound link, you can contact the site's webmaster to alert them of the issue. If they do not fix the error, then you will want to remove the link or find another relevant link.
Page Returned 5XX Status Code
If the error is a 500 error, it is an internal server error, and users will not be able to load the page. In most cases, you will need to contact your web host. You may also have issues with permissions or with log files.
A 503 code is less serious. It usually means the server is overloaded and will be fixed soon. If users are getting this message frequently, you may want to switch to a more capable server. In other cases, it may be a PHP issue. You will need to disable your plugins until you figure out which one is causing the issue.
No Title Tags
A title tag is an HTML tag that lets search engines know the title of each page of your website. If a user searches for a keyword and your site ranks, the title tag is the first thing he or she will see.
If you are getting a warning that you are missing title tags, you need to go into each of the pages and posts and specify a title. How you specify will depend on your platform, but it is usually a form of -title-. Make sure to write interesting, clickable titles and keep it between 50-60 characters, since that is all Google will display.
No Meta Description
The meta description is the description of your page that appears below your title tag in the search results. It gives the searcher (and Google) more information about the page. If you are missing meta descriptions, go into your web platform and create them for each page and post. Try to keep them around 155 characters.
Duplicate Meta Descriptions
You may get a duplicate meta description error if you have more than one meta description that is exactly the same. Google often sees duplicate content as spam and may think these pages are identical due to their duplicate meta descriptions. If you get this error, you will need to make each of your meta descriptions unique.
No Canonical Tags
Even if you aren't intentionally creating duplicate content, you may have several URLs pointing to the same page, which Google may interpret as duplicate pages. You can avoid this issue by setting canonical tags in the HTML of each of the duplicate pages. If you are using a platform like WordPress or Squarespace, you can do this easily without getting into the HTML of your site.
Nonsecure Pages
If you haven't gotten an SSL certificate, you will need to do that. This ensures users that a website is secure and will keep them from leaving your site, affecting your bounce rate and, ultimately, your SEO, as Google gives a small boost to pages using SSL.
If pages are coming back as nonsecure, make sure to secure them. All URLs should begin with https:// even if you aren't collecting sensitive user data.
Broken Internal Links
An internal link is a link from one page of your website to another. If any of these are broken, users may leave your site and speed up your bounce rate. You are also not passing "link juice" from one page to another. Once you have found broken internal links, fix the errors either with the link or with the page's URL.
Redirect Chains
Redirect chains occur when a link redirects from one URL to another. If it happens too often, users may get a 301 error and leave your site. To fix this issue, you will need to locate the redirects and correct them so that each goes directly to the correct URL.
Slow Page Speed
If your page loads slowly, users will hit the back button and go elsewhere. Several issues can cause slow page speed: large images, certain themes, and too many plugins. A few simple fixes include removing any plugins you do not use, making sure you are using a lightweight them and using a plugin to compress images.
Warnings
Uncompressed Javascript and CSS
If the Javascript and CSS on your page have not been compressed, there will be extra space in your code, which can make it difficult for search engines to find and rank it. You will need to use a minifying software to compress your code.
Low Text-HTML Ratio
The text-HTML ratio refers to the ratio between actual text and HTML in your code. If you do not have much text, the Google bots may have trouble indexing your page because there's not enough information.
You should first clean up your code and remove anything unnecessary. Take out notes and blank spaces. If necessary, beef up the text.
Low Word Count
If you have short articles, Google sees that as a sign of less than quality content. Make sure your articles fully answer a question and any other questions visitors may have. You should aim for at least 700 words, but higher is better as long as you aren't using filler content.
Broken External Links
External links lead to websites that are not your own. If these links are broken, users may leave your site. You should contact the other site and let them know about the broken links. If the links aren't fixed promptly, you should remove the broken links and add new ones.
No Heading Tags
Your heading tags organize content. The highest is used for the title, while lower ones are used to head sections and subsections. Headers improve UX and let Google know what the page is about. If you have no heading tags, you will need to add them to each of your pages. Try to include a tag every few paragraphs.
Missing Alt Tags
Alt tags are text that describes the images on your website. These tags are there for visually-impaired users or when the images don't load. These tags can also help with SEO, as Google can use these tags to learn more about your page. Add alt tags to all images, and use keywords if you can.
Mixed Content
In this case, your HTML loads on a secure connection while other elements, like images, load on an unsecured connection. This can affect page speed and rankings. You can find the instances of these errors using the Inspect tool, or you can install a plugin or software to fix it automatically.
Sitemap.xml Not Found
In some cases, your sitemap may contain error pages, and Google cannot properly index your site. You will need to manually clean up your sitemap to ensure it contains only the pages you want to be indexed.
Notices
Robots.txt Not Found
The robots.txt command instructs which pages of your website you want Google to crawl. If you do not have a robots.txt file, you will need to add one as it can help Google crawl your site faster.
Orphaned Pages
An orphaned page is a page on your site that doesn't have another page linking to it – users cannot navigate to this page. If you have any of these pages, you should either remove them or link to them through your site.
No Incoming Links
An incoming link is a link from another site to yours. These links help Google determine your ranking and are basically "votes" for your site. If you do not have any, you will need to network with other sites to get incoming links.
HTTP to HTTPS redirect
If you are trying to move to HTTPS, you may wind up with too many redirect chains between HTTP to HTTPS. This is a good time to clean up all of your redirects and make sure things link to the right place.
Links to Redirects
When your links go to redirects, it can slow down page speed and throw up some red flags for Google. You will need to clean up these links so that instead of redirecting, the links go directly from one page to the next.
Open Graph Tags Missing
Open Graph tags make your content easier to share on social media. These tags make the content look much more appealing. Most web platforms will let you install a program to create Open Graph tags on your site.