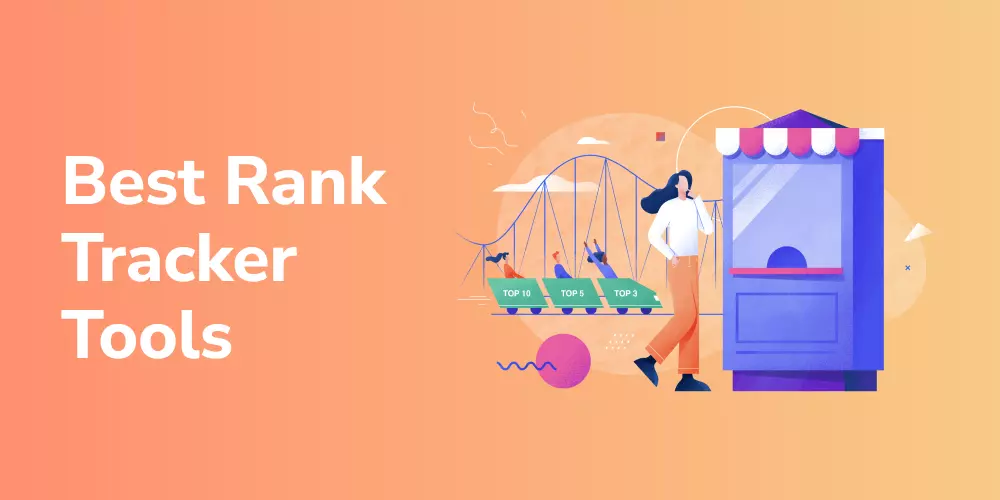 How to make your website successful? Many would say fill it with content, which is true to some extent. But how would you know where you ranked on search engines? The answer is simple: with rank trackers. Rank tracker software, when used effectively, can give you a better understanding of the visibility of your website and many more insights for future optimization strategies.
Every online business needs to use rank tracking tools to monitor their keywords regularly. A rank tracker tool will inform you about where you can improve site traffic.
Once you have data on keyword tracking, you will be able to withstand the competition in the market.
Why should I use rank trackers?
We cannot stress enough that just creating content is not enough nowadays. If you are devoted to driving more traffic – add some credibility to your SEO strategy. You could combine rank tracking with other metrics, such as organic search and conversion.
Additionally, we have created a list of the best backlink checker tools that you can use to attract more traffic to your website.
Rank checkers are truly vital. Sure, you could check rankings manually. But there would be some obstacles in your way:
If there were no rank tracking tools , there would be no data on what keywords your site was ranking for.
A manual site search will not detect any ranking changes without rank trackers.
With rank-tracking software, you can easily find other related keywords.
Rank checkers will help you determine whether your SEO strategy is working.
Rank trackers can help increase your click-through rates.
If you are ready to start experiencing all these benefits in action – keep reading. Below you will find the 10 best rank tracker tools.
Free/trial plan – 14 day free trial
Paid plan – starts at $31 monthly
The most popular plan – Pro plan for $71 per month
SE Ranking is an all-in-one SEO platform with a wide variety of tools, including its powerful Rank Tracker. This tool allows you to monitor positions across Google, Bing, Yahoo and YouTube for any location (down to the zip code), device, and language. Unlike other platforms, SE Ranking lets you check organic rankings, local positions, and even Google Ads positions.
Rank Tracker offers a wealth of data on website rankings, presented in easy-to-read graphs. You can view the average position of all your search queries, the percentage of search queries ranking in the top 10, your search visibility, a list of top-performing keywords and pages, and much more.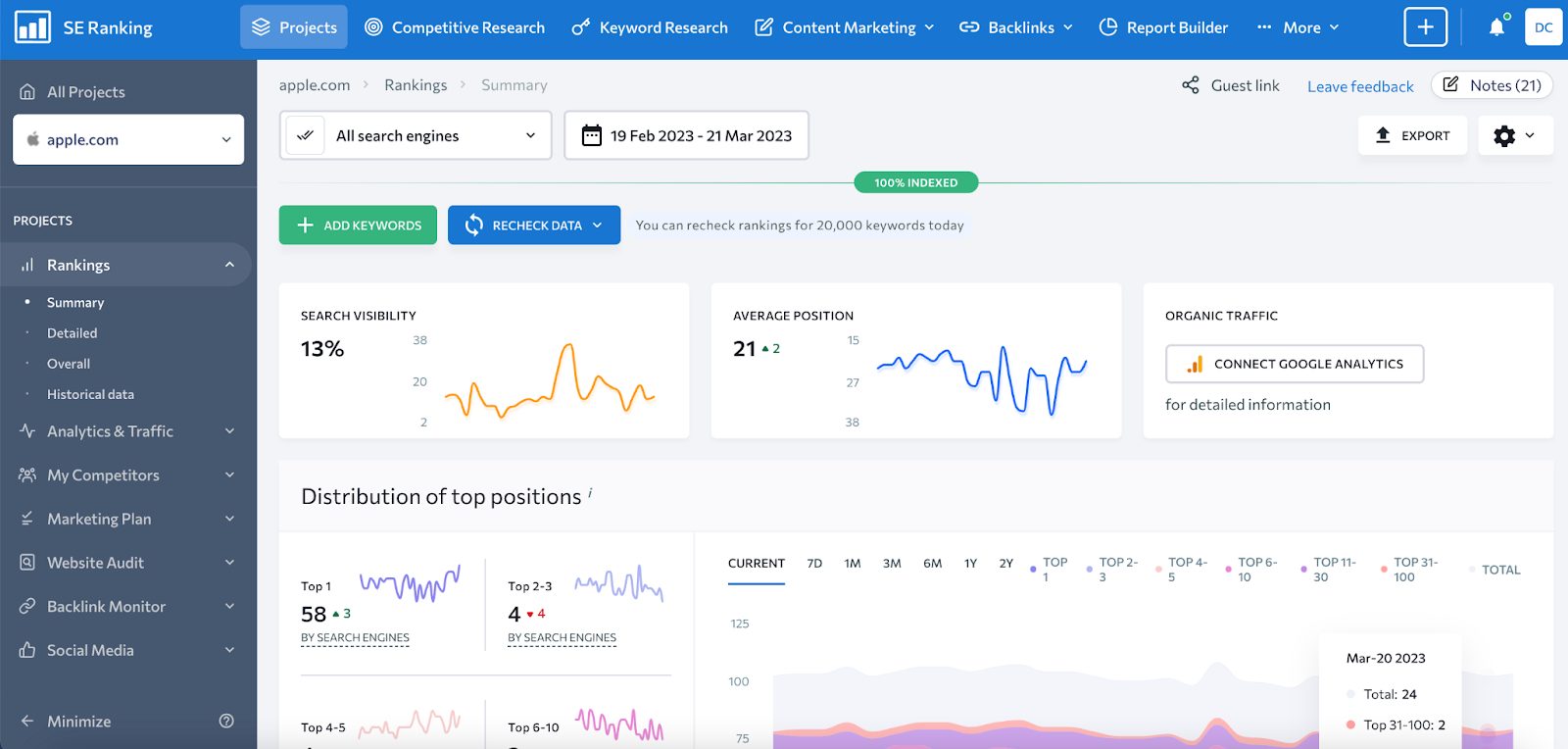 Its detailed tables allow you to see every added keyword with its position and dozens of metrics, including:
The amount of traffic the keyword can attract to your site.
Drops and increases of positions per day.
The level of competition.
The page on the website ranking for the chosen keyword.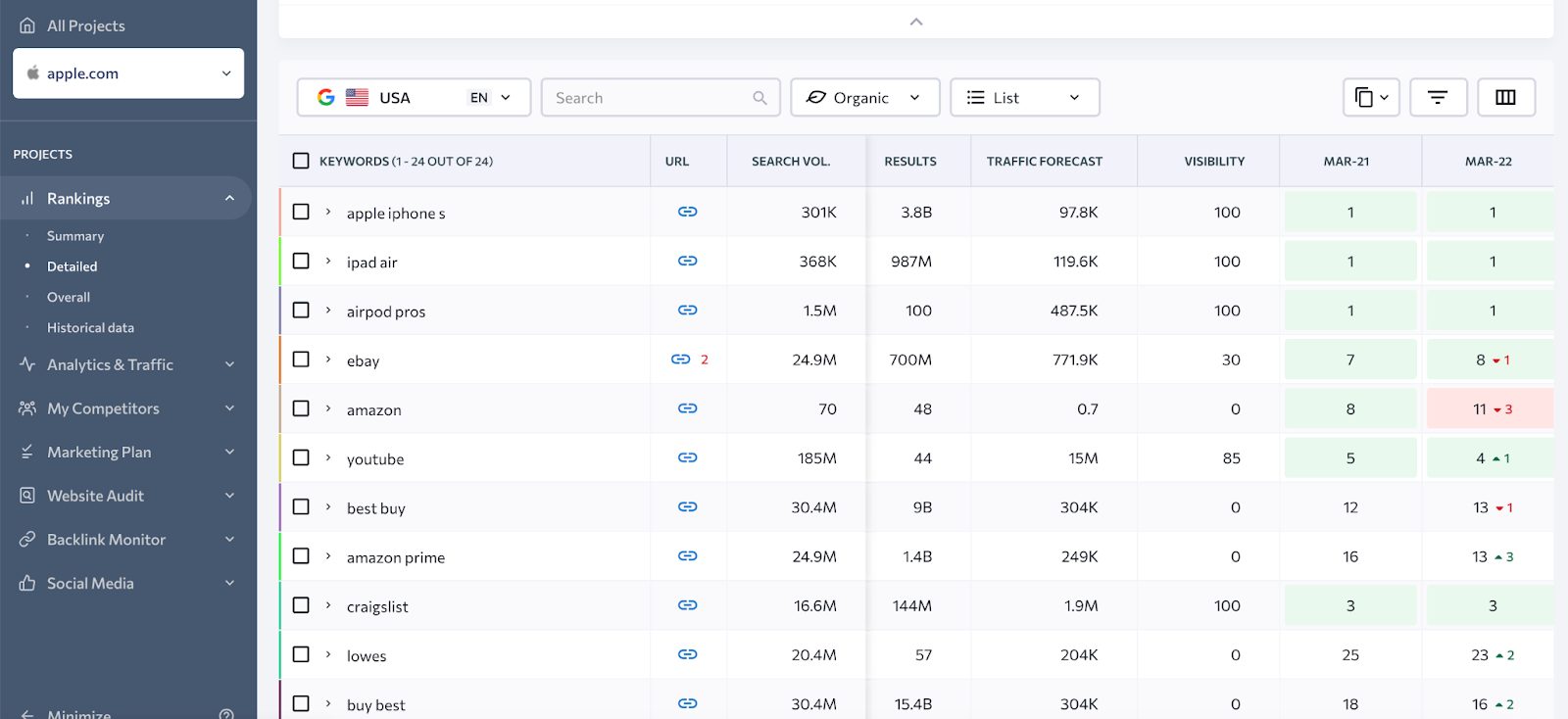 This data helps you identify keywords and pages that bring the most traffic to your website and spot ranking drops to prevent traffic loss.
Unlike other platforms, SE Ranking lets you track each keyword in five locations at no extra cost.
In addition to the advantages above, the Rank Tracker tool also enables you to keep tabs on the rankings of your competitors' websites for specific keywords. The tool provides a list of the top 100 search results, featuring 100% fresh and accurate ranking data, all at no extra cost to you. What's more, you can add your direct competitors to track their rankings for your keywords in a separate table. This allows you to compare your chances of coming out on top in the SERP and identify opportunities to improve your SEO strategy.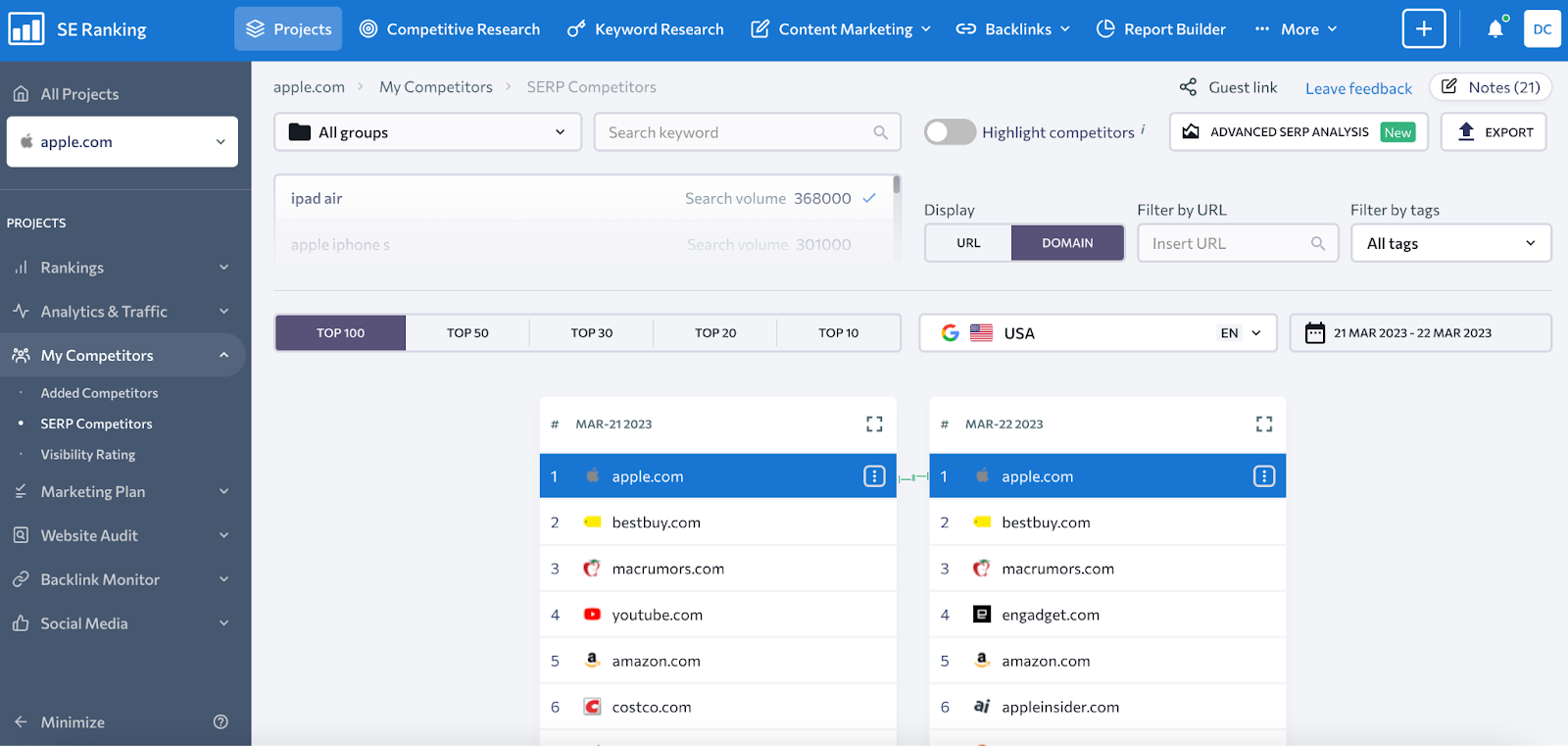 You can also connect your Search Console, Analytics, and Business profile to your SE Ranking account to get more detailed information about your website performance without switching interfaces.
The tool also has various customization modes that allow you to choose the scanning frequency and depth, tweak the interface to your needs, use tags and groups for a more convenient analysis, and much more.
Overall, SE Ranking packs a punch with its robust set of rank monitoring features, making it an all-in-one powerhouse for tracking and optimizing your website's search engine rankings.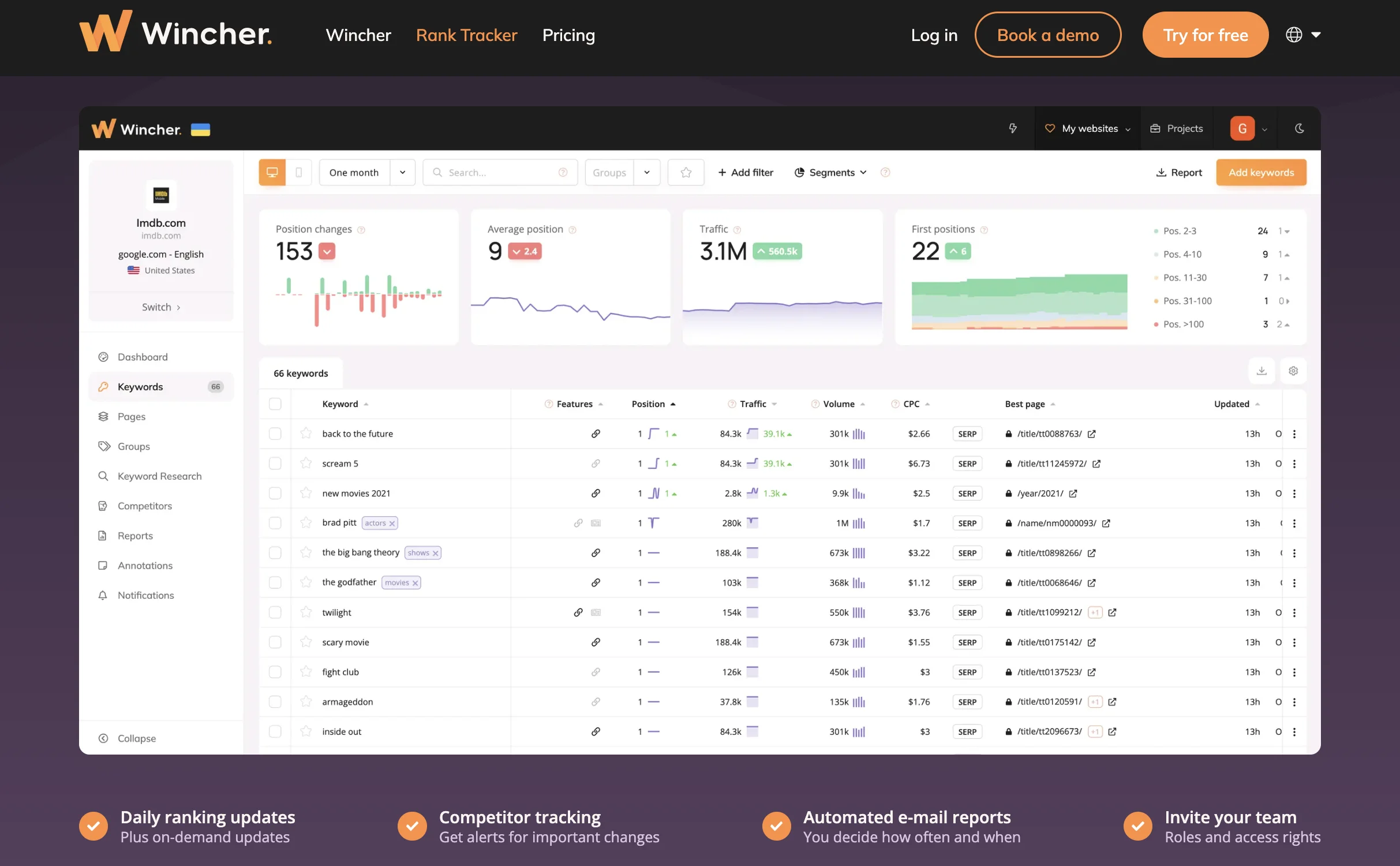 Free/trial plan – yes, but limited
Paid plan – starts at $39 per month (with limited features)
The most popular plan – business at $75 monthly
Are you searching for a simple and economical rank tracker tool? Wincher is the option for you. The tool gives you an insightful keyword search feature, daily updates, and white-label reports. Wincher was specifically designed to aid marketers and owners in enhancing their website's performance on search engines.
What's more, Wincher helps you stand out among the competition by tracking your competitors' performance.
To get more in-depth information on website ranking and thorough competitor analysis, check out the article we wrote on Domain Authority (DA) checkers.
Another advantage of Wincher compared to other tools is that it provides historical data for all the keywords you are working with. This is an outstanding benefit. When you are building a strategy for the content and monitoring how it comes to life, you want to keep track of all keywords and their performance. Based on this detailed tracking, you can stay informed on traffic performance and know which SEO strategy works best.
You might want to try Wincher for your marketing team or agency. Even though there are paid plans, they are affordable and can be easily connected to Google Search Console or Google Data Accounts.
Wi`ncher is one of the most powerful online rank tracking tools. It is essential to have such a data-driven tool at your fingertips when building an SEO strategy.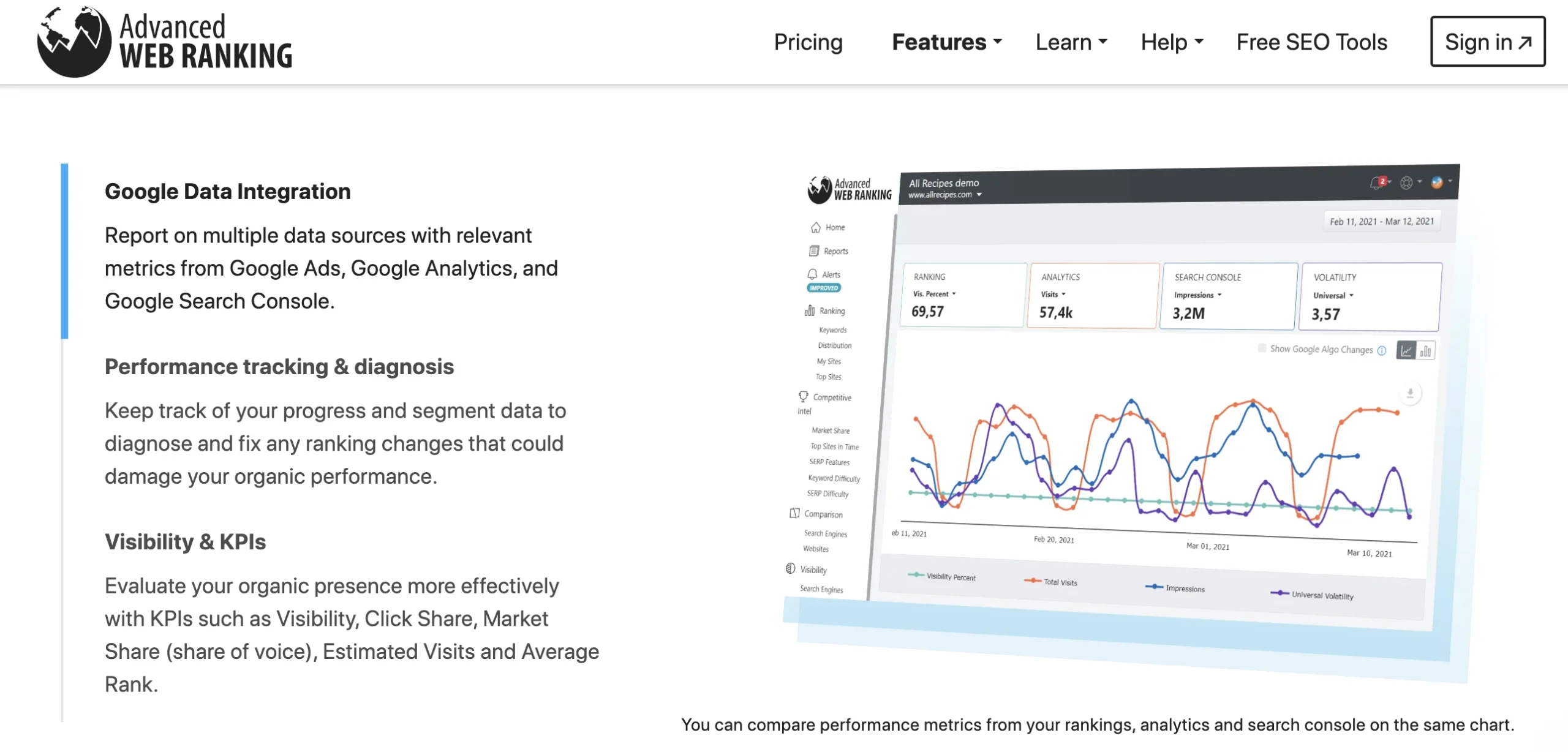 Free/trial plan – 30-day free trial
Paid plan – starts at $99 per month
The most popular plan – agency for $199 monthly
Advanced Web Ranking, or AWR, has built a trustworthy reputation in the 15 years it has been on the market. Like many rank tracking tools, it provides flexible and updated options to its customers. This affordable and cost-effective rank tracker software has built a successful reputation among website owners and digital marketers.
Let's take a look at the advanced AWR features:
Accurate rank tracking data based on geo-located proxies;
Accurate rankings;
Scheduled updates (daily, weekly, monthly);
Local rank tracker (for local businesses to narrow down the search on the state, country, or city);
Mobile tracking (compare rankings across many devices).
If you want to up your SEO game, AWR is there to help you identify how your keywords are performing and what needs improvement.
AWR provides its clients with accurate data from over 4,000 search engines, including Google, Youtube, Amazon, and more. The data is accurate for mobile and desktop rankings.
AWR is a flexible tool, not only with keyword rankings but also with time. If you suddenly need ranking data immediately, Advanced Web Ranking can provide it.
Just like Wincher, you can integrate AWR with Google Ads, Analytics, and Search Console to stay on top of the progress.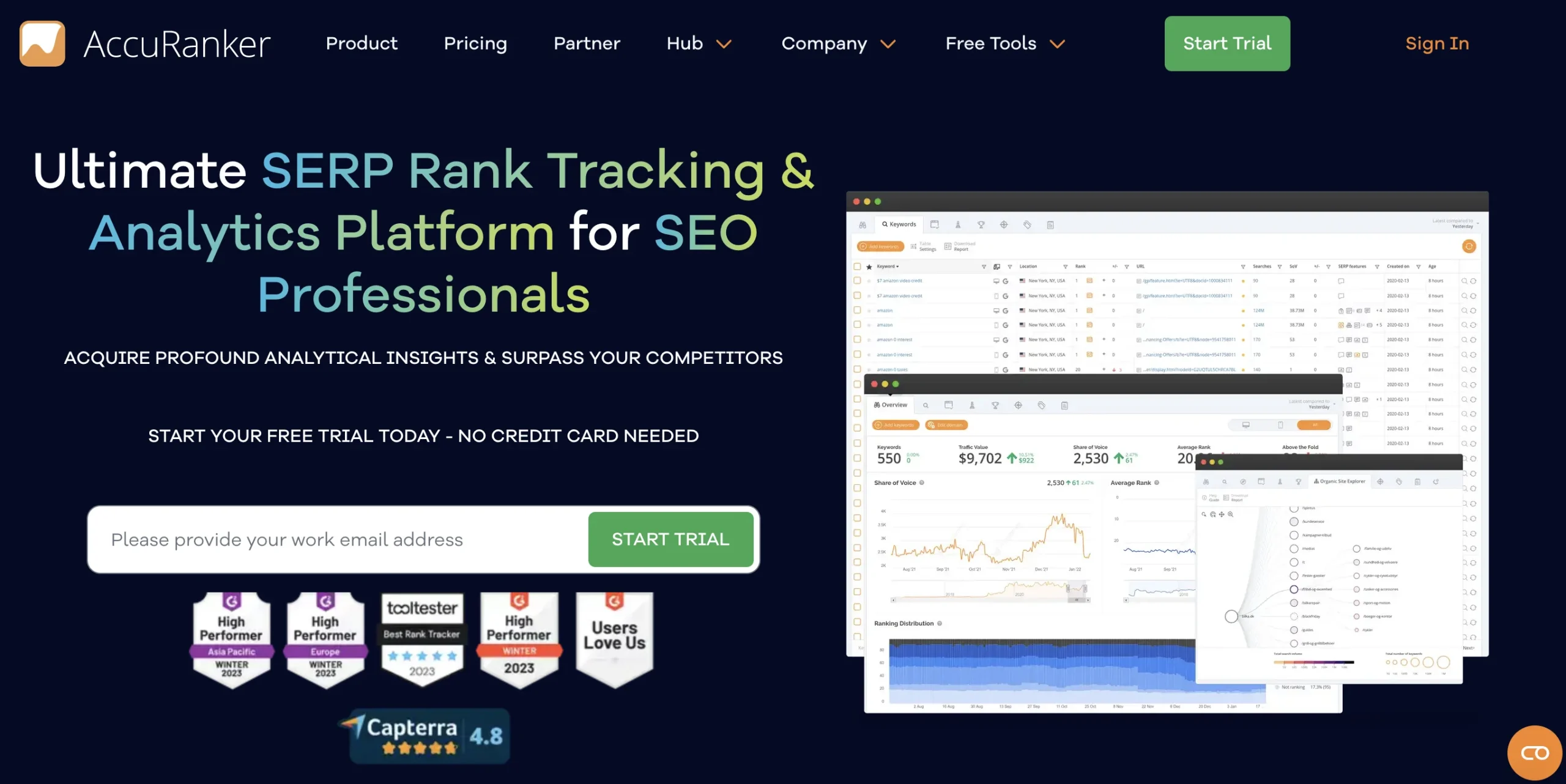 Free/trial plan – 14-day free trial
Paid plan – $99 monthly per 1,000 keywords
AccuRanker is one of those agency rank trackers that gives you on-demand updates. When it comes to competitor analysis, this tool is just like an additional set of eyes. It is helpful for different businesses to monitor their website's ranking on various search engines. AccuRanker identifies the weak spots that you could improve for better performance and online visibility. But it will not give you everything you need SEO-wise. We know that SEO software should be helpful and efficient at building a winning strategy.
Since we are on the subject of SEO software, we would like to draw your attention to this list we've compiled of the best all-in-one SEO software. Give this article a go if you want to improve your online presence.
With AccuRanker you get the following:
Regular updates on keywords;
The possibility to refresh keyword rankings;
SERP history;
Data-driven analysis.
Agency rank tracking tools like AccuRanker are scalable and flexible. When creating SEO strategies and content plans, you will inevitably be working with a plethora of information. This tool will help you handle large volumes of keywords.
AccuRanker gives the green light to third-party integrations with tools like Google Search Console, Google Analytics, Google Sheets, Google Data Studio, and Databox.
What's more, with AccuRanker, you can manage an unlimited number of domains. Just tag landing pages and organize keyword data.
At first glance, AccuRanker looks like a worthy tool. However, it is not beginner friendly and only SEO-savvy users can get the hang of it on the first try.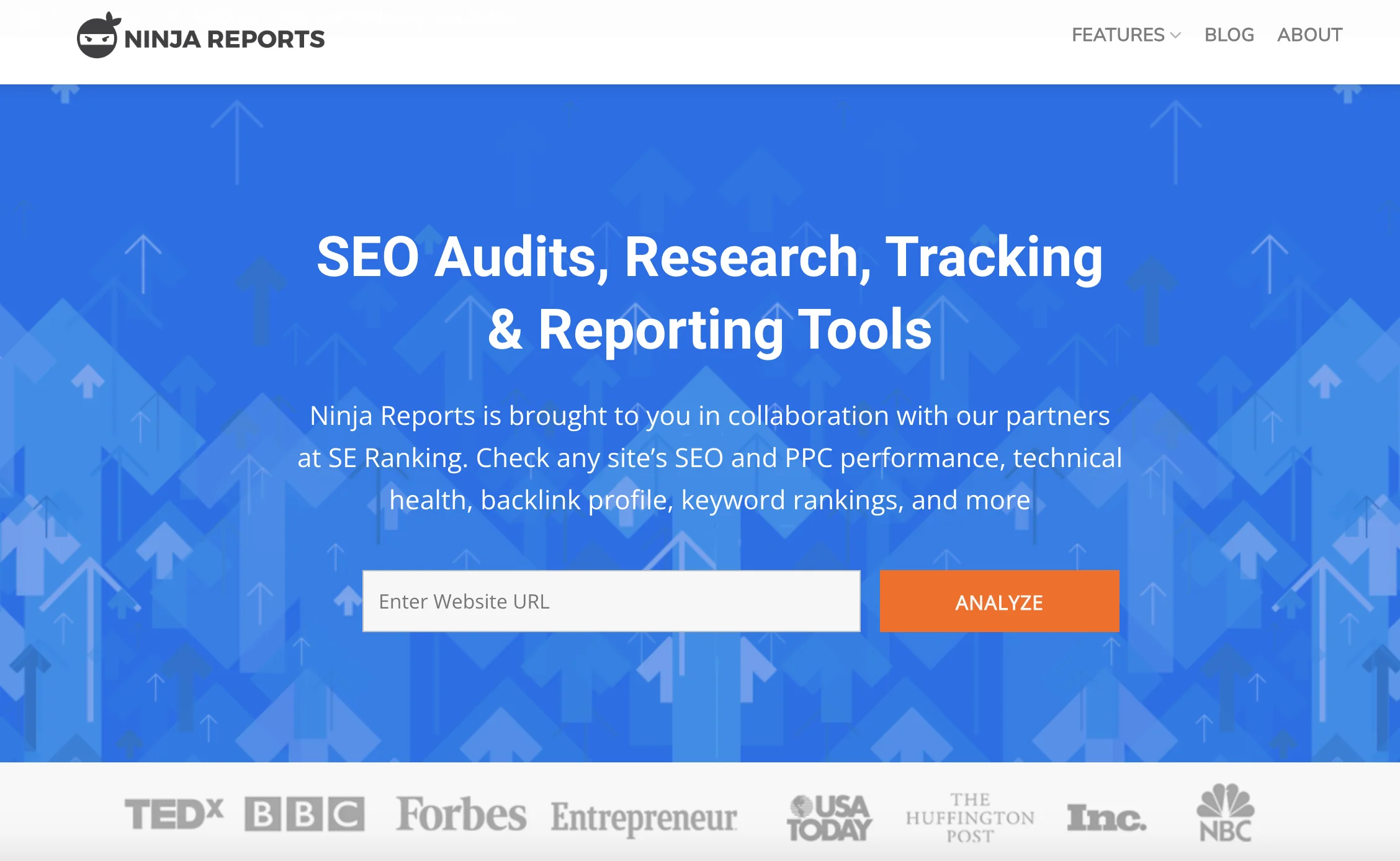 Free/trial plan – 14-day free trial
Paid plan – starts at $19 monthly for an affordable plan Webmaster
The most popular plan – is a Business plan for $29 per month
One of the most popular rank tracker software is Ninja Reports. Do you need to monitor your keywords? Do you want to receive up-to-date data? Is your goal to attract more customers? If the answer to those questions is yes, then you need Ninja Reports. By choosing Ninja Reports, you will be working with the SE Ranking tool. What can Ninja Reports give you:
An all-in-one SEO tool;
Collaboration tools;
Ranking reports;
A rank checker tool;
Accurate data.
There are many benefits of using Ninja Reports. First and foremost is an enhanced SEO strategy with the help of keyword tracking. Secondly, there is competitor monitoring. Your website can withstand the competition when you know the strategy of your opponents. The rank tracker gives you valuable information in this regard. Next, the rank tracker identifies which keywords bring traffic and which do not. This feature is necessary for targeting.
Last but not least, Ninja Reports measures the effectiveness of the SEO campaign. From the beginning till the end, you will naturally make some changes to your campaigns. When you see when and what to change, it is easier to reach better results faster.
This tool sounds like something magical. And it is. Ninja Reports knows how to do the trick and drive relevant traffic. Do you want to have more tools for traffic estimation in your arsenal? We made a list of the most effective website traffic estimators. As for rank tracking software, you will be getting results from Google, Yahoo, Bing, and Youtube. Moreover, this ranking tracker has an additional geo-location feature.
Give Ninja Reports a go and watch your rankings skyrocket.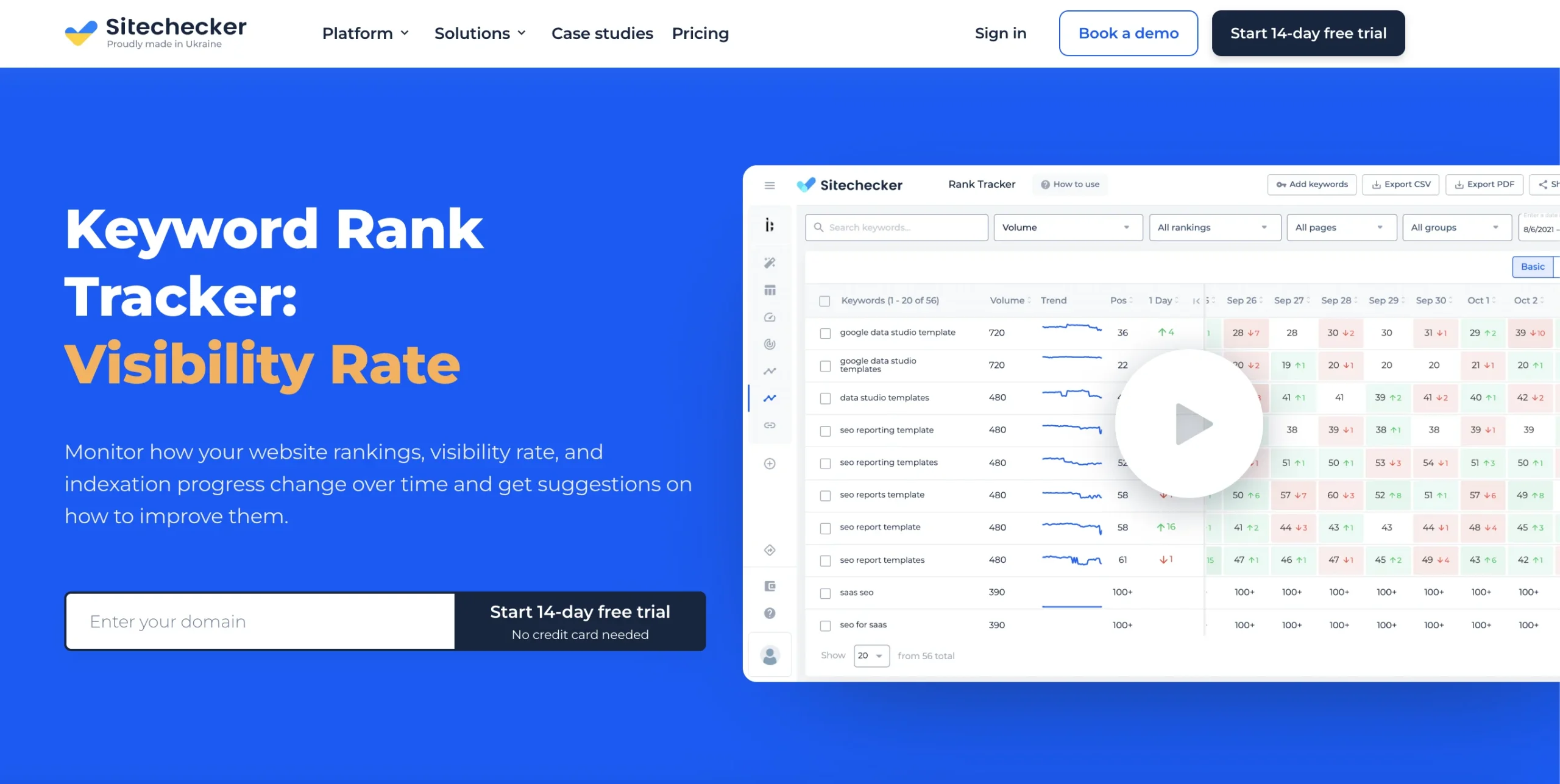 Free/trial plan – 7-day free trial
Paid plan – starts at $49 monthly
The most popular plan – is a Standard plan for $149 per month
Sitechecker is a detailed SEO tool that strives to get your website on top of Google searches.
Sitechecker has a rather straightforward rank tracker. The tool analyses keyword search results and gives you accurate data, which is not available on Google search control. What you get with Sitechecker is a unique service that filters real search results by language and country.
The rank tracking tool allows you to change keyword positions by their degree of visibility and track search engine indexing. Sitechecker is always there to give you helpful improvements and recommendations. For example, if you need to generate specific keywords for visitors, Sitechecker will provide you with synonyms and semantically related options for precise targeting.
Superb features of Sitechecker:
Monitor your keyword site's rankings in any location, on any search engine, and on any device, mobile or desktop.
Sort and filter the data in a simple table. And adjust the view to include the appropriate parameters.
Enables you to comment and monitor insights and mass edits/adjustments better.
If you are looking for an affordable tool, you might want to take a look at Sitechecker. Over the years, Sitechecker has built a good reputation and trusted clients like Sony, AirBnB, and Microsoft.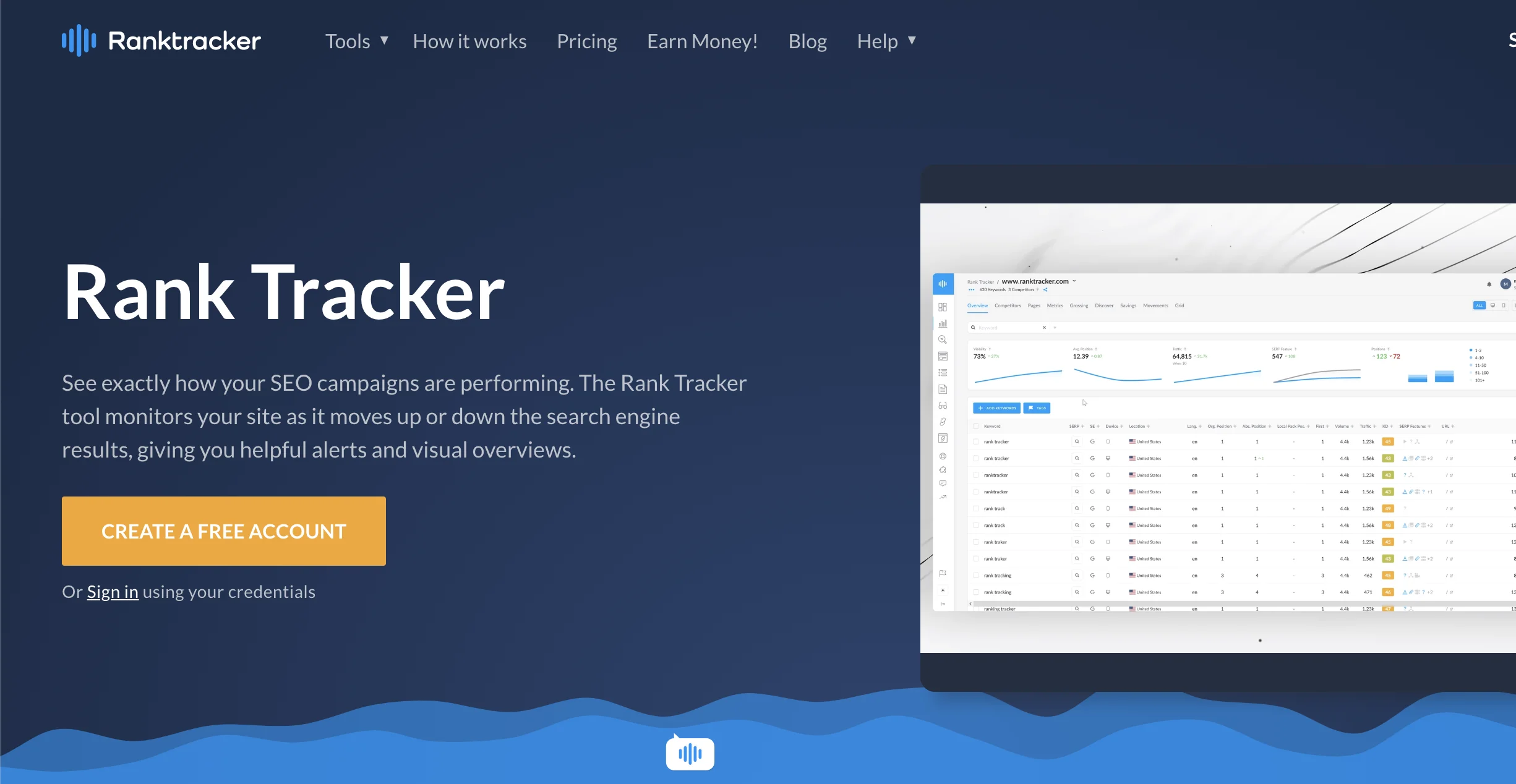 Free/trial plan – no
Paid plan – starts at $18 monthly
The most popular plan – is Quad Data which costs $109 per month
Next on the list is the easy-to-use ranking tool Ranktracker. Just like all other tools, it provides all traditional SEO instruments. Many businesses and digital marketers are looking for a multifunctional tool, with an effective all-in-one SEO toolkit. Ranktracker is sure one of these tools. But most importantly, Ranktracker provides ranking and competitor monitoring. Do you have to constantly monitor the website's position in the search engine ? Do you want to have a reasonably priced tool that will provide you with ranking updates from all over the world? Ranktracker is a ranking checker that can cover your needs in these aspects.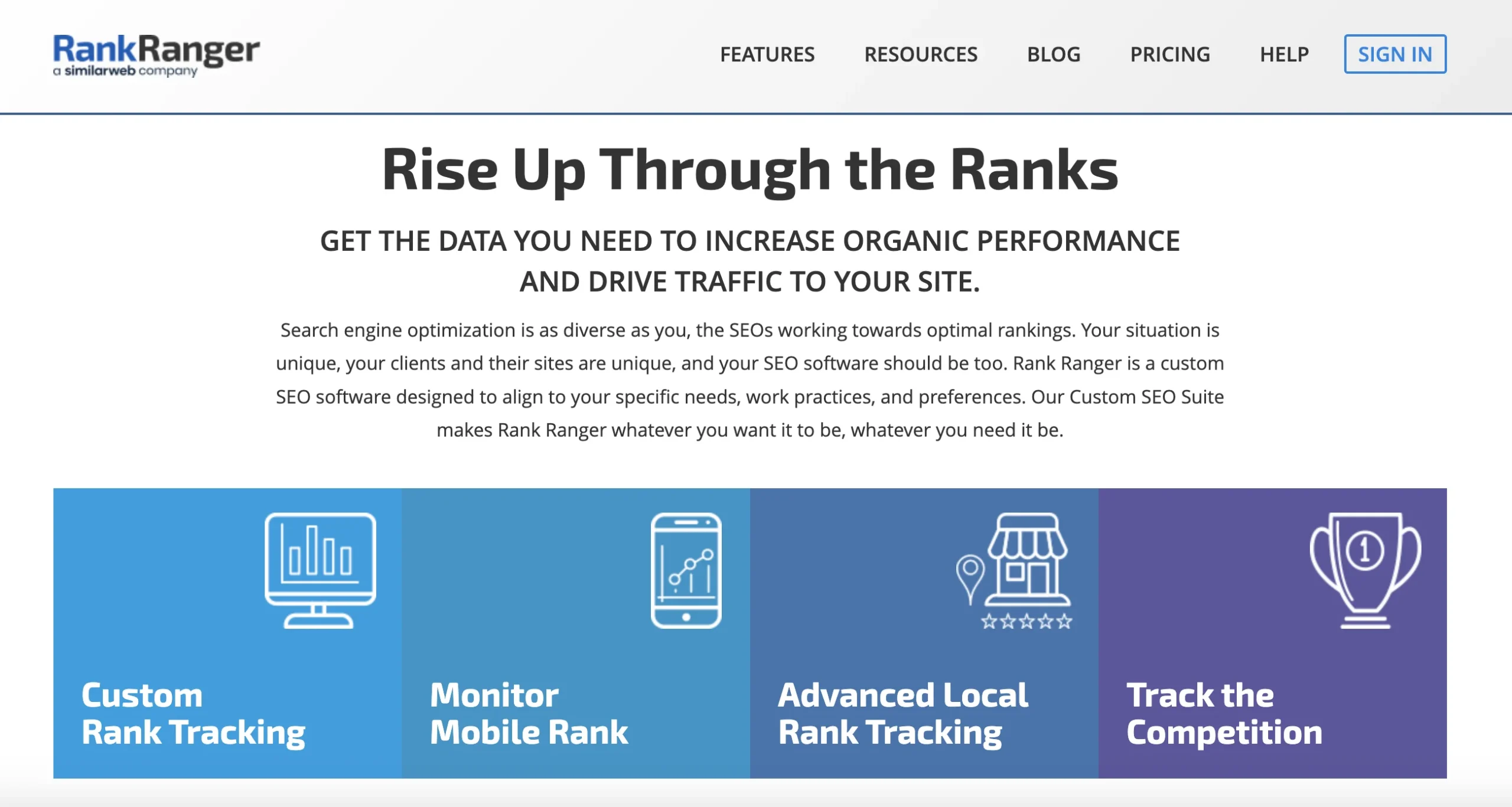 Free/trial plan – 14-day free trial
Paid plans – 4: Enterprise, SEO plans, Advanced Products, and API
Rankranger is here to increase organic performance. Rankranger is one of those rank checkers that use an individual approach to solve clients' problems. With Rankranger you can:
Receive data on where your site appears on search engines.
Know when you rank #1 as a Featured Snippet.
Learn more about SERP features and ranking.
Discover which rankings are in poor positions and receive immediate solutions.
Automatically compare the correlation between rankings and clicks.
When it comes to keywords, Rankranger has a few tools to offer its clients, such as Keyword Explorer, Keyword Finder, Site Explorer, and Search Gap.
Not only can you get accurate tracking with this rank tracker software, but you can also customize the reports that give you precise data on the website's activity. Rankranger is an all-in-one tool that provides real-time data across various search engines, such as Google, Bing, Yahoo, and more. With this rank tracker tool, you are able to track rankings both worldwide and locally. The latter feature is particularly useful for businesses that aim to target specific regions.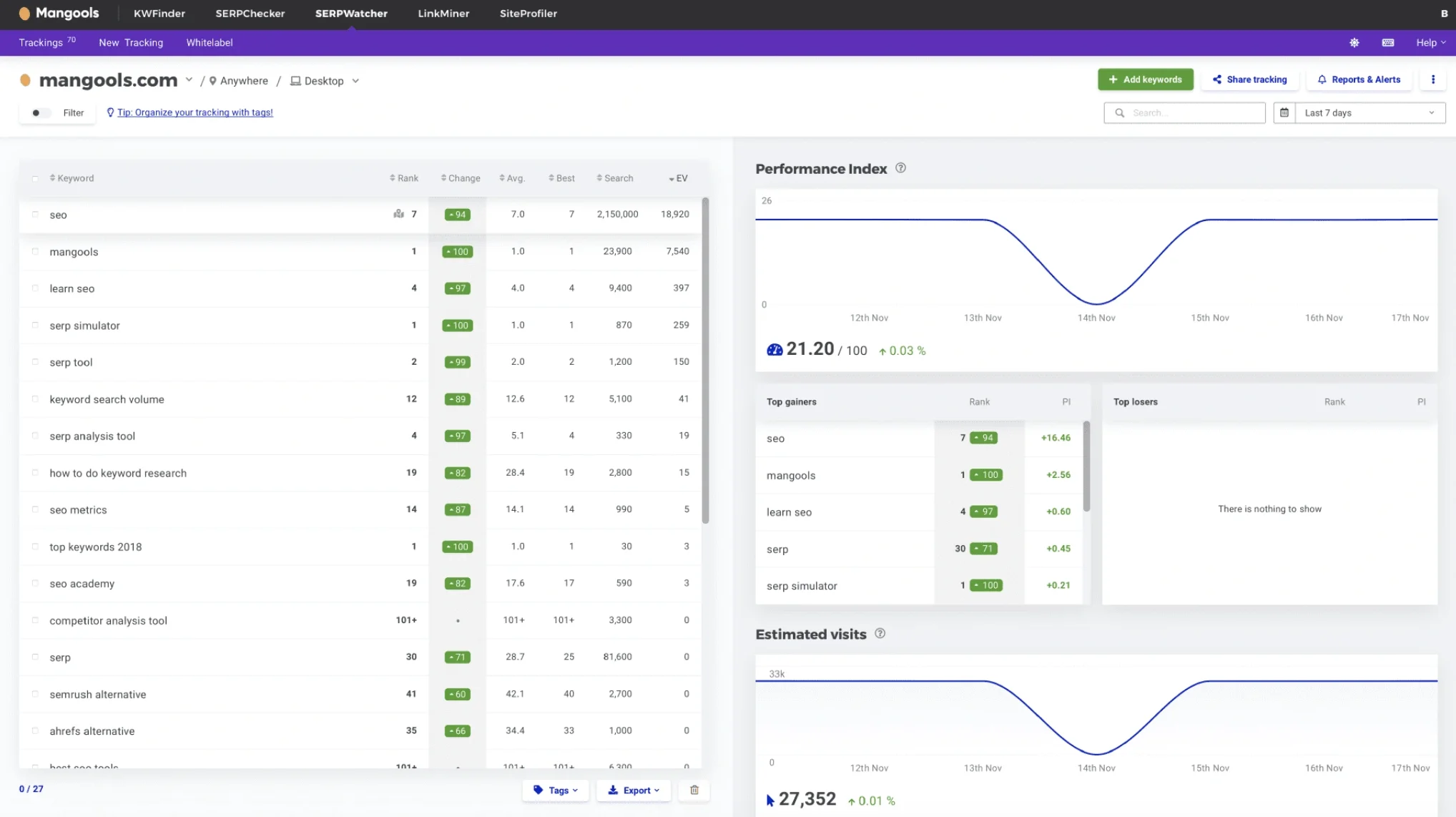 Free/trial plan – 10-day free trial
Paid plans – a Basic plan starts at $29.90
The most popular plan – is Premium which is worth $44.90 per month
If you are looking for a beginner-friendly tool, Mangools is for you. The main advantage of Mangools is its user-friendly interface. The rank tracker tool has an intuitive dashboard and stores all the essential bits of information in one place. The rank tracker of this tool is SERPWatcher. In SERPWatcher you will get the Performance Index that will tell you about the potential of your organic traffic. All data is based on keyword positions and search volumes.
Additionally, SERPWatcher gives you daily rankings as well as SERP previews. If there are any rank changes, you will get an email alert. Every SEO expert knows that working with keywords is a craft. Both long and short-tail keywords can be tricky and the outcomes of using them are not so obvious. This online tracker can help you identify the difficulty of a keyword you are working with, as well as the search volume and competition.
Mangools also has a beneficial feature – local SEO. If you need to track your website's performance in a specific region or location, Mangools can effectively provide you with the necessary data.
Overall, this ranking tool comes with a reasonable price and is easy to manage.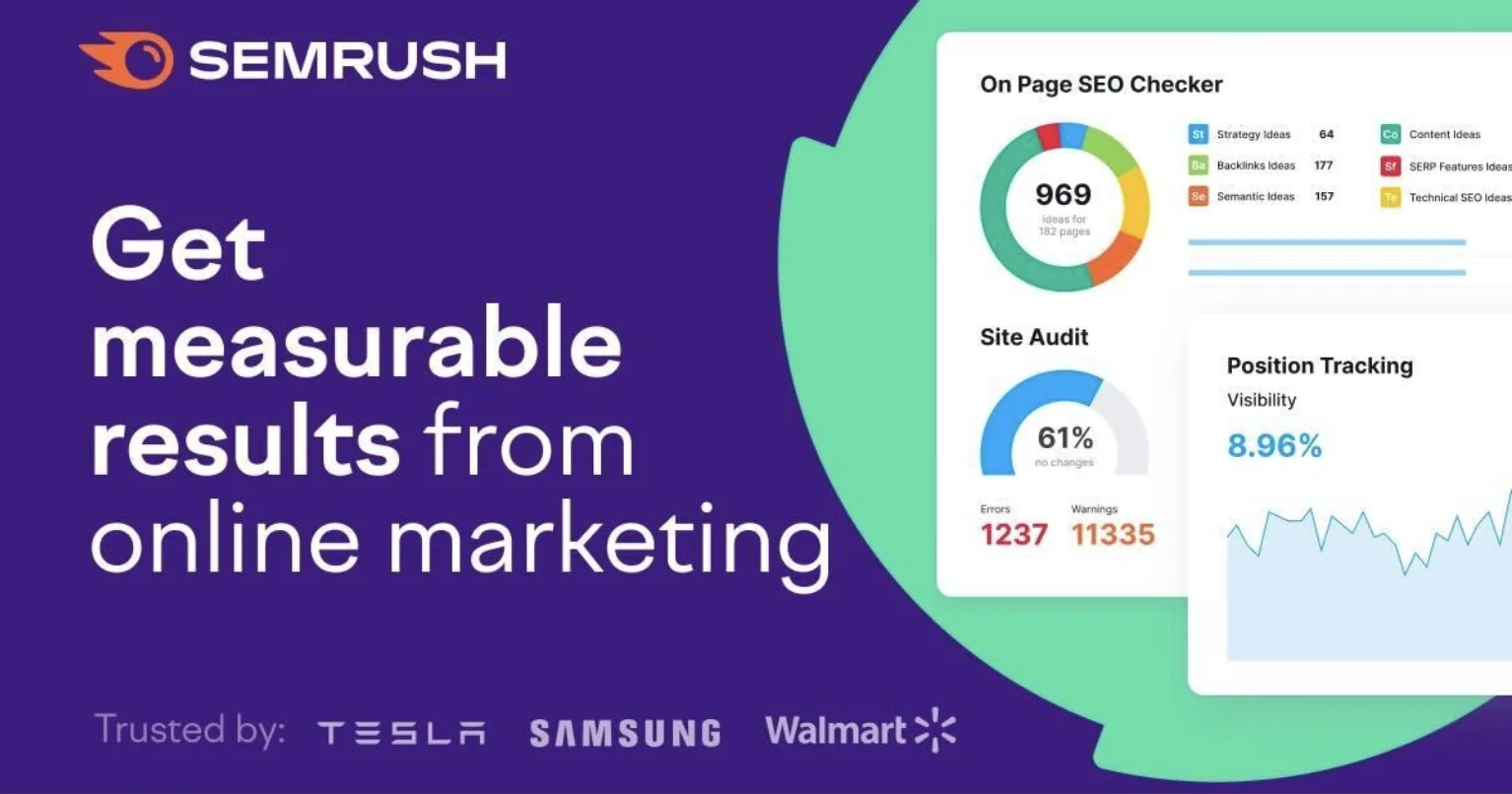 Free/trial plan – yes
Paid plans – start at $119.95
The most popular SEO platform among many specialists is Semrush. It is a robust platform that offers many tools for content marketing, SEO, research, and rankings. The Semrush ranking tool collects data on the domain's performance for target keywords as well as competitor analysis. With this rank tracker tool, you are able to see the volatility of the SERPs based on daily ranking changes.
While Semrush is a bit pricy, which may be a downside for some users, it is still worth it due to its features. For instance, when doing SEO analysis, you will want to track your own progress as well as that of your competitors. The rank tracker tool provides valuable insights into competitors' strategies.
Moreover, Semrush will give you a personalized, in-depth analysis of your keywords. Another feature – historical data – it tracks keyword changes and performance over time. So, you always have details at your fingertips.
The biggest downside of this tool is the price.
Conclusion
The tool to choose is up to you. The best way to find your match is to test all 10 of these rank tracker tools. Rank tracking tools are like an additional set of eyes that help you increase traffic and reach.
We recommend starting with the first rank tracker tool – SE Ranking. It has a very simple yet effective keyword ranking checker. Another benefit is its affordable price.
And after a personal experiment, you can see for yourself which tool is suitable for your business needs.