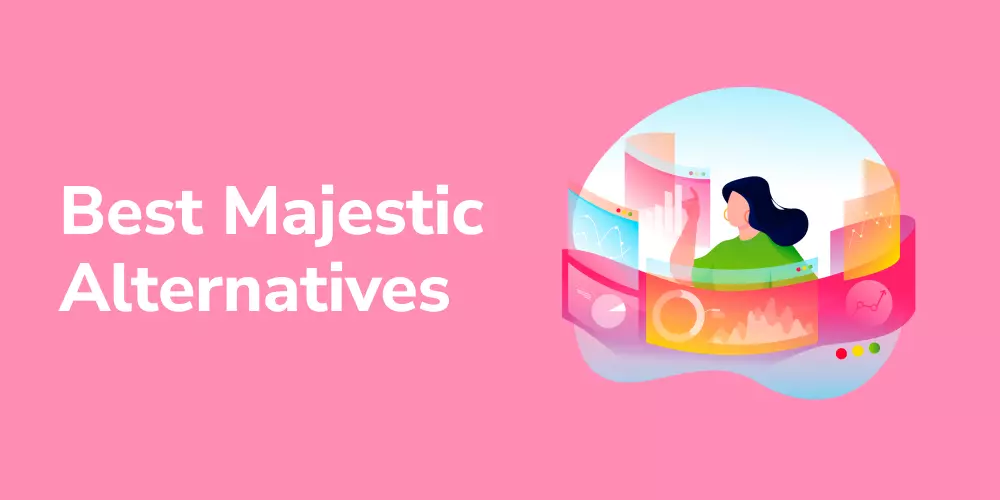 Majestic is known for its large backlink database, so many companies make it their first choice for SEO software. However, since the prices and features may not work for everyone's needs, it is worth checking out other services that either complement the functionality Majestic is lacking or provide the same set of features for a better price.
You can find numerous solutions for freelancers, in-house marketing teams, and large agencies — subscription plans are usually flexible in terms of the features and prices they offer. While it may be challenging to find a completely free Majestic SEO alternative, you can still find free features in almost any service, which can be a great starting point.
We have gathered together a list of Majestic alternatives that offer a wide set of features and can help with both digital marketing and SEO efforts. If you are looking for a more affordable Majestic alternative, most of the alternatives we offer have flexible pricing.
SE Ranking is an excellent and more affordable alternative to Majestic if you're looking for a platform that can handle backlink analysis and monitoring just as well, if not better. Its backlink database is one of the fastest-growing on the market, with:
3T backlinks indexed
262M domains indexed
7B pages crawled daily
The SE Ranking platform offers an accurate and complete view of any site's backlink profile with all critical metrics for each link and domain, presented in nice graphs, charts, and tables for easy understanding.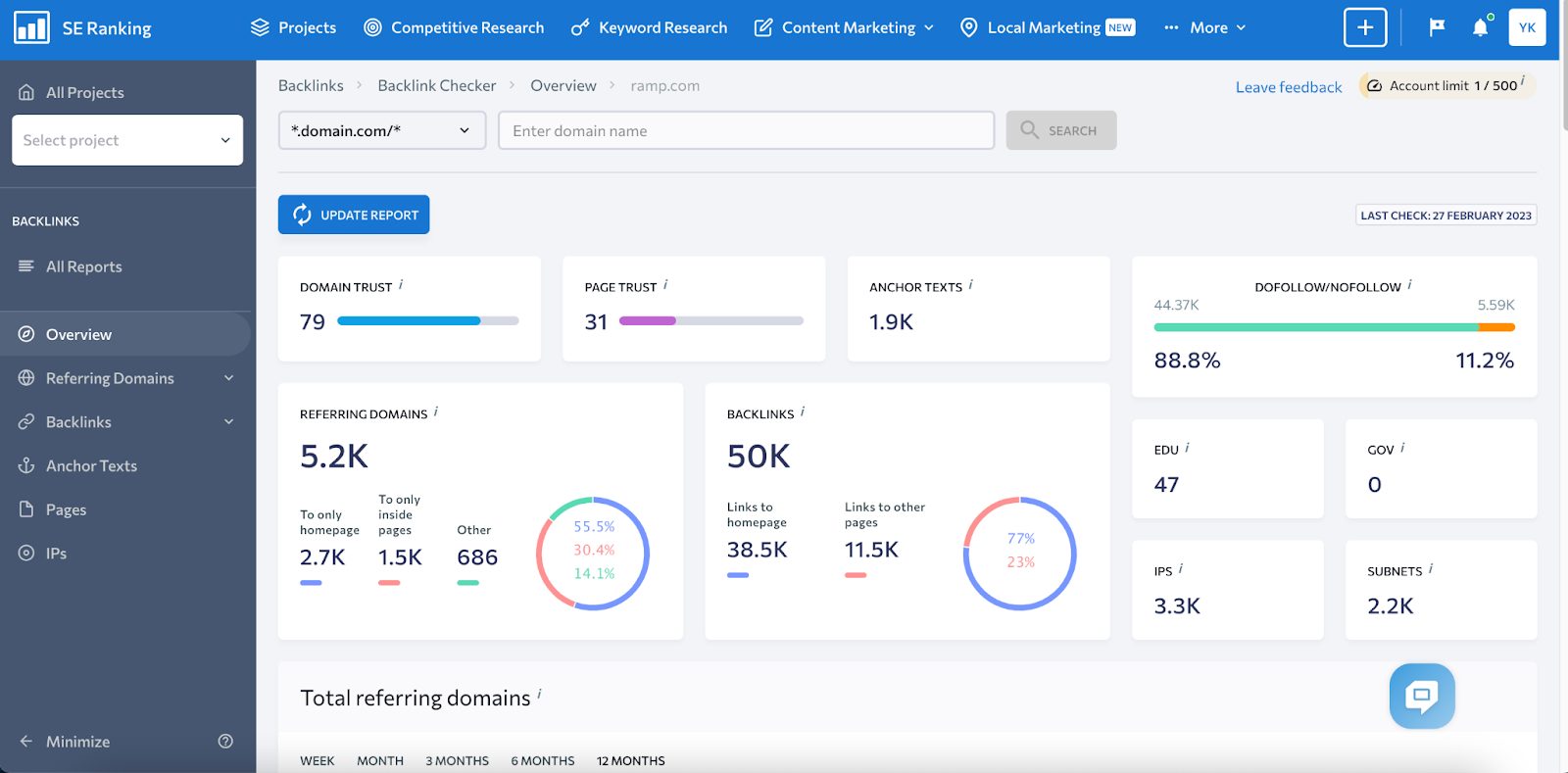 SE Ranking's Backlink Checker analyzes any domain's backlinks against over 15 parameters and shows Domain Trust and Page Trust scores, new and lost backlinks and domains, anchor texts, and pages those backlinks point to. This will help you analyze the quality of your site's backlink profile and develop a strategy for improvement.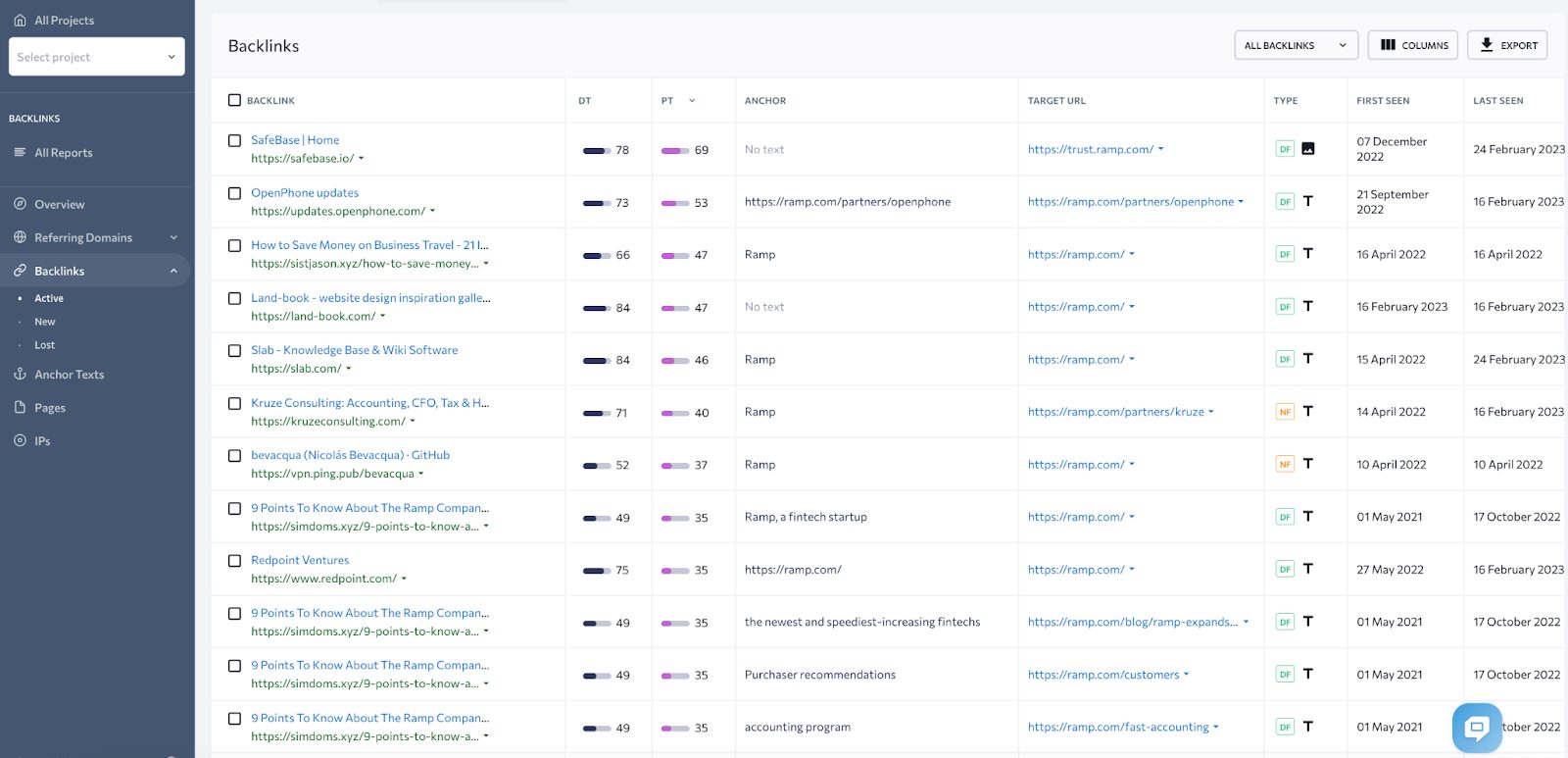 SE Ranking also boasts a powerful Backlink Gap Analyzer tool that helps you spot the backlinks that you and your competitors have in common. It also helps you identifying the domains pointing to your rivals' sites but not to yours. You can also use this tool to compare up to five domains or URLs. It will show you up to 10,000 backlinks for each.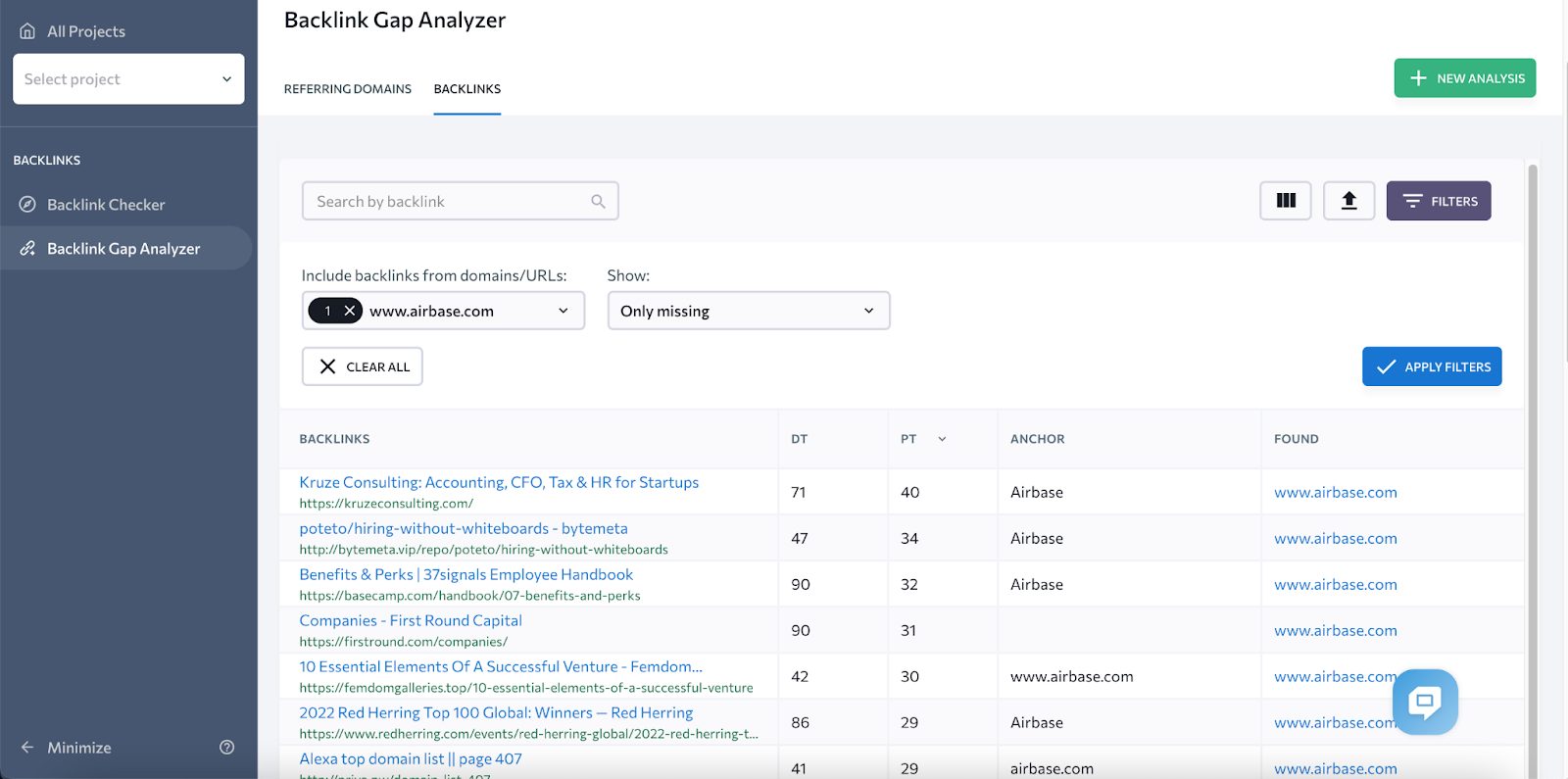 SE Ranking is arguably the most comprehensive alternative to Majestic because itoffers an entire suite of tools all in a single platform. You can use SE Ranking to do just about anything in SEO, including:
Researching and clustering keywords
Analyzing SERP and organic competitors
Investigating competitors' campaigns, and organic and paid traffic
Evaluating any website's technical health and optimization level
Running on-page-SEO checks for any URL
Monitoring ranking spikes and drops
And much more.
One of SE Ranking's most recent features is its cutting-edge content marketing tool, which supports you in the content creation process at various stages. Having an AI-based tool like this is absolutely crucial for the success of your SEO campaign. You can use it to perform the following: craft content that's more relevant, get comprehensive data on how your content performs against competitors, check content for readability, and create SEO content briefs. This tool alone sets SE Ranking apart as one of the most all-inclusive alternatives to Majestic SEO.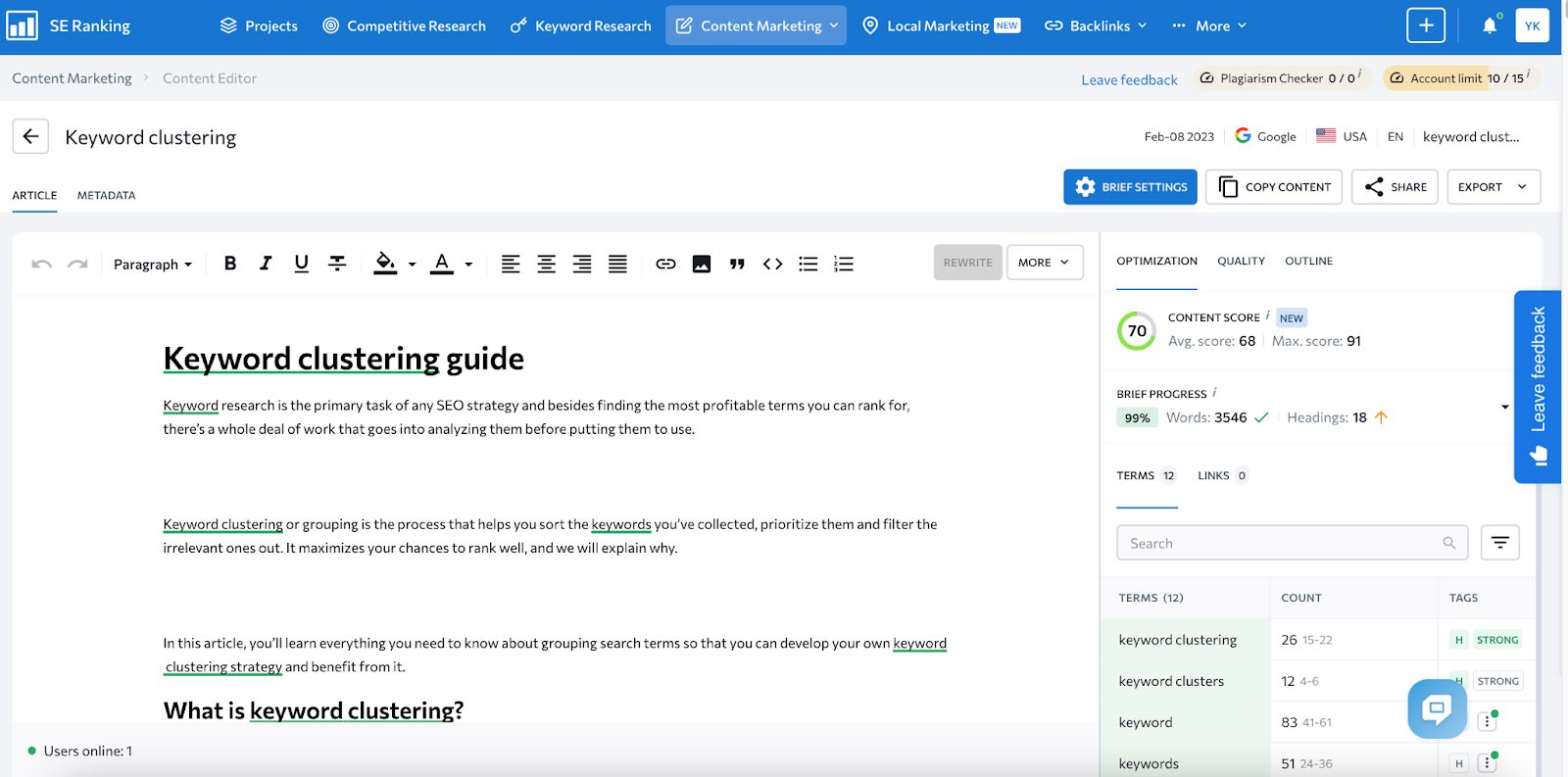 SE Ranking also boasts a White Label feature, Reporting Tool, Lead Generator, and API, making it the ideal platform for agencies. All of these features can be combined to streamline any agency's SEO efforts, helping them grow and nurture their client-base more effectively.
Majestic is known for its complex software. SE Ranking, on the other hand, is famous for its user-friendliness. SE Ranking's platform is easier to navigate, has a more visually appealing design, and presents data more conveniently through simple dashboards designed with the user in mind.
SE Ranking runs an academy to educate users about different SEO aspects, including an SEO Basics course with eight modules, introducing the ins and outs of website optimization. SE Ranking also recently released its Content SEO course, which teaches users how to craft SEO-friendly copy.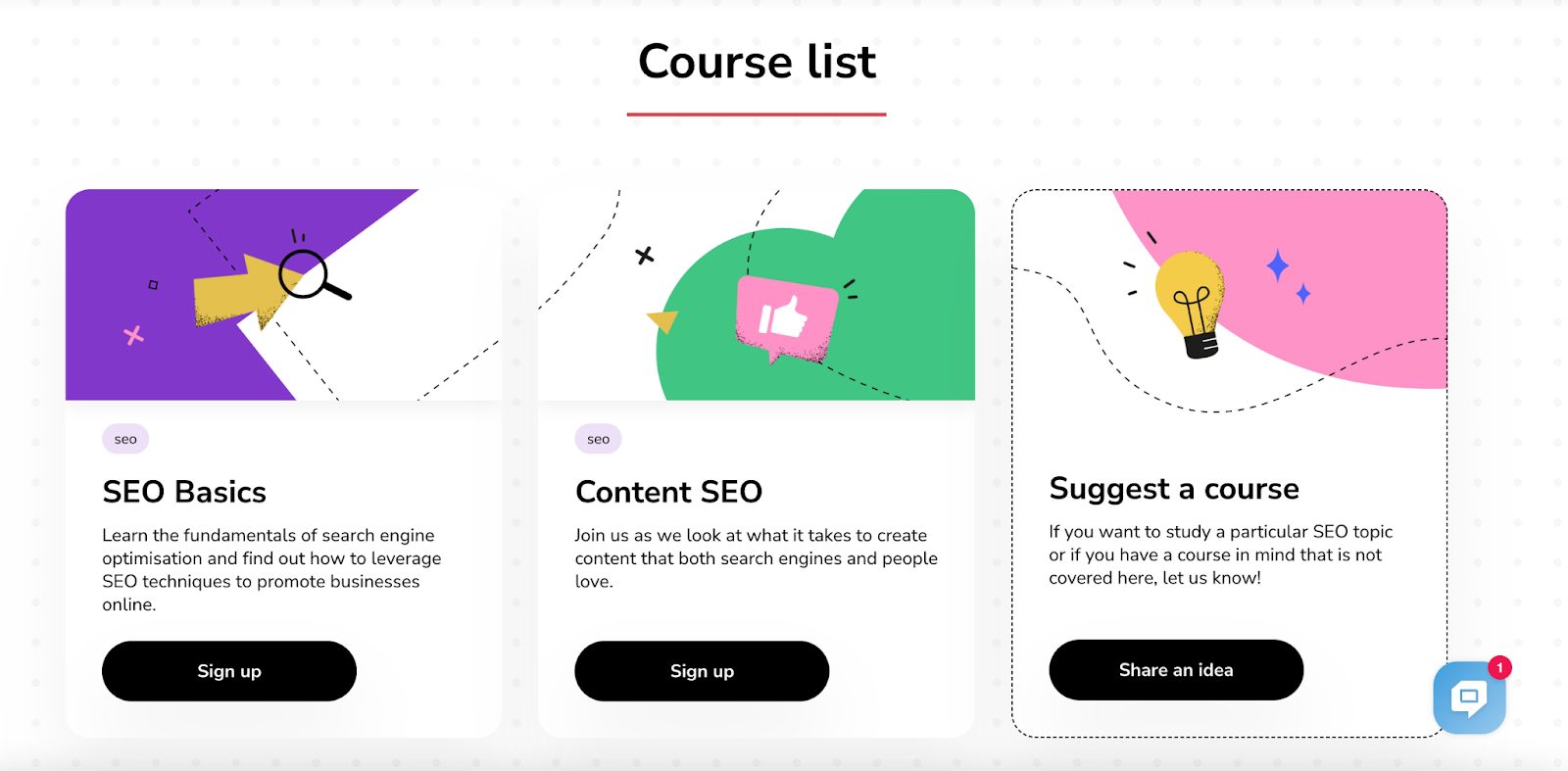 SE Ranking's plans start at $55 per month, which is higher than Majestic SEO's pricing plans, but SE Ranking delivers more features and data. Majestic SEO's starting plan, on the other hand, is $41.67 monthly. Also, with SE Ranking, you can adjust your subscription plan costs based on the following factors: the number of keywords, backlinks, and pages you want to analyze; the number of briefs and articles you want to create; and rankings check frequency. 
SE Ranking, as you can see, is uniquely customizable in every aspect, making it the ideal choice for anyone who wants to spend money only on what they need.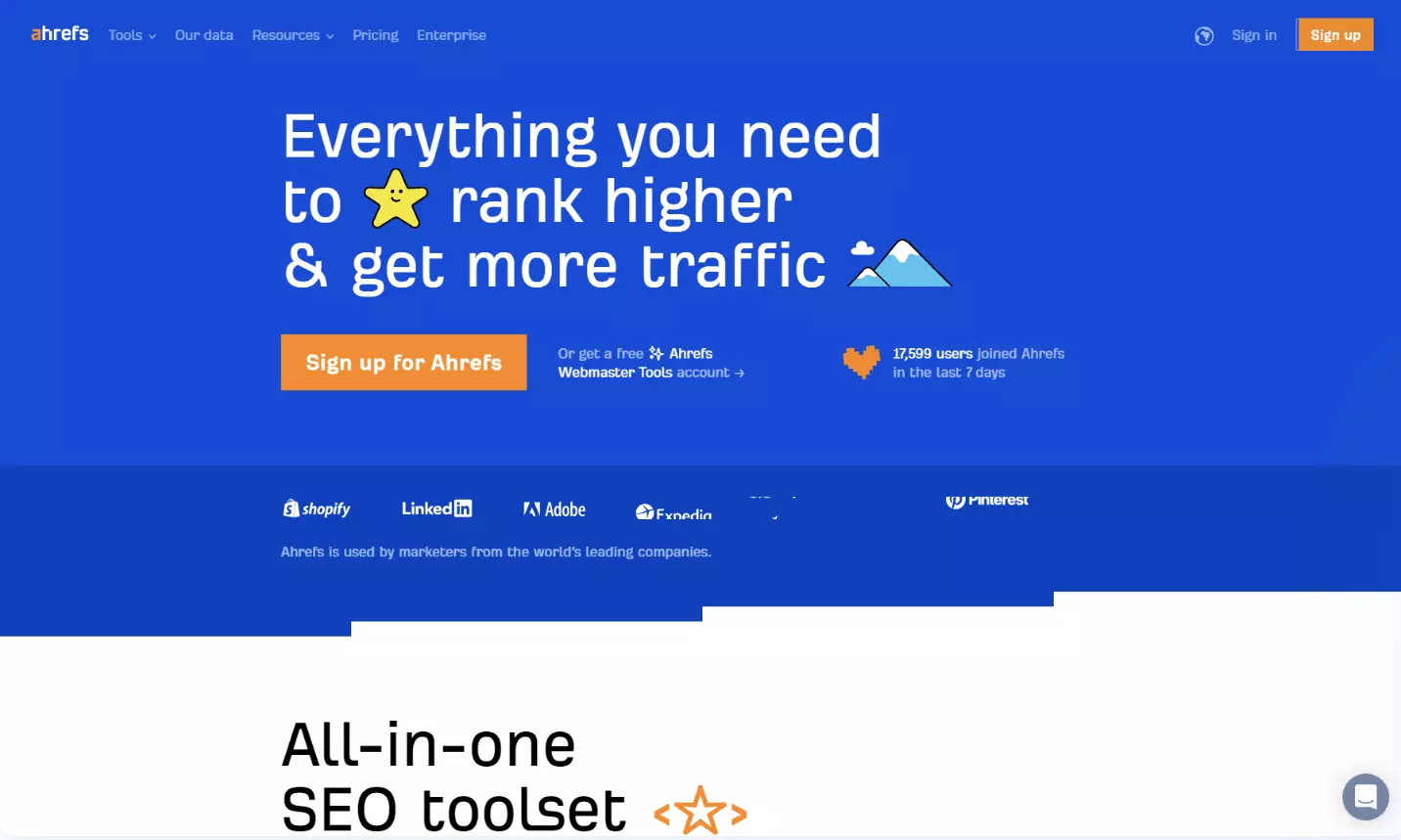 Ahrefs is one of the most popular tools for SEO out there and can serve as a Majestic alternative. It combines keywords and site explorer, rank tracker, site audit, and content explorer. The tool is helpful to specialists across digital teams, from technical specialists to content writers. If you're looking for a solution for a large team, you can find extra features with the enterprise solution, including Google Data Studio integration, better access management, and greater plan flexibility. Ahrefs can help with competitor research and analysis, as you can find the organic search traffic and backlink profile of any website. Even for a local business, the platform will perform an in-depth analysis, as it offers data for over 150 countries.
While Majestic mostly focuses on backlink metrics, Ahrefs also has tools that let you generate high-quality content. Ahrefs, though, does not have such a wide database for link-building opportunities. However, this service can be helpful to beginners of SEO: you can access a free guide that contains six modules that allow you to build a foundation of SEO knowledge. Additionally, you can take a free course with tutorials on numerous digital marketing topics.
Ahrefs pricing is not much different from Majestic: the basic plan costs $99 with the ability to add features and get a more comprehensive plan for $200-1,000 a month.
If you are familiar with Ahrefs and want to find a platform with a similar set of features, check out the article in which we discuss Ahrefs alternatives.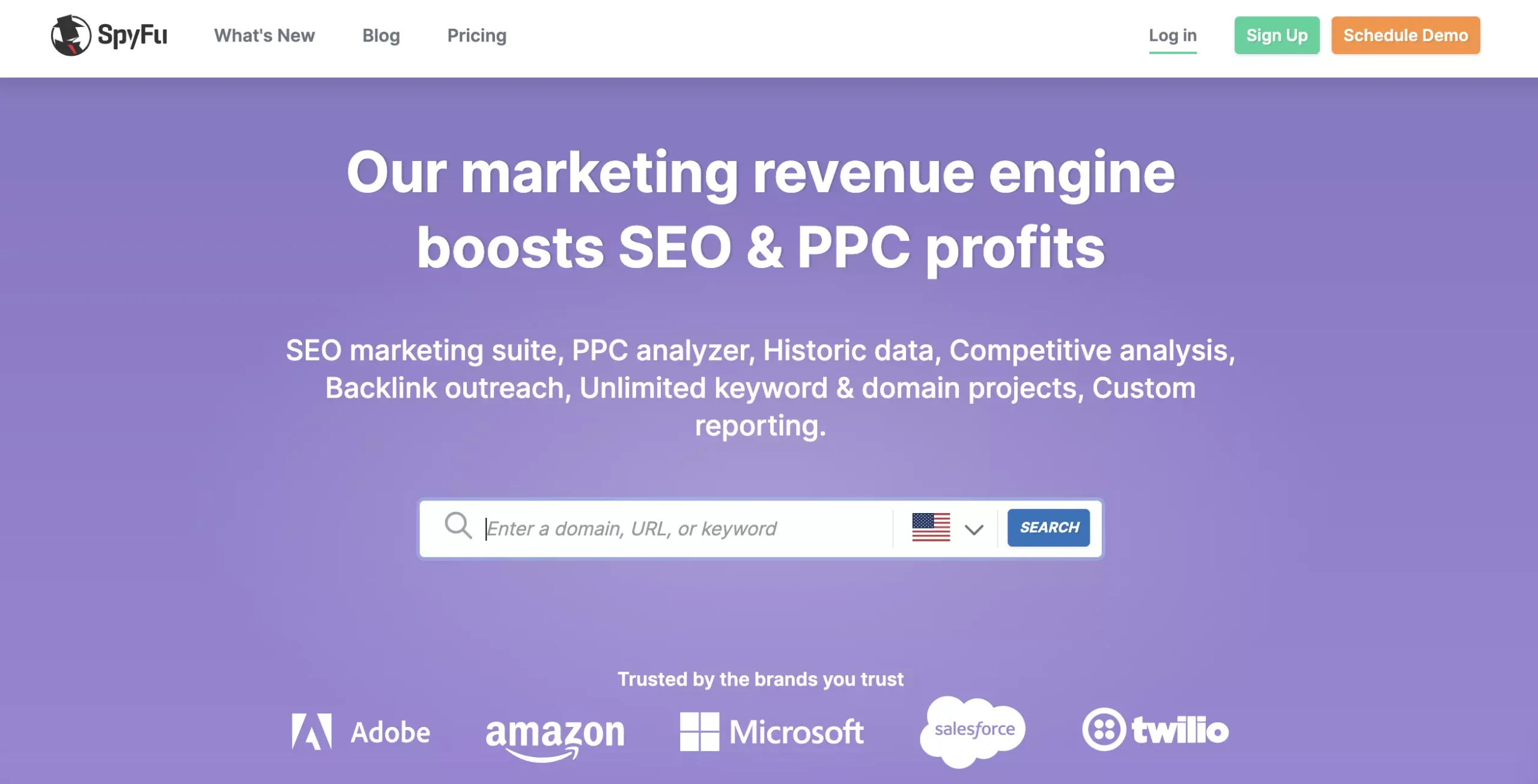 This service lets you gain insights on SEO, PPC, and competitors, offering a set of tools for any professional marketing team.
SPyFu contains a large database that can offer lots of valuable insights into competitors. You can get precise information about any domain. The platform's distinguishing feature is the contact information it provides on some domains — with it, you can get valuable resources to further your marketing efforts. With the SEO features, you can perform rank tracking, keyword research, and analyze backlinks. You can get historical data and collect insights on your website performance, and stay up to date with keyword tracking and custom reports.
It also contains a library with over 200 short video tutorials that can help you grasp the basics of SEO and app use. No matter which plan you choose, you get unlimited access to all the data. The basic plan costs $39/month, but you can get it for $16, paying annually. The professional plan that contains custom branded reporting and API access costs $79/month. The most extensive plan includes more sales leads, domain contacts, and five user domains and costs $299/month.
If you are already acquainted with SpyFu and want to discover a platform that offers comparable functionalities, have a look at the article about SpyFu alternatives.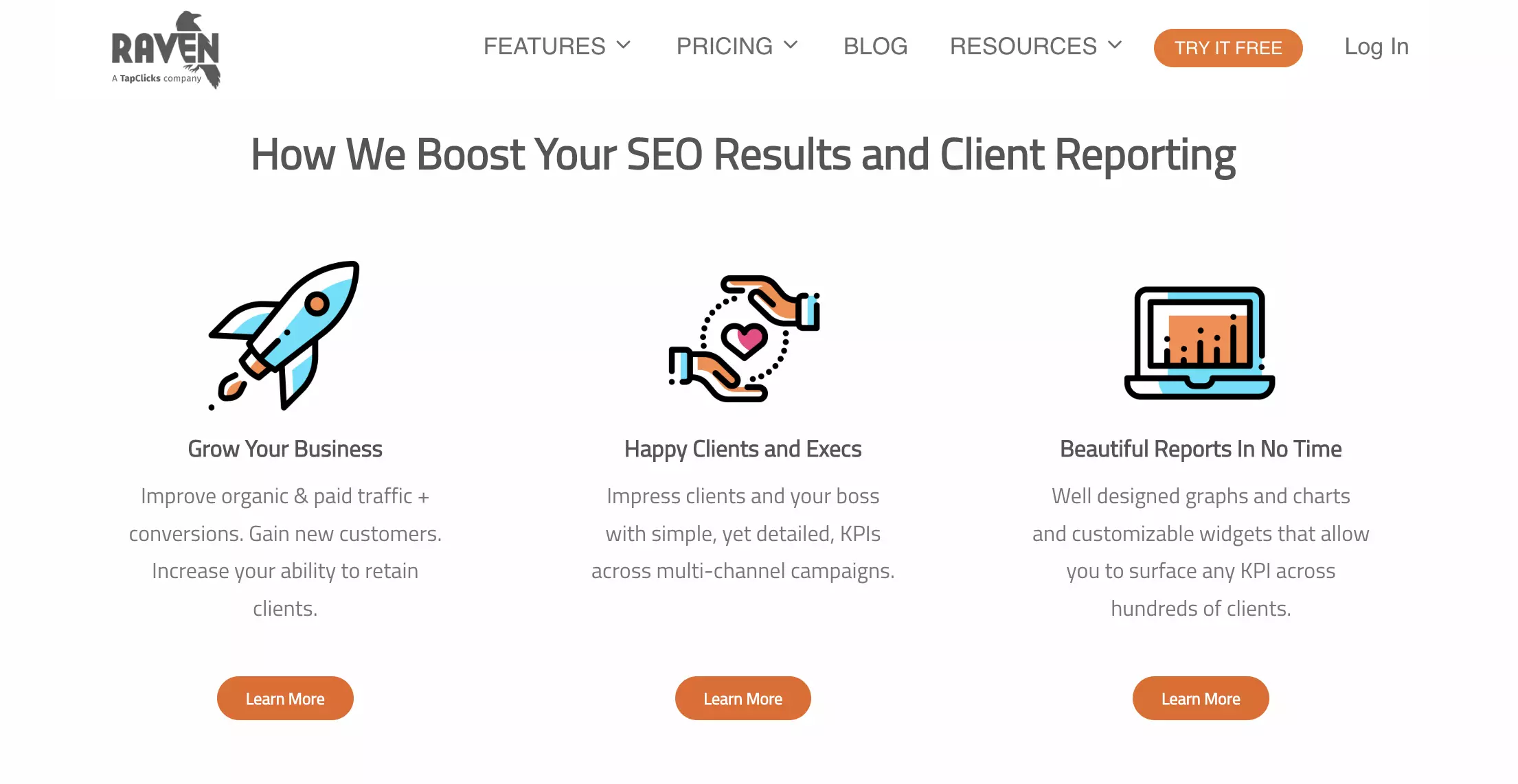 With Raven Tools, you can collect your data from SEO, marketing, and advertising and unite it all into marketing reports. Raven Tools focuses on offering comprehensive reports that are especially useful if you need to organize regular reporting to a client.
The service offers you two options — the first one is the classical option and focuses on main SEO data, and the second one is an advanced option that helps to get more insightful competitive research and improved visualization for backlinks, rank tracking, and site analysis.
Raven Tools has a website auditor that evaluates website health, finds issues that are keeping you from ranking high, and helps you see how far you've come with your SEO efforts.
Besides, you can get insights on your social media: it collects your campaigns from all channels and monitors them for numerous clients. It also helps you to look after your social media efforts and adjust what you need in just a few clicks. You can schedule posts and create automated reports that will be sent every week or month, depending on your needs. If you have an agency, the platform provides an option to create white-labeled reports that look custom-built.
You can save up to 40% paying annually, so pay attention to annual prices if you're looking for a long-term solution. Options for a free trial are available if you want to test it out first. The basic monthly plan will cost you $40, while the most advanced option for agencies costs $160.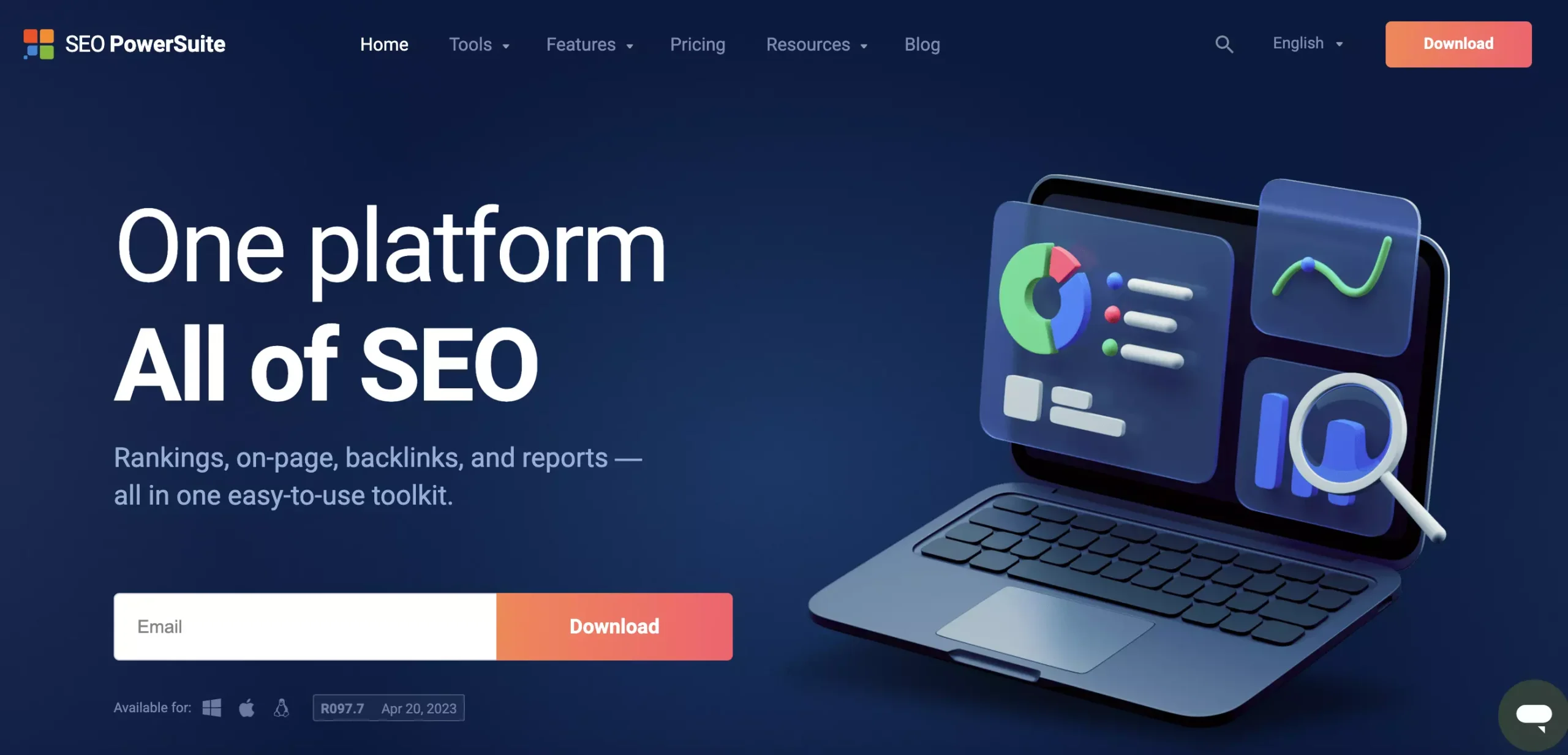 SEO PowerSuite can help you with all your SEO needs and contains four key features: a rank tracker, website auditor, backlink research, and link-building tools. It can serve as a solid alternative to Majestic backlinking software as the service has one of the largest databases of external backlinks, with 3,5 trillion of them, while Majestic analyzes 10 billion. It's a fairly recent update, so even if you've come across the platform before in terms of backlinks, you may be pleasantly surprised when you try to run research one more time.
Moreover, SEO PowerSuite has all the tools to not only look after backlinks but also to perform a deeper analysis: check HTTP status codes, penalty risks, anchor texts, and more. Once you have a strategy, the service helps you adjust it by organizing backlinks and seeing which pages bring the highest number of backlinks.
Keyword research tools have features similar to the ones that Majestic offers, but you can also find a keyword gap analysis tool, which helps you to understand where you stand amongst your competitors in terms of research. It can be great for adjusting your content strategy and generating fresh ideas.
One of its unique features is the ability to automate software and tailor it to your specific needs. You can schedule a task at any time and get the data you request when needed. This can help you plan campaigns in advance and save time with analysis that requires lots of research. The platform is especially helpful for more experienced specialists who need to customize a search. You have the ability to choose and filter various data, including locations, and customize how you see the results.
You can use the basic version free of charge as a free Majestic alternative or get more advanced features for $300-500 a month.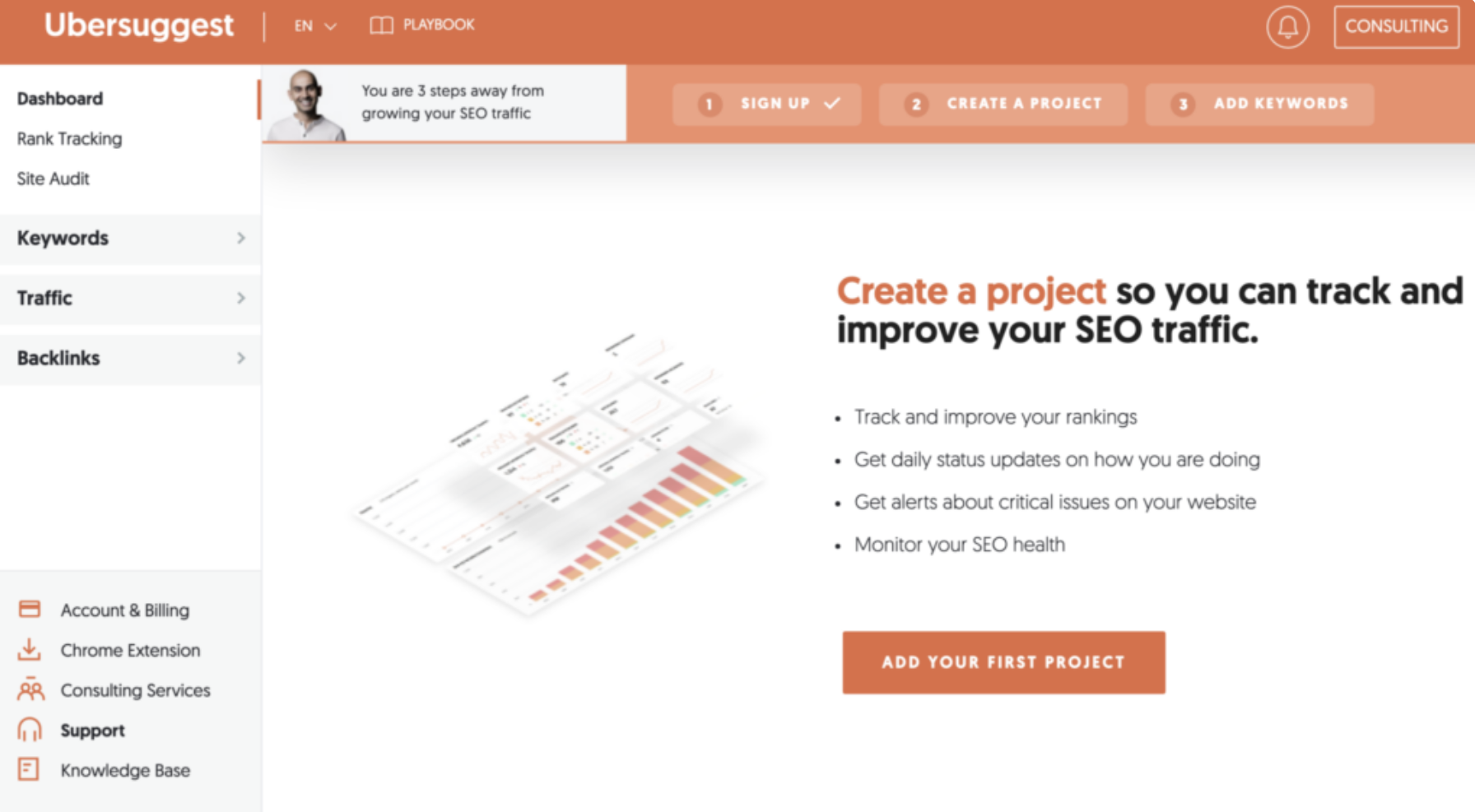 Ubersuggest can serve as either a solid alternative to Majestic or complement it with interesting features that other services usually do not provide. Its basic features include the backlink and website checker tool along with the SEO analyzer. Besides, it has numerous tools that allow you to up your marketing game a bit, such as the AI Rewriting Tool and the A/B Testing Calculator.
One of the features that distinguishes Ubersuggest from Majestic is its A/B testing significance calculator, which can give you an idea of how much your design or content impacts conversion rates. This way, you can manage your marketing campaign more effectively and prioritize tasks and investments based on the data.
Another tool that can be useful for generating content is AnswerThePublic — it collects autocomplete data from search engines and cranks out the phrases users are asking around the keywords. It can broaden your area of research on topics you would not have guessed to look after and can offer much better interaction with the targeted audience.
If you're looking for ways the app can help you generate content, you may benefit from its AI Rewriting Tools. They give you an opportunity to automatically create headlines or descriptions that drive SEO results — all you need to do is type in a keyword and choose the copy you like the most. In addition, one of the new features in Ubersuggest allows you to type in a competitor's domain and get more keyword ideas, which can help enhance your SEO efforts.
What truly sets UberSuggests apart from the competitors in terms of pricing is its lifetime offer. This means that you can pay $120-$400 (depending on the plan) and get lifetime access to all the features. Even if the platform does not cover all your marketing needs, it can be a great investment, as you get access to any new features that will be launched. If this option does not work for you, a subscription plan remains available at the cost of $12-40 per month.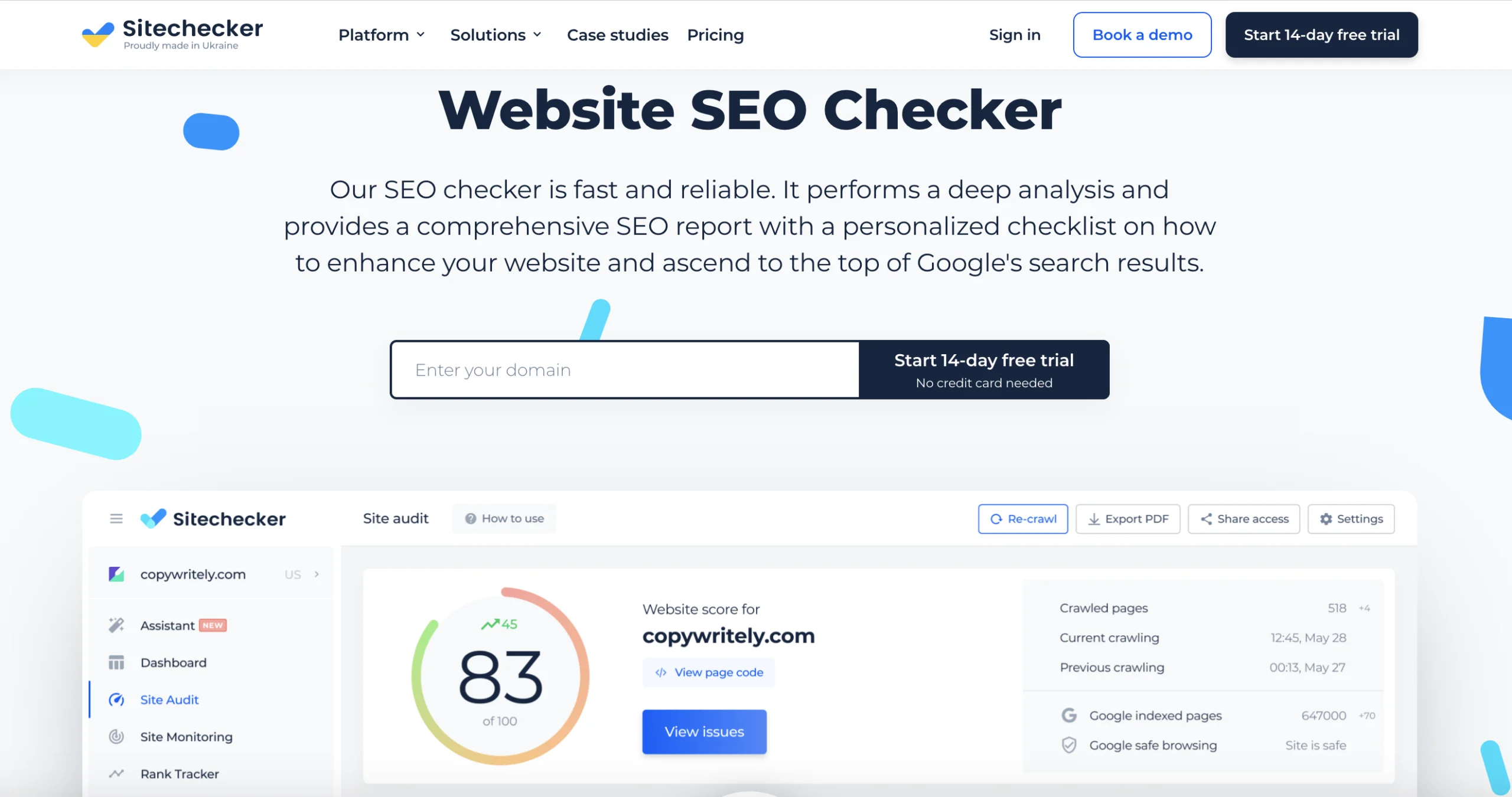 Sitechecker focuses on offering a comprehensive technical audit of your website and provides key data that can help you make informed yet quick decisions on your SEO.
Business owners, marketers, and agencies can benefit from this service as it has various features that make data accessible to specialists of all levels. This solution is for you if you're not yet ready to deal with complex SEO software and need a quick solution with a limited amount of data. For instance, you can integrate Google Search Console and Google Analytics. While most services would simply leave you with this information, Sitechecker gives you data with steps to take that allow you to act almost immediately after getting the results.
You'll find Sitechecker especially valuable when launching or updating the website, as it provides you with all the necessary insights from the technical SEO perspective. Moreover, you have the ability to monitor any changes or issues that may arise on the website and effectively eliminate them in the early stages. You will also get keyword reports and notifications if anything crucial happens in terms of rankings.
Besides, you can get an automated to-do list based on the changes in your rankings, backlinks, or website content — this way, you will not be lost among the tasks and can prioritize your daily tasks.
Freelancers or small business owners can start with the basic plan that costs $23 a month, an option suitable for in-house professionals costs $40, bigger teams will benefit from the plan for $80/month, and large companies can get an enterprise plan for $320.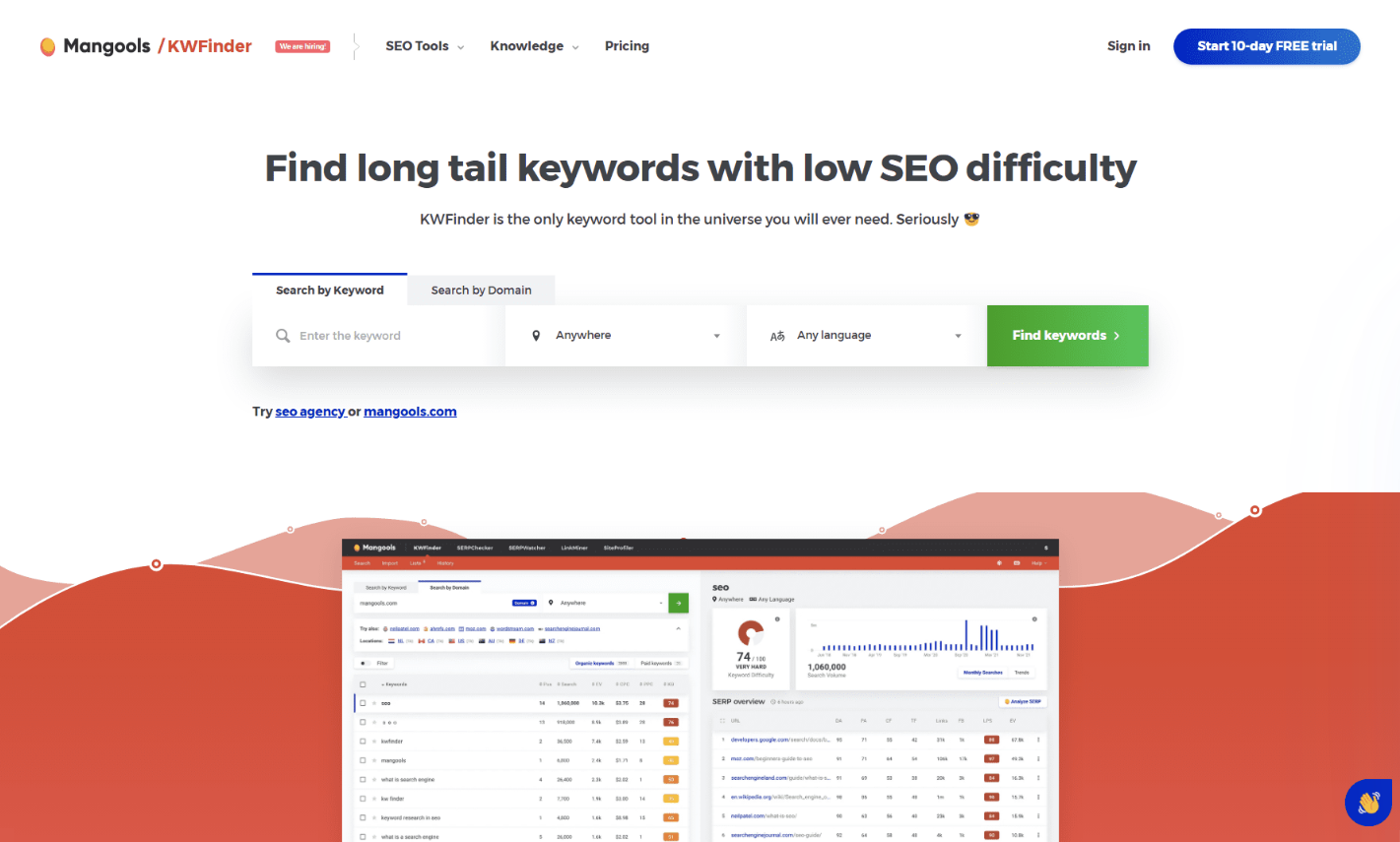 Another tool that focuses on offering the simplest possible solution for SEO professionals is Mangools. If you're looking for an SEO Majestic alternative, this tool is for you. Unlike Majestic, which offers comprehensive yet complicated reports, Mangools makes reporting as simple as possible. That's why it's the perfect solution for beginners, freelancers, and small business owners who need a solution to get started. You can even get support on any issues you may run into, as representatives are actual SEO specialists who have experience in the field.
In terms of features, the platform covers the same functionality as Majestic, and also keyword research, site analysis, rank tracker, SERP checker, and a tool for backlink analysis.
You can check how trustworthy other websites are, see whether a backlink is suitable for partnership, and find which content users find valuable among your competitors. One of the valuable metrics for SEO professionals is the performance index that was developed by Mangools. It analyzes current keyword positions and search volume to define the organic traffic potential of your website. While it has all the necessary information to get insights at the beginning of the journey, it may be problematic when deepening your strategy or automating your SEO efforts.
Still, the prices are lower in comparison to Majestic. As always, annual plans are more affordable, but monthly ones are available as well. Choose your plan from $30 to $90, depending on your marketing needs and team size.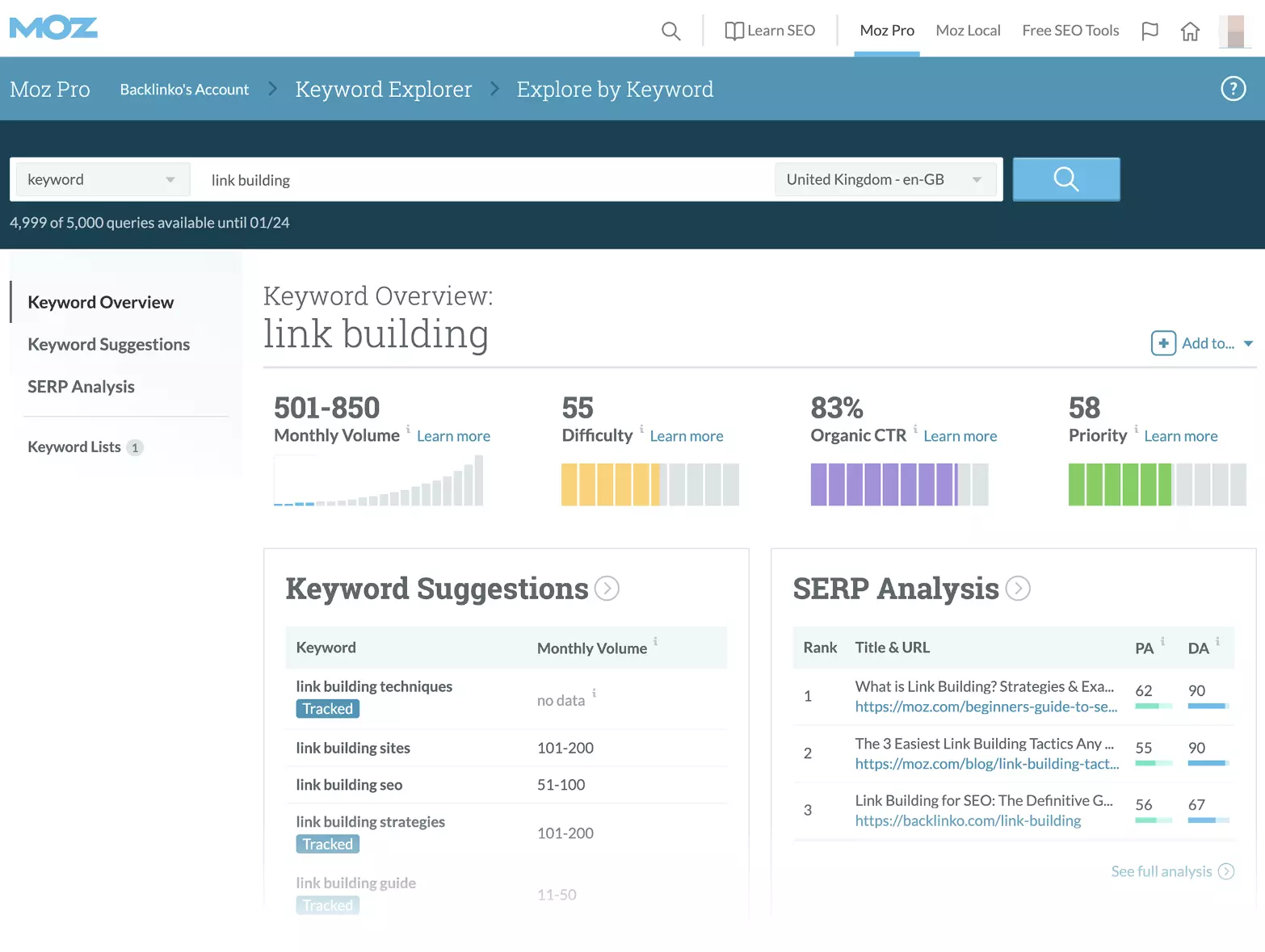 Moz Pro offers complex SEO and marketing solutions for specialists who want to collect all the crucial metrics in one place and find a reliable Majestic alternative.
The keyword research tool is fairly comprehensive and takes repetitive busywork and bad data out of the picture, helping you discover and prioritize relevant and high-quality keywords. You can use this tool to plan and adjust the content, as it can be a source of fresh ideas and insights that can drive the strategy further. The SERP tool can also be helpful by providing visibility of the SERP over time, giving you a greater understanding of solutions that might work best for you.
Besides, you can audit your website and gain data on various SEO issues you may run into and learn how to fix them. The platform lets you prioritize issues, which can help you understand what you should be working on first and what the most critical issues are. You also need to know whether your website corresponds to users' needs, which Moz shows you by giving you the page optimization score. Page and domain authority are metrics that have earned a high trust on the market and are used by many specialists: they tell you how well your website is performing and how much Google can trust, and they rely on a large amount of data.
Moz also has options for agencies, offering features for customized and branded reports you can easily export and present to your clients. Overall, the platform covers all the necessary marketing data your team needs to have high performance and execute its strategy. The basic plan starts at $99 per month and costs as much as $599 for companies who want to benefit from all advanced features.
We also recommend checking out our article on Moz alternatives if you are already familiar with Moz Pro and want to learn about other platforms that offer similar features.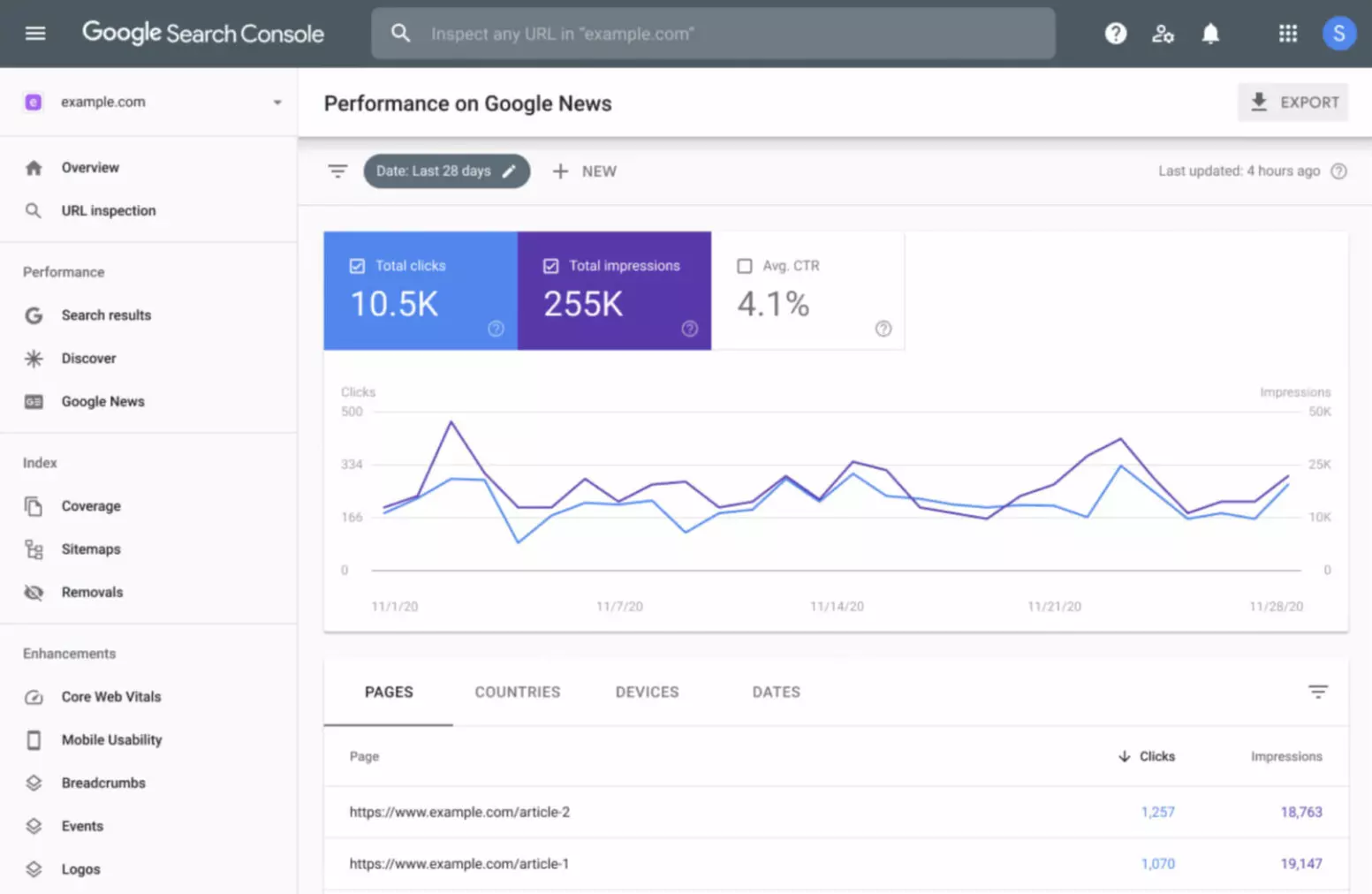 Google Search Console can be considered as one of the fully free Majestic alternatives. It helps to improve website performance and boost rank in search engines. It looks at your website from the Google perspective and analyzes data that you need for a higher ranking. You can see which queries bring users to your website and find whether they respond to the content by analyzing impressions, clicks, and other important metrics. The platform also has tools to help you enhance the website by identifying and notifying you of any issues that arise, monitoring AMP pages, and giving information on mobile usability.
If you are ready to invest some time into the software, you can find videos with educational materials on how to use Search Console effectively. That way, you get the most out of the software from the very start.
For a free application, it has a comprehensive functionality that can give you insights on key marketing metrics. If you're not ready to invest much into software or just getting started, this tool can be a nice starting point for your SEO efforts. It has decent tools from both an on-page and technical perspective that can help you eliminate mistakes most specialists make when launching a website without any analytics.
Conclusion
It can be challenging to choose the service that works best for you. Not all specialists need the same set of features, which is why it is crucial to understand where you're at and what your plan is for the future. Ideally, you should have at least a draft of a strategy in place or a clear understanding of where you want to go before researching SEO software.
For instance, you don't need a complicated set of features if you're at the beginning of your journey — simple dashboards with basic metrics may do it. On the other hand, if you're reframing the way your website or digital marketing strategy operates, you may need deeper insights than those offered by a beginner's plan. You should also think about the amount of time you're ready to dedicate to learning about the software. Some services do not require any involvement, while others need dedication and time to grasp the functionality and get the most out of it.
Check out the list of Majestic alternatives and compare functionality with prices to make an informed and fair decision for your business.