When it comes to broken links, there are two types that you should be aware of. When one of the pages is invalid directly on your website — it is usually shown as a '404' code — it's called broken internal links. Another type is broken backlinks: the other site that has referred you has a link to a broken page on your site.
You don't want to risk getting broken links either, as they break the user journey flow and render backlink-building efforts useless. Nowadays, the large amount of competition in every niche does not help you here: if customers do not get what they need in seconds, they will look elsewhere.
Checking such links manually can cost a lot of time and effort. Instead of obsessively checking every link or backlink on your website to make sure it's not broken, try using a broken link checker. A website broken link checker automatically examines every single page on your website for broken links and alerts you when one is found — this makes it easy to ensure that each web page is updated.
Let's take a look at some online broken link checkers that can help keep your SEO game strong every time you update your website. There are multiple options, ranging from simple checkers that will tell you if a link is broken to more advanced options with paid subscriptions that will detect problems in HTML coding — examine the functionality of each one to find your best broken link checker.
SE Ranking Website Audit takes just a couple of clicks to check your website health. Upon finishing the test, you are welcome to the dashboard with your domain's statistics. In the menu on your left, you can choose where to deep-dive, link analysis included.
The report will provide the data on over 120 website technical health parameters including HTTP status codes, internal and external linking. All issues are divided by their significance on errors, warnings and notices, and can be organized by group or page so it is easy to navigate and analyze them.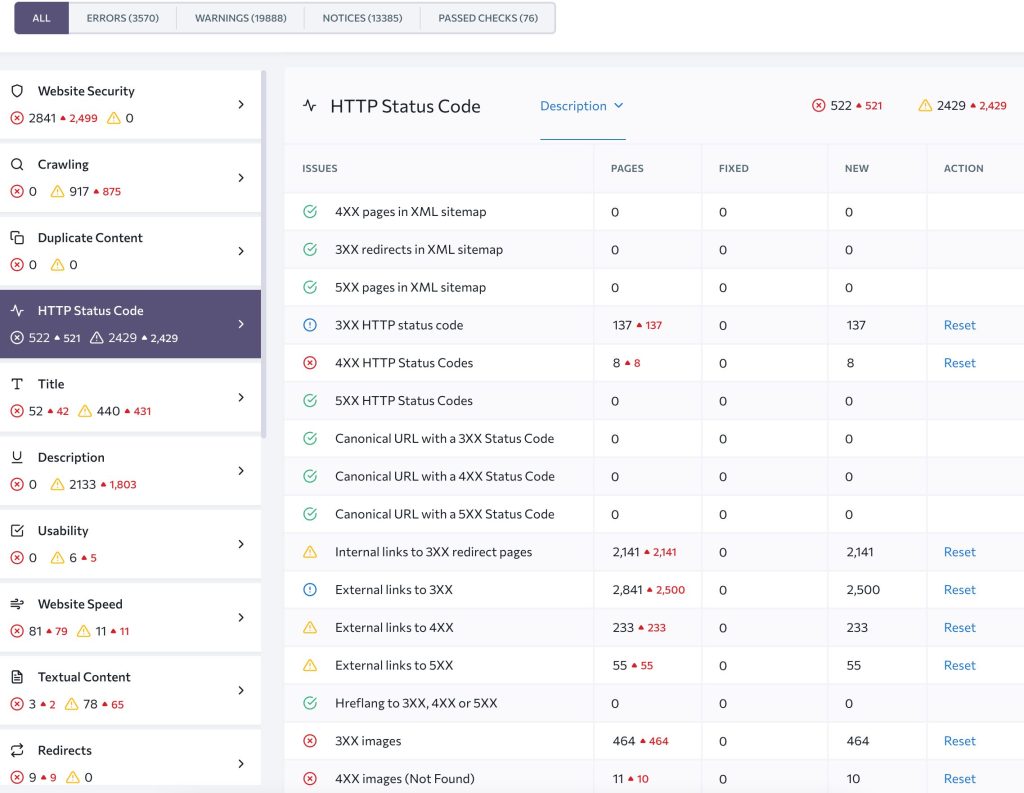 Among other checks, the tool reports you on any 3XX and 4XX URLs, finds orphan pages and redirect loops so any broken link won't be missed.
SE Ranking Website Audit capabilities also include:
Overall website health score

Website security verification

Crawling issues discoverage

Title, meta description and H1 checks

Mobile optimization

Core Web Vitals

Flexible audit configuration

Possibility to automatically schedule and send website audit reports to email, and more.
So, when you need to check if your website has broken links or other issues that may undermine your performance, this tool is the way to go.
Try SE Ranking
Broken Link Check
This
free service
is simple. Simply plug your URL into the box, and it will search for broken links for you. You'll enter a CAPTCHA code to prove you're not a bot, and then the scanner will do its work. You can choose between internal (links to other pages on your website) and external (links to other websites) links. The latter option is great for businesses that affiliate with other businesses (IE, a partner website).
A free service
Plug in your URL and prove you're not a bot
Checks both internal and external links
Dead Link Checker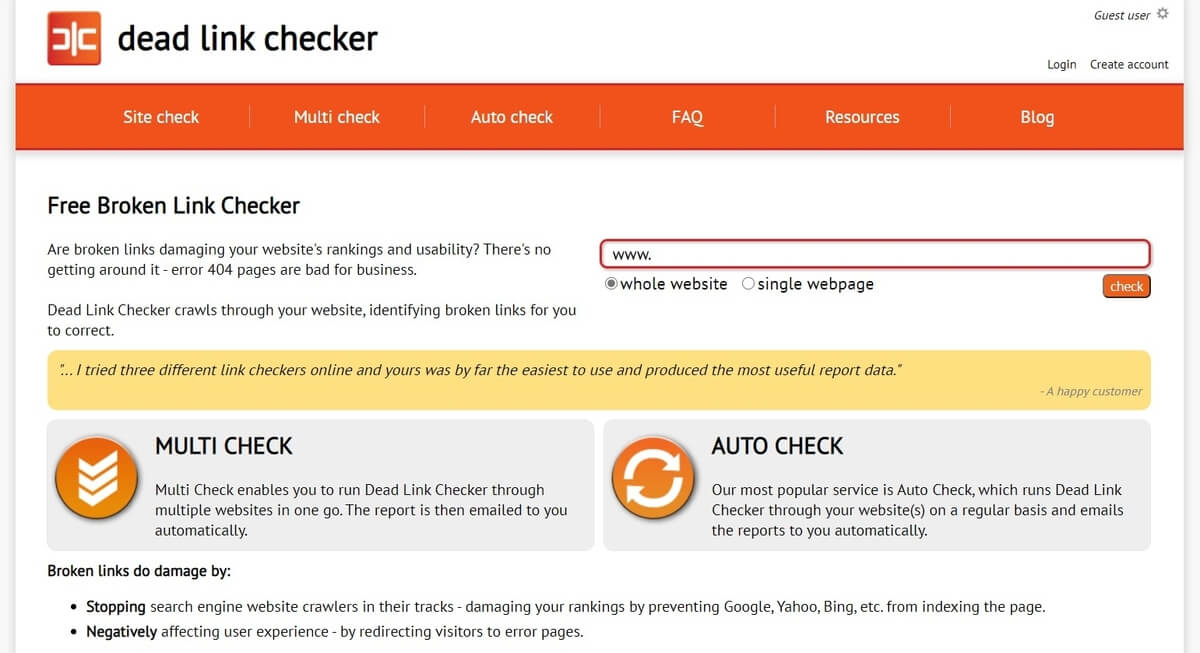 Dead Link Checker
offers a
site check
,
multi check
, and
auto check
. The
site checker
is a free service where you plug your link in and choose between a single page check or a whole website check. The service is simple, but it does exactly what you need. The
multi check
option requires you to register for a free account. Once you're registered, you can check multiple different websites for broken links. The
auto check
option requires a paid subscription and has three options, ranging from $10 to just under $80. Each package can be subscribed to on a monthly or yearly basis. Yearly subscriptions are discounted at 8% as an incentive to make a longer-term commitment. Each option automatically checks for broken links and sends you a report via email. This report is sent whether there are links to fix or not, so you're kept informed all the time. This is great for business owners who either forget or who don't have time to check their website for SEO or broken links as often as they should.
Standard Auto Checker: Checks up to 5 websites and 50,000 links per month. It costs $9.95 per month.
Premium Auto Checker: Checks up to 100 websites and 500,000 links per month. It costs $39.95 per month.
Professional Auto Checker: Checks up to 200 websites and 1,000,000 links per month. It costs $79.90 per month.
Xenu's Link Sleuth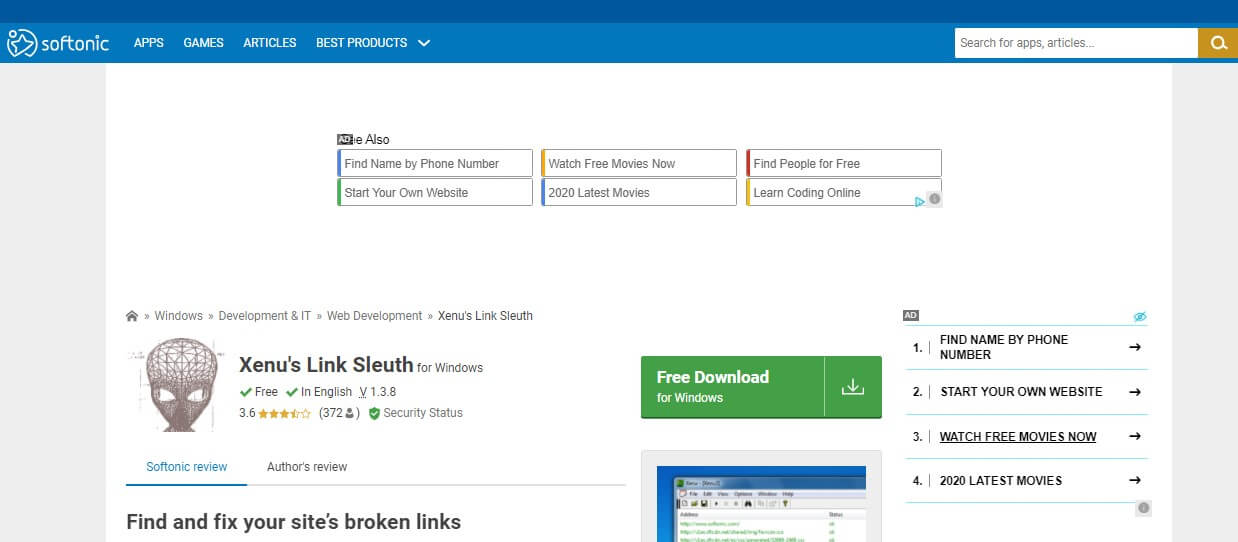 Instead of visiting a website, this is a free, downloadable app that works on Windows. In addition to links, it also checks pictures, frames, and maps, and it's compatible with FTP, SSL, and gopher websites.
Xenu's Link Sleuth
offers its users a simple, easy-to-use interface. Simply use the program via its menu. No knowledge of HTML coding is needed. In addition to checking for broken links, Xenu will find images that delay the webpage loading time. While images are a great enhancement to any website, your website can lose business and/or traffic from a webpage that takes too long to load. Xenu's Link Sleuth also examines the structure of your website and provides you with an Excel report. It runs quickly and smoothly, with the ability to check up to 100 thread counts at once. Xenu is ideal for small- to medium-sized businesses.
Finds broken links
Finds over-sized images
Examines website structure
Works quickly – no long waiting periods!
Unlimited use
W3C Link Checker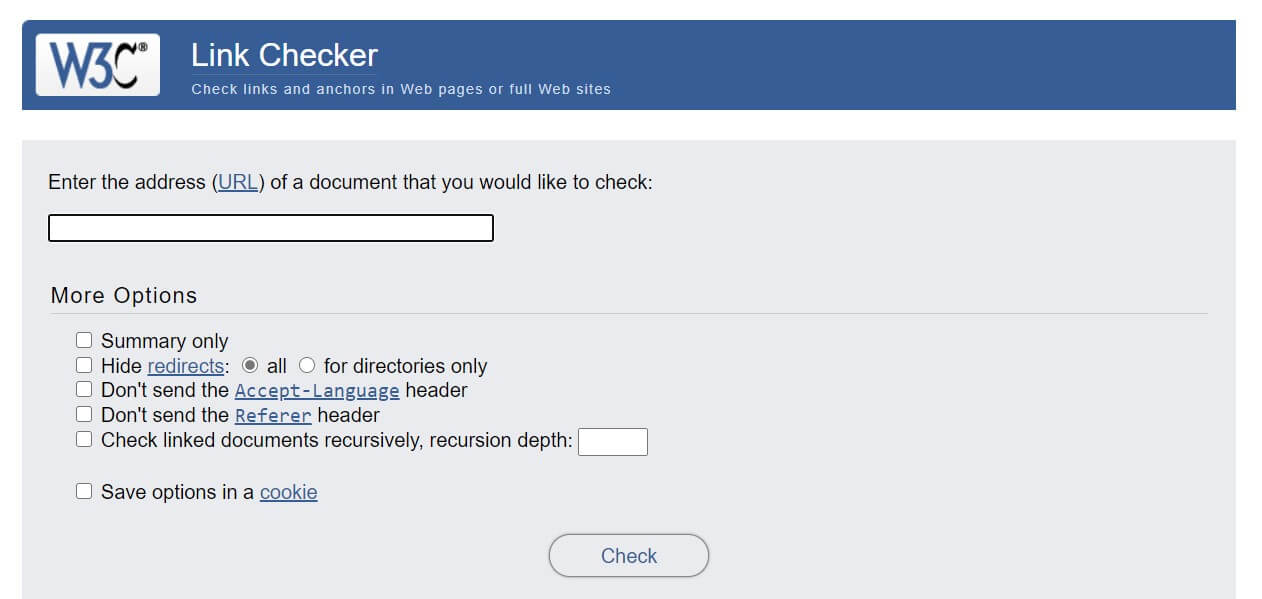 This link checker
works similarly to Broken Link Check. Simply enter the document URL and choose between advanced options (summary review, no URL redirects, etc.), or do a general check. W3C Link Checker is simple but effective.
Plug your URL in to check document or website.
Choose between advanced options to tailor the report.
Google Search Console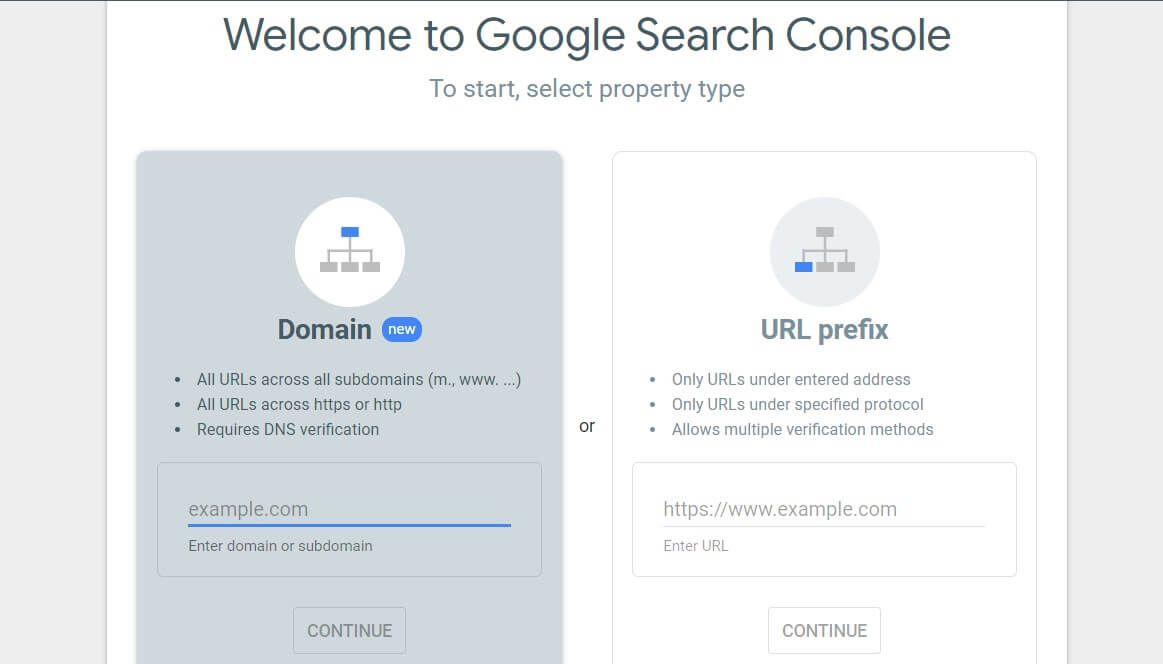 If you're looking for something from Google, look no further. The
Google Search Console
works with URL prefixes or domains. The URL prefixes are limited to URLs within the website and within the protocol. There are several ways that you can authenticate your identity to use this option. Domains work with any type of link on any type of domain. Domains work with both HTTP and HTTPS URL-types. To use the domain version, your DNS must be authenticated. Once you choose between the URL prefix and domain options, it's simple. Plug in your URL, and follow the steps. You'll be good to go in no time at all.
Free to use
Official Google resource
Choose between URL prefix or Domain
Broken Link Checker for WordPress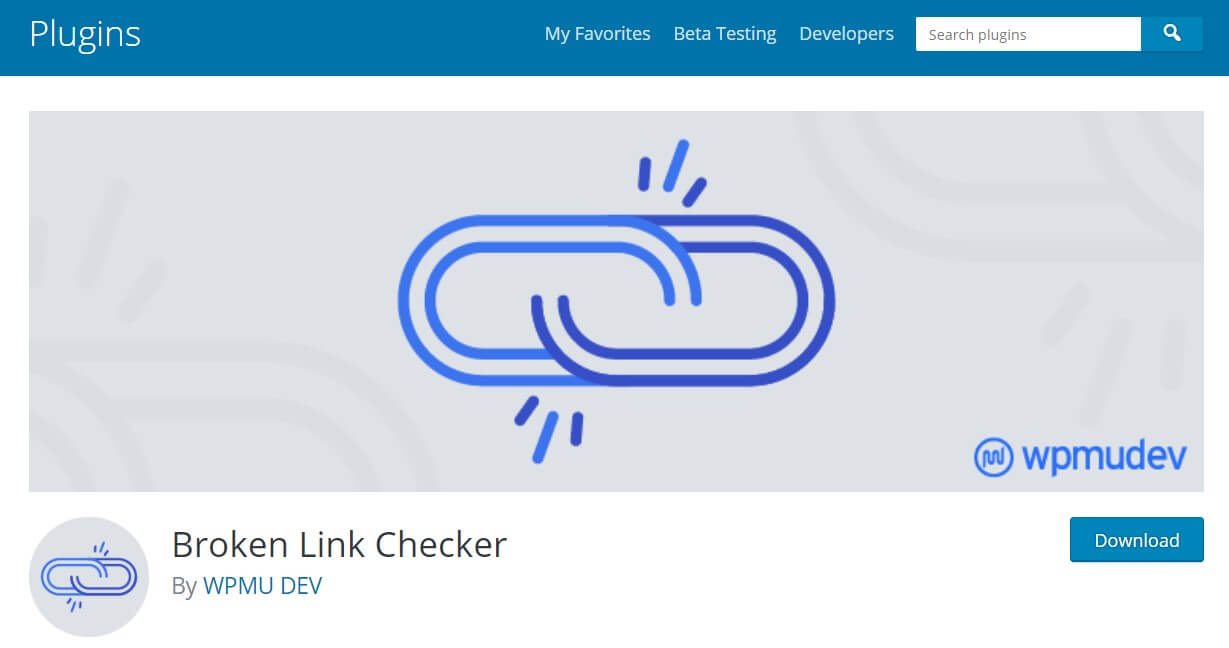 If your website is hosted with WordPress, they have a
plugin for you to check your broken links
. It will check every link, including blog posts and comments on blog posts, which is helpful since this would be very tedious to do yourself. It will also find broken redirect links and images that don't work, both of which can interfere with affiliations and SEO results. There are tabs for both Settings and Tools. You can choose how to receive reports and notifications, create different filters to customize your search results, and fix issues directly in the plugin. You don't have to go back and forth between the plugin and your webpage to fix errors, which saves you time, energy, and frustration. Some pretty cool features are included with this WordPress plugin. If a link is broken but you don't have a new URL, you can remove the link from the text. This will keep the text on the page, so you don't have to rewrite or reword anything, all while removing the broken link. And since artificial intelligence is not perfect, you can mark errors. If a link shows up as broken, but it isn't, you can tell the plugin, and the notification will go away. Additionally, you can disable broken links from showing up in Google results. This means that even if there
is
a broken link on your webpage, it won't show up on Google. This will help your overall SEO score/ranking. The WordPress plugin is open-source software. As such, it is constantly being improved and updated. Anyone with a WordPress website can use it.
Plugin for WordPress websites
Prevents Google from showing broken links in search results
Removes broken links while preserving the text
AI works with user interface, allowing notifications to be removed
Open source software, regularly updated
SiteSort by Power Mapper Link Checker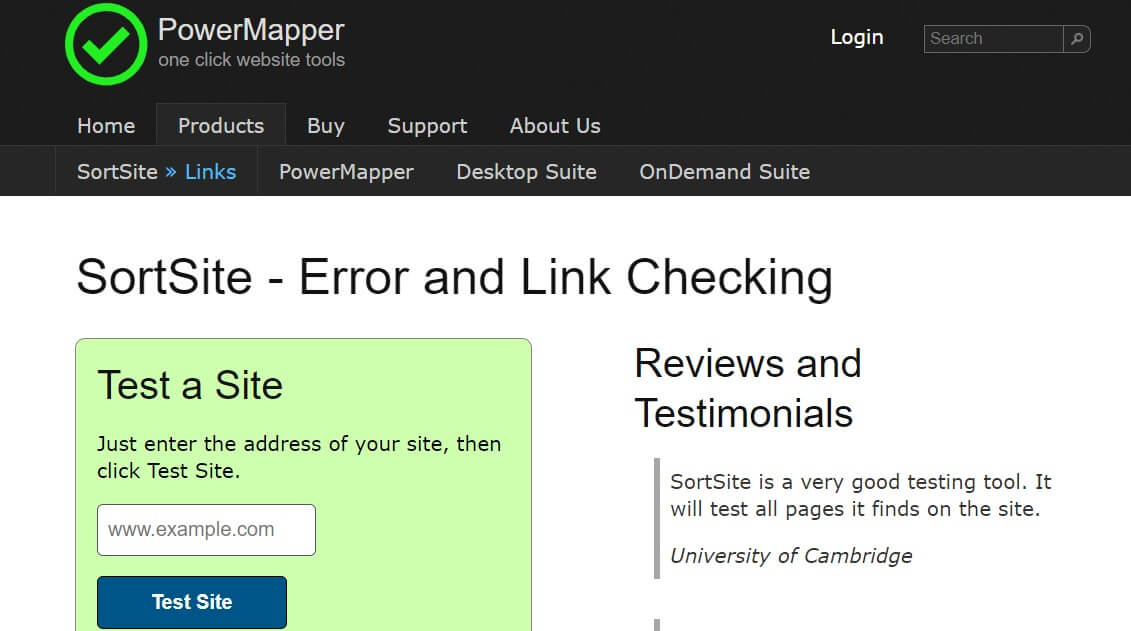 This link checker
is another option where you enter the URL and see your results. If your website is under 10 pages and has fewer than 10 images, you can check it for free, without needing to download anything or give out any personal information. SiteSort is one of the few online broken link checker resources that works with:
HTML – broken links and images
CSS – broken @imports and missing backdrop info
PDFs – broken links
Microsoft Office applications (Word, Excel, PowerPoint) – broken links
RSS – broken feeds
Script Errors – ASP, ASPX, and PHP errors/warnings
Plus – server problems, bad SSL authentications, and broken domains
If you need to check more than ten pages, you'll need to download the
OnDemand Suite
or
SortSite Desktop
.
OnDemand Suite
Comes with 30-day trial for .com subscription
Works with Windows and Mac
Scans 10,000+ pages
Personalized settings
SortSite Desktop
Comes with 30-day trial
Works with Windows and Mac
Scans 10,000+ pages
Personalized settings
The primary difference between these two options is using a suite that's available online 24/7 or downloading the software directly onto your computer. Personal preference is key here.
Check My Links – Google Chrome Extension

For fans of Google,
this extension
is a better version of the Google Console Search listed earlier. It was made for web designers, web developers, and content creators and editors. If you try this extension, keep in mind that you'll need to understand some jargon to effectively use it. And like the WordPress plugin, this extension is updated regularly.
Google plugin
More advanced version of Google Console Search
Designed for designers and coders
LinkChecker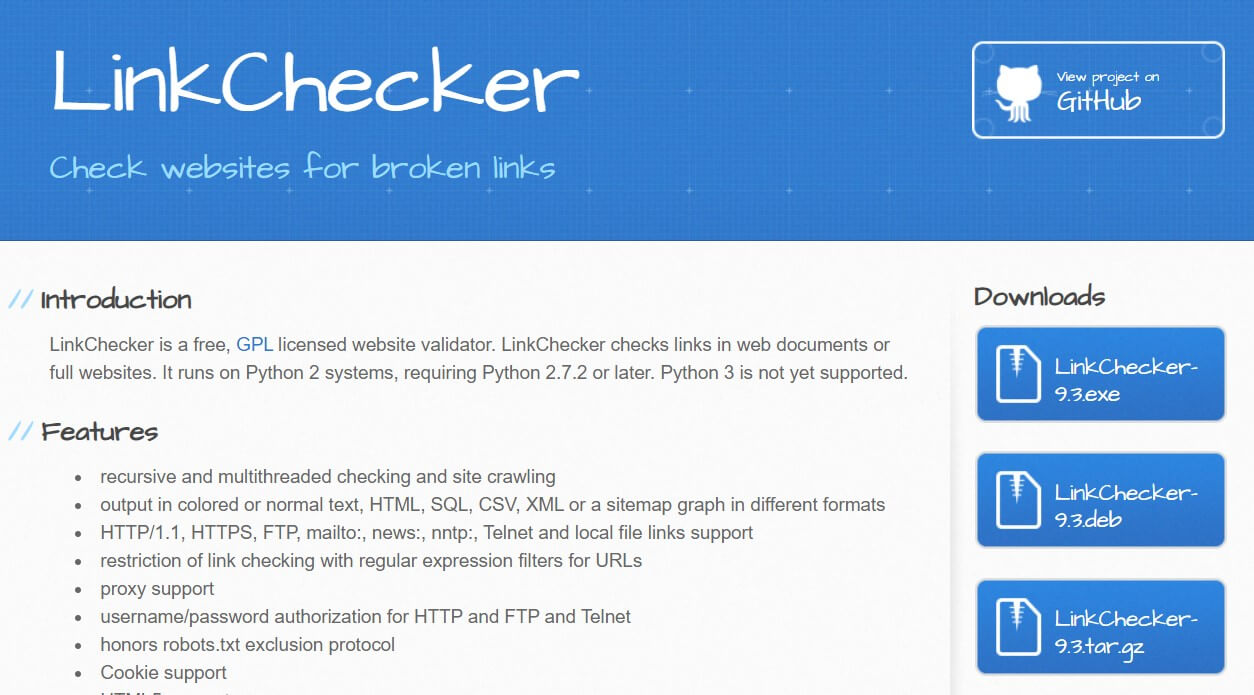 This is another free resource. LinkChecker is licensed through GPL and is operated with Python 2. You'll need to have a Python 2.7.2 operating system to use LinkChecker.
LinkChecker
works with HTML, SQL, CSV, XML, site map graphs, HTTP/1.1, HTTPS, FTP, mailto:, and news:, among other codes. It has support for proxies, cookies, and HTML5. It's as complete as it gets for a free program. While there is no membership fee required, there is a link to donate to give back to the creators and developers behind the website.
Free resources
Works with multiple codes
Provides support for proxy, cookies, HTML5
Integrity Broken Link Checker
Integrity
is specific to Apple computers and works well for extremely large websites. It checks for broken links and images, and it provides reports in PDF document formats. The app is easy to use. After downloading it, type in the URL you want it to crawl, and it will do the rest. It's recommended to change the settings to
"ignore query strings"
to prevent URL parameters from being crawled, saving you time and energy. Since Integrity is designed for larger websites, it could take hours to completely crawl through your website. The time it takes ensures that no links are missed or skipped over during the crawl.
For Mac/Apple users
Designed for larger websites
Thoroughness = hours to crawl through entire websites
PDF reports
User-friendly, simply download and type in the URL
Conclusion:
There are many reasons for broken pages and backlinks — from simple typos to changes in the domain name. Broken links are usually the result of incomplete website updates. When you update a web page, the URL must also be updated anywhere else that it is linked. Otherwise, you may end up with the common 404 error page. Additionally, if your website has multiple backlinks, it can be easy to miss an update.
While it happens all the time, your business does not benefit from it, especially if you have affiliate links or an invalid URL that shows up on a Google search. Not fixing broken links can lead to issues with driving traffic and attracting new customers to your website. Broken links will make your site look untrustworthy to both users and Google. Users will choose to look for content elsewhere, while Google may consider your website outdated, which can seriously harm your ranking. That's why checking if any of your internal links or backlinks are broken is important. Broken links checkers can help you to either avoid or quickly eliminate issues related to broken links. A website broken links checker is a tool that shows how many of your links (both internal and backlinks) are outdated and need to be fixed.
During our research, we went over numerous free and paid tools. While you should choose your broken link checker tool according to your client's business needs and SEO strategy, we found SE Ranking to be the most reliable tool out there. Using SE Ranking, you can not only discover broken links but also evaluate the overall technical health of your website. This will help you to notice points for improvement and show you what you can do indirectly to your website to ensure that broken links will not be an issue.