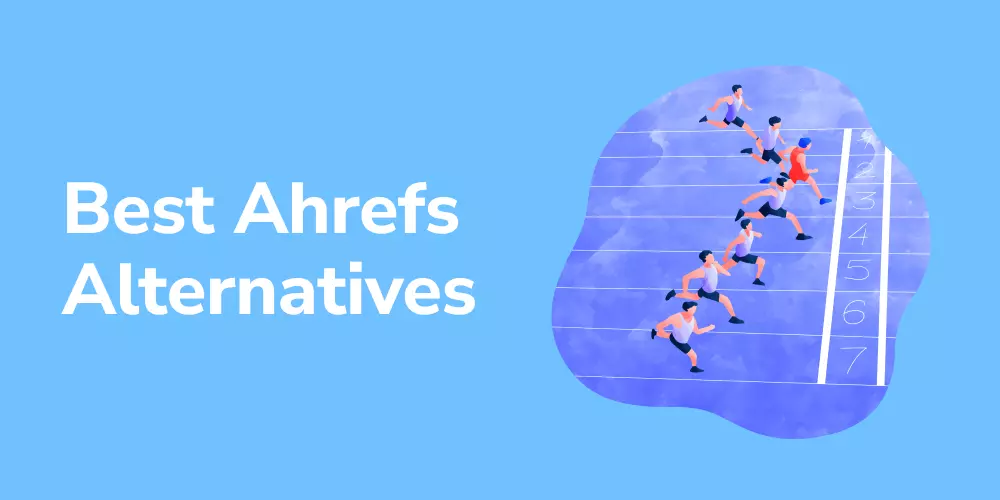 It's hard to imagine a marketing specialist with a skillset that does not include the ability to work with SEO software. The software may differ in functionality, but they serve a vital function for modern business. As marketing starts covering new areas, freelancers and agencies have begun looking for software with comprehensive features that can cover all or at least most of their needs for monitoring and reporting.
Ahrefs was one of the first software to launch — its advanced functionality has made it the first choice for many companies. Yet, many new services have launched that either focus on specific aspects of the marketing mix or offer services similar to Ahrefs.
While Ahrefs is a reliable tool, some specialists and agencies are either looking for an Ahrefs alternative that can bring the same value for a more affordable price or simply need a slightly different set of features. Besides, Ahrefs has some drawbacks in terms of price, rank tracking updates, and limited PPC features.
We've collected a list of suitable alternatives to Ahrefs that can serve the various needs of your business and clients — for those on a budget to more expensive alternatives.
SE Ranking covers all the possible needs a marketer, agency, or business may have for website promotion. It combines all the essential features required for SEO and marketing, including competitor analysis, position tracking, keyword research, website audit, backlink checking, and content marketing, all in one platform.
The benefits of this software include, but aren't limited to:
Highly accurate data
Rich account limits
Adaptable features
Intuitive UI
Easy cross-integration
Affordable pricing
SE Ranking's Keyword Rank Tracker is the most accurate tracking tool on the market, presenting clean rankings without personalization. This means that browser settings or the user's personal search history won't impact the results, allowing for a more strategic optimization approach.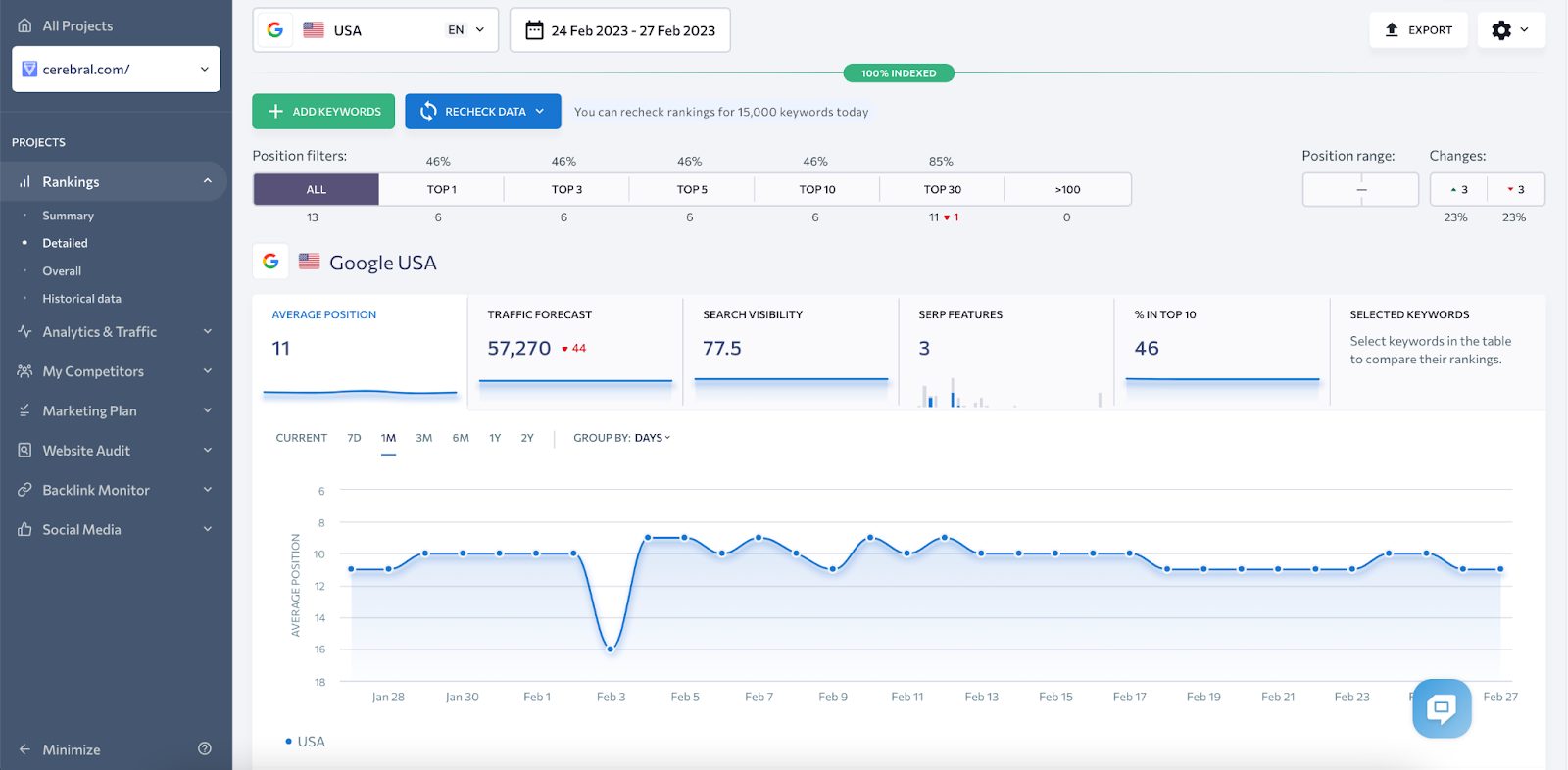 Keyword data is another advantage of SE Ranking. Its database supports 190 countries, while Ahrefs only covers 171. SE Ranking's Competitive and Keyword Research Tools provide high-quality keyword data, thanks to the platform's unique ungrouping algorithm that provides exact search volume values for each keyword. It also calculates keyword difficulty and competition level accurately, and shows CPC data from Google Ads. Keyword suggestions are categorized into similar, related, questions, and low search volume terms for convenient keyword research.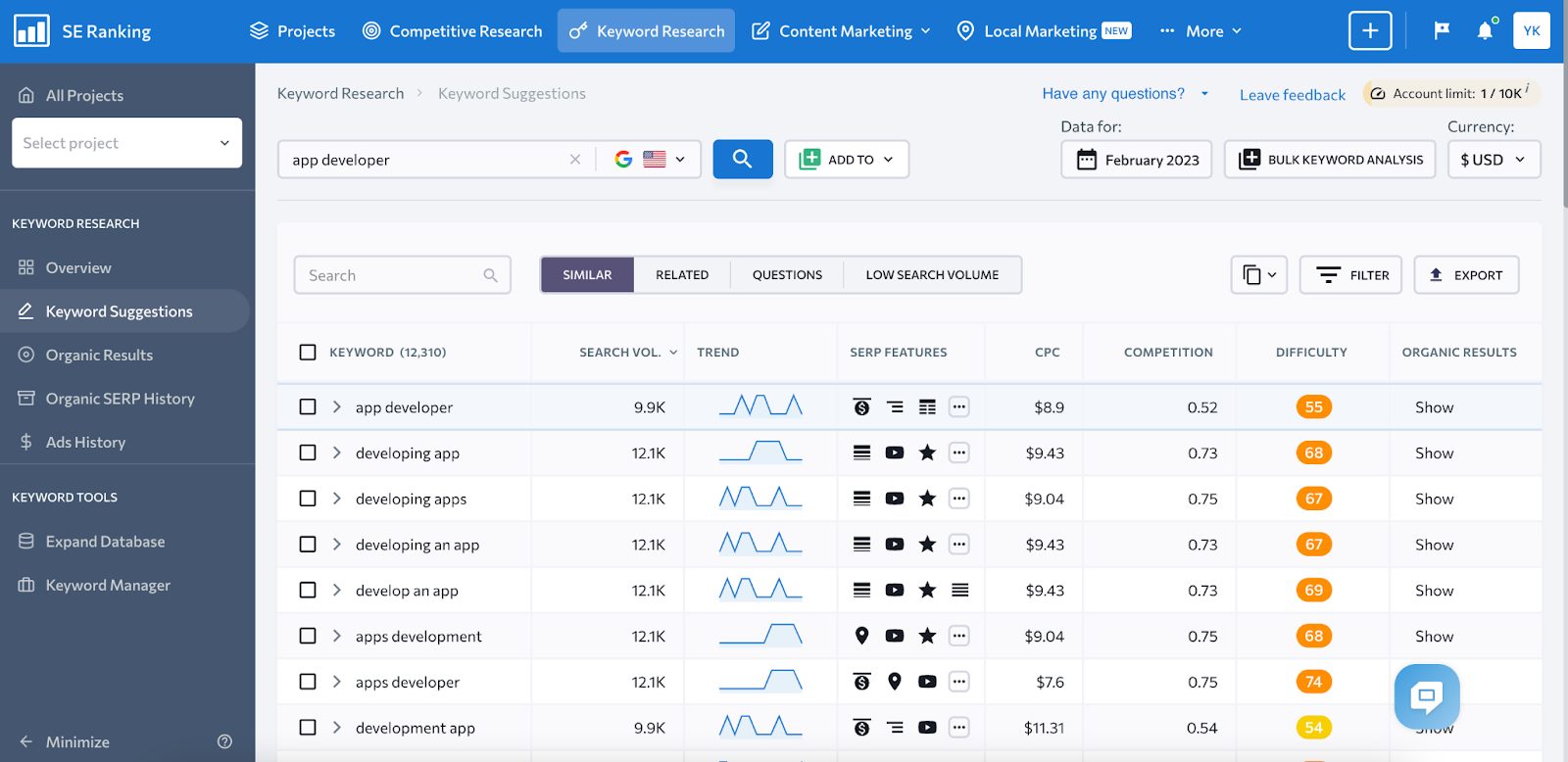 SE Ranking's tools are closely integrated, allowing for a seamless workflow. With them, you can:
Run a keyword analysis straight from the Competitive Research tool.
Add keywords to Keyword Rank Tracker.
Analyze organic keyword competitors' URLs with On-Page SEO Checker.
Investigate related content and create yours using Content Editor.
Please note: You can do all of this on a single platform—the SE Ranking platform, to be precise.
SE Ranking's Website Audit and On-Page SEO Checker are powerful tools that analyze any website or page against 110 and 94 parameters, respectively. Website audit detects any problem that could hinder your website's path to the top, showing the website's general health score, and identifying security, crawling, textual content, tags, redirects (and other issues that come with a description), severity level, and fix tips.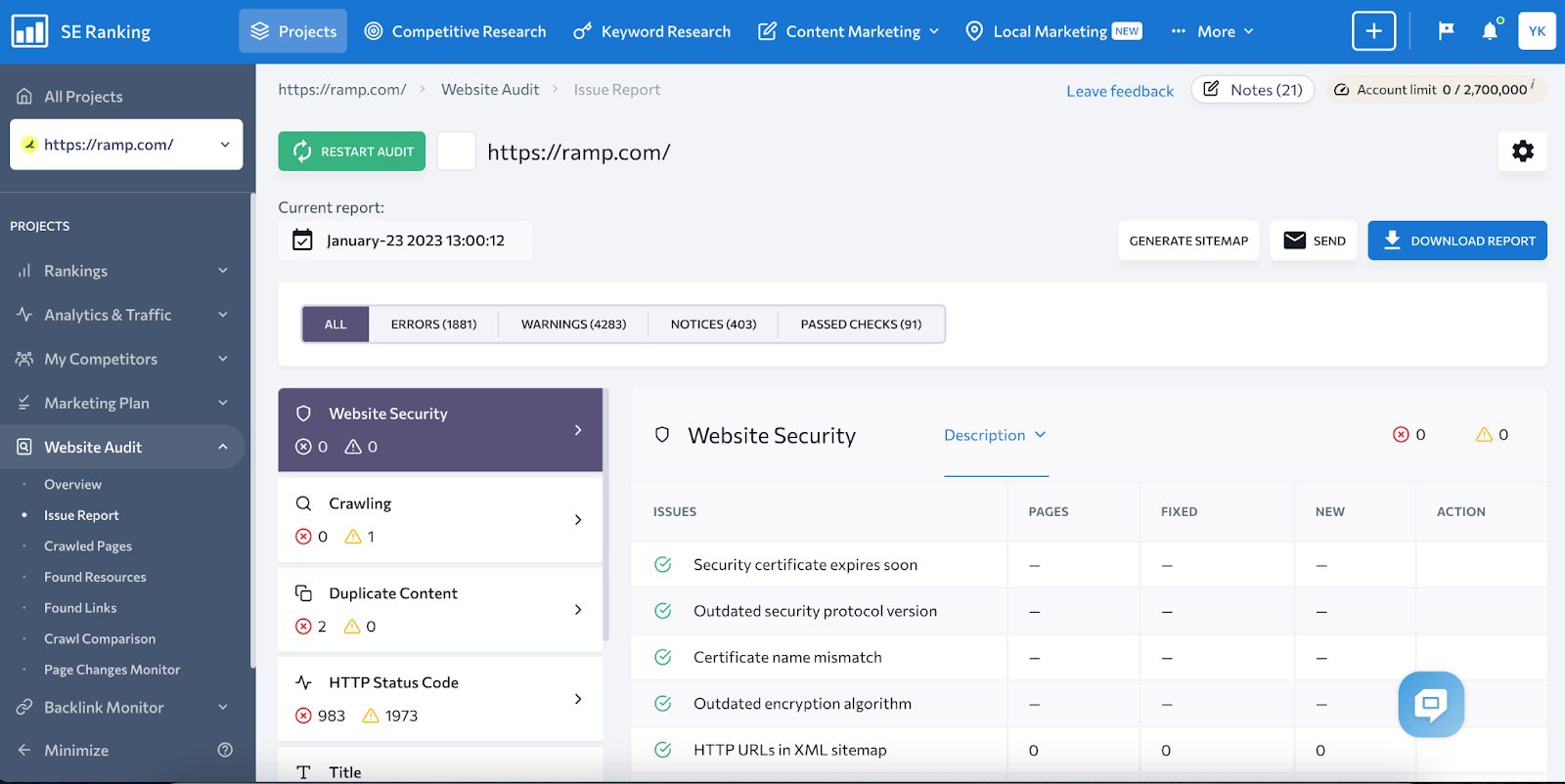 On-Page SEO Checker catches any optimization issues on your page and lets you compare its on-page parameters with those of your competitors. The tool also generates a list of SEO tasks. Following through with the suggested changes can help you improve your page's quality score and rankings.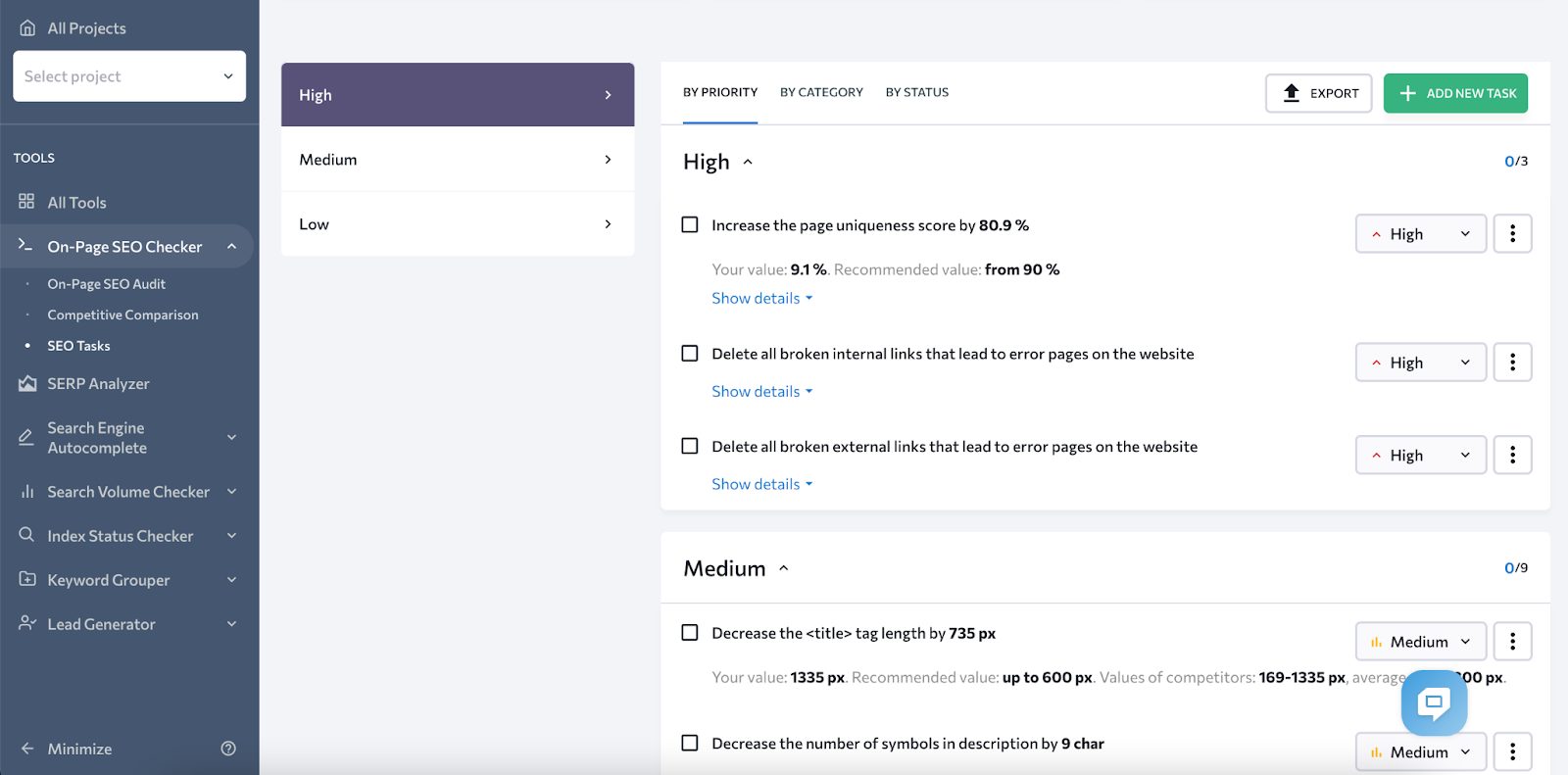 SE Ranking's backlink analysis and monitoring capabilities are also exceptional. The platform regularly crawls over 220 million domains and offers more features and metrics for in-depth link analysis.
SE Ranking also provides advanced options for agencies, such as:
White Label, which lets you apply your company's brand to the SE Ranking platform.
API, which allows you to extract all the SEO data you need.
SEO reporting tools, for creating and sharing manual and automated SEO reports.
Lead Generator, for generating leads through the On-Page Checker widget on your site.
Despite offering a large set of functionalities, SE Ranking's price compared to Ahrefs' is low. While Ahrefs' plans start at $83, you can start with SE Ranking at $55 monthly. This starting plan is the lowest on the market but includes way more valuable features. You can also adjust the pricing based on the number of keywords you need and scale it depending on your business's growth.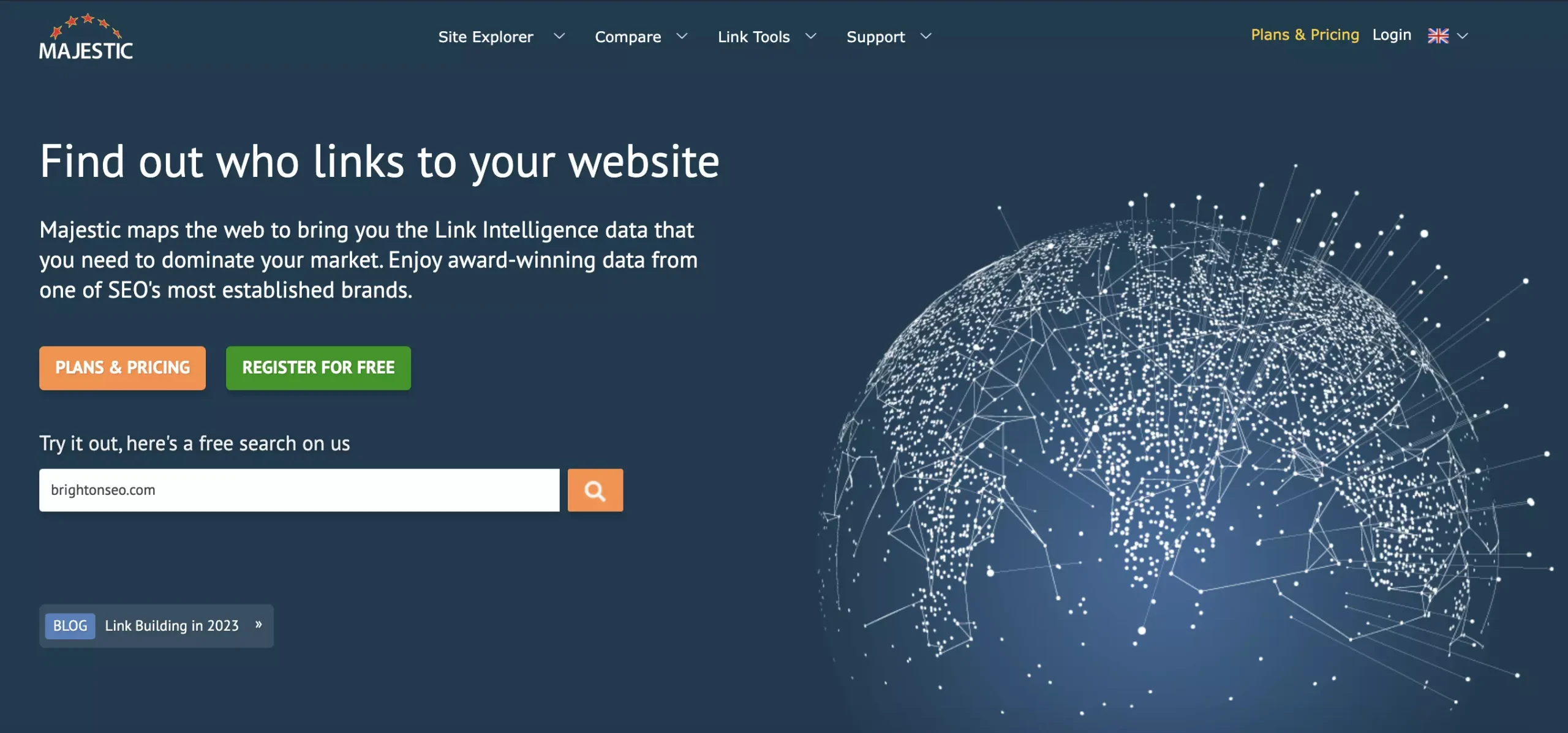 Majestic is an Ahrefs alternative that offers tools for backlink audits and can help you with building and improving your backlink strategy.
This service is helpful for freelancers and agencies who work with clients and require regular reporting. You get an in-depth report with backlink analysis that lets you dive deeper into the domain of your competitors and get exclusive insights that are unavailable to others. You may also get a specific set of data for your client.
As one of Ahrefs competitors, Majestic is known for its site explorer tool that can help you discover opportunities for free and paid engagement. You can discover toxic backlinks and analyze referring domains and backlink profiles. It focuses on link intelligence data, offering you a fresh perspective on link context, similar sites, and backlinks quality. While this service provides insightful data which specialists can use to strengthen their strategies, it focuses more on technical metrics rather than content strategy. Ahrefs has more tools for content creation and analysis that you may need to fulfill your SEO strategy.
Majestic is almost half as cheap as Ahrefs — its basic plan costs $50 a month. The plan includes everything you need but lacks the functionality to drive SEO. If you need a wider set of features and reports, then the package that costs $100 is for you. Yet, only one person can access the data, even with the pro plan. To use the service with a team (up to 5 people), you'll need to purchase the plan for $400/month. If you're already using Majestic and want to discover similar tools, check out the article that compares Majestic alternatives.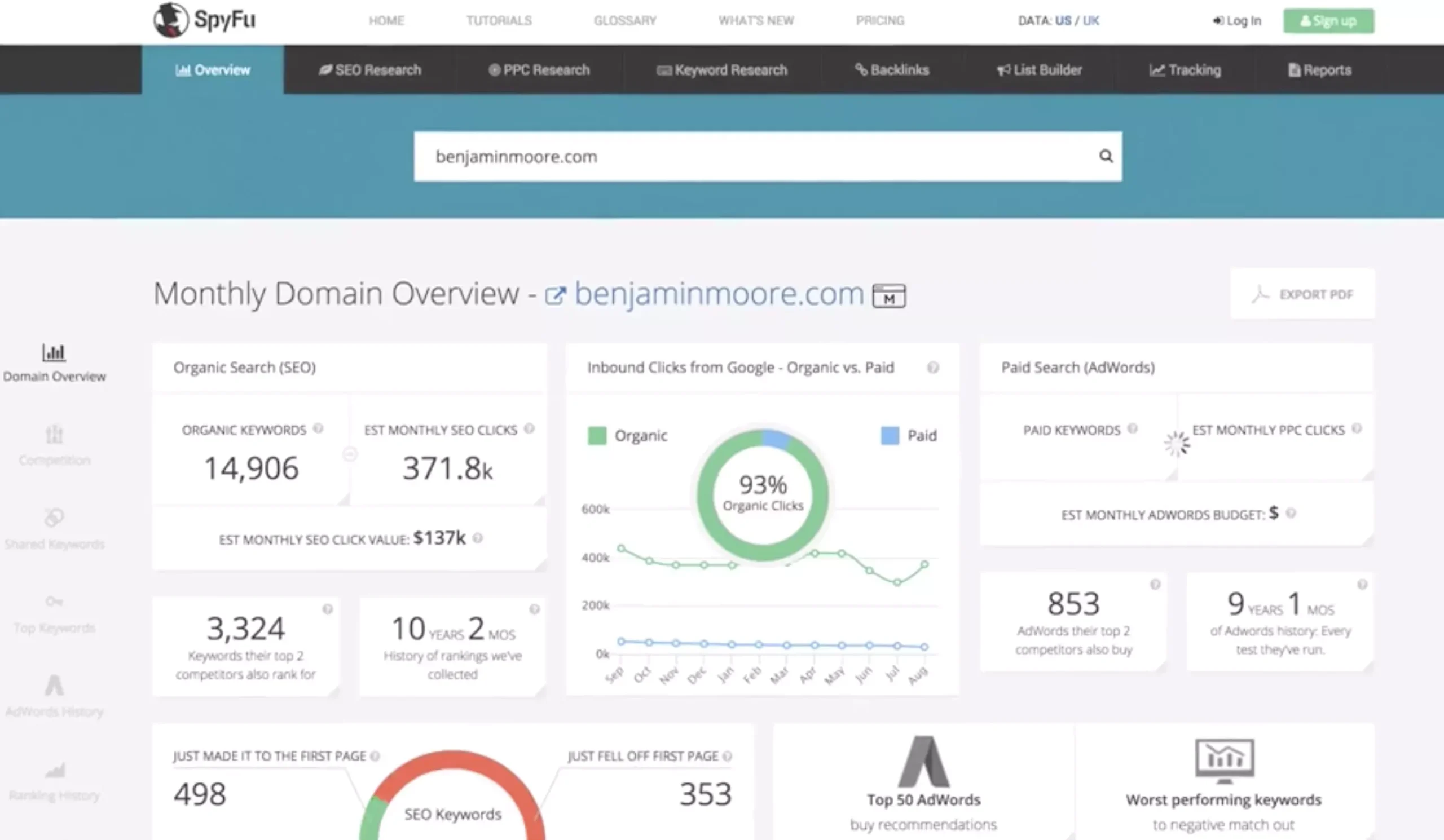 SpyFu is an SEO software that unites numerous tools under one umbrella. It lets you perform SEO, PPC, and keyword research, and track your backlinks and those of your competitors, all under one subscription. You can use this platform to perform a comprehensive analysis.
This service is especially helpful for analyzing your competitors, as it provides a deep analysis of any domain you type in: used keywords, organic ranks, and recently made changes. It helps you not only compare yourself against your competitors but also adjust your strategy and use best practices from niche leaders without any mistakes.
When you type in a domain link, the page is broken into sections you can access: domain overview, competition, keywords, Google Ads and ranking history, and inbound links.
While Ahrefs mostly focuses on SEO, SpyFu lets you gain insights from promo channels as well, perform PPC research, and analyze competitor's ad data. The platform may be a bit inferior contentwise, as it doesn't offer a content explorer tool, but you still get the main metrics to help you move your strategy forward.
The price difference between Ahrefs and SpyFu is noticeable: while a basic plan with Ahrefs will cost you $99, you can start with SpyFu for just $16/month if billed annually. While the prices for the subscription range up to $299 for a team, you can try a free 7-day trial to make sure the platform is right for your needs.
Are you already using this tool but curious about SpyFu alternatives? Our article compares similar services to help you make an informed decision — check it out.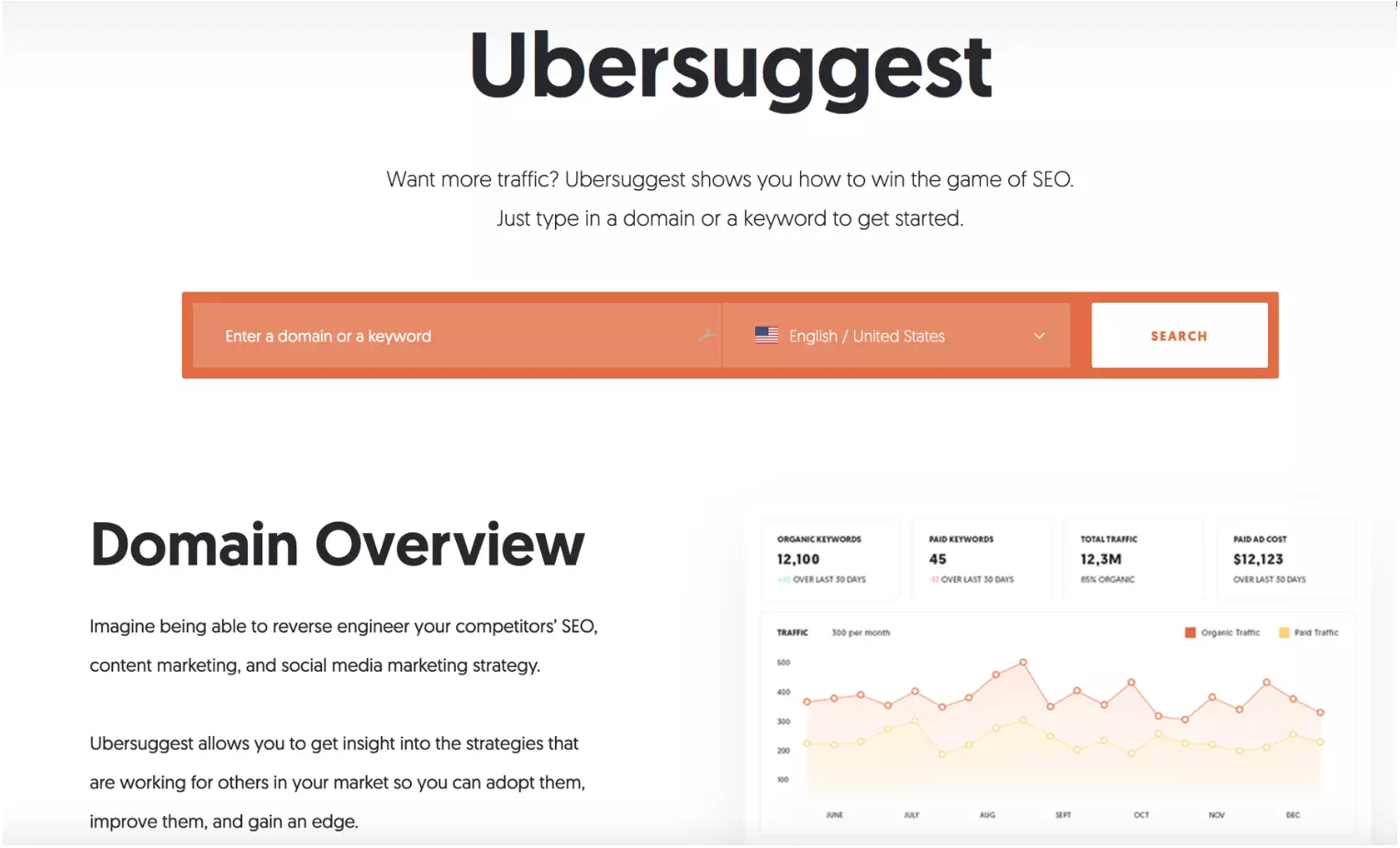 Ubersuggest may be one of the best Ahrefs alternatives out there — its design and features are pretty close to Ahrefs. The platform was created by Neil Patel: if you work in SEO, chances are you have come across his articles and educational materials before.
The service focuses on offering a comprehensive keyword research tool that helps to plan, execute, and analyze high-quality content — both yours and your competitors. You can obtain information from the channels where your content is distributed, analyze existing keywords, and find ones relative to your niche. All features are gathered together to help you drive more traffic with high-quality content. One of the tools is AI Rewriter — you can use it to generate meta titles and descriptions.
It looks like the strategy of the service plan is to offer as much value as possible. While costs remain low, the value is undeniable. Since Neil Patel focuses on education, this option is embedded into the subscription. While you get all the standard features of SEO software, it has materials with lectures, worksheets, and even Q&A calls. All training materials are available even with the basic subscription that starts at $12/month.
Unlike most resources, Ubersuggest has unlimited full access for life with a one-time payment. If this scheme doesn't work for you or you need some time to decide, it has a standard breakdown of subscriptions based on the number of websites you manage (starts with one with the ability to look after 15).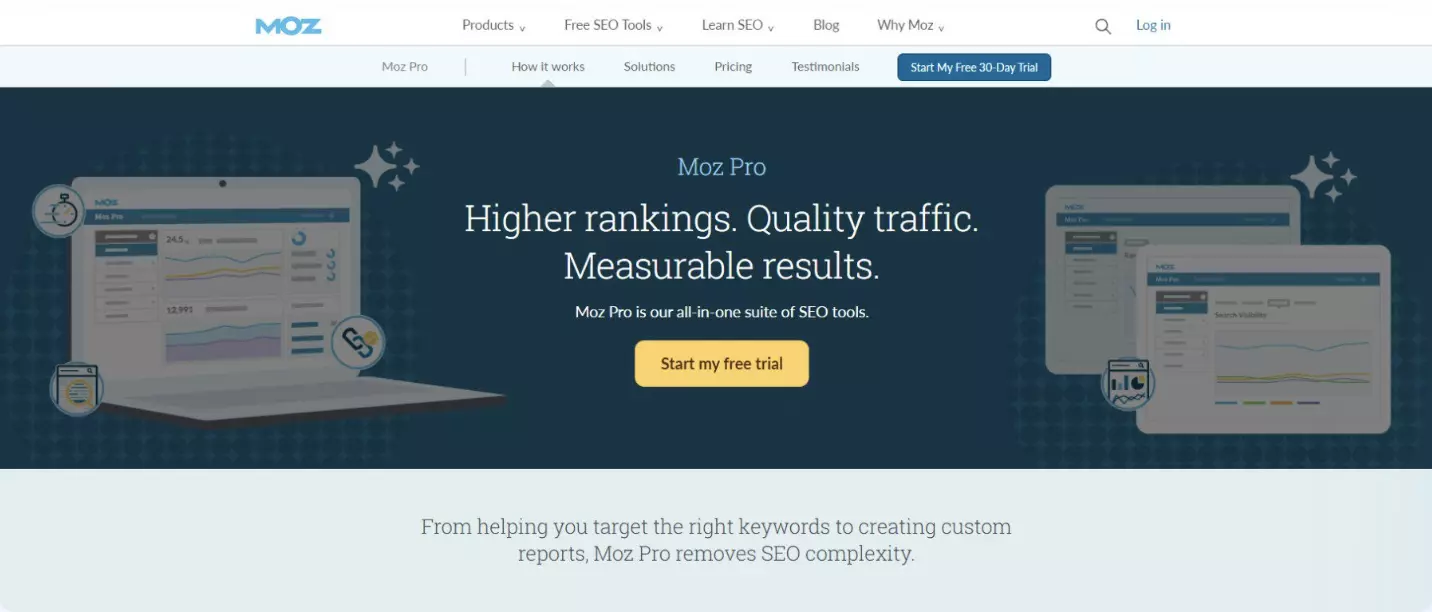 Moz Pro makes complex analysis easy by analyzing a variety of metrics and leaving the ones that make an actual impact on the business. Among other features, the platform helps to detect hidden issues the website may have with the site crawl tool. It lets you know every time it finds an issue so that you can fix it before it becomes visible.
Moz is also the first adopter of the domain authority score. Domain authority is a score ranging from 1 to 100 that shows whether your website is good enough to be noticed by Google. As this score was developed by Moz, it conducts a comprehensive analysis of numerous metrics — you can use it to check your score for free.
It offers both keyword research and performance metrics that can help you look after website health, eliminate issues, and look after the most important metrics that influence site performance. At the same time, it has numerous tools for keyword research, including competitive and backlinks research, which gives you a 360-degree view of your SEO efforts.
If you're looking for best price alternatives, Moz Pro may not be the right fit. A standard subscription costs $99/month — the same as Ahrefs. Yet, you can get it for $69 if billed annually. Before making a decision, the service lets you try out all the features for 30 days. If you're looking for a team plan, it will cost you $420-$600 a month.
If you want to see similar platforms and compare their functionalities, you may also be interested in checking Moz Pro alternatives.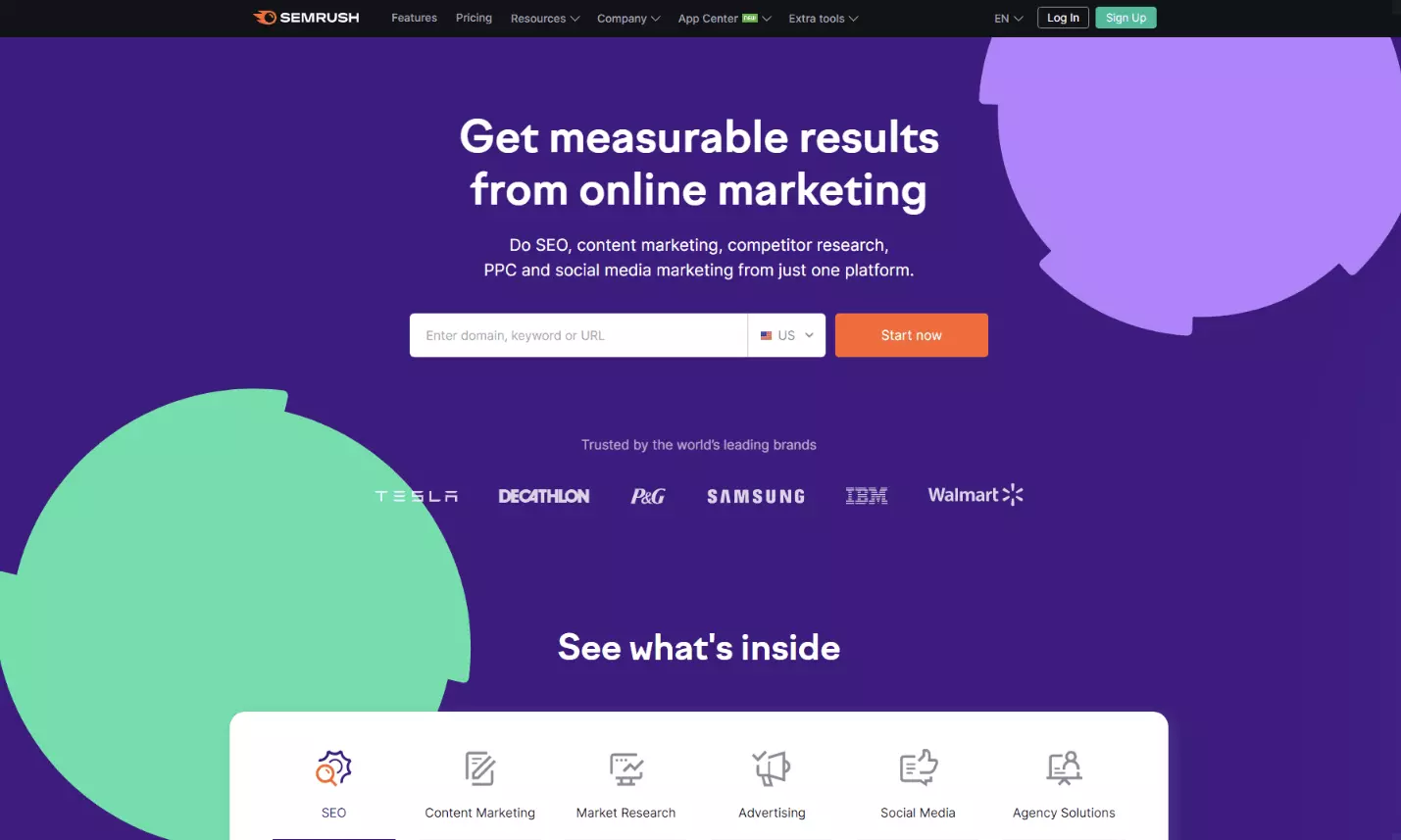 SEMRush seems to be one of the most popular Ahrefs alternatives — let's see why and whether it's going to cover all of your needs.
One of the testimonials on the SEMRush website says that it combines Google Trends, Moz, Hootsuite, and SimilarWeb in one platform. That's exactly why it has become the first choice of many digital marketers. It has a large SEO database that can help you gain an advantage over competitors. SEMRush offers SEO, content, market research, advertising, and SMM features within one subscription. Basically, a business can get insights about its business performance at every stage of its development — use tools for market research and competitor analysis if it's just getting started, benefit from SEO tools to build/enhance the existing strategy, and use SMM tools to execute its strategy.
Besides the comprehensive analysis the service offers, it also allows you to schedule and post content directly from the platform. Even though Ahrefs has a content explorer tool, it does not allow you to make drafts and post content directly from the app.
The platform is worth considering if you're looking for an all-in-one solution that covers most of your marketing needs. The subscription plans start at $120/month, which would be the right fit for small teams that run no more than 5 projects. The maximum amount of projects you can run is 40 — such a plan will cost your team $450/month. While it's not a completely free Ahrefs alternative, you can still benefit from some features of using a free account, including research tracking. Additionally, the platform offers custom plans — you can discuss conditions and pricing with a customer support representative and tailor the plan to your specific needs.
You can also find many platforms similar to SEMRush — we've analyzed them in the article about SEMRush alternatives.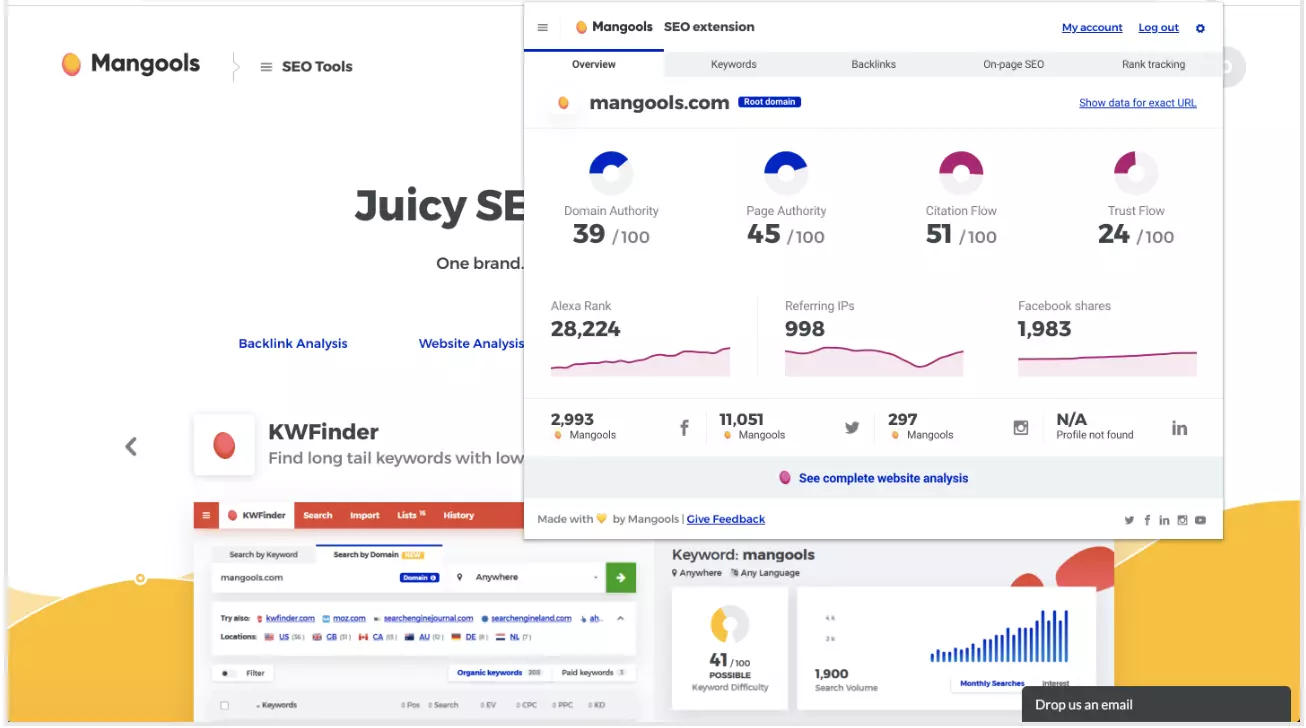 You will find value in Magnools if you're looking for a service that focuses on optimization for organic search. While it does not have lots of options for PPC research or SMM features, it can help you build a strong strategy, make a comprehensive analysis of your existing SEO efforts, and look after various metrics.
For instance, it displays SERPs in over 50,000 locations, which can help you to perform a deep analysis of your competitors and find their weak spots. The tool is especially helpful for local businesses that need accurate information about a business in certain locations. Another way in which this tool can be helpful is its comprehensive backlink analysis due to its large database. You can see the referring website in the tool and find the anchor placement with one click.
Also, this service is extremely helpful for startups and small businesses that are just getting started with their SEO campaigns. When you're just kicking off strategy or testing campaigns, you don't need lots of complicated data. You need clear, simple dashboards with metrics to support you. That's why Mangools focuses on simplifying reports as much as possible and presents them in a concise and simple manner.
The basic plan starts at $29.90/month. Access to advanced features also comes at a comparatively low price: the most advanced plan costs $90 a month with unlimited keyword suggestions and keyword competitor research. While it does not cover all marketing activities like Ahrefs, it is still a legit alternative in terms of SEO campaigns and market research.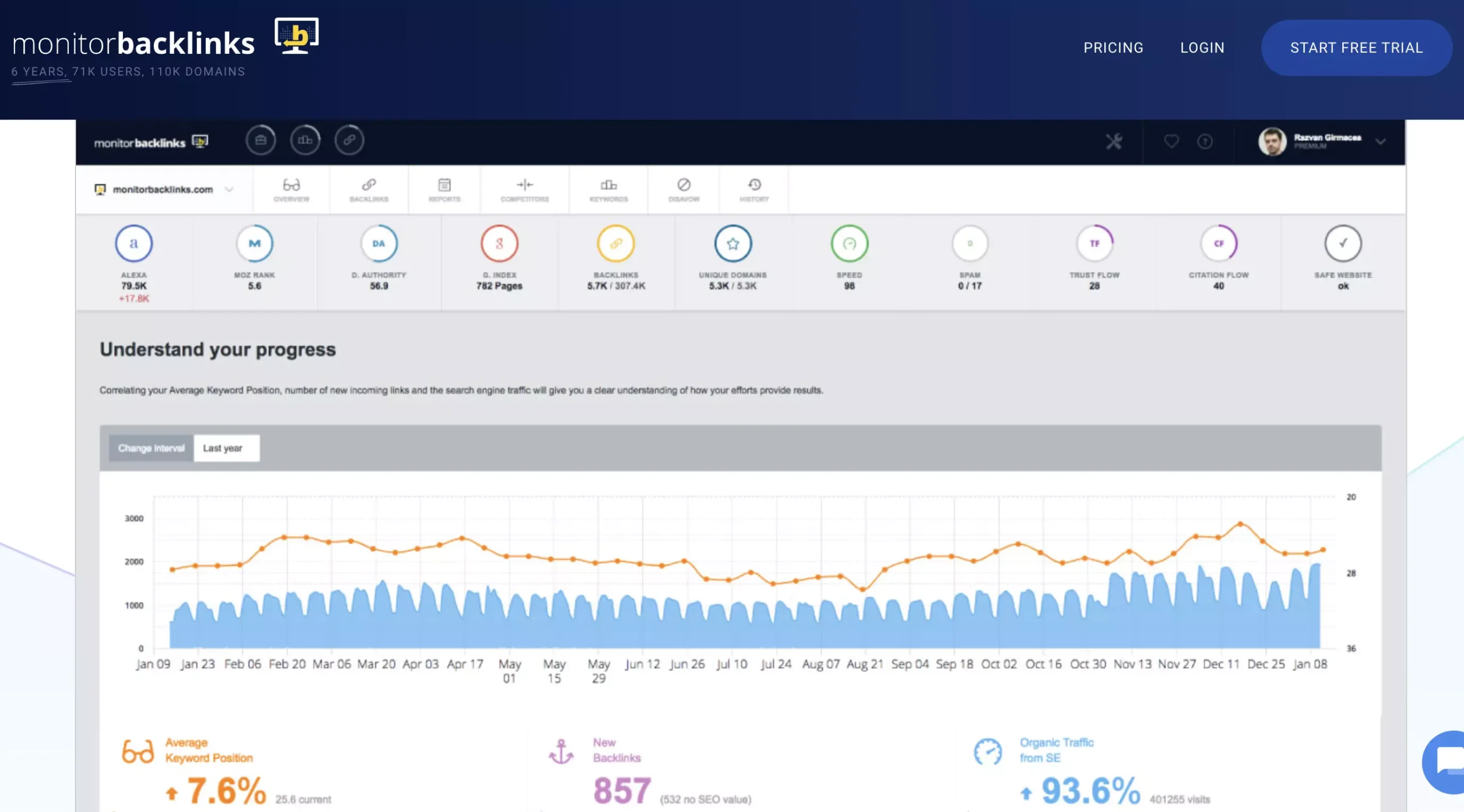 If you were looking for a tool that's great with backlinks, Monitor Backlinks could be your choice. While, unlike Ahrefs, it does not cover everything you need to track for your marketing, it can give you valuable insights into your backlink strategy, which may be a key SEO priority.
If your SEO is focused on a link-building strategy, this software will help you to get the most out of it. The platform makes it easy to look after all your backlinks in one place, as it lets you import data from other tools. You can get a list of relevant websites to contact for partnership, see how you're ranking on Google, and get updates when someone links to your site. It automatically tracks the status of backlinks and lets you know of any changes. This way, you can avoid negative SEO if someone is attacking your site with spammy backlinks.
Besides noticeable help with backlinks, it can also be helpful for traffic and keyword analysis. A simple interface makes it easy to access the platform and look at key insights within minutes, which is why this service is a nice addition for small companies or individuals who are just getting started with their strategy and need a clear and easy tool. You can also collect data from other sources (like Moz or Majestic) and manage them with tags, notes, and filters.
Regarding pricing, you can choose plans with competitors tracking or without it. The basic trial lets you monitor one domain and costs $25, including four competitor domains. Depending on the number of domains you need to monitor and links and keywords to look after, you can choose a plan that costs between $25-$90 per month. If you have a specific need or want to use Monitor Backlinks as an additional tool, you can discuss the custom plan option with the support team. All you have to do is shoot them an email and tell them more about your request — you can discuss prices and services you need to add or exclude in your plan.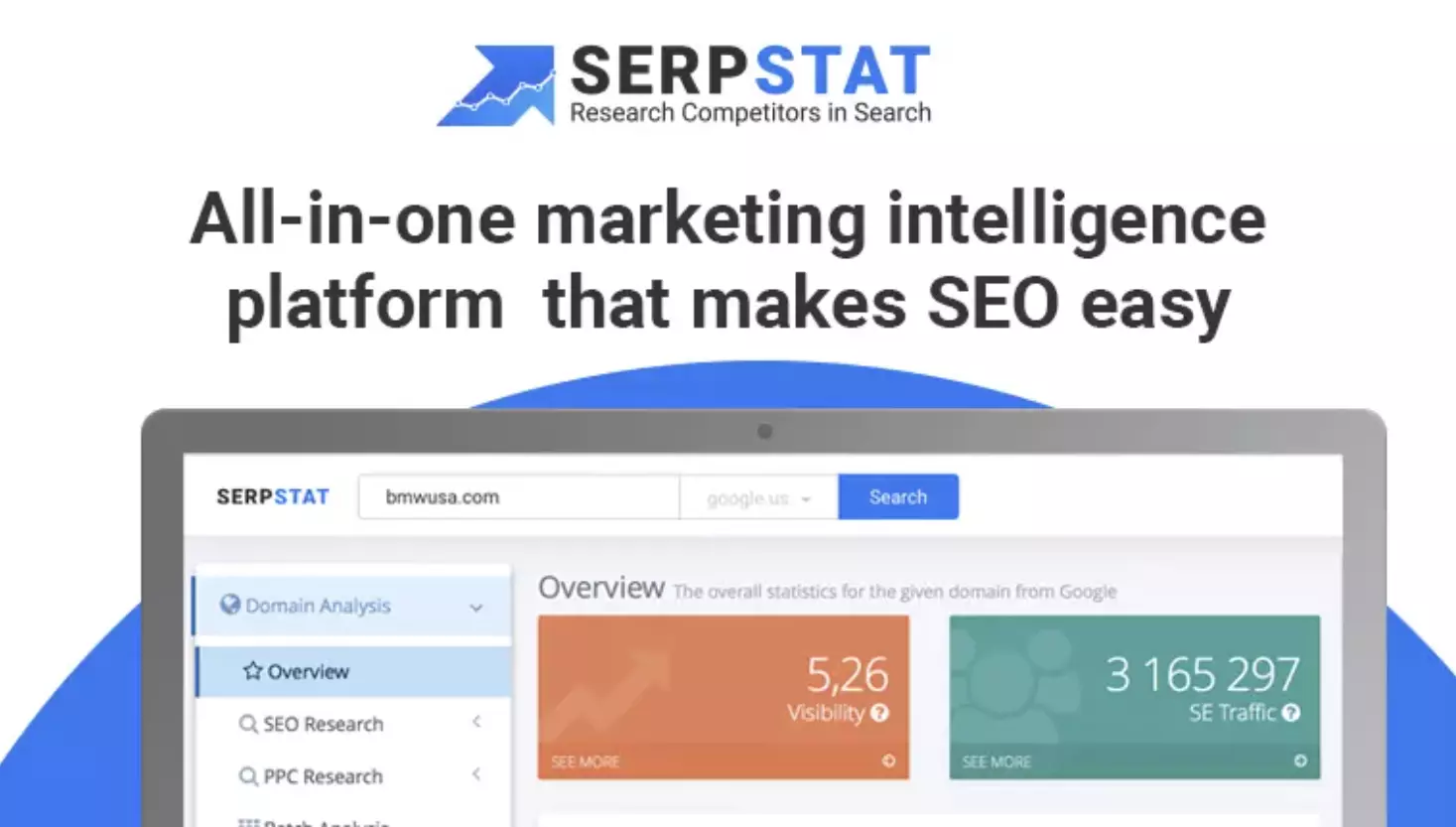 Serpstat is suitable for automating SEO processes as it has 5 modules: rank tracking, backlink analysis, keyword and competitor research, and site audit. Like Ahrefs, it covers all your needs within one platform, which makes it perfect for in-house teams and agencies.
The service has one of the largest keyword databases, with both basic and advanced features to track. It means you can use it for multiple purposes, including competitive analysis and content plan creation and improvement. Serpstat has tools to analyze keyword trends, define popular searches based on region, and create a content plan based on trending keywords — all of this can help you to become noticeable for Google and rank higher.
It is also helpful for teams that work on competitor analysis and want to dive into marketing metrics, providing batch and PPC advertising analysis, site audit, API, and integrations. You can connect to the plugin with website analysis if you need to quickly find information on the domains of your competitors — it lets you track and access all the info within minutes.
If you have an in-house team that works on content creation, the platform can be used across the team. Besides the metrics it has for SEO specialists, the platform can also be helpful for copywriters, PR specialists, and SMM managers. It has AI tools that help with content, including title generation, paraphrasing, and even article generation.
The plan is a bit more accessible than Ahrefs — it starts at $70/month, which can be a nice solution for freelancers or small companies. Such a plan has over 20 tools and can help you run projects. If you're looking for a solution for an in-house team or a larger organization, then the price ranges from $150 to $500 per month. Regardless of the plan you choose, you get access to 230 Google databases.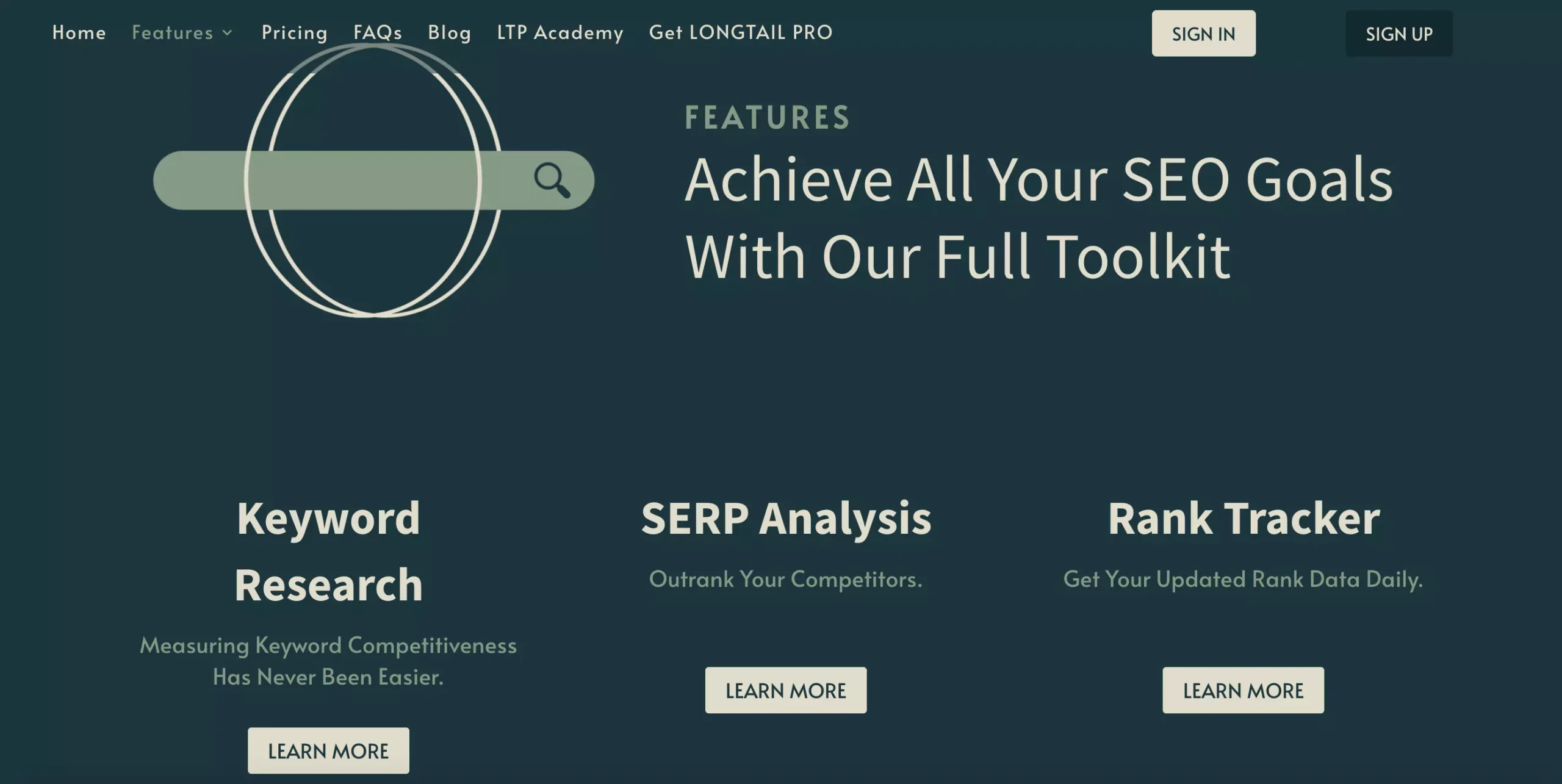 This service has a slightly inferior set of tools compared to Ahrefs but focuses on key SEO metrics, which are enough for profound analysis.
While it offers many tools for analysis, you may need some time to get used to the interface — once you do, it can help you gain lots of valuable insights on website performance. The platform offers an advanced keyword research process and focuses on offering low competition long tail keywords. Adding such keywords can help you rank higher and get the most out of your content, but you need to know which ones to use and how to embed them in your pieces. LongTailPro does a good job of sorting out not targetable keywords and showing you the ones that can actually bring results. Additionally, it lets you run SERP analysis and rank track keywords over time with the rank tracker. As it includes lots of metrics and information, it may be challenging for beginners to make sense of the results, but experienced digital marketers will be able to manually analyze the SERP and perform a deep analysis of the niche.
E-commerce businesses that want to expand their niches may find the service helpful. When searching through keywords, you will find metrics for paid advertisement. This makes it easier for ecommerce businesses to see how much it will cost to run a paid campaign in the new niche.
You can pay $37 a month or $147 annually for the basic plan, which still lets you search through over 800 keywords in a day. For the more advanced plans, the functionality stays the same, but the number of requests and domains you can run changes. Prices for advanced plans range from $67 to $147 per month, which is around the cost of an Ahrefs basic subscription.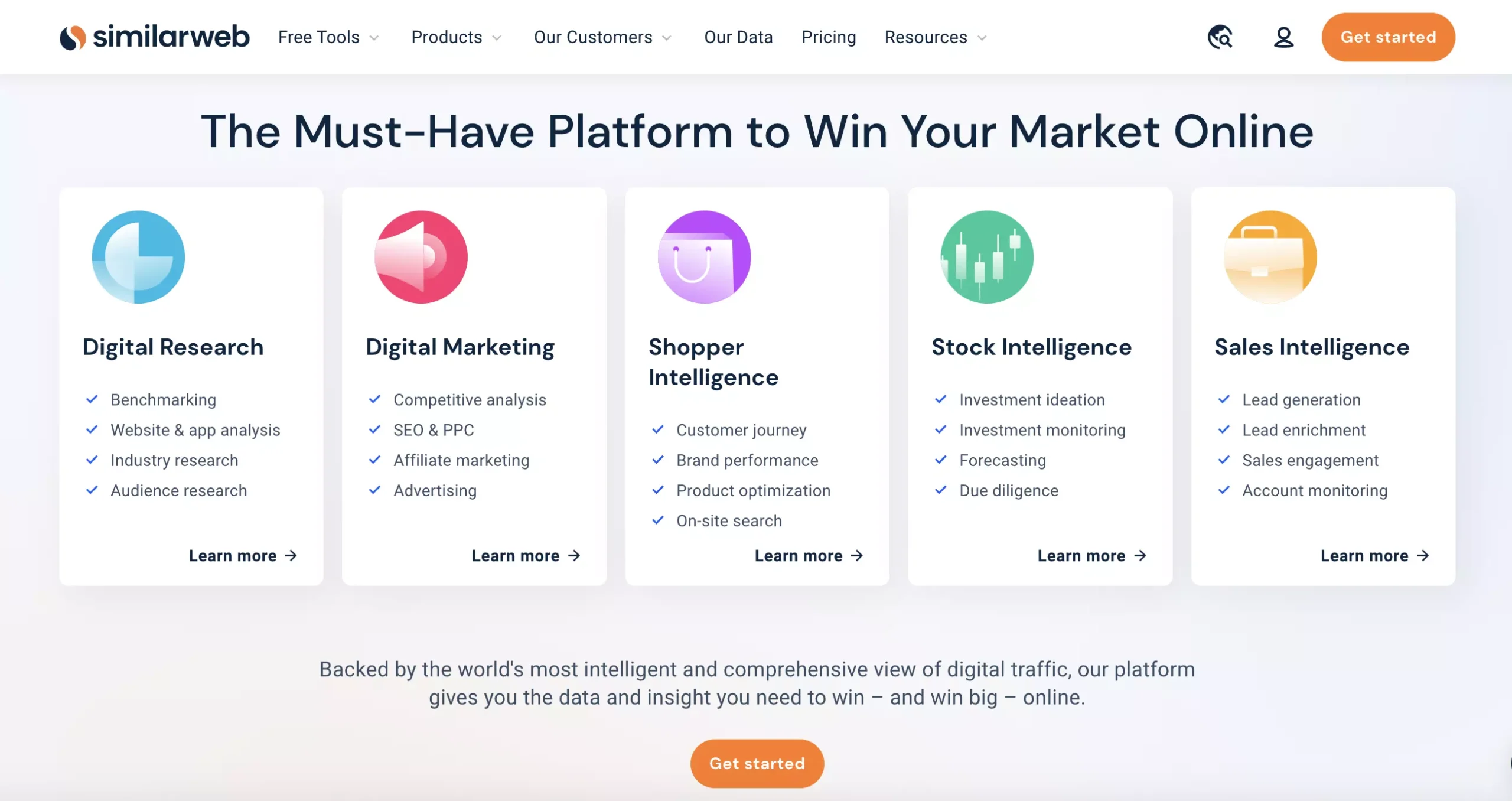 SimilarWeb focuses on offering all possible metrics for digital marketing specialists and helps through every stage of the buyer journey. As you can see, the functionality is wide, which is why any business can use it for multiple purposes.
While Ahrefs has many tools marketers can use for website analysis and enhancement, SimilarWeb seems to have an even broader functionality that covers all stages of the marketing cycle.
With digital research tools, you can perform market and audience analysis, see how much time users spend on certain apps, check how other companies perform to complete benchmarking and find your product-market fit. Digital marketing tools let you track key marketing metrics, including PPC and advertising, affiliate marketing, keyword research, and competitive analysis.
Shopper intelligence goes beyond what SEO tools usually provide and can be useful for e-commerce businesses that need to perform an analysis of their niche and audience. It shows loyalty and retention data, brand cross-shopping, number of subscriptions and saves, etc. In addition, you can also benefit from stock and sales intelligence that can help with investment monitoring and lead generation.
You can try out the tools described above separately by booking a demo, or get access to some of them for $167/month, which will work for small businesses. Since the service offers 360-degree marketing services, it costs more than Ahrefs services starting at $99 a month. If you're looking for something that can help you look after SEO, you may only need one of the tools — digital marketing. Large companies can definitely benefit from embedding most of their marketing and sales into one platform.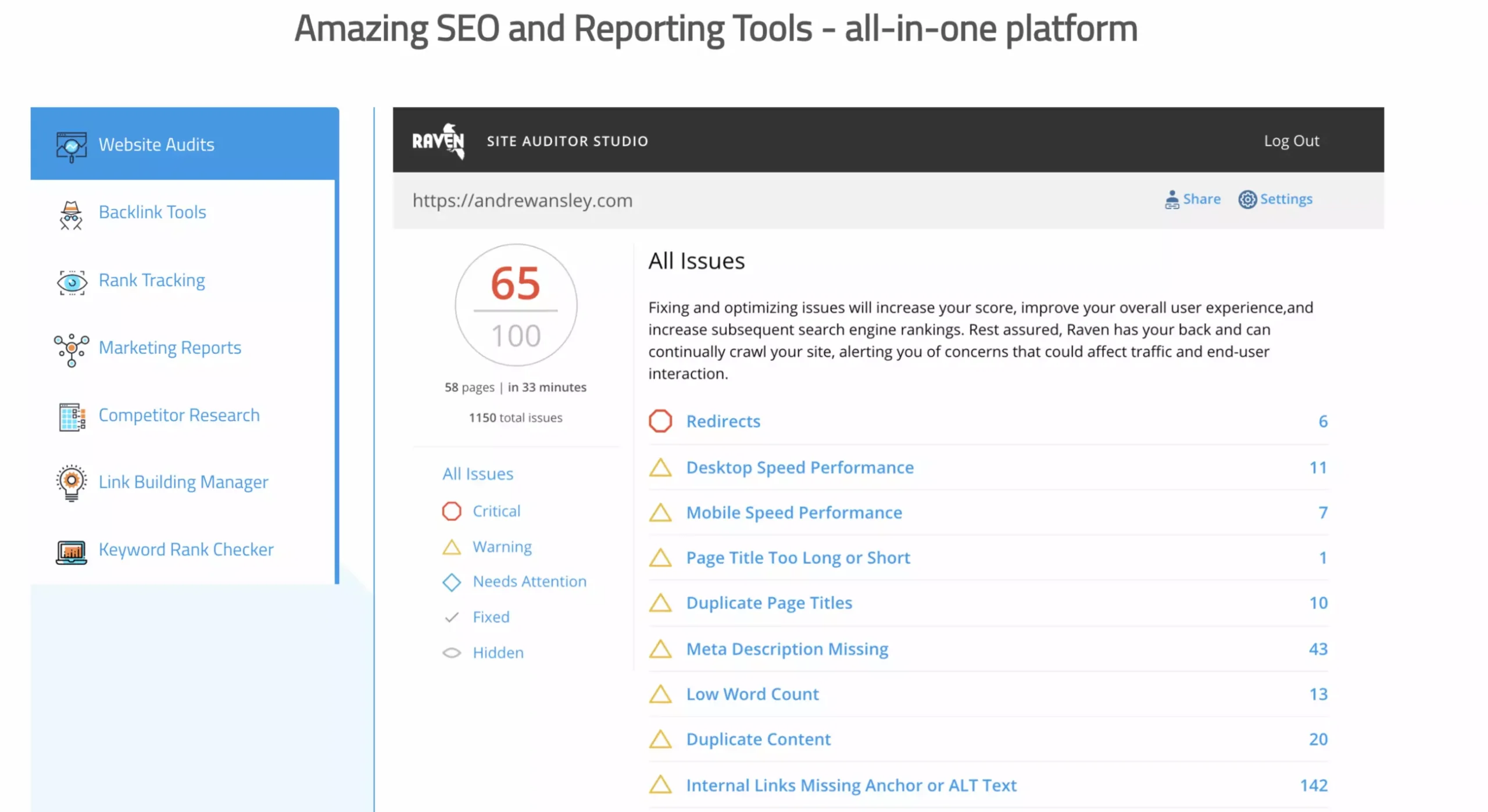 Raven Tools has two options to choose from: a standard option with everything you need for SEO, or a reimagined one that offers deeper insights on competitors. The second option will work if you need to perform a deep analysis of your competitors and get a clear visualization of the market players.
RavenTools has pretty much everything a specialist needs to work and look after SEO: website analysis to fix issues fast (it lets you know if any new issues occur), backlink tool, keyword rank tracking. Additionally, it has a tool to generate a variety of marketing reports. Comprehensive reports make the platform stand out: you get clear dashboards with metrics and can generate reports only with the data you need. Also, it has a separate report for social media that can be customized based on your clients' needs. If you have multiple clients to report to on a regular basis, this tool will help you handle it in the quickest possible way.
It also has a link spy — a special tool that helps you find links to websites that are ranking for your targeted keywords. This way, you can find more opportunities to fulfill your backlink strategy and find reliable partners in your niche.
Compared to Ahrefs, the service focuses more on reports and may not have all the features for advanced content generation. If you're running multiple accounts and need to get key insights on website performance, this tool is definitely worth considering. Yet, if you're looking for an alternative that will help you continuously generate high-quality content and get new ideas, you may want to consider other options.
Small businesses can subscribe to RavenTools services at $40/month, while the price for businesses that need to look after numerous domains ranges from $80-400/month, depending on the number of domains.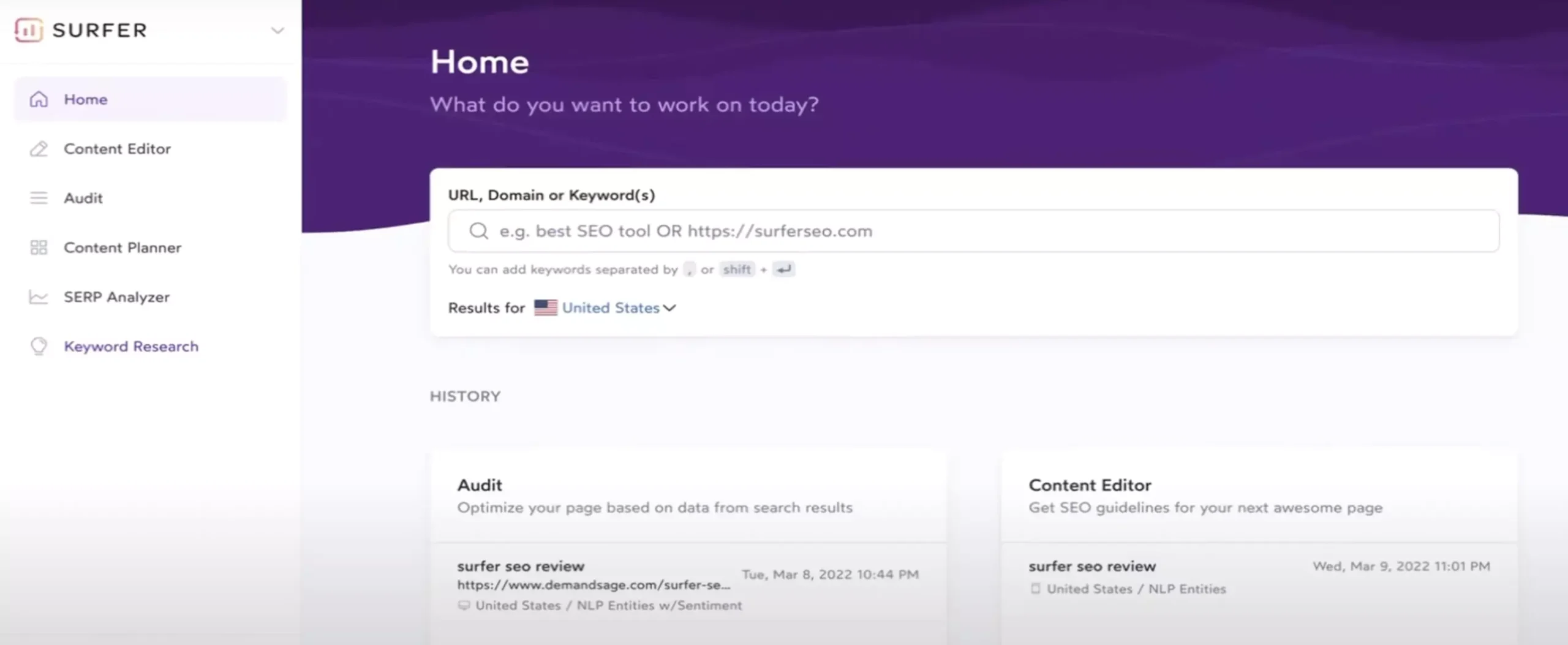 While we discussed services that mostly cover needs for hard-data metrics, this tool focuses on combining quality content with accurate SEO tools.
The platform combines an AI-generated task management platform, content editor, and audit and keyword research. While it may not have as large a set of metrics as Ahrefs does, it offers a more automated and content-focused solution.
You can discover which important keywords for your SEO are missing, and get advice on how to improve the content by relying on important metrics for search engines (content length, keyword density, and staffing, etc.). Ahrefs does a good job of helping to generate ideas for the content, yet it does not have a tool that actually generates it. Surfer SEO does: you can generate briefs, optimize content in any language, and avoid plagiarism. It's worth mentioning the interface of the tool: thanks to easy navigation, you get to work with it within minutes. The service's main idea is to help you generate content that actually brings results and gets you noticed by Google. Once you have your article, run it by the app and see what you should improve in terms of SEO — it will show you an overall score and points for improvement:
It would be challenging to find a more automated tool than Surfer SEO. For instance, it has an automatic internal link suggestion tool that makes it possible to find and crawl relevant pages on your website. You can also benefit from using competitors' features to select well-performing pages with the same intent to look after only the most relevant data.
You can get a basic plan for $60 or choose a more advanced plan for $120-240, which makes it a cheaper alternative to Ahrefs. If any of the suggested conditions will not work for you, the service offers a customized plan.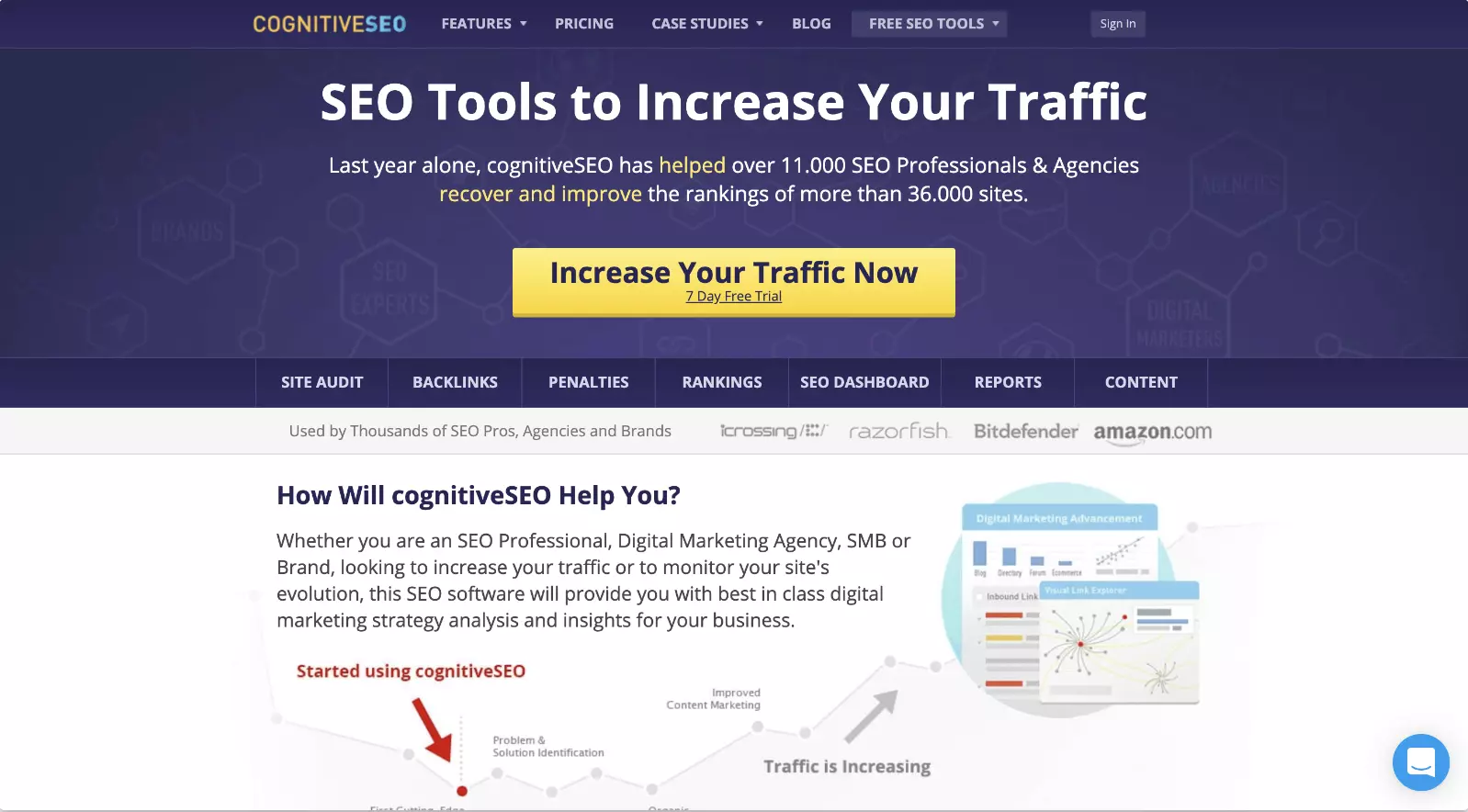 This SEO software aims to cover the gap in technical SEO and content with the help of AI. Cognitive SEO focuses on providing relevant data in a simple format with lots of suggestions.
The content optimization tool the service offers can be especially useful for beginners, as it shows the direct impact the content has on rankings, along with advice on what to change. The website audit tool helps to find weak spots in technical SEO and the overall website, which helps you fix issues before anyone else notices them. It can also help you deal with any penalties caused by the Google Penguin Update: the unnatural link detection tool helps you identify specific links that could have led to a penalty.
Cognitive SEO combines all the necessary tools specialists need to run accounts and look after their SEO strategy. Comparing the UX of both platforms, Ahrefs outplays Cognitive SEO. While it has all the necessary information, the loading time and user-friendliness of the website should be improved, especially considering the prices.
The pricing for the basic plan is slightly higher than Ahrefs — it will cost you $130/month to look after 5 campaigns, with only some tools available. The site explorer, keyword, and Google algorithm tools are available to any specialist free of charge, which is why it can be considered a free alternative to Ahrefs. If you want to try all the tools, you can benefit from the 7 day trial and access the advanced features.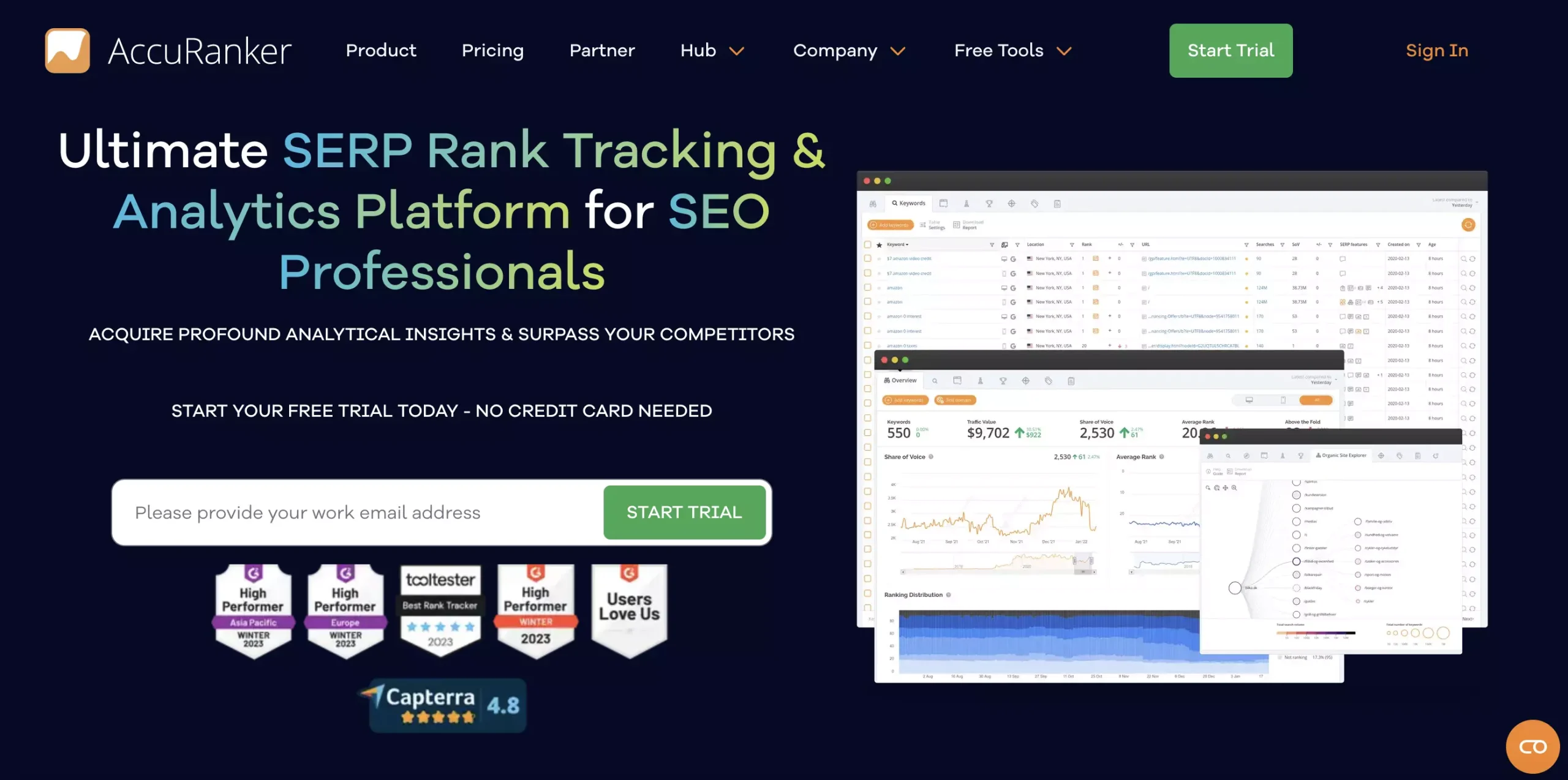 Last but not least service that can be a reliable alternative for some Ahrefs functionality is AccuRanker. It positions itself as the ultimate SERP rank tracker platform, offering the most comprehensive analysis and functionality. The service allows users to refresh keyword rankings daily to get constant updates, target different SERPs to see which features drive more traffic, and segment and filter data. If you're working together with a team, it will be easy to share key insights and make data-driven decisions about the next move.
It integrates with Google Analytics, Search Console, and other tools, which makes it easy to import all the necessary data and work with it in the app. AccuRanker can be used for local SEO even if you run multiple locations, as it promises to deliver keywords with 99% accuracy on a local level.
The platform also offers two free tools: Google Grump and Online SEPR Tool. The first tool is an interactive and fun tool that lets you see fluctuations in the rankings — the grumpier the cat becomes, the more fluctuations Google experiences. It's a nice tool to check during important updates when Google's mood' can influence your campaigns.
The second free tool lets you get information on an accurate location and specific SERP results and rankings — you can run 5 free searches per day.
Considering that AccuRanker focuses on the SERP tool only, the prices are comparatively high. Your price is calculated based on the number of keywords — starting at 1,000 keywords and $116/month.
Conclusion
While Ahrefs is a powerful and popular tool for SEO analysis, it's not the only option available. With a variety of tools out there, you can easily find alternatives to Ahrefs.
The choice of SEO tool comes down to your specific needs, budget, and preferences. It's worth trying out a few different options to see which one works best for you and your business. Make sure you understand your needs before looking for a service — some of them are more specific than others.
In addition to considering the needs, features, and costs of different SEO tools, it's also important to think about the level of support provided. Some tools may have extensive documentation, video tutorials, and a dedicated support team to help you get the most out of the product.
You should also look into the user interface and ease of use. Some SEO tools may have a steep learning curve, while others may be more intuitive and user-friendly. It's important to choose a tool that you feel comfortable using, and that can integrate well with your existing workflows.
Ultimately, whether you choose Ahrefs or one of the many alternatives available, the key to success in SEO is to use the tool effectively and consistently and to continuously adapt your strategy based on the data and insights provided by the tool. By using the right SEO tool and making data-driven decisions, you can improve your website's search performance and drive more traffic and leads to your business.