[toc] If you are just getting started with SEO, then you may have heard of on-page SEO. It can also be known as technical SEO, on-page optimization, and a number of other terms. On-page SEO is one of the most basic SEO strategies that every website should implement to rank higher in search engines and get organic traffic to your website every day. There are a growing number of factors when it comes to on-page SEO and we are going to go over getting started with on-page SEO in this easy-to-understand beginners guide:
What is On-Page SEO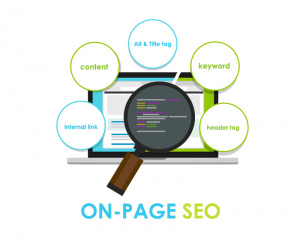 On-Page SEO is the methodology of optimizing your website pages to rank higher in search engines resulting in more targeted traffic and sales. On-page refers to the content of the page, as well as the HTML or source code of your website The better a web page is optimized for on-page search engine optimization, the more likely it's going to rank for the keywords it's optimized for.
Why You Need On-Page SEO
If you want to grow your website or business then having an SEO optimized website pages
is a necessity.
Google is very picky about the results it shows to its users and if your website doesn't adhere to best practices, it may get lost in the abyss of the SERPs (search engine results pages).

Having a website that adheres to on-page SEO best practices will help increase rankings for your main keywords, resulting in more exposure online, more traffic, and more business.
On-Page SEO Basics
There are a number of on-page SEO factors that you should optimize your website for in order to get maximum rankings.
Meta Title Tags
The title tag is an HTML code used by browsers and search engines to display to users what the page is. Meta title tags should be between 50-60 characters so that the entire tag fits inside Google's recommended title tag length. The title is often used by Google to display the link to a webpage in the SERPs (search engine results pages).

The optimal format for your title tags should be as follows: Main Keywords – Sub Keywords (if applicable) – Brand Name But that doesn't mean you should just paste in a bunch of keywords. The meta title should explain, in short, what the page is about and include the main keyword of the page. Example:
<title>Ninja Reports SEO Analysis Tool | Ninja Reports</title>
Meta Description Tags
The description attribute provides a concise summary of what each web page is about. Google
doesn't use meta descriptions as a ranking factor
, but CTR is a ranking factor, and having a good meta description can give your web page a
higher CTR
. The reason you can get a higher CTR is because Google highlights any text in the meta description matching the search term like below:

When we search for 'Ninja Reports', you can see that they highlight that keyword in our meta description on the SERPs. This makes your listing stand out more, increasing the clicks and CTR to your web page. Meta descriptions should be between 150-160 characters in length and should be unique to each web page. Example:
<meta name="description" content="Ninja Report's is the #1 SEO analayze and reporting tool online. Sign up for our free trial today and grow your rankings!"> 

SEO Friendly URLs
The URL if your web pages has a strong influence on your rankings in search engines.
Matt Cutts says
the first 3-5 words in a URL are the most important and are given more weight so keep your URLs short, sweet and descriptive. Having your main keyword in the URL can also increase the CTR of your pages because, like the meta description, URLs with matching search keywords will be highlighted in the SERPs. Here is a
great infographic by Moz
about the anatomy of a URL: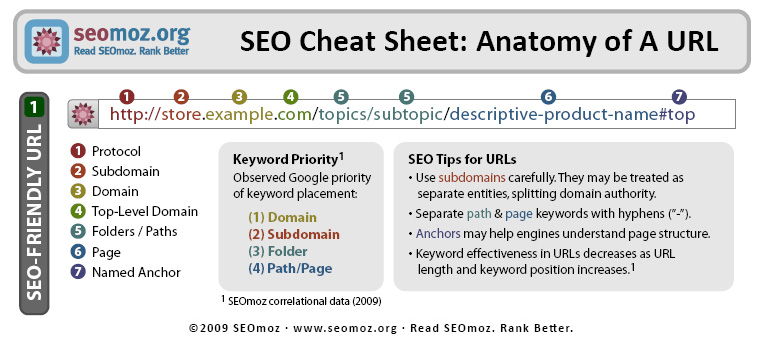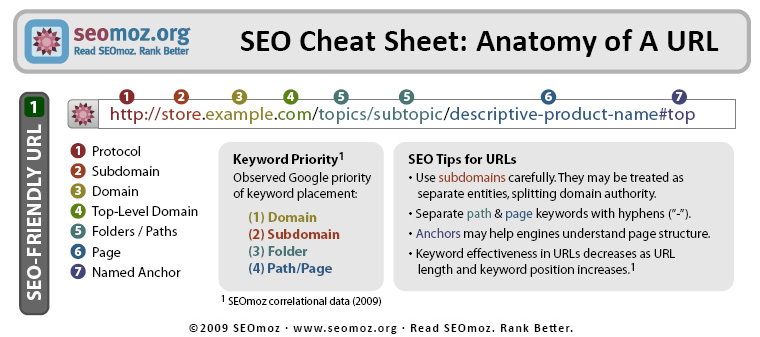 This infographic is a great visual representation of a good URL structure. When building your URLs, there are a few things you want to optimize:
Case sensitivity: Watch out for URLs with different cases. Try and be consistent whether its all lower case or camel case.
Use hyphens: Hyphens are the recommend separator for keywords.
Don't stuff keywords: Stuffing a ton of keywords in your URL will hurt your rankings more than helping them.
Short the Better: Shorter URLs provide a better user experience and more weight.
Dynamic Parameters: Remove any dynamic parameters like hashes and query strings
Match Page Title: Use the main keywords of your page title to create a short/keyword rich URL.
Remove Stop Words: When creating your URL, remove any stop words like and, or, but, of, the, a, etc.
Punctuation: Take them out of your URLs! Try and use only alphanumeric characters.
Heading Tags
HTML heading tags are used (by both users and search engines) to determine a web pages topic or content. These tags are published in the HTML body and range from h1 to h6, h1 being the most important heading and h6 being the least important heading. The <h1> tag is the most important heading tag and should be
used on every web page only once
. It is often the page or post title and describes the page content to search engines and users. I like to think of h1 tags as chapters of a book that easily allow a reader to scan the content and look for the section they are interested in. Example:
<h1>On Page SEO</h1>
<h2>Meta Tags</h2>
<h3>Title Tags</h3>
<h4>How to Use Title Tags</h4>
Thin Content
Content will always be king when it comes to SEO. The content on a web page is
crucial
to ranking well in search engines. Here are some popular types of content that you can build on your website and off:
Text
Images
Videos
Diagrams
Graphs
Case studies
Infographics
Creating these types of content around your niche can create a big boost in your rankings as well as referral traffic and
backlinks
. People tend to share good content, creating
high-quality backlinks
, and moving your website up in the SERPs (search engine results pages). Here is a
great infographic
from Moz about the value of content on your web pages.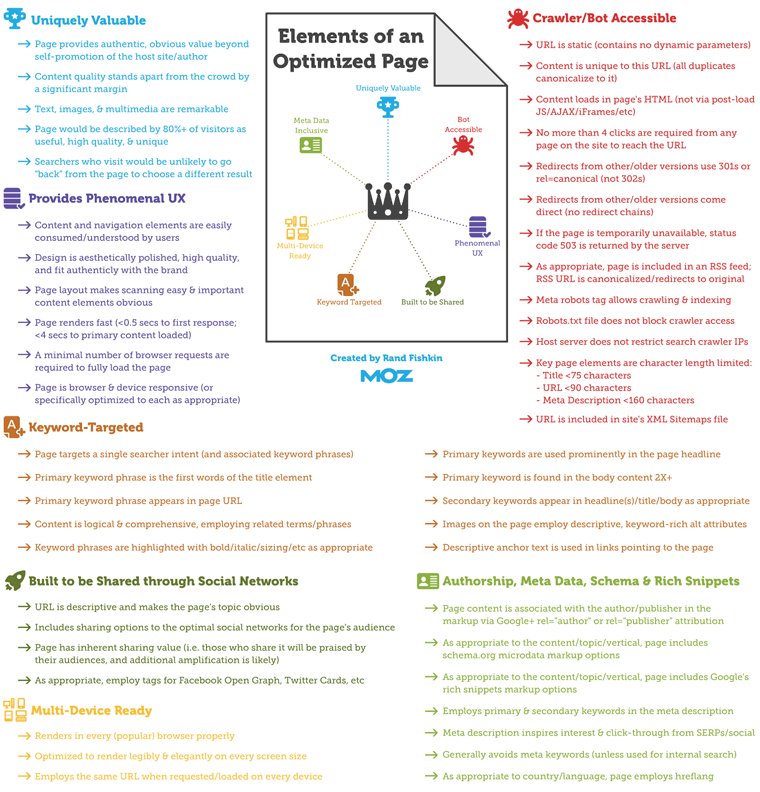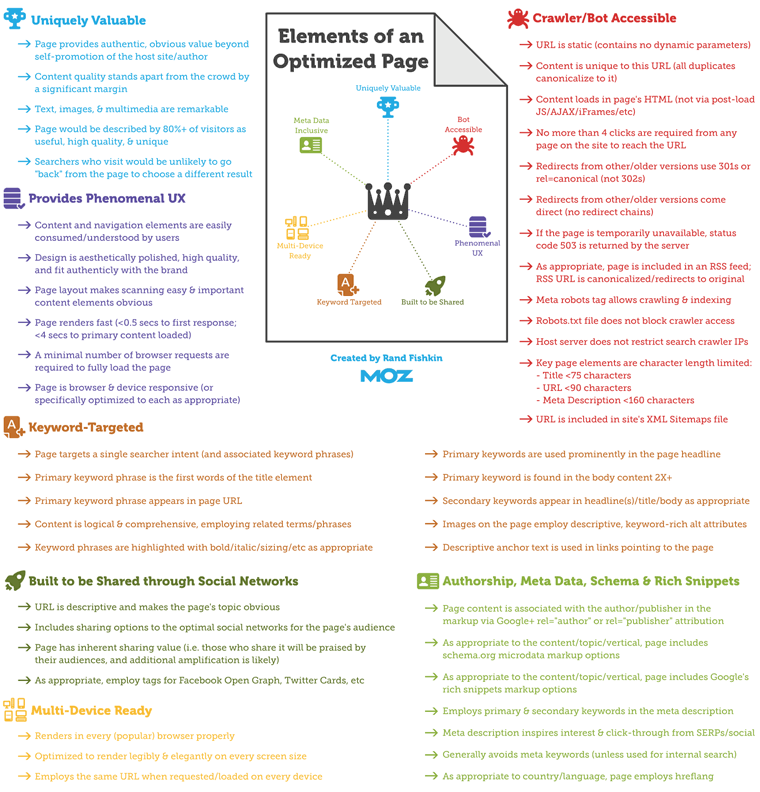 As you can see there are phenomenal benefits to creating high-quality long-form content. Good content not only means high-quality articles and images but well-structured code and well-formatted meta tags.
Canonical Tags
The canonical URL is a link element that tells search engines the preferred version (or URL) of a certain web page so you can
avoid duplicate content
issues. This meta tag should be added in the <head> section of your website pages. Canonical URLs can help search engines decipher the right web page to use for:
E-commerce sites with product variants
Blogs with paging
Large websites with possible duplicate content issues
Websites with both HTTP and HTTPS versions
Websites that use query strings
Example:
<link rel="canonical" href="http://ninjareports.com/blog/on-page-seo-guide/">
Internal Linking
Internal linking
is an important part of your website's structure because it allows bots to better find and crawl your pages. An internal link is a link that connects one page of a website to another page on the same website.
Why use internal linking?
Helps with website navigation and user experience
Passes link juice from one page to another
Defines the structure and architecture of the website
Improve rankings for certain keywords
Now that you know all the great benefits of using internal linking, let's look at how to great a good internal linking campaign for your website.
Build a lot of great content
In order to have a good amount of internal links on your website, you have to have a lot of content to link together. Creating high-quality content that links to other pieces of great content on your website provides brand value and allows search engine bots to crawl your site and all its great content.
Use anchor text in your links
Anchor text is the visible text of a link that is often underlined.


In the example above, the anchor text is 'Affordable Web Design'. Using anchor text in your internal links will help rank that page for that certain keyword in Google. Anchor text should be natural sentence fragments that are part of a normal sentence.
Mobile Friendliness
Did you know that
having a mobile-friendly website can boost your rankings
on mobile search?
Google prefers responsive web design
out of the handful of techniques and gives priority to websites that are responsive to all devices. Not to mention that:
48% of people cited a website's design as the number one factor in deciding the credibility of a business.
To test if your website is mobile-friendly just use the
Google Webmasters Mobile-Friendly Test
to analyze your web pages.


Make sure that all your pages pass the test and fix any errors that Google spits out. Although it's important to note that even though you pass this test, your website could still see high bounce rates if your responsive design is not good for the user. You should test your website design on all devices too see the user experience your visitors are having. This is the only way to reduce high bounce rates, increasing your rankings in Google.
Website Speed
Having a fast loading website is a key part of good user experience.
40% of people will leave a website if it takes more than 3 seconds to load. — Econsultancy
A fast loading website not only keeps people from leaving your site, but it also allows bots to crawl it faster. But how do you
know your websites speed
? We use this
great tool by Pingdom
that tests your website page's speed and gives you some insights on what you can do to speed things up.


As you can see our load time is great at 1.67 seconds but we could work on some things like combining CSS and JavaScript files into one, minified file.
SEO Image Optimization
Based on a
study by Raven Tools
, 78% of all on-page SEO issues are related to images. With that kind of high percentage, it's likely that with a little image optimization you can fly by your competitors in the search engines. Here are some tips to optimize your images for SEO:
Images and User Experience
Using images that relate to the content is important for a better user experience (which increases SEO). If your article or post is about dogs then you shouldn't have pictures of cats on the page. Images should be good quality, un-pixelated and large enough to be visible across all devices. The best type of images to use are
images you create yourself
…
Filename
The naming convention of your files is very important when optimizing your images. Your filename should include descriptive, content rich keywords about the image itself. Google even
says that
:
The filename can give Google clues about the subject matter of the image. Try to make your filename a good description of the subject matter of the image.
So make sure that every image you upload has a keyword focused description that explains the image and content.
Title Attribute
The title attribute does not have any potential SEO benefits but it provides a good user experience by providing a text description of a image when you hover over it. For maximum rankings increases,
all
of your image should include the title tag.
For maximum rankings increases, all of your image should include the title tag.
CLICK TO TWEET
If you are using WordPress then the title attribute will be automatically populated with the name of the image (minus the image extension).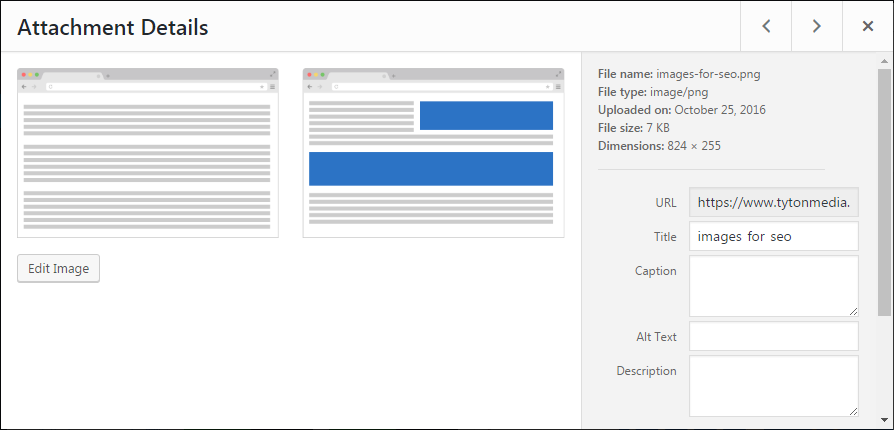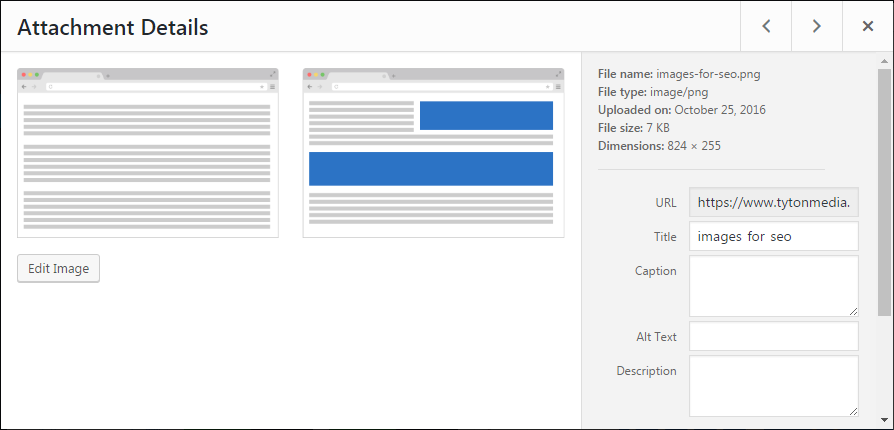 Make sure you remove the hyphens or dashes from the Title field for a more friendly description.
Alt Text
The most important tag on the image element is the alt tag. The alt tag stands for alternative text and is the text description of the image. Search engines use this information to figure out what images are about on web pages since the crawlers are text-based and can't see the images. This is a great opportunity to use your page or post keywords to describe your image. Alt text should be descriptive, concise, and to the point but
not spammy
. Do not stuff a bunch of random keywords in your alt-text or you may get dinged by Google.


A great way to write alt-text is to pretend that you are explaining the image to someone who can't see it.
SSL
HTTPS stands for
HyperText Transfer Protocol Secure
and is the web standard for secure communication between your browser and any server. In 2014, Google
announced
that they are now using HTTPS as a ranking signal which gives a small ranking benefit to sites with secure SSL connections. Google provides the following tips to get started with HTTPS:
Use 2048-bit key certificates.
Decide the kind of certificate you need: single, multi-domain, or wildcard certificate.
Use relative URLs for resources that reside on the same secure domain.
Check out our Site move article for more guidelines on how to change your website's address.
Use protocol relative URLs for all other domains.
Don't block your HTTPS site from crawling using robots.txt.
Allow indexing of your pages by search engines where possible. Avoid the noindex robots meta tag.
Schema Tags
Google says
,
"Structured data
refers to kinds of data with a high level of organization, such as information in a relational database. When information is highly structured and predictable, search engines can more easily organize and display it in creative ways."
What is Schema?
Schema markup
is a code snippet that you add in your HTML web pages to help search engines consume your data and display this data to searchers. Here is an example of the results of including schema on your web page:


As you can see from the listing, there are a few included rich snippets and they have included both a rating schema and a price schema that give more detail about the business or service. Having this data included in your listing will increase the CTR (click-through-rate) of your web pages and boost your rankings.
What are rich snippets?
Rich snippets
are detailed pieces of information added to search engine results to help users with specific queries.


In this rich snippet, you can see detailed information about this carrot cake recipe like its rating, how long it takes to cook and even how many calories it is. Currently, there are only 7 support rich snippet types:
Articles
Local Businesses
Music
Recipes
Reviews
TV & Movies
Videos
When building rich snippets be sure to provide as much data as possible so that you create a highly informative result in the search engines.
Adding structured data to your website
Adding your structured data to your website can sometimes be a difficult task depending on how many pages your website is. You can use online tools to
easily generate schema tags
of your choosing. Simply choose a schema type and fill in all the fields to generate both JSON-LD or microdata snippets. If you create a JSON-LD snippet, add it in the <head> section of your website. Microdata will go in the HTML of your website <body> and will be visible in the browser.
On-Page SEO Checklist
For an easy-to-use list of the most important on-page SEO factors, view our
SEO checklist
and print, view, or export your custom on-page SEO checklist.
Conclusion
In conclusion, on-page SEO is the base of any great SEO campaign. Optimizing your website for search engines can greatly increase your traffic and online sales. Check out our free
SEO analysis tool
to run a free scan on any website page and see if it has any on-page SEO errors.