Do you run a digital agency and find that your clients are constantly asking you about the status of your SEO campaigns? Providing up-to-date scheduled reports to your clients can increase the value of your service and allow you to keep your clients longer. You can save hours a day reporting your SEO campaign status to clients by automating your reports. There are a few great reporting software out there that will allow you to automate your SEO reports and here they are:
By choosing SE Ranking SEO Report Generator Tool, you choose convenience and time-saving. Reliable SEO reporting should never be underestimated as it maintains your teams' efficiency and proves your reputation to your customers. SE Rankings addresses all reporting issues such as the time needed for compilation, no suitable format for download, having to make several reports to show data from Google Analytics and other tools, etc. Using the SE Ranking tool is easy because there are templates for any kind of report you need, including:
SEO
Rankings overview
Traffic overview
Organic traffic
Rankings and competitors
Rankings and website audit
Website audit overview
Website audit issues
Google Ads
Besides, if there's no template that suits your needs, you can create one and use it later on for effortless reporting.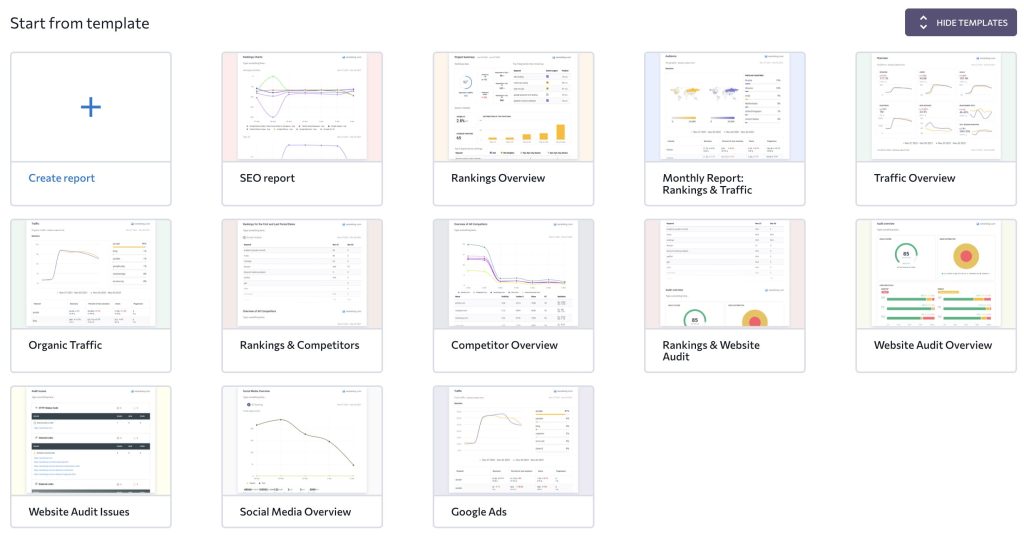 Another useful feature is automatic reporting that you can schedule and receive in your mailbox once the analysis is finished and your sheet is compiled. The reports are highly customizable as well, so you can move, add, and delete blocks to only leave essential information in the sheet. The white label feature makes it possible to create reports for your clients under your name, which will have a positive effect on your reputation.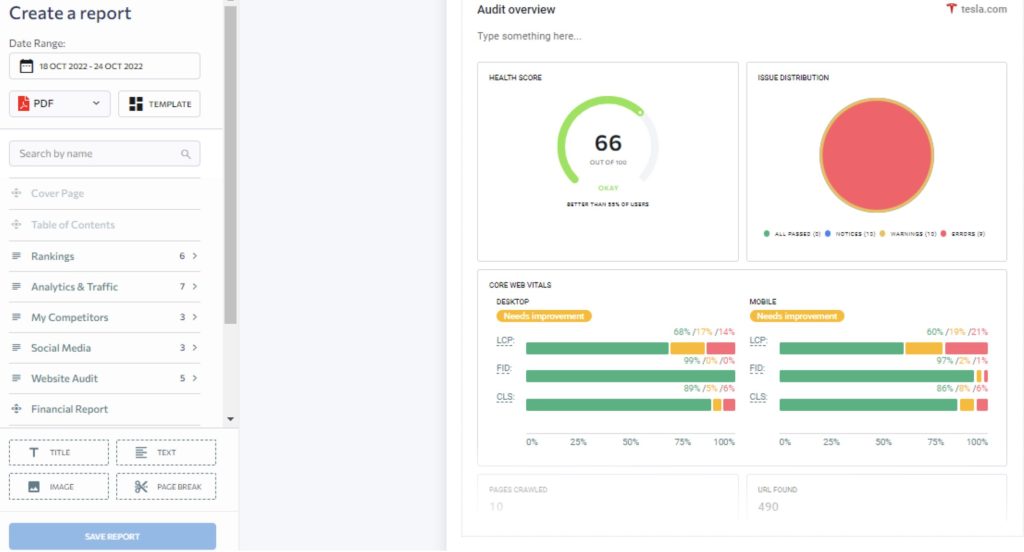 So, if you need a tool that will save your time, effort, and money, SE Ranking has what you need. Schedule automatic reports, create the most important ones manually, and be confident about the accuracy of your data or the looks of the final sheet!
SEMRush has a really great reporting tool if you are looking for a plethora of detailed reports that you can send your clients including:
Backlink Reports
Traffic
Local SEO Reports
Audit Reports
Keyword Tracking
Advertising Reports
& More
Although you will pay the price for this reporting tool, it still comes with a ton of other great tools like a social media poster, an on-page SEO audit tool and more. Their reporting tool allows you to create your own reports and schedule them to send to clients and/or yourself.
If you are an SEO company then it's very likely that you use Ahrefs to find, track and log search engine rankings. But did you know that Ahrefs has some automatic reports already? On the dashboard, when you add a 'Project' you will see small little envelope icons on each of your projects under backlinks, organic keywords, and tracked keywords. 

When you click on the gray envelope, you can actually create automated reports and add up to 3 email addresses. A modal will pop up to ask some options about your SEO report. If you click on the backlinks report, it will send backlinks reports, organic keywords send new keywords Ahrefs finds and tracked keywords report shows your tracked keywords movement in the search engines.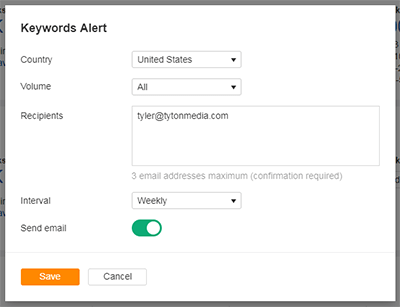 Select your interval (whether you want the reports monthly or weekly). choose the country and enter in your recipients. They will have to confirm their email before receiving any reports so let your clients know to confirm that email when they get it. Turn on the report by clicking the grey button to turn it green. Once its green, your report is ready to go and you can click save. You can see which reports are running by the green envelope icons and you can always click on them and make changes if you need.

As a professional SEO, you know that having Google Analytics installed on your client's website to track conversions and organic traffic is the best way to track campaign performance. I mean, the point of SEO is to grow the business right? By sending your clients automated Google Analytics Reports, they can know everything that's happening on their website daily, weekly or monthly.   Its super easy to set up automated reporting in Google Analytics that will send your clients or customers emails about how many people visited their site, how many conversions there were and even how much revenue their online business did. To create an automated report in Google Analytics, you first must go to a specific metric and you will see a share button at the top where you can share that certain report with an unlimited amount of email addresses.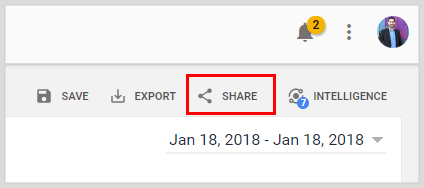 When you click the share button you are presented with a modal where you can set up automated reporting for your clients.
 Next, fill out who you want to send the report to, separated by a comma. If you want to add a custom subject line you can do that as well. Choose an attachment type and frequency of the email reports. You can even set it to be active for a certain amount of months if you are working for a company such as Newark limousine service, so if your SEO campaign is 6 months long, you can set it for 6 months and it will automatically turn off when the campaign is over! Add a message if you would like and then click 'Send' to activate the report. If you want to remove or change a report, you can go to the admin area and then in 'Personal Tools and Assets' you can click 'Scheduled Emails' to see and modify any exiting Google Analytics Reports you may have.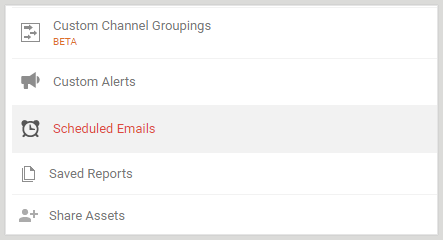 If your SEO agency uses MOZ to track backlinks, rankings and overall health of your client's websites, then you can actually automate your reports for your clients. To create automated custom MOZ reports, simply click the Custom Reports tab at the top once you are logged in to Moz Pro and on your client's website dashboard. 
Click Create New PDF Report and then you will be directed to enter in some more details about your report.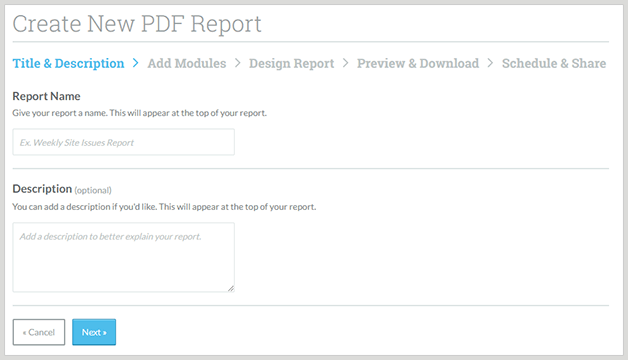 Name your report something descriptive like 'Monthly Backlink Report for Example.com' and add a description if you would like. Next, we are going to add modules to our report. Modules are pieces of data you can retrieve from Moz Pro. Some examples are rankings, page optimizations, backlinks and traffic from search. Click the plus sign by a module to add it to the report and once you are finished, click the next button. Now, you can actually design your SEO report and move the modules around how you want them.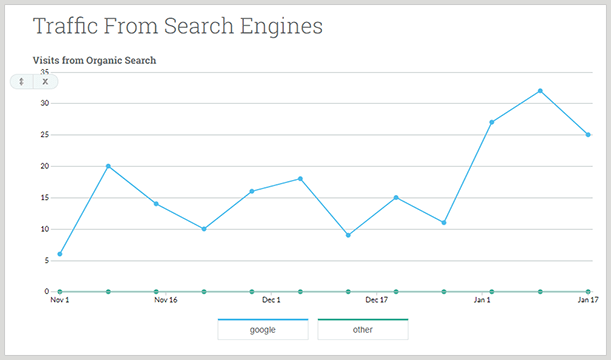 Once you are happy with it, click next and you can preview your PDF report to make sure everything is good. If its all good, then click the next button and now we can set up our automated report schedule.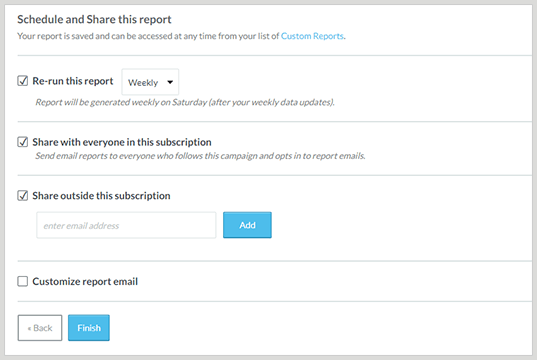 Choose whether you want your client to receive the reports monthly or weekly. If you want to add email addresses of people not in your Moz Pro account, you will need to select 'Share outside this subscription' and confirm the emails to send the report to. Click save and your report is now created and scheduled to automatically send out to your clients. Now, you can save hours a week by not worrying about sending updates to your clients.
This SEO tool is impressive when investigating the competition to gain insights on driving more traffic to a website. This tool will search any domain and provide a report on every place that domain has shown up on Google. SpyFu will monitor the rankings of a site on Google, Bing, and Yahoo. Adwords Advisor tracks what keywords with which the competition Is achieving success. PPC Ad Rank Tracker tracks ranking progress, impressions on shares and keyword groups.
This instant SEO checker and SEO audit tool can deliver an instant review of a website. Online visibility can improve with the use of the in-depth website analysis, which will help with SEO, social media, usability, and rankings.
 Distribute stunning custom reports to an organization detailing the health of the site, what is working on the site and ways the site can be Improved to optimize search engine activity. Produce an easy to use marketing checklist to prioritize tags to optimize the site for search engines with Woorank. Deep dive into the website with the Site Crawl Analysis to ensure there are no content or technical issues hidden.
An arsenal of analytics is available with this capable tool. Rank monitoring will check the site against 329 search engines and compare against 10 competitors. It will also provide graphs to show progress and scheduled checks to give businesses reports when they need them. The keyword research portion offers 19 different keyword tools to present any required analysis of your SEO campaigns. The site and content optimization tool audits the page against known issues and helps create relevant content for search engines.
By using this large link index database, businesses can harness the data provided on how the World Wide Web is linked together using Majestic SEO. 

 The site explorer tool explores pages deeply, with a backlink history checker that uses sophisticated robots to furnish the number of backlinks. It also tests keywords and shows a search score with which the user can manipulate their site and achieve a higher score. The link Intelligence API helps harness the power of the most advanced link map, to pull in data from the enormous database.
An excellent SEO tool to acquire detailed SEO audit reports to track the health of a campaign is called Raven Tools. This tool Identifies backlink sources, uses metrics vfrom Google Analytics, Search Console, Facebook, and AdWords. Over 20 data connectors from these sources give you the information you need to find and repair SEO issues and get a higher click rate from search engines. Quickly create custom reports that can be automated to arrive when required in PDF format.