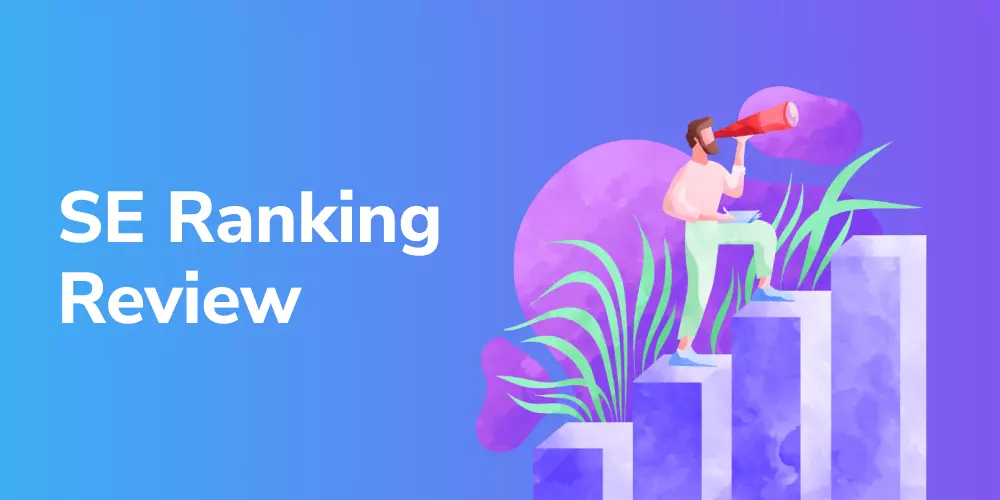 What is SE Ranking and what is it for?
SE Ranking is an all-in-one marketing platform that is used globally for its keyword position tracking, competitor research, website optimization, and backlink checking tools. Whether you're a small business owner, SEO specialist, copywriter, digital agency, or a large-scale enterprise, this platform can help you easily carry out both simple and advanced SEO tasks. You can get the exact number of tools and data limits that you need at affordable prices.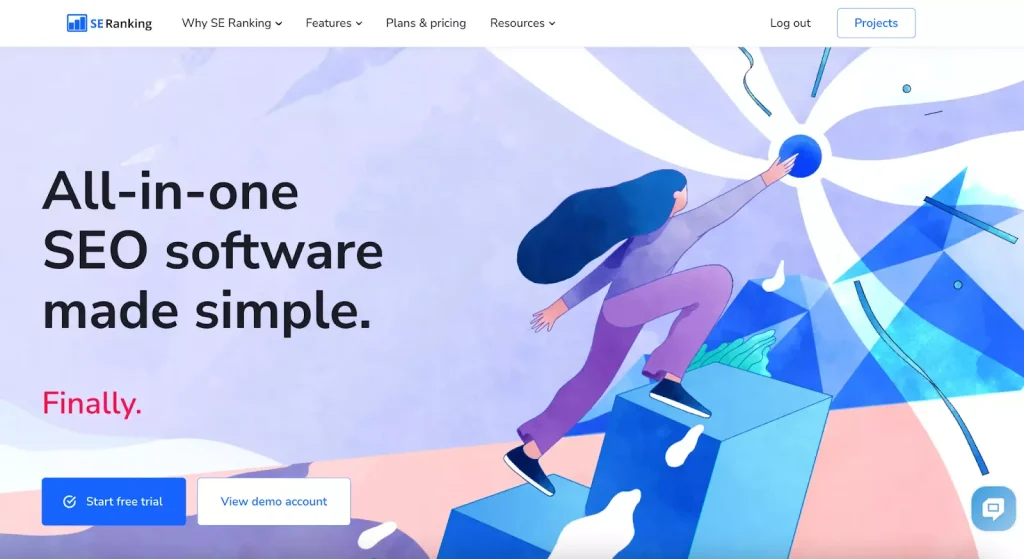 SE Ranking is also known for its outstanding customer support. Its support team is always ready to walk you through the onboarding process and provide assistance at every stage of your SEO journey. With SE Ranking's wide range of educational blog posts, videos on YouTube, online courses, webinars, and interviews with SEO influencers, you'll be able to navigate all the nooks and crannies of this platform with ease.
SE Ranking's flagship tools
Let's start by analyzing the top features that make SE Ranking one of the best SEO solutions on the market.
Keyword Rank Tracker
Optimizing your website with relevant keywords and then checking their rankings in SERPs is the number one rule for achieving SEO success. This is where SE Ranking truly shines.
With its Keyword Rank Tracker, you can easily check organic and paid keyword rankings across every major search engine, including Google, Bing, Yahoo, and YouTube, for any geographical location. You can monitor rankings over time for desktop and mobile searches separately.
Rank Tracker's usability is unparalleled: you can group and tag keywords to analyze the performance of separate pages, topic clusters, keywords that are impacting your KPIs, etc.
For each keyword, there's a set of core SEO metrics helping you assess their performance, including search volume, SERP features, level of ad competition, suggested bids, dynamics, and traffic forecasts. All ranking data can be filtered according to any values you set for these parameters.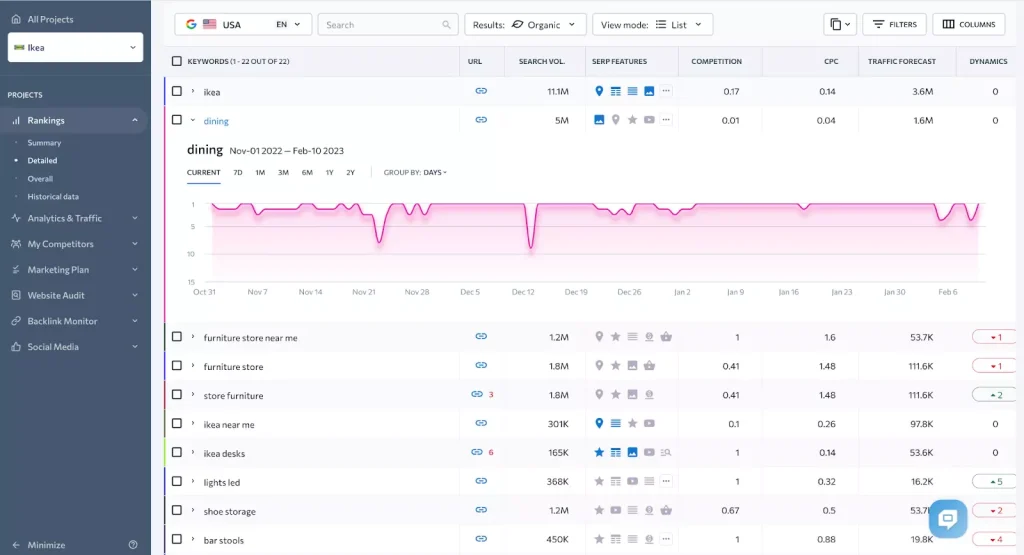 What makes this tool so appealing is that you can also add up to five competitors and get the same detailed report on their rankings as you can on yours. It will eventually help you in:
Determining your competitors' ranking strategies and their advantages over you for the same keywords
Using that data to make strategic adjustments
See the screenshot below for a keyword ranking comparison between IKEA and Wayfair.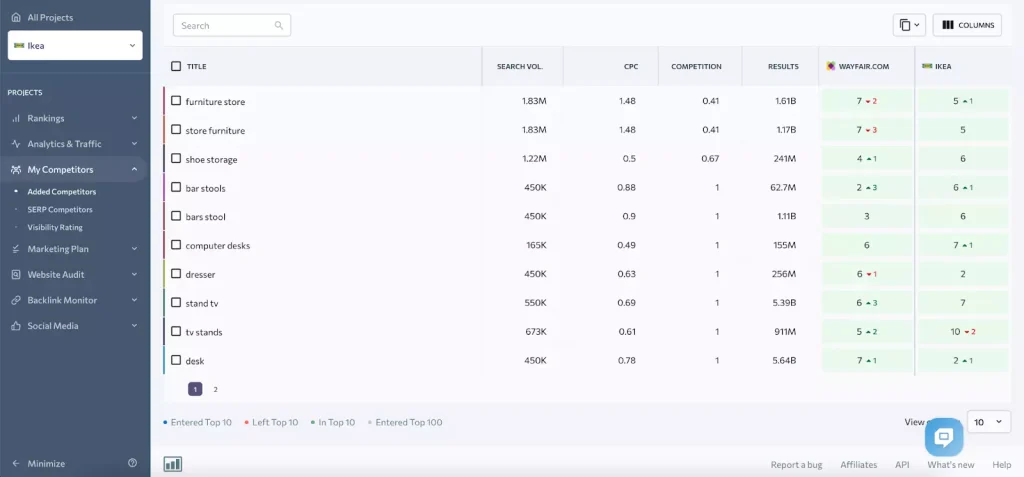 What's more, you can avoid cannibalization by using this tool to identify pages that are competing for the same keyword. To track which page the SERP displays for a given query, set a target URL for a specific keyword.
Finally, by connecting Google Analytics and Google Search Console to Keyword Rank Tracker, you can access all of your most valuable ranking data in one place.
Keyword Research
With around 900 million keywords, SE Ranking's Keyword Research tool has one of the biggest and top-quality US databases on the market. You can easily use this tool to analyze keywords for their difficulty score, search volume, cost per click (CPC), and paid competition. For every keyword you conduct research on, this tool offers thousands of keyword ideas. It provides a list of search queries that are similar or related to the analyzed keyword as well as long-tail keywords.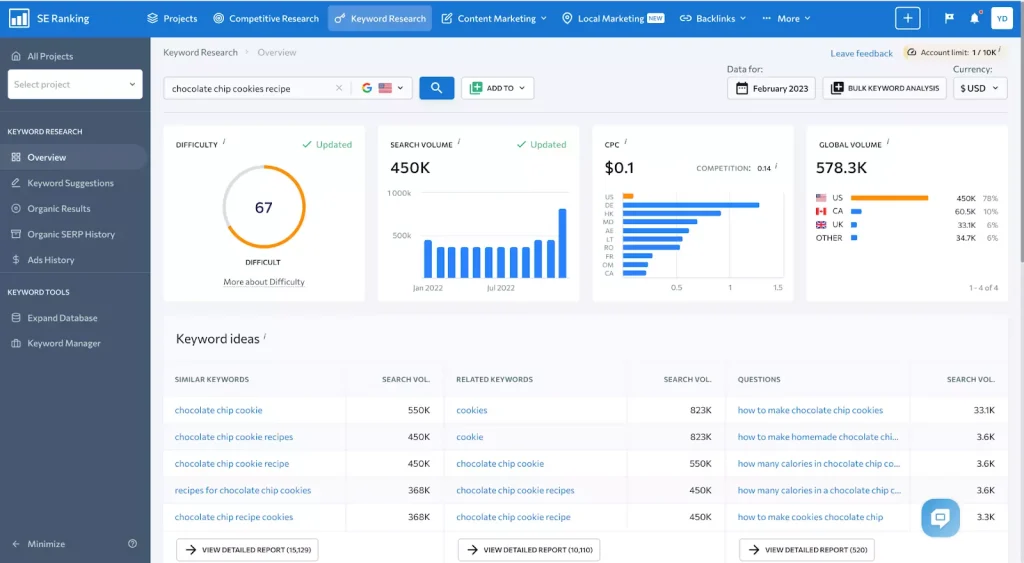 When picking keywords to target in search campaigns, you can immediately see who you'll have to go up against in organic and paid search. This will give you the chance to build an effective SEO strategy for finding and outranking your competitors.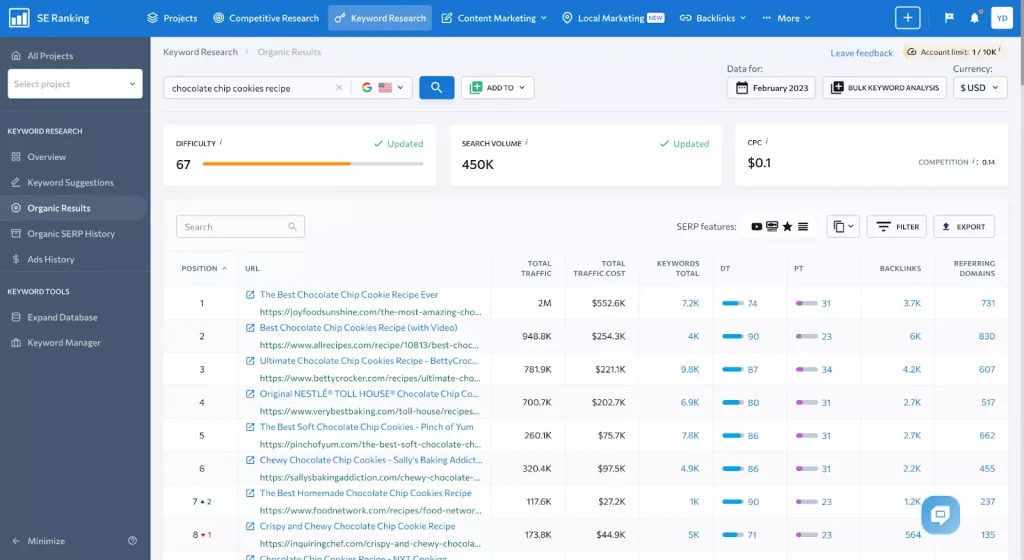 Apart from this, if you have a list with hundreds or even thousands of keywords to analyze, you can easily do it by performing a bulk keyword analysis. With the Keyword Research tool, search queries and their associated key metrics can be analyzed in groups in a matter of seconds.
Competitive Research
Your business doesn't operate in a vacuum, so you'll need to have an accurate idea of the trends happening in your niche. One way to do this is to keep track of the SEO and PPC strategies that your competitors are implementing.
With SE Ranking's Competitive Research tool, you can view your competitors' website traffic dynamics in organic and paid campaigns. This tool can also help you understand if your direct competitors and your whole industry were impacted when, for instance, you notice any changes in your SEO performance. Moreover, with this tool, you can learn which keywords, pages, and subdomains bring the most visitors to their website.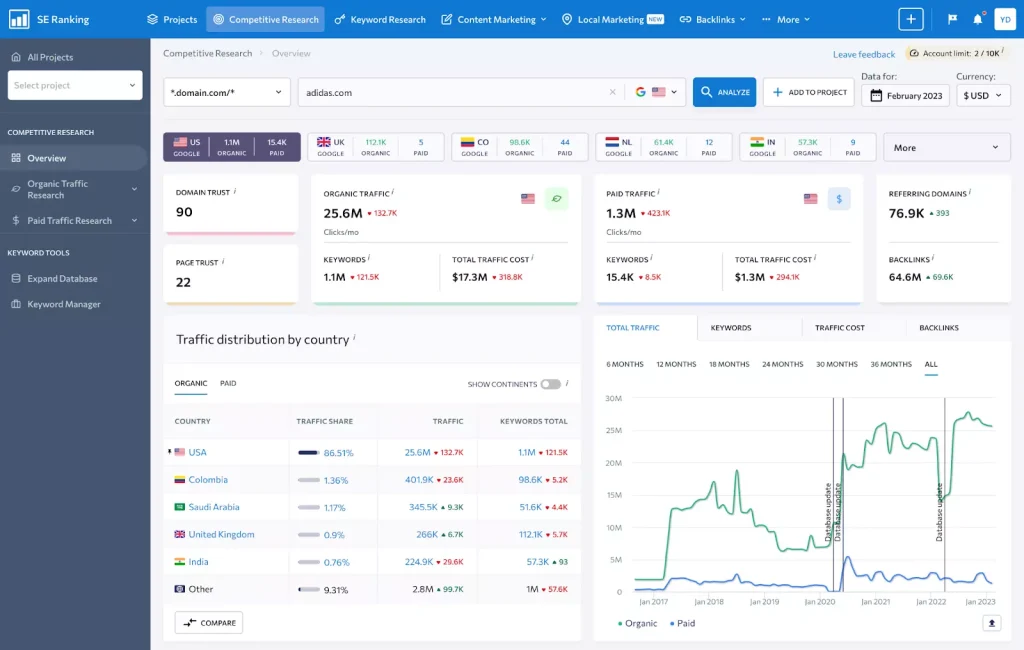 The best thing about this tool is that you have the opportunity to analyze keyword overlaps and gaps between your website and those of your rivals. Once you identify the search queries that your rivals are ranking for but you aren't, you'll be able to craft higher-quality content around them, giving you a higher chance of outranking them in SERPs.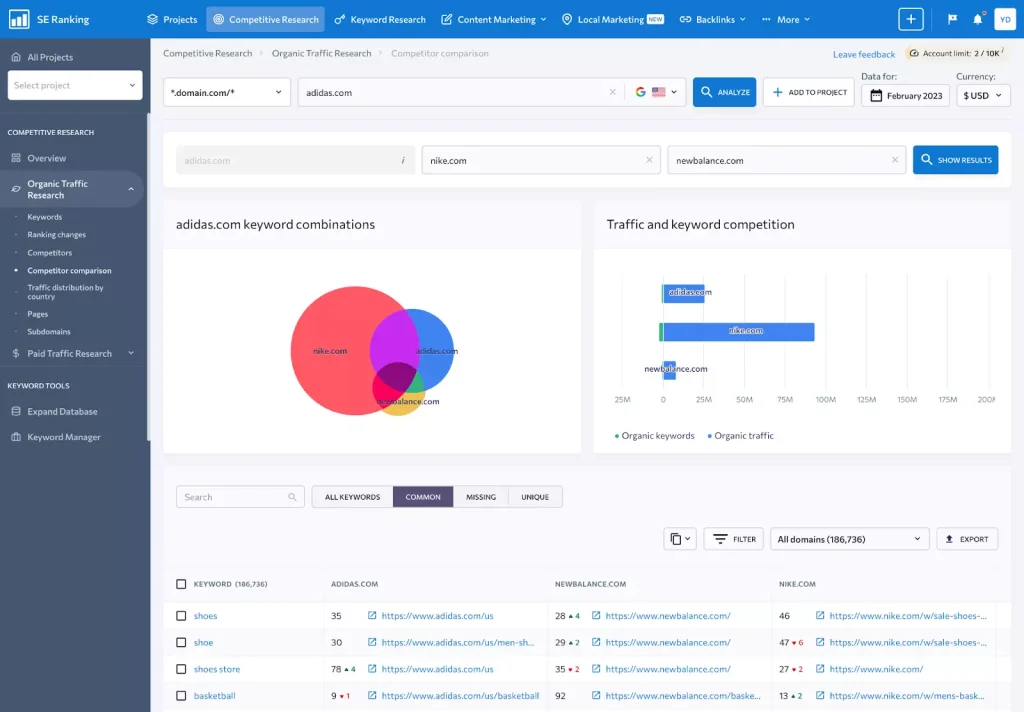 Backlink Checker
Next, we'll dive right into three of SE Ranking's comprehensive tools, each of which are designed to help you discover, analyze, and obtain trusted backlinks. These include the Backlink Checker, Backlink Monitor, and Backlink Gap Analyzer. Let's start with Backlink Checker.
SE Ranking's Backlink Checker tool is the perfect choice for obtaining backlink data on any domain or URL, including rival data. Use this feature to get a bird's eye view of any backlink portfolio and evaluate the quality of any backlinks that were found. In particular, you'll be able to check the dynamics of new & lost backlinks and their referring domains.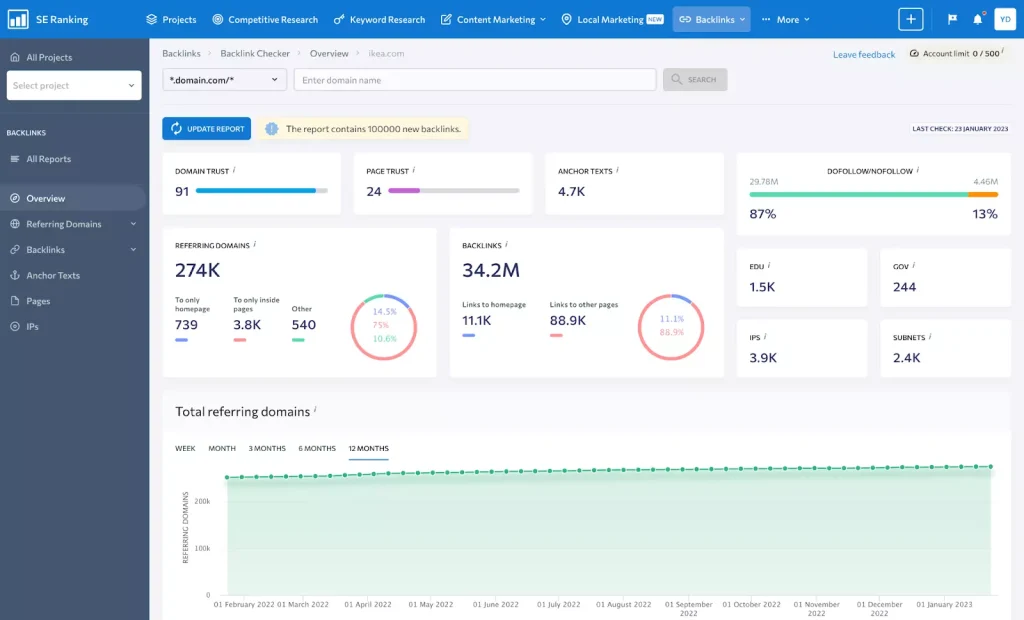 SE Ranking's Backlink Checker allows you to enter the domain name in the corresponding field. There, you'll have all the information you need for every detected backlink, referring domain, and linked page.
In particular, you'll be able to:
Analyze the distribution of anchor texts among referring domains and backlinks.
Get insights on referring IPs and subnets.
Find out which of your pages are performing best in terms of backlink acquisition.
SE Ranking makes it easy to use this data in combination with the following actionable metrics: domain and page authority, distribution of dofollow/nofollow backlinks, type of backlinks, and anchor text.
Once you've identified your or your competitors' backlinks, you can go to the Backlink Monitoring tool to keep track of them.
Backlink Monitor
SE Ranking's Backlink Monitoring tool gives you all the backlink tracking data you need—all in one place. Just add the backlinks you want to monitor to this tool and get automated notifications via email if their status (Found/Not found, Indexed/Not indexed, First seen/Last seen) changes. You can input them manually, as well as import them from your Google Search Console account or SE Ranking's Backlink Checker.
Once the scanning has been completed, Backlink Monitor will analyze each of them based on a set of key SEO metrics, including:
Status (Found/Not found)
Google indexation status
Anchor text
Target URL
Backlink type (dofollow or nofollow)
Number of Facebook shares
Number of backlinks on external resources
Referring IP address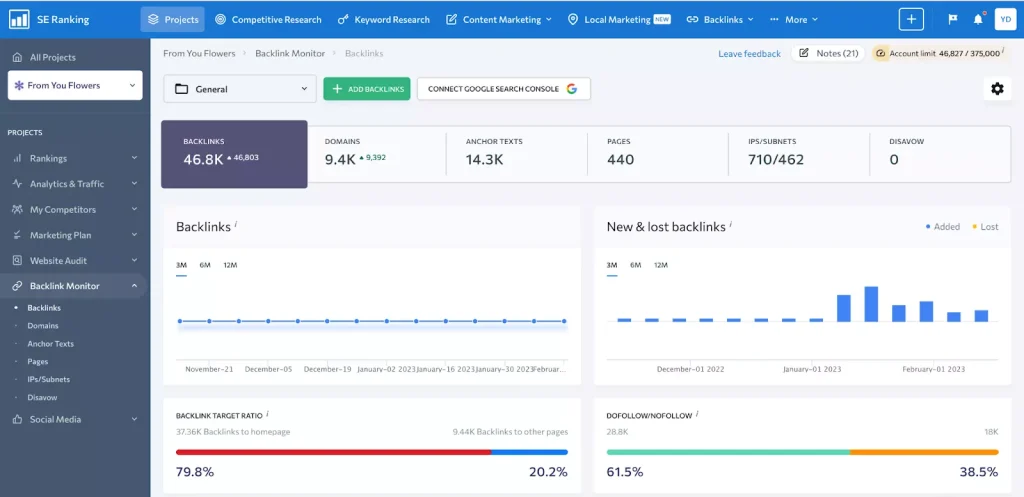 This tool also allows you to take full control over spam backlinks that may be coming your way. Add all unwanted links to the Disavow list, download the file in the .TXT format, and upload it to Google Search Console. This will tell Google not to take them into account.
Backlink Gap Analyzer
SE Ranking's Backlink Gap Analyzer allows you to discover websites that have already been linked to your competitors but not to you. In simpler terms, this tool allows you to discover backlinks that you and your competitors have in common. It also reveals traffic-driven opportunities that you may be missing.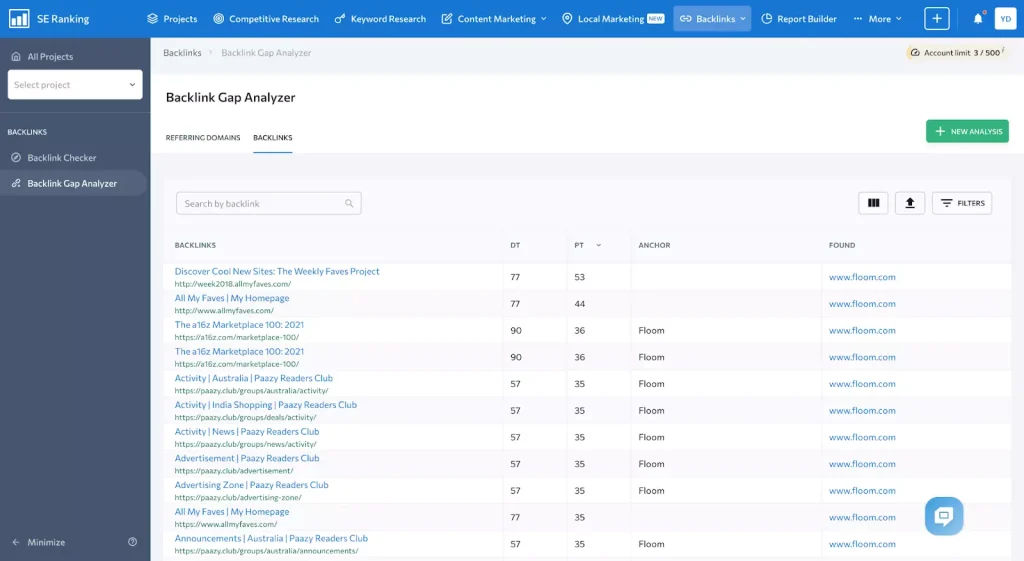 To get started, simply enter the main domain/URL that you want to analyze against the competition. Then, add up to 5 competitor domains and launch the analysis. After completing the analysis, you'll get access to in-depth data on all of the referring domains shared by your competitors, including their domain trust (DT) scores, the total number of backlinks pointing to their sites, and the exact backlinks of each one.
SERP Checker
Each webpage that appears at the top of the SERP is there for a reason. And that reason may depend on a variety of ranking factors. SE Ranking's SERP Analyzer is excellent for figuring out what your competitors are doing to rank highly and for gaining valuable SEO insights on the market for every SERP.
Usually, before creating a webpage around certain target keywords, you should determine in advance whether you can get to the top of search results. If it's possible to achieve, you'll also want to figure out how much effort it would take. You should have a deep understanding of the kind of content you'll have to produce, its proper keyword usage, and the minimum number of backlinks required for it.
Instead of going through dozens of different tools to gather this information, you can use SE Ranking's SERP Analyzer to view this data on a single screen. The tool analyzes each search result against 110+ on-page and off-page parameters and, therefore, defines which ranking factors matter for your target SERP. With SERP Analyzer, you can compare their domain and on-page SEO metrics, dive into their content structure, and identify the keywords they use. And instead of creating new pages blindly, you'll have accurate information on crucial SEO metrics that directly affect rankings and traffic.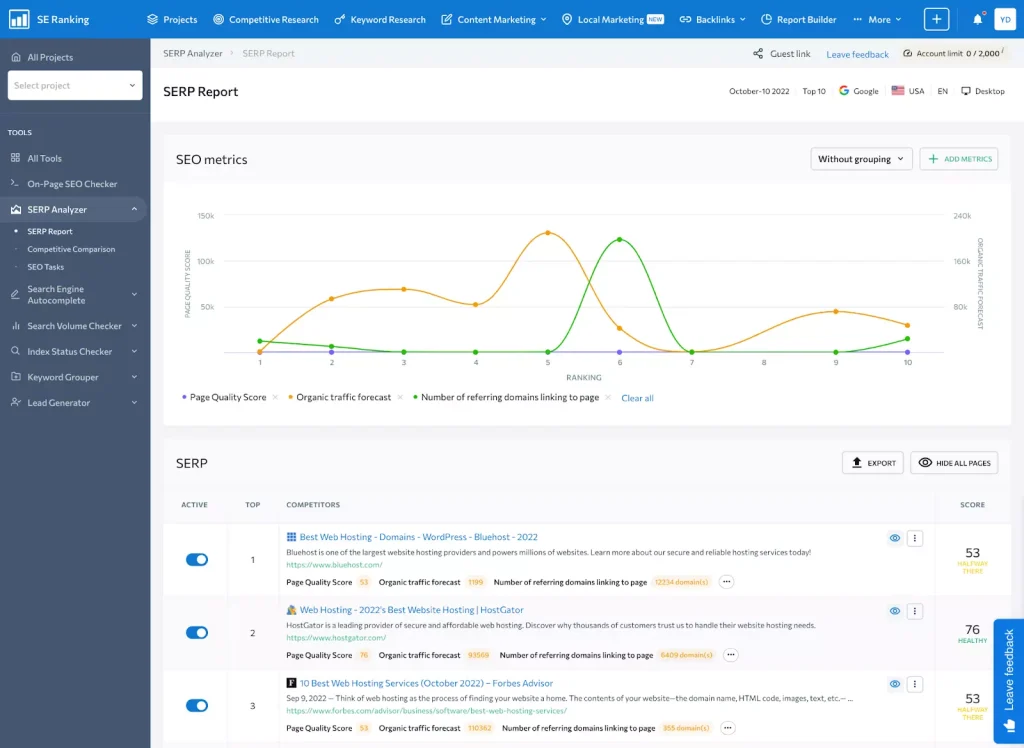 Website Audit
No matter how great your content is, you're unlikely to achieve significant SEO results if your website has technical SEO issues. To identify problems that could be hindering your website's performance, most marketers regularly conduct site audits. The SE Ranking Website Audit provides the opportunity to make the evaluation of your website's search engine friendliness as easy as pie.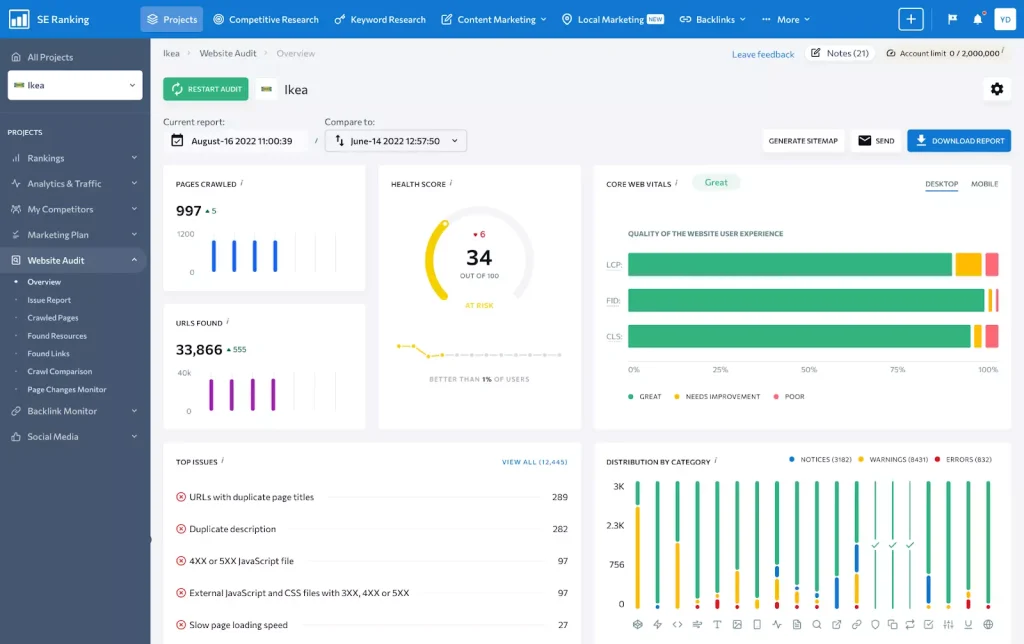 In just a few clicks, you can get your website health evaluated by SE Ranking's Website Audit tool. Use it to check different areas, including website security, crawling, HTTP status codes, CWV and mobile optimization, titles and meta descriptions, redirects, internal and external links, Javascript, CSS, etc. After this tool runs a technical audit against over 110 parameters, it automatically generates detailed reports on all detected SEO problems. In addition to the list of errors, the Website Audit tool offers step-by-step suggestions on how to fix these issues and provides links to useful information about them.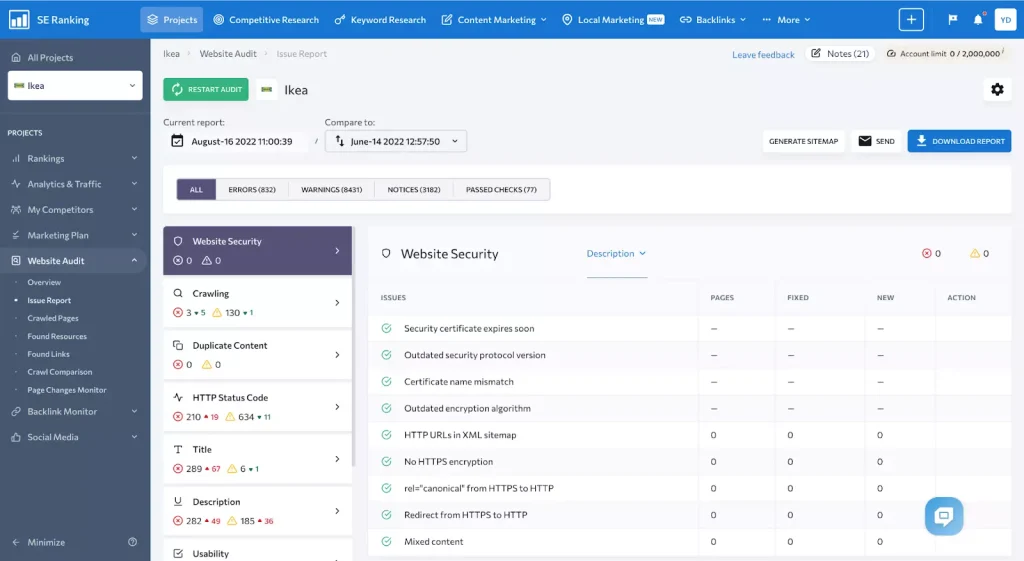 Apart from launching a website audit manually, you can schedule crawls to happen automatically and set their frequency (weekly or monthly). This tool also lets you specify the day and time that suits you best. You can send the final audit report with all the data you need straight to your inbox.
On-page SEO Checker
Let's say you've created a webpage with high-quality content, but it still doesn't rank well. In this case, the problem could be that your competitors outrank you in some on-page SEO aspects. Dedicated tools like SE Ranking's On-Page SEO Checker can help you see how the pages on your website stack up against competitors so that you can discover ways to beat them in the SERPs.
On-page SEO Checker evaluates a page using 94 distinct parameters to determine how well it is optimized for a certain query. These parameters vary from title and content length to mobile-friendliness, all the way to the page's user experience and backlink profile. On-Page SEO Checker also generates a detailed report that contrasts your content with that of your top competitors for the most important on-page parameters. It then provides you with a to-do list of SEO tasks that you'll need to perform to reach top spots on the SERPs.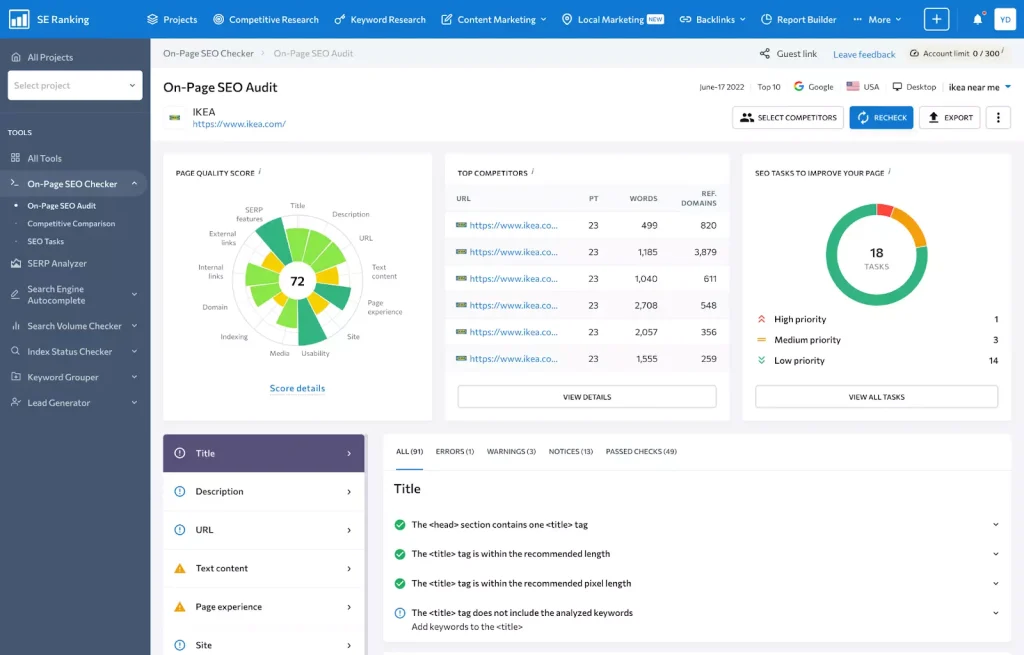 The best thing about this tool is that it provides recommendations based on the actual metrics that the page's direct competitors have, rather than focusing on arbitrary SEO standards. SE Ranking's powerful AI-based technology thoroughly analyzes the competition so you can get niche-specific tips on how to outrank your rivals in search results.
Page Changes Monitoring
Even if you have a huge team and accurately allocate roles to its members, there's always a chance you'll miss some changes happening to your website's pages. To ensure that you're constantly aware of these changes, you can use automated solutions like SE Ranking's Page Changes Monitoring tool
With the help of this feature, you'll be aware of and notified of any changes made to the pages you are monitoring. Page Changes Monitoring tracks any changes that occur to the following page elements:
Title tag
Meta description
Keywords
H1-H2 tags
Content
Internal and external links
Robots.txt
HTTP code
Canonical URL
Alternate URLs
Crawls
Index status
You can do the following to get the most out of this tool:
Specify the web page that you want to track for changes.
Select the elements to be tracked.
Set up scanning frequency and alerts (either display them in the notification hub or have the notifications emailed to you).
Content Marketing Module
SE Ranking's Content Marketing Module includes two powerful tools: Content Editor and Content Idea Finder. You can use them to speed up and simplify every stage of the content creation process. From generating content ideas to creating guidelines for content teams, to writing, editing, and optimizing digital content based on SERP data, you can easily create content that search engines will want to display at the top of search results.
Let's take a detailed look at these tools.
Content Editor is the core tool of the Content Marketing Module.
It provides assistance in building SEO briefs, writing optimized texts, and evaluating content quality. Based on the top 10 organic competitors, SE Ranking's proprietary AI algorithm enables this tool to comprehensively analyze top-ranking competitive content for its word count, keywords, content structure, and the number of media elements. Content Editor can, as you can see, speed up and automate the competitor research stage when creating content.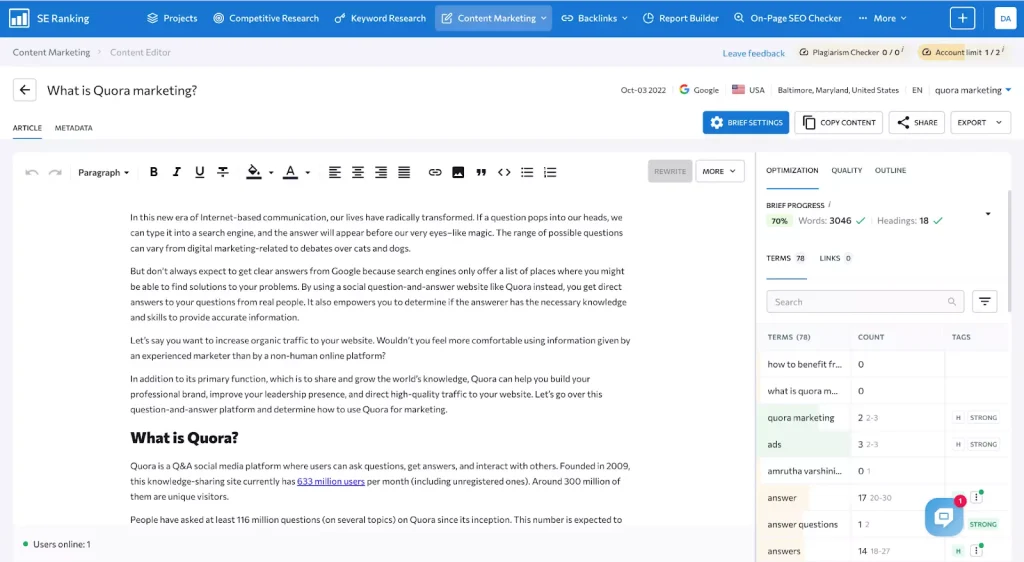 It is also perfect for writing detailed, structured outlines and searching for relevant keywords to include in your article. When working on a piece of content, you'll have the opportunity to create and share guest links with collaborators (freelance copywriters or colleagues) to involve them in the content creation process. The Content Editor will then automatically check if your new article meets the setup requirements and general quality criteria, including readability, grammar mistakes, and stop words.
Content Idea Finder is a perfect fit for users who have a broad topic in mind but aren't sure what to write about.
Enter any keyword and Content Idea Finder will analyze it, cluster related terms around it, and eventually generate content ideas for your website. For every suggested cluster and keyword, you'll see all the SEO & PPC parameters you'll ever need. This includes their search volume, keyword difficulty, CPC, and competition level. This information will help you understand which clusters have the highest potential and which keywords perform the best on the SERP.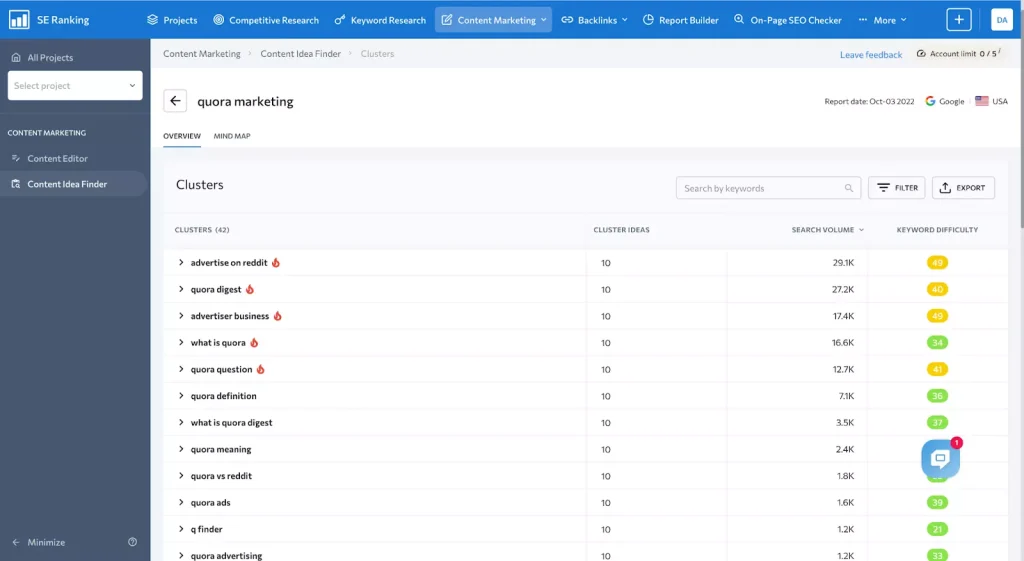 The Content Idea Finder offers content ideas in both the list and mind map formats—for your added convenience. This will allow you to compare all keywords by difficulty and search volume. After analyzing all ideas and selecting the one that fits both your content strategy and your audience's needs, you can export it to the Content Editor in one click.
Who Can Benefit from SE Ranking?
Considering its wide selection of SEO features and flexible pricing plans, SE Ranking is for anyone who wants to improve their website's online visibility and performance. This includes SEO pros, marketing agencies, and small business owners with minimum SEO experience.
Here are the three categories of people who would benefit the most from SE Ranking.
In-house SEO and marketing specialists
SEO specialists and digital marketers can rely on SE Ranking's tools to build and implement their SEO strategies as well as monitor the performance of various websites.
They'll benefit tremendously from the comprehensive data they'll have gained from SE Ranking's competitive and keyword research tools, as well as its backlink checking, content analysis, and website audit tool. They will be able to produce top-notch, effective SEO campaigns that reach the top of the SERPs.
Marketing agencies
Marketing agencies can rely on SE Ranking's complete toolset to create effective SEO strategies that stimulate business growth. They will also benefit from SE Ranking's user seat policy for effective teamwork since multiple user seats are already included in the Pro and Business plans.
This category of users can provide their clients with actionable SEO insights with the help of drag-and-drop branded reports that can be scheduled and sent automatically.
Reports cover all the data you'll ever need for the following metrics: organic/paid rankings, website health score, backlinks, on-page/off-page optimization, content quality, and so on.
Finally, agencies may find SE Ranking's White label functionality and lead generation widget to be very useful.
Small and medium-sized businesses
Oftentimes, modest-sized businesses fail to get noticed online due to a lack of resources for running SEO campaigns, let alone successful ones. With the help of SE Ranking, these businesses can balance cost-effectiveness with powerful marketing features.
SE Ranking also provides hands-on tips for optimizing sites for better performance.
SE Ranking White Label Feature Review
SE Ranking subscribers who are using the Agency Pack add-on can provide expert SEO services to clients using their own domain, brand, or company name. This means that you can personalize the SE Ranking platform and present it as your own site.
SE Ranking's White Label Feature also allows you to make a custom interface and login page; add your logo, footer, and header; and choose the scheme color that matches your company's brand book. After personalizing the software interface, you'll be able to use your custom email to send scheduled and manually created white-label SEO reports.
SE Ranking Pricing Review: How Much Does SE Ranking Cost?
Despite being one of the top toolkits in the industry for high-quality SEO services, SE Ranking is probably the most affordable solution for website optimization. Here's a breakdown of the different plans that you can sign up for: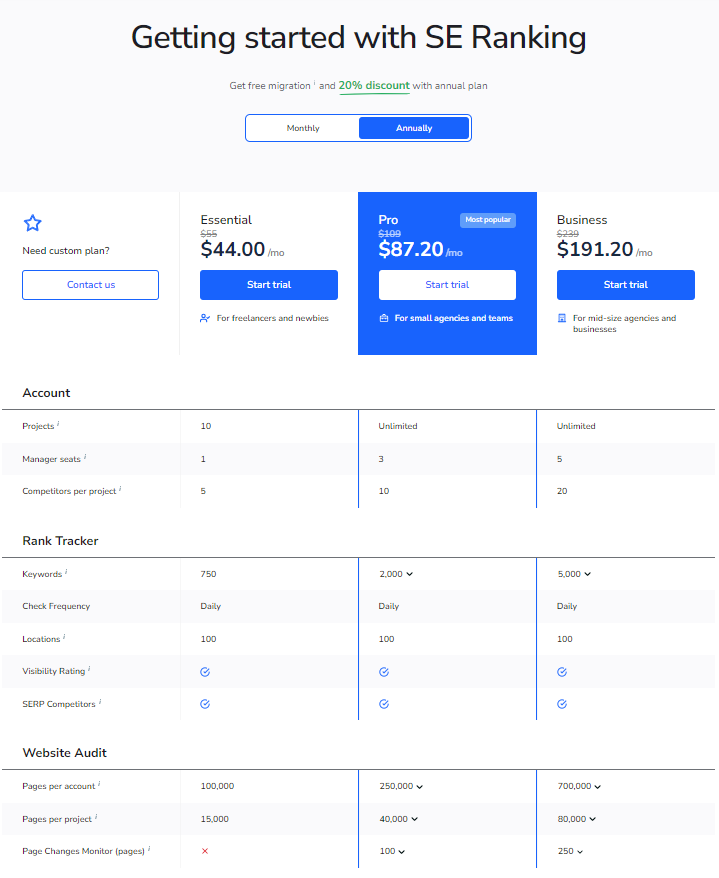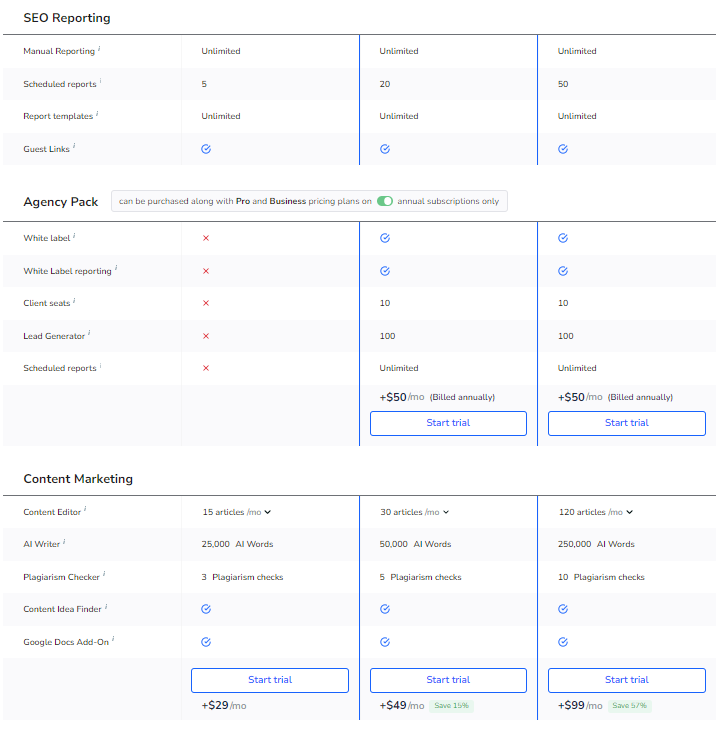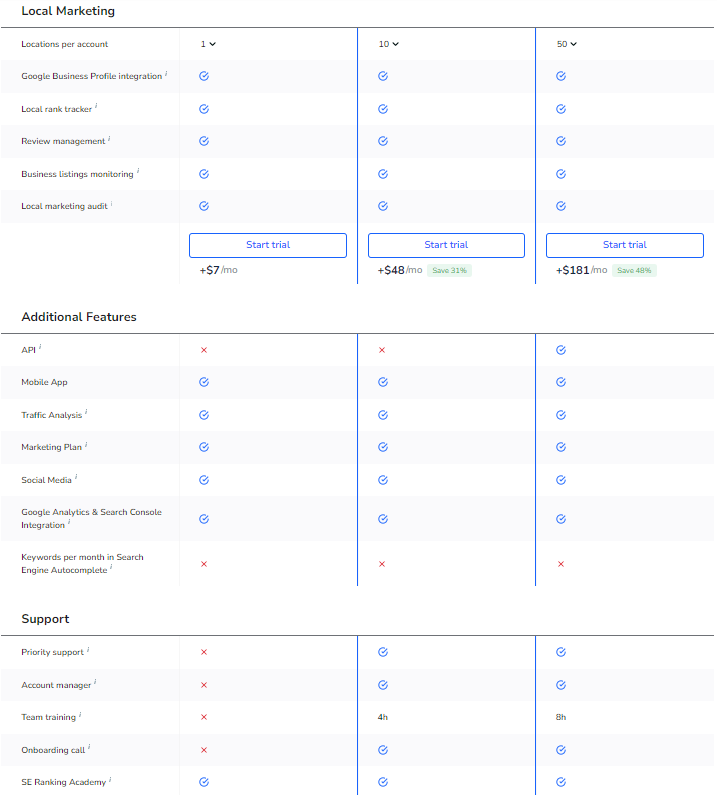 The Essential Plan is SE Ranking's basic plan, starting as low as 55 per month. This plan includes up to 10 projects and five competitors per project. It also covers all the SEO tools that a beginner might need, but it lacks some premium features like historical data on keywords/domains and the Page Changes Monitor tool.
Unlike the Essential plan, the Pro plan comes with an unlimited number of projects and 10 competitors per project. What's more, it includes up to five user seats, meaning your whole team can use the tool to work on your client's projects. The cost of this plan varies between $109 – $189 per month. It unlocks premium features like Page Changes Monitor and provides a keyword database expansion. However,  this plan does not grant you access to all of SE Ranking's data via API. You also won't be able to integrate existing functions into new applications.
If you're a large business or agency and looking for the grand scope of SEO services, the Business plan is for you. Its price starts from $239 per month and goes all the way up to $570 per month. This subscription plan has 5 user seats already included in the price. On top of all of the features offered in the Pro plan, this plan includes API access and way more usage caps. This means that compared to previous plans, you'll be able to run significantly more backlink checks, reports, and page audits.
If none of the above options fit your business's needs, you can opt for a custom plan by contacting the company and requesting the SE Ranking personal plan review and consultation.
Before opting for a paid subscription, you can also try a free 14-day trial to get a feel for the platform.
Conclusion
While being one of the market's most affordable SEO tools, SE Ranking is the obvious choice for anyone who wants to get the most bang for their buck. Its fair price doesn't compromise on quality, and thousands of positive reviews undoubtedly prove this claim.
SE Ranking offers dozens of excellent features without neglecting simplicity, flexibility, and data accuracy. Some of the flagship tools that this platform offers include:
Keyword Rank Tracker
Competitive Research
Keyword Research
Website Audit
Backlink Monitoring
Backlink Checker
Backlink Gap Analyzer
On-Page SEO Checker
SERP Analyzer
Content Marketing Module
By using all that SE Ranking has to offer, you can go through all the critical stages of the SEO process to improve the visibility of your (or your client's) website in the SERPs. We hope that this SE Ranking review will be a great help to everyone searching for a high-grade yet reasonably priced SEO solution.