If you run an online business (or even a brick and mortar business) then you know that knowing your numbers is a vital part of the business. There are so many different numbers, statistics and online analytics to look at that is can sometimes be a lot to watch.
With the rise of the internet era, there has been a lot of advancements in automated reporting and online reporting tools for your business. Now you can keep a close eye on your vital numbers whether it's marketing, operations, management, development, HR or accounting. There are hundreds of great internet-based analytics reporting tools out there, but we collected some of the best ones to feature.
In this article, I am going to show you 6 of the best online analytics reporting tools to save you time and help you know your numbers.
1. SE Ranking SEO Report Tool
When using the SE Ranking SEO Report Tool, you can truly forget about the problems with report compilation because the platform does everything for you. Its drag-and-drop interface allows you to easily choose and organize data sections in your report while the white-label feature and flexible customization satisfy almost any personalization need. 
Along with manual report generation, you are welcome to schedule and send them automatically. SE Ranking has pre-set templates for SEO, SMM, Google Ads campaigns, and other reports ready to be filled with data. You can connect your Google Analytics account or social media pages to enhance your reports.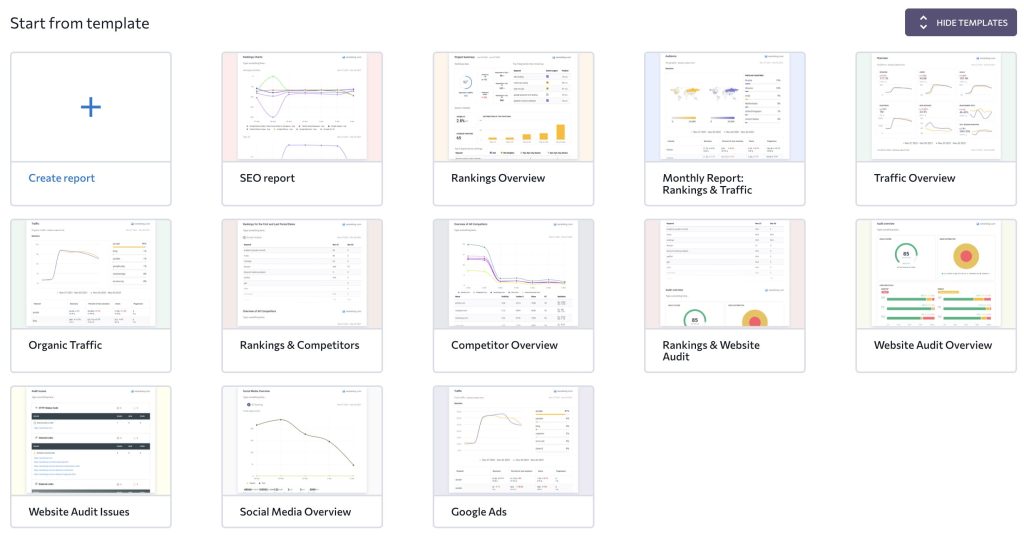 Features:
Preset templates available

Scheduled reports generation and automatic sending

White-label reporting

Flexible data range setup

Highly customizable, you can drag and drop modules as you wish

Most common download formats available (.pdf, .csv, .xls, and .html)
As to the pricing, SE Ranking offers 3 plans: 
Essential starting from $49 a month, 

Pro – from $109 a month, 

and Business – from $239 a month. 
Custom plans are available; just contact the company for a quote. Also, you can get an up to 40% discount for the ranking check frequency and up to 20% – for a longer subscription period.
2. Zoho Reports
Zoho Reports is a cloud-based BI and Analytics platform that allows you to create powerful reports online to get valuable insights on vital business information.
With Zoho Reports, you can import data from feeds, databases, files and popular business applications to visual your analytics in a cloud-based platform. Collaborate with your colleagues right inside Zoho Reports, Blend your data from different sources and embed your reports right into your website or application.
Zoho Reports Features
Upload data from cloud feeds, JSON, XML Dropbox, URL feeds and more
Connect your databases like MySQL, Access, Oracle and more
Data Blending to merge data
Beautiful Dashboards
Spreadsheet-like interface
Share and collaborate with your team
Zoho Reports Pricing
Free for 2 users, 100,000 rows
Basic (2 users, 0.5 million rows) USD 25 /month
Standard (5 users, 1 million rows) USD 50 /month
Premium (15 users, 5 million rows) USD 125 /month
Enterprise (50 users, 50 million rows) USD 495 /month
3. Sisense
Sisense is a complete business analytics platform where you can combine all your business data in one place and view interactive visual analytics with all of your business data.
Perfect for almost any industry, Sisense was built for companies of all sizes. With Sissense, you can collaborate with other users and build awesome dashboards with a simple drag and drop interface. They have won a number of awards for their software and have integrated with companies like NASDAQ, Sony, ESPN and NASA.
Sisense Features
Simple to use interface for non-coders
Fast system that can analyze data fast
Colloborate insights and ideas with team members, clients or business partners
Create complex business analysis reports with a simple interface
Have all of your business data in one place
Sisense Pricing
You must contact Sisense to get a quote but they do offer a free trial.
4. Tableau
If you haven't heard of Tableau, then you have been living under a rock. Tableau is changing the way we look at business analytics. Tableau helps companies visualize and understand their data better. You can create and publish dashboards, share data and visualize your most important analytics.
Tableau Features
Data Export
Drag and Drog Data Reports
Live visual analytics
Connect hundreds of data sources
Map your data
Fast, actionable insights
Tableau Pricing
Tableau Desktop Personal: $35/month per user
Tableau Server: $35/month per user
Tableau Online: $42/month per user
Tableau Desktop Pro: $70/month per user
5. Funnel.io
If you advertise online, you have to check out Funnel.io! Funnel.io connects all your advertising data into one place. You can connect Facebook, LinkedIn, Google, Taboola, YouTube and more plus add your conversion data to see a complete picture of your advertising online.

With Funnel.io, you can import data in a number of ways like Google Sheets, Uploads, APIs and more. It is used by some of the biggest companies in the world like Spotify, Lionsgate and TomTom.
Funnel.io is a little more pricey than the other analytics tools but they do offer a free trial for you try out the product. If run any sort of large advertising campaign online, then you should check out Funnel.io.
Funnel.io Features
Connect Data from 353 platforms
Real time dashboards
Cross-Channel Analytics
Report Center for easy reports
Multi-user Support
Custom metrics
Funnel.io Pricing
Standard (Up to $50,000 monthly spend) $299/month
Business (Up to $100,000 monthly spend) $449/month
Professional (Up to $300,000 monthly spend) $699/month
6. Agency Analytics
Agency Analytics is perfect for agencies looking to create a white label reporting dashboard for their clients. You can connect SEO, PPC, Email and Call Tracking apps to build beautiful analytics dashboards that your clients can access from anywhere.
Over 2,000 marketing agencies use Agency Analytics to create stunning dashboards for their clients. With a ton of features, Agency Analytics receives a lot of great reviews and happy customers. They currently have over 30 marketing integrations including:
Facebook Ads
Google Adwords
Google Analytics
Bing Ads
Callrail
Constant Contact
Google My Business
Google Plus
and more
Agency Analytics also features some great packages that are reasonably priced. They also have some cool add-ons like keyword tracking, site audits and a number of other great tools for your marketing clients. If you run an SEO or Marketing agency, then this is an analytics tool that you need in your arsenal. Your clients will love it and you can add real value to your company.
Agency Analytics Features
Automated Email Reporting
White Label Dashboards
Client and Staff Access
Connect over 30 marketing data sources
Rank Tracker
SEO Audits
Manage your agency in one place
Agency Analytics Pricing
Freelancer: (

5 Campaigns, 

500 Keyword Rankings, 

50K Site Audit Pages) 

$49/month
Team: (

10 Campaigns, 

1,000 Keyword Rankings, 

100K Site Audit Pages) 

$99/month
Agency: (

30 Campaigns, 

2,500 Keyword Rankings, 

300K Site Audit Pages) 

$249/month
Enterprise: (

100 Campaigns, 

5,000 Keyword Rankings, 

500K Site Audit Pages) 

$499/month