Do you need to keep an eye on your online business's vital numbers? Are you looking for a way to track your marketing, operations, management, development, HR, and accounting, but don't know where to turn? Look no further! In this article, we'll show you the 6 best online marketing reporting tools that are sure to save you time and help you stay on top of your numbers.
These online reporting tools are designed with convenience and ease of use in mind. You can utilize preset templates, customize data, drag and drop modules, and more – all without any coding experience. Plus, you can connect your Google Analytics account and social media pages for even more robust reporting.
We'll explore popular tools like SE Ranking, Zoho Reports, Sisense, Tableau, Funnel.io, and Agency Analytics. You'll learn about their features, pricing, and how you can use them to your advantage. So if you're ready to get out of the dark ages of manual report compilation and start leveraging automated systems, then keep reading to learn more about the best online marketing reporting tools.
SE Ranking's Reporting Tool is an advanced and user-friendly reporting generator that lets users build, manage, and share unlimited SEO reports. With the ability to create an unlimited number of reports, users can easily customize each report to fit their brand by adding their logo, business colors, and custom cover. The tool also provides a drag-and-drop builder that simplifies the process of organizing report sections.
SE Ranking's online Reporting Tool comes equipped with various features that help users track and evaluate their website's performance. The keyword rankings feature provides 100% accurate data on a site's organic search engine rankings in any specified location, while the competitors' rankings feature enables users to compare their website positions with those of selected competitors. The website audit feature offers an in-depth evaluation of any website's SEO health, including a list of issues that may impact its performance. Finally, the traffic and conversions feature integrates with Google Analytics to give users a bird's-eye view of their website's performance, all in one place.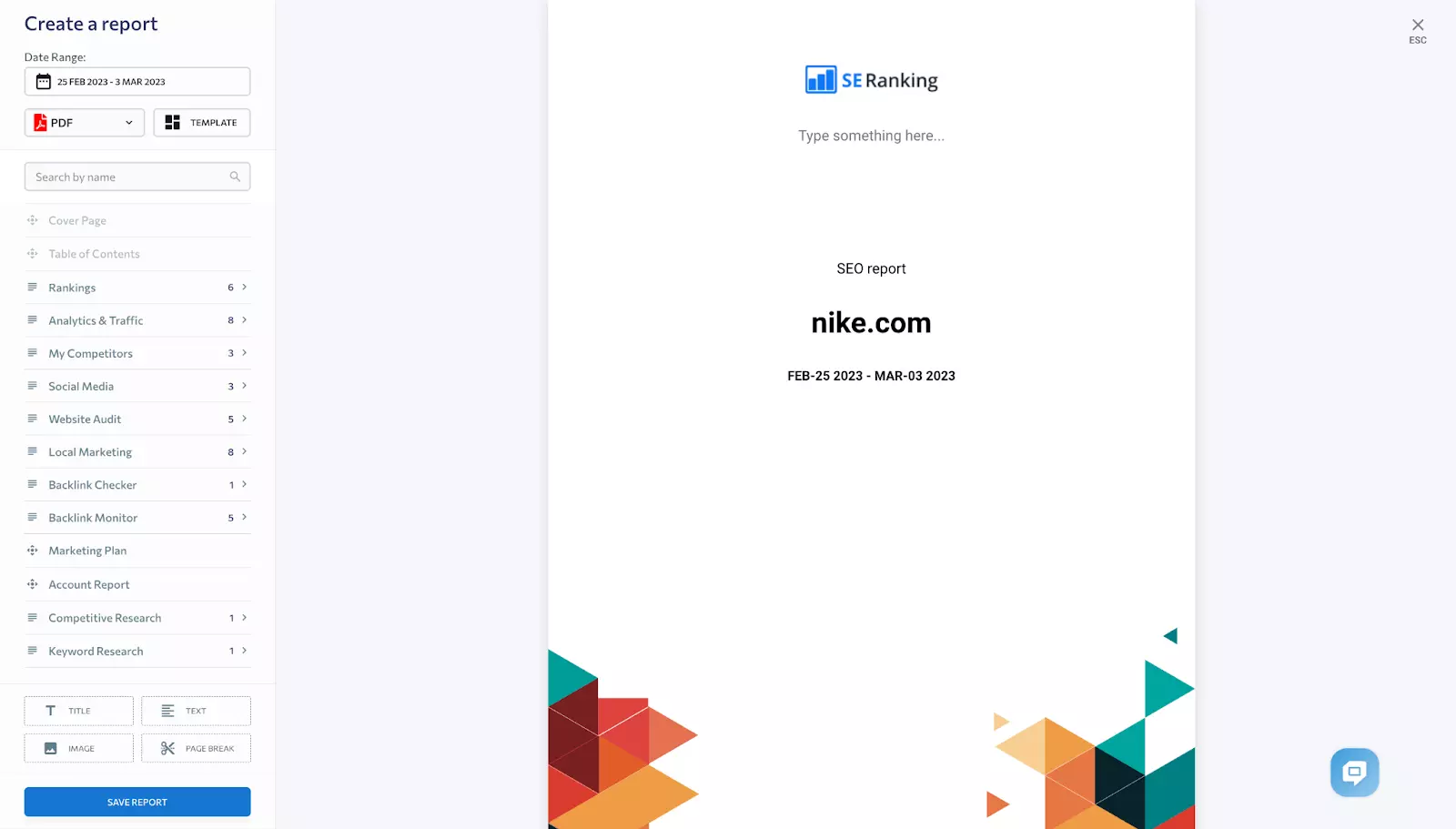 The SEO Reporting Tool's automated reporting feature saves users time and effort by enabling them to schedule reports and keep customers informed about their progress. Normally, it takes between three and four hours to create an insightful report, but with SE Ranking's SEO report generator tool, users can complete the task in under 15 minutes, saving dozens of hours on time-consuming report generation tasks.
Also, creating a winning SEO report with SE Ranking's Reporting Tool is a breeze. Users can choose from the tool's ready-to-use templates or create custom SEO reports from scratch. It allows users to organize data in whichever way they want and create unique-looking reports in the blink of an eye. Users can fully customize the appearance of their online SEO reports, as well as download reports in .pdf, .xls, or .html formats, then send them out to customers and colleagues via routinely scheduled emails. Additionally, users can share data from any keyword ranking report as a Data Studio dashboard. With SE Ranking's online marketing reporting tool, users can save time and effort while providing their clients with data-rich SEO reports.
Zoho Reports is a cloud-based BI and Analytics platform that allows you to create powerful reports online to get valuable insights on vital business information. With Zoho Reports, you can import data from feeds, databases, files and popular business applications to visual your analytics in a cloud-based platform. Collaborate with your colleagues right inside Zoho Reports, Blend your data from different sources and embed your reports right into your website or application.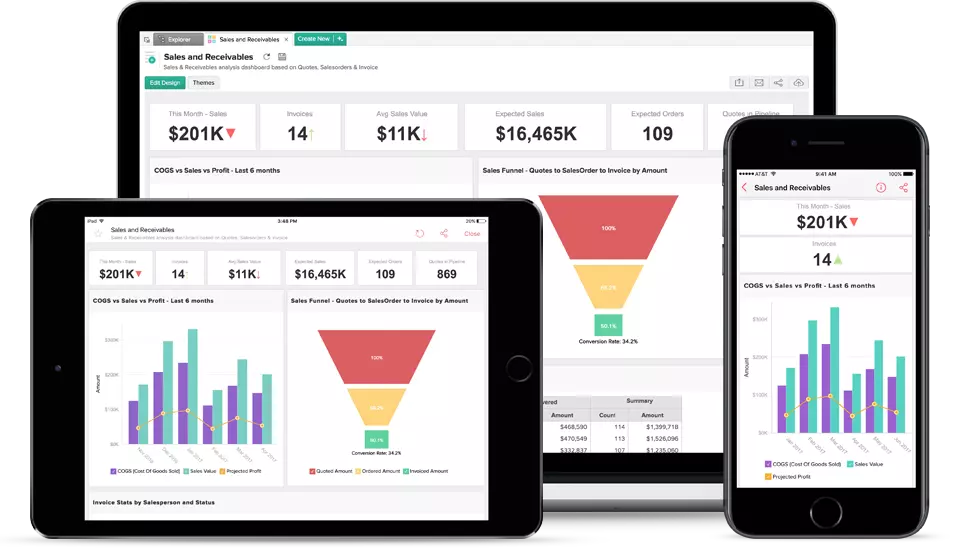 Zoho Reports Features
Upload data from cloud feeds, JSON, XML Dropbox, URL feeds and more
Connect your databases like MySQL, Access, Oracle and more
Data Blending to merge data
Beautiful Dashboards
Spreadsheet-like interface
Share and collaborate with your team
Zoho Reports Pricing
Free for 2 users, 100,000 rows
Basic (2 users, 0.5 million rows) USD 25 /month
Standard (5 users, 1 million rows) USD 50 /month
Premium (15 users, 5 million rows) USD 125 /month
Enterprise (50 users, 50 million rows) USD 495 /month
Sisense is a complete business analytics platform where you can combine all your business data in one place and view interactive visual analytics with all of your business data. Perfect for almost any industry, Sisense was built for companies of all sizes. With Sissense, you can collaborate with other users and build awesome dashboards with a simple drag and drop interface. They have won a number of awards for their software and have integrated with companies like NASDAQ, Sony, ESPN and NASA.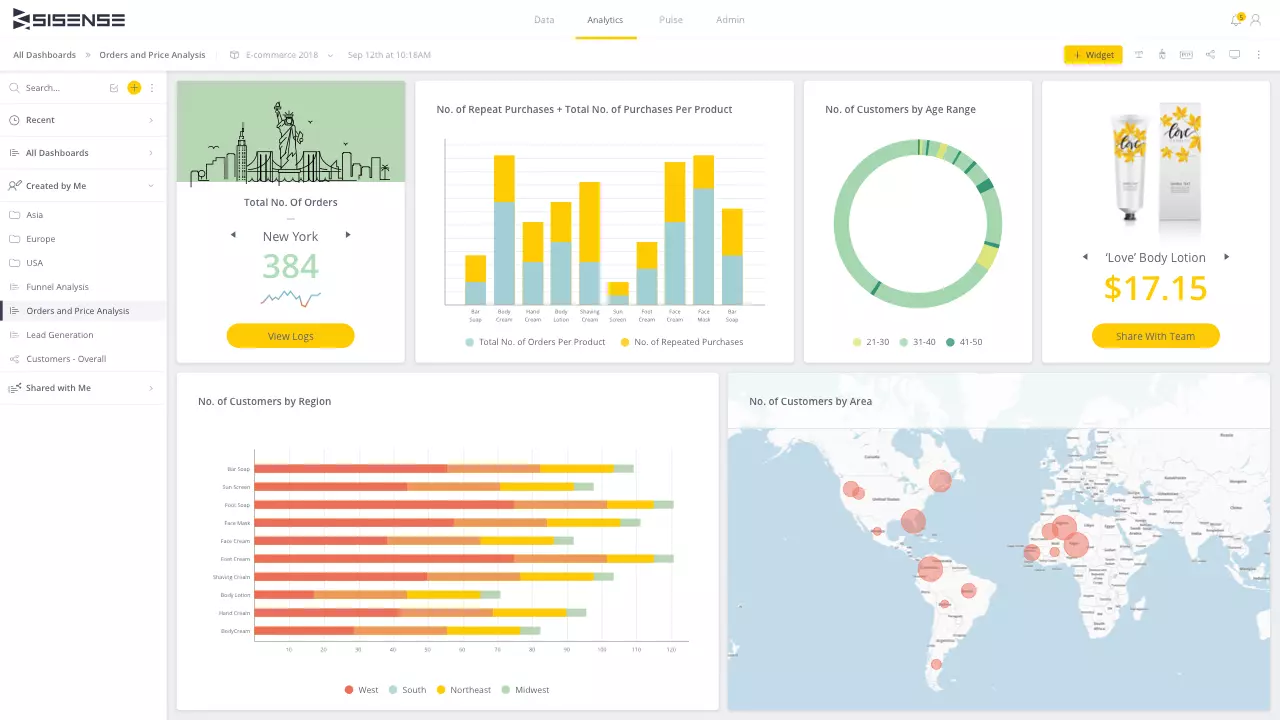 Sisense Features
Simple to use interface for non-coders
Fast system that can analyze data fast
Colloborate insights and ideas with team members, clients or business partners
Create complex business analysis reports with a simple interface
Have all of your business data in one place
Sisense Pricing
You must contact Sisense to get a quote but they do offer a free trial.
If you haven't heard of Tableau, then you have been living under a rock. Tableau is changing the way we look at business analytics. Tableau helps companies visualize and understand their data better. You can create and publish dashboards, share data and visualize your most important analytics.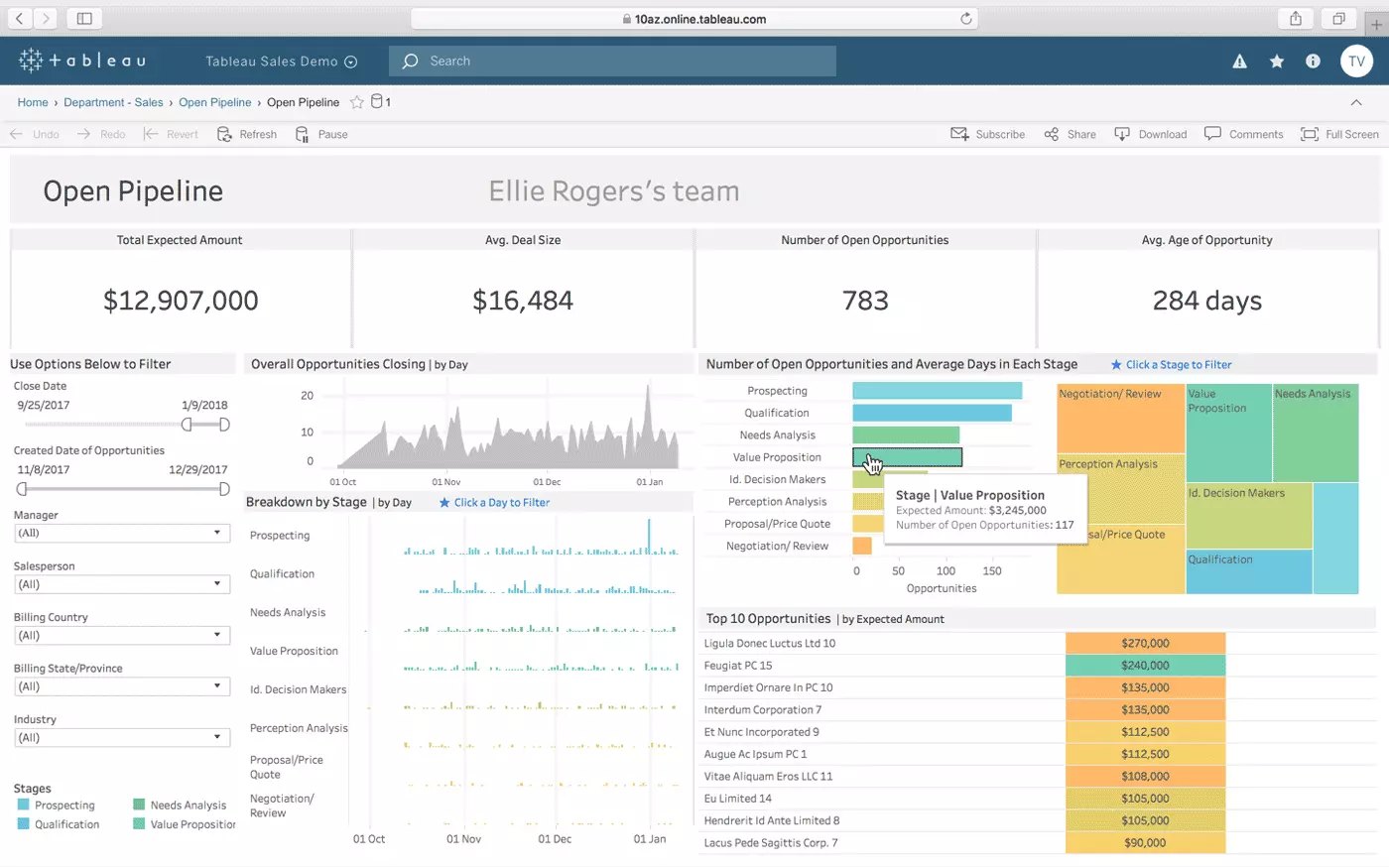 Tableau Features
Data Export
Drag and Drog Data Reports
Live visual analytics
Connect hundreds of data sources
Map your data
Fast, actionable insights
Tableau Pricing
Tableau Desktop Personal: $35/month per user
Tableau Server: $35/month per user
Tableau Online: $42/month per user
Tableau Desktop Pro: $70/month per user
If you advertise online, you have to check out Funnel.io! Funnel.io connects all your advertising data into one place. You can connect Facebook, LinkedIn, Google, Taboola, YouTube and more plus add your conversion data to see a complete picture of your advertising online.
With Funnel.io, you can import data in a number of ways like Google Sheets, Uploads, APIs and more. It is used by some of the biggest companies in the world like Spotify, Lionsgate and TomTom. Funnel.io is a little more pricey than the other analytics tools but they do offer a free trial for you try out the product. If run any sort of large advertising campaign online, then you should check out Funnel.io.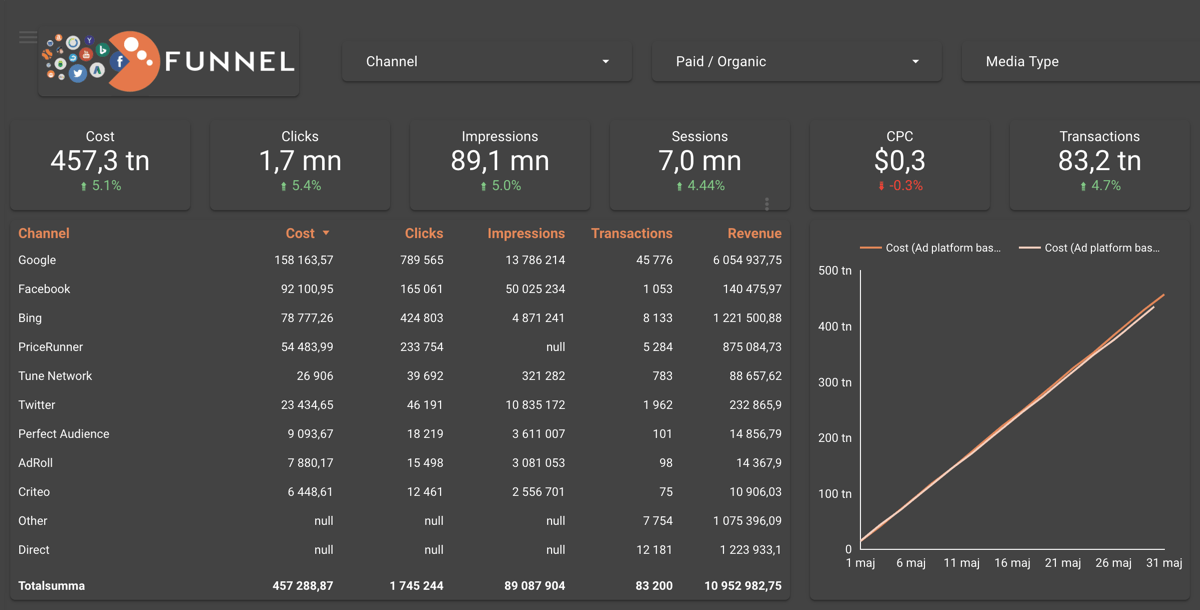 Funnel.io Features
Connect Data from 353 platforms
Real time dashboards
Cross-Channel Analytics
Report Center for easy reports
Multi-user Support
Custom metrics
Funnel.io Pricing
Standard (Up to $50,000 monthly spend) $299/month
Business (Up to $100,000 monthly spend) $449/month
Professional (Up to $300,000 monthly spend) $699/month
Agency Analytics is perfect for agencies looking to create a white label reporting dashboard for their clients. You can connect SEO, PPC, Email and Call Tracking apps to build beautiful analytics dashboards that your clients can access from anywhere. Over 2,000 marketing agencies use Agency Analytics to create stunning dashboards for their clients. With a ton of features, Agency Analytics receives a lot of great reviews and happy customers. They currently have over 30 marketing integrations including:
Facebook Ads
Google Adwords
Google Analytics
Bing Ads
Callrail
Constant Contact
Google My Business
Google Plus
and more
Agency Analytics also features some great packages that are reasonably priced. They also have some cool add-ons like keyword tracking, site audits and a number of other great tools for your marketing clients. If you run an SEO or Marketing agency, then this is an analytics tool that you need in your arsenal. Your clients will love it and you can add real value to your company.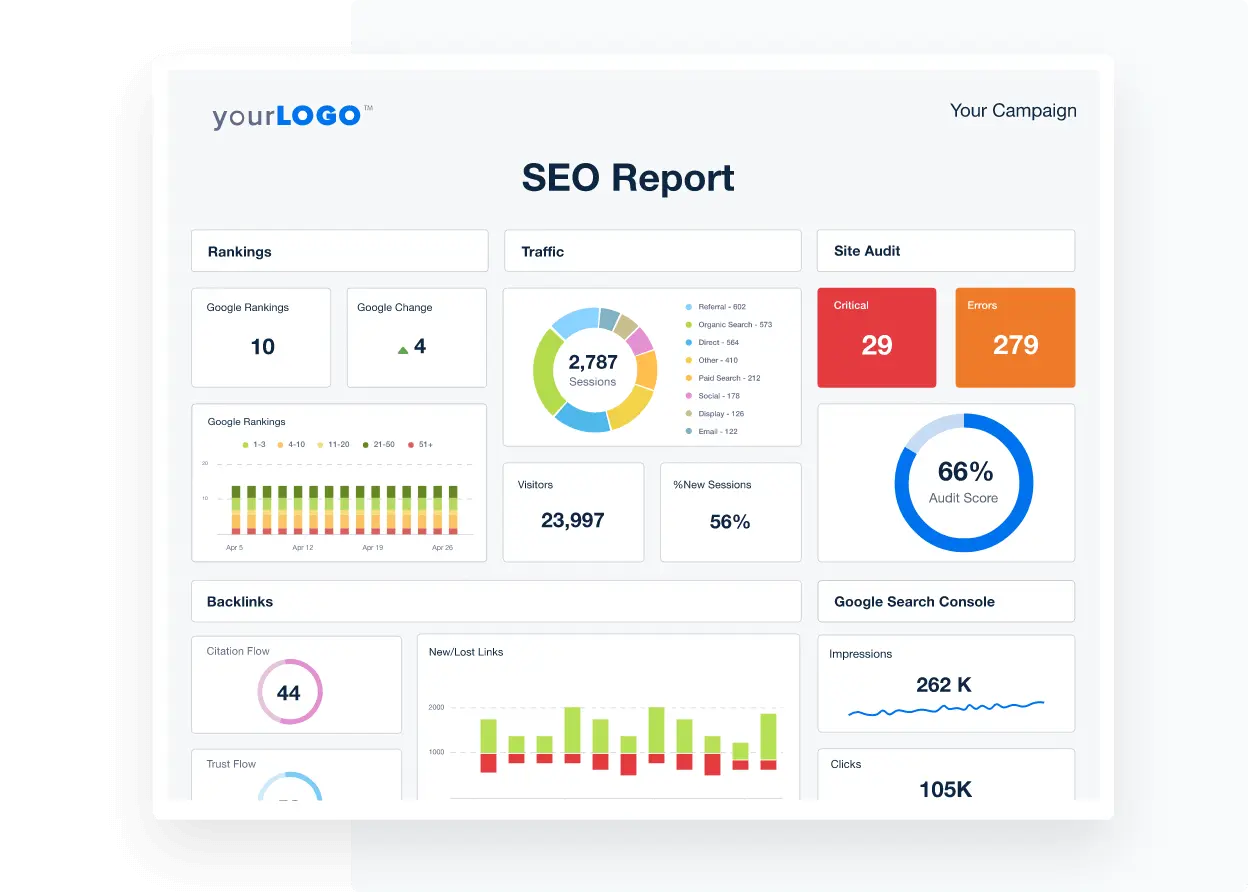 Agency Analytics Features
Automated Email Reporting
White Label Dashboards
Client and Staff Access
Connect over 30 marketing data sources
Rank Tracker
SEO Audits
Manage your agency in one place
Agency Analytics Pricing
Freelancer: (5 Campaigns, 500 Keyword Rankings, 50K Site Audit Pages) $49/month
Team: (10 Campaigns, 1,000 Keyword Rankings, 100K Site Audit Pages) $99/month
Agency: (30 Campaigns, 2,500 Keyword Rankings, 300K Site Audit Pages) $249/month
Enterprise: (100 Campaigns, 5,000 Keyword Rankings, 500K Site Audit Pages) $499/month
Conclusion
At the end of the day, knowing your numbers is an integral part of running a successful business. From marketing, operations, management, development, HR and accounting, you need to have visibility into your numbers.
The good news is that with today's advances in online reporting tools, you can easily keep track of your vital numbers. We have introduced you to 6 of the most powerful online reporting tools you can use for your business. Whether you are looking for a tool for SEO, SMM, Google Ads campaigns, or any other type of online analytics report, these platforms can help you track your data and save you time.
Tableau, Funnel.io, SE Ranking, Zoho Reports, Sisense and Agency Analytics are some of the most popular online reporting tools. They all offer unique features, pricing plans, and tools to help you know your numbers. Depending on your business needs, you can choose the tool that best suits your requirements.
For any business looking to get the best insights into their data, these powerful online reporting tools are the way to go. With the right platform, you can easily generate comprehensive reports with real-time data and help your business grow.