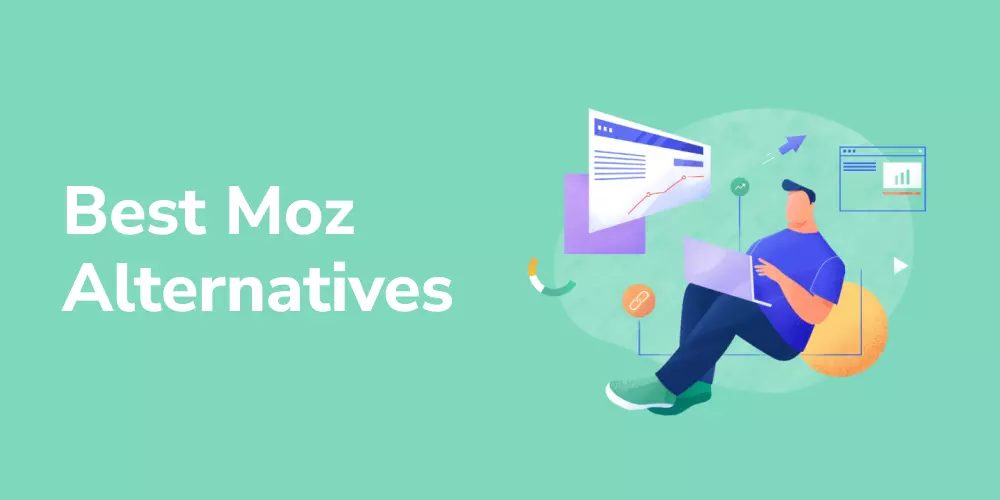 Marketers and entrepreneurs and small business owners, all use SEO. They know that SEO tools help to make a first confident step and ensure that business stays competitive in the online market.
The hot topic was and still is Moz. Moz tools were pioneers in the SEO industry. It is that all-in-one savior with which you study your competition, find essential keywords, track onsite and offsite aspects, and even more.
Ironically enough, some can say that Moz as a tool is not a bed of roses. Many find that Moz Pro's subscription plan is on the upper end of the financial spectrum. For others, the financial aspect is not an issue but rather a lack of a wide spectrum of possibilities. Moz competitors in the market offer far more, and some for a lower price. For instance, better keyword search, CPC value, and site audit to name just a few.
We compiled a list of the best Moz alternatives that are worth checking. Keep reading to find the best fit for you.
SE Ranking and Moz are both popular SEO tools, but SE Ranking offers more features for SEO specialists, marketers, and digital agencies, making it the better alternative and software overall.
When it comes to keyword research, SE Ranking outperforms Moz. It treats each keyword as a separate entity, allowing the tool to calculate exact search volumes for each term, including similar ones. Moz, on the other hand, only shows the monthly volume range.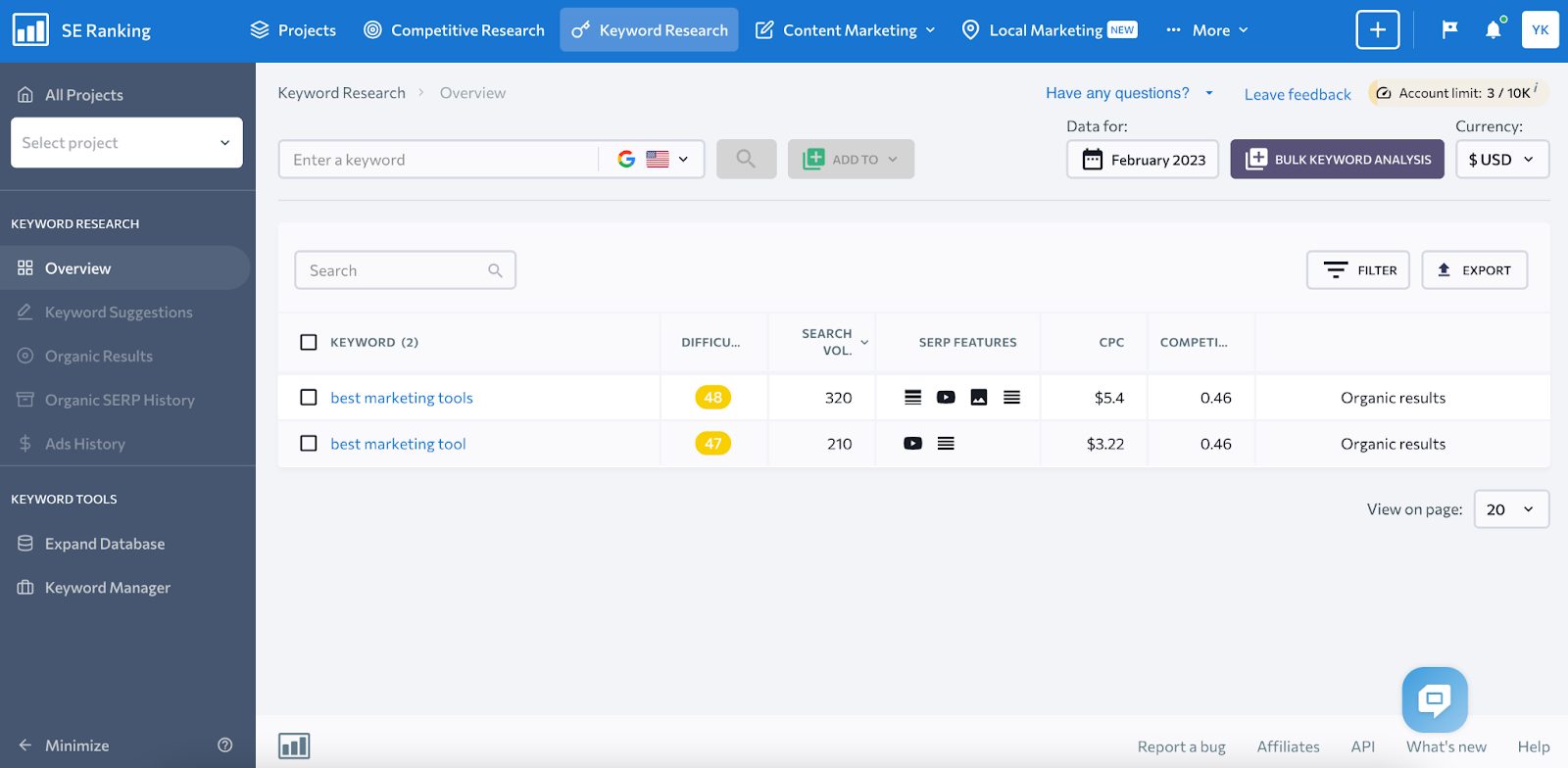 SE Ranking also suggests thousands of relevant keywords and provides essential data, including:
Keyword difficulty
CPC
Competition
SERP features
Organic and paid results
Ranking changes
SERP history
Etc.
Additionally, SE Ranking offers a Keyword Grouping tool that Moz doesn't have. It automatically clusters keywords based on how well they match the website's URLs with those of Google's top 10 results. This feature is a game-changer as far as helping you to distribute keywords more effectively across web pages.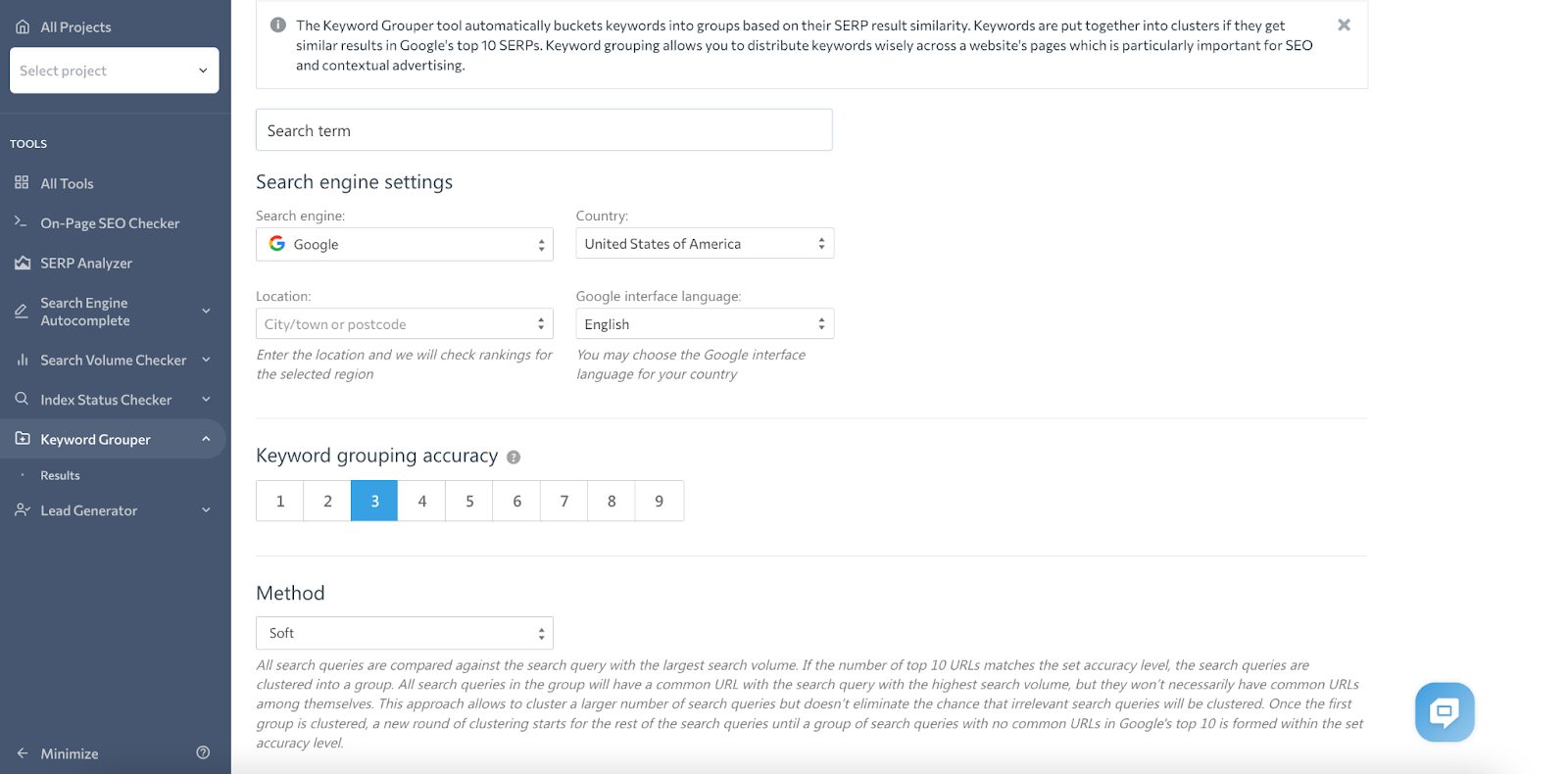 SE Ranking is also better suited for competitor research. The platform lets you analyze your rivals' organic and paid campaigns and check out their ads.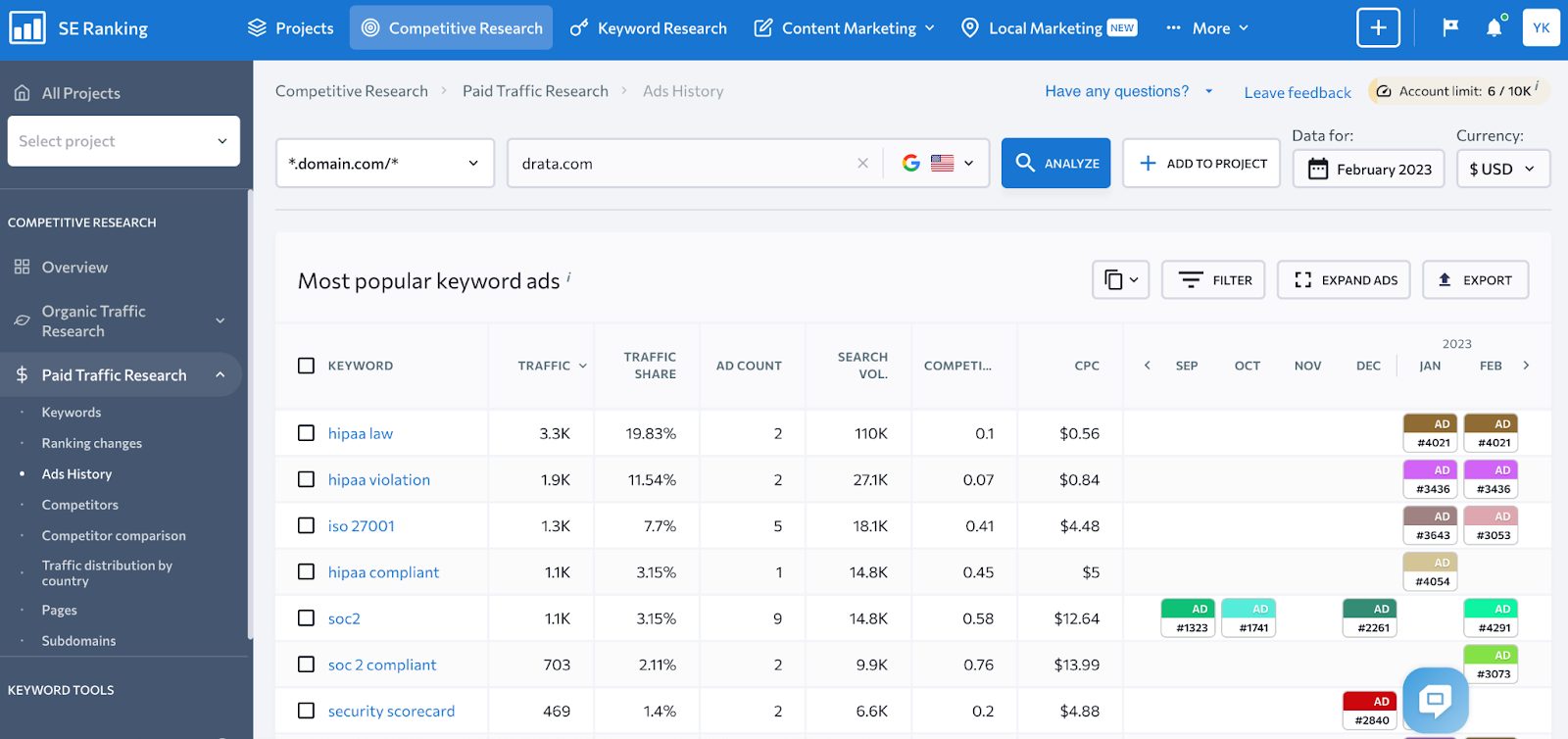 SE Ranking's Competitive Research tool has a particularly distinguishable feature called rival comparison, where you can compare two websites with the analyzed one, see keyword overlaps, or identify terms you're still not targeting.
Please note: This feature is available both for organic and paid search reports.
SE Ranking is also great for comprehensive website audits. The tool analyzes any site against more than 100 parameters, identifies its health score, and finds any technical issues that need fixing. Website errors are categorized by severity level and include tips on how to correct them. You can also use flexible settings and customize audits as needed.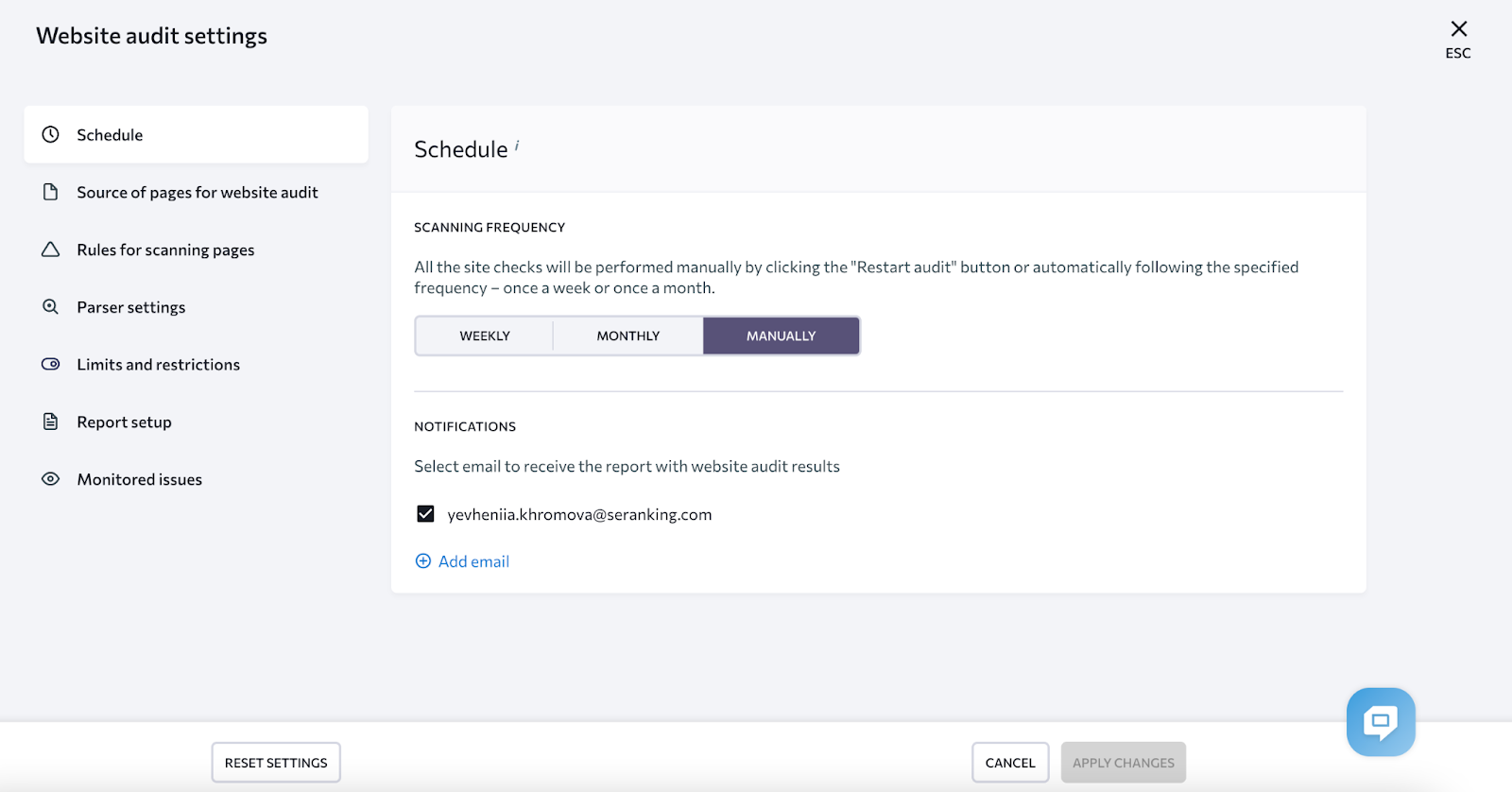 Although SE Ranking and Moz have some similarities, SE Ranking generates incomparably precise data. For example, its Keyword Rank Tracker shows unbiased rankings, which means they are unaffected by the user's search history or browser settings.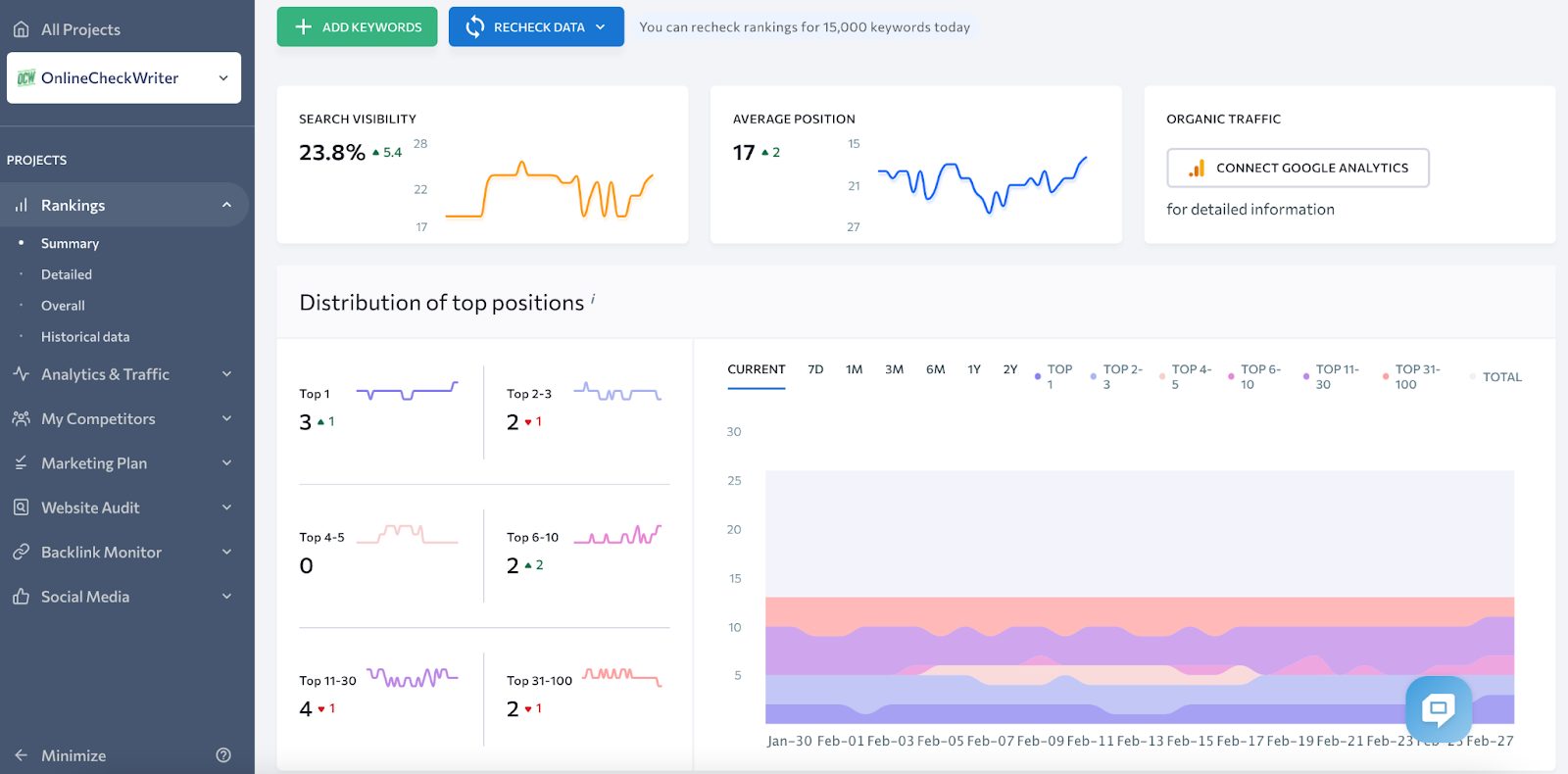 Other tools that you won't get with Moz but are available on SE Ranking include:
SERP Analyzer
Page Changes Monitoring
Content Marketing
Marketing Plan
White Label
Lead generation
Please note: Agencies, in particular, will find the last two tools on the list to be especially useful.
As you can see, SE Ranking is a far more comprehensive and user-friendly platform for SEO than Moz. This is because it solves various tasks and tailors solutions to different users (ranging from SEO freelancers to agencies) based on their needs.
Also, SE Ranking's exceptionally user-friendly interface makes it easy to understand the data it generates, whether it's positions, backlinks, or keywords. Users can navigate and use the platform without any issues thanks to its intuitive design, which presents data in convenient formats like tables, graphs, and charts.
SE Ranking's pricing plans are also more affordable than Moz's. With an annual subscription, you can start using SE Ranking at $55 per month, whereas Moz's Pro yearly plans start at $79 monthly. Not to mention, with SE Ranking, you can create as many projects as you need.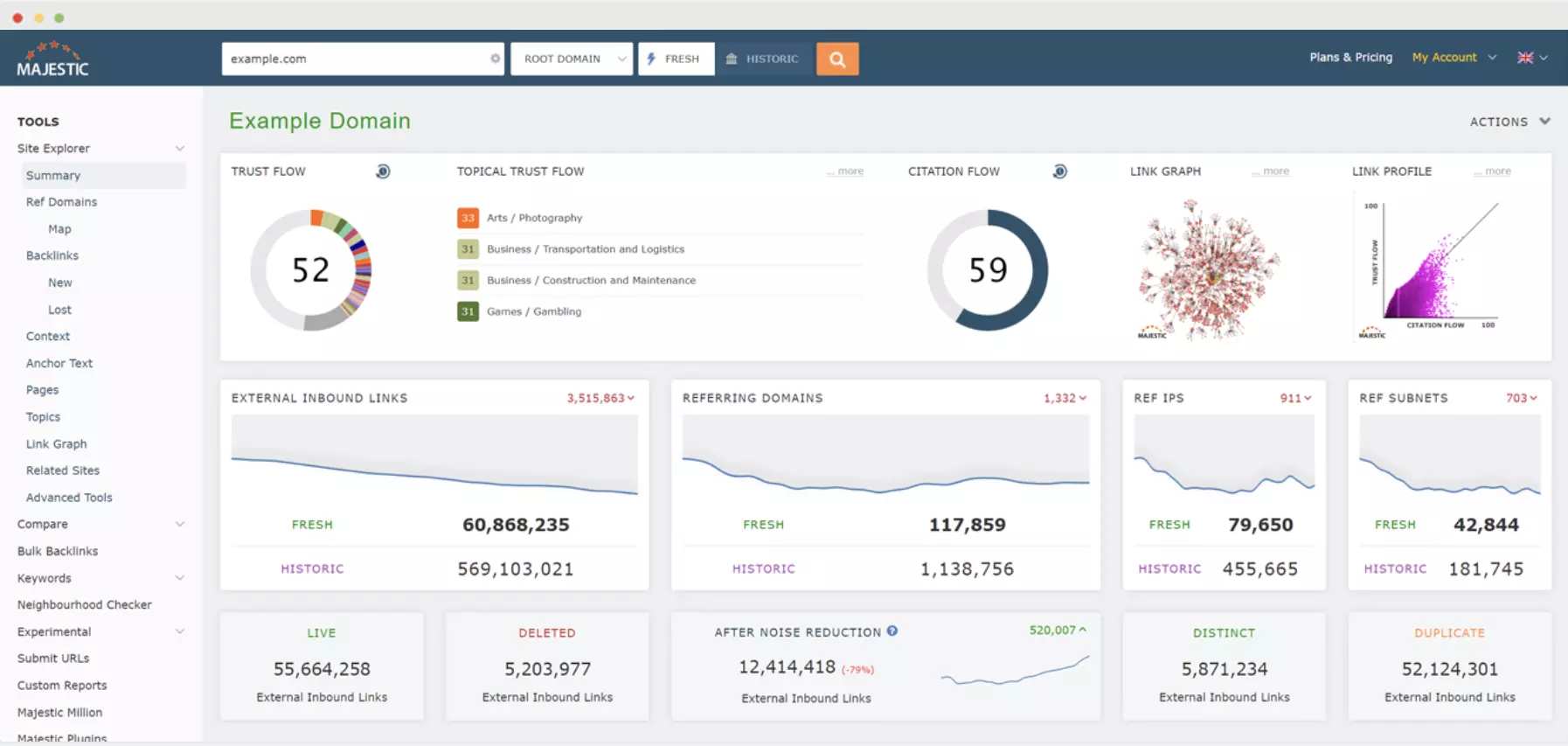 Free trial: No
Free/Freemium version: No. Offers discount codes and coupons
Paid versions: Yes
The price for the plans:
Lite ($49.99 monthly). You will receive access to one user and 1 million analysis units.
Pro ($99.99 per month). There is access to one user and 20 million analysis units.
API ($399.99 monthly). You will receive access to 5 users and 100 million analysis units.
The closest Moz alternative would be Majestic. The main difference is that the priority of the former is to provide comprehensive solutions. While the latter is more backlink focused.
If you are still in search of a tool with the largest backlink index, Majestic is here to meet your needs.
Some of the prominent Majestic features are:
Top backlinks
Search explorer
Comparison of domains and competitors
Priority metrics (anchor texts, related texts, referring domains)
So, as you can see, Majestic is not widely used for keyword research or rank tracking. The majority of users choose Majestic for its Site Explorer tool which provides extensive data and backlink profile analysis.
Majestic can compare statistics for the website and give you data on competitors' backlink profiles.
But if you are on the lookout for a tool that can provide more for you, check out this article on alternatives for Majestic.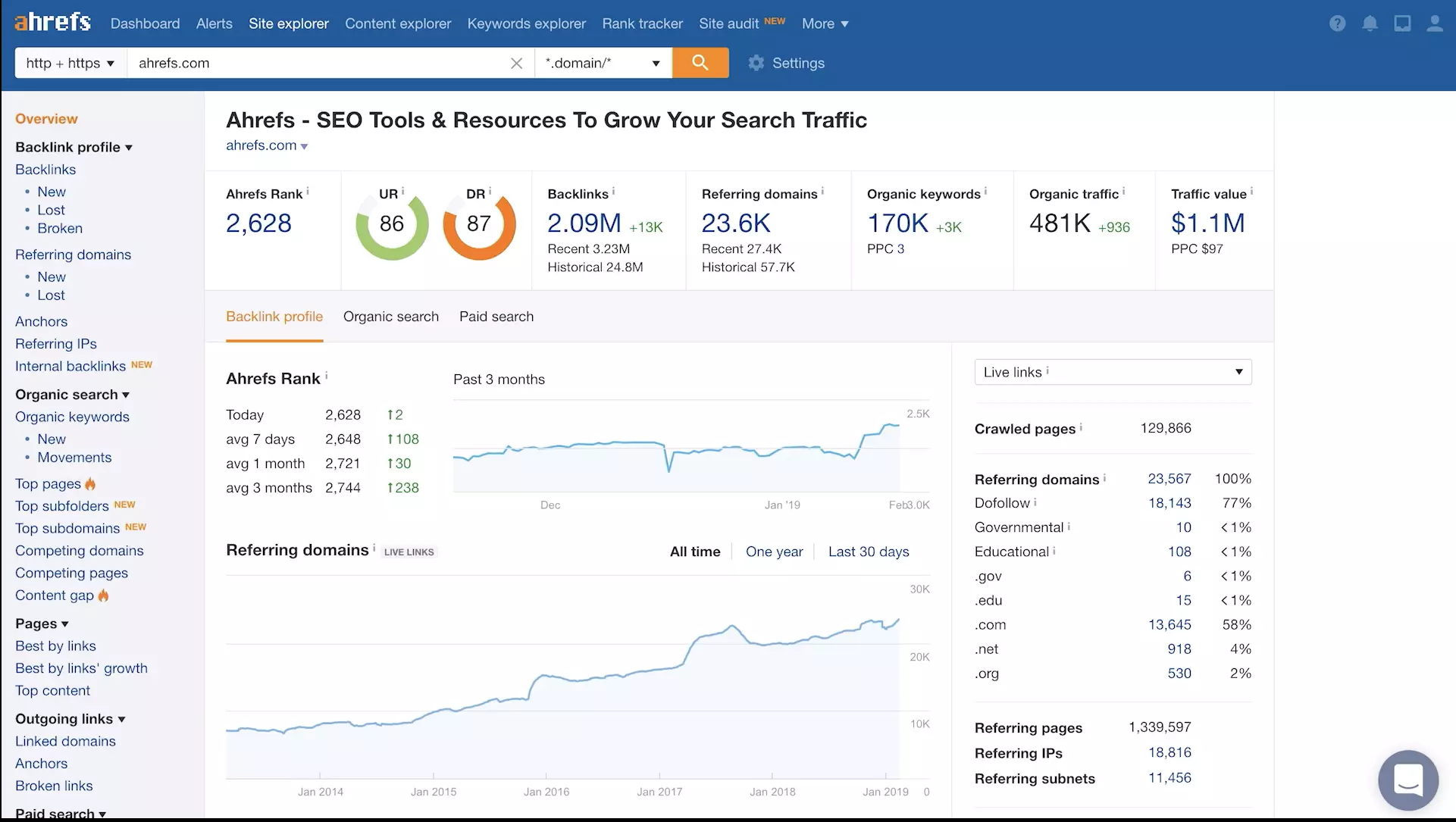 Free trial: No
Free/Freemium version: Only with Ahrefs' Webmaster tools*
Paid versions: Yes
*Ahrefs' Webmaster tools are free for websites only. If you want to sign up for free, first and foremost, you need to verify the ownership of your website to Ahrefs.
You can get paid version of Ahrefs in the following 4 plans:
Lite ($99 monthly). You will b granted all essential data for a small business.
Standard $179 monthly). Will be beneficial for marketing consultants and freelancers.
Advanced $399 monthly). Receive more tolls for in-house marketing.
Agency ($999 monthly). This plan will satisfy the needs of agencies.
Ahref is the most popular SEO platform by far. Some of the biggest brands are working with them. SEO specialists choose Ahrefs when looking for:
Domain comparison
Batch analysis
Site Audit tool for site optimization
Site Explorer tool for competitors' analysis
Keyword Explorer tool for better and more organic keywords
Content Explorer tool for the best-ranked content in your business
Rank Tracker
Broken Link Checker
Backlink Analysis Tool
So far, as you can see Ahrefs could be an alternative software to Moz. Additionally, Ahrefs gives you data for around 10 search engines. For instance, Google, Bing, Yahoo, Amazon, and even Youtube. Whilst with Moz you receive data from Google.
Ahrefs shares the same additional tool with Majestic that is the Site Explorer. This tool helps you analyze any website in the world. Site Explorer provides:
Domain metrics or rating (compares the strength of a website backlink to other profiles)
URL rating (stands for the strength of the target page's backlink)
Ahrefs rank (ranks database by the size and quality of the backlink)
A total number of backlinks
Referred domains
If you need an SEO data summary or in-depth data on inbound and outbound website links, use Ahrefs.
So far, the pros outweigh and make Ahrefs one of the best Moz alternatives. But the biggest pain of using Ahrefs is their paid plans. Yes, the prices bite. So, we compiled a list of Ahrefs alternatives that will not burn a hole in your pocket.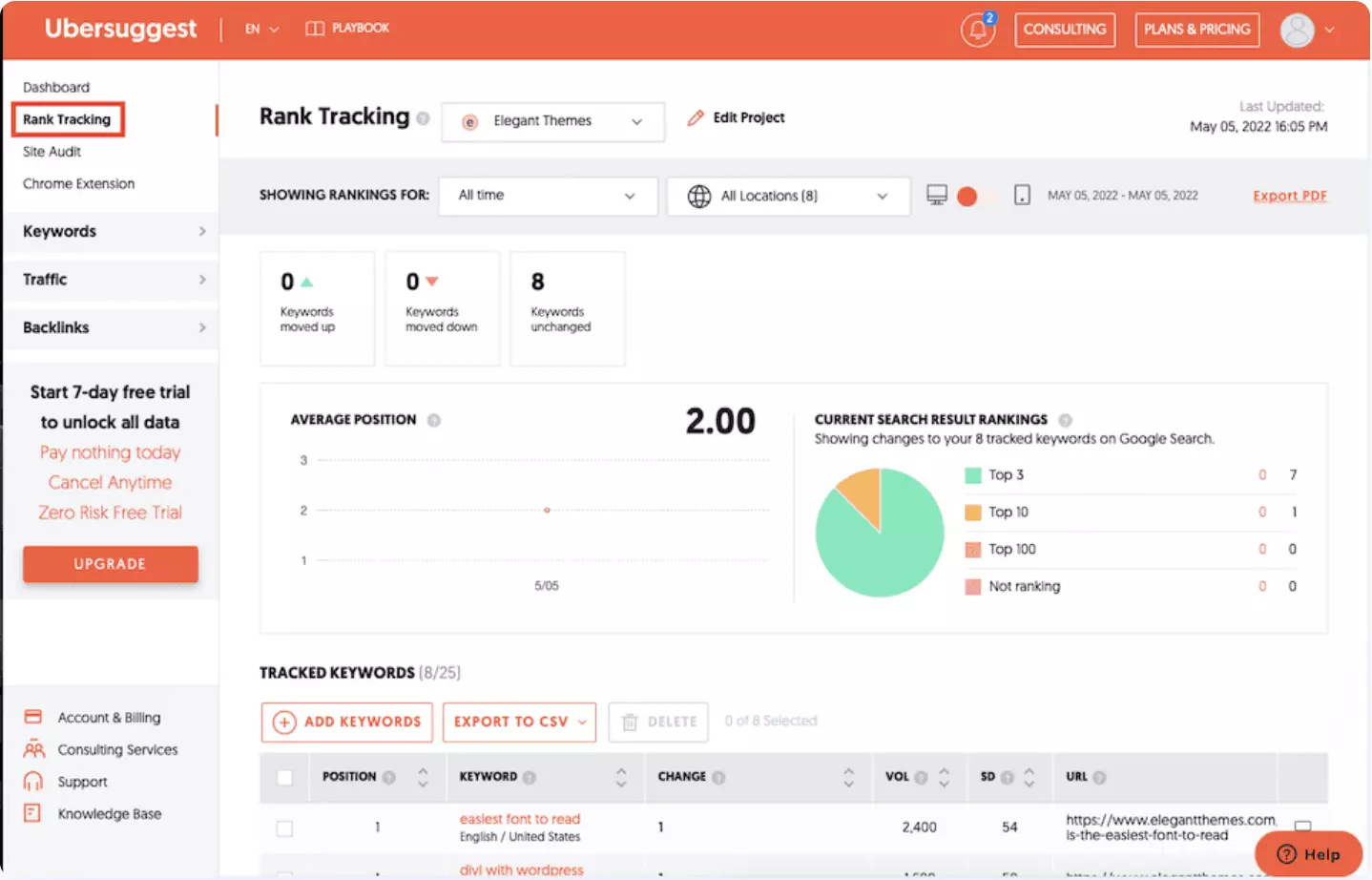 Free trial: 7-day trial
Free/Freemium version: No
Paid versions: Yes
Check the prices for paid versions:
Individual ($120 for a lifetime; $12 monthly) when you manage up to 3 websites
Business ($200 for a lifetime; $20 monthly) when you manage up to 7 websites
Enterprise ($400 (for a lifetime; $40 monthly) when you manage up to 8 websites
If you've been looking for a free Moz alternative, check Ubersuggest. This SEO tool gives you a 7-day trial during which you can discover useful tools that help you with keyword research, site audit, competitor analysis, domain overview, and more.
Ubersuggest is one of the most affordable SEO toolkits in the market. The money issue is a double-edged sword. On the one side, you a getting a great alternative to Moz for a cheaper price. But on the other side, you are limited to tools, like detailed keyword search, that Ahrefs and Semrush (you can read about this tool below) provide.
If you are a freelancer and cannot afford costly SEO tools, definitely check out Ubersuggest.
Features that Ubersuggest gives you:
SEO recommendations
Keyword analyzer (keyword and content ideas and overview)
Competitor reports (keyword, top pages, and competing domains overview)
SEO audit (check SEO, errors, and site speed)
Backlink tool
With every plan, you will receive SEO training and support. But there will be some limitations in other features:
| | | | |
| --- | --- | --- | --- |
| | Individual | Business | Enterprise |
| Daily reports | 150 | 300 | 900 |
| Projects | 1 | 7 | 15 |
| Chrome extension limits | 150 | 300 | 900 |
| Rank tracking | 125 per project | 150 per project | 300 per project |
| Keyword search | 20,000 suggestions monthly | 50,000 suggestions monthly | 100,000 suggestions monthly |
| Site audit | 1,000 pages weekly | 5,000 pages weekly | 10,000 pages weekly |
| Competitive analysis | 5 competitors | 10 competitors | 15 competitors |
| Backlinks | 2,000 | 5,000 | 10,000 |
Ubersuggest is one of the Moz alternatives that give decent PPC analysis, keyword research, search volume, and email support. Ubesugesst even works as a Chrome extension.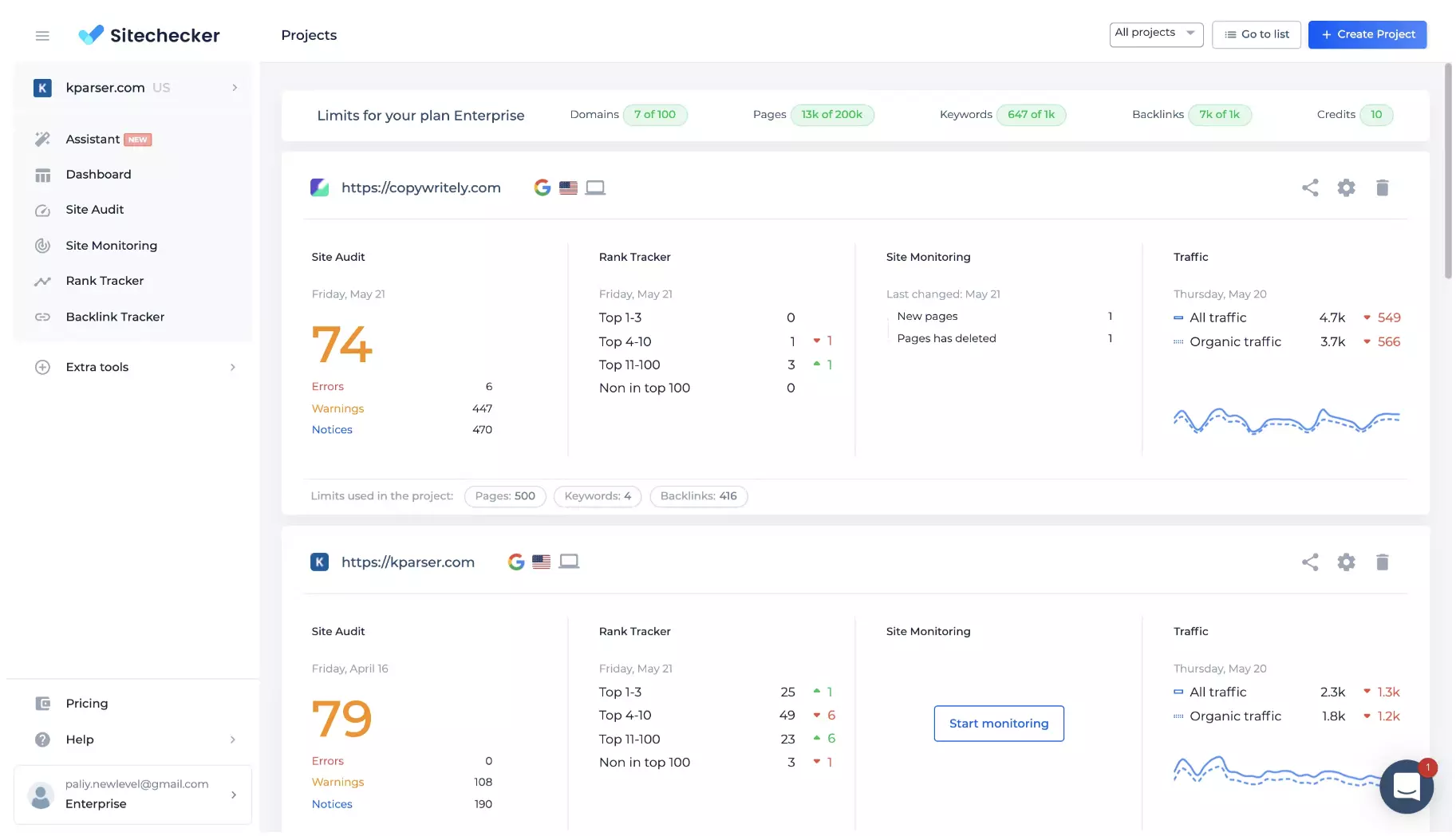 Free trial: 7-day trial
Free/Freemium version: No
Paid versions: Yes
Paid plans come in 4 options:
Basic ($49 monthly). Get unlimited sharing, 3 websites, 3,000 pages, 750 keywords, 3,000 backlinks, and Google Analytics integration.
Standard ($149 monthly). Get all basic features, 10 websites, 10,000 pages, 1500 keywords, 5,000 backlinks, and Aletrs to slack.
Premium ($249 monthly). All standard features, 50 websites, 50,000 pages, 3000 keywords, 10,000 backlinks, and one-time site audit.
Enterprise (contract prcie). All premium features, unlimited websites, 10M pages, 100K keywords, 100K backlinks, chat nd email support.
Sitechecker is another Moz Pro alternative that you could hear about. Sitechecker is all-in-one SEO toolkit that is designed for marketing agencies, website owners, SEO specialists and marketers, and product managers.
Sitechecker sets the goal to make the information clear to the users. The free Moz alternative does the following:
Checks your SEO elements
Tracks page and site speed
Checks some not-so-obvious errors
Gives statistics on usability
Monitors website changes
Tracks keywords and backlinks
Sitechecker has many useful features that improve SEO. For instance, Site Checker gives you an array of handy features for an affordable price. Overall, Sitechecker looks like it costs every penny.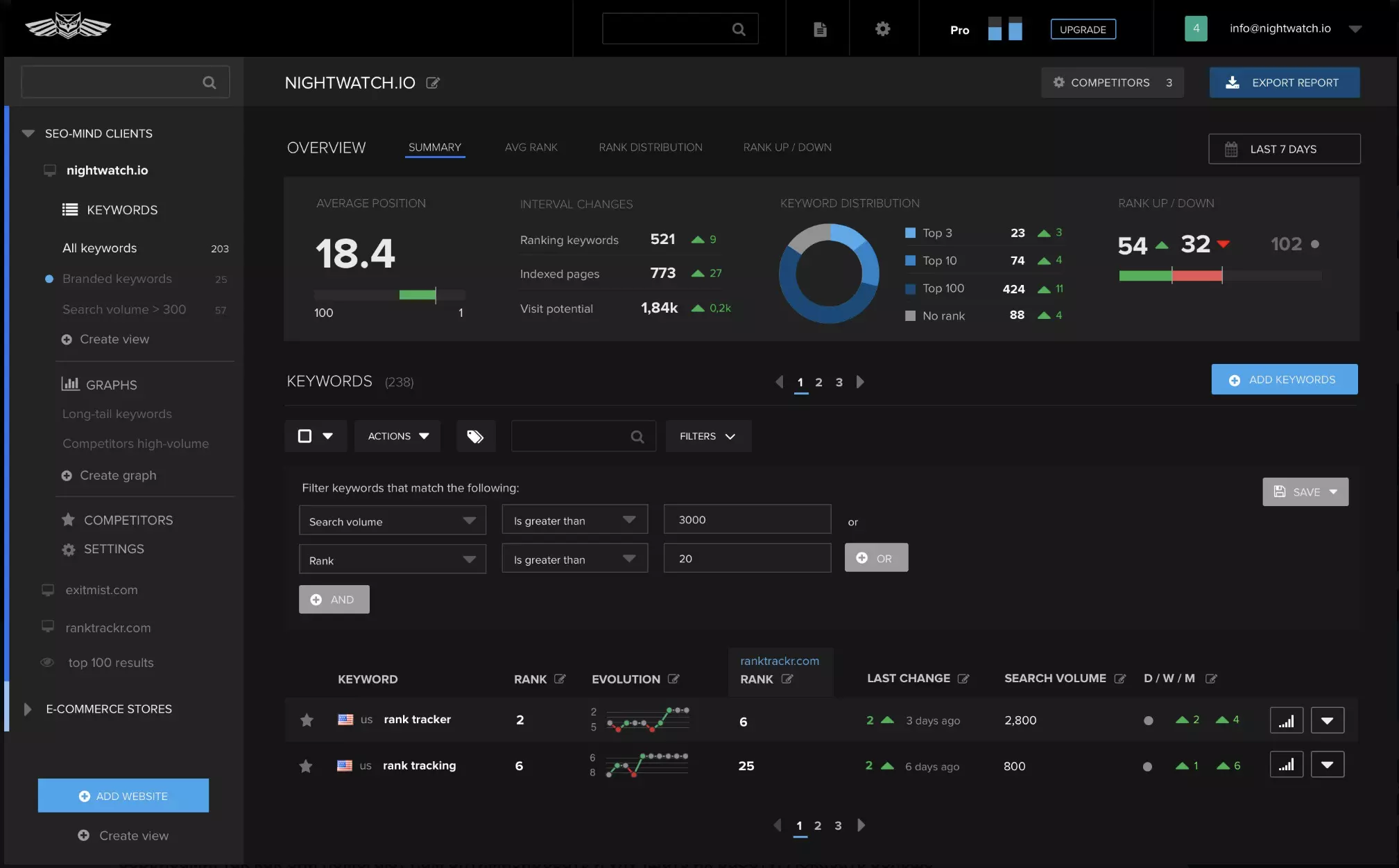 Free trial: 14-day full feature trial
Free/Freemium version: No
Paid versions: Yes
There are 3 plans on a pricing list:
Starter ($39 monthly)
Optimize ($99 monthly)
Agency ($369 monthly)
When you pay annually, save up to 40% on paid plans.
A great bonus, on the website you can modify the price to pay regarding the number of keywords you need.
Next on our list of the best Moz alternatives is Nightwatch. An effective SEO tool with progressive features, and a futuristic UI design, Nightwatch easily attracts many businesses and agencies.
SEO features that Nightwatch gives its users:
Daily ranking
Keyword tracking
Google Adwords stats
Mobile tracker
Automated keyword suggestions
Customized white-label reporting
SEO reports
Another feature that makes Nightwatch a good SEO tool is analytics integration with the software to monitor your website's search performance. It is one of the few true Moz competitors.
Nightwatch provides you with worldwide Google Data. That gives you a broader picture of geo-targeted and personalized Google searches. Nightwatch gives access to:
Zip code data
Ranking in SERPs
When location affects data and search results, Nightwatch stimulates location in the search requests. Meaning, the ranking data has higher accuracy when you choose to track your keywords locally.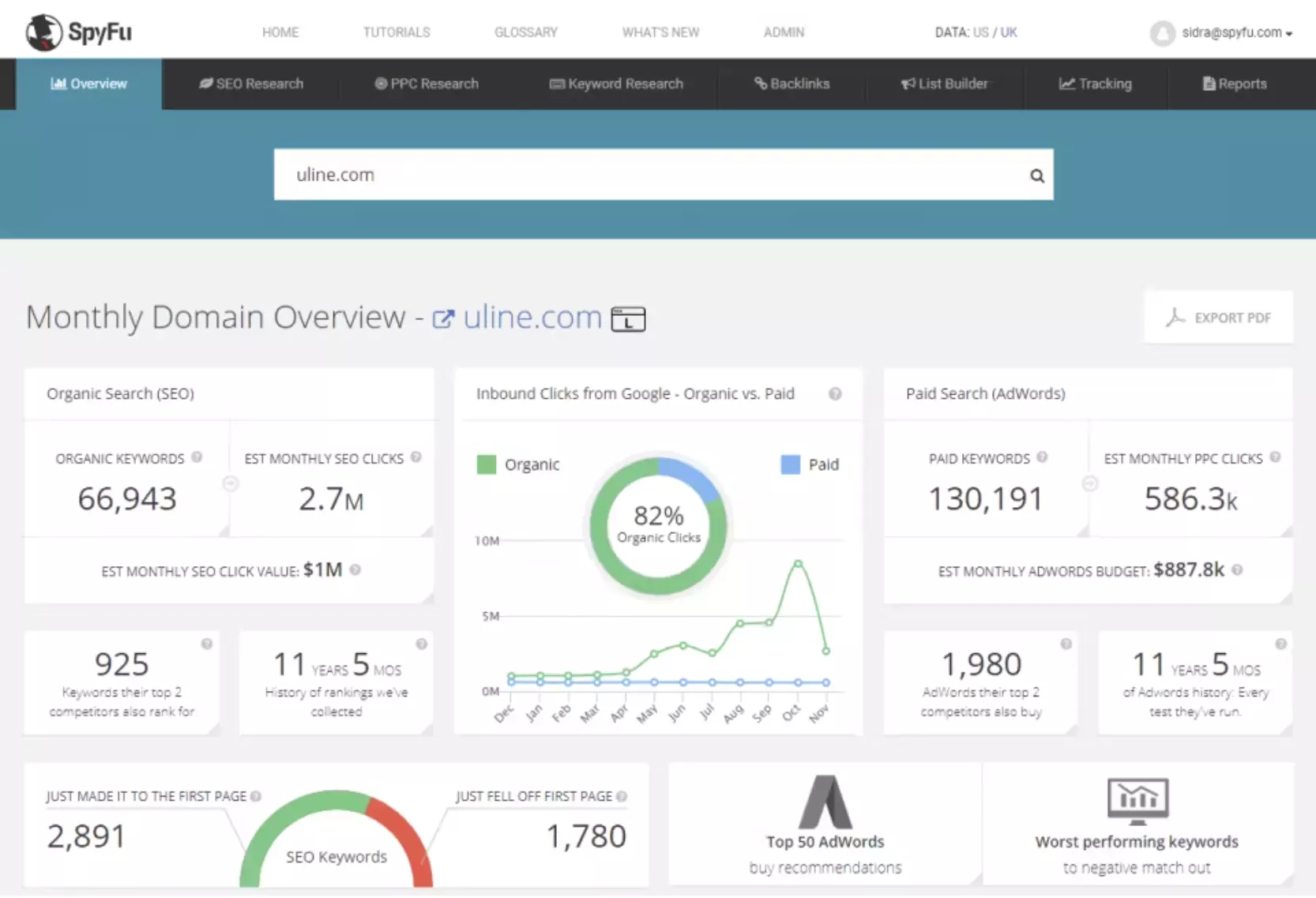 Free trial: Yes
Free/Freemium version: Yes
Paid versions: Yes
Here the pricing is listed:
Basic ($39 monthly)
Professional ($79 monthly)
Team ($299 monthly)
When you purchase paid plans, you will be able to run monthly custom reports. From small domain SEO reports to large.
Google Ads Advisor PPC report is available in all paid plans. If you need white labeling, buy professional and team plans.
Why choose SpyFu over Moz? Simply because it is a rather cost-effective alternative. You would want to choose SpyFu because it is robust in competitor analysis, rank tracking, and tracking key SEO metrics. With SpyFU you will get:
SEO and PPC research
Organic and paid keywords
Keywords tracking
SEO reports
PPC research
Domain comparison
SpyFu has an additional feature – a competitor domain overview tool. It works the following way. Enter a website or a URL in the domain overview, and SpyFu shows you all the necessary data. Such a deep analysis gives you
Ranking history
Organic keywords and top competitors
Estimated monthly SEO clicks and their value
Organic and paid clicks from Google and a lot more
Yet another SpyFu trademark is a great number of features for competitive PPC research. Have you ever wondered why your competitors are doing better than you? Now, with the help of SpyFu, you can snoop on your competitor's ad campaigns and conduct the analysis. It is nice to have a sneak peek at PPC and enhance it since PPC goes hand in hand with SEO. If you want to boost your search traffic, and track keyword rankings on Google, Bing, and Yahoo – settle down with SpyFu.
This free Moz alternative gives good value for money on paid and free plans. We highly advise looking into more SpyFu alternatives which can give you more SEO tools.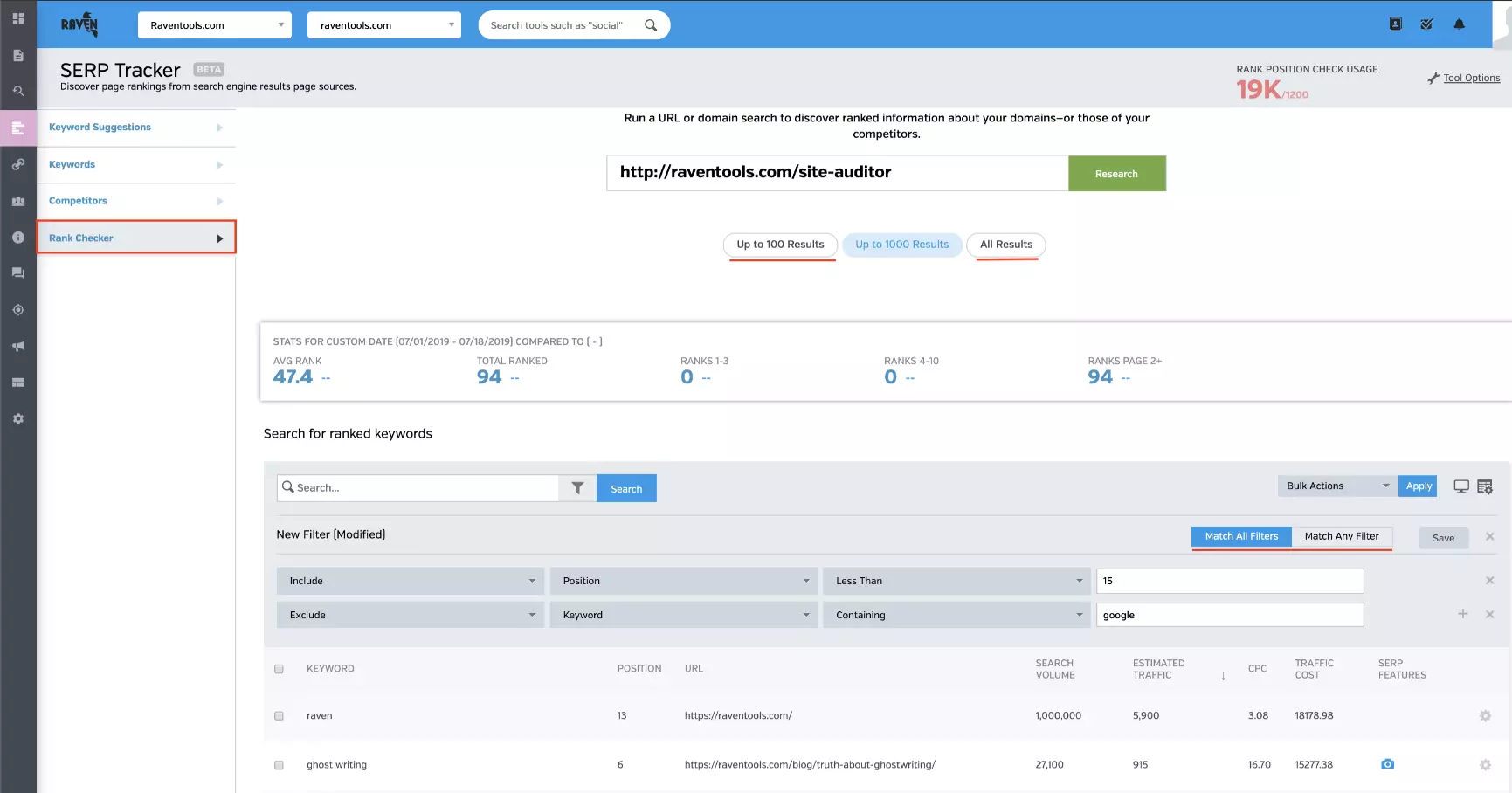 Free trial: 7-day full feature trial
Free/Freemium version: No
Paid versions: Yes
Pricing for all-in-one SEO tool:
Small Biz plan costs $49 per month. You can add 2 campaigns, 2 users, and perform 1500 positions.
Start plan costs $109 per month. You can add 20 campaigns, 4 users, and perform 15,000 position checks.
Grow plan costs $199 monthly. You can add 80 campaigns, 8 users, and perform 20,000 position checks.
Thrive plan is $299 per month, You receive 160 domains, add 20 users, and perform 25,000 position checks.
Lead plan costs you $479 monthly. You can add 320 campaigns, 40 users, and perform up 30,000 position checks.
Raven tools is a marketing platform that makes your experience with SEO and social media campaigns easy. Raven tools regularly update their features. You will always get a full SEO audit, on-page SEO analysis, as well as search engine, links, and page speed analytics.
Features of this Moz alternative are:
Keyword tracking
Backlinks tracking
Unlimited client reports
Website audit
Content management
Advertising tools
Are you a freelancer, small or midsize business managing your content in WordPress? Then Raven tools are definitely for you.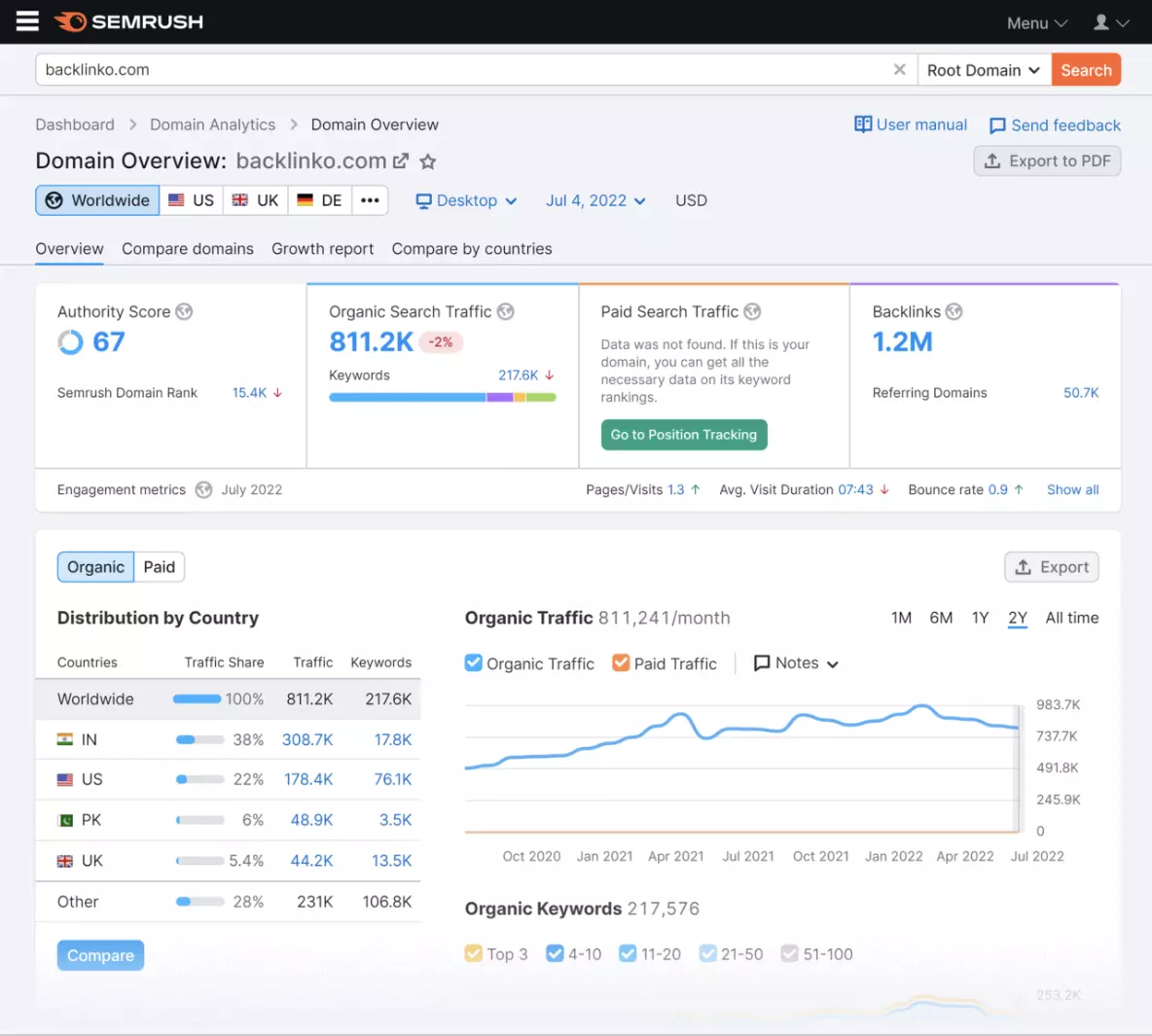 Free trial: Yes
Free/Freemium version: Yes
Paid versions: Yes
Take a look at 3 paid versions:
Pro ($119.95 monthly)
Guru ($229.95 monthly
Business ($449.95 monthly)
| | | | |
| --- | --- | --- | --- |
| | Pro | Guru | Business |
| Projects | 5 | 15 | 40 |
| Keywords | 500 | 1,500 | 5,000 |
| Report results | 10,000 | 30,000 | 50,000 |
| Additional features | SEO, PPC, social tools | Content marketing toolkit | API access |
Semrush is without a doubt a great Moz alternative. Usually, it is ranked as the first Moz local alternative. Semrush has many advantages up its sleeve. For example,
Massive database
Competitor and backlink analysis
Keyword research
Rank tracking
Content and tracking audits
Extensive PPC analysis
Brand monitoring
To be frank, this is the tip of the iceberg. Semrush has more to offer like PLA analysis, the marketing calendar, product listing ads, and much more.
Sure, price-wise Semrush is not the most obvious Moz alternative, but the functionality of the former outstands the latter. Semrush has remarkable social media features. In Pro plan, you can get a social media tracker and scheduler tools.
Semrush guarantees deeper insights to create more organic traffic.
Or if you are trying to be trendy and put your business on social media networks, say Twitter, Facebook, Pinterest, and Instagram – then Semrush will be of big help when building ad campaigns.
We want to draw your attention that Semrush has a free trial period during which you can see if this tool is for you. Feeling tight on a budget, no worries, Semrush has a free account, but with limited features.
Sure, Semrush is a game-changer in tweaking your SEO strategy. But there are other Semrush alternatives that can do a stellar job as well.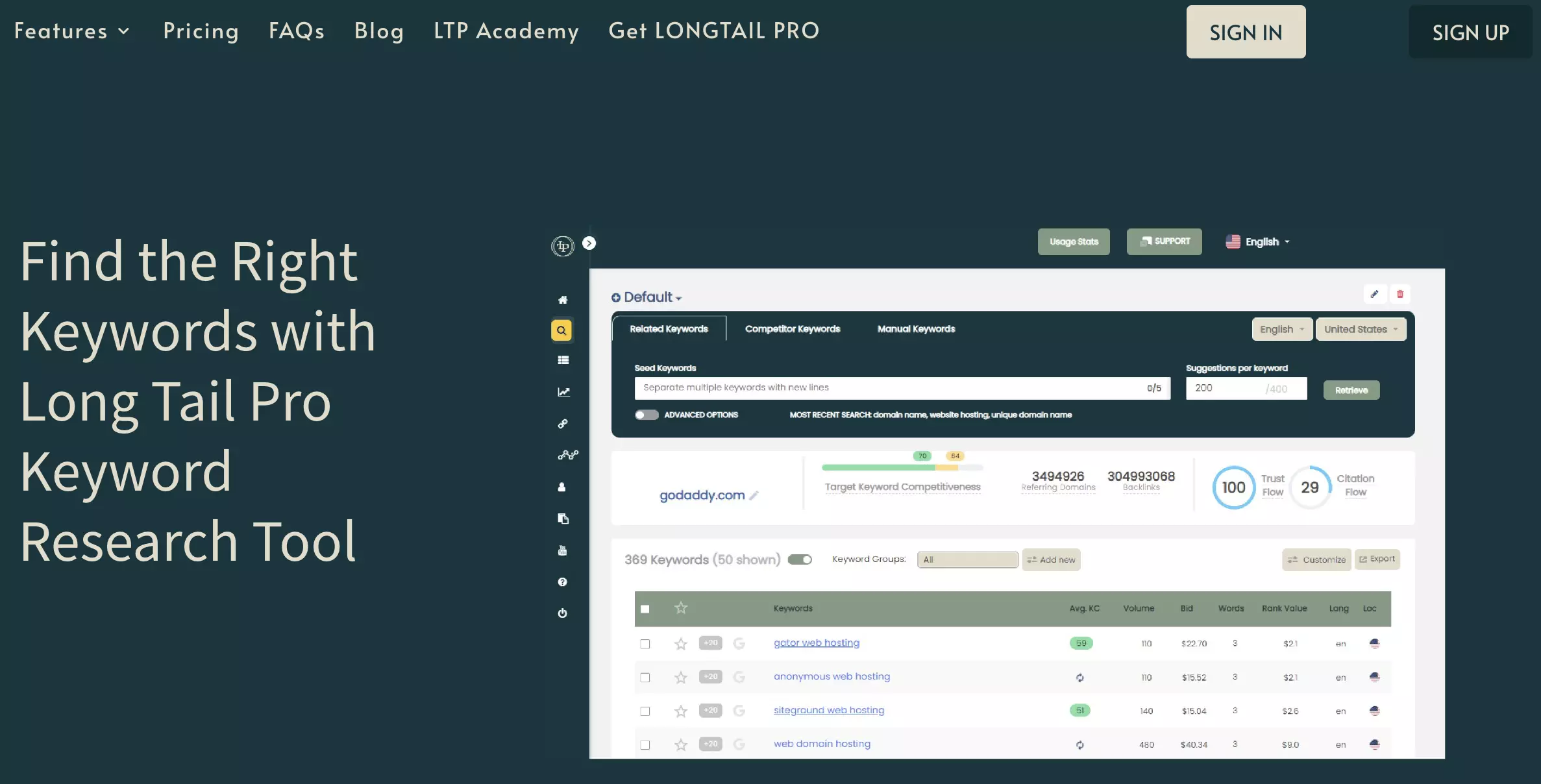 Free trial: 80day trial for $8
Free/Freemium version: No
Paid versions: Yes
Check paid versions from the trusted SEO tool:
Starter costs $297 annually
Pro costs $573 annually
Agency costs $1177 annually
LongTailPro paid plans are different from all previous ones since they give keywords, KC calculations, and SERP lookups daily. Moreover, all plans give unlimited export results.
| | | | |
| --- | --- | --- | --- |
| | Starter | Pro | Agency |
| Keywords | 800 | 2,500 | 6,000 |
| KC calculations | 800 | 2,500 | 6,000 |
| SERP | 800 | 2,500 | 6,000 |
Another great Moz alternative would be LongTailPro. Do you want to find keyword competition for your website? Start with an 8-day trial option to see if this SEO toll can satisfy your needs and requirements.
LongTailPro was specifically designed for better SEO. Before, many quite often would use Google Keyword Planner for that. This trusted SEO tool will help you find the most profitable keywords. What does it mean? Easier ranking.
Let's proceed with the features:
Unlimited keyword opportunities
Alternative tools like Market Samurai
Endless keywords suggestions
Test niche viability
Automatic domain names
Automatic ranking check on Google, Bing, Yahoo
LongTailPro is a true game-changer in terms of keywords. With this SEO tool, you will use keywords that can really work.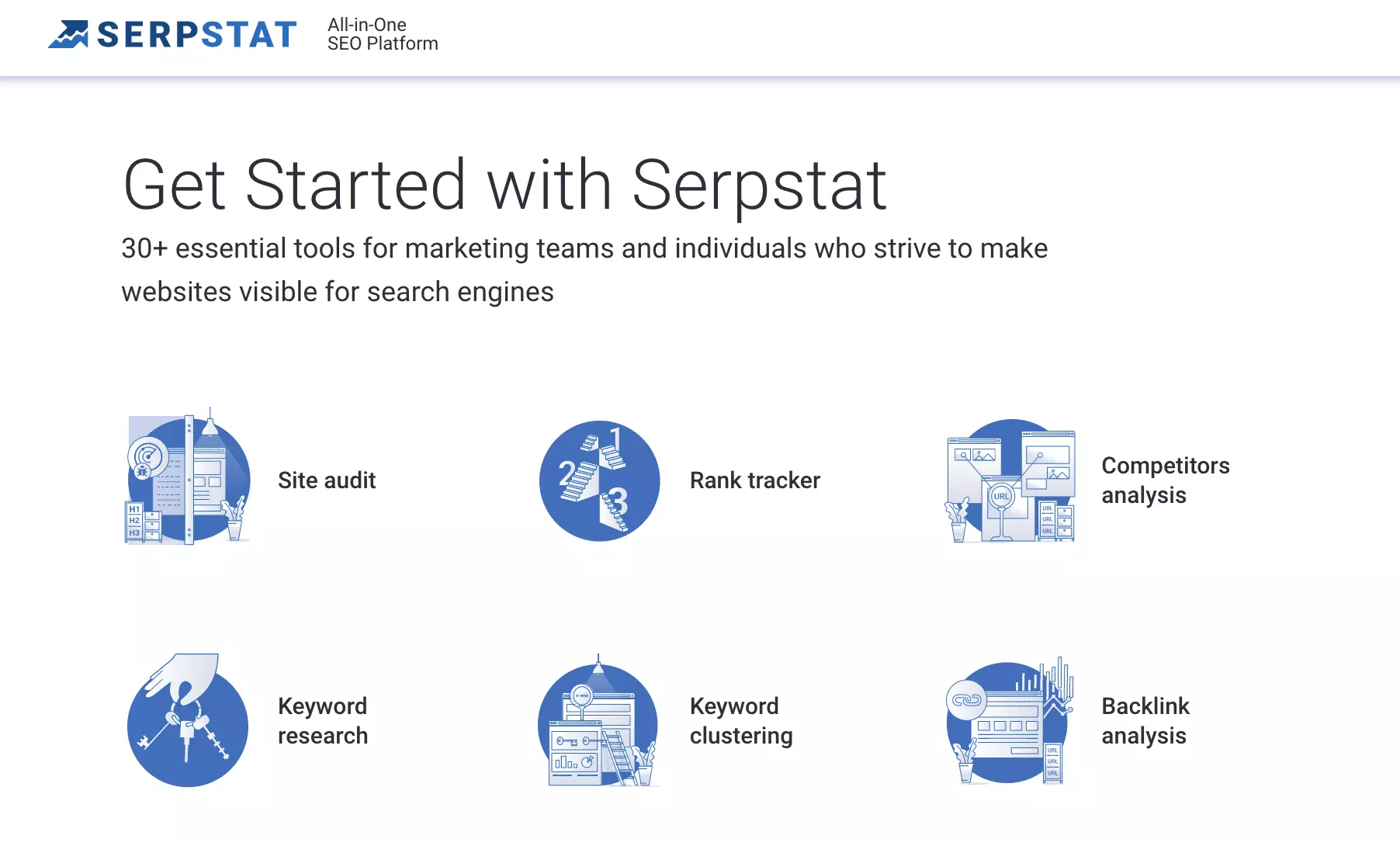 Free trial: 7-day trial
Free/Freemium version: No
Paid versions: Yes
Find 4 pricing plans from Serpstat:
Serpstat Lite Plan. Great for beginners and costs $55 monthly.
Serpstat Standard Plan. This plan is for SEOs and small businesses. It will cost $119.
Serpstat Advanced Plan. Agencies can buy this plan for $239.
Serpstat Enterprise Plan. Bigger agencies, marketing leaders, and enterprises will buy this plan for $399.
All these paid plans will guarantee:
Access to search analytics API
Backlinks API
Monthly API credits
Rank tracker
Site audit
Daily updates
Organic keyword rankings
Paid keyword rankings
Desktop and mobile rankings
Page audit
Schedule, branded, and white-label reports
Chat support
Customer success
Serpstat is not so well known but is a great alternative to Moz. You may be surprised that Shopify, L'Oréal, and Lenovo are Serpstat clients.
With Serpstat you will receive 7 billion keywords and domains to make your research more productive. In the meantime, Moz gives only 500 million keywords for you to run the research.
Additionally, you can run backlink analysis, but it may not be as productive as you would expect. One disadvantage of Serpstat is that it does not have a large database.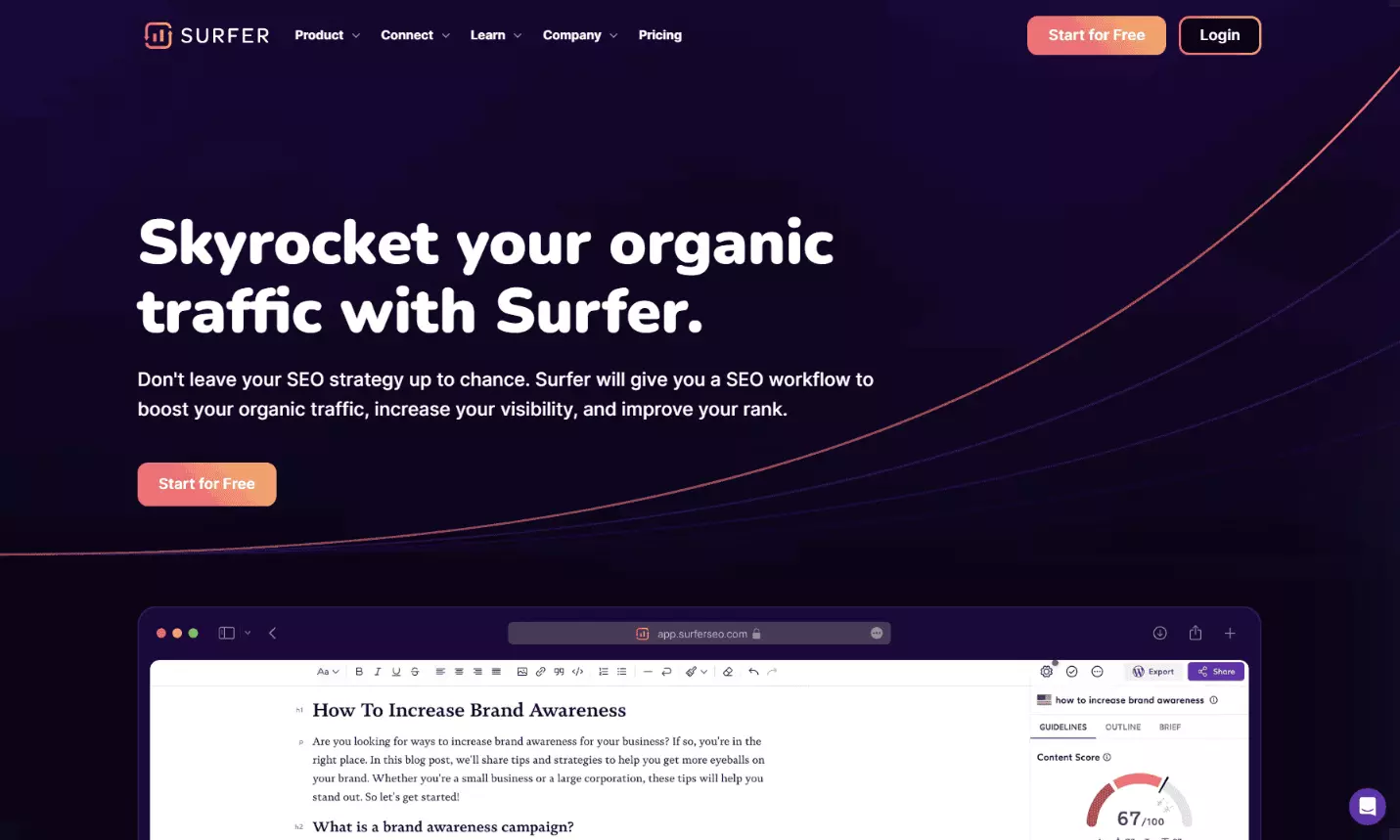 Free trial: 7-day trial
Free/Freemium version: No
Paid versions: Yes
Optimize surfer faster with Surfer paid plans:
Basic is $49 monthly. Best fit for small businesses.
Pro is $99 monthly. Will suit the needs of medium organizations.
Business is $199 monthly. A great plan for big organizations.
Custom price varies on personalized requirements.
Another alternative to Moz is Surfer. Some would even say that there is no better option in all SEO tools than Surfer. But, of course, Surfer SEO cannot fully change Moz. Let's find out what it can offer.
A robust tool for search engine optimization, Surfer provides you with real-time suggestions as you write.
Need to prepare a content strategy and optimize it for your target audience? Get a plan from Surfer. You will see great results because this SEO tool is powered by an AI outline builder and SERP analyzer. You do not need much to work with Surfer. Simply specify target keywords and start writing content in the built-in editor. Your content will be assessed automatically on a scale of 1-100, so you know if you are moving in the right direction. Always follow the structure and see your text getting optimized.
Do you not feel comfortable writing in Surfer? Integrate it in Google Docs and WordPress. Also, Surfer comes with a free Chrome extension.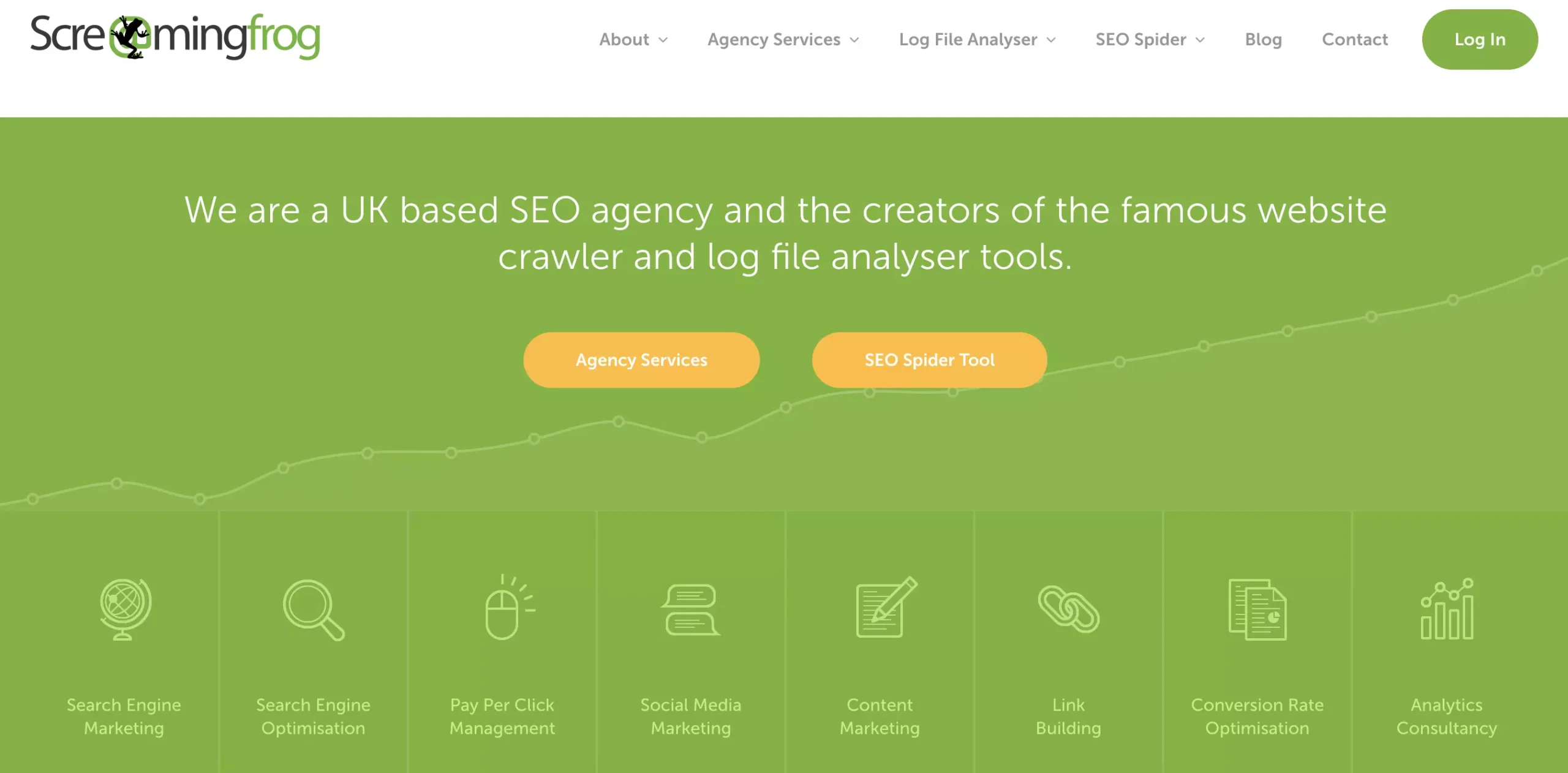 Free/Freemium version: Yes
Paid versions: Yes
The paid version of Screaming Frog is an annual license. After one year, you will have to renew it. The paid version of Screaming Frog costs you $259.
We are adding one more SEO tool to the list of free Moz alternatives.
Screaming Frog is a desktop program that helps to collect data about websites.
Best features of Screaming Frog:
You can get in on your Mac or Windows.
You can crawl up to 500 URLs in the free version.
Paid version will ensure unlimited crawling.
Great SEO.
Website audit.
Competitor analysis.
You should consider using Screaming Frog, not just because big business names like Amazon, Disney, Google, or Apple are using it. But because this tool manually checks every single page on your website.
You should definitely try Screaming Frog to:
Find broken links. Broken links are horrible for your SEO. They will affect the time spent on a page, bounce rates, and link equity.
Find duplicate content. Content that matches other content in the same or similar languages leads to poor user experience.
Find missing title tags. Tags guide users through the content on the page. Do not miss title tags if you want to boost search engine rankings and a click-through rate.
Schedule audits. Paid audits are available in a paid version. Without the audit, you cannot determine the main issue that impedes your organic performance.
Analyse page titles and Meta data. Users will know what to expect based on what page title and meta description you will use. Correct meta descriptions will increase click-through rates.
Compare crawls and staging. Screaming Frog will help monitor issues connected with the SEO process.
Connect with Google Analytics. Google Analytics will help you know your target audience better. And Google Search Console measures site traffic and performance. Screaming Frog has all the features to get the necessary data for detailed analysis.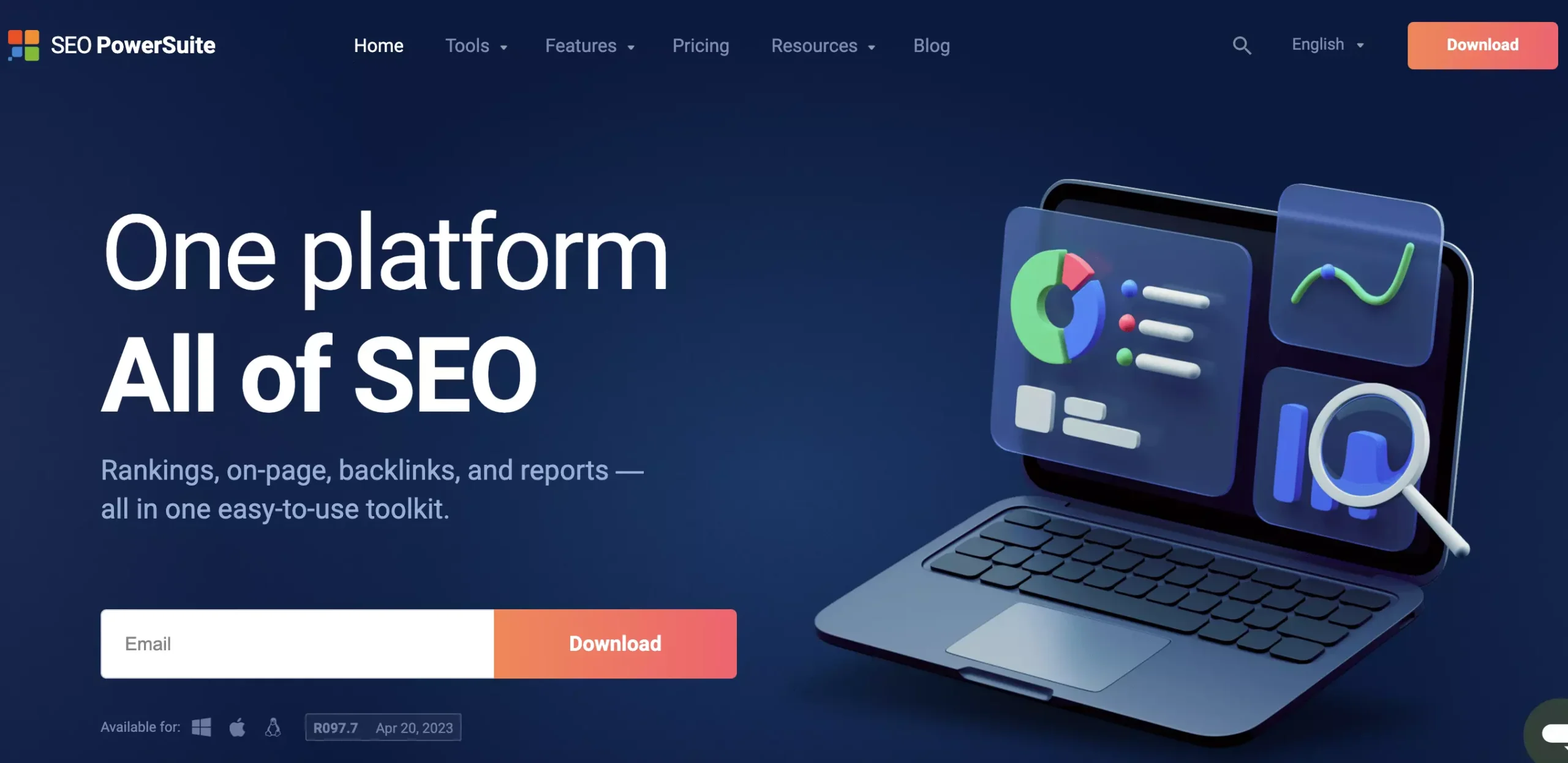 Free trial: No
Free/Freemium version: Yes
Paid versions: Yes
Professional plan costs $299 per month (for in-house work)
Enterprise plan costs $499 per month (for client work)
SEO PowerSuite is a powerful alternative software to Moz. And you would be surprised that there is a completely free version of this tool in the market.
SEO PowerSuite is not just one product. Such tools as Rank Tracker, Link Assistant, Website Auditor, and SEO Spyglass are a part of SEO PowerSuite.
SEO PowerSuite is the only Moz alternative that is not web-based. Let's break down these features and see how exactly they help to build an SEO campaign:
Rank Tracker. It will monitor keyword rankings for your website or your clients. With Rank Tracker you can monitor an unlimited number of keywords. Bonus, you can monitor keyword positions based on search engines and geo-location (perfect for local SEO).
Link Assistant. Link Assistant helps you with outreach. You can easily find valuable link sources and match them to your metrics.
Website Auditor. It is useful for your website's architecture. SEO PowerSuite will audit the website for its HTML, CSS, JS, and Flash.
SEO Spyglass. To get the backlink reports, you will need SEO Spyglass. You will receive a report based on all possible links that lead to your website. Plus, with SEO Spyglass, you can compare up to 5 competitors' backlinks data side-to-side.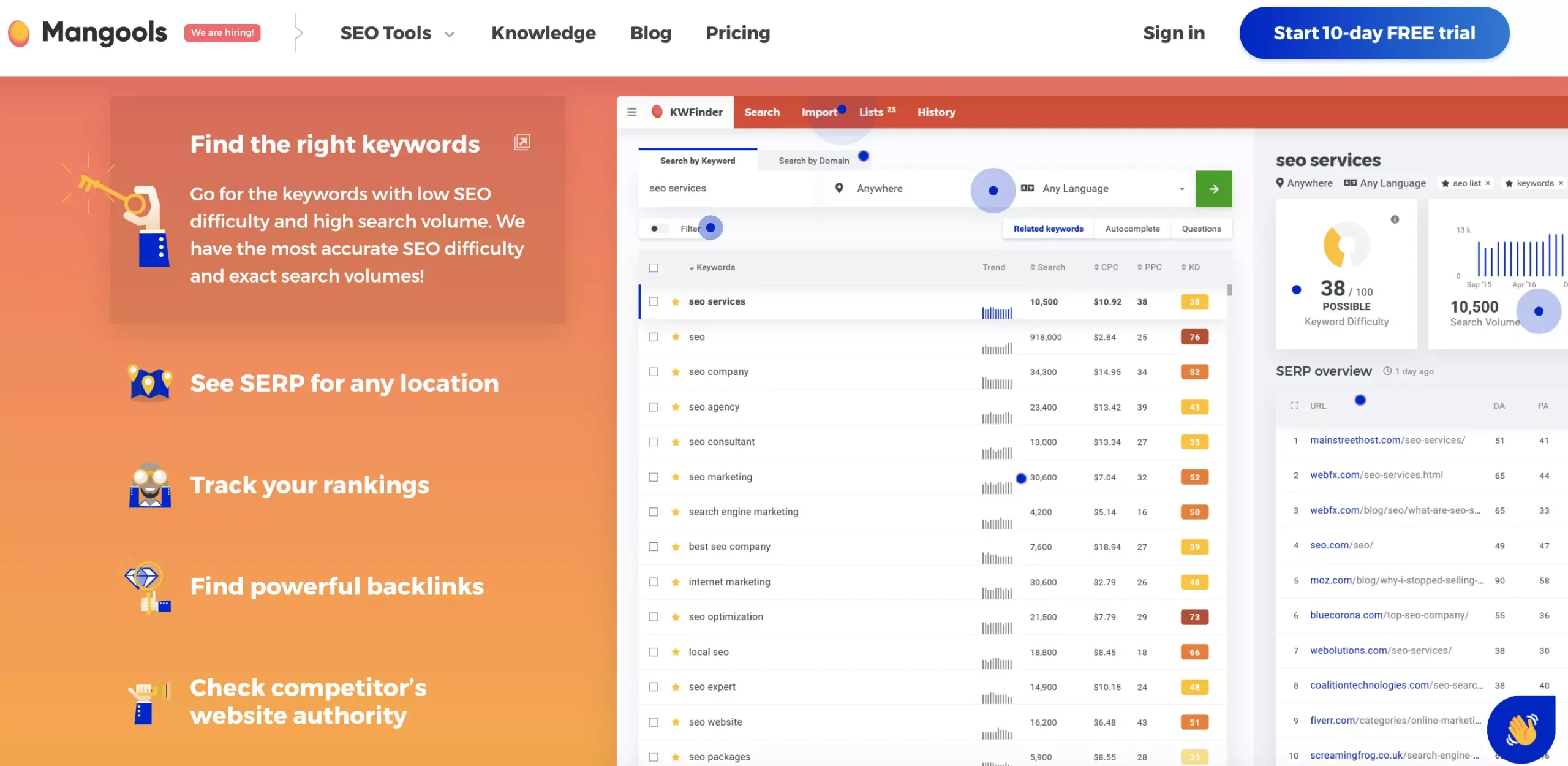 Free trial: 10-day free trial
Free/Freemium version: No
Paid versions: Yes
Plans and pricing for Mangools are listed below:
Mangools Basic plan will be $49 monthly
Mangools Premium plan will be $69 monthly
Mangools Agency plan will be $129 monthly
| | | | |
| --- | --- | --- | --- |
| | Basic | Premium | Agency |
| Keyword lookup | 100 | 500 | 1,200 |
| Keyword suggestions | 200 | Unlimited | Unlimited |
| Keywords per 1 import | 200 | 700 | 700 |
| Competitor keywords | 25 | Unlimited | Unlimited |
| SERP lookups | 100 | 500 | 1,200 |
| Daily tracked keywords | 200 | 500 | 700 |
| Monthly backlinks | 100,000 | 500,000 | 1,200,000 |
Last but not least in the list of Moz competitors is Mangools. Mangools is popular among freelancers, bloggers, and small businesses. However, even if you do not fall into one of these categories, but rather stay on a tight budget – get Mangools. Even a basic plan gives many advantageous statistics and data.
Just like SEO PowerSuite, Mangools is a bundle SEO tool and has 5 more in the package. One of them is KWFinder.
With access to KWFinder, you can rank the keywords despite the niche you are working in. The remaining tools are:
SERPChecker
SERPWatcher
LinkMiner
SiteProfiler
Sure, Mangools is affordable on all paid plans. The question is, is it your primal goal? If not, we advise going with other tolls that check all the boxes for you and your business.
Conclusion
For organic traffic, more data, and better-optimized keywords you will be hunting for the best SEO tool. We dedicated this article to introduce the most popular and widely discussed SEO tools. As the benchmark we used Moz. It is an excellent but expensive tool.
These 15 Moz alternatives are either more reasonable in price or broader in the services they offer. As you could see, the competition is huge. So, we are pretty sure, you will find the best fit for your budget and business needs.
Did we miss something? Or would you like to share your favorite SEO tool? Let us know in the comments below.