Domain Authority Checker
Get the accurate domain authority score calculated by SE Ranking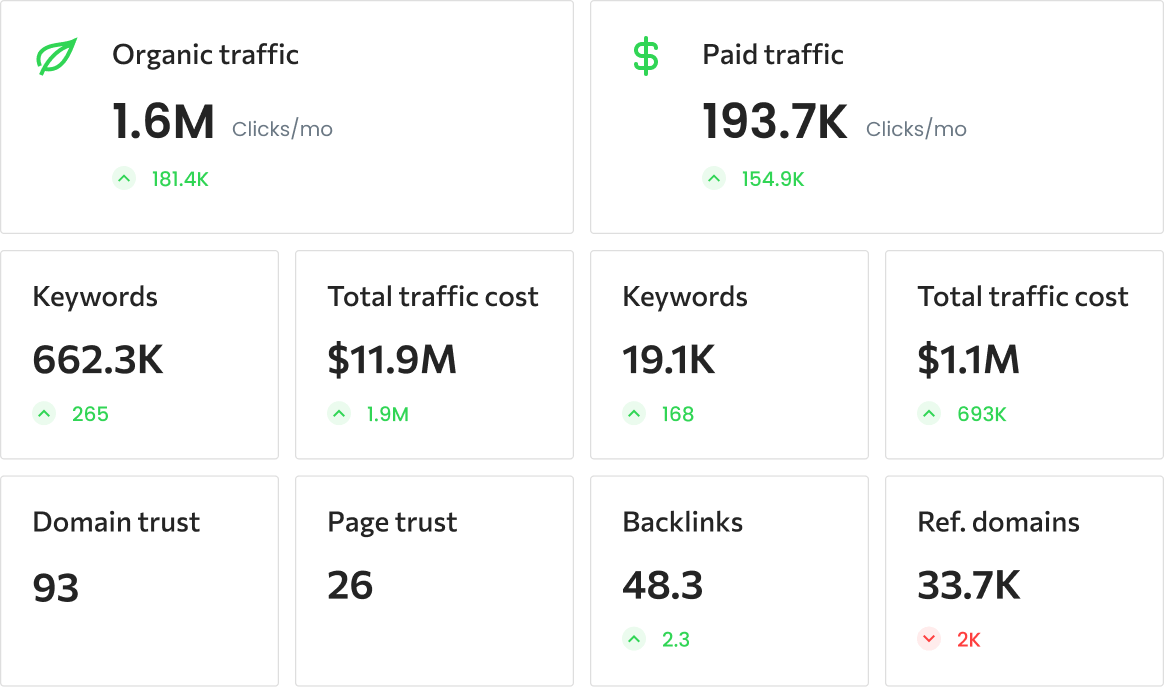 Why use Domain Authority Checker
Keep an eye on your domain's progress over time to see how it evolves
A growing domain trust score shows that you're doing a great job optimizing your website and building valuable backlinks. This tool will help you to regularly track your website's performance and identify areas for improvement.
See how you stack up against competitors in the search results
The website DA Checker is here to help you assess if you can effectively compete with specific websites in the SERP. It provides valuable accurate data on Domain and Page Trust scores, traffic, the amount of keywords, etc. Knowing where you stand compared to others can help you fine-tune your SEO and marketing strategies for better visibility and success.
Find excellent opportunities for link building
The tool will help you quickly assess websites' potential quality using domain authority as a helpful initial indicator. Studying their backlink profiles can reveal valuable sources and strategies you can adopt to enhance your own website's authority and attract more organic traffic.
Dive into comprehensive Domain Authority data and gain valuable insights
The tool provides valuable data on all the necessary metrics you need to evaluate any domain authority, including:
Domain Trust:

Understand the level of trust and credibility your domain holds in the online landscape.

Referring Domains: Discover the number of unique websites that link back to the analyzed domain, indicating the website's popularity and authority. The more quality donors a website has, the higher the Domain Trust score.
Backlinks:

Explore how many websites link out to the analyzed website and compare the number to referring domains.

Traffic: Get a clear view of the organic traffic the website attracts.
Keywords amount:

Identify the number of keywords the website ranks for, providing valuable information about its visibility in search results.
Dive into comprehensive Domain Authority data and gain valuable insights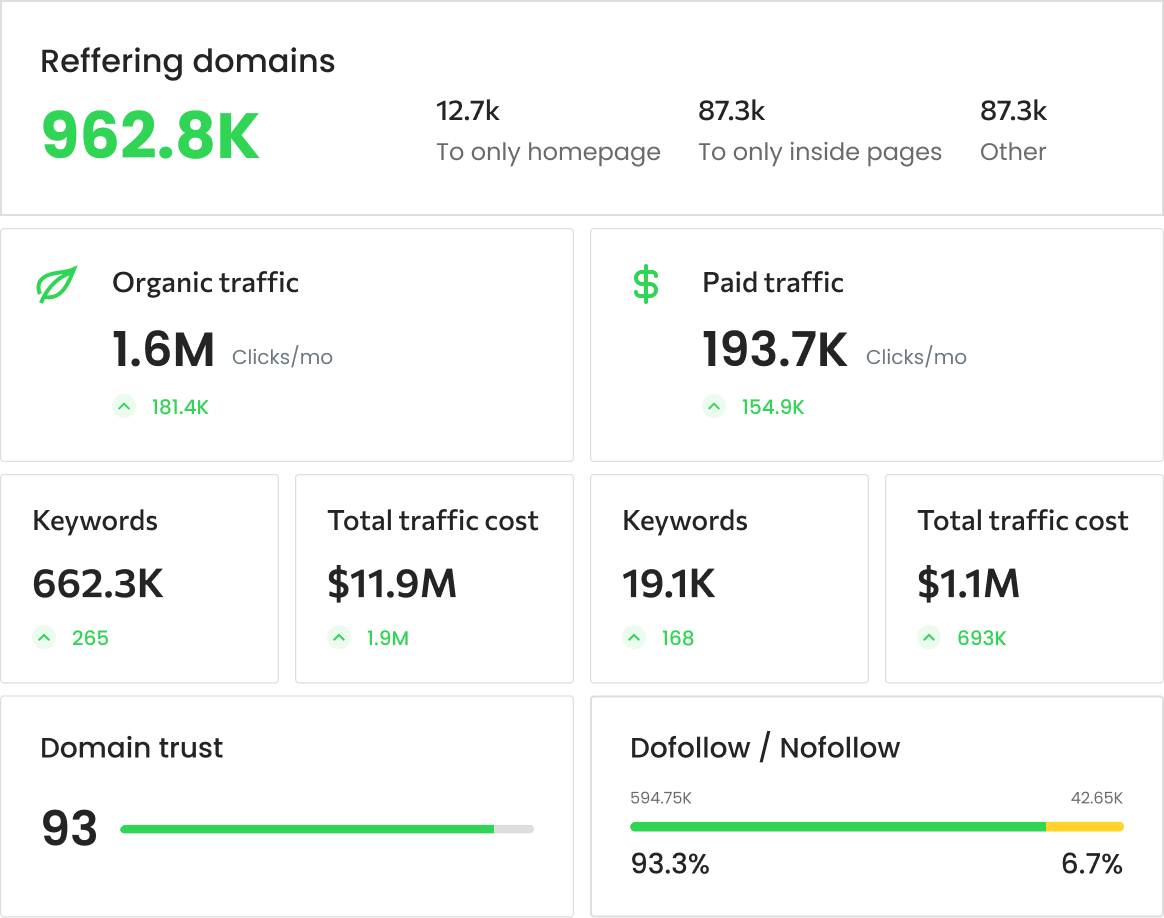 Explore the intricacies of any website's performance
Without a comprehensive website analysis, it will be impossible to conduct a qualitative assessment of the site's authority. So, in addition to the main metrics, the Domain Authority Score Checker provides comprehensive information about website's keywords, helping you understand the focus of the analyzed site's promotion. The tool also reveals the site's positions for these keywords, which ones bring the most traffic, and the traffic volume they generate. Additionally, you will see the SERP features in which the website pages appear. To evaluate SEO success, study the chart showing the distribution of keywords based on their SERP positions.
Explore the intricacies of any website's performance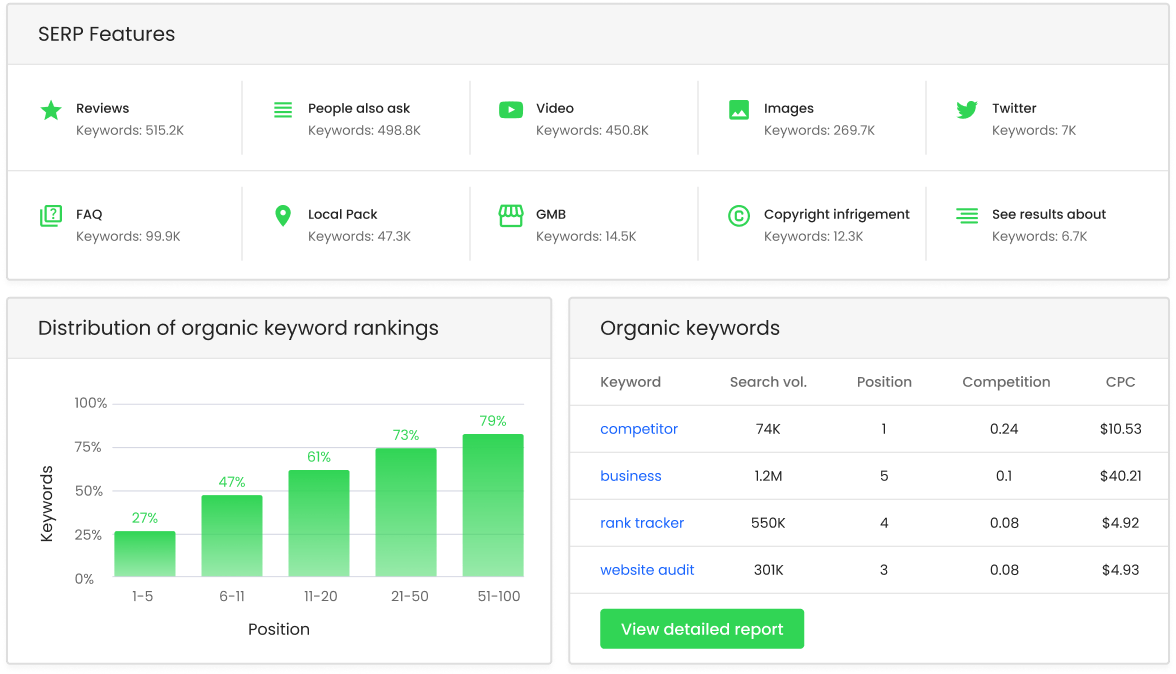 Uncover Competitive Insights
Compare the analyzed website's traffic forecast, keywords and backlinks to other relevant websites. Here you can find other authoritative websites for link building or other SEO goals. Discover their metrics like Domain Trust score, common keywords, total traffic, etc. 
Using this tool, you can gather data on the performance of various websites and understand how they fare in terms of traffic, keywords, and backlinks. With this information, you can devise a solid SEO strategy and make data-driven decisions to improve your website's online presence and performance.
Uncover Competitive Insights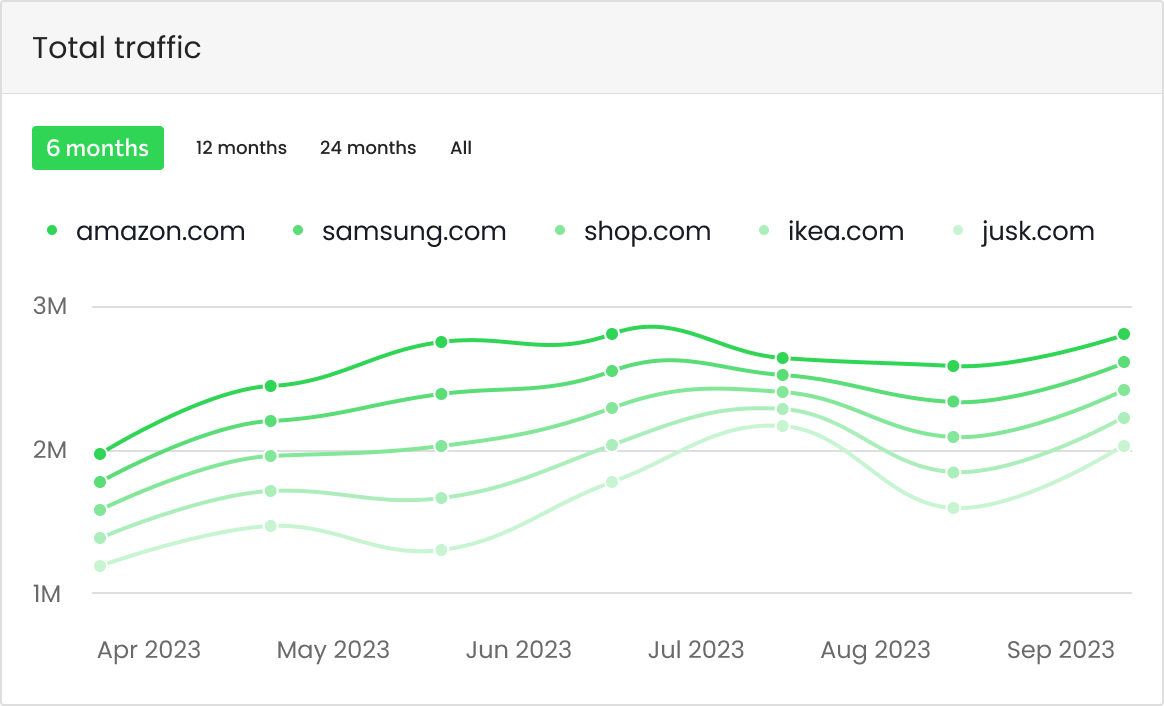 Take advantage of all SE Ranking's SEO features for a reasonable price
For freelancers and newbies
For small agencies and teams
For mid-size agencies and businesses
What did Domain Authority Checker users say?
Take a look at the reviews from customers who have experienced the incredible power of SE Ranking
I recently used Authority Checker to assess my competitors' domain authority, and I must say it was a great experience. The tool's interface was easy to navigate, the tool provided me with an accurate data.
This DA Checker is a user-friendly tool that quickly and accurately assesses domain authority. It provides clear results and valuable insights, making it a great resource for website owners and SEO professionals. Highly recommended!
This tool helps me in competitive analysis and finding backlink opportunities. It provides all the necessary metrics for my SEO research. Plus, it is easy to use—I get a bunch of data in a second.
Domain Authority Checker Explained
What is Domain Authority Checker
The DA Checker is a tool used to measure and assess the domain authority of a website in the eyes of search engines. It is a metric which provides an estimation of how well a website is likely to rank on search engine results pages.
Moreover, you can compare it with other domains to identify potential link-building opportunities, evaluate partnerships, or gauging your ranking chances and your site's ability to reach the top of SERP in the specific niche. In addition, the domain authority metric assists you in tracking your domain's progress over time.
How does the Website DA Checker work?
Domain Authority Checker tool employs sophisticated algorithms to analyze SEO factors influencing a website's authority. It calculates a DA score, providing you with an insight into your website's potential ranking strength. Domain Authority is influenced by the number and quality of the website's backlinks and referring domains.
To use a Website Domain Authority Checker, enter a domain name or URL into the tool, and it will generate the corresponding Domain Authority score and others necessary for the in-depth analysis metrics.
Note: Domain authority is a relative metric, meaning its significance relies on your specific niche and competition. To determine whether your DA score is considered good for your website, it's crucial to compare it with your competitors' scores in the SERP. For instance, if your rivals have DA scores ranging from 80 to 100, a score of 75 would be considered weak. Conversely, if your competitors' scores fall between 0 and 30, even a score of 35 would be considered good, resulting in higher rankings in the SERPs.
What are the benefits for SEO specialists and agencies
Using a Website Domain Authority Checker can provide several benefits for SEO specialists and agencies:
Competitor Analysis: Domain Authority Checkers allow SEO specialists to assess the domain authority of their competitors. By comparing their domain authority scores with those of competitors, they can identify strengths and weaknesses in their SEO strategies and make informed decisions to improve their own rankings.
Identifying link building opportunities: Domain Authority Checkers often provide insights into the backlink profiles of websites. SEO specialists can use this information to identify potential link building opportunities by analyzing the websites with high authority scores and their linking patterns. This helps in developing effective link building strategies.
Client Reporting: For SEO agencies, domain authority is a valuable metric to report to clients. It demonstrates the progress and effectiveness of the agency's SEO efforts, showcasing improvements in domain authority over time. It provides a tangible measure of success that clients can easily understand.
Prioritizing SEO Efforts: By checking domain authority, SEO specialists can prioritize their efforts and focus on areas that require improvement. They can identify low-authority pages or websites and allocate resources accordingly to boost their rankings and overall domain authority.
Knowing the Domain Authority score of a website is important for understanding its overall search engine performance and comparing it to competitors in the same industry. A higher Domain Authority score often correlates with better search visibility and more organic traffic. However, keep in mind that 200+ factors affect rankings. This is why lower DT websites can outrank competitors.
FAQ
What is Domain Authority?
Domain Authority is a search engine ranking score, indicating the credibility and authority of a website. It ranges from 1 to 100, with higher scores corresponding to better chances of ranking higher in search engine results.
How to check my Domain Authority?
You can utilize this DA Checker. To check your website Domain Authority, enter the domain's URL in the input field at the top of this page and click on the Analyze button. You'll get the Domain Trust score, actionable data on referring domains, backlinks, the ratio between dofollow and nofollow backlinks, pages that are linked out to and many more.
What can I do with the Domain Authority score?
Understanding your website's Domain Authority can help you assess its competitive position in search engine results. It allows you to identify areas for improvement in your SEO strategy and compare your site's authority against your competitors.
How can I improve my website's Domain Authority?
Improving your website's Domain Authority involves enhancing your overall SEO, generating high-quality backlinks from reputable sources, creating valuable content, and optimizing your website for user experience.
Is my website's DA score the only factor that determines its search ranking?
No, Domain Authority is just one of many factors that influence search engine rankings. Search engines consider a combination of factors, including content quality, relevance, user experience, backlinks, and more when determining a website's position in search results.