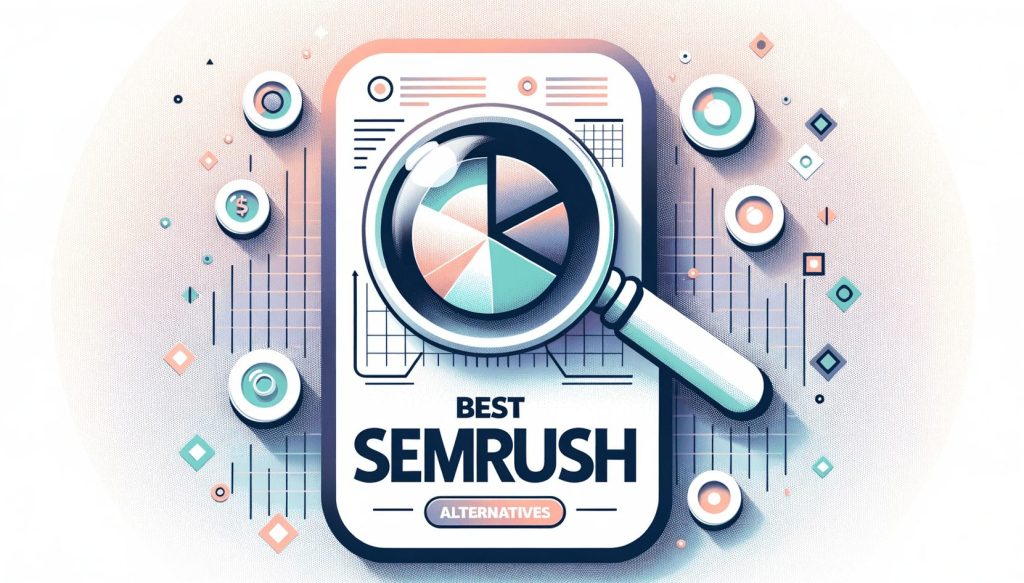 Semrush was founded in 2008 and quickly gained popularity in the market. For years, it has been a trusted, all-in-one suite of SEO tools aimed at discovering valuable marketing insights and boosting online visibility.
The platform can help SEO specialists and agencies with SEO, site audits, keyword research, backlink tracking, competitive research, content marketing, and much more. Although Semrush boasts vast functionality, it also has a number of drawbacks. Namely, it can only cover Google-oriented data and might not always provide accurate traffic insights. Furthermore, it costs quite a lot.
Given all the disadvantages it has, we can confidently say that despite having a solid reputation, Semrush is not a one-size-fits-all solution for every agency. Depending on your unique goals and needs, it might not provide the exact results you are hoping for. So what do you do in that case?
Luckily, Semrush isn't the only SEO tool suite out there. In fact, there are plenty of Semrush alternatives that can provide no worse or even better results.
To help you find a solution that matches your needs, we have carefully reviewed the various options that are there. Read on to discover the available opportunities and find a better or cheaper alternative to Semrush!
Alternatives to Semrush: Our Top 3
Our experts carefully studied, analyzed, and compared the best Semrush alternatives to help you make the right choice for your team. Further in our guide, we will tell you everything you need to know about each of the best alternative tools to consider.
But first, we'll reveal our 3 top picks that we find the best to meet your needs:
SE Ranking – This reputable platform offers an all-in-one suite of SEO tools. Thanks to its large database, SE Ranking delivers accurate SEO data and insights that help agencies and professionals level up their strategies. At the same time, the platform is easy to use, flexible, and affordable.
Ahrefs – A popular SEO solution that boasts functionality, versatility, and efficiency. It possesses a comprehensive suite of tools that includes everything agencies might be looking for in a worthy alternative to the famous Semrush. Although the prices are slightly high, it still offers value for money.
Ubersuggest – This is the best cheap alternative. Ubersuggest has all the basic SEO features, offers flexible pricing, and many of its tools are available free of charge.
Finding the Best Alternatives Semrush: Top Factors We Considered
Semrush is a reputable platform known for its reliability, quality, and value for money. Due to the huge number of benefits that it brings to the table, finding the best Semrush alternative can be a real challenge. To overcome this challenge, we had to pay meticulous attention to details and keep plenty of criteria in mind.
To help you see the real value of each tool on our list, let us tell you about the major factors that we attended to when selecting every alternative Semrush from this list:
Functionality and tools – Semrush is an incredibly versatile tool. In terms of SEO, Semrush offers a complete suite of tools that can assist you with every aspect of optimization. Yet, it doesn't focus solely on SEO. Instead, it also provides tools for market research, advertising, content, and social media. Due to its versatility, we believe that a good alternative to this platform must also provide a vast range of tools and features.
Interface and usability – Semrush strives for maximum usability. We wouldn't say that it's hard to use, even for beginners. However, due to a huge number of features, it can still be somewhat confusing. Thus, the perfect Semrush alternative should also be easy to use and have a simple interface.
Database size – The database size of an SEO platform directly affects the depth, accuracy, and quality of the data it provides. Therefore, this is another crucial factor we keep in mind while searching for the best tools.
Flexibility of pricing policy – Every SEO specialist or agency has its own budgetary limitations. In order to meet the needs of every client, a good SEO platform should provide sufficient flexibility in terms of pricing.
Trial period – Finally, when searching for the best Semrush alternatives, we paid special attention to if there was a trial period offered. We find it incredibly important for new clients to be able to test a new platform and decide whether it suits their needs or not.
So these are the key factors that we focused on in our comparison. Now, let's see which alternatives Semrush we found to be the most worthy!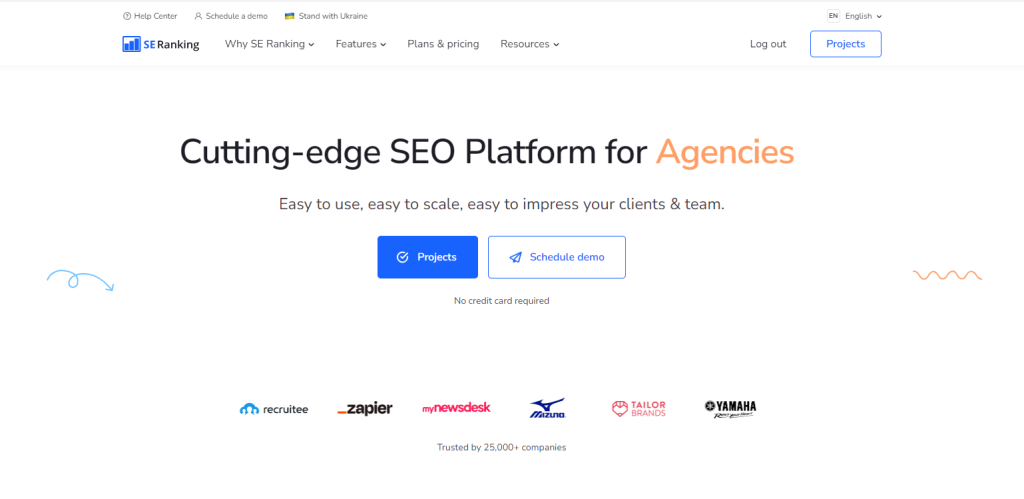 SE Ranking is one such tool, similar to Semrush, that offers a comprehensive suite of features to empower the agency and in-house SEO specialist. SE Ranking boasts an exceptional Rank Tracker, providing you with accurate ranking data on Google, Yahoo, Bing, and YouTube.
You can uncover numerous keyword opportunities through Keyword Research. Metrics such as search volume, difficulty, and user intent will assist you in selecting the most suitable keywords. SE Ranking applies advanced data processing algorithms to provide users with precise data points they can rely on.
With SE Ranking, you can conduct a thorough website audit to identify and resolve technical issues that can make your website less visible. Additionally, you can optimize individual pages using the On-Page SEO Checker, which provides a comprehensive list of errors and recommendations based on competitive SERP analysis to enhance your page score and achieve higher rankings.
The Local SEO tool aids in tracking a business's positions in local search, monitoring listings across various business directories, and checking reviews. Furthermore, the Content Marketing Platform, backed by AI-powered assistance, facilitates the creation of content briefs and the crafting of SEO-friendly texts.
To gain insight into your competitors' search campaigns, both current and historical, you can utilize Competitive Research. The Backlink Checker, having a database of 3 trillion backlinks, provides a detailed report on the quality of any website's backlink profile.
Pros
SE Ranking covers every SEO aspect, from keyword research to competitor insights.
The platform boasts a user-friendly interface which eases the learning curve and saves your time.
SE Ranking offers pricing plans suitable for businesses of all sizes.
Cons
Local Marketing and Content Marketing tools are not included in subscriptions and need to be purchased separately as add-ons.
SE Ranking's datasets are not as vast as those offered by some of the tools on the list, including Semrush.
Pricing
SE Ranking offers various pricing plans, including options for individuals, businesses, and agencies.
Essential – $55/month
Pro – from $109/month
Business – from $239/month
There's a 14-day free trial available, so you can test the platform before committing.
Use by agencies
SE Ranking caters to agencies by offering a White Label, which enables you to brand SE Ranking's platform as your own. Moreover, its Report Builder allows you to create unlimited customized automated SEO reports. They also enable you to share data with clients via guest links and read-only user seats. 3-5 user seats are already included in Pro and Business plans to foster seamless team collaboration. Finally, SE Ranking offers API access to an abundance of SEO data.
The only thing to keep in mind is that WL, unlimited reports, client seats and lead generation widget are only available with the Agency Pack, which is not a part of the regular subscription; you'll need to buy it separately for $50/month along with an annual subscription.
Verdict
In summary, SE Ranking can be a preferable option for those who are looking for a solid yet budget-friendly SEO solution. You'll get accurate data to rely on and just the right amount of insights to build a powerful SEO strategy. Semrush, on the other hand, offers more bells and whistles but is costlier and has a higher learning curve, which means you'll need a bigger budget (and more bandwidth and patience) to learn the tool.

Ahrefs is another all-in-one SEO solution used by agencies and businesses across the globe. It offers a complete SEO toolset that enables users to analyze their competitors, audit and optimize their websites, discover keywords their customers are searching for, find winning content ideas and link opportunities, and continually track their ranking progress. Thanks to its versatility and reputation, Ahrefs is considered one of the best Semrush alternatives out there.
Pros:
A comprehensive toolset aimed at helping you rank high with less effort;
Some of the platform's tools are available free of charge with some limitations;
An extensive database of over 17 billion keywords (as of 2022).
Cons:
No trial period;
Rather high prices for paid plans and tangible limitations.
Pricing
Ahrefs doesn't offer a free trial anymore. Previously, a 7-day trial was available for $7. However, the platform allows you to register a free account and gain access to some of its features without paying a cent.
As for paid subscriptions, there are four plans:
Lite – Essential tools and data for small businesses, starting from $99/month;
Standard – A perfect plan for marketing consultants and freelance SEO specialists, starting from $199/mo;
Advanced – An extensive set of tools and features for small SEO teams, starting from $399/mo;
Enterprise – A full toolset for enterprises and agencies, starting from $999/mo.
These are the prices per month if you choose to pay monthly. If you select annual billing, you get 2 months for free.
Use by Agencies
Ahrefs provides agencies with an array of tools agencies need to manage their projects and achieve the best outcomes. This includes tools for simplifying daily operations, researching the market, and reporting.
Verdict
As an all-rounded tool suite, Ahrefs can be considered a worthy alternative to Semrush. It's versatile, intuitive, and efficient. However, it's slightly expensive, especially for agencies that want to get the most out of its functionality.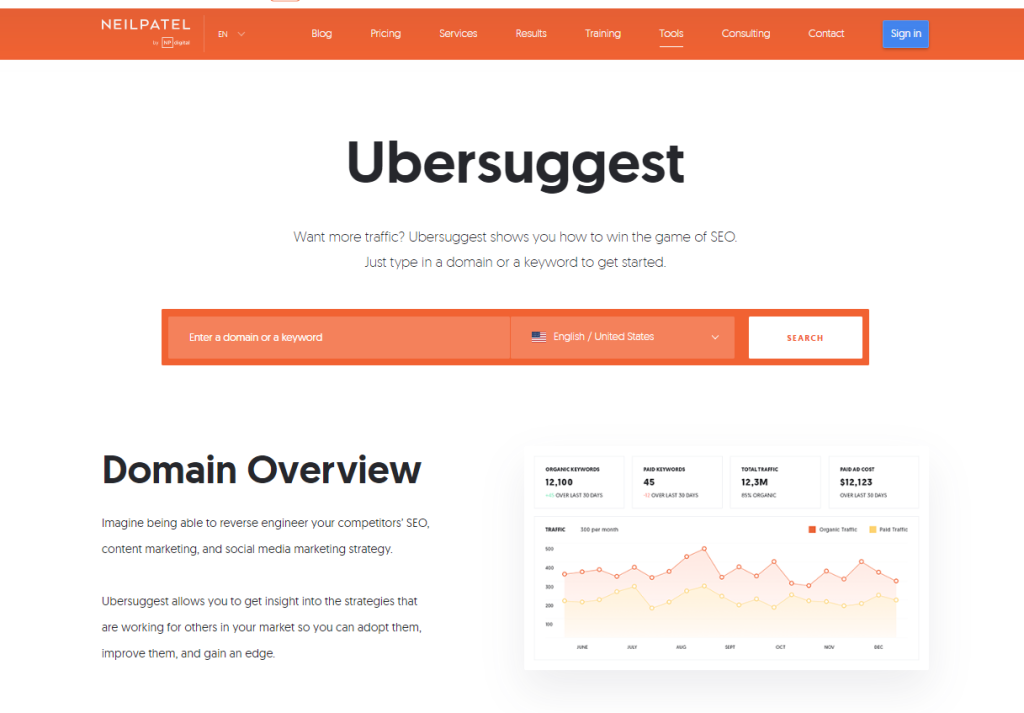 Ubersuggest is a comprehensive toolset offered by Neil Patel. It is a great option if you are seeking a Semrush cheaper alternative. It provides an in-depth domain overview with an outlook on the most important insights about your customers' websites. Also, Ubersuggest lets you analyze the top SEO pages, get smart keyword suggestions, collect backlink data, and discover content ideas.
Pros:
All basic SEO tools are available in one platform;
A large database of data sources;
Many features are available free of charge and additional functionality comes at an affordable price.
Cons:
The list of tools and features isn't as broad as in other tools;
Free accounts have significant limitations so accessing full functionality requires purchasing a paid plan.
Pricing
Ubersuggest can be used for free with some restrictions. If you decide to switch to a paid subscription, you can try it out first with a 7-day free trial and then choose one of three subscription plans:
Individual – $29/month;
Business – $49/month;
Enterprise – $99/month.
You can also receive lifetime access to any of these plans for $290 to $990.
Use by Agencies
Ubersuggest is a nice option for small and mid-sized SEO teams. It enables you to research keywords, monitor links, discover content ideas, and streamline many other SEO operations that typically take a lot of time and effort. Yet, it does lack some customizability and advanced features. Its opportunities are limited, meaning it might not be a one-size-fits-all solution.
Verdict
Ubersuggest might not be as feature-rich as Semrush or some of the other tools on our list, yetits free features, ease of use, and other perks make it a solid alternative to Semrush. It offers a decent range of SEO solutions either for free or at a very affordable price, making it a good choice for SEO specialists and agencies on a budget.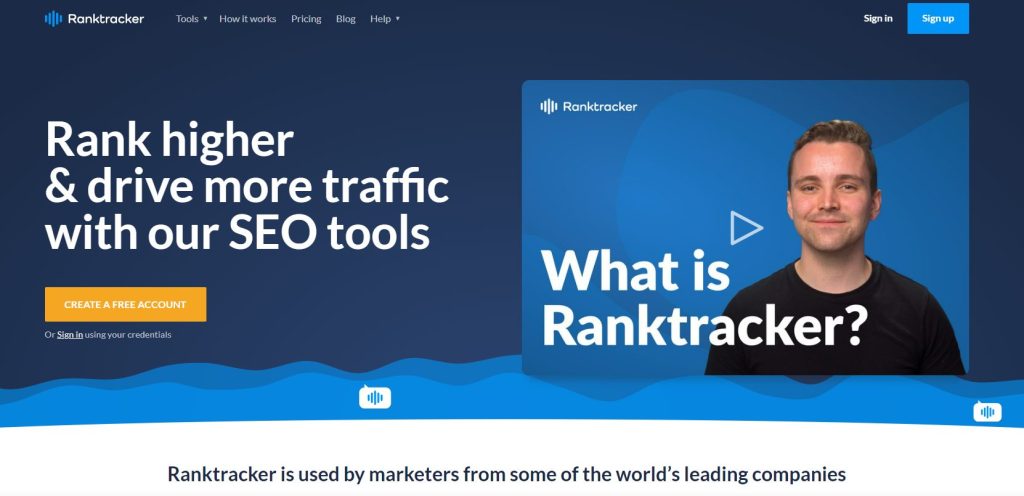 Ranktracker is another Semrush cheap alternative. It offers significant value for money and provides you with access to all crucial SEO data in one place. With this platform, you can audit any website and identify areas for improvement. It also lets you discover keywords that are trending among your audience, track rankings, collect valuable insights from the SERPs, and much more.
Pros:
A full range of SEO features and insights with;
AI content writer available for content generation;
Affordable prices and a free SERP simulator feature.
Cons:
The platform can be somewhat confusing for beginners to use and there might be occasional bugs;
The number of daily keywords that you can track is rather restricted.
Pricing
Ranktracker allows you to use its SERP Simulator free of charge. Plus, there is a free 14-day trial for new users.
Apart from the freebies, the platform offers fairly affordable rates for its paid subscription plans:
Starter – 100 keywords per day for $29/mo;
Double Data – 500 keywords per day for $79/mo;
Quad Data – 1,000 keywords per day for $129/mo;
Hex Data – 2,000 keywords per day for $249/mo.
Other than the different numbers of keywords you can track per day, all plans contain the same features. Moreover, they all offer you an unlimited number of projects and users, which is very convenient. And with annual billing, you get a 10% discount.
Use by Agencies
Ranktracker might be the best Semrush alternative in its price segment for SEO agencies. Not only does it offer affordable prices for its plans, but it also doesn't limit the number of projects or users. That is, agencies can easily pick a plan that suits their budget and the entire team can use it. On top of that, it offers a solid functionality that allows access to all kinds of SEO data and tools in one place.
Verdict
Ranktracker is functional, accurate, and affordable. Despite some minor drawbacks, it can be a good option for SEO agencies as it has many benefits.

Sitechecker is one of the best solutions if you are looking for free SEO tools. The platform gives you free access to its website traffic, safety, down, rank, hosting, speed, and broken link checkers, as well as to its free page counter. In its paid plans, this Semrush alternative gives you even more options, including tools for keyword research, a backlink checker, data markup, white label reporting, and more.
Pros:
Handy tools for on-page, off-page, and technical SEO optimization;
Rather affordable prices;
It is possible to create a custom plan tailored to the needs of large agencies and enterprises.
Cons:
Not all the platform's tools are intuitive enough for beginners;
No free trial, but rather a demo option.
Pricing
Sitechecker doesn't offer a one-size-fits-all trial period. Instead, the platform allows you to book a demo that will be tailored to your specific needs and aims.
As for paid plans, you can choose one of the four options:
Basic – $49/mo, 3 websites, 3,000 pages, 750 keywords, 3,000 backlinks, and more;
Standard – $149/mo, all basic features, 10 websites, 10,000 pages, 1,500 keywords, 5,000 backlinks, and more;
Premium – $249/mo, all standard features, unlimited websites, 50,000 pages, 3,000 keywords, 10,000 backlinks, and more;
Enterprise – Customized functionality and price.
There is also an annual billing option that gets you 2 free months.
Use by Agencies
Sitechecker is an all-in-one platform that features a website crawler, site monitoring, rank tracker, backlink tracker, and on-page SEO checker. In a nutshell, it has everything an SEO agency needs to streamline its operations and achieve success.
Verdict
Sitechecker is a good tool for improving the performance of pretty much any website without any hassle. It offers good functionality and, most importantly, it's flexible enough to match the needs and budgetary requirements of agencies and businesses of all sizes.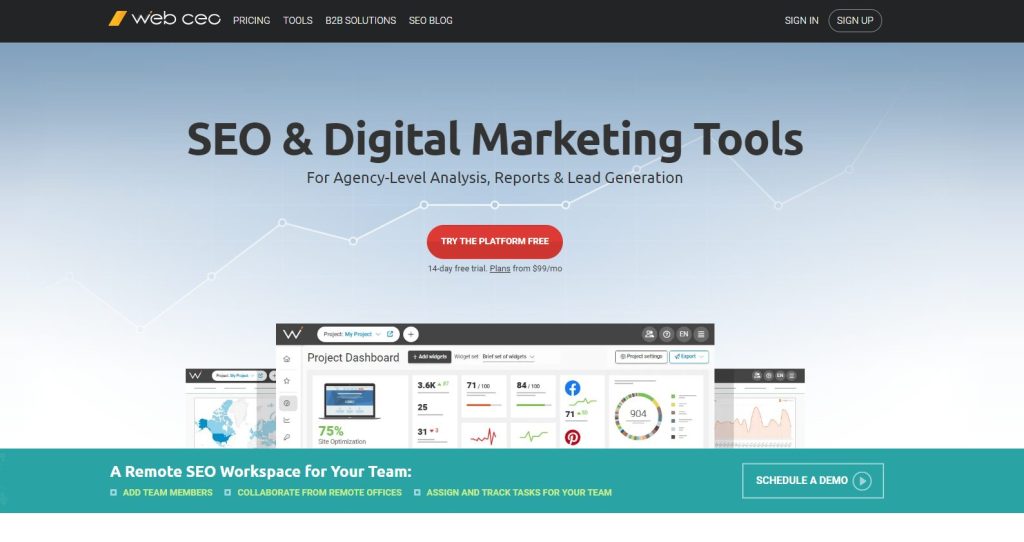 Compared to other Semrush alternatives, WebCEO offers a holistic approach to optimization. The platform features a full list of SEO tools, including a rank tracker, site audit, social analytics, quick domain analysis, internal links, backlink checker, keyword research, competitor backlink spy, and many other great tools.
Pros:
A powerful toolset for analysis, research, link-building, and effective optimization;
Connectivity with Google Data Studio and third-party SEO data resources;
Pocket-friendly prices and a free trial.
Cons:
Customization is somewhat complex for the white label reporting that is featured;;
A very limited number of keywords are in the paid plans.
Pricing
Getting started with WebCEO is simple – all new users can request a free 14-day trial to test-drive the platform. There are two billing options if you decide to continue using WebCEO after the free trial – monthly and annually (annual billing saves you an additional 16%), and four different plans:
Solo – $37 per month, limited to only one user;
Startup – $99 per month, up to 5 users;
Agency Unlimited – $99 per month with all scannings coming at an extra cost, for an unlimited number of users;
Corporate – $299 per month, up to 10 users.
Apart from the number of users, every plan provides a limited number of projects, keywords, backlinks, and pages that you can audit.
Use by Agencies
WebCEO is a good Semrush alternative for agencies in particular. It enables you to bring your entire team together in a convenient virtual workplace, where you will be able to manage tasks and analyze the progress of the team. At the same time, it offers a full toolset for keyword research, website audit, competitor analysis, SEO reporting, and other tasks.
Verdict
WebCEO is a flexible and convenient SEO platform that offers agencies plenty of opportunities. Although it can be somewhat hard to adapt to and provides a limited number of scans and searches you can do in a day/week, it is still a worthy alternative Semrush tool.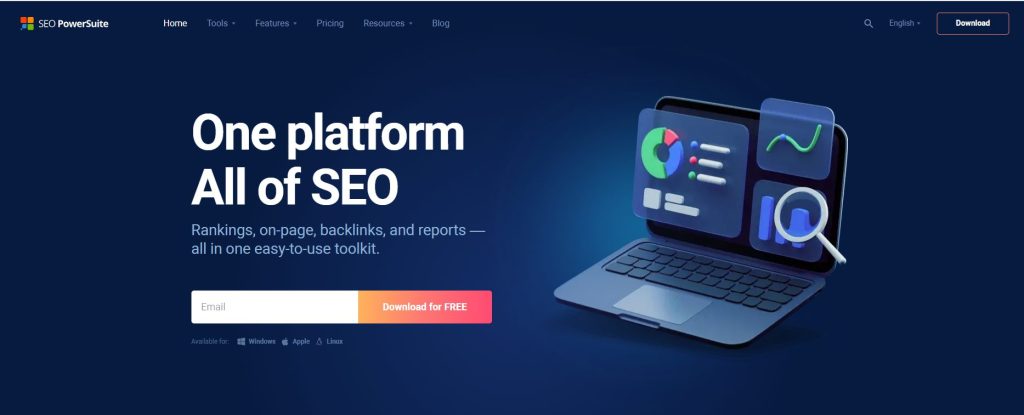 SEO PowerSuite is next up among the top Semrush alternatives. It features four handy SEO tools – a Rank Tracker, Website Auditor, SEO SpyGlass, and LinkAssistant. In addition to these tools, the platform offers SEO agencies a long list of additional features, such as SERP analysis, local rank tracker, keyword research, keyword gap finder, page speed checker, SEO content optimizer, and many others.
Pros:
Advanced list of tools and features for SEO;
Very intuitive and easy-to-understand data dashboards;
Plenty of opportunities for customization;
There is a free plan that you can use forever but with limited possibilities.
Cons:
Every tool must be downloaded separately;
Only annual subscriptions are available so you can't pay for the tool on a monthly basis.
Pricing
SEO PowerSuite doesn't feature a free trial. However, there is a forever free subscription plan that you can use to test the platform. The free account will give you access to all the tools but will limit the number of audits, keyword searches, and other things that you can do on the platform. It also doesn't provide any customization features, nor is it possible to save the data from the platform.
In addition to the free plan, there are three paid subscriptions:
Lite – €99;
Professional – €299;
Enterprise – €499.
Note that the prices of each plan are for a yearly subscription. There is no monthly billing option. However, it is possible to purchase the specific tools you need separately.
Use by Agencies
SEO PowerSuite is a comprehensive Semrush alternative that gives agencies access to a long list of features and tools for on-page, off-page, and technical optimization. It is a convenient and easy-to-use platform that can empower your team with accurate and valuable SEO data.
Verdict
Unlike other Semrush alternatives on our list, SEO PowerSuite is less flexible in terms of payment because there is no monthly subscription. Still, it is a good suite of SEO tools and features.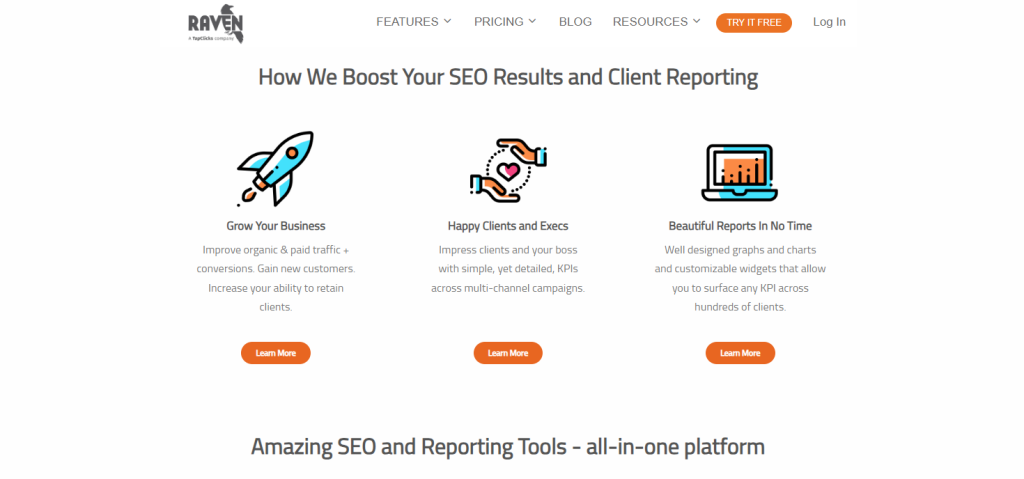 Raven Tools is also considered one of the top alternatives to Semrush. The platform was designed specifically for SEO agencies, in-house and freelance professionals, and businesses. It offers a comprehensive suite of features for SEO success, such as Google Data Studio, competitor domain research, site auditor, SERP rank checker, keyword research, backlink checker, link spy, and many others.
Pros:
A complete set of SEO features for specialists and agencies;
Solid reporting features with an option to create white-label reports;
Flexible pricing;
Lots of handy resources with valuable SEO insights, tips, and more.
Cons:
Somewhat confusing and hard-to-use keyword research tool;
It can take quite a while to get used to the platform and understand the interface.
Pricing
All new accounts on Raven Tools start with a 7-day free trial that allows you to get a feel for the platform. After the free trial runs out, you can choose one of the five pricing plans:
Small Biz – $49 per month;
Start – $109 per month;
Grow – $199 per month;
Thrive – $299 per month;
Lead – $479 per month.
All plans come with many unlimited features. However, there are limitations on the number of keywords you can track, links you can monitor, users you can add to your dashboard, and some other features.
There is also an annual billing option with a 30% discount.
Use by Agencies
One thing that makes Raven Tools one of the best alternatives to Semrush is that it was designed specifically for agencies and SEO teams. The platform provides a comprehensive toolset for optimization, research, analytics, and reporting. All in all, it has everything agencies need to optimize their workflows and achieve greater results.
Verdict
Raven Tools has everything agencies and SEO specialists need for success. It is not as intuitive as some of the other Semrush alternatives on our list. But it can still be a good option.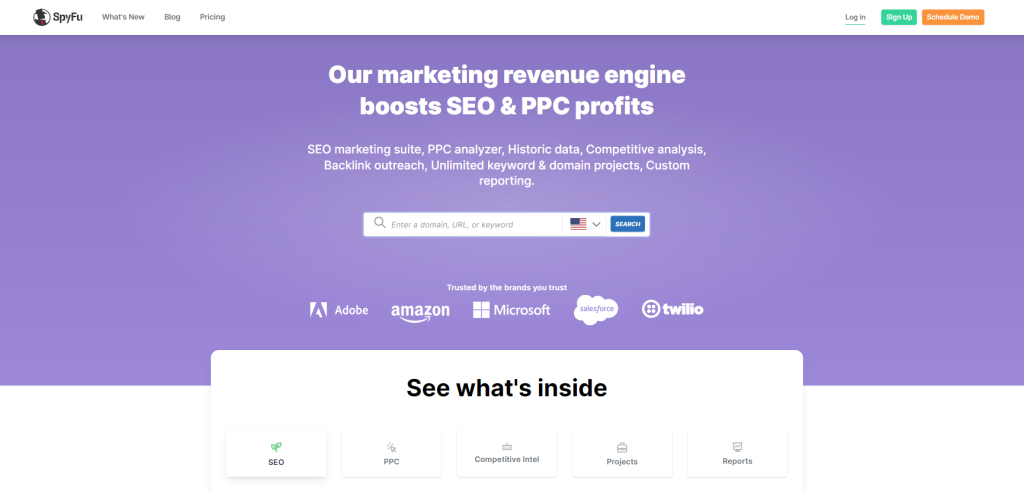 SpyFu is one of the most all-encompassing business tools that can be used as an alternative to Semrush. The list of SEO tools and features available at SpyFu includes keyword research, competitor analysis, backlinks builder, rank tracking, SERP analysis, and domain comparison. But that's not all. Apart from its SEO capabilities, SpyFu offers a range of handy tools for competitive intel, PPC, reporting, keyword grouping, and more.
Pros:
An all-rounded list of tools for SEO and marketing;
An intuitive interface of dashboards that's suitable even for beginners;
Detailed insights;
Customizable reports.
Cons:
A free trial is not available by default – users need to request a demo to learn more about the platform;
The platform doesn't support many third-party integrations.
Pricing
SpyFu is a rather affordable platform. All in all, there are three paid plans to choose from:
Basic – $39 per month;
Professional – $79 per month with the first month at a discounted price of $39;
Team – $299 per month.
These are the prices for the monthly billing. However, if you choose annual billing, it will reduce the monthly cost.
Also, it's worth noting that although SpyFu does not offer a free trial, it does have a 30-day full money-back guarantee.
Use by Agencies
SpyFu was designed for agencies and businesses. It offers a broad range of features for keyword research and management, backlink analysis, competitor analysis, and many other purposes. The platform offers additional marketing tools as well. However, multiple accounts are only supported in the team plan (the most expensive one), which is rather disappointing.
Verdict
SpyFu does not offer a free trial, lacks supported integrations, and only allows multiple users in its most expensive plan. Still, SpyFu can serve as a pocket-friendly option for agencies looking for a flexible and customizable, all-in-one solution for SEO.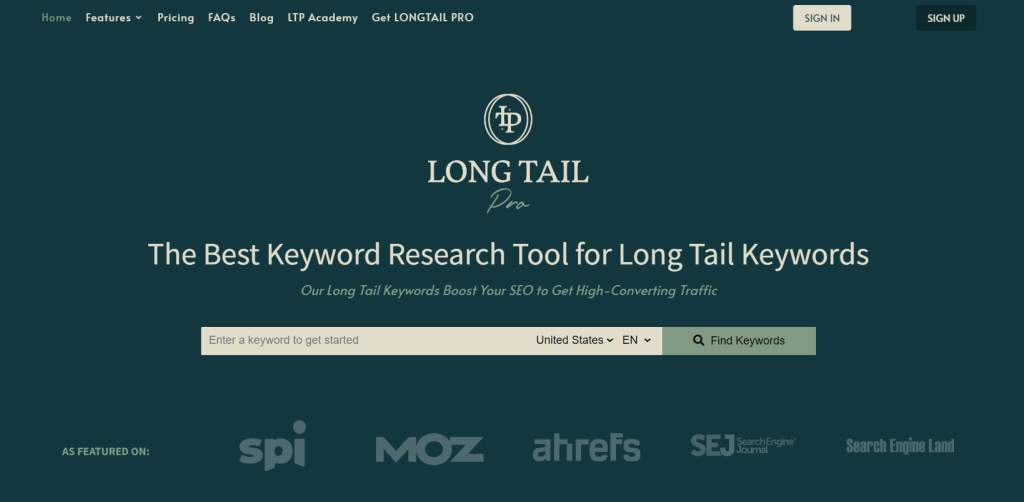 The final Semrush alternative on our list is Long Tail Pro. The platform has everything SEO teams might be looking for. It allows you to audit websites, discover efficient keywords, analyze backlinks, analyze SERPs, and track your rankings in search engines.
Pros:
All vital SEO tools in one place;
An intuitive user interface that's easy to get used to;
Flexible pricing plans;
In-depth keyword research data.
Cons:
Although it has all the basic features an SEO team needs, it lacks some advanced features that are present in other similar platforms;
There is no free trial or plan that can be used to test the platform;
The prices aren't the lowest on the market given the limited list of features.
Pricing
Long Tail Pro does not have a free trial, nor does it have a free account option, which means that you can only see what's inside after buying a paid subscription.
As for the paid plans, they are quite flexible, though not the cheapest ones on the market. There are three options to choose from:
Starter – $59.99 per month and 2 supported projects;
Pro – $89.99 per month and 10 supported projects;
Agency – $299.99 per month and 35 supported projects.
The indicated prices are valid for users who choose monthly billing. Annual billing saves you 25% .
Use by Agencies
Long Tail Pro offers all the basics that an SEO agency might need. It lets you conduct keyword research and collect valuable keyword data. It also allows you to run website audits and analyze SERPs to find areas for improvement in your SEO strategies. On top of that, there is a tool for link analysis and rank tracking. Plus, there is a Long Tail Pro Academy for teams seeking professional development education .
Verdict
Long Tail Pro is a basic tool for agencies that covers the most crucial aspects of SEO. It does have a few drawbacks, such as a fairly high price. Still, it brings good value and can serve as a good alternative to the popular Semrush.
Conclusion
Semrush has been around for years, helping SEO specialists and agencies access valuable insights and streamline their daily operations. It's trusted by many users across the globe. But it's still not the only good solution out there.
After reading our guide, you know about the top 10 Semrush alternatives that might be cheaper, more intuitive, or more feature-rich. Hopefully, this guide will help you pick the best option for your team!