Many SEOs talk about the importance of backlinks, but it's just as important for SEO to have good internal linking on your website.
Internal linking allows your users and crawlers to better navigate your website and find content, products and information.
If you are looking to learn the best practices for internal linking then read on:
What is a Link?
A link or hyperlink is an active and clickable link to another page or website.

Links are often blue and underlined but can be other colors or formats with CSS styling but a link can be a number of things like a menu item, image, or in-content links. As long as it has a tag and links to another page or source, its a link.
In HTML, a link looks something like this:
<a href="http://ninjareports.com/seo-analysis-tool/">SEO Analysis Tool</a>
And that HTML code would output this in the browser:
As mentioned before, links can be internal links to your other website pages or external links to other websites and sources.
Internal Links vs External Links
So what is the difference between internal and external links?
Internal links are links on your website pointing to other pages of your website. This could be a menu, a footer link, in-content links, or even images.
External links are links on your website that point to other websites or URLs that are not your own. You can use a backlink checker to find websites linking to you.

Its best practice to use both internal and external links on your website. Keep reading on about why internal linking is important.
Why Should You Implement Internal Linking?
Its widely know that links coming into your website (backlinks) will help you rank higher in search engines. But many people forget that internal linking is also a very important SEO strategy to increase rankings.
Search engines often look at your internal linking structure to decipher which pages are the most important on your website, which keywords to rank your pages for and a number of other factors.
A good internal linking structure can help your website rank higher in search engines, bringing in more organic traffic, leads, and sales.
Better User Experience
The most important reason to implement internal linking is to create a better user experience on your website.
This results in visitors staying longer, visiting more pages, and spending more time on your site… which is a good thing in Google's eyes.
By creating internal linking on your website, it will allow your visitors to easily access other pieces of information or areas of your website.
Passing Link Equity
Often referred to as link juice, Pagerank, DR, DA, Mozrank, or PR, the link equity is the number of backlinks you have pointing to a page and how powerful those links are. The more high link equity backlinks pointing to a page, the more crawlers are visiting and the more likely for that page to rank well in search engines.

When you implement good internal linking, the link power you get from other pages can be passed to your website's other pages just by that one link.
You can do this by having an easily navigated website that links to all pages within 3-4 clicks.
That way, if one page gets a link, some of the link equity is passed to the other pages on your website that are linked to that page.
Internal Linking Best Practices
Here are some best practices and recommendations when thinking about internal linking for your website:
Website Structure
The structure of your URLs, pages, and silos is vital to creating a good user experience and linkable website.
This means having a navigation menu (or more), sidebars with relevant links and a well thought out website structure.
Users will be able to better navigate your website and pages to find the information they are looking for. Not only that but crawlers will be able to find all of your pages and index them without any issues.
Keyword Rich Anchor Tags
Anchor tags are an important piece of internal linking that you should know about.
An anchor tag is the text portion of a link that is clickable. Search engines look at anchor tags as a potential keyword to rank the linked page for.
Since the text is used as an anchor is linking to the other page, it's likely that the page is about the keyword used in the anchor tag.
So creating keyword-rich anchor tag links in your content can really help rank you for those keywords you are using as anchor tags.
For example, we could link to our DA Checker tool list using the anchor tag 'DA Checker tool lost' and that helps us rank for that keyword.
Orphaned Pages
Orphaned pages are basically what they sound like (even though its a little sad).
An orphaned page is a page that is on your website but not being linked from anywhere. Hence where the name orphaned comes from.
Orphaned pages are bad for SEO for a few reasons:
Crawlers won't be able to crawl your page because there are no links pointing to it.
Site visitors won't be able to find your page through any navigation or links.
Search engines see these as non-important or relevant pages
For these reasons, its important to link to these orphaned pages (and all pages) so that your entire site is linked together.
This will result in better crawling, navigating, and search engine rankings.
Fix Broken Links
Broken links can really hurt your on-page and internal linking.
If your website is pointing to a page on your site that no longer exists or never did, you may get dinged by search engines.
Many on-page SEO audit tools will show you any broken links on your website. Fix these links so they are pointing to a page that is there.
Link to Money Pages
Your money pages are the most important, revenue-generating pages on your site.
This could be a signup page, product page, pricing page, etc.
It's a smart idea to often link to these pages all-around your website in order to build the link profile to these pages.
When most of your pages link to a certain page, search engines see that those pages are probably the most important.
Be sure to use relevant and keyword-rich anchor tags when building links to your money pages. I would also recommend not linking out as much from the money pages to really build up the domain authority.
Internal Linking Tools
There are a number of internal linking tools that you can use on your website to easily implement a good internal linking structure.
Ahrefs
Ahrefs can run a full SEO audit on your website and see if there are any orphaned pages and also how good your internal linking is.
Its pretty simple to use if you are an Ahrefs customer.
Just create a new project, add your website URL.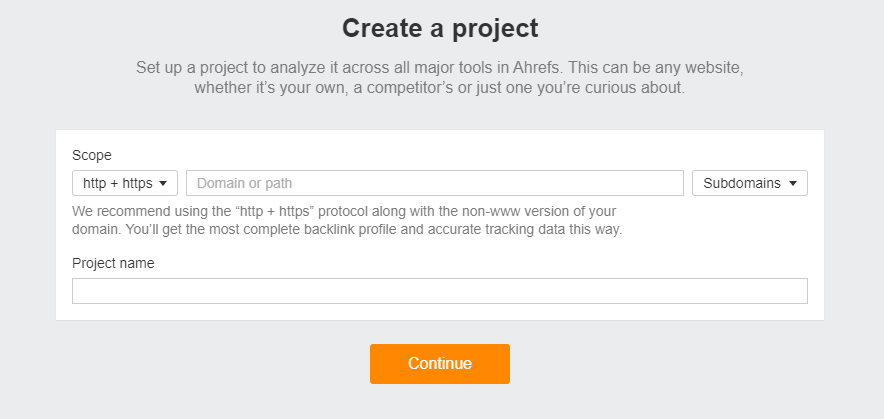 When you get to the site audit settings, you can set it to run once or run a weekly/monthly crawl.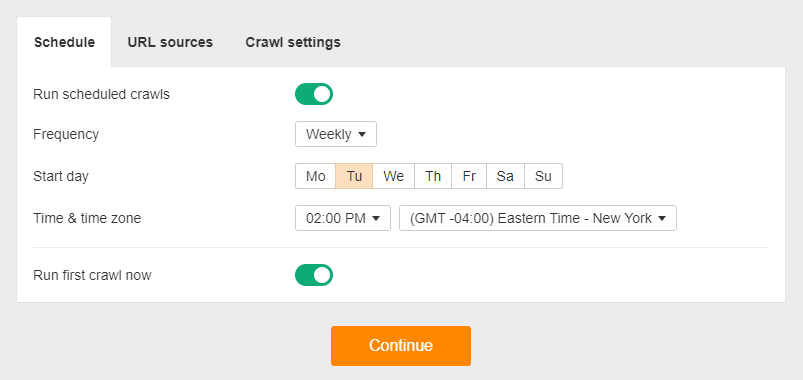 Make sure the 'run-first crawl now' checkbox is on and then click continue and the Ahref crawlers will crawl all of your pages and check thousands of SEO factors against your site.
Once the audit has completed, you will see a plethora of data about your on-page SEO.
Towards the bottom, you can see the Top issues list where you can view all of the issues that Ahrefs finds.
Look for broken links, orphaned pages, and internal links to redirects. These issues should all be fixed to ensure proper internal linking.
Internal Link Juicer
If you use WordPress then the Internal Link Juicer Plugin is a must.
This plugin will allow you to set certain anchor tags or keywords for your posts and when those keywords are used in other posts, it automatically links to them.
Here is an example of this post: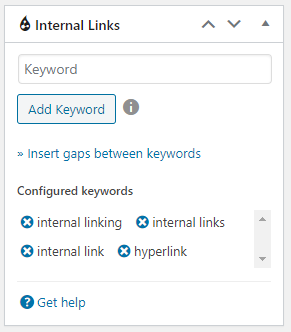 So now if you use any of the following keywords in another blog post, it will make that text a link to this post:
internal linking
internal links
internal link
hyperlink
You can create a deep linking profile on your website like no other with the Internal Link Juicer plugin.
Conclusion
In conclusion, internal linking is yet another effective and important SEO technique to deploy on your website properties. Better internal linking means better crawling, better navigation and better rankings.