So you just launched a brand new website and you want the world to find it.
If you are a half-decent digital marketer, you know that search engines are how people find websites online these days.
But how do you add your new website to search engines?
Well, lucky for you, I have been adding websites to search engines for over 15 years and can help you submit your website to Google, Bing, Yahoo, and every other search engine there is!
Why Submit Your Website to Search Engines?
You may already know this but when your website is indexed in search engines, people can find your website and you can turn these visitors into dollars.
I would recommend submitting your website to Google and other search engines right away and I will show you how to do that in this guide.
Will Submitting Your Website Get You More Traffic?
Technically speaking, submitting your website to search engines will not necessarily get you more traffic.
There is a lot more involved with getting your website ranked higher in Google and other search engines, but the first step is to get it indexed in search engines.
What is an XML Sitemap?
An XML sitemap is an XML file that lists all of your website's URLs, where to find them, and how important they are to your site.
The XML sitemap is different than a webpage sitemap in that it's not for users but for search engines.
If you are on WordPress or another CMS, you can easily generate an XML sitemap using an addon or plugin. Alternatively, you can use an XML sitemap generator to manually craw your site and create a sitemap file.
Once you have an XML sitemap, you can submit it to Google, so they know all of your web pages and where to find them. This can help get your website pages indexed in Google faster and more accurately.
How to Submit Your Website to Google
Google Search Console
Google Search Console (or Google Webmaster Tools) is a management interface that allows you to submit your websites, view rankings, website statistics, and other really great information.
To add your website to Google, you will need to head to Google Search Console and log in.
The first step is to enter your URL into the URL prefix box. Make sure you enter your URL as it is on the web. The easiest way to do this is to just go to your homepage and then copy the URL.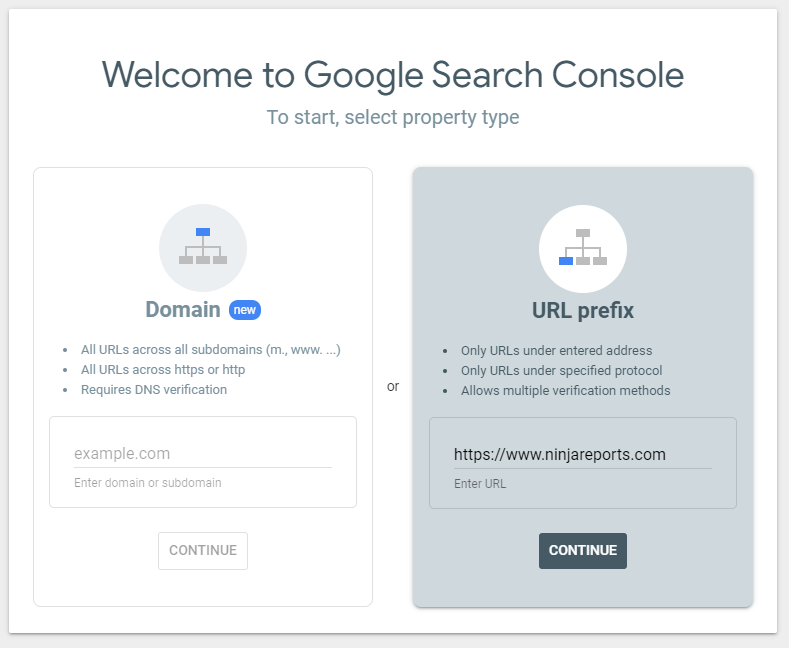 Paste your URL and then click the 'CONTINUE' button in order to go to the next step.
The next step is to verify that you actually own the domain or URL you are trying to add. There is a number of methods you can use to verify your website in Google Search Console.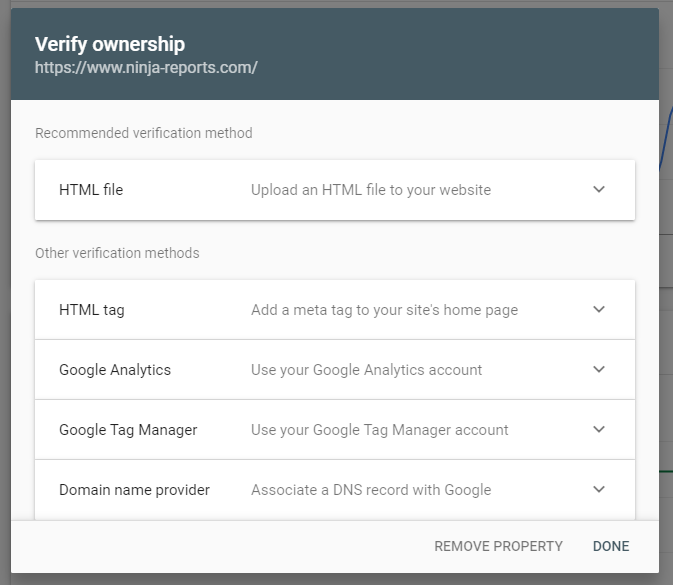 Verification Methods
HTML file
HTML tag
Google Analytics
Google Tag Manager
Domain Name Provider
The easiest methods are adding the HTML tag or Google Analytics. If you are on a CMS like WordPress, most SEO plugins will have the ability to add the HTML tag code into their plugin to verify your website.
Alternatively, if you have installed Google Analytics on your website, then you should already be able to verify your website.
Once your website is verified, its time to submit your XML sitemap to Google.
Go to the 'sitemaps' tab and this is where you will enter in the location of your sitemap. If you used a custom XML generator, you will need to upload that file to your server and then enter where the file is located.

If you are on a CMS like WordPress, your sitemap will most of the time be located at sitemap_index.xml.
Once you submit your new sitemap, Google will scan your pages and you will see the sitemap status below. If Google is able to find your sitemap, you will see a 'Success' message or an error message if it was unable to find it.

You can click on your sitemap to view even more details about the sitemap like how many pages were crawled, etc.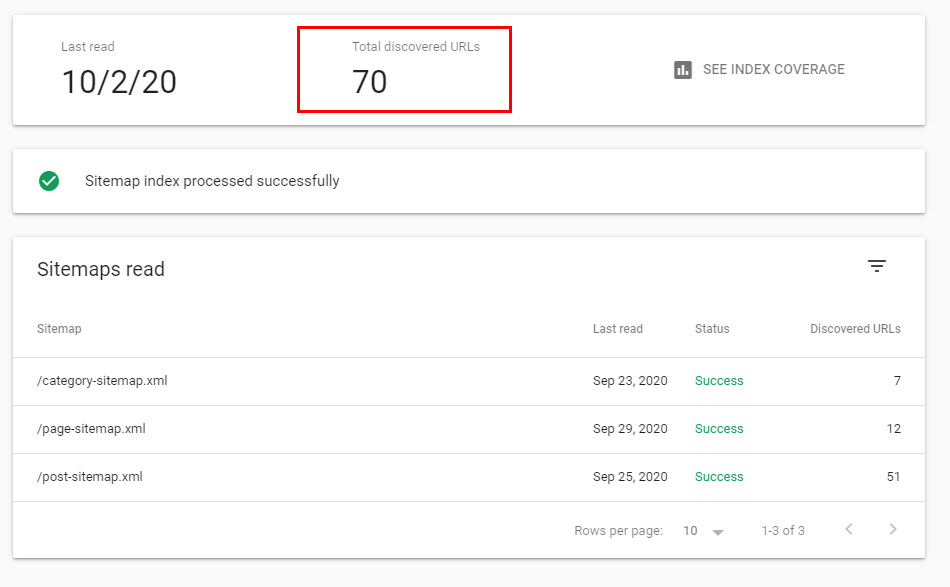 Lastly, you should inspect your homepage URL so that Google crawls it and it can get indexed (added) in Google.
Simply copy your homepage URL and paste it into the inspect URL bar at the top of Google Search Console.
It will spit back if your URL is indexed in Google or not and some other data about your pages coverage, mobility usability, etc.
You can click the 'Request Indexing' button to request that they add your website to Google.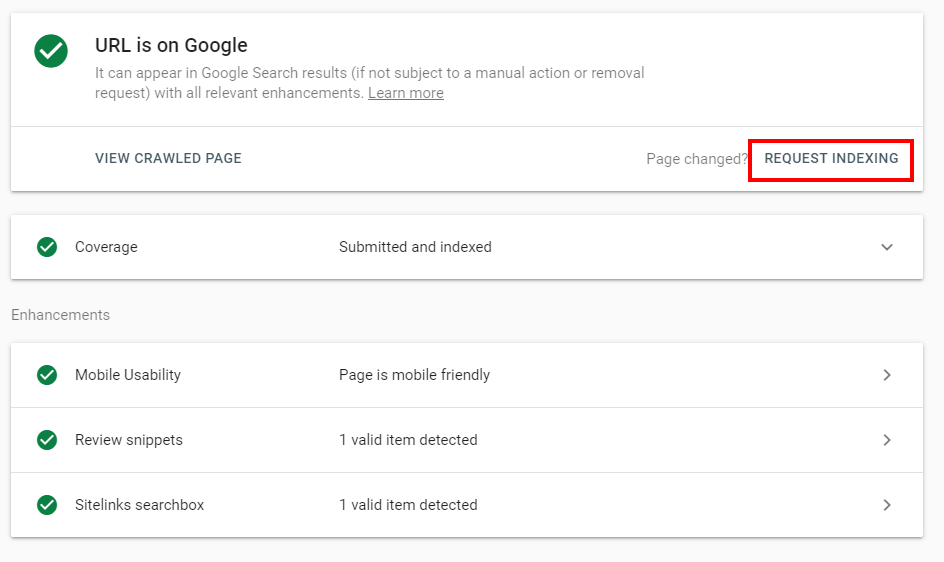 Congrats, you have submitted your website to Google!
How to Submit Your Website to Bing
Submitting your website to Bing is very similar to adding your website to Google so let's get started.
Bing Webmaster Tools
First and foremost, you will need to sign up for Bing Webmaster Tools.
Once you are logged in, you will see a similar layout to Google Search Console. Click the dropdown in the top left corner and click 'Add a Site'.
Now, the cool thing about Bing Webmaster Tools is that since already created a GSC (google search console) account, you can easily import your site from GSC to Bing in seconds.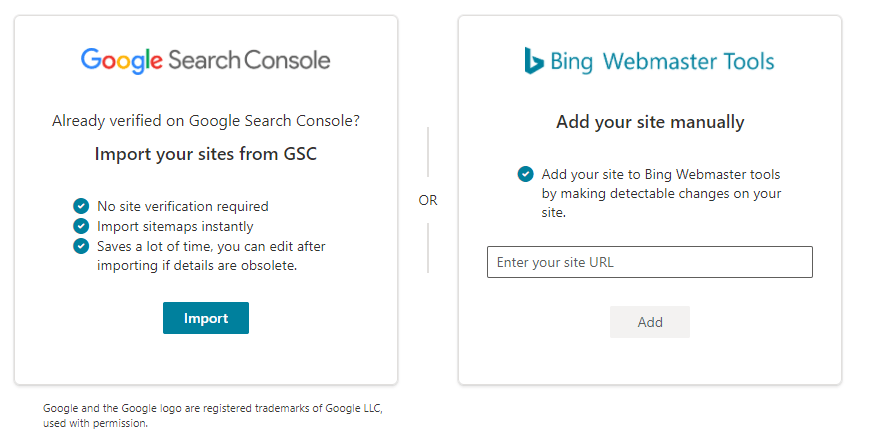 If you did not add your website to GSC, then you can simply enter your URL in the right box. But if you did, click the 'Import' button in the GSC box.
Choose the Google account that you signed up with GSC for and click 'Continue'.
If you have multiple properties in Search Console, you can import all of them easily with this tool. Simply select the sites you want to import and click 'Import'.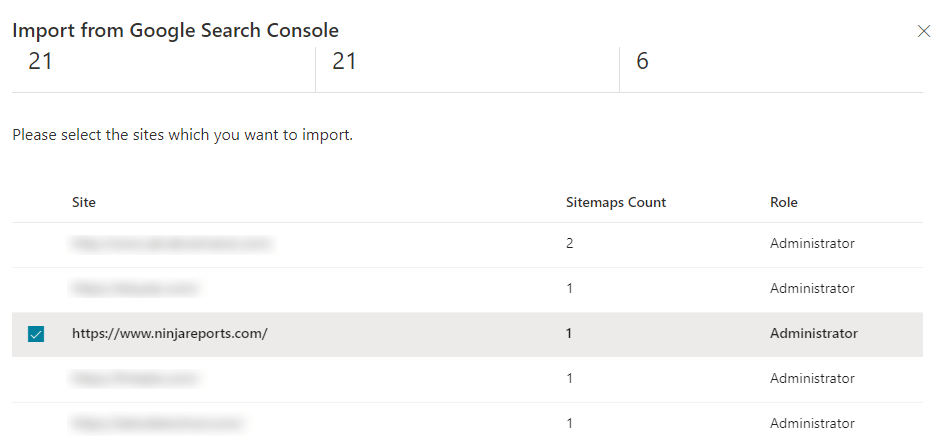 Bing will now compile all of the data from your website and Google Search Console.
Finally, to submit your website to Bing, click the 'URL Submission' tab on the left and then click the 'Submit URLs' button to add your homepage URL.

Congrats! You have now submitted your website to Bing AND Google!
Getting Search Traffic To Your Website
Submitting your website to search engines is the first task to get your website ranked, but you will need to do more in order to get traffic from Google.
Adding your website to search engines is simply not enough anymore. Here are the most important ways to get more traffic to your website:
Backlinks
Backlinks are when another website or domain links to your website or pages. To search engines, backlinks are seen as 'votes', and the more 'votes' a page has, the better it will ultimately rank.
But generating a million spammy or low-quality backlinks won't help you much. These days, you need to build relevant and high-quality backlinks in order to see good results with SEO.
Content
Without content, search engines don't know what keywords to rank your website for. That is why it's so important that you are always building content on your website around your niche, industry or product.
This increases the number of keywords your website can rank for and will bring in more traffic from those keywords.
Long-form content is the best type of content to generate a lot of online traffic. That means building content 2,000 words or longer that cover a wide variety of certain topics.
This guide you are reading right now, for example, is a piece of content that you found through search engines.
Conclusion
So wrapping up, submitting your website to search engines is the first step in getting organic traffic online.
While submitting your website to Google and Bing is quite simple, this is just the beginning of getting more visitors. You will need to build high quality content and backlinks in order to grow your traffic and get more customers online.