Unless you've lived in a cave for the last decade, there's a good chance you've come across the term SEO. And you've probably been told it is an absolute necessity in today's market for any business to truly succeed.
Search Engine Optimization is essential for steering potential clients your way and ranking at the top of online searches so your business is discovered.
Knowing how to use proven Search Engine Optimization practices in the best possible way, whether organically or with paid campaigns, gives you the edge you need in today's world. The more visitors to your website, the more conversions into customers are possible.
That is why we have put together a list of SEO books, the ones we believe are the best available out there to give you step-by-step guidance and methods to utilize all SEO has to offer.
Whether you are a beginner or advanced in SEO techniques, want to use these skills for your own business or to provide services for other businesses, everything you need to know is contained in these informative, easy to read SEO books.
1. Search Engine Optimization All-in-One For Dummies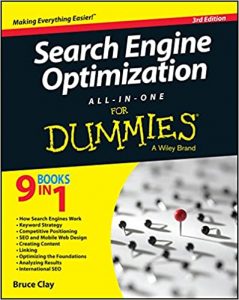 This book by By Bruce Clay is one of the oldest SEO books and the first book on our list.
Who wouldn't love the classic learning book for dummies? When just starting a new venture, it's hard not to feel like one! Bruce Clay explains Search Engine Optimization in non-technical terms. You'll learn the methods, principles, and tools you need to be successful.
Become knowledgeable about keyword, content, web design, and linking strategies in easy-to-read language that positions you higher in rankings and makes your business appealing to visitors.
Clay also discusses optimizing your site for mobile devices, learning from your competitors, and how to create compelling content, build your brand, and use analytics to monitor the success of your efforts.
Additionally, he explains the ever-changing algorithms and new technologies so you stay well informed. You can progress one step at a time or focus on one particular area. It's up to you!
This is a great book for beginners or anyone wanting to sharpen their understanding of this topic.
2. SEO Fitness Workbook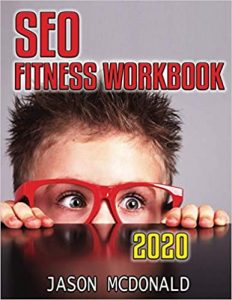 Jason McDonald is a search engine guru. His book contains detailed steps covering how to increase your Google and Bing rankings. Though the writing is clear and easy to understand, its content is so useful that the book is used as a guide at Stanford Continuing Studies. Steps covered are:
Defining your goals
Learning about keywords and phrases
Creating content readers like
Building links
Mastering Google analytics to improve marketing
As a bonus, the book provides additional resources, free tools, worksheets, video guides, and access to the Marketing Almanac. McDonald's book makes ranking a more graspable subject for everyone.
3. 3 Months to No. 1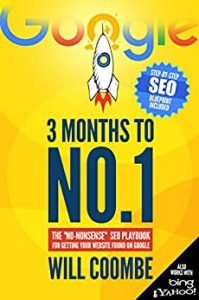 Will Coombe runs a successful London marketing agency. You can save thousands of dollars by reading his book and handling the optimization of your business yourself.
Coombe's book includes a 14-part free video series full of tutorials to strengthen your knowledge. It also contains a clear SEO blueprint and checklist to make sure you're staying on track.
The author shares his best secrets, and also helps you find profitable keywords, create effective backlinks, and learn how to use search engine protocols in WordPress, along with other technological elements you may struggle with on your site.
The search engine optimization book also covers social media marketing and how to avoid Google penalties for using optimization techniques the wrong way!
Coombe declares that if you follow his step-by-step guide, your website will rise to the top of Google searches in just three months. That's an exciting prospect that makes this book worth checking out.
4. The Comic Guide to SEO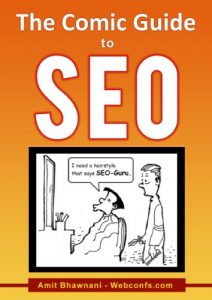 Why not add a little humor to your learning?
It sounds like a fun way to gain invaluable know-how. Amit Bhavnani's book has 55 pages of packed SEO information presented hilariously and interestingly.
The frustration of trying to understand a new subject is calmed by the laughter provided on every page.
This is a great SEO book for newbies with a sense of humor who enjoy cartoons. It's a popular choice on Amazon and don't you worry, it covers all the intricacies of improving your ranking and how to do it successfully.
5. Ultimate Guide to Link Building
Eric Ward is one of the world's leading pioneers and experts on backlink building. This SEO book teaches you how to design a link building campaign from scratch. You'll learn link acquisition strategies like:
How to find effective backlinks
Qualify backlink prospects
Use tools that track your progress
You'll become skilled at competitor backlink opportunities, as well as learn how to build relationships with other websites and businesses.
Link building can get complicated and sometimes watching a YouTube video just isn't enough to adequately understand how to harness the power of links for your business.
This marketing book is an excellent choice to deepen your comprehension of a very valuable tool from one of the great leaders in this field. Master the craft of link-building.
6. Everybody Writes: Your Go-To Guide to Creating Ridiculously Good Content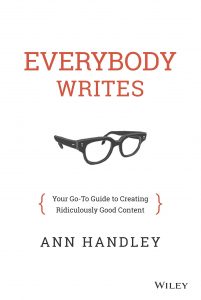 Compelling content is the cornerstone of moving your business up in Google searches.
Ann Handley explains the art of content writing beautifully and effectively in this comprehensive book. She discusses style, voice, flair, humor, emotional connection, along with proper grammar and publishing rules to remember. This read will help you express your ideas through writing with confidence.
Handley takes the "hate" out of writing with fun, encouraging strategies. She helps you put the heart back in your writing, in turn invoking trust from the reader. Genuine writing is a sure way to gain clients or customers that want to come back for more.
Whether you're new to content creation or need to brush up on your skills, Handley delivers on how to create "ridiculously good content" making this a must-read for anyone serious about increasing their business visibility.
7. SEO Like I'm 5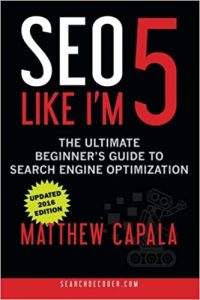 This title is enough to sell anyone! Often it's exactly what you feel like when trying to learn something new. "Please pretend I'm a 5-year-old so I can keep up!"
Matthew Capala's book does just that. This is the ultimate guide for beginners. It gives you hands-on strategies to put into action.
One of the important things Capala reminds us is that even though Google algorithms change all the time, one thing remains the same—the need to write for your reader, not for the search engines. That's the best way to ensure they'll come back to your website, again and again, trust you, and eventually become a customer.
The SEO-focused book has excellent examples and asks crucial questions for you to consider like:
What value are you providing?
Does your content convey what that is?
How do you build a reputation online?
How will you measure your content performance?
How will your content and business become the go-to destination?
You'll begin to understand the value of authentic writing as part of your marketing campaign and be glad to have read this gem.
8. The Art of SEO

This SEO book is one of the most popular best-selling one's available today. You'll receive the expertise of three experienced practitioners that understand the current landscape and the advanced tactics necessary to navigate your business online.
You'll get a history of search engine optimization. You'll also learn how to evaluate your content and how to do keyword research, optimize website development, and get a lesson in algorithm elements such as panda, penguin, and search engine penalties.
This SEO-related book goes into great depth necessary for the novice and the advanced marketer. This is where you'll learn about the intricacies and complexities of the subject, the underlying workings, and theories of search engines, an understanding of how social media, links, and user data to factor in, as well as mobile, local, and vertical SEO.
If this sounds confusing, all the more reason to get this book! You'll get a detailed education on the best practices, and also many references to support you as you move forward. You'll learn how to build a marketing team if you need one and even get a glimpse into the future and where the market trends are heading.
It's easy to understand why this SEO book is an essential one for your library!
9.SEO 2020: Actionable, Hands-on SEO, Including a Full Site Audit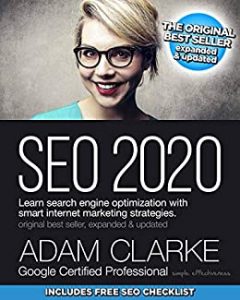 If you worry that the methods you're using may ruin your rankings because they are wrong or outdated, then this is the book for you. What you learn will alleviate your fears of Google penalties in the future, as well.
This is an advanced guide if you're ready for it. Williams teaches you tested techniques that will prevail well into the future. Among these:
How to build valuable backlinks
Write high-quality content
All of these factors help you stay on top of rankings despite any algorithmic changes ahead.
You'll get full-site audit methods to keep your website strong and popular with Google. These strategies are safe and effective, not fleeting or damaging to you in the long run. Following the wrong advice or out of date information can be deadly for your business.
That's why this SEO book is imperative for peace of mind and lasting through the long haul necessary for success. Shortcuts and trying to fool Google is too risky. The strategies in this book are tried and true, and will always be successful because they're based on authenticity, value, and quality.
With all the effort you're making to successfully market your business, placing it in the hands of people who may not be as knowledgeable as they claim is a huge gamble. Trust a well-versed professional like Williams with something so important instead.
10. How to Get to The Top of Google in 2020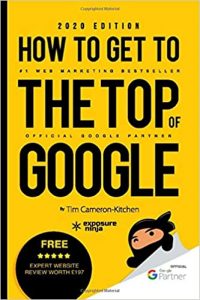 This book by Cameron-Kitchen is packed with valuable information to get your website on the first page of Google searches. The strategies in this book have taken businesses from $2000 to over $900,00 per month and taken new leads from 35 to over 100 a day. That's a pretty strong selling point!
You'll read about the best up-to-date practices to use that avoid the usual pitfalls that happen when you first begin. Also included are the exact processes to generate thousands of leads, such as backlinking from other sites and social media platforms.
Cameron-Kitchen shares the secrets behind the world's most effective campaigns. Learn how to spot weaknesses in your campaign, and know if your team is giving you good value.
Your isolated blog can become a main traffic spot and sale generator. You'll learn how to lock in the continual long-term improvement and secure place in the future. This is one of the most comprehensive guides to successful SEO and worth the investment.
11. Content Machine: Use Content Marketing to Build a 7-Figure Business With Zero Advertising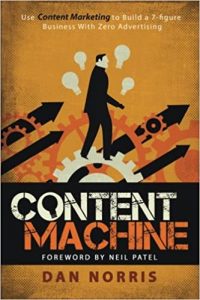 Content marketing is the crux of this SEO book. Dan Norris covers the fundamentals involved in strong writing that will help your business in this book.
You'll learn how to:
Become highly visible online
Achieve a connection with the reader
Build relationships with your visitors
Create trust and authority that makes you a Google favorite
This book provides downloads and models to assist with every part of content marketing you need to know. You'll learn how to come up with ideas, how to write them, and even how to hire the right content team. You'll stand out from the crowd and have the challenge of great writing simplified into doable steps.
Norris grew his WordPress support business from scratch to an annual 1 million dollars in only 2 years spending only $181.23 dollars on advertising. He prevents you from making the biggest mistake when it comes to content marketing and instead shows you how to build a faithful audience that will come to love you and what you provide.
For a small price, the Content Machine will give you a much larger ROI for all your time and work, something you have to appreciate.
Conclusion
Now that you've taken a closer look at the books available for you to gain a deeper understanding of how search engine optimization works and how you can implement it across several online mediums, I hope you take advantage of the cost-effective education they provide. You'll receive a substantial return on your investment.
Reading a book may be the last option people choose these days, but books still provide one of the most thorough ways of learning a subject. There is no better way to increase traffic to your business than using the techniques covered extensively in these SEO books.
Written by experts and professionals, you can't go wrong. I wish I had started reading them a lot sooner!