If you want to increase your site's visibility in search results and raise your page rank, you need to acquire quality backlinks.
But in order to see if a backlink is a quality or not, you will need to use a backlink checker to see if the domain is worth getting a backlink from. With these best backlink checker tools, you will be able to monitor your competitors and strategize how to improve your website rankings.
You can get both free and paid options according to your preference and still get premium results.
Here are the 15 best backlink checker tools online:
1. SE Ranking
SE Ranking backlink report is your key to understanding the backlink profile statistics of any website. Just type in the domain you want to check and get everything you need for your off-page SEO analysis: domain and page trust scores, new and lost backlinks and referring domains, nofollow to dofollow link ratio, and more. The tool also has a flexible system of filters, so you will easily find what you need.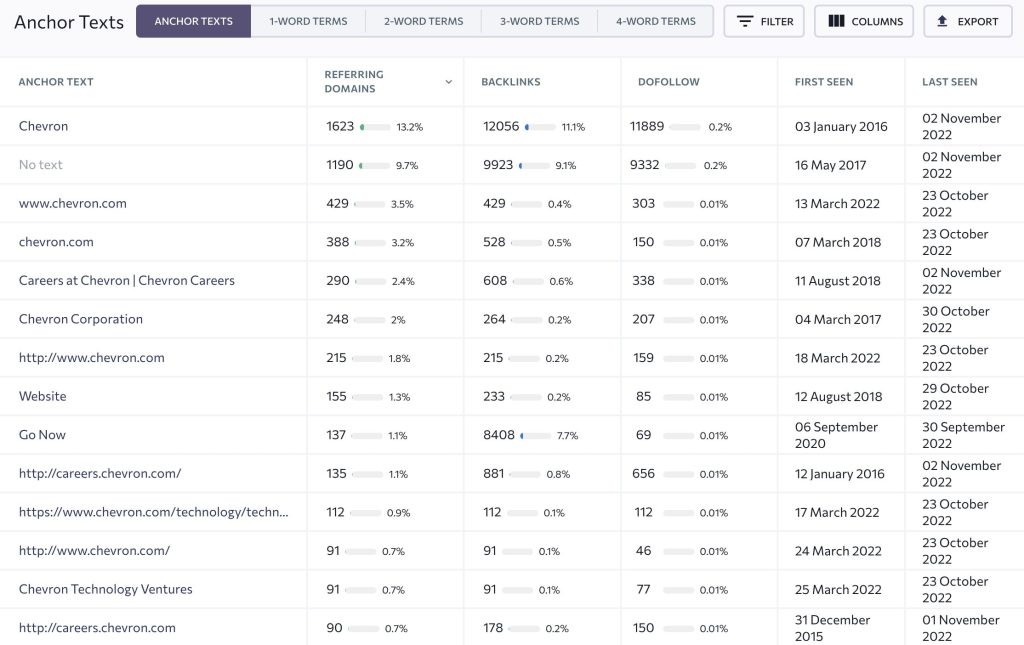 Aside from the Backlink Checker, SE Ranking offers you a powerful set of tools to cover any SEO needs and processes. 

Use them to check both your and competitors' websites to get precious insights. For example, find out where they get backlinks from and where you may have missed an opportunity. 
Pros:
Amazing data visualization

Accurate backlink info

Data-rich and easy-to-comprehend reports

Affordable
Cons:
API only available for the most expensive plan
SEMRush is an excellent tool that lets you search for keywords, check backlinks, and spy on competitors' ranks.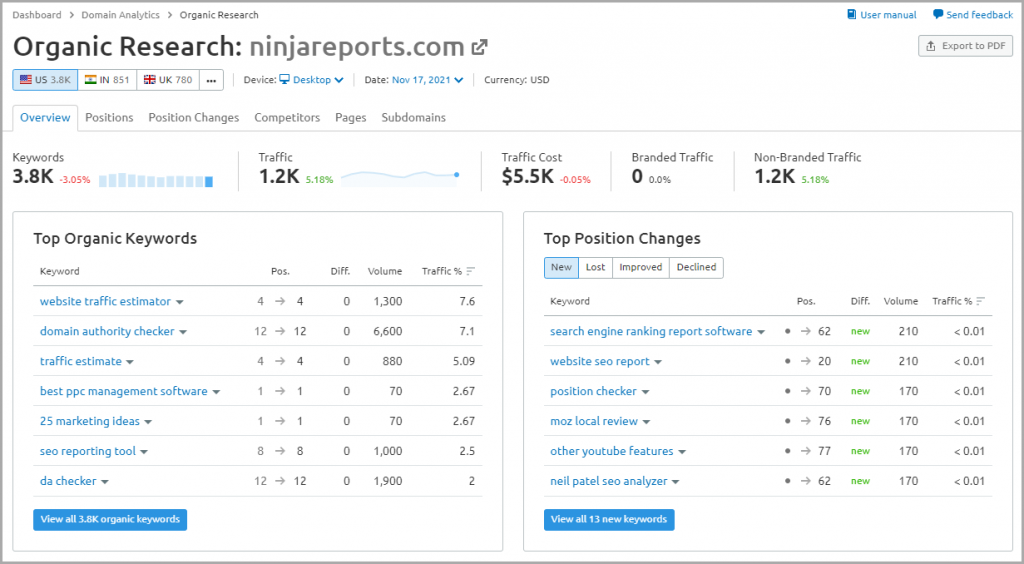 It's a perfect marketing tool that can help you in online ventures via various apps such as advertising toolkit, Social media toolkit, SEO toolkit, content marketing toolkit, and more. It also offers you a free trial on the pro membership.

With SEMRush, you get access to massive information, including how your competitors have found success. You can use it to perform the following functions;
Get link-building opportunities.
Tweak your site to achieve higher rankings.
Create web content to attract more traffic.
Additionally, the platform can help you approach the websites that are worth your backlinks and phrases that would be hard to rank.
Pros
Tons of tools
Accurate data
Largest SEO Tool
Cons
Learning Curve
Expensive for some
Ahrefs is one of the most powerful SEO and research tool with an extensive link index to store large data volumes. You can use it to spy on your competitors' backlinks, keywords, and more. It's a premium tool but also offers a 15 day free trial with an easy-to-use interface.

The dashboard is full of information, but it's straightforward to use even for beginners.
Once you enter a link on the platform, you can derive lots of details, such as the level of influence in a specific URL. It also shows you a graph on domains and backlinks progress. Additionally, you can tell the amount of organic traffic your site has gained over time.
Cons
Expensive
Only organic traffic data
Linkody is a straightforward tool that lets you know when your backlinks drop or when new ones emerge.
It features white-label reporting to give you regular updates on link-building strategies.
Additionally, you learn the SEO value of your site's backlinks from standard rank metrics of big players like Majestic, Moz, and Alexa.
It also has the disavow rule generator to assist in keeping spam links at bay.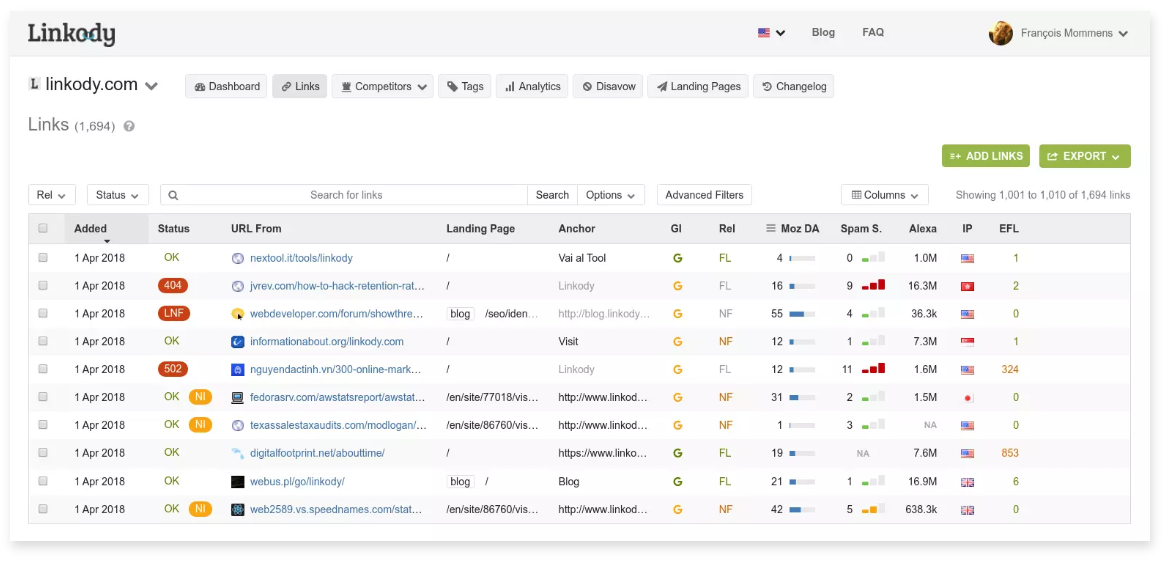 It has easy to comprehend dashboard with important link metrics that give an overall review of your link profile based on Google algorithms. Moreover, Linkody crawls to look for fresh backlinks that point to your site. It also gives you useful data on your competitors' SEO techniques. Still, it sends you email reports on new links for your domain.
Ubersuggest is a perfect tool that aids in getting keyword suggestions, learning about other players in your scope, and finding new content ideas.

If you don't wish to spend on an SEO tool, this software is an ideal option, and it still provides an in-depth analysis of most features for free. Moreover, if you want to unlock its full potential, you can opt for the premium option, which is budget-friendly.
You will enjoy the all-in-one platform since it's easy to use in every process to make sure you thrive. If you need to beat others in the marketing field, you can get quick, actionable insights to boost their site. Further, Ubersuggest has understandable and straightforward metrics with daily keyword updates to assist you in making better strategies.
Majestic is a search engine optimization tool that helps survey the internet for backlinks to your site. It has a significantly big database to give better outcomes. Depending on the search resources you want to access, it has three pricing tiers ranging from lite to fully-featured API.
You can opt for the former option if you want low-level checks; the pro-plan gives additional features while the latter gives you access to the system's code for integration with your system.
It comes with easy to interpret metrics that you can understand at a glance, coupled with the ability to get in-depth information. In case you have trouble with the advanced tools, the Majestic Help Centre has lots of information that can assist you. Alternatively, you can send an email to the support team.
Moz Pro is one of the best backlink tools that helps in SEO marketing. It has a wide array of features aimed at improving your digital marketing results and facilitate more effective campaigns. Additionally, it comes with a versatile toolkit that makes it simpler to use for small and large businesses.
You can opt for four different pricing options with varying monthly limits and features. If you prefer using it, it would be best to subscribe to the yearly plan to enjoy a discount. Some key features include;
Keyword explorer that helps determine queries that visitors use.
Link explorer to help develop a better profile.
SEO crawling that helps check for common problems on your site.
Link Miner is a quality tool that aids in checking for backlinks on your page and a competitor's site. You can use the checker to monitor the links that your site has generated and filter them to your liking. It has a variety of unique features for its users to make it easier and quicker to use and has a ten-day free trial.
The website review feature makes work more efficient when comparing backlinks since you don't have to leave the main window. Moreover, it can help you categorize specific link types so that you know what to prioritize. Also, to make a good campaign strategy, LinkMiner makes the process easier by letting you save URLs for later scrutiny. Therefore, you can generate adequate data and increase productivity more than other players in your sector.
Backlink Watch is an excellent SEO tool that lets you get information on different sites for free. While using the backlinks checker tool, you can see all the links pointing to your site by typing the URL on the search box.
It's simple to use, making it perfect for a beginner to analyze competitors' links. You can perform multiple checks on web-links and collected data in an organized datasheet. Every report has various tabs, including external backlinks, anchors, keywords, raw reports, referring domains, rank reports, and more. Further, you can sort out the results to get specific details.
You can use it online instead of downloading it, and it also categorizes 'nofollow' and 'dofollow' links in the inbound reports.
If you want to monitor the profile of a particular website, SEO Spyglass is an excellent checker. It gives essential data about each link generated, such as the page rank. You can see where other players are getting their backlinks to help take advantage of various opportunities for improving your page's search presence.
An essential aspect of SEO Spyglass is helping you establish the relevance of specific keywords used on other sites. Therefore, you get to know the amount of traffic the page could receive from one specific link. Additionally, the software shows the quality and value of each link and their IP addresses. It helps you develop the necessary tactics to increase visibility and the number of people visiting your site.
CognitiveSEO is a checker that offers you various tools to help with insights and analyses to improve your SEO campaign. Whether you run an established enterprise or a small business, this tool will help you increase traffic. Additionally, it aids in establishing the best digital marketing techniques.
If your site has any SEO problems, CognitiveSEO flags all the issues and provides the best mechanisms to improve your visibility. It features a comprehensive site audit that influence rankings, Google penalty prevention and recovery, Content optimization, keyword search, and much more. Further, it has an analysis process to enable you to get every critical data for internet marketing. You can also monitor the link building strategies that your competitor uses to come up with better tactics.
In case you want a backlink checker for social media and content marketing analysis Buzz Sumo is a good pick. It can help you with various functionalities such as;
Get alerts on links, keywords, brand names, domains, or author names once the content is updated or posted. Therefore, you can know the best step to take in your marketing efforts.
Find influencers related to specific subjects to know who you need to get on your side.
Monitor competitors and do a deep dive into their content to know where you stand, and what would work best.
Find the most shared content on social media and the topics that get the most attention.
Kerboo is a link analysis tool that covers almost all aspects of SEO optimization and website maintenance. It lets you know the links you have and the available opportunities. The software has a wide range of features with excellent customization capabilities such as the audit, which checks your link-profile.
You can keep track of the links to your site and even set daily and monthly alerts using the monitoring feature. Moreover, peek helps you get as much information as possible on other websites and those behind them. Additionally, it has a ranking tool that keeps track of sites across different nations and generates a weekly or monthly report. To help you make better decisions, you can derive data from the investigate feature that highlights multiple sites in a graph.
Monitor Backlinks is an excellent checker tool designed to help you identify competitors' quality links. The software can help you monitor and automatically discover your backlinks and keyword rankings. Further, you get email notifications whenever you lose or earn a link and keep track of your competitors' keywords to outsmart them.
Monitor backlinks help you to know the backlinks that add value or drag down your domains. Additionally, it gives you more effective SEO strategies to boost your site's traffic. The Platform also has vital features and metrics, integrated with Google Analytics to aid in handling large data sets, all in one place. Further, it derives information from many sources, including majestic and Moz.
The interface and dashboard are easy to use to maximize usability and ensure that anyone succeeds.
If you are a blogger or SEO expert, Open Link Profiler is ideal for helping you identify beneficial domains to get links. You can also use it to do a thorough analysis of another site, filter out the results, and get the LIS score.
Open Link Profiler tool has essential features such as;
LinkAlerts helps send you notifications on newly found links.
Countries assist you in seeing the nations that are linking to any domain.
LIS distribution is vital in giving an overview of how high or low other domain ranks to your site.
SEO PowerSuite is an all-in-one software that assists you in increasing visibility and ranking for an SEO campaign. It has four applications that you can download in your Mac or Windows device for a better experience.
Using SEO PowerSuite, you get new keywords, monitor your rankings, and store them in the sandbox for future analysis. You can know the most valuable words according to visits, competition, cost per click, number of searches, and more. It helps you efficiently manage your link-building process via link assistant and assess the quality of potential links.
You can also audit your site using this tool as it crawls your page and gives you insightful data on the URL you entered. Further, it scrutinizes whether the web-page complies with the best SEO practices and gives you guidelines on how to solve an issue that may arise.
Conclusion
The above backlink analysis tools help you check for links to your site and make a comparison between domains.
You can easily spy on your competitors and develop better strategies to improve your site ranking and visibility. Depending on your needs, you can choose one of the software and a suitable pricing plan that fits your budget.