SEO Audits, Reports & SEO Tracking Tools
Check your website's performance, top pages, best-performing keywords, and more

SEO software that helps grow your traffic, rankings, and sales online.
Ninja Report's revolutionary SEO tools will allow you to get more organic traffic online and grow your business. Check out our features below to see how we can help you grow.
Revolutionary SEO Audit Tool
Run a full on-page SEO audit on your whole website, finding any errors keeping you from ranking high in search engines.
Our Website SEO Audit Tool will crawl all of your pages and check for SEO errors using our 100-point on-page scan.
With the SEO Website Audit Tool, your website's health will always be at 100%, allowing you to dominate the search engines.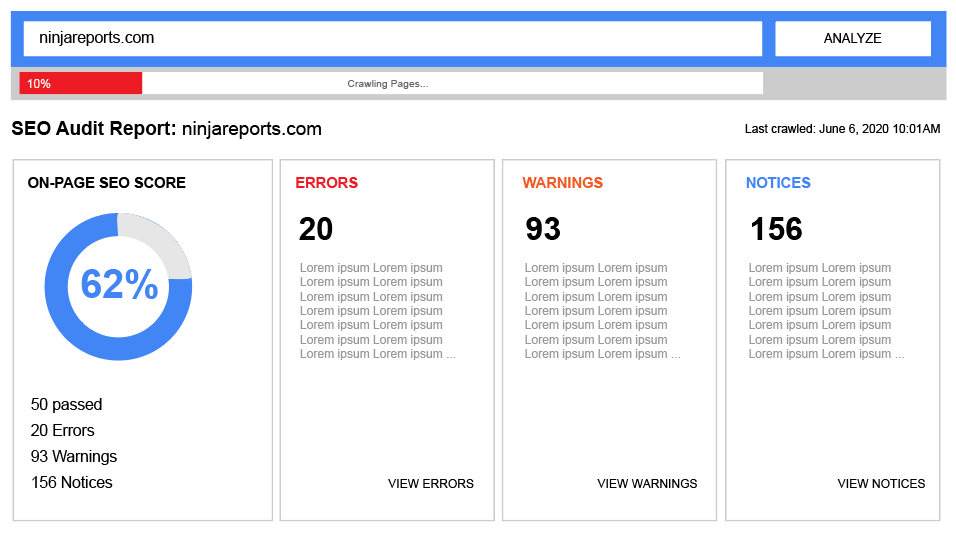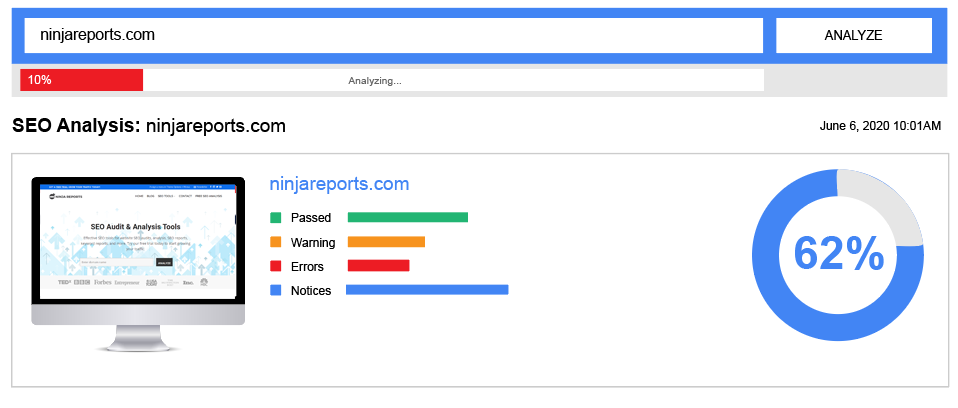 On-Page SEO Analysis Tool
Ninja Report's SEO Analysis Tool is our free tool that will scan any page and show you an overall analysis of the SEO as well as errors, warnings, and notices using our 100-point on-page SEO scan.
Try the free SEO Analysis Tool right now to start scanning your pages and get more traffic to your website.
Deep Technical SEO Scan
Our advanced crawlers will crawl every aspect of your website and find any SEO errors from our SEO checklist that could be holding your website back from ranking well in search engines.
This data is put through our SEO algorithm to give your site an overall SEO health score. The higher your website's SEO health score, the higher you're likely to rank!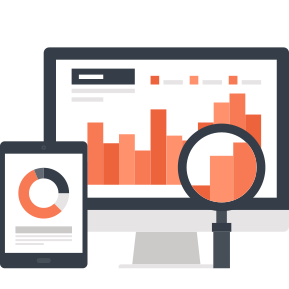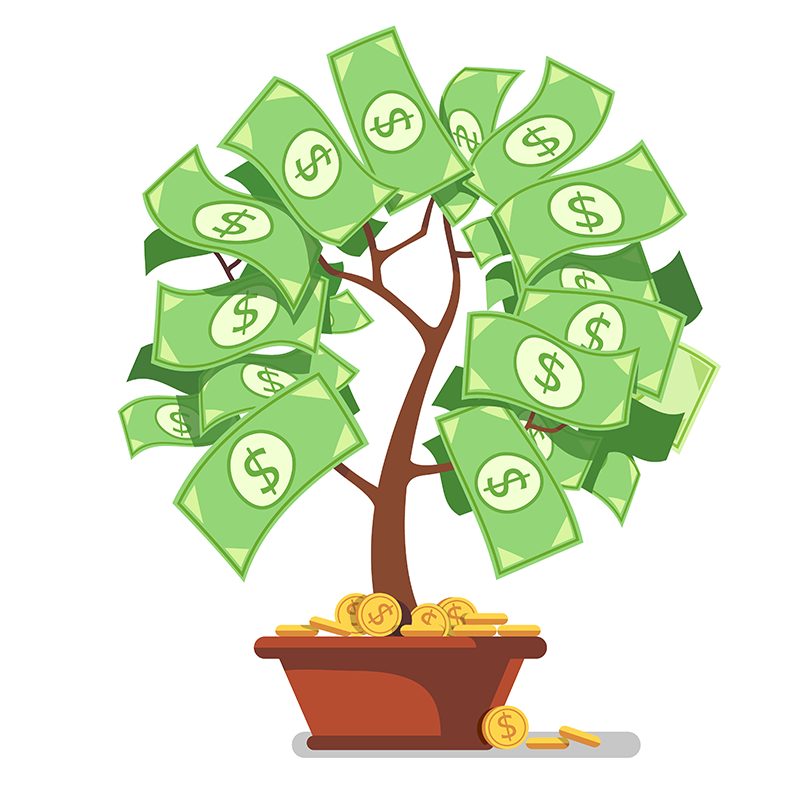 Increase SEO Agency Value
Ninja Reports is not only for webmasters and marketers but Agencies as well. Our tools are perfect for gaining and retaining clients with advanced SEO audits, analysis and reports.
What Customers Say
Great SEO Tool

I save a lot of time using this product. Weekly reports of my website audit in my inbox are a dream come true for any SEO agency or marketer!
Brandon S.
Great All Around Tool

Makes audit reporting much faster than it was before with other tools. I estimate I save 10-20 minutes per report with this tool after all my client profiles were setup.
Megan R.
Easy to use and understand visual reporting tool

The easy integrations take seconds and setting up audit reports is a snap. You can get updates daily, weekly or monthly.
Mark M.
Great overall products

Organization, ease of use and easy to read and comprehend. The best easy to use marketing software in my opinion. The detail of analytics is unmatched by most competitors' websites. Love love love the audit reporting tool.
Kevin M.
FAQ
Have a question about our SEO tools or a general inquiry about Ninja Reports? It's likely someone has already asked that question and we have an answer here:
Who is Ninja Reports For?
Ninja Reports is perfect for agencies, freelancers or marketers who want to grow their website traffic with SEO tools.
Is Ninja Reports Free?
Ninja Reports offers a free SEO analysis scan with your google login. Free users can run 1 SEO analysis a day.
How can Ninja Reports help grow my website?
Ninja Report's SEO tools will allow you to run full website analysis so that your website adheres to all the latest SEO factors. It will also allow you to track keyword rankings, backlinks and more.
What payment methods do you accept?
We accept all major credit cards, Visa, Mastercard, Amex, Paypal, Google Pay, Apple Pay and more.
What is an SEO audit?
An SEO audit is a full scan of your website, checking for optimizations that will help you rank higher in Google. SEO audits can run against a number of different factors like meta titles, alt tags, internal linking, etc.
Why do I need an SEO audit?
If your website has a lot of SEO errors, it's likely that you are not ranked well. Search engines like to show optimized websites in their SERPs (search engine results pages) so they provide a good experience to their users. A website audit will show you any errors your website has that may be hurting your rankings in search engines.
How many pages does the audit crawl?
Depending on your package, the SEO audit tool can crawl all of your pages, even larger websites with thousands of pages.
Does Ninja Reports fix the errors?
No, Ninja Reports only shows you the errors and gives you actionable insights on how to fix the errors. It's up to you or an SEO agency to actually fix the errors and optimize your website.
What does the SEO audit tool check for?
Ninja Report's SEO audit tool checks your website against 100+ on-page SEO factors that can help grow your traffic, sales, and customers.
Can I cancel online?
Yes, you can cancel your account at any time and will not be charged if you cancel before the free 7-day trial is over.
Latest Articles
Browse our collection of SEO articles, marketing tips, guides, how-tos, tutorials and more. Learn SEO and digital marketing online with our marketing blog.
What are you waiting for?
Whether you are an agency or a webmaster, you can grow your website traffic today with Ninja Report's SEO audit tools. Try it today and watch your rankings skyrocket!