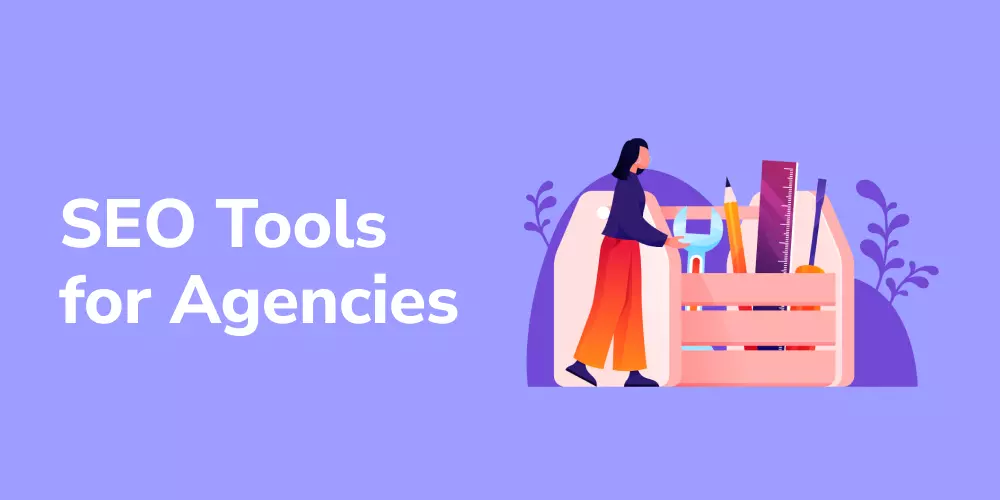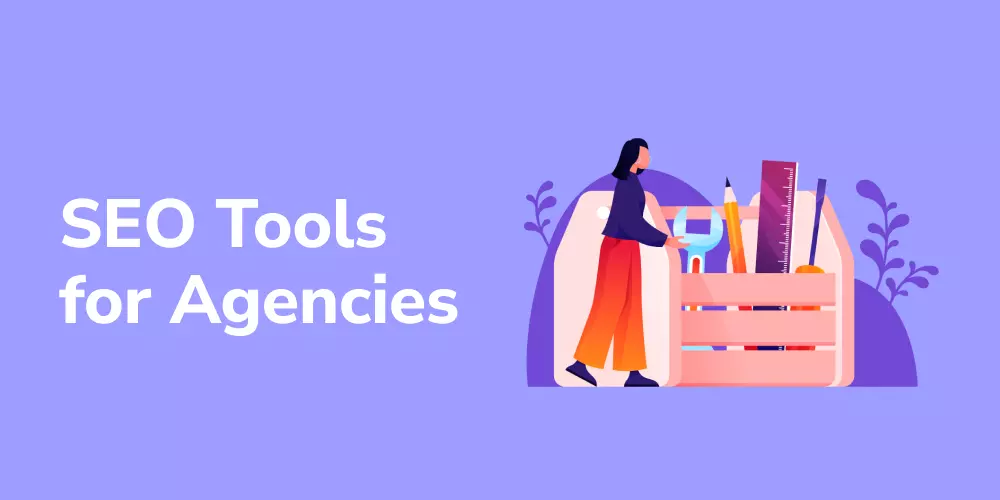 Search engine optimization (SEO) is an essential part of any digital marketing plan. More and more businesses these days have started to use SEO tactics as they help businesses reach their audience by increasing visibility and ranking in search engine result pages. SEO agency software present online is designed for different purposes: backlinks building, ranking analysis, PPC, site audits, keyword research, and many more.
Thus, many agencies turn to SEO software to help them manage and execute their SEO strategy, automate business processes, and save time. In this article, we will showcase the 15 best SEO software for agencies that offer a wide range of features, from keyword research to content optimization. We'll look at how they can help agencies save time and money while improving rankings and visibility on the web.
To create this list, we took into account the following criteria:
Accuracy – the tools we chose provide relevant, accurate data and research into localized search traffic and technical SEO analysis.
Comprehensiveness – these tools include SEO tasks like rank tracking, site audits, keyword, and backlinks checks.
Pricing – most of these SEO tools for agencies have different pricing models, depending on the number of projects, units, and premium plans.
Scalability – SEO software allows you to perform big team projects with the possibility to scale up, upgrade to a larger team, set up automated tasks, and integrate third-party tools.
Now, let's look at the top 15 SEO software for agencies and their benefits.
SE Ranking is a robust SEO tool that can be a boon for agencies seeking to optimize their clients' websites and improve their online presence. Here are a few reasons why:
First of all, SE Ranking is an all-in-one tool, meaning that it provides all the features users need to optimize websites in any aspect, from finding valuable keywords and creating content to building off-page strategies and analyzing website pages for technical issues. See the software's pillar features below.
SE Ranking's Keyword Research tool is comprehensive and helps identify the most relevant and valuable keywords for website optimization. It provides a complete list of various terms to target in your clients' Google campaigns. Each keyword can be analyzed by difficulty, competition level, CPC, and other parameters.
The software's Rank Tracking tool accurately tracks the ranking positions of any website's keywords across multiple search engines and locations. It also generates detailed rankings reports that include historical data, visibility trends, and competition analysis.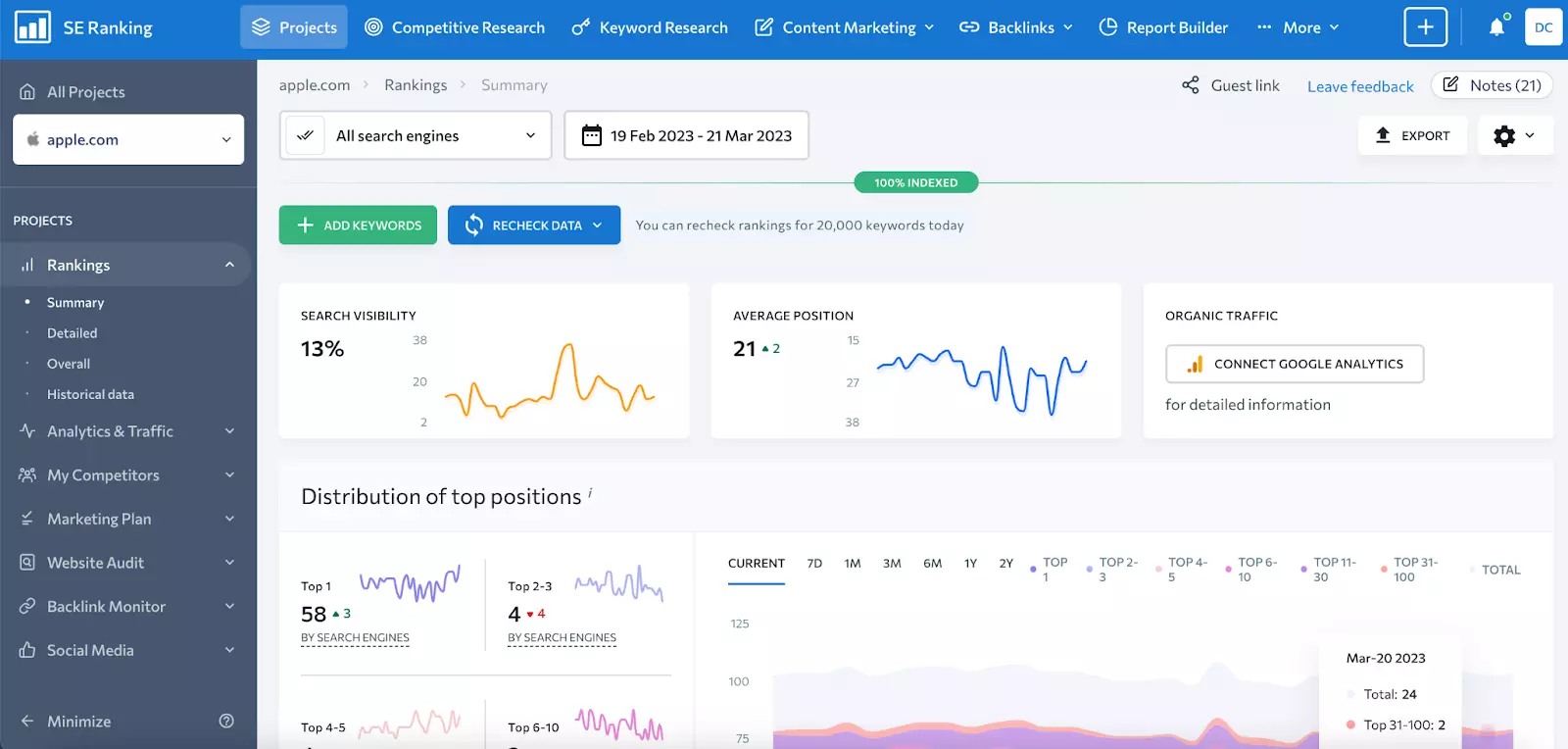 SE Ranking empowers agencies to analyze their clients' competitors and identify their strengths and weaknesses. By tracking competitors' organic search rankings, top keywords, and PPC ads, you can get a complete picture of their online presence.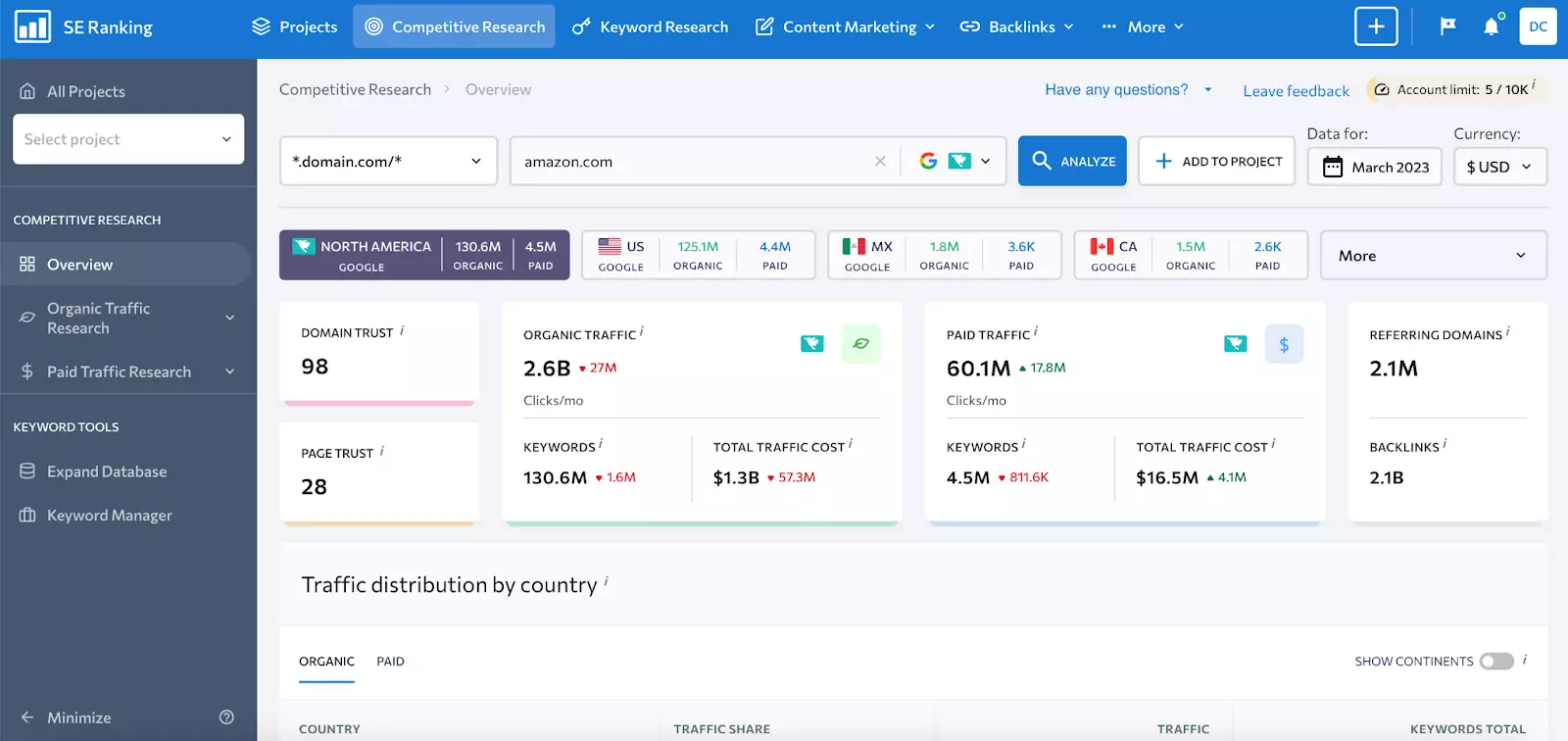 This software also offers a Website Audit feature that can identify 100+ technical issues on any website that might harm their search engine rankings. This feature enables agencies to quickly identify and address problems that could be preventing their clients' websites from performing well.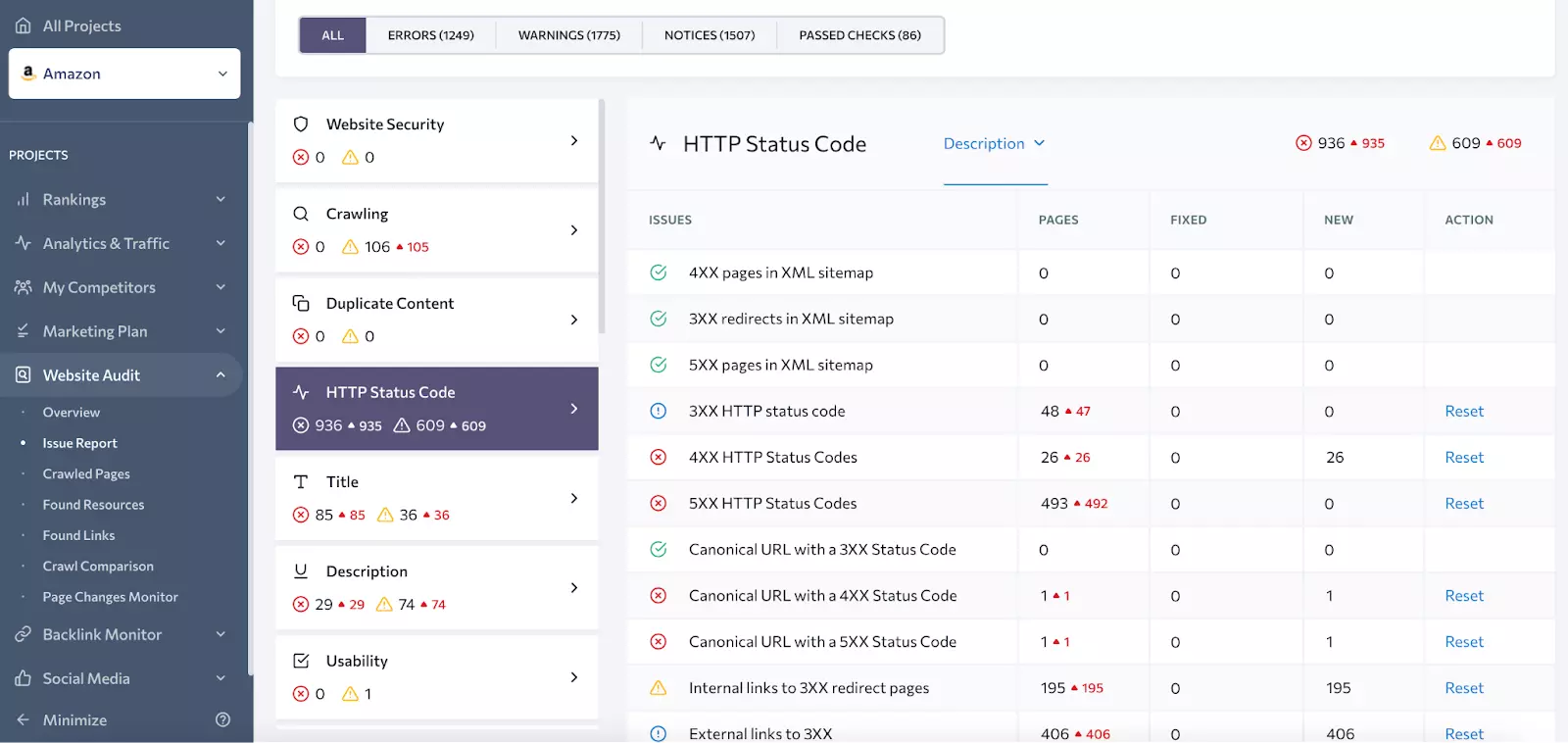 SE Ranking's Backlink Analysis tool is also comprehensive, enabling agencies to identify backlink opportunities for clients. It offers extensive data on significant backlink metrics, such as Domain & Page Trust scores, their dofollow/nofollow ratio, referring domains, anchor texts and much more.
SE Ranking is also arguably the best SEO software for agencies due to its complete pack of B2B tools, including:
White-label reporting: This feature allows you to customize your reports with your company logo and details, making it easy to present them to your clients or stakeholders.
Report Builder: This tool enables you to create custom SEO reports, providing you with 10+ ready-to-go templates that cover various aspects of website optimization, such as Traffic Overview, Rankings & Competitors, Website Audit issues, and more. Plus, you can send your reports to clients either manually or automatically.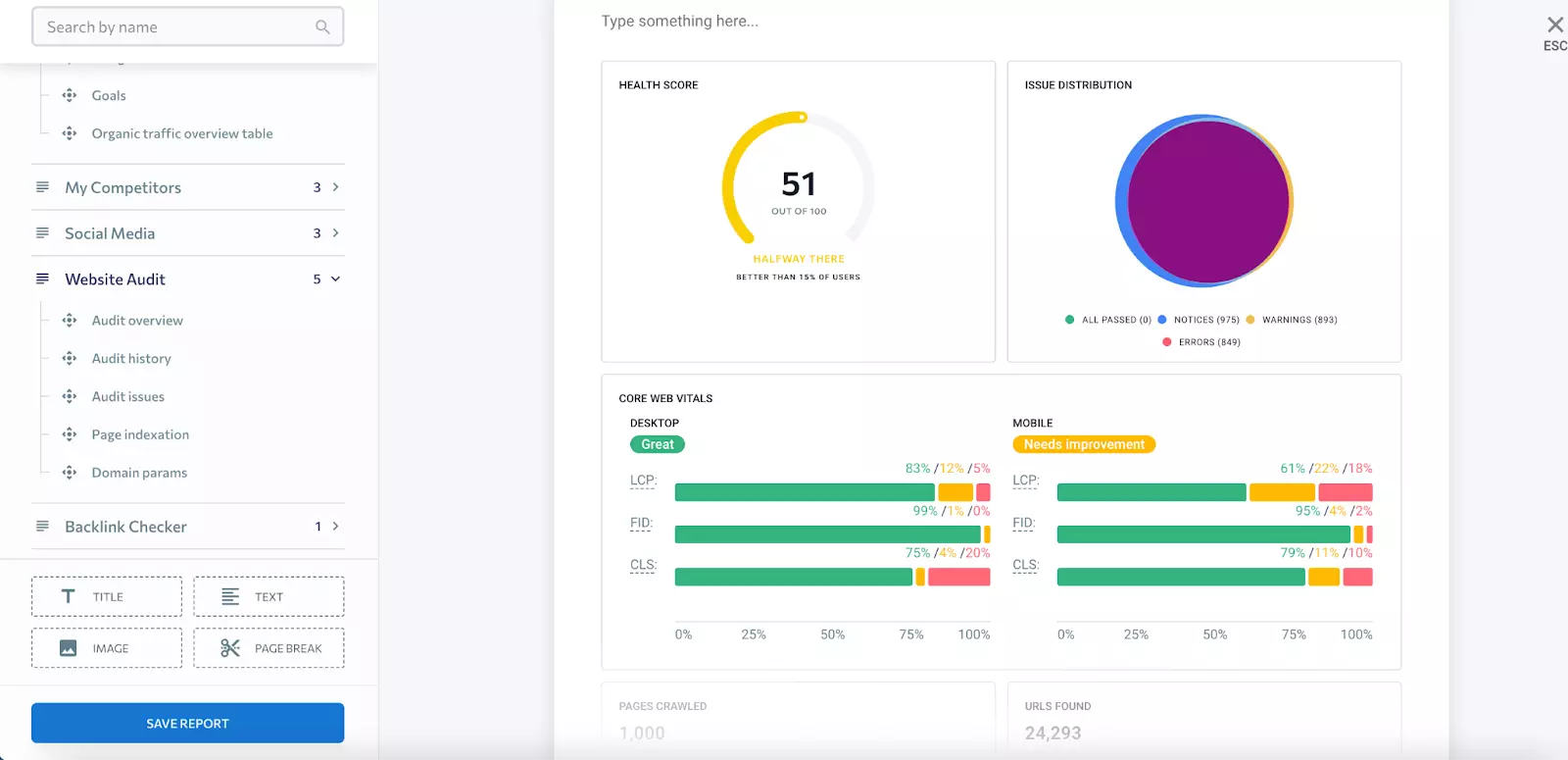 Lead Generator: This widget is installable on your agency website, and enables you to generate leads by providing visitors with a detailed report on the technical health of a page in exchange for their email. This gives you valuable data to start reaching out to potential clients.
API: This feature gives users programmatic access to SE Ranking's data and services. With SE Ranking's API, agencies can create custom integrations and automate tasks to make managing SEO campaigns and analyzing data easier.
Finally, SE Ranking is an excellent solution for digital agencies because it has scalable pricing plans and a special B2B pack.
Price: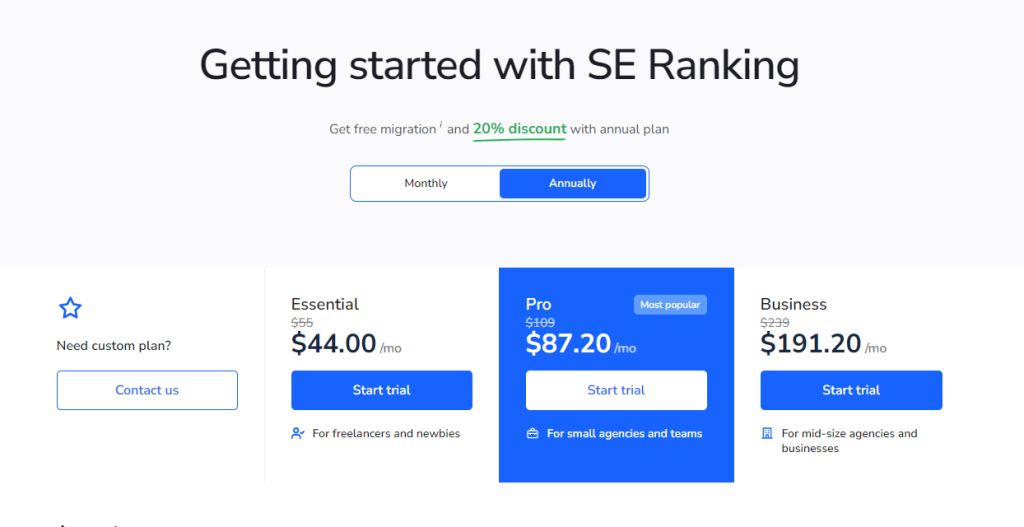 In addition to the Pro and Business subscriptions, you can buy the Agency Pack, which includes additional client-level seats, scheduled and manual reporting limits, a personal manager, team training, priority support, and much more.
Without a doubt, SE Ranking is a powerful SEO tool that can assist agencies in improving their clients' online presence and driving more website traffic.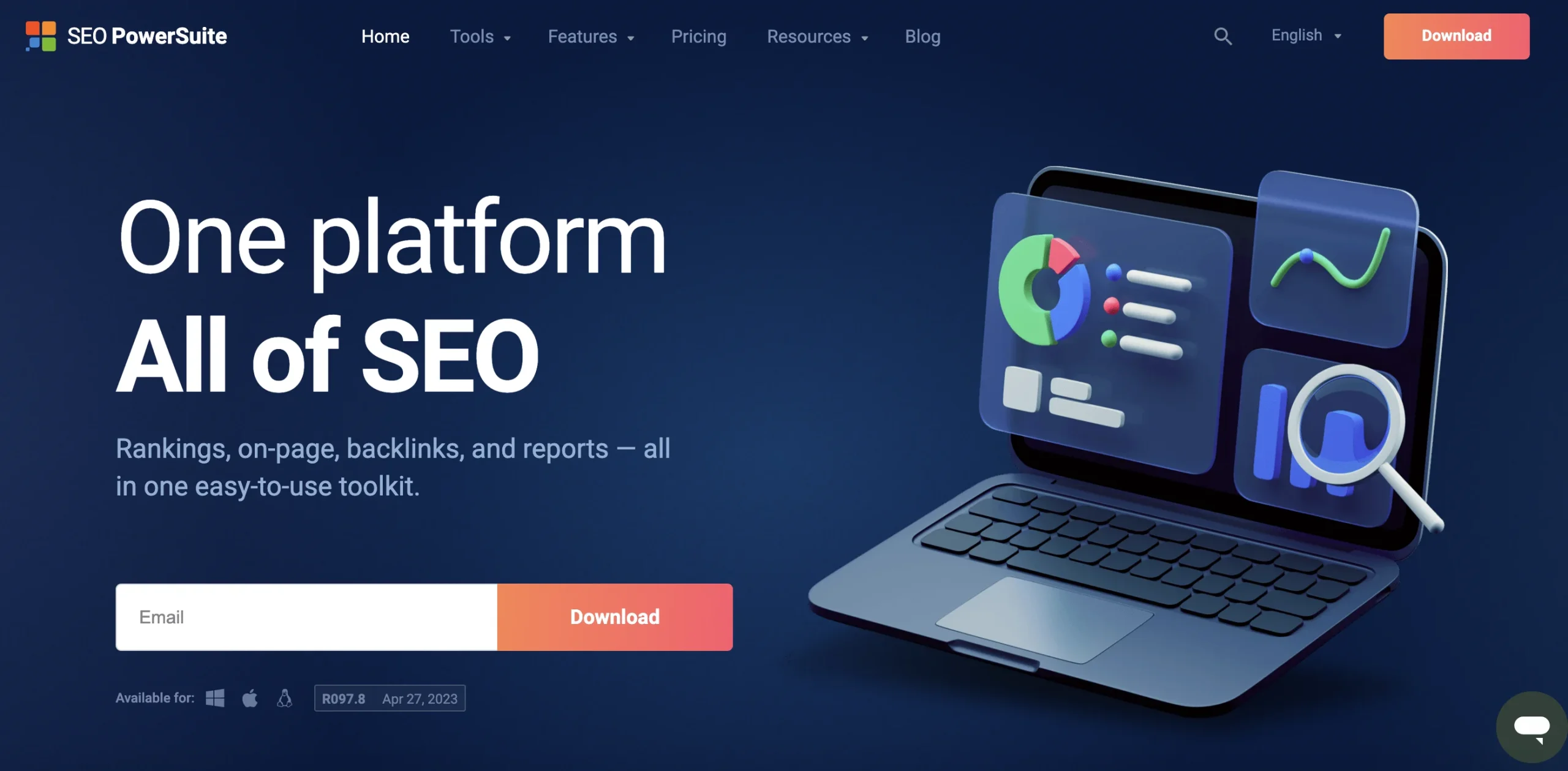 SEO PowerSuite is an SEO agency software for link building, rank tracking, backlink checks, and site audits. This SEO software consists of four main parts: Rank Tracker, WebSite Auditor, SEO Spyglass, and LinkAssitant. Thus, it covers the four main steps of any SEO campaign.
The first tool, Rank Tracker, is designed to help agencies track keywords with rank-tracking dashboards that are fully customizable. With Rank Tracker, it is possible to check ranks' positions in mobile and desktop SERPs, track ranks without any limits, do keyword research, and analyze traffic. Rank Tracker uses data from tools like Google Search Console and Google Ads Keyword Planner as well as from its own index.
Next, WebSite Auditor is used for on-page auditing, reporting, and checking sitewide errors. This tool can crawl your website and audit internal and external resources: JavaScript, URL, HTML, CSS, images, videos, and more. It can also help reveal any technical issues on the website, such as duplicate content, slow site speed, broken links, and issues with scripts. There is also a tool called Content Editor that can be used for keyword suggestions, content visualization, and useful tips for content creation.
SEO SpyGlass helps agencies find backlinks that lead to their site, identify the best link-building opportunities, compare domains, and create backlink reports.
Finally, LinkAssistant is a great tool for link-building. It has all the necessary features for effective link research. You can use it to get links suggested for your marketing strategy, use the Competitor Backlinks module to get a list of the best prospects, gather stats and insights of links, and manage your prospects manually. This tool also has built-in templates for outreach to save you time.
Price: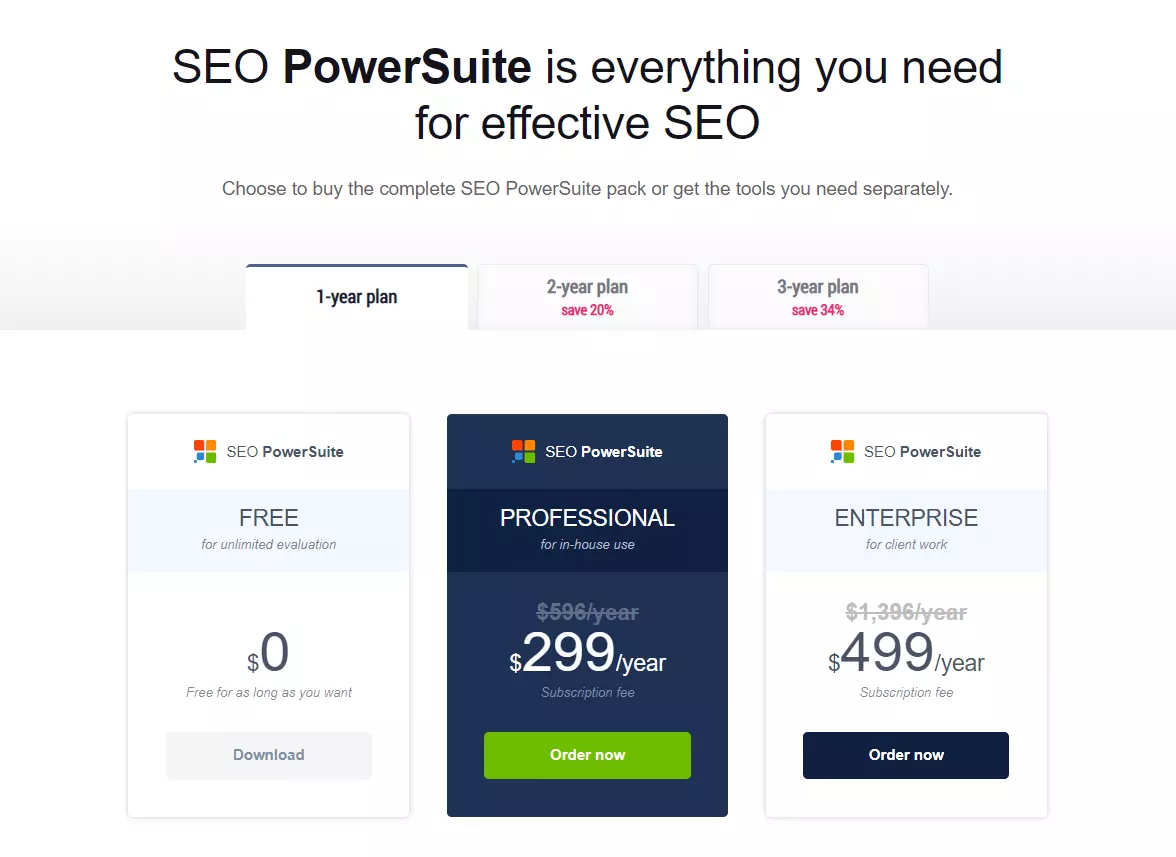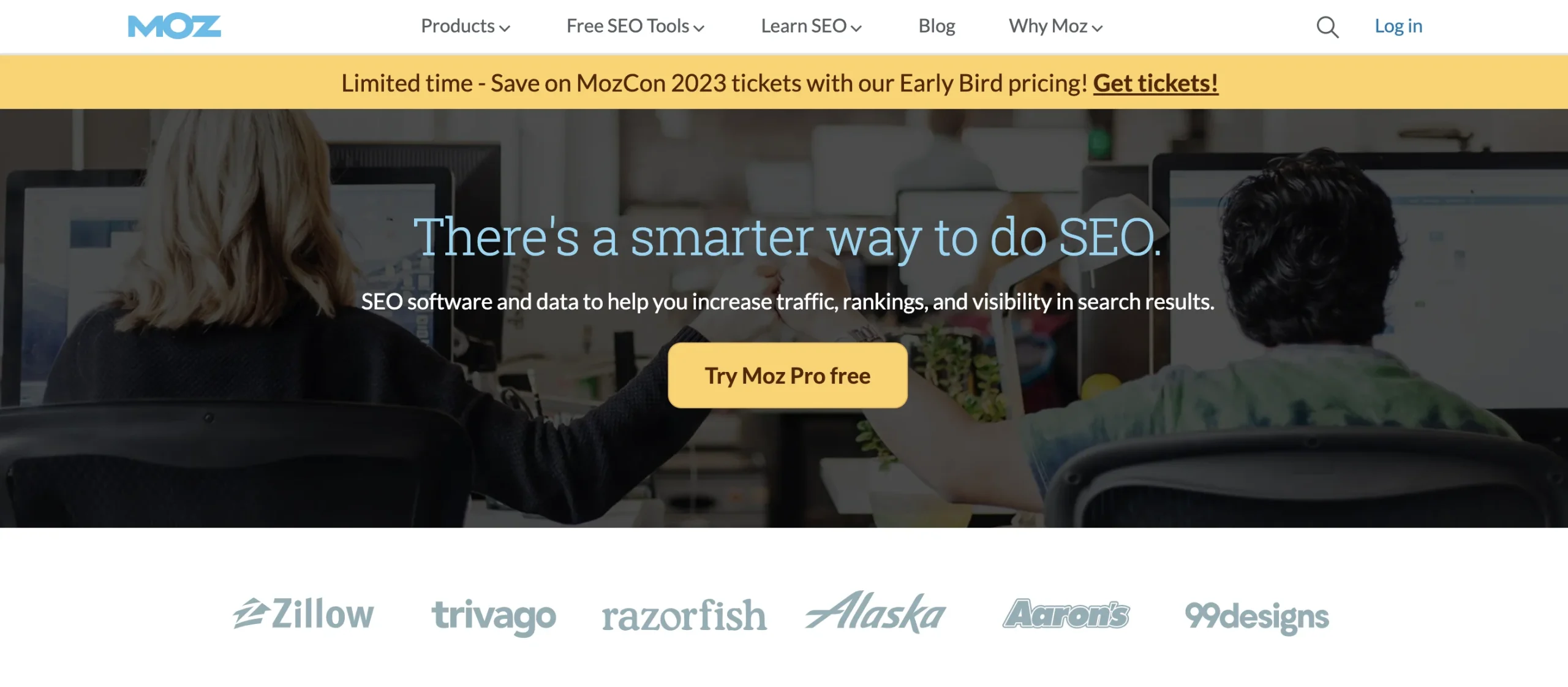 Moz is a complex tool of SEO solutions for multiple marketing needs. It is used for managing and tracking links. There are more than 40 trillion links in its database, so every agency can find links for backlinking. Moz includes three products: Moz Pro, Moz Local, and STAT.
Moz Pro allows you to track your rankings, know what people are searching online the most, both locally and internationally, and see how you rank with the help of the Search Visibility score. Moreover, this tool is great for crawling and auditing your sites. Moz Pro searches for any technical issues on your web pages and alerts you if any problems are found. You can also use it to optimize your pages and find link opportunities. Finally, another feature includes custom report creation. You can download PDF reports, customize them, and schedule recurring reports to save time.
With Moz Local, you can manage and sync business listings for your local SEO. You can keep the listings constantly updated across search engines, automatically identify duplicate listings and delete them, and distribute the listings to Moz partner sites. Moz Local also includes review management: you can use a single dashboard to review and read reviews on multiple websites at once, receive notifications about new clients, and collect customer feedback. Finally, you can post updates and offers easier and receive reports on your online presence score and profile completeness.
Finally, STAT is an effective tool for daily tracking, local and mobile SERPs, and competitor intelligence. With this tool, you also receive expert support, training, and custom insights.
Although this platform consists of many useful tools, you can check other Moz alternatives with wider functionality and for a lower price.
Price: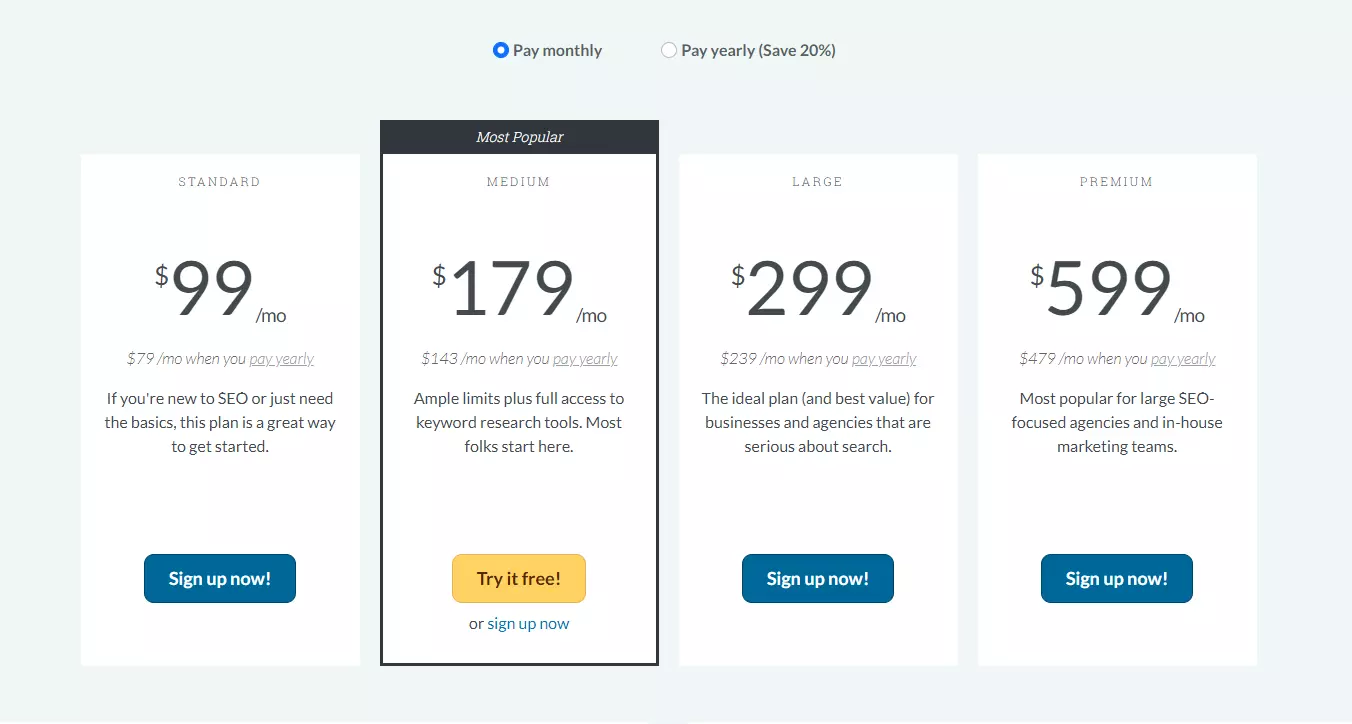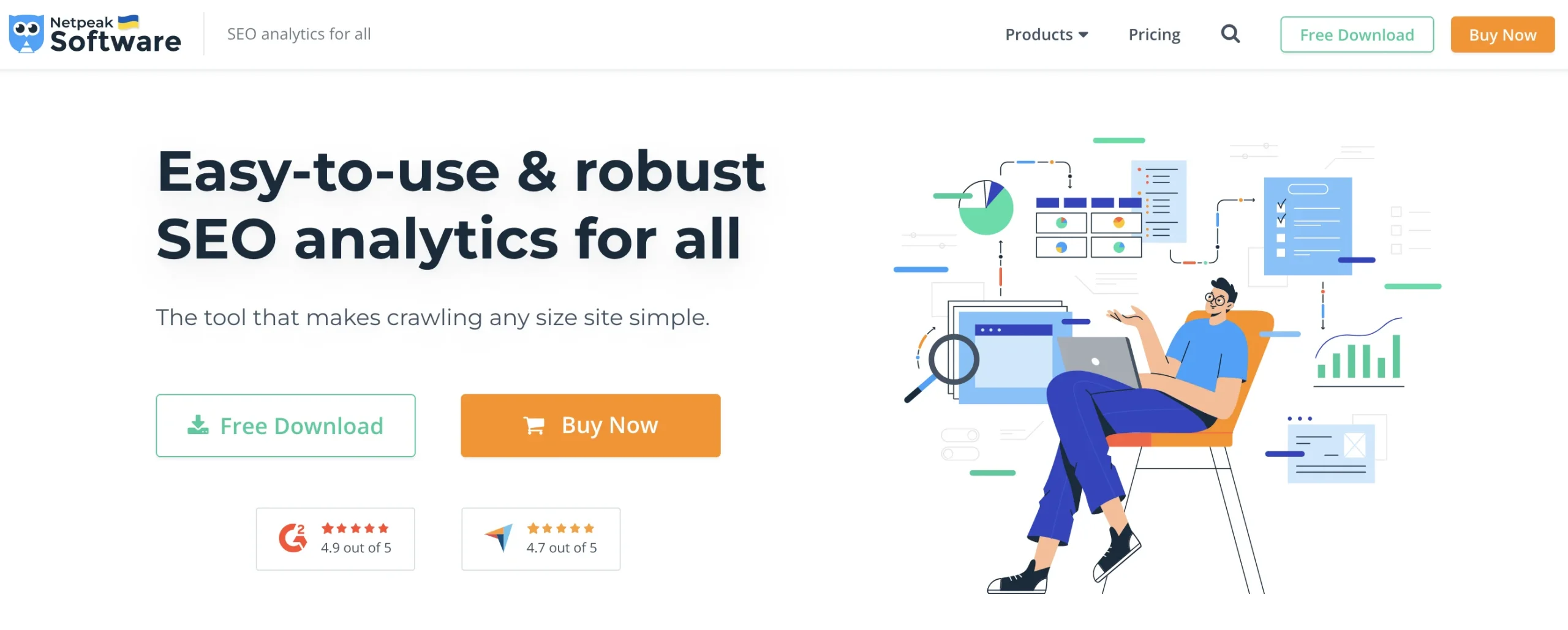 Netpeak Software is mostly used for website crawling and SEO analytics. It has two main products: Netpeak Spider and Netpeak Checker. The former is an SEO crawler tool, and the latter – is a research tool for SEO analysis. All in all, it is a powerful tool for crawling as it allows crawling up to 500,000 URLs at the same time. It is also a great toolkit for analytics as you can aggregate, segment, and filter the results of your web page crawling.
Netpeak Spider allows agencies to quickly check their web pages for any SEO issues. It can be downloaded for free and instantly used for website analysis. It allows to spot more than 100 issues and solve them for quick website optimization, generate site audit reports in PDF format, scrape and extract web data through four types of search (CSS, contains, XPath, and Regexp), and integrate with Google Analytics & Search Console. Another great feature of Netpeak Spider is that it allows crawling multiple URLs simultaneously.
Netpeak Checker is a desktop tool for data aggregation and analysis. When using it, you can get backlink quality metrics from 25 services, collect all contacts in one place, collect search results based on language, location, prefixes, and search operators, and estimate your website traffic. Moreover, it allows checking websites in Bing, Google, and Yahoo index.
Price: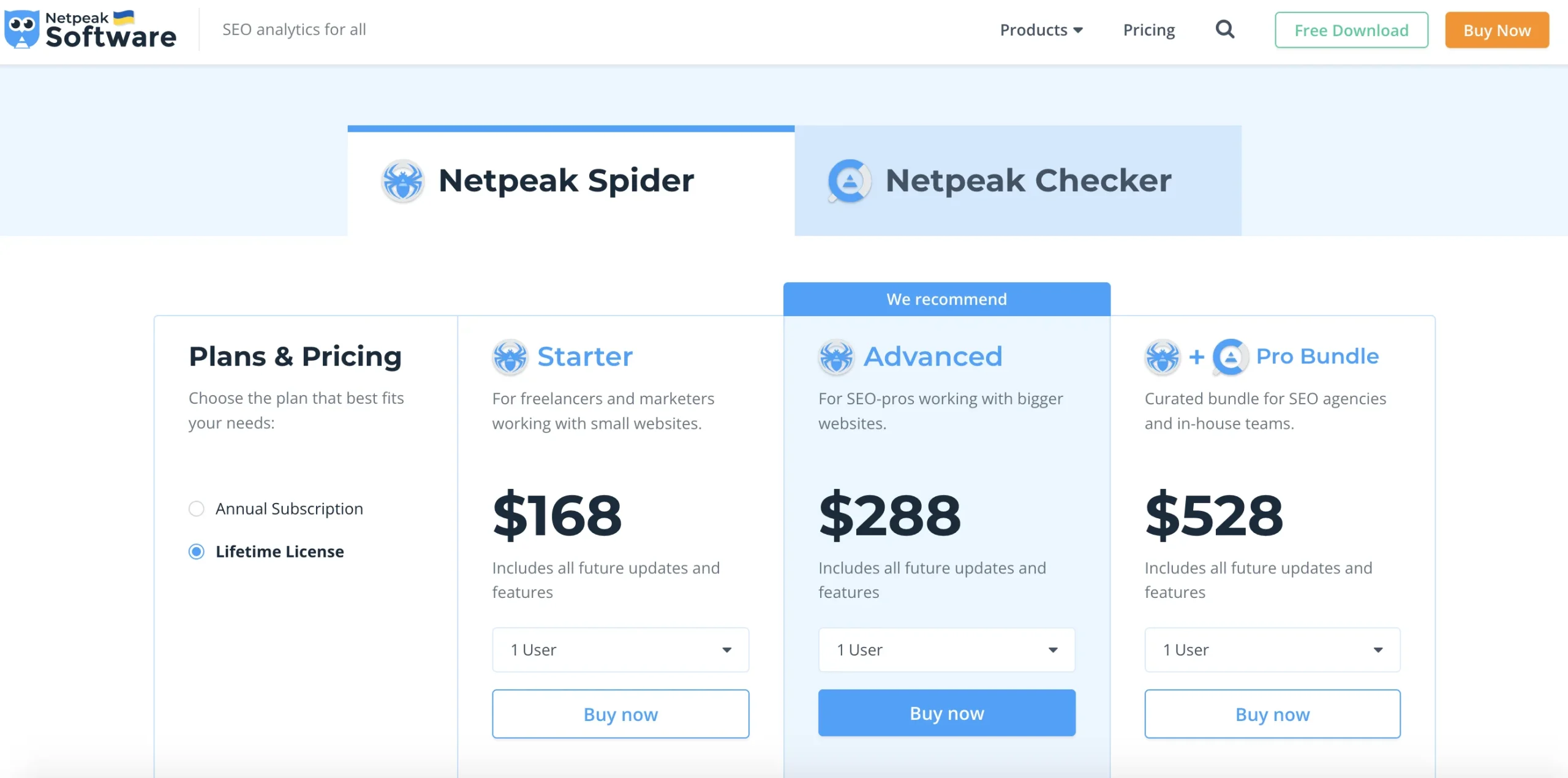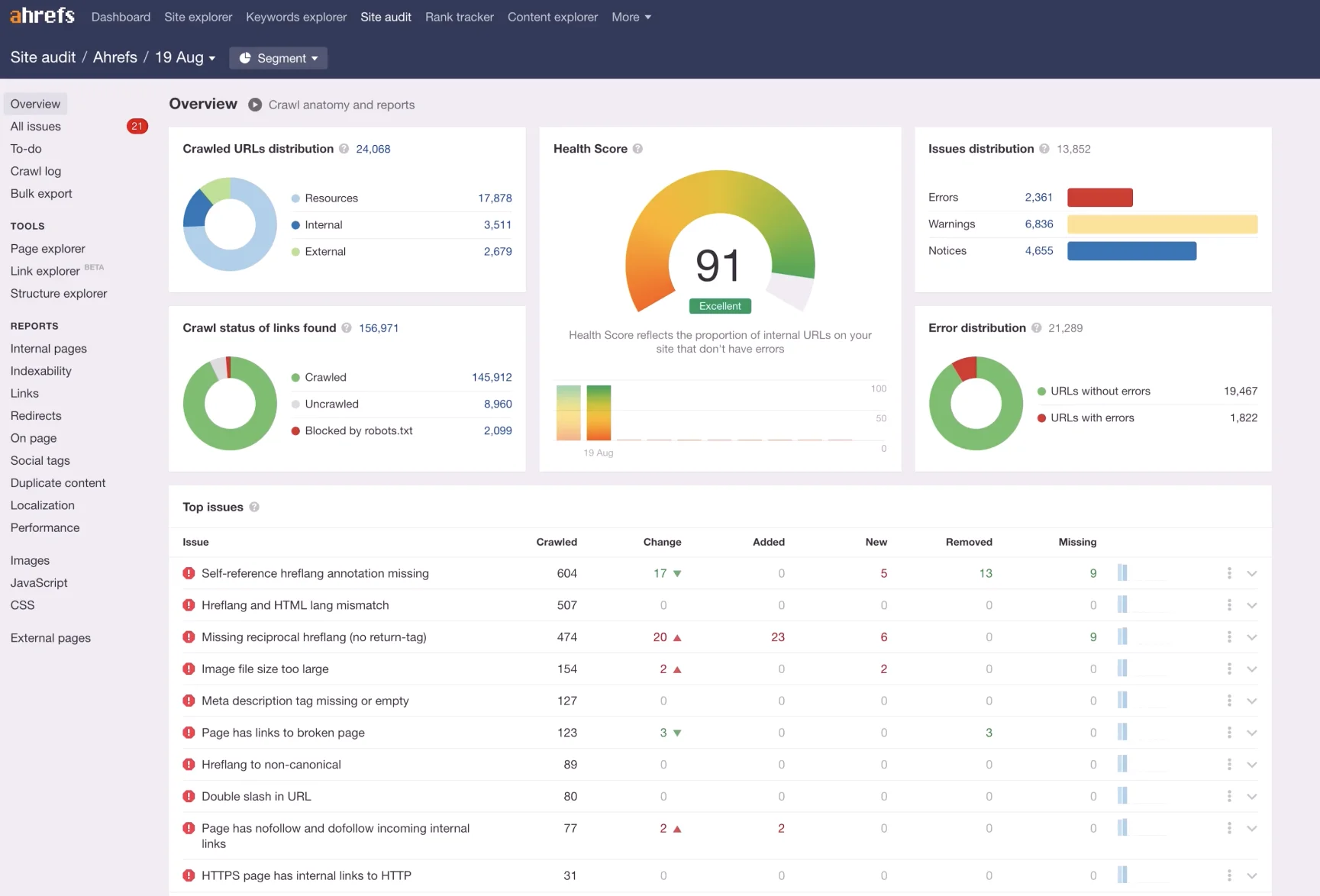 Ahrefs is an all-in-one SEO toolset for audit, analysis, keyword research, and tracking your ranking progress. This software is constantly crawling the internet to check on websites and collect information about them. It consists of five main products: Site Explorer, Keyword Explorer, Site Audit, Rank Tracker, and Content Explorer.
Site Explorer is a research tool dedicated to organic traffic research, backlink checking, and paid traffic research. You can see what keywords your competitors are ranking high for, see what pages link to your competitors, and check if your competitors are paying for search advertising. Ahrefs monitors more than 150 million keywords only in the US, so it is a great tool for researching organic traffic and keyword research. Ahrefs also has one of the fastest backlink crawlers and has collected more than 14 trillion links. Finally, you can research outgoing links to see the website's linking patterns using this software.
Keyword Explorer is a powerful keyword research tool with a database of more than 7 billion keywords from 171 countries. It is connected to 10 different search engines, and it constantly updates its search volumes. Keyword Explorer has a keyword difficulty score, shows the estimated number of clicks for chosen keywords, and allows saving and creating lists of keywords for the future.
Site Audit tool allows for finding technical and on-page SEO issues on your websites. Use it to crawl your website and receive an SEO health score, key data visualized in charts, and recommendations on how to fix the main issues. Site Audit checks your web pages for issues related to performance, localization, links, HTML tags, resources, and content quality. You can also use this tool to track your progress.
Rank Tracker is a tool for monitoring your rankings and comparing your performance with your competitors. You can receive ranking updates on your computer and mobile phone, visualize your progress with the help of charts, and see if your website ranks in SERP features. You can also sort your keyword lists, get automatic reports on ranking progress, search traffic, and SERP features, and receive scheduled email reports.
Finally, Content Explorer is a tool for discovering top-performing content in your niche and finding links for prospects. Its database consists of 11 billion web pages, so you can analyze any page's traffic, keyword ranking, backlinks, and social shares. You can also use this tool to find low-competition topics, the best guest blogging opportunities, and topics that will generate more leads.
Still, people often look for different Ahrefs alternatives due to their pricing.
Price: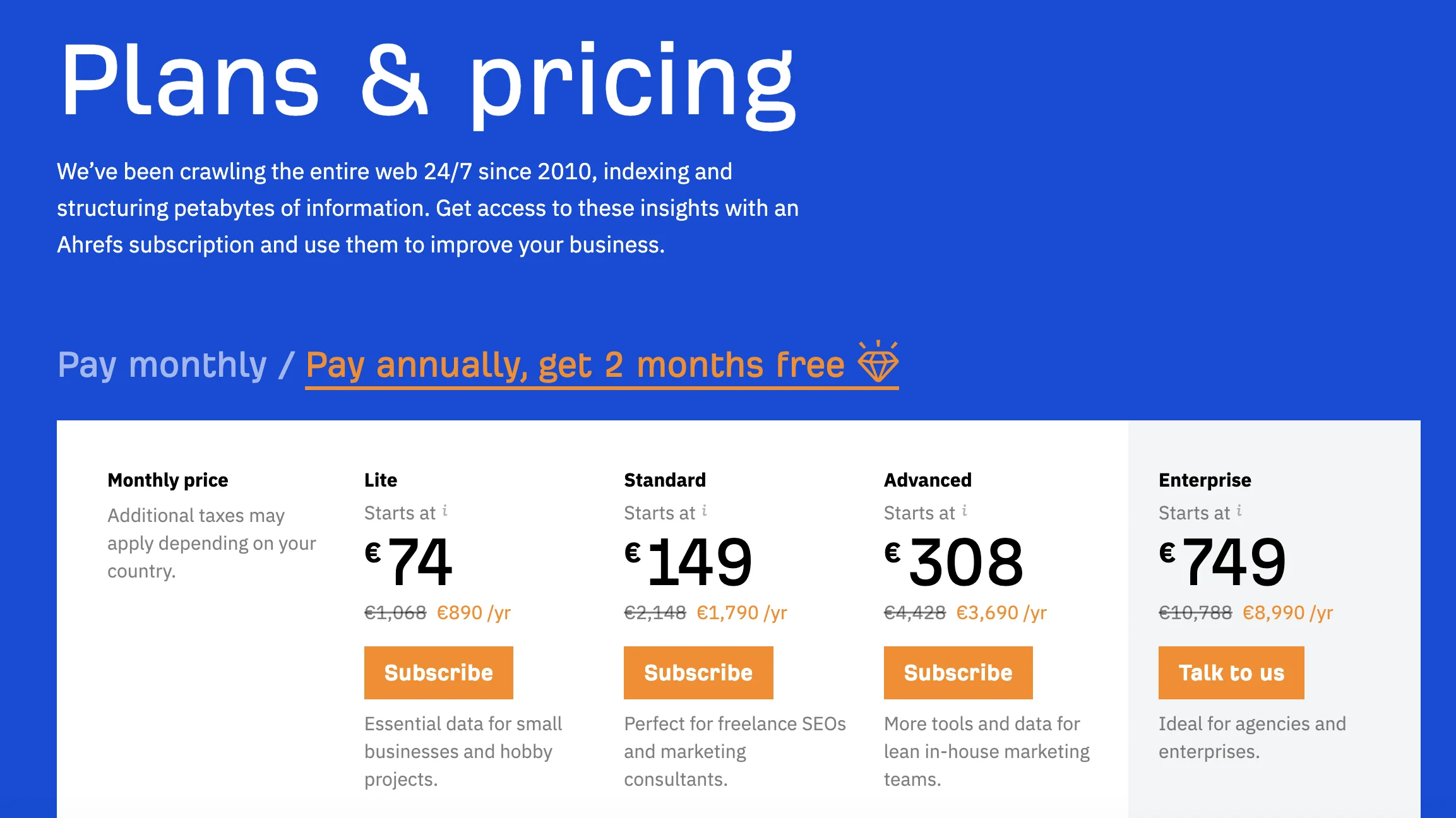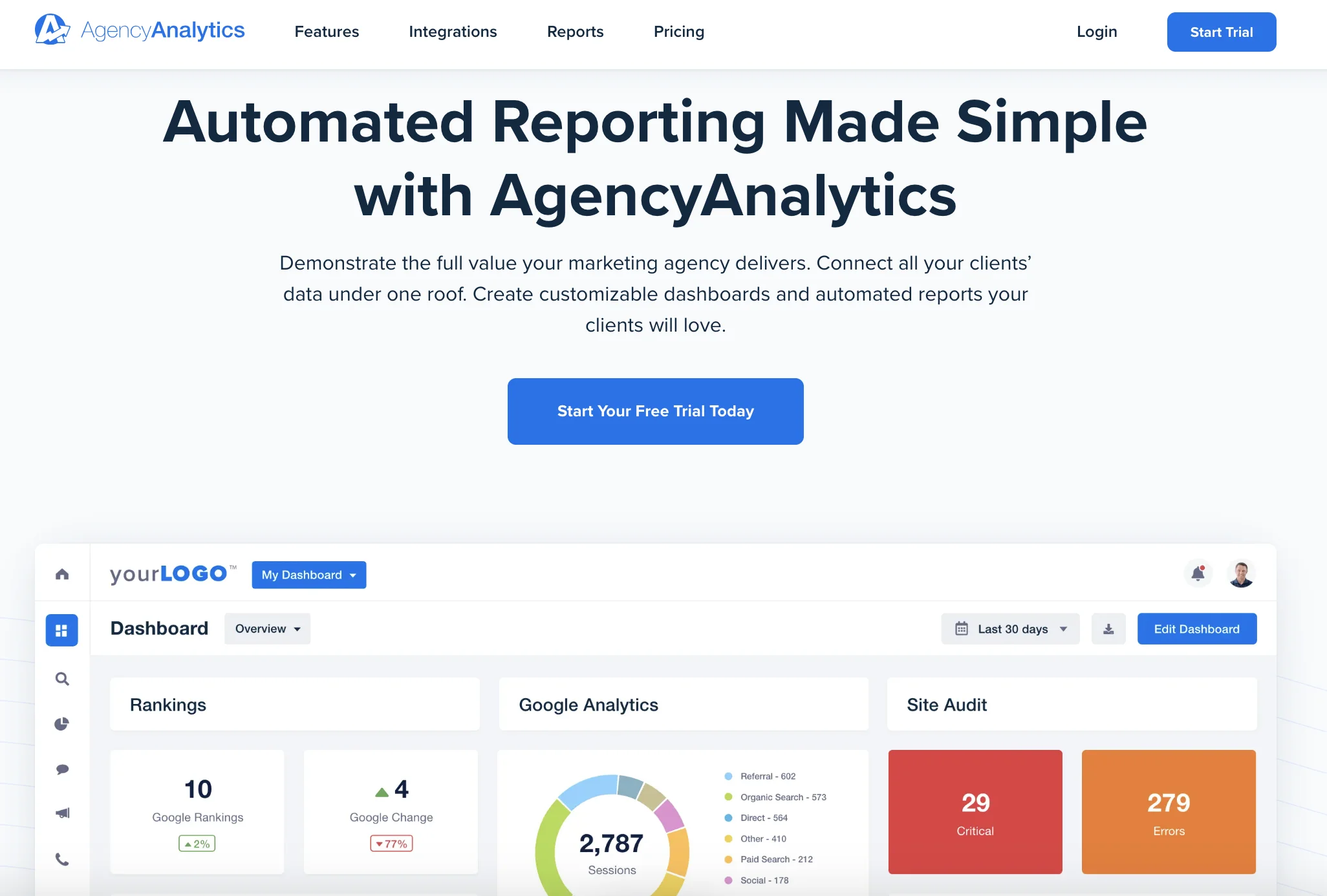 AgencyAnalytics is all about automated client reporting. It has been built specifically for marketing agencies, and its main features include automated reports, SEO tools, custom dashboards, white labels, agency management, and 75+ integrations. With this software, you can forget about manual reporting – use custom report templates and automate your client reporting. Moreover, you can store all your client's data on one platform, thanks to more than 75 marketing integrations. You will have access to PPC, Call Tracking, SEO, Social, Email, and more.
AgencyAnalytics also allows building dashboards and reports the way you want. It has a set of customizable widgets, annotations, metrics, a drag-and-drop report builder, and embeddable content. You can add various comments about the clients and provide unique insights for every campaign. AgencyAnalytics also allows white labeling of your marketing reports so you can create a platform of your own. Finally, you can use this software for client and staff management and automating your SEO reporting.
AgencyAnalytics report types include PPC reports, email reports, SEO reports, review reports, call tracking reports, social reports, and e-commerce reports. As for the integration, some of them are Google Analytics, Google Search Console, Facebook Ads, Google Ads, Facebook, Google Business Profile, Instagram, LinkedIn, Twitter, Shopify, and many more.
Price: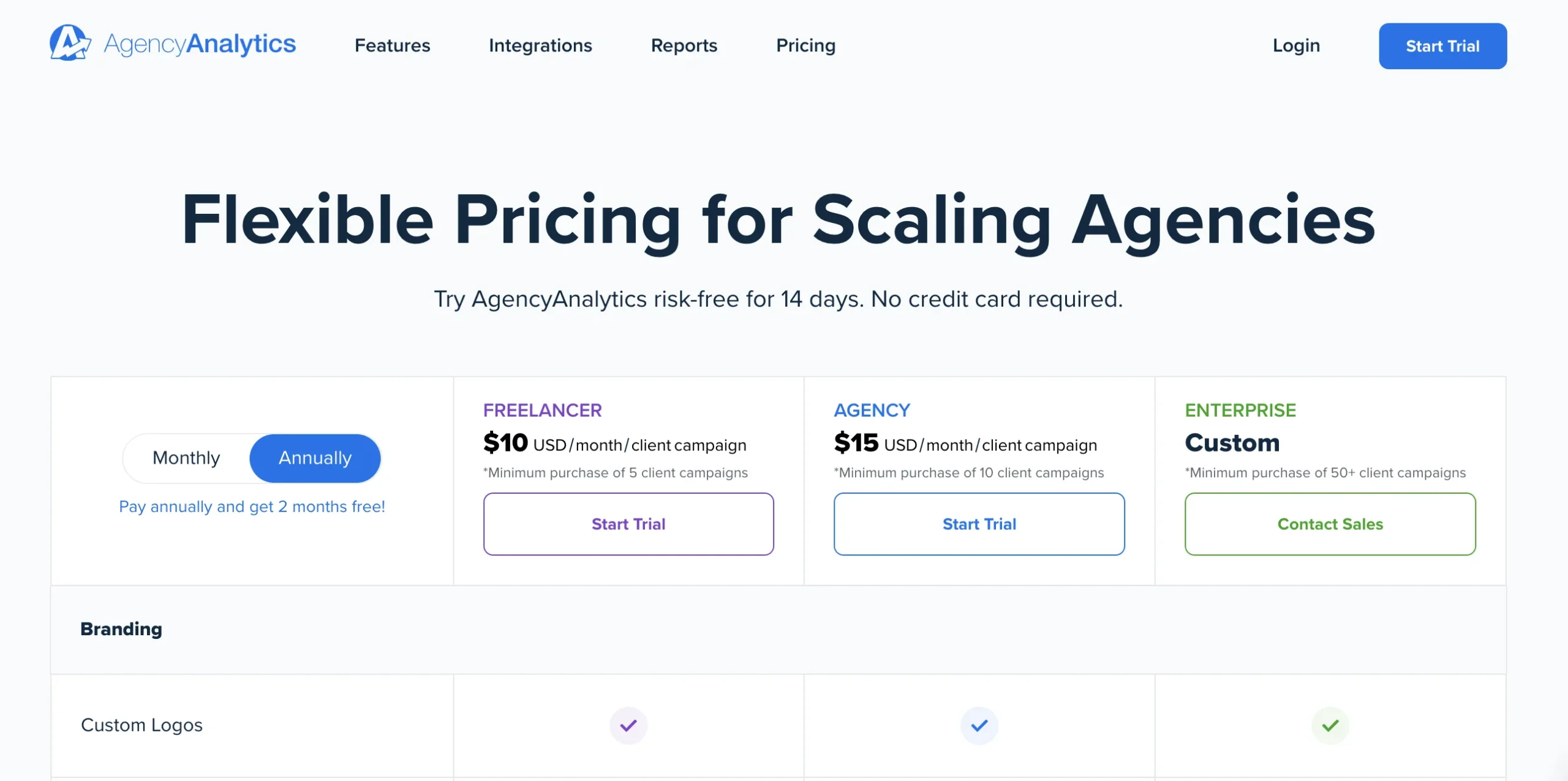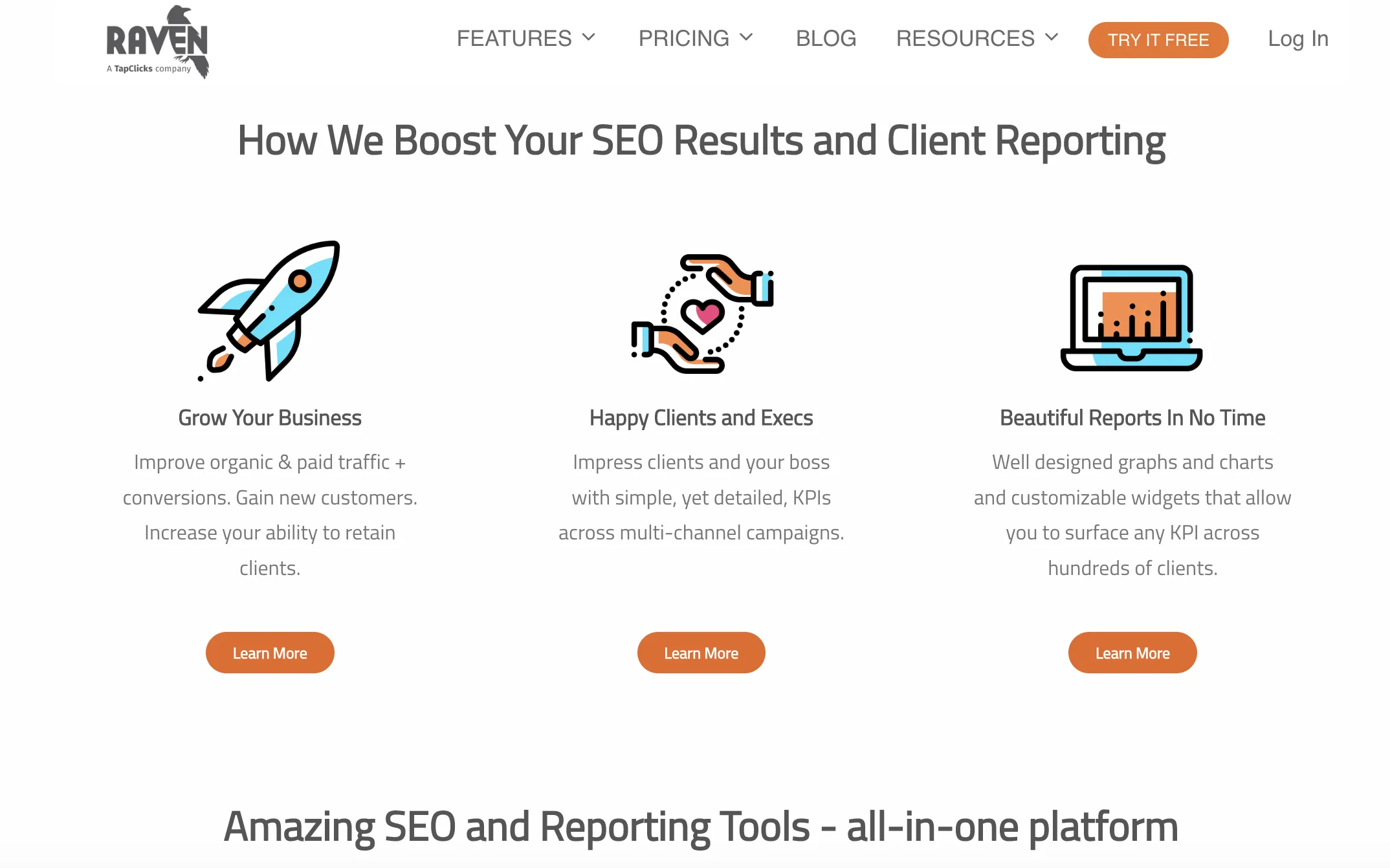 Raven Tools focuses on rank tracking, reporting, and site audits. Its key features include Site Auditor, Competitor Research, Backlinks Explorer, Keyword Research, Link Spy, and Marketing Reports.
Website Auditor crawls your websites for any issues and improves web page visibility online. It goes in-depth on the technical problems and includes advice on how to fix them.
Competitor Analysis Tool allows you to research competitors, find new backlinks, and gain an advantage. You can compare your site performance to others and see where you need to improve.
Backlink Checker allows searching any domain in the "Explore" function and generating a report on that domain with its backlink potential. You can not only see who links to your page but also see your competitors' backlink profiles. Raven Tools uses metrics from Moz and Majestic to give you a complete backlink profile. You can also monitor the progress of your backlink profile and manage all backlinks on one platform.
Keyword Research Tool has 1.4 billion keywords in the database. It has collected all the necessary keyword research tools in one platform. You can use it to research competitor keywords, get PPC data, manage your keywords, and research competitors to your target keywords.
Marketing Reports tool allows you to measure your marketing success across numerous platforms. You can visualize your progress and white-label client reports. Moreover, it allows the creation of custom marketing reports, website analytics reports, and social media reports.
Link Spy is a tool for spying on your competitors and finding new links for your website. You need to enter the keyword you want to rank, and the tool will create a report with up to 50,000 link ideas.
Price: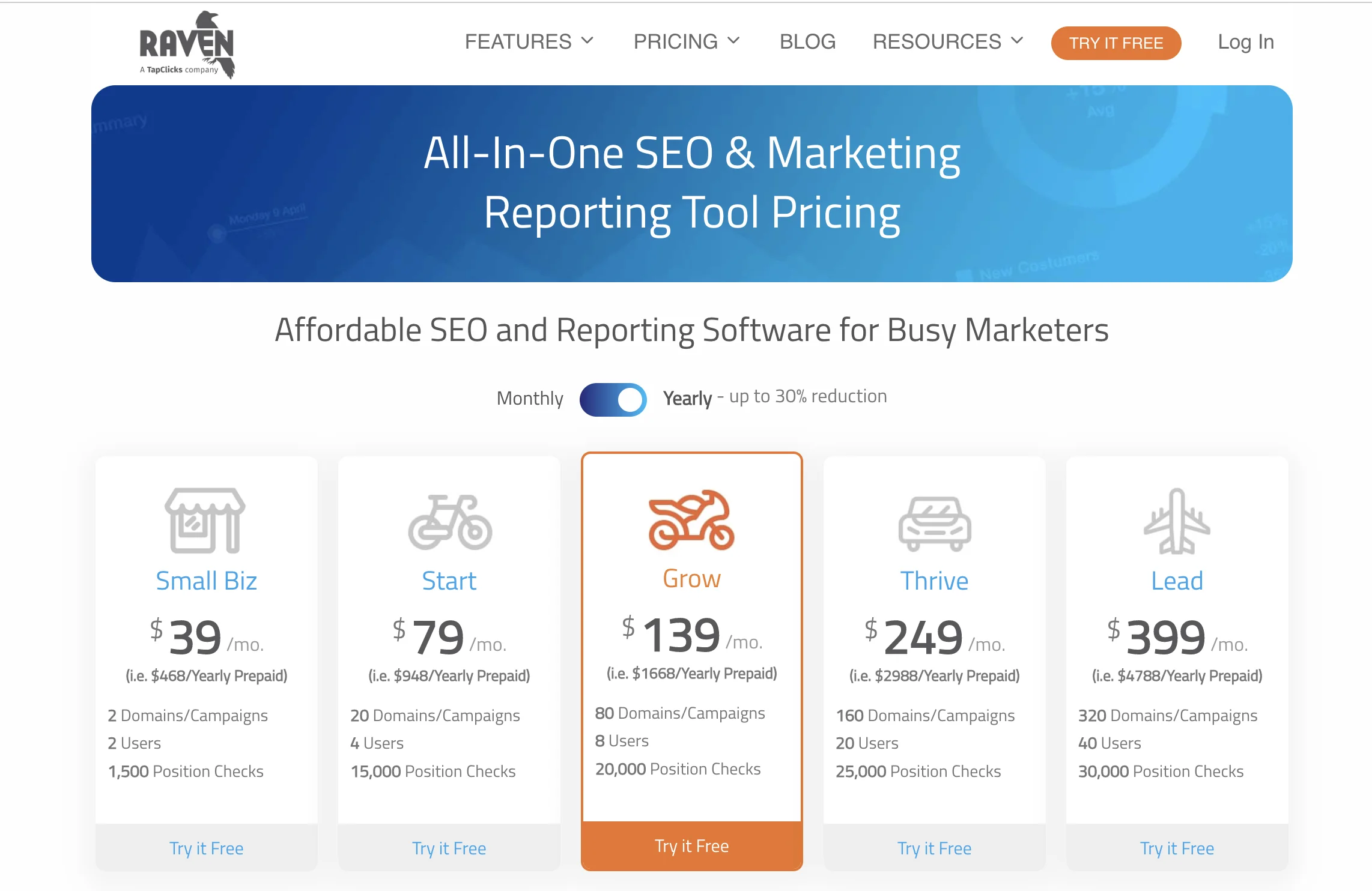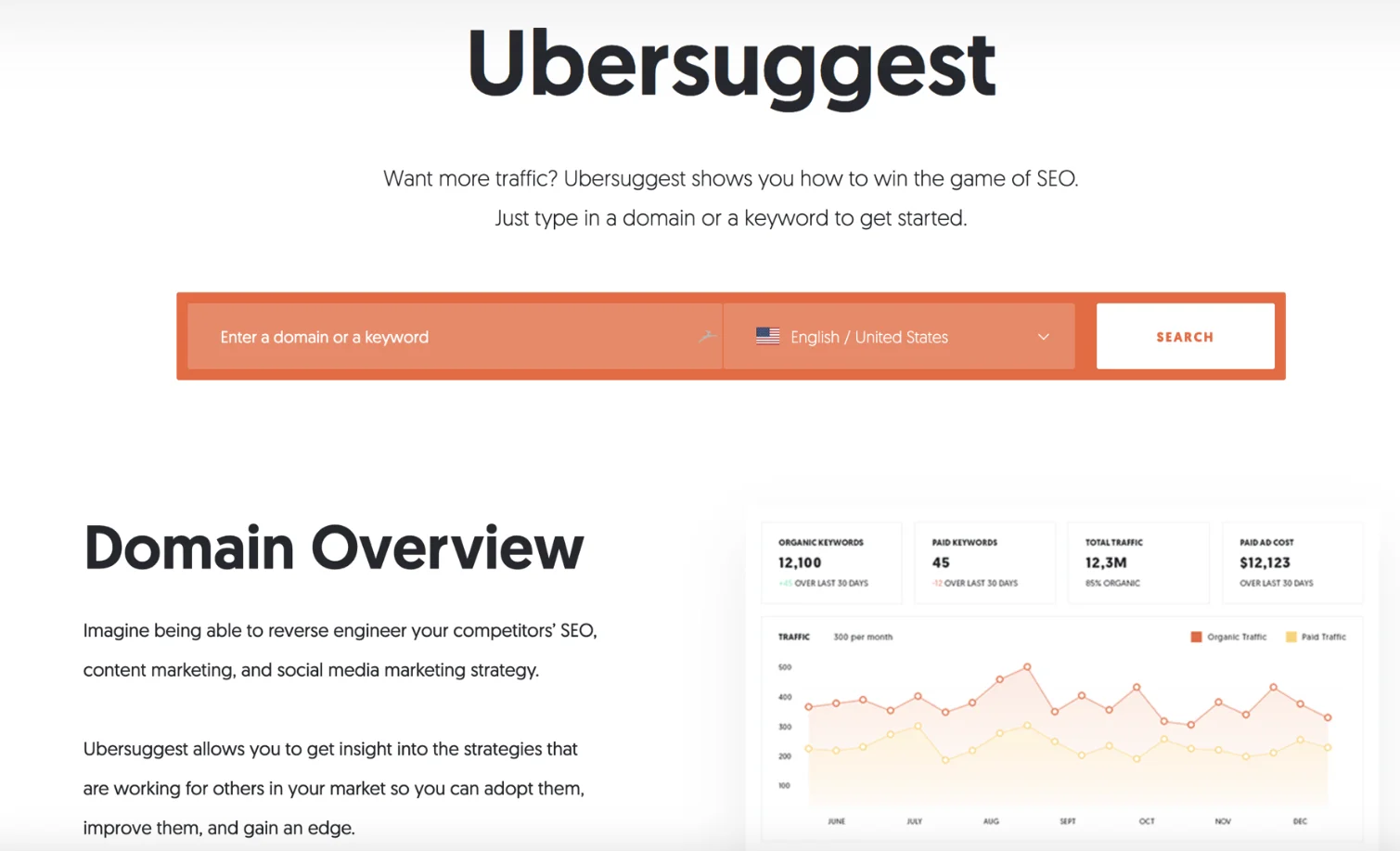 Ubersuggest is an SEO software tool created by Neil Patel. It can be used by agencies for keyword research and content suggestions that can help webpages rank higher in search results.
With this software, agencies can spy on their competitors, see what keywords they are using and ranking high for, and get lists of backlinks they are using. Moreover, it can be used for discovering top SEO pages, keyword suggestions, finding technical SEO errors on web pages, and tracking your performance.
Ubersuggest has four categories:
Dashboard
Here, you add your project, all the details, organic keywords, links, websites, etc. Then, you connect your Google Search Console to the account to be able to track progress. In Dashboard, you will also see your SEO score and SEO issues in case there are any.
Dashboard has two other subcategories: Rank Tracking and Site Audit. The first section shows data about the projects you have created, sends you updates on keywords, and includes detailed information about your web pages. The Site Audit section checks your pages for issues and errors, sends warnings, and gives recommendations.
Keywords
This category has five main sections: Overview, Ideas, Keywords by Traffic, Similar Websites, and Content Ideas. Keywords Overview breaks down keywords according to their monthly search volume, SEO difficulty, paid difficulty, and PPC cost.
Traffic
There are two main sections: Traffic Overview and Top Pages by Traffic. The first one includes info about a specific website's traffic, including data about organic traffic, keywords, domain authority, backlinks, etc. The second section is dedicated to the most popular pages by traffic on a domain.
Backlinks
In this category, you can enter an URL and receive a list of backlinks the page has. The Backlink Opportunity section allows you to find backlinks that lead to more than one of your competitors.
Price: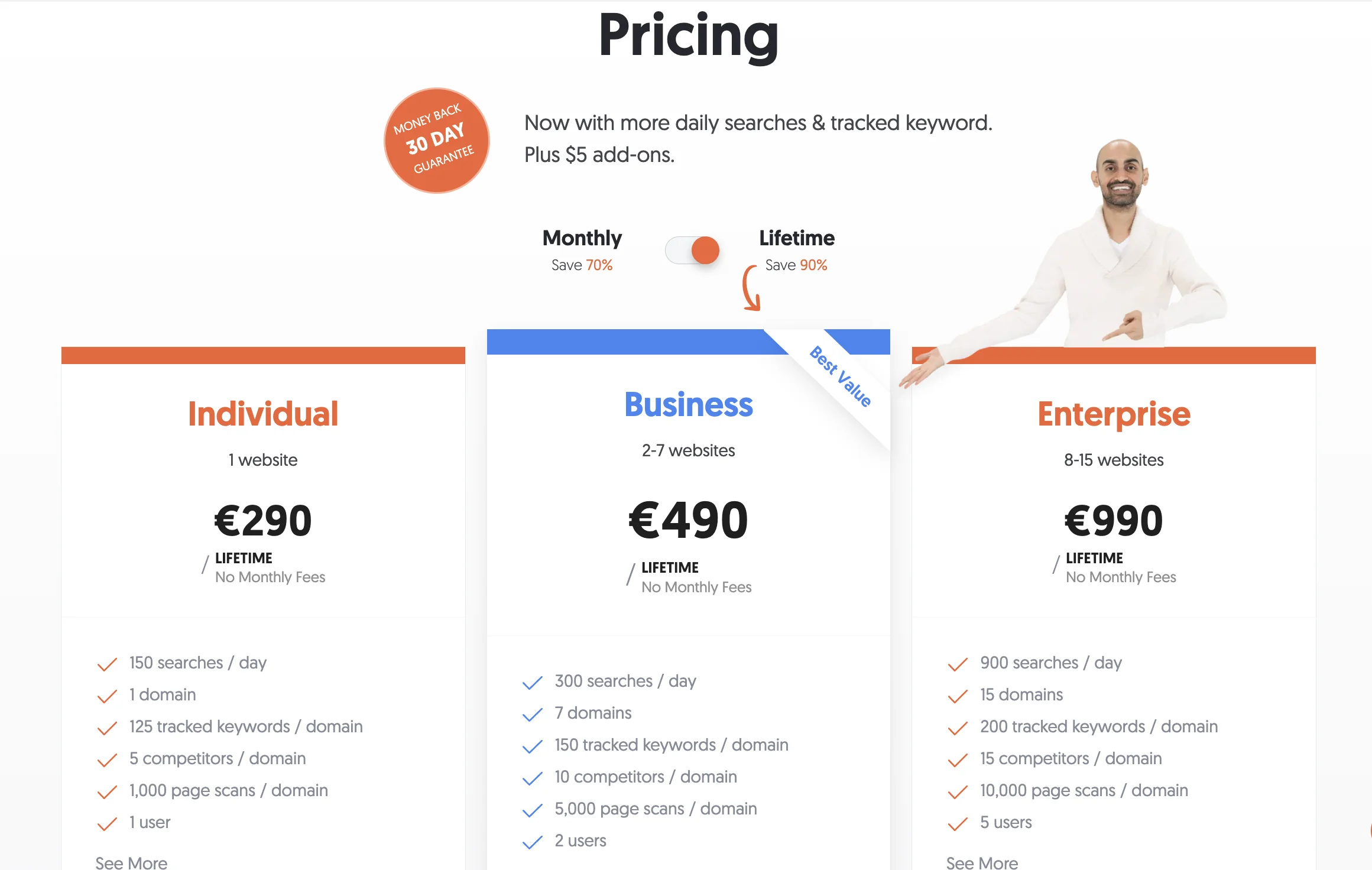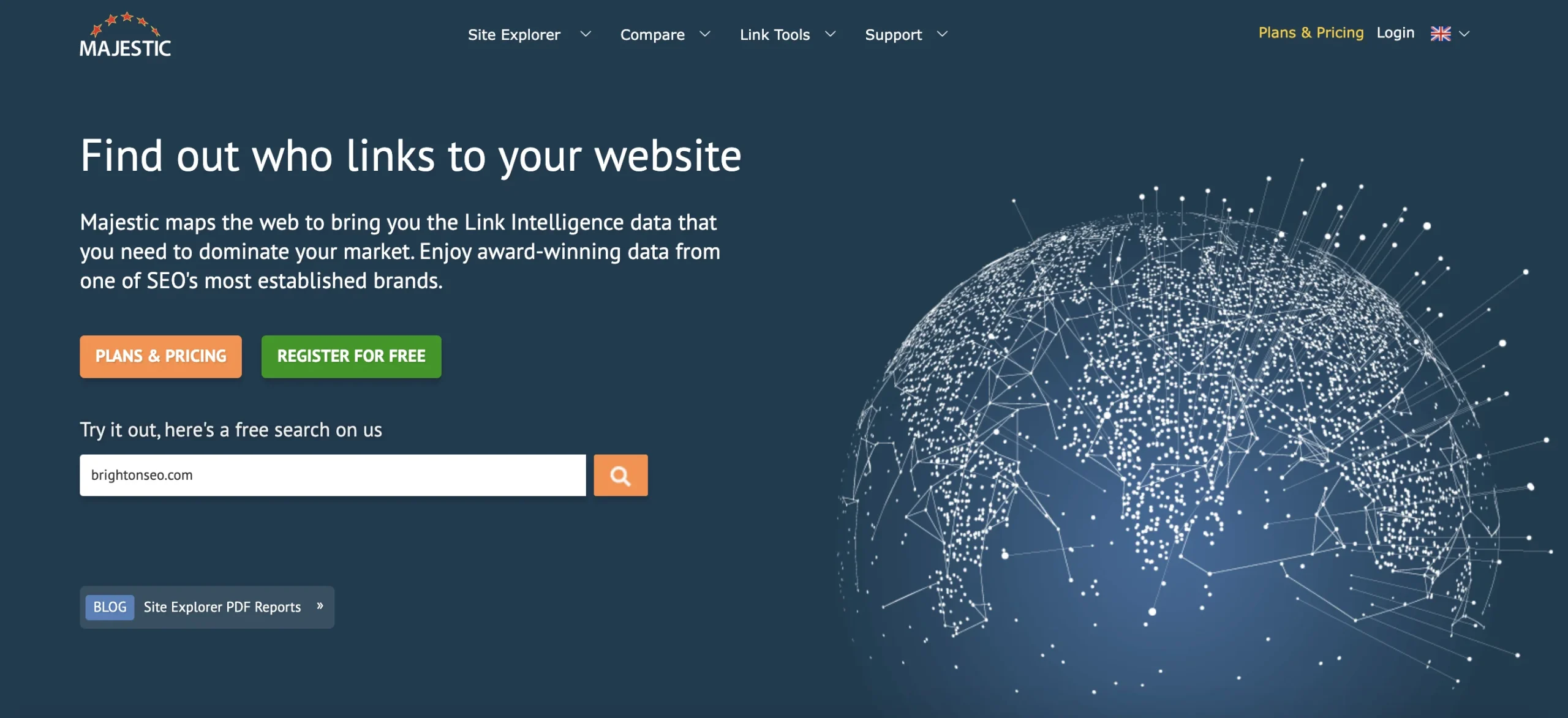 This tool is great for backlink checks because it specializes in link analysis. Its database consists of more than 2.7 trillion links, so it is often used by agencies who need to increase their online visibility.
Majestic has two main metrics: Trust Flow and Citation Flow. Trust Flow shows the quality of the links and whether you can trust them. The higher the Trust Flow of a web page – the more backlinks it will have. Citation Flow reflects the number of links that lead to a specific web page.
With Majestic, you can find the best links using their Site Explorer tool, use Link Context to find URLs in your area and your closest competitors, filter links by topic and language, and discover new link opportunities. The tool also has a metric called Topical Trust Flow, which breaks down the types of web pages you receive links from.
Moreover, there are two indexes in Majestic: Fresh and Historic. The Fresh index is the list of the most recent, up-to-date links found in the past 120 days. The Historic index is a database of links starting from 2006.
Majestic also has a category called "Topics" which determines any website's topics based on where the page gets backlinks from. It is a unique feature that is not present in many SEO tools for agencies, and it can be used to confirm that your page has authority in the right niche.
For enterprises that want to utilize the big data solution, Majestic has an API. With it, agencies can build their own apps using the Majestic connector library and documentation. For those who need more comprehensive SEO platform for agency with extended functionality, check the list of other Majestic alternatives we prepared for you.
Price: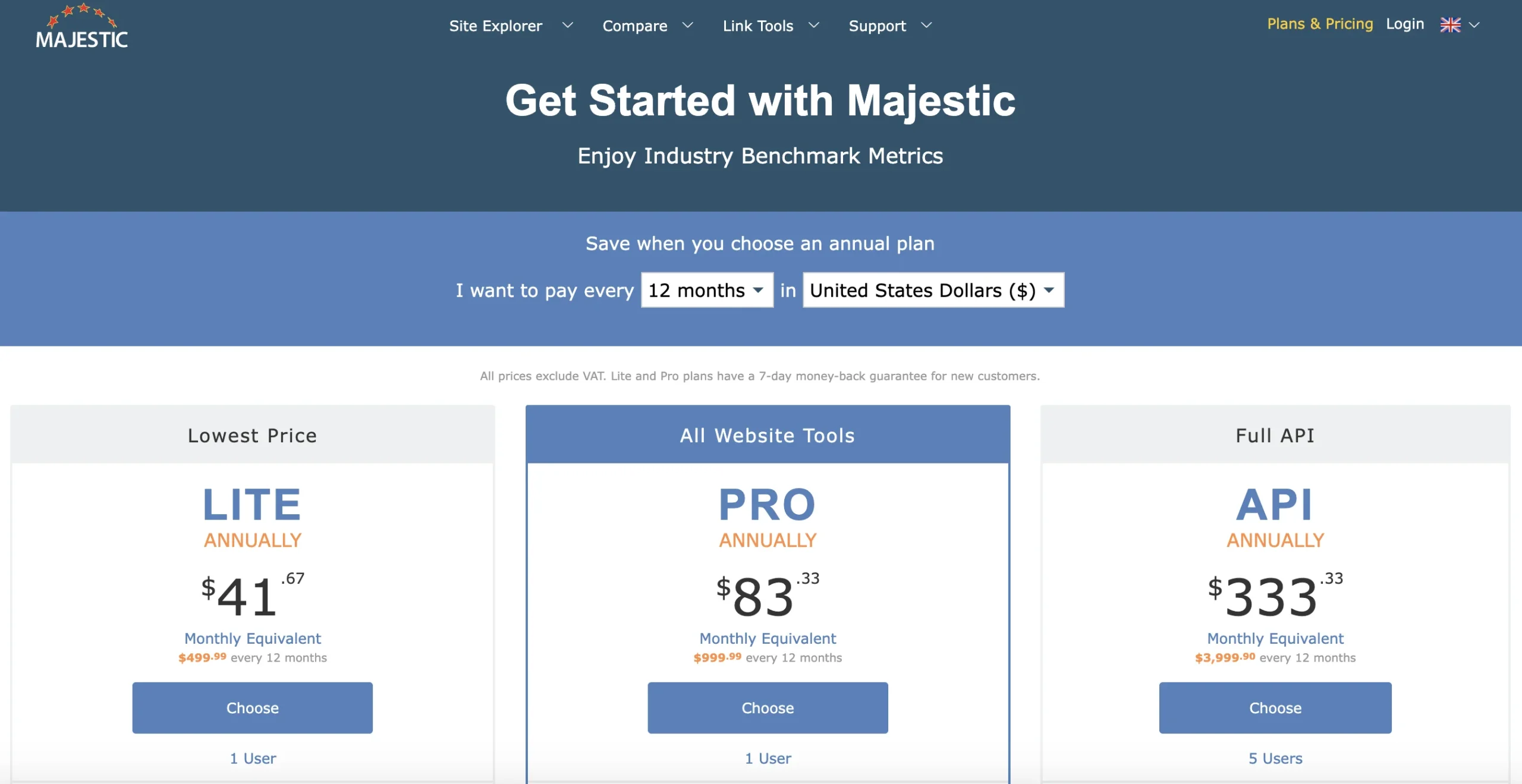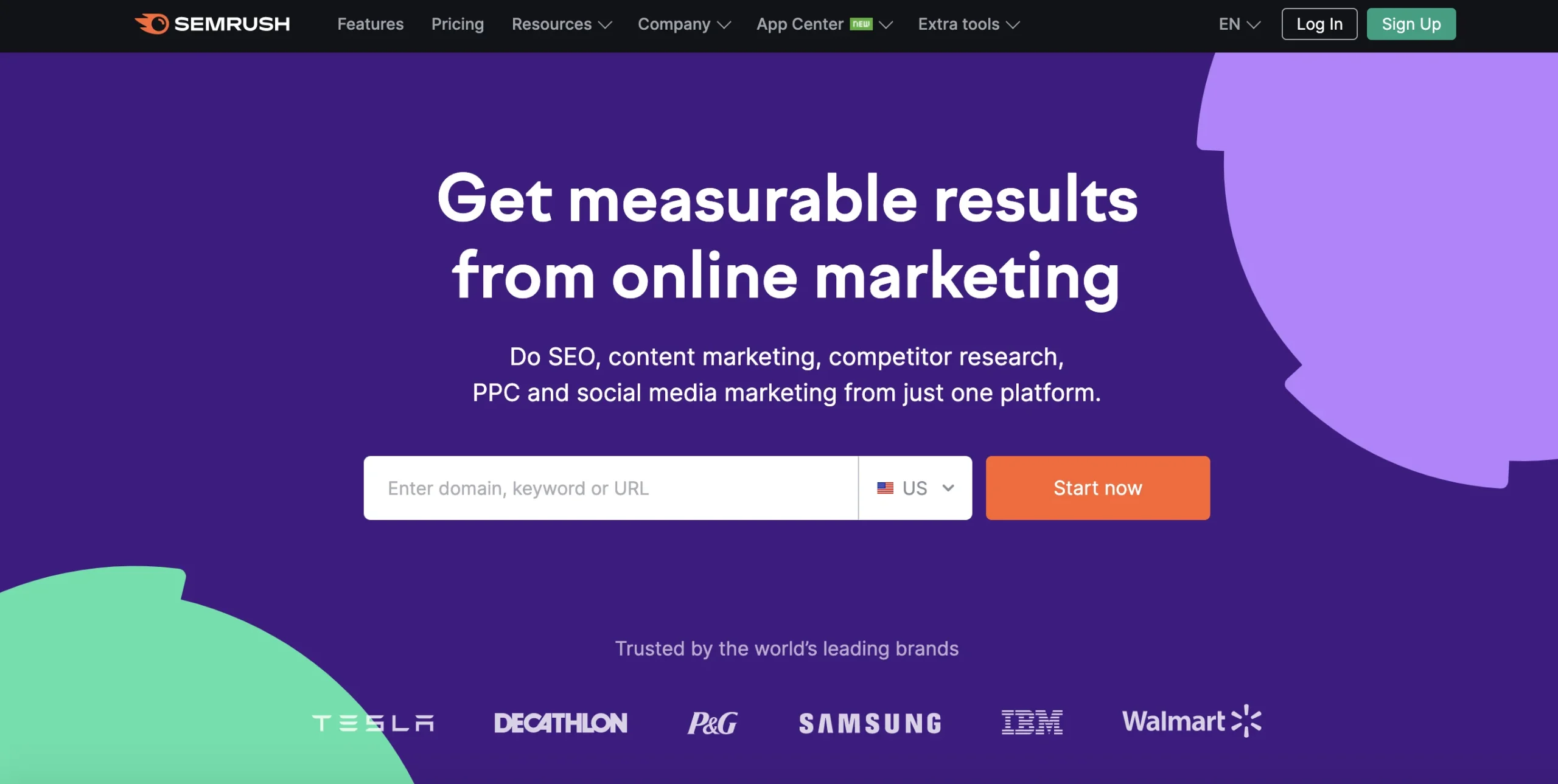 SEMRush is one of the most widely used SEO software. It has more than 40 tools for SEO, content marketing, competitor analysis, and PPC. It has a keyword tool called Keyword Magic Tool, and it offers keyword research suitable for any scale, be it international marketing or local SEO. Its database consists of more than 20 billion keywords.
Apart from having a keyword research tool, SEMRush can also be used for competitor analysis. It can be done with the help of two modules: Keyword Gap and Market Explorer. You can look for similar websites and see how they rank and what keywords they use.
Let's take a closer look at the main SEMRush SEO tools:
Competitive Research. This includes sections like Domain overview, Traffic Analysis, Organic Research, Keyword Gap, and Backlink Gap.
Keyword Research. Here, you can use tools like Keyword Overview, Keyword Magic Tool, Keyword Manager, Position Tracking, and Organic Traffic Insights.
Link Building. This section includes Backlink Analytics, Backlink Audit, Link Building Tool, and Bulk Analysis.
On-page & Tech SEO. This tool includes Site Audit, Listing Management, SEO Content Template, On-Page SEO checker, and Log File Analyzer.
You can also integrate Google Data Studio into SEMRush. It helps track several social media profiles, schedule PDF reports, and share templates. It is also a great tool for content optimization and analysis of your web page's technical issues that can affect your online visibility. SEMRush is a good choice for any agency that wants to grow its business online and receive detailed, up-to-date reports about its performance. You can also choose SEMRush alternatives if you need the same functionality for a better price.
Price: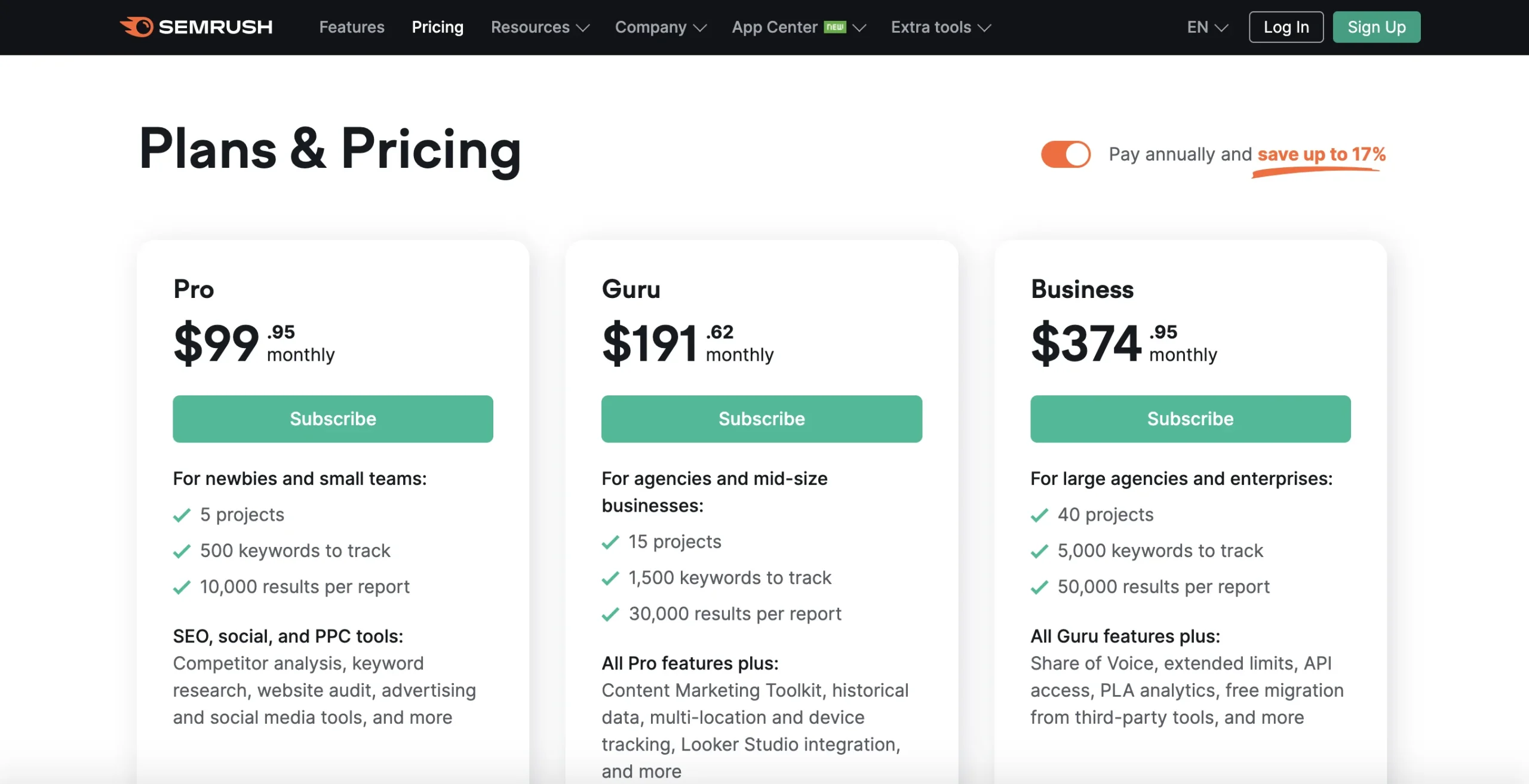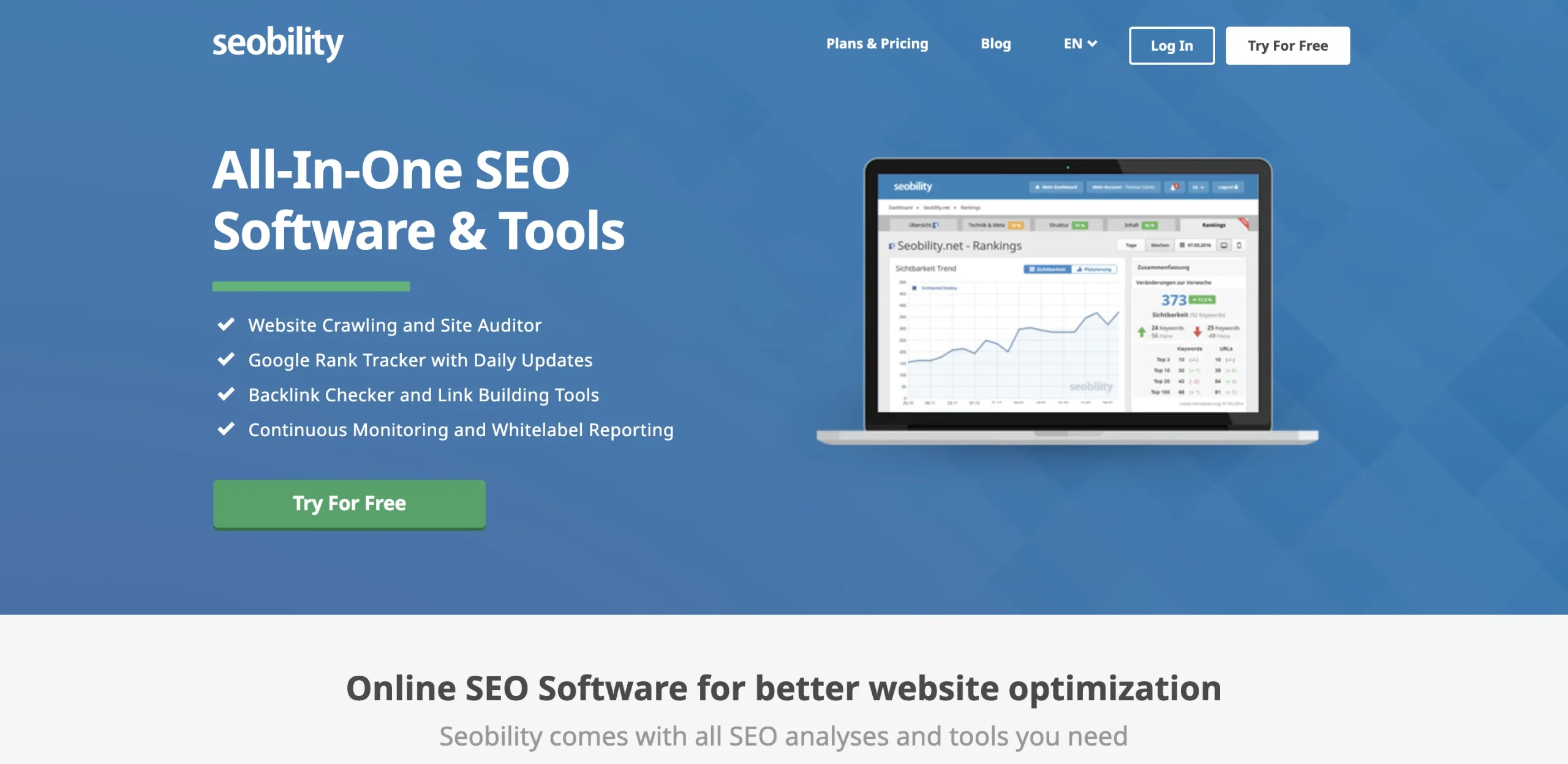 Seobility is an affordable all-in-one SEO software. It crawls your websites, looking for errors and issues with on-page optimization and problems like duplicate content, All the found issues are then divided into subsections, depending on their type. This software has three main features: On-Site Audit, Rank Tracking, and Backlink Checker.
The Website Audit Tool checks your web page for issues and gives you tips and recommendations on how to fix them. It includes checks of 300+ SEO-relevant website factors, resulting in 50+ analyses. These analyses are divided into three categories: tech and meta, structure, and content. Tech and meta problems include issues with meta tags, faulty URLs, etc. The tool also checks whether your web page is well-structured and has no problems with internal and external links and site hierarchy. Finally, it evaluates the content quality and its relevance.
Keyword Ranking Monitoring Tool lets you check both your and your competitors' rating. It calculates individual visibility value, showing whether your ranking is improving or decreasing. Moreover, you can use this tool to monitor keywords, receive suggestions on how to improve visibility, and evaluate local searches. Finally, you can receive e-mail reports about your rankings or create PDF reports automatically.
Backlink Checker Tool allows you to build links and monitor your backlink profile. With this tool, you can check the current development of backlinks, check their source, target, and type, and see how valuable each link is. You can also generate new backlinks and do competitor backlink analysis to improve your SEO strategy.
Price: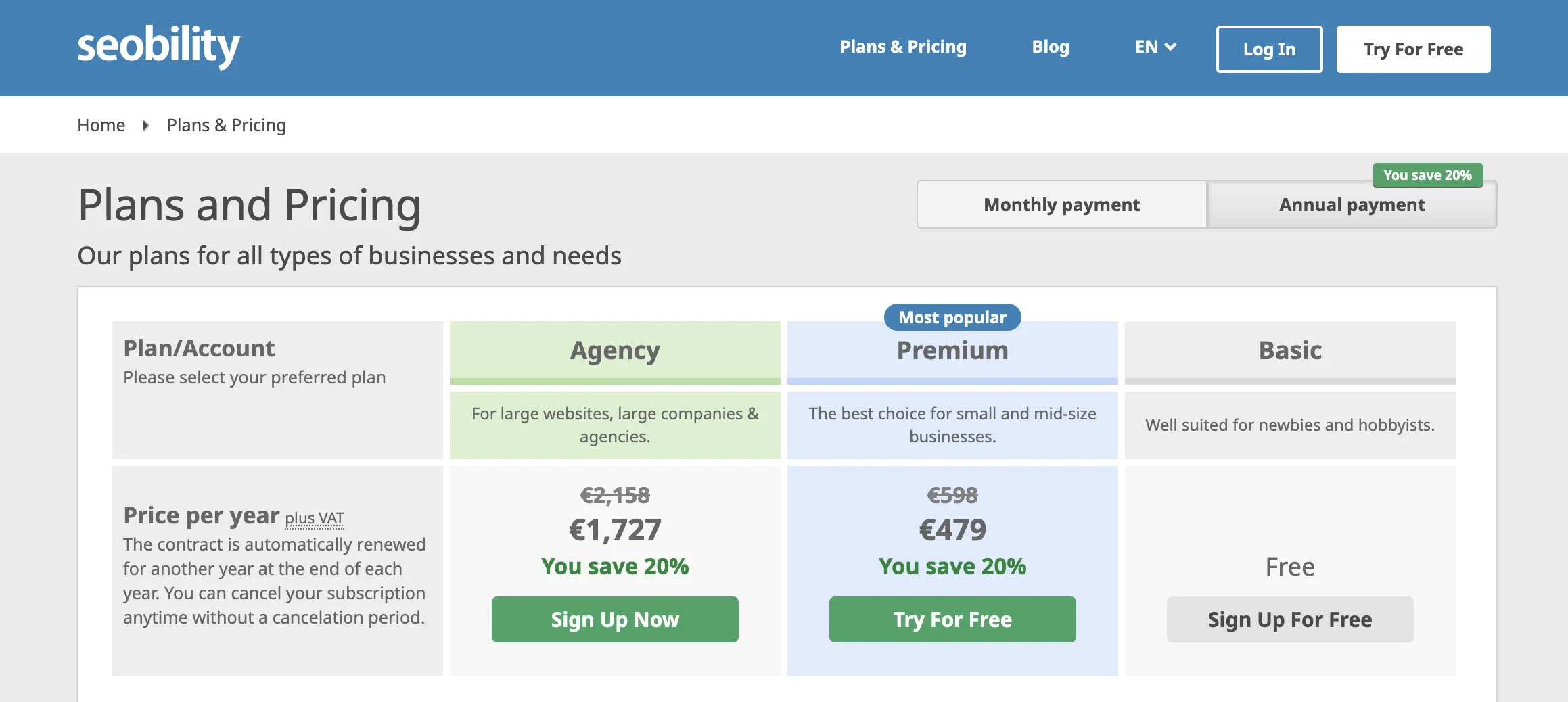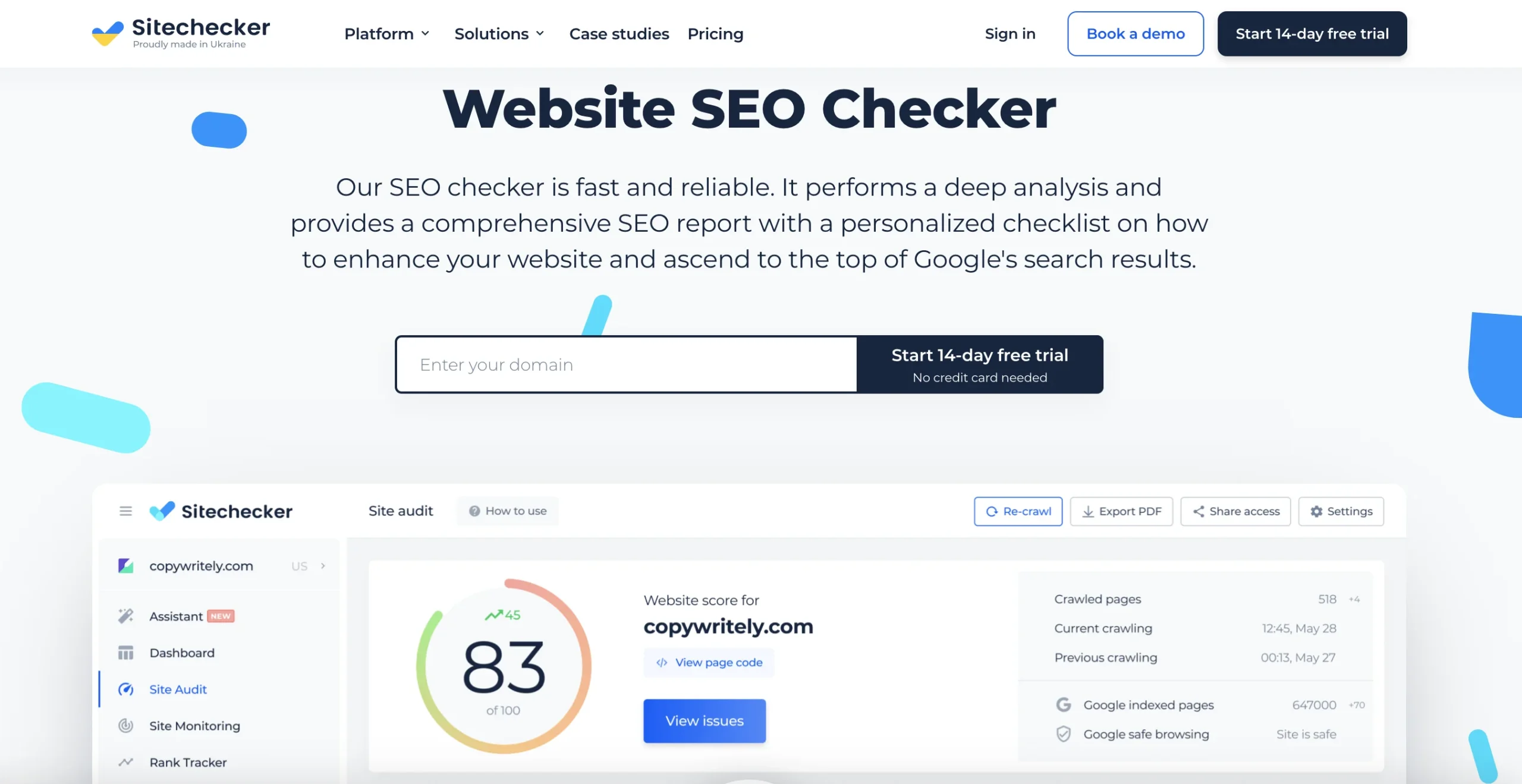 Sitechecker is a website SEO checker for technical audits. It has all the necessary tools to improve your rankings: a website crawler, an SEO dashboard, personalized SEO instructions, a website changes monitoring tool, a ranking and backlinks checker, and even a Chrome extension for checking on-page SEO.
With a website crawler, you will be able to analyze the technical SEO of your web page and see whether there are any issues that need to be fixed. Moreover, Sitechecker will give you detailed guides on how to solve those problems. When using this tool, you will get a full technical SEO audit in 2 minutes. You can use flexible crawling settings, set up rules and regulations, and include specific URLs, etc. Furthermore, Sitechecker will measure your website's health and send you an email each time there is a new issue.
An SEO Dashboard will provide you with an opportunity to connect all your data. Discover insights, and monitor market trends. Inside this tool, there are Projects Dashboard, Site Audit, Site Monitoring, Rank Tracker, and Backlink tracker. You can have an overview of all website performance, monitor traffic, improve the website's technical health, detect and fix errors, track ranking daily, and improve your link-building.
Website Monitoring is a feature that allows you to instantly see what's happening with your website and whether there are any problems. Sitechecker will let you know when there is a risk of losing Google traffic and what to do in this case. Moreover, you will be able to learn about any code changes and measure the impact of website changes on web page ranking.
Keyword Rank Tracker is a great tool for monitoring your website's ranking and visibility rate as well as indexation progress. You can track positions in Google, Yandex, Bing, and Yahoo in any country or city. What is more, you will receive daily and weekly reports and be able to filter keywords. An Advanced mode will allow you to customize table settings and use additional metrics like Potential Rank or Cost Per Click.
Backlink Checker is all about link-building and research. With this tool, you will be able to check backlinks for any website, perform backlink audits, and build your own backlinks.
Price: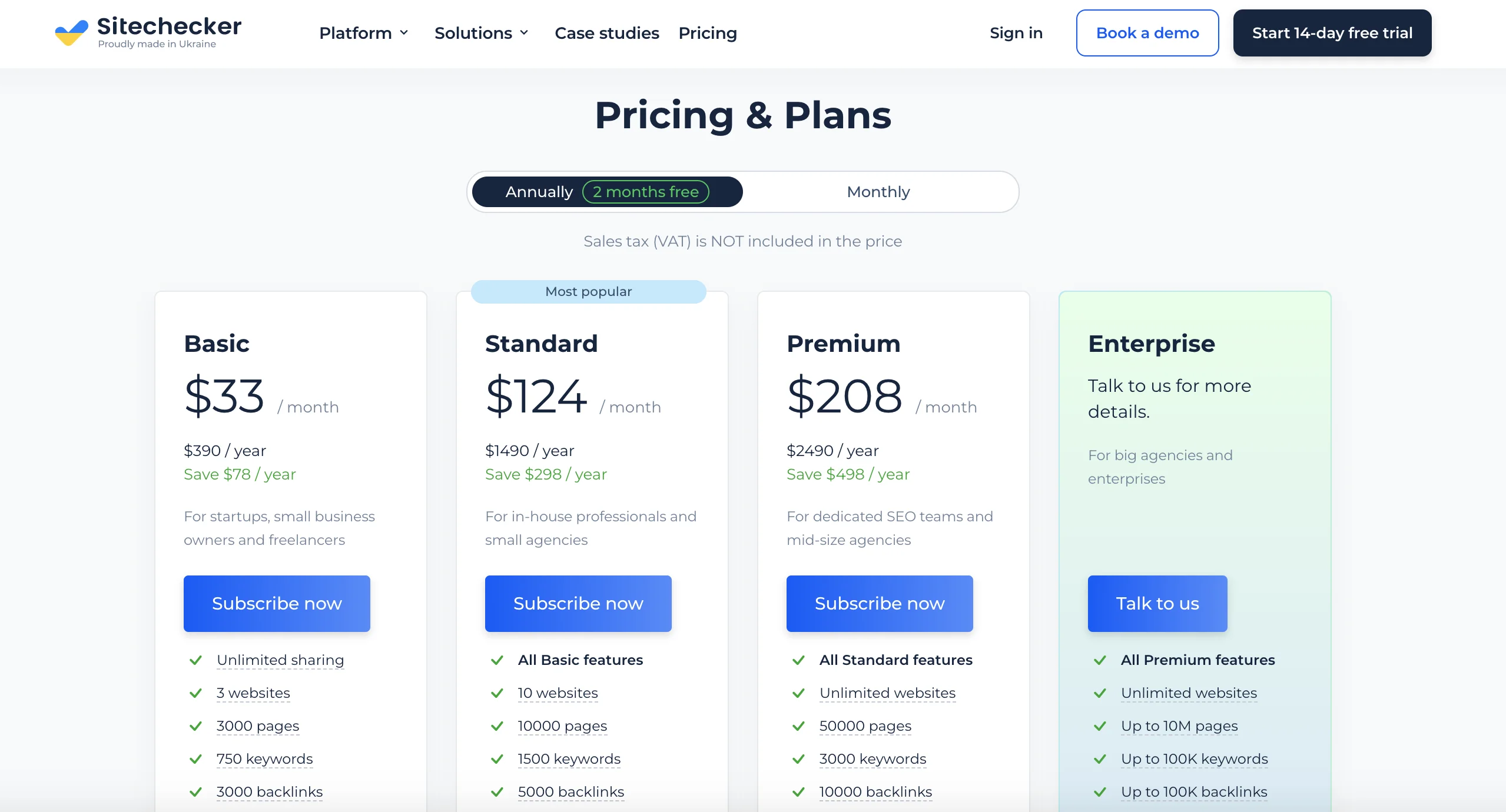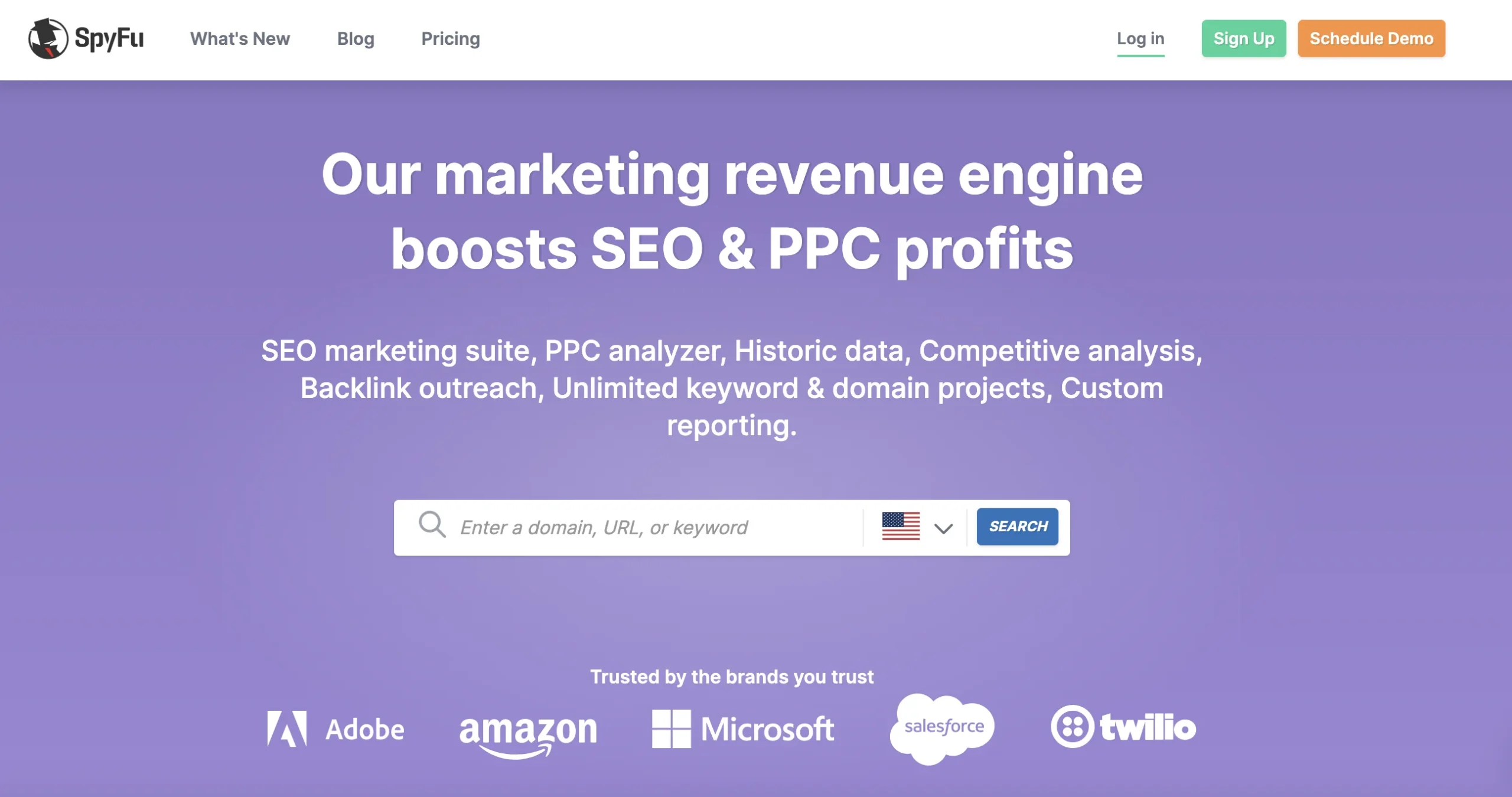 SpyFu is an SEO software tool that can help your agency with any digital marketing tasks, especially SEO. It has tools for SEO research, PPC research, keyword research, backlinks, and tracking.
SEO Competitor Research tool allows you to search for competitors, see what keywords they are ranking for, and what content and backlinks can help you outrank your competitors. You can download your competitors' SEO keywords, spy on any website and catch their changes in rankings and content, and see your emerging competitors. SpyFu also has a multi-competitor keyword tool to see the keywords your competitors are ranking for, but you aren't. Another great feature is that you can target those influencers' whole links will help you rank higher on a chosen keyword.
PPC Competitor Research is a tool for downloading competitors' PPC keywords, monitoring PPC competitors, and seeing the keywords that your Google Ads competitors purchase but you don't. Moreover, you can you the Google Ads Advisor to receive recommendations on the most profitable keywords you're not yet buying. This tool can also scan your account for expensive keywords that do not work for your competitors and won't work for you.
Keyword Research tool is all about generating, researching, and analyzing keywords. You can generate new keyword ideas, create lists, learn the tricks of the most successful advertisers for any keyword, and see the websites and backlinks that will help you rank high on a specific keyword.
Backlinks tool can help you target high-quality links that help you rank higher. You can find links that already help others rank, master the process from research to outreach, and compare different domains.
Rank Tracking tool can be used once you have already discovered new keywords and are wondering what to do next. You can use the tools for the custom organization of keywords, get weekly tracking updates, and see insights on a keyword level.
SpyFu offers affordable pricing plans, but if you need more tools within one platform, check other SpyFu alternatives.
Price: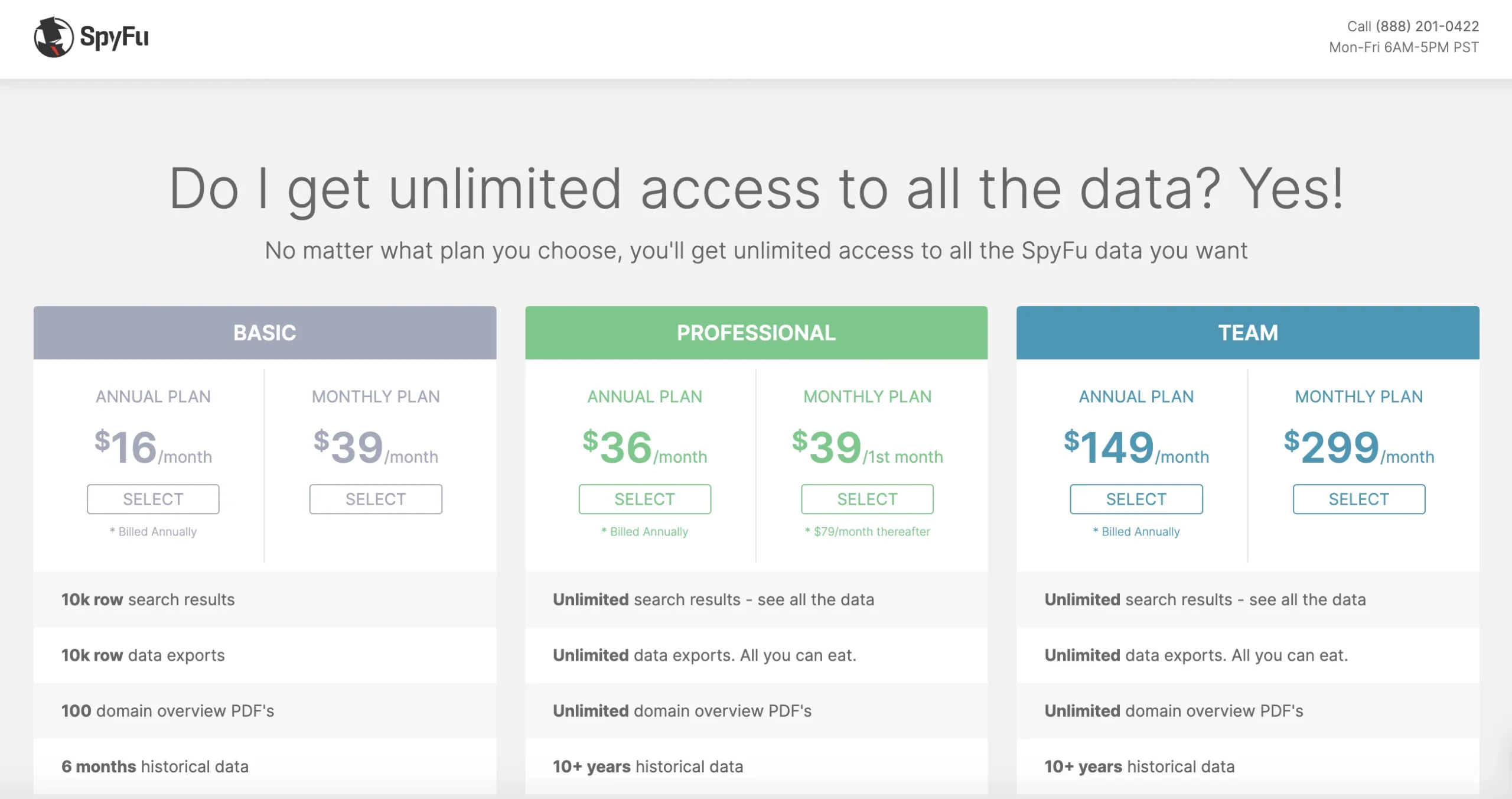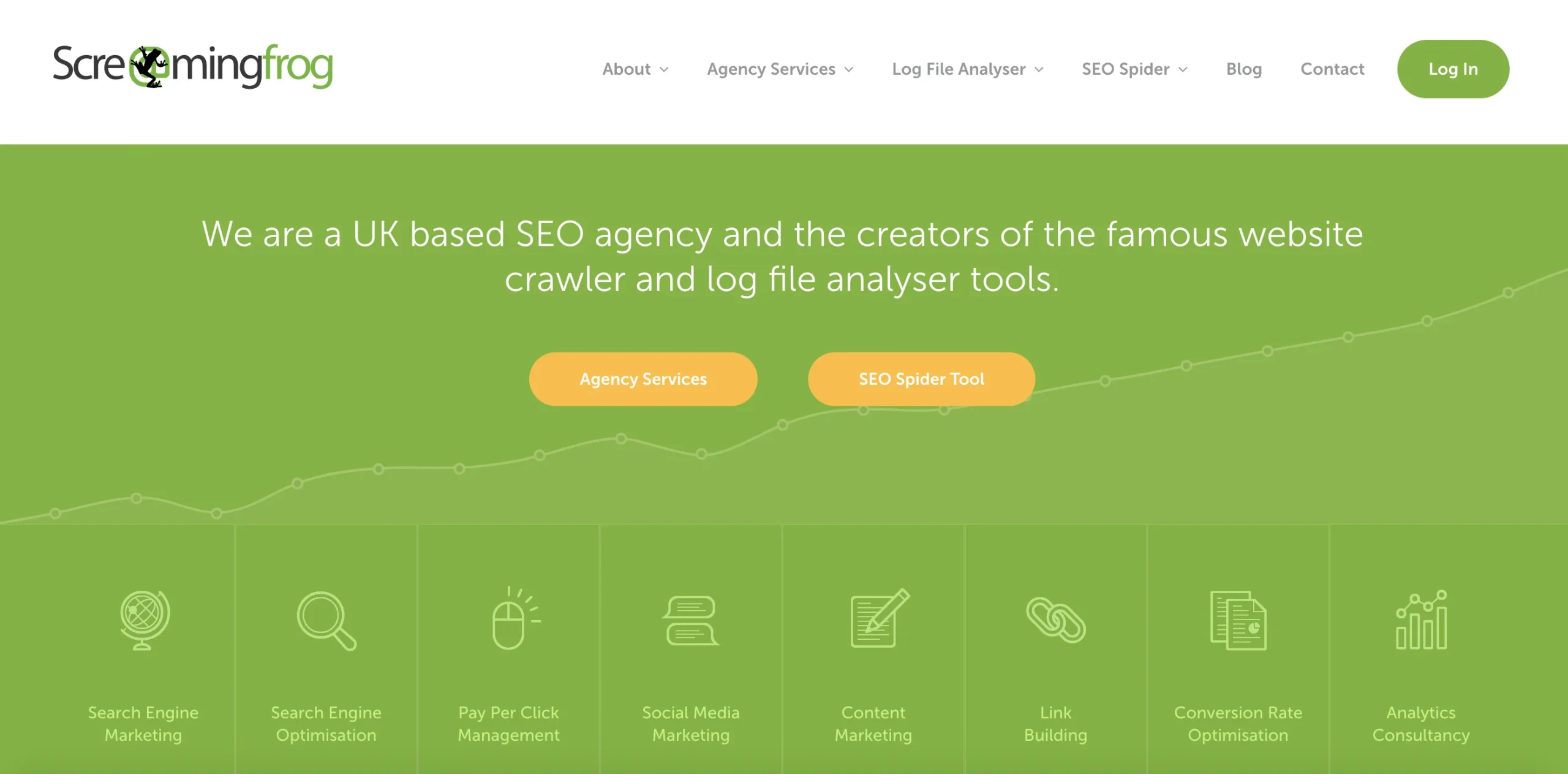 Screaming Frog is a website crawler that checks your web pages for common SEO issues. You can download and crawl 500 URLs for free or purchase a subscription for unlimited access. It allows you to analyze results in real time and learn about any broken links, audit redirects, duplicate content, etc. It can also be integrated with Google Analytics and Google Search Console.
With Screaming Frog, you can also extract data using CSS Path, XPath, or regex. Moreover, you can view those URLs blocked by robots.txt, X-Robots-Tag, or meta robots and crawl JavaScript websites and frameworks, such as Vue.js, Angular, and React.
Some of the features are only available for the paid version of the tool, such as crawl configuration, comparison, and custom extraction. Free technical support, link metrics integration, Google Analytics integration, custom source code search, and AMP crawling & validation are also only available in the paid version.
Screaming Frog also allows you to export SEO elements like headings, page titles, URLs, etc., to a spreadsheet so that it can later be used for recommendations on how to improve your optimization.
Price: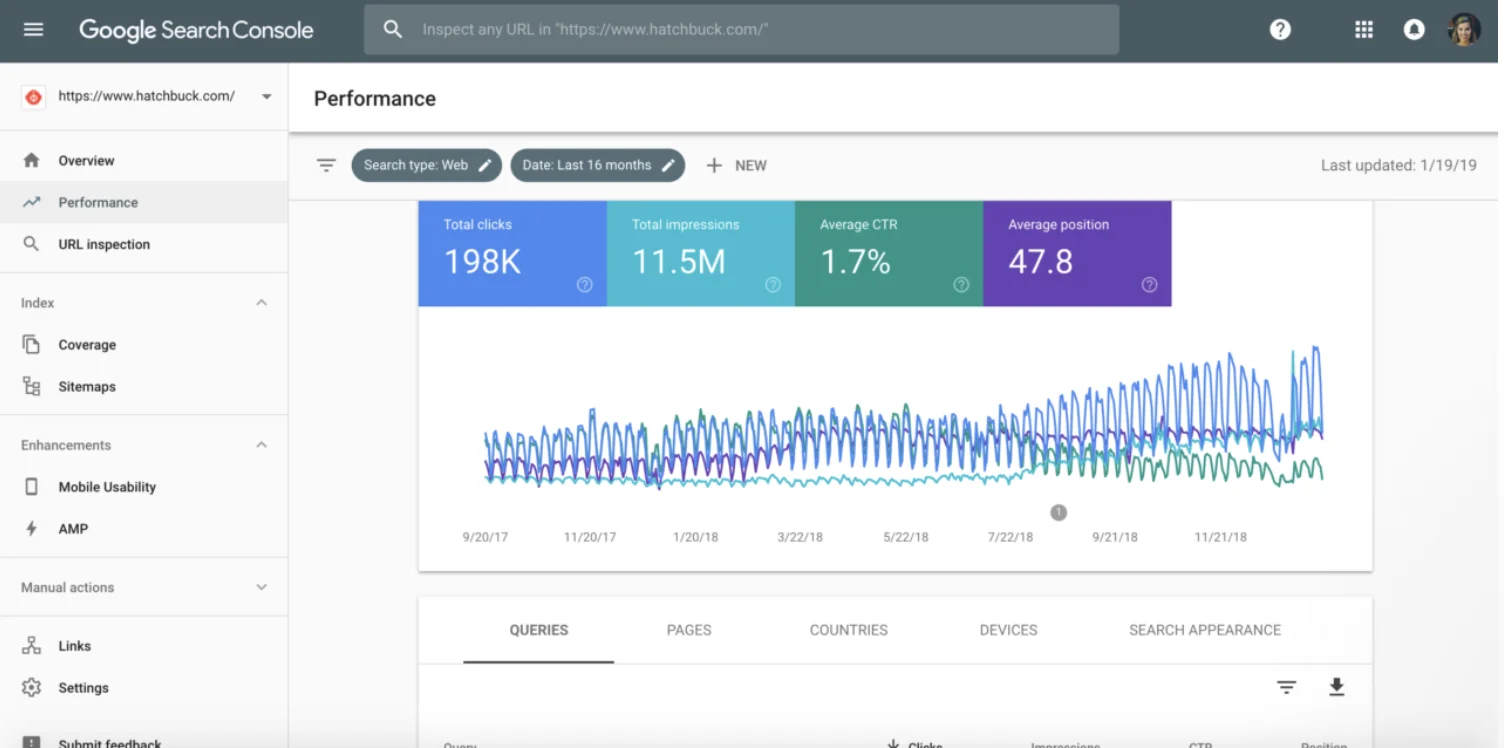 Google knows everything about website SEO, and it has a tool that can be used to increase your website performance. Google Search Console is incredibly powerful and free to use. The purpose of this tool is to help you understand how Google sees your website.
Its features help you cover the following activities:
Crawling.
Website health.
Search and Discover.
Indexing.
Technical issues.
Organic traffic.
Sitemaps.
Backlinks.
Mobile usability.
Taking into account how powerful and effective Google Search Console is and that it is entirely free, there is no reason why you should not use it in your agency. You can use this tool to confirm that Google can see and index your website, analyze traffic coming to your web page from Google, see how often people find your page from specific queries, and receive notifications in case there are any issues.
One of the main benefits of this tool is that it allows you to create sitemaps, which are an essential part of any SEO strategy. This subsection helps you show Google how everything is organized on your website, and you can add details to the metadata, videos, images, etc.
Moreover, Google Search Console is incredibly useful for various reports. For example, you can receive the Index Coverage Report, the Sitemaps Report, Manual Actions Report, and Core Web Vitals Report. These are not all of the resources available in this tool. Depending on the type of your business and your requests, you can receive other reports as well, all very detailed and informative.
Conclusion
In conclusion, search engine optimization (SEO) is an essential aspect of digital marketing, and agencies need reliable tools to help them manage their clients' websites and improve their online visibility. With so many software for SEO agencies available in the market, it can be overwhelming to choose the best one.
The demands of the marketing industry are high as ever these days, so all the SEO tools we mentioned here are trying to keep up with those requirements. Each of these tools offers unique features and functionalities that can help agencies with keyword research, competitor analysis, backlink monitoring, and more. Ultimately, the Best SEO Software for your Agency will depend on your specific needs and budget. It's essential to assess your requirements carefully and choose a tool that can help you achieve your SEO goals effectively. By using the right SEO software, your agency can stay ahead of the competition, improve your clients' online visibility, and drive more traffic to their websites.