What are Traffic Estimators?
Website traffic estimation tools are used to analyze any website to see where the users come from, how they interact with the website and a treasure trove of other information that can give you insight into where visitors are coming from to a certain website. We have reviewed and ranked the best site traffic estimation tools and listed them below:
SE Ranking traffic checker
allows you to take a deep dive into traffic analytics for any website or keyword. All you have to do is enter the domain, exact URL, or query and hit "Analyze traffic". The tool will show you all the necessary data both from the organic and paid campaigns. For a website, for example, you'll see monthly estimates for the number of keywords it ranks for, as well as visits and total traffic costs. It's always beneficial to know what keywords drive the most leads! All data is visualized neatly with clear dynamics indicators, which is useful when you want a glance at the current state of your website. The graphs are interactive and can be expanded for a more detailed analysis.


The SE Ranking tool also derives statistics on the geography of your traffic so you can take data-driven decisions about the local markets and adjust your online strategy accordingly.
What's especially useful is that you can check your or a competitor's website, peek into its strategy, and get an idea of what works and what's not. Result? You can create a better strategy and beat the competition on both organic and paid planes.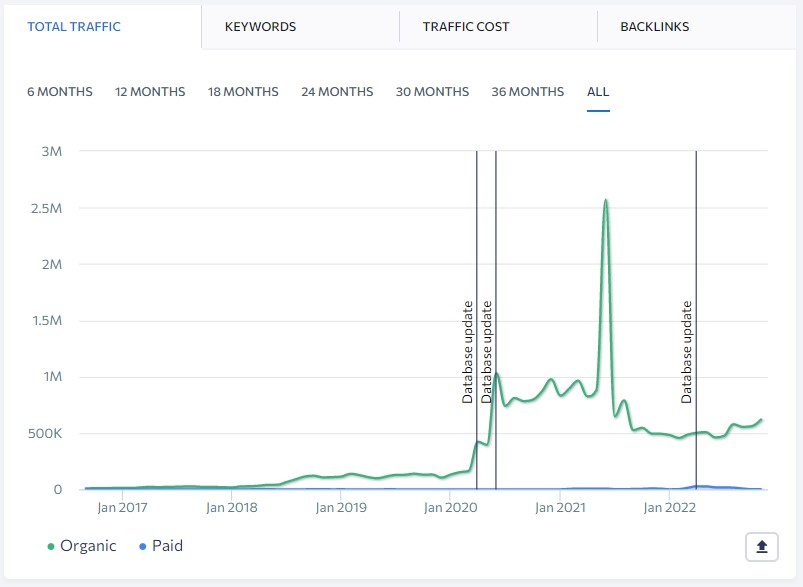 Pros
All-in-one SEO platform

Great value for an affordable price

Good for competitor research

Great data visualization
Cons
API is available only for the Business plan
TRY IT FREE
SEMrush is to Ahrefs what Android is to Apple: arch-nemeses. SEMrush specializes in analyzing traffic. They are generous with a 7-day free trial. SEMrush offers a ton of
SEO tools
for SEO, Content Marketing, PPC Advertising, Social Media, and Competitive Research, and Community. With
SEMRush
, you can get an estimation of any website's organic search traffic and even see the keywords that are bringing in that traffic.

SEMrush SEO includes
on-page SEO
,
Keyword Research
, Link Building, Local SEO, and Rank Tracking. Link Building finds organic opportunities to make your backlink profile stronger. SEMrush Content includes Marketing, Creation and Distribution, Optimization, and Marketing Analytics. To try SEMRush for free, click the link below and our readers only can get a 14 free trial of SEMRush!
Pros
Tons of tools
Accurate data
Largest SEO Tool
Cons
Learning Curve
Expensive for some
Serpstat offers some unique services, including Content Marketing Ideation, Reports and Infographics, and API tools. Content Marketing Ideation works by finding questions that clients want answers for, via database searches. Providing the answers to these frequently asked questions will attract more visitors to your website. After finding and answering those questions, you can input keywords related to your topic to increase search engine clicks.

For business owners with little time to perform their own analysis, Serpstat offers Infographics and Reports. A Simple Dashboard shows you your projects, query history, clicks, and overall success in one single screen. Data Visualization and White Label Reports help with creating reports and presenting information to employers and business associates. Serpstat's API is developer-friendly, giving daily rankings, competitor analysis, position-tracking, and keyword-research data directly into your reporting systems. Serpstat provides the ease of access that extremely busy people need to effectively run their websites with the best content and the highest number of clicks.
If Similar Web is the best free option, then Ahrefs is one of the best-paid website traffic estimators. Ahrefs offers a trial at $7 for 7 days to help you determine if their services are right for your needs.
Ahrefs
offers a traffic estimation tool that shows you estimated organic monthly visitors based on the keywords you are ranked for and the volume of searches for that keyword. You can get a pretty accurate traffic estimation by adding a URL to the site explorer.

They have five options, beginning with their Site Explorer. Site Explorer provides several options:
Organic traffic research shows the keywords competitors rank for and which pages generate the most traffic. There are over 150 million keywords just in the United States that Ahrefs tracks.
The Backlink checker checks websites that link to competitor websites and analyzes the quality of those backlink profiles. Ahrefs' backlink checker is big and fast.
Paid traffic research shows whether competitors are doing paid search advertising, and if so, where they generate their paid traffic.
The next option is their Keywords Explorer, which provides numerous options to help you pick the best keywords for your online presence. Keywords Explorer is supported in 171 different countries, not just the United States, making them very accessible.

Keywords Explorer also gauges the quality of keywords, helping you pick the right keywords to show up on search engines. You can also check the "parent" options to see which keywords your keywords are under. Impressively, you can enter up to 10,000 keywords at a time. Ahrefs ensures accurate and up-to-date metrics by using clickstream data every month to refine and narrow down volume numbers.
Cons
Expensive
Only organic traffic data
One of the websites that provide any competitor traffic information for free is SimilarWeb.com. Similar Web gives insights on websites, apps, and platforms. For basic functions, this website is very easy to use. Simply type the website URL into the "Analyse any Website or App" box at the top of the page.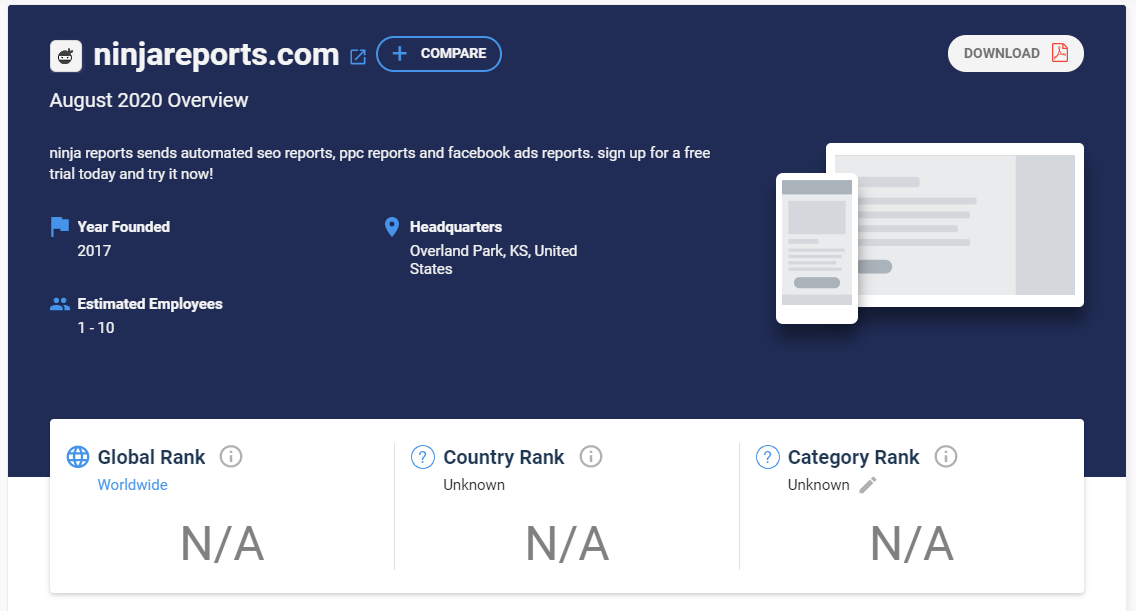 You will be able to see basic analytics, like which countries visit the website most and how many visitors there have been over the past several months. Bounce rate, pages per visit, and average visit duration are also included. The comparison tool is also very nifty. You can compare websites side by side with this option, eliminating the need to toggle two screens together. Similar Web allows users up to 3 months of web traffic data, 1 month of mobile app data, and 5 metrics per month, all for free. Premium features are available for an upgrade, including experts you can consult with and up to 28 months of statistics.
Site Worth Traffic offers the unique service of showing you how much your domain is worth. It's free to use. Simply plug in the website domain you want to purchase, or your own for curiosity's sake, to see how much it's worth.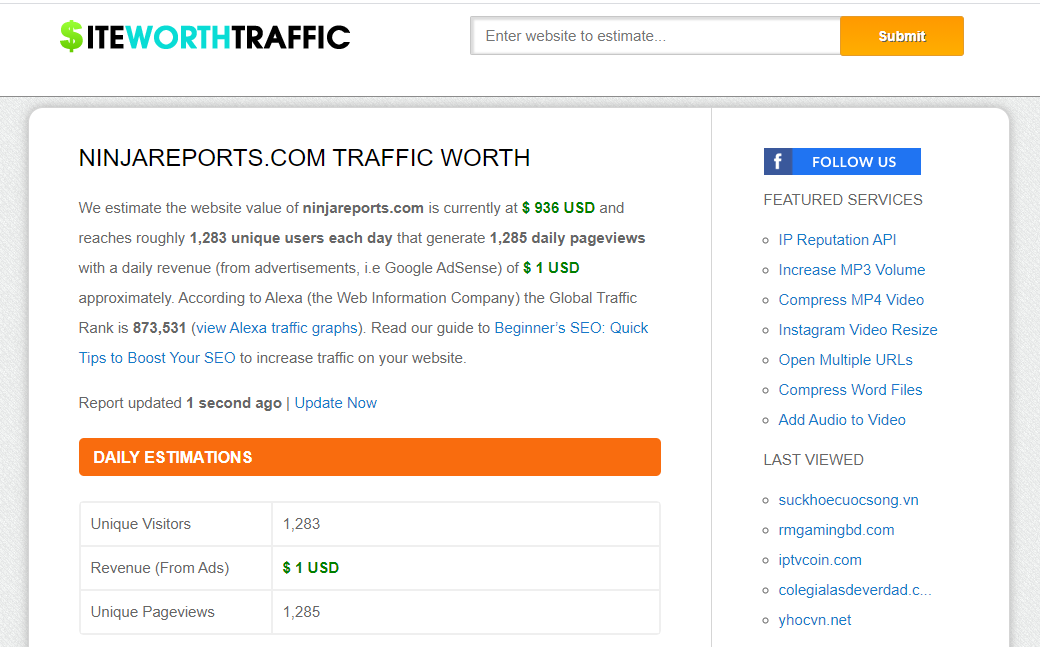 This can help you decide what domain might be most ideal if you're not sure which direction to go. This can also help with narrowing search results. The downside is that subdomain names don't work with this service. While these free services are good to an extent, they might not provide everything your business needs. This leads us to paid options. Some paid options offer a free trial or offer a lower price for a limited time so you can sample their services. Let's take a look.
SERPed refers to itself as a "Ninja Suite of
SEO Tools
." Among their services are Client Acquisition, Agency, and Domain Finding.
Introduction to SERPed.net
from
Colin Klinkert
on
Vimeo
. Client Acquisition uses
Site Auditor Pro
,
Citation Scanner
,
Review Badges
, and
Mobile Prospector
as a complete package to help bring new clients to your business. Site Auditor Pro is a fully customized widget that analyzes and audits:
URLs
Content
Mobile-friendliness
Titles and descriptions
Codes
Traffic
Images
Security
Metrics and backlinks
Headings
Speed
Social Signals
The Citation Scanner will check across the board, from the Better Business Bureau to Yelp and the Yellow Pages, to find any websites that you should be listed on but are not yet. In addition to nationally known websites, the Citation Scanner searches for hundred of local businesses and services where you can list your business. Greater exposure brings the potential for more clients. Review Badges offer a visually appealing alternative to those famous "follow us on Instagram!" posts. Instead, website visitors can click to go to your social media via a feed preview embedded directly onto your web page. And the Mobile Prospector ensures that websites built on a computer are optimized for viewing on smartphones and other electronic devices.
Quantcast offers services in three different fields right on its homepage. Their Marketing option helps you sell content to and understand your audience. Quantcast will also help you get consent to become data complaint. They have free resources on their blog with information regularly updated and relevant to 2020. While some of their services require your credit card information for access, they offer Quantcast Measure for free. Quantcast Measure gives detailed, real-time insights about your audience, including what motivates them to navigate different parts of your website. That information enables you to speak more directly to their motivations and bring them on board with you. Quantcast also has Q for Publisher, which provides resources for publishers. The Suite provides audience-intelligence applications that help monetize digital audiences via insights and measurements. Q for Publisher tools includes Measure Profile, Content Segments, Audience Planner, and Campaign Reporting. Quantcast's website does not provide in-depth details on exactly what it means to Measure Profile. Instead, they want you to contact them and see their pricing options.
Statshow is another free website traffic estimator, but its options are limited compared to other website traffic checker services.

Statshow shows estimated traffic on a monthly basis, as well as a yearly basis, along with monthly page views, monthly visitors, monthly ads revenue, different categories and niches, Alexa ranking, and site age, among other things. Statshow will also do some math for you by calculating the commercial value of your keywords. The downside to
Statshow
is its estimates of monthly visitors, which is not super accurate. Currently, Ninja Reports is getting around 2,000 pageviews a month, but Statshow is showing 30 visitors a month.
In Conclusion
These website traffic estimators all inter lap with what they offer, with the paid sources clearly offering more than the free ones. For beginners, free sources might be enough to get started. If you need a website traffic estimate, it can take as little as five minutes to gain insights to help you grow your audience and enhance your marketing. Comparing your business to other businesses in your area, or even similar businesses on the other side of the world can provide great leverage to make your business stronger and beat out competitors. And now, when you decide you need a website traffic estimator, you have a great list of go-to resources right here. Good luck!

Do you wonder how many visitors your competitors get? Or maybe you want to see where they are getting traffic from… Well, then you are probably looking for a website traffic estimator tool. These tools will allow you to check how much traffic a certain website gets, where they come from and a ton more information that can help gain an edge on competitors or insight into your own website. In this article, we'll look at the 8 most accurate website traffic estimators: