Keyword Ranking Checker
Ninja Report's keyword ranking checker will crawl and find all your ranked keyword positions, difficulty and more.

What Keywords Do You Rank For?
With Ninja Report's SEO Keyword Ranking tool, you can see all of the keywords you are ranked for, their positions, serp features and more vital keyword data.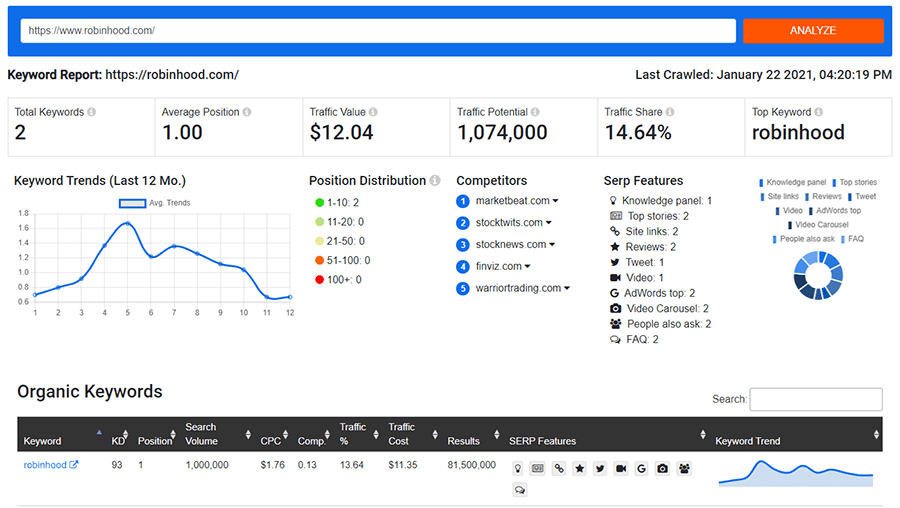 View Keyword Rankings
Want to know where you stack up against your competitors?
With the Keyword Ranking report, you can view all of the keywords your website is ranked for, where you are ranked, serp features, keyword history and more.
Keyword Rank Checker
With Ninja Report's Keyword Rank Checker tool, you can see where your website ranks in search engines, what keywords you are ranked for and a treasure trove of ranking data to help track and grow your keywords.
See vital data like keyword position, keyword traffic, competitiveness and more. Enter your URL above to run a keyword ranking analysis.
Affordable Pricing & Plans
What Customers Say
Great SEO Tool

I save a lot of time using this product. Weekly reports of my website audit in my inbox are a dream come true for any SEO agency or marketer!
Brandon S.
Great All Around Tool

Makes audit reporting much faster than it was before with other tools. I estimate I save 10-20 minutes per report with this tool after all my client profiles were setup.
Megan R.
Easy to use and understand visual reporting tool

The easy integrations take seconds and setting up audit reports is a snap. You can get updates daily, weekly or monthly.
Mark M.
Great overall products

Organization, ease of use and easy to read and comprehend. The best easy to use marketing software in my opinion. The detail of analytics is unmatched by most competitors' websites. Love love love the audit reporting tool.
Kevin M.
FAQ
Have a question about our SEO tools or a general inquiry about Ninja Reports? It's likely someone has already asked that question and we have an answer here:
What are you waiting for?
Whether you are an agency or a webmaster, you can grow your website traffic today with Ninja Report's SEO audit tools. Try Ninja Reports today and watch your rankings skyrocket!