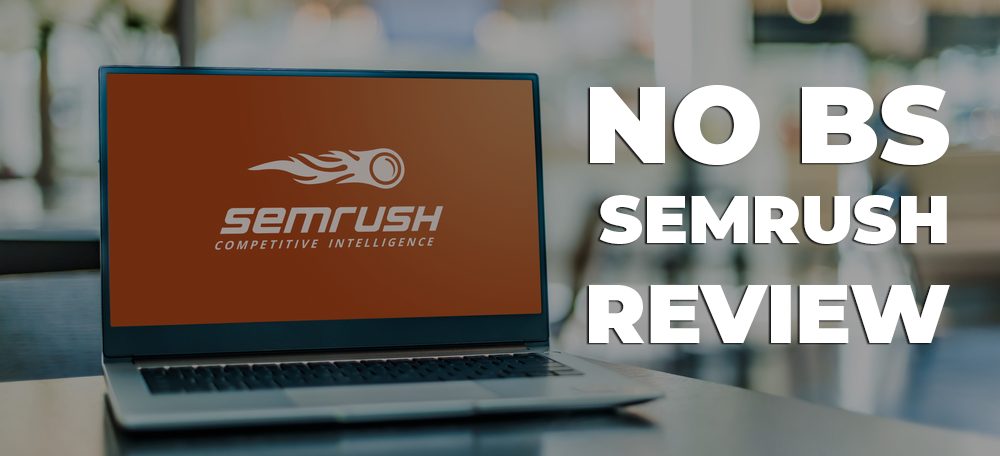 If you are an SEO or marketer, then it's highly likely that you have heard of SEMRush. They actually went public on the New York Stock Exchange in March of 2021. This tool helps you see the keywords your competitors are ranking for and which ones they are bidding on (so you can stay ahead of them). It also shows who their top advertisers are so you can steal some customers from them. In this article, we are going to review SEMRush so you can get the low down before buying it.
What is SEMRush?
SEMRush
is a powerful keyword research tool that can help you find keywords for your website and help to drive traffic and generate leads for your business. It has many features, including an organic
traffic estimator
, SERP analysis, and a competitive ranking tracker. It allows you to see what keywords competitors are ranking for, so you can stay ahead of them.
SEMRush Features
Some of the features that make SEMRush such a helpful tool for small business owners and website owners include:
Keyword Research
This allows you to see what keywords your competitors are bidding on, so you can keep ahead of them. You can also find new keywords that potential customers could be searching for related to your niche or product/service. They even just released intent-based keywords so you can get an idea of the user intent of each keyword.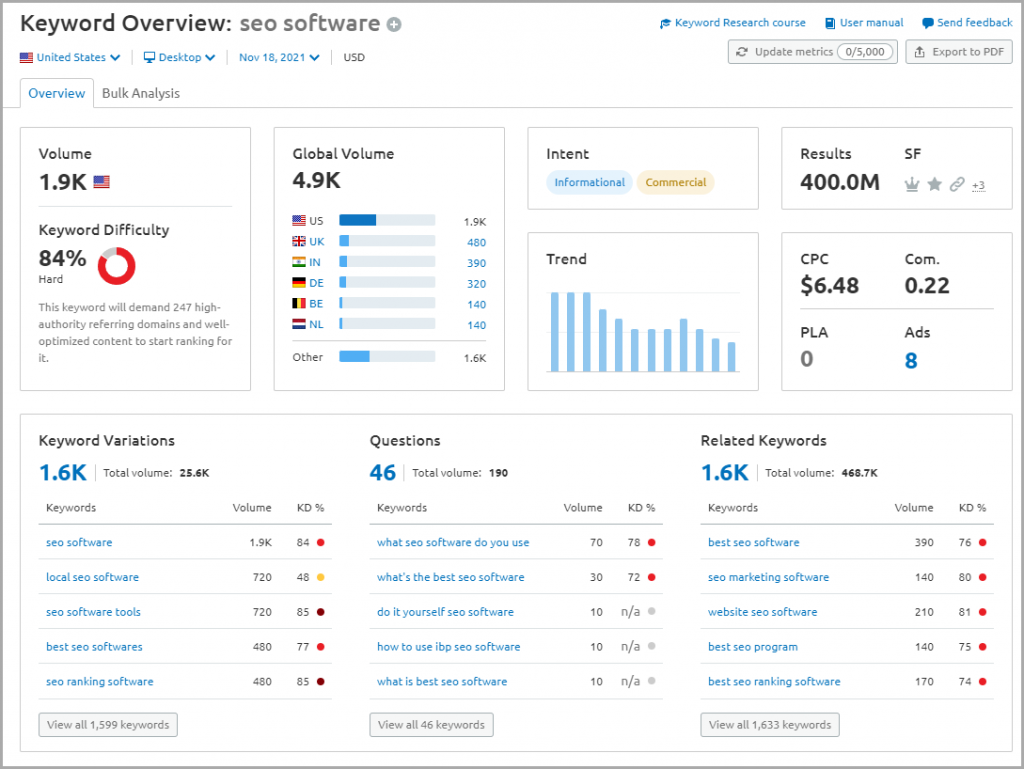 With this tool, you may begin your study by entering a starting keyword or phrase. You can find this information in the keywords section of your account under the domains and subdomains heading:
Broad Match Keywords – The variant of your base keyword or phrase.
Phrase Match Keywords –It uses your base phrase or keyword in different ways.
Exact Match Keywords – It's the most basic form of keyword research. It uses your base keyword or phrase in exact order.
Questions – A list of keyword inquiries that are relevant to your primary keyword or phrase.
Related – Create a list of broad, general terms relevant to your core keyword or phrase.
Competitive Research
This tool allows you to
see your competitors
and learn more about them. You can choose between seeing the top organic keywords, paid keywords, and total searches in Google for a particular domain or website: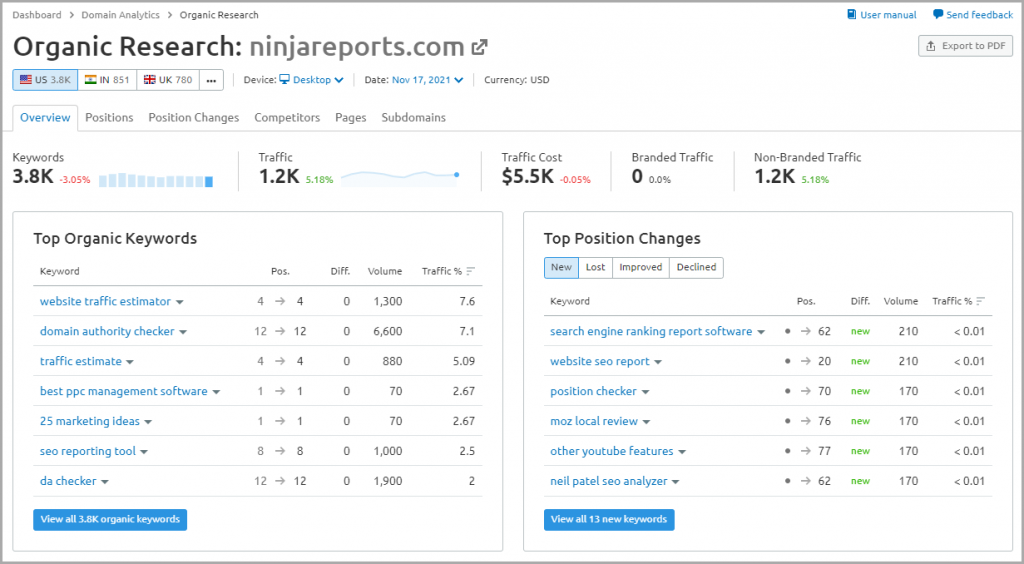 Organic Search Results – This is where you view all of the websites that rank on page one of Google. It'll show you their actual ranking, the average rank of all websites in the SERP (search engine results page), and how many keywords they're responsible for.
Paid Search Results – This is where you'll see every ad that Google shows when it conducts a search related to your keyword or phrase. You can use this information to identify top advertisers and learn about other keywords they are bidding on, so you can target them to steal their customers.
Top 100 – This shows the top one hundred websites in Google ranked by search volume, using your keyword or phrase as a basis for comparison. You'll see how many search results each website receives per month (per day, per hour, and total), as well as other information like the number of backlinks they have.
Organic Traffic Estimator – This is a great tool to use if you're unsure how much traffic your site gets every month (or want to know what it would be in the future). You can enter any domain/website and get a rough idea of how many monthly searches your chosen keyword receives.
Keyword Difficulty – This tool allows you to see which keywords are the most difficult to rank for in Google (therefore making them easier for you). It'll show you their difficulty level, organic traffic volume, paid search volume, and total exact match searches.
Backlink gaps: With this tool, you can view a comparison of backlinks from two different websites.
SEMRush Rank Tracker
Another helpful feature of
SEMRush
is the Rank Tracker. This tool can be used to track your website rankings over time, helping you monitor how well your SEO strategy is working for you:
Domain Overview
– You'll see information like keyword rank, top keywords that are bringing traffic to the domain/website in question, total organic search traffic, and several keywords that the domain/website gets their first-page ranking on for.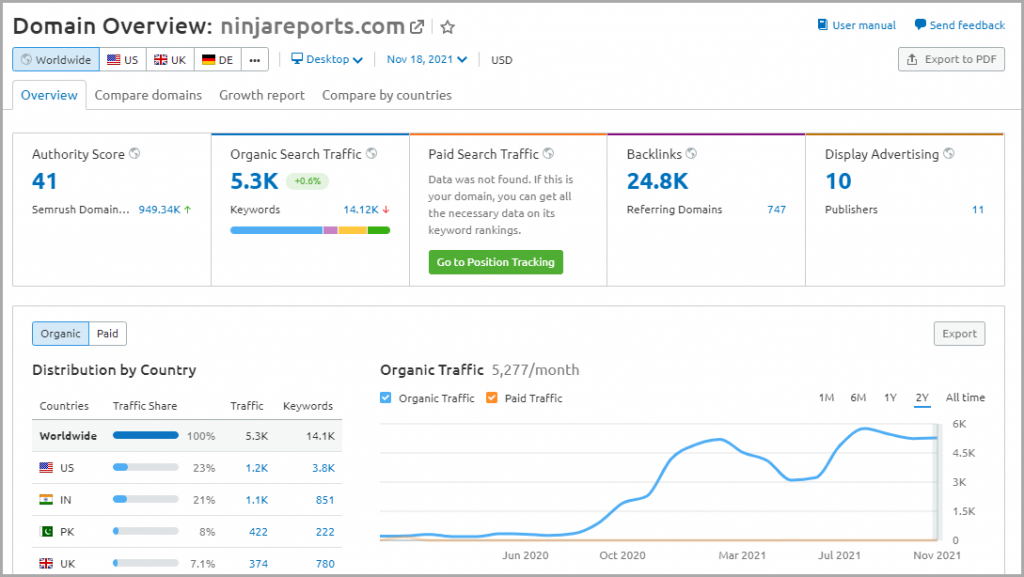 Top Organic Keywords
– You'll see information like total estimated monthly searches, organic search volume, current keyword rank position (page one), top five competitors' websites ranked by overall difficulty level in Google. This is based on how difficult the SEMRush Rank Tracker tool has found to get a first-page ranking for your keyword.
Top Social Keywords
– This helps determine which social media sites your competitors are using to generate traffic and get their website ranking on page one of Google. You can see how many monthly searches each site receives (per day), as well as the number of backlinks they have to their domain/website.
Link Building Opportunities
Another great feature of the SEMRush tool is that it helps you find link-building opportunities for your website. You can sort through all of these based on top websites (ranked by overall difficulty) and estimated monthly search volume.
Technical SEO
If you're looking to improve your website's search engine ranking and performance, then SEMRush can help. You can use this tool for:
On-Page SEO Checker
– This will provide information like page titles (and how many keywords they contain), meta descriptions (and which one is the most relevant/beneficial based on the keyword you're targeting), URL structure, and top competitors' websites ranked by Google page speed index.

Site Audit
– SEMRush will scan your website for any common problems that could be affecting its search engine ranking or performance (like broken links, title tag issues, canonical errors). You can then view the number of indexed pages in Google along with a list of all errors found by SEMRush. This can help you improve your site's overall performance and organic search engine ranking.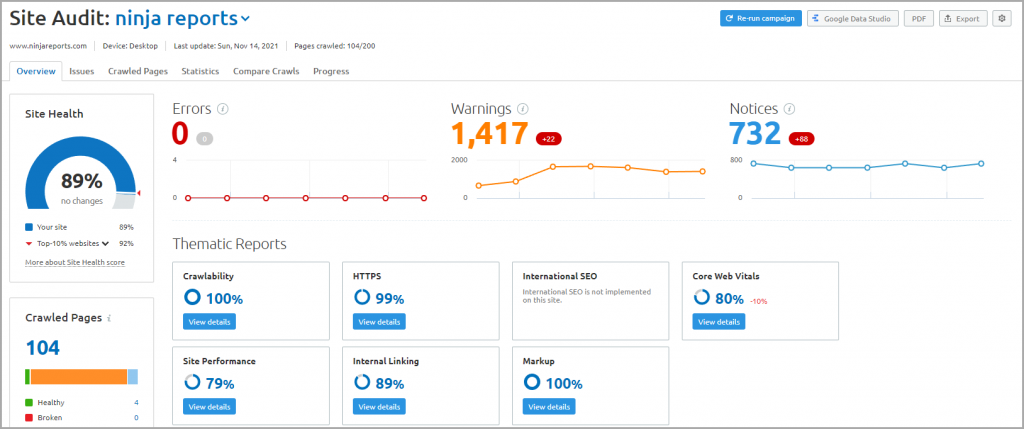 Keyword Research
– You'll get information like keyword difficulty, estimated monthly searches, top competitors' websites ranked by Google page speed index, etc., giving you the chance to find more accessible keywords for your website to rank on page one of Google.
PPC
– SEMRush provides a look at the number of adverts, keywords being used for ads (and how many total searches they get), estimated cost per click, and traffic volume from paid search results. This lets you determine which areas are worth investing in more heavily (based on the number of searches and monthly traffic they produce).
Mobile Usability
– SEMRush can help you determine how well your website is performing when viewed from a mobile device (smartphone, tablet, etc.). You'll get information like page speed index (which helps indicate if your site is loading too slowly), load time (in milliseconds), mobile usability score, etc.
Social Media
– You can find out which social media sites your competitors are using to drive search engine traffic for their website (based on how many backlinks they have). SEMRush will also give you information like the number of indexed pages in Google, top-five ranking websites ranked by overall difficulty, etc.
SEMRush Pricing and Payment Plans
SEMRush offers three different pricing packages: Pro, Guru, and Business. You can sign up for a 14-day trial to see which one works best for you. SEMRush's monthly fee ranges from $119.95 to $199.99 per month, with a yearly subscription costing between $19.95 and $39.99 per month, depending on the plan you select. The Pro plan gives you 10,000 results per report for both SEMRush's domain and keyword analytics tools, as well as up to 3,000 reports or searches each day. SEMRush also charges for "projects," or every SEO study conducted on a specific domain. The Pro plan includes five projects, 500 keywords to track, a 100,000-page crawl limit, up to 50 associated social media profiles, and five scheduled PDF reports. To SEMRush's credit, most SMBs will likely be fine at this price range, making it a highly cost-effective alternative. The $229.95-per-month Guru plan is the second option. At this level, you'll get 30,000 results for each report and 5,000 reports or searches per day. The significant boost is an increase in the number of overall projects for the SEO team, which will allow them to conduct more research and target new markets. The Guru plan provides you with 15 PDF reports and access to historical data and 1,500 tracked keywords, 300,000 crawled pages and 100 social media profiles. Finally, the $449.95-per-month Business plan is available. Aside from raising the limits significantly, this level provides you with limitless tasks, product listing advertisements, white-label PDF reports, multi-user administration rights, and API access.
Pros and Cons of SEMRush
Pros
It is straightforward to use.
Keyword suggestions and proactive SEO recommendations.
Desktop/mobile search breakdowns.
Comprehensive keyword research tool and domain analytics.
Backlink tracking.
It has a 30-day free trial that compares positively with competitors.
A project-based SEO campaign structure that is uniquely useful.
Cons
SEMRush is an excellent tool for those serious about SEO and who want access to comprehensive search engine data. However, the monthly fee makes it less ideal for startups or SMBs that need just one report done occasionally.
The free trial requires your credit card information before you can access it.
It lacks keyword list management.
It has tons of information that can overwhelm you.
Frequently Asked Questions
How does SEMRush stack up against other similar tools?
In terms of sheer data, no one comes close. However, the cost makes it a tough pill to swallow for many SMBs and startups who can't afford to shell out hundreds per month on SEO software.
What is the pricing structure like in comparison to similar tools?
SEMRush is one of the pricier options, but it's also a tool that multiple members of an SEO team can use. Plus, there are no added fees for projects, and you only pay per report if needed (with limitations).
What does this service cost?
The pricing structure depends on the plan you select. The Pro package will set you back $199.95/month, while the Guru option goes for $229.95/month, and Business costs a whopping $449.95/month.
What is SEMRush's refund policy?
If your product doesn't work correctly or has any bugs that don't allow you to use it, you can contact their support team. They have a dedicated refund policy that will enable users to a full or prorated refund within 30 days of purchase.
Is the tool easy to use?
SEMRush's interface is simple and accessible with an intuitive dashboard for those who are new to SEO software in general and those who are more experienced. It's also one of the few options that provide clear explanations for using it, with thorough documentation and tutorials.
How can I contact customer support?
SEMRush offers a wide range of resources, including comprehensive FAQs and a Knowledge Base filled with answers to common questions plus videos and other helpful material. In addition, you'll find a fully-staffed customer support team that can be reached via phone or email.
How accurate is SEMRush?
SEMRush provides accurate data, though, like all tools, it isn't 100% foolproof. It's important to note that the information presented comes from various sources (including third parties) and is aggregated into one place.
Alternatives to SEMrush
SEMRush competitors
include Moz, Raven Tools, and iSpionage. These tools are generally as good as SEMRush, but they come with a higher price tag. In addition, Moz doesn't have social media tracking, and iSpionage has limited search engine data compared to the other options.
Bottom Line
As this review of SEMRush comes to an end its safe to say that its a great SEO software. SEMRush is an excellent option for improving their search engine rankings and finding more customers. It's a solid, comprehensive tool that can be used by multiple team members and provides detailed information about the competition as well as your website. It's pricier than most, but it's an efficient and valuable tool that will pay for itself.