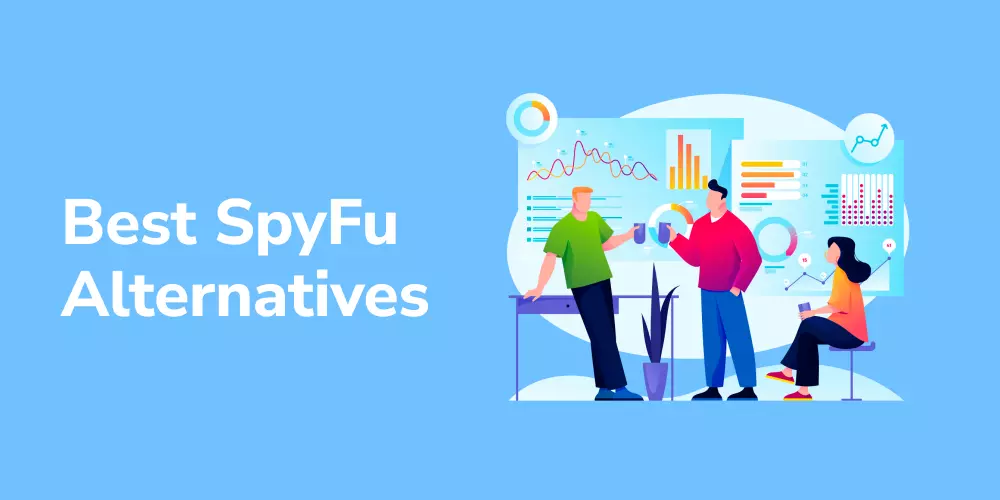 SpyFu is a powerful keyword research and competitive analysis tool that provides valuable insights into your competitors' SEO and PPC strategies. However, like any software tool, it may not be the right fit for every specialist or agency.
The software focuses mostly on high-volume keywords, which limits research capabilities and can make you miss out on valuable keywords.
Furthermore, the solution may not work for all beginners: the variety of features and their complexity can be overwhelming for those who are just getting started. If you have a local or international market, SpyFu may not be a lot of help as it provides information mainly for the US market.
All of the above are reasons why you may look for a suitable SpyFu alternative. With so many SEO software options available out there, it can be tricky to find one that is right for your business needs. In this article, we compare the best SpyFu alternatives and examine their features, benefits, and drawbacks to help you make an informed decision.
SE Ranking is a popular all-in-one SEO platform that provides a comprehensive range of SEO and digital marketing tools. The platform caters to all your SEO needs and presents a vast amount of data in a user-friendly format. Let's explore the key features of SE Ranking's platform that distinguish it from competitors like SpyFu.
SE Ranking's Rank Tracking tool tracks your website's ranking performance with razor sharp precision across various search engines, locations and devices. It also provides dozens of metrics in addition to keyword positions, such as search volume, traffic forecast, and rankings' dynamics concerning drops and increases. It also enables you to analyze your competitors' positions for your keywords and also obtain insights into local and paid rankings at no extra cost.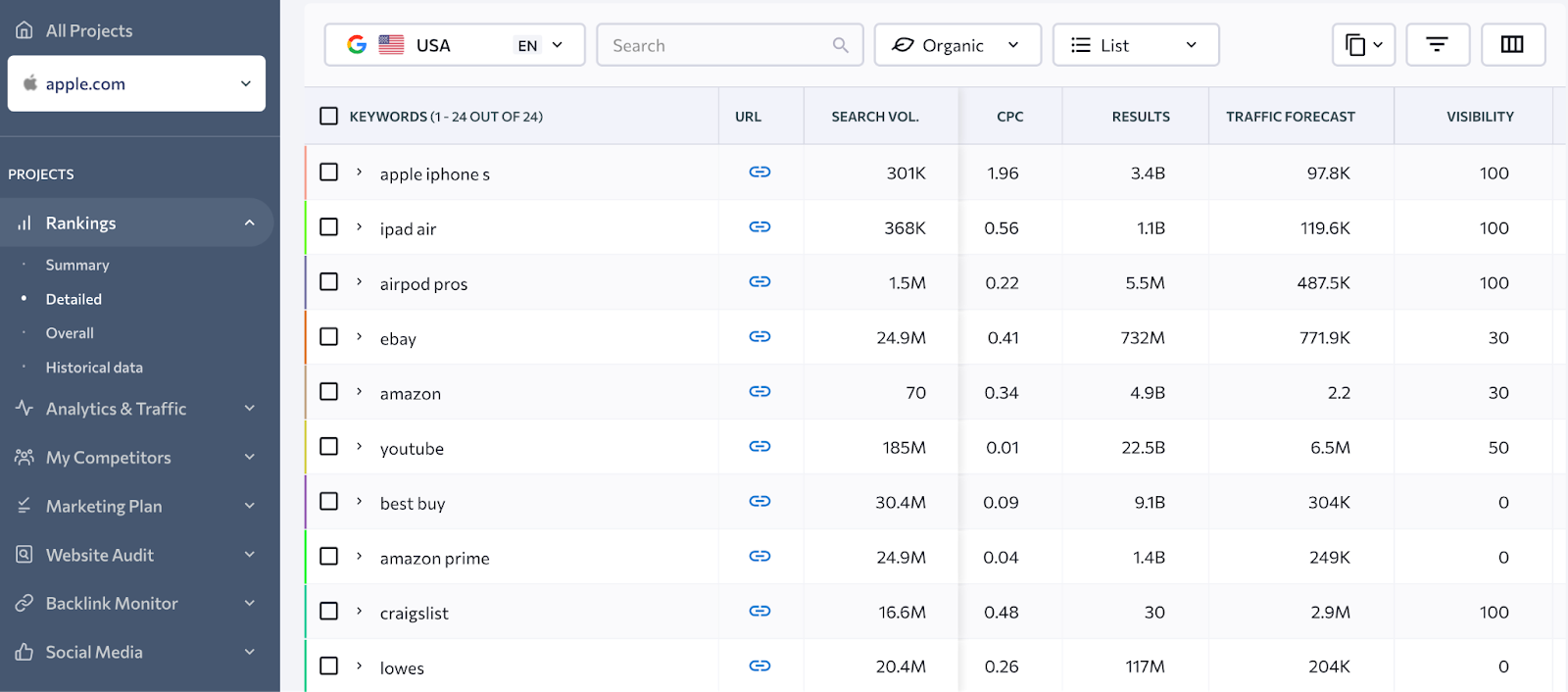 The Keyword Research tool allows you to find the best keywords to target for your website based on search volume, competition, keyword difficulty, CPC and other metrics. It provides a list of similar, related, low-search volume, and question-based terms that you can utilize in your SEO or PPC strategy.
SE Ranking's Competitor Analysis tool allows you to monitor your competitors' SEO strategies and identify opportunities for improvement. The platform provides an in-depth analysis of your competitors' organic search rankings, keywords, and PPC ads. The Competitor Research tool encompasses 190 countries and empowers you to compare up to 5,000 domains daily for a more comprehensive competitor analysis.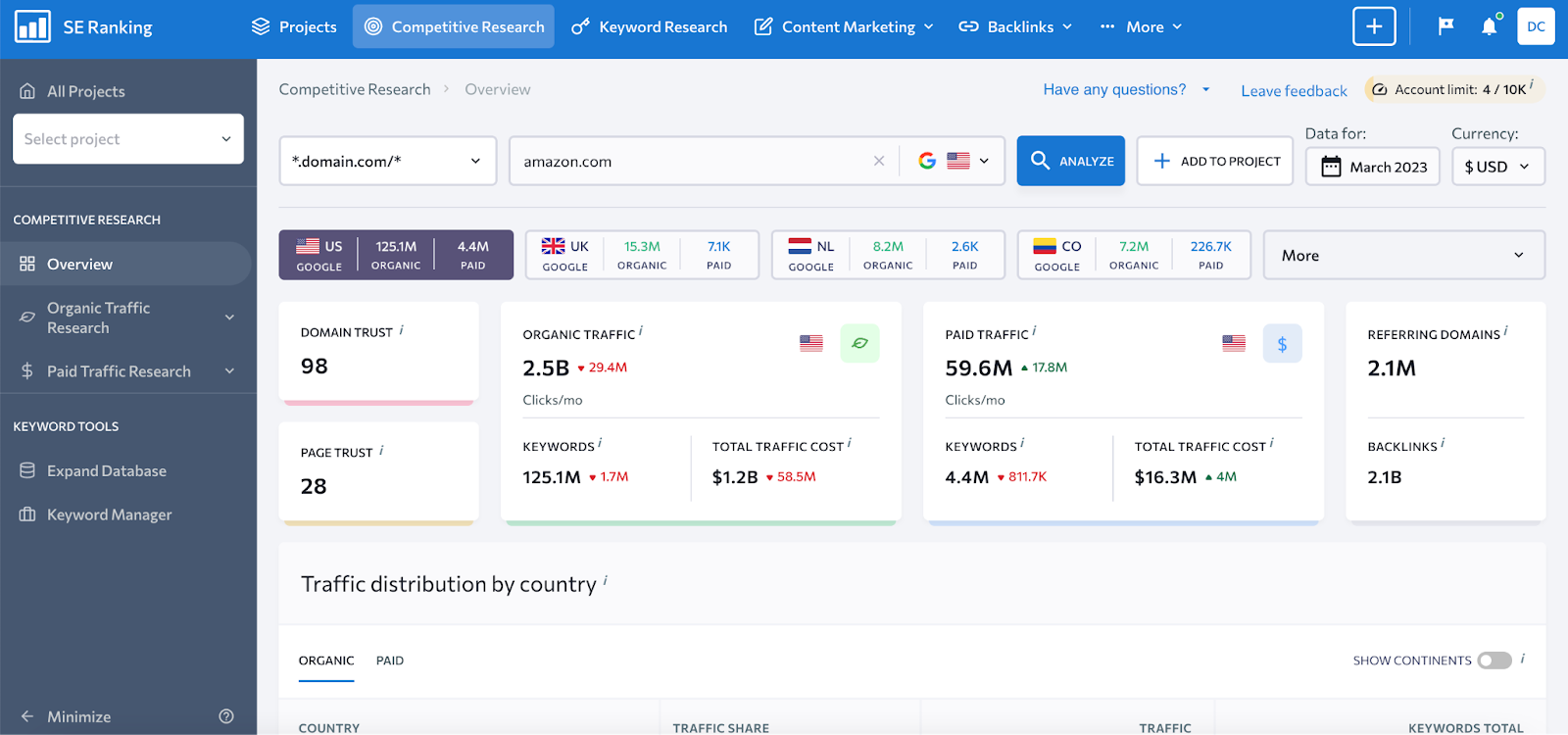 The Backlink Checker provides in-depth backlink data on key metrics, including Domain & Page Trust scores, the dofollow/nofollow ratio, referring domains, commonly used anchor texts, etc. In contrast to SpyFu, which scans 80 million domains, SE Ranking scans 200 million, offering a more in-depth analysis. SE Ranking also has a unique Backlink Gap Analyzer that assists in identifying the backlinks that your competitors have but you lack, which can enhance your link-building strategy.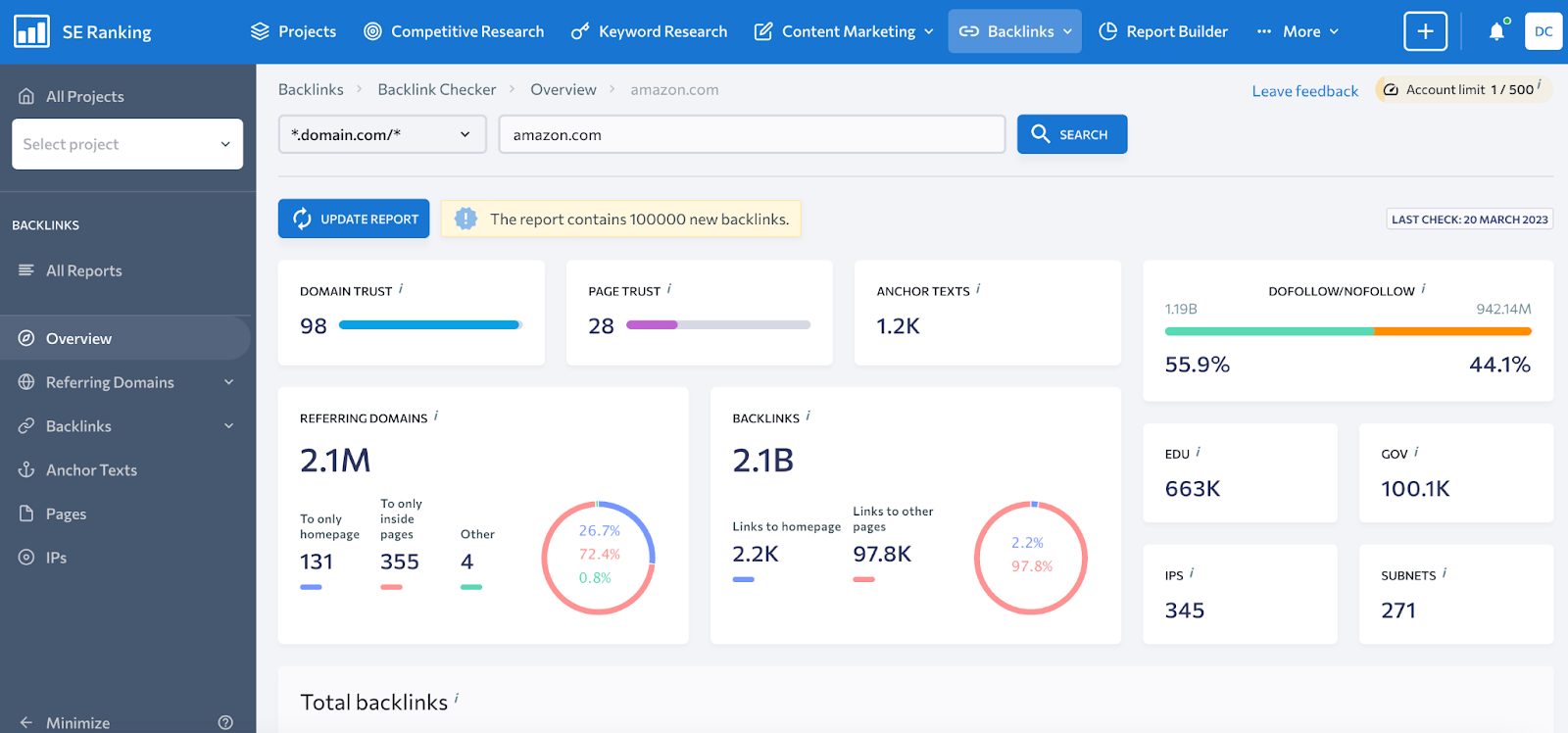 The Website Audit offers a thorough analysis of your website's technical SEO health, identifying potential issues that may impact your website's rankings, such as broken links, duplicate content, missing alt tags, security issues and more. This is a feature that you won't find on the SpyFu platform.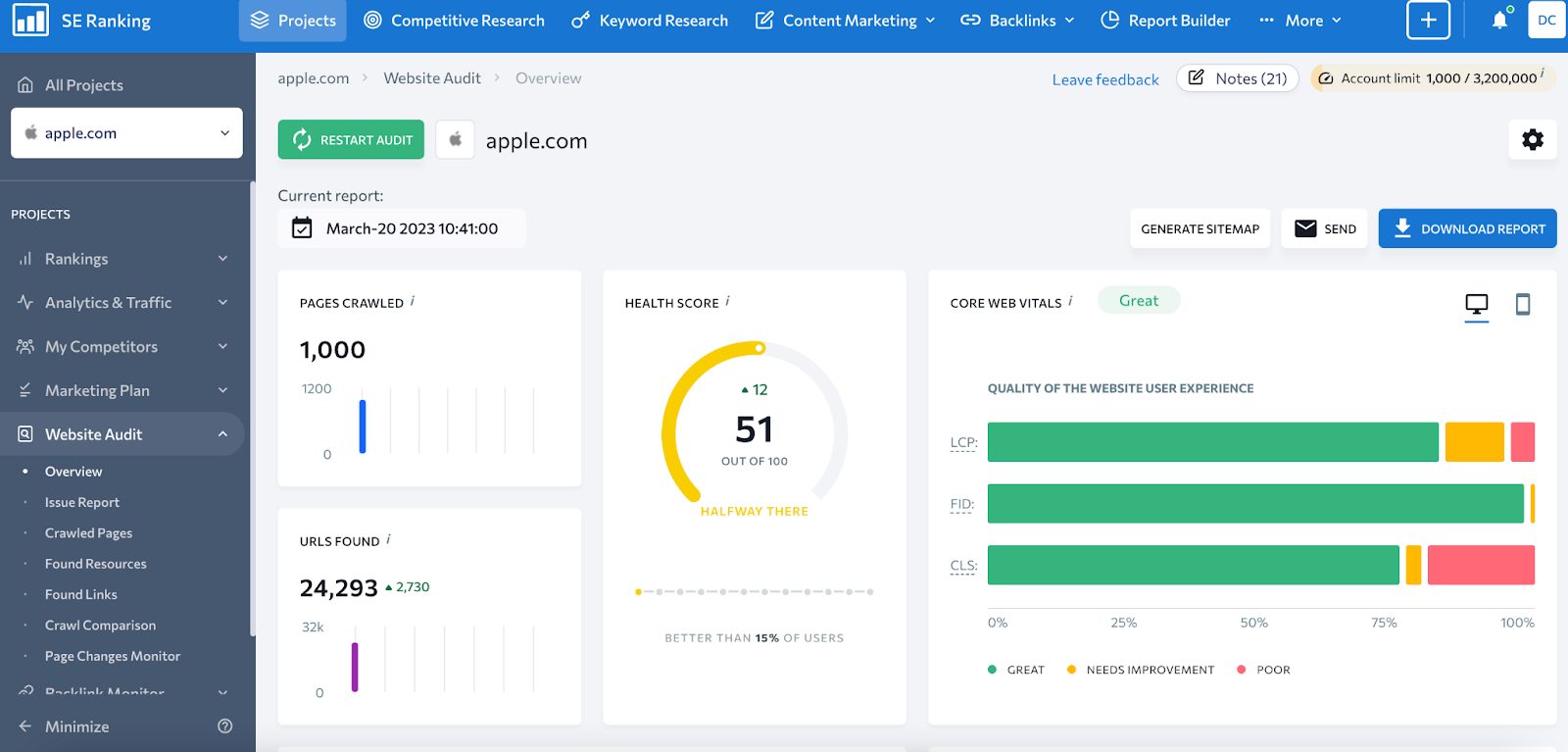 SE Ranking's On-Page SEO Analysis tool assesses every analyzed page against 90+ parameters that impact search rankings and offers recommendations to optimize your website's structure, content, and meta tags. It analyzes your page's top and direct SERP competition, highlighting how your pages can be optimized.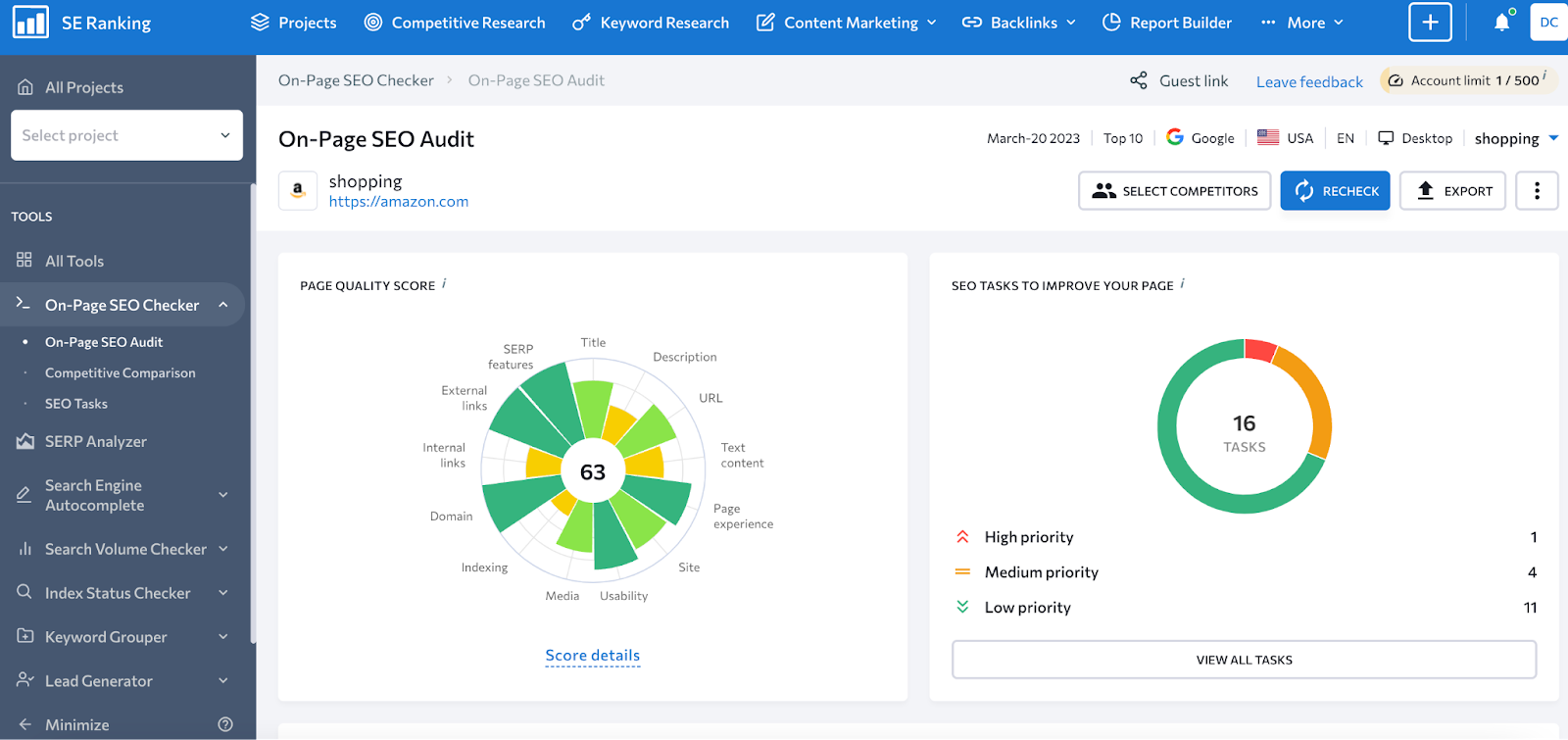 In addition to the tools described above, SE Ranking provides a Content Marketing Module that simplifies the process of creating high-quality articles. Moreover, SE Ranking offers a robust pack for those who work with clients, including Report Builder, Lead Generator, and White Label.
SE Ranking's plans start at $55 per month, which is higher than SpyFu's pricing plans, but SE Ranking delivers more features and data. SE Ranking's pricing plans are also more scalable, allowing you to choose the number of keywords, backlinks, and pages to track and pay only for the data you need.
SE Ranking differentiates itself as the more extensive tool, offering an array of features such as technical website audits and content analysis that SpyFu lacks. Ultimately, SE Ranking is a great SpyFu alternative, but the best SEO tool for you will depend on your specific needs and budget.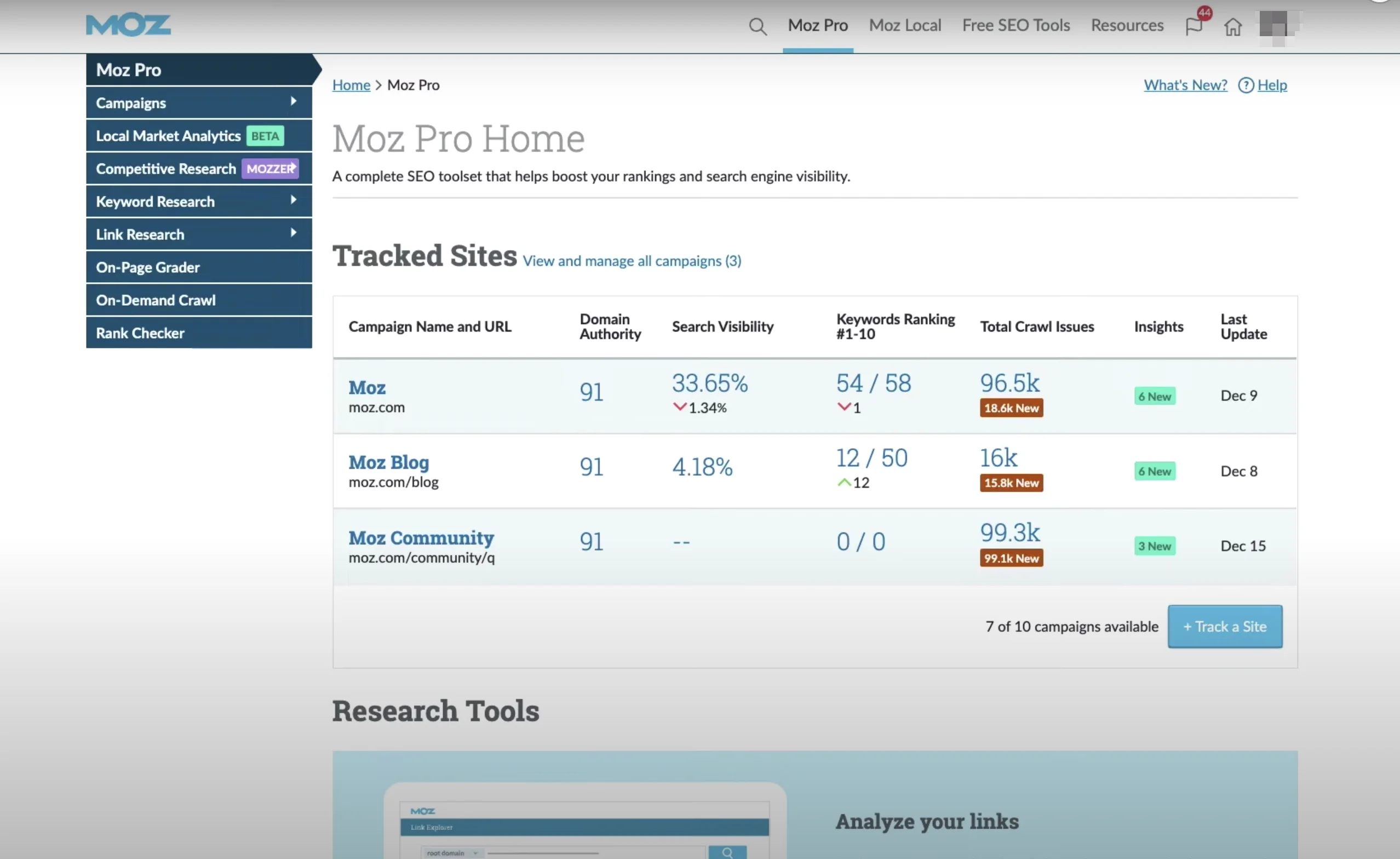 Moz Pro is an all-in-one SEO tool that provides a wide range of features, including keyword research, site auditing, link analysis, and rank tracking.
When we start comparing Moz Pro to SpyFu, we see that both tools offer valuable insights and can help users improve their SEO strategies. However, SpyFu is more focused on keyword research and PPC, while Moz Pro offers a more comprehensive suite of SEO tools. The choice between the two ultimately depends on your specific needs and budget.
Moz Pro can be valuable to website owners, digital marketing agencies, SEO professionals, and content creators looking to improve their website's visibility on search engines and drive more organic traffic.
Website owners can enhance their website's search engine ranking and attract more organic traffic using Moz Pro's suite of tools to identify and target high-traffic keywords, optimize their website's technical SEO, and track their performance over time.
Digital marketing agencies can use Moz Pro to manage the SEO strategies of multiple clients, monitor their performance, and provide detailed reporting on results.
As for SEO professionals, Moz Pro provides advanced features that help to conduct in-depth keyword research, analyze link profiles, and identify opportunities for optimization and growth.
Lastly, content creators can use Moz Pro to identify high-traffic keywords to target in their content, optimize their content for search engines, and track their performance over time.
At the same time, you should keep in mind that the platform contains a lot of complicated, advanced data, which may be challenging for beginners to comprehend. Besides, you may run into limitations when running keyword research for local SEO, as it has a comparatively limited set of features for local searches.

The budget may also be a factor here if we are considering Moz Pro as a SpyFu alternative, as it has relatively higher prices — a monthly plan costs $99, while you can start with SpyFu paying $39 a month.
Overall, Moz Pro is one of the powerful SpyFu competitors that can provide valuable insights and help improve a website's SEO. However, it may not be the best fit for everyone, depending on their budget, experience level, and specific needs. If you feel like Moz Pro is similar to what you need but does not suit your budget or other expectations, you can check out Moz Pro alternatives to make a more informed decision.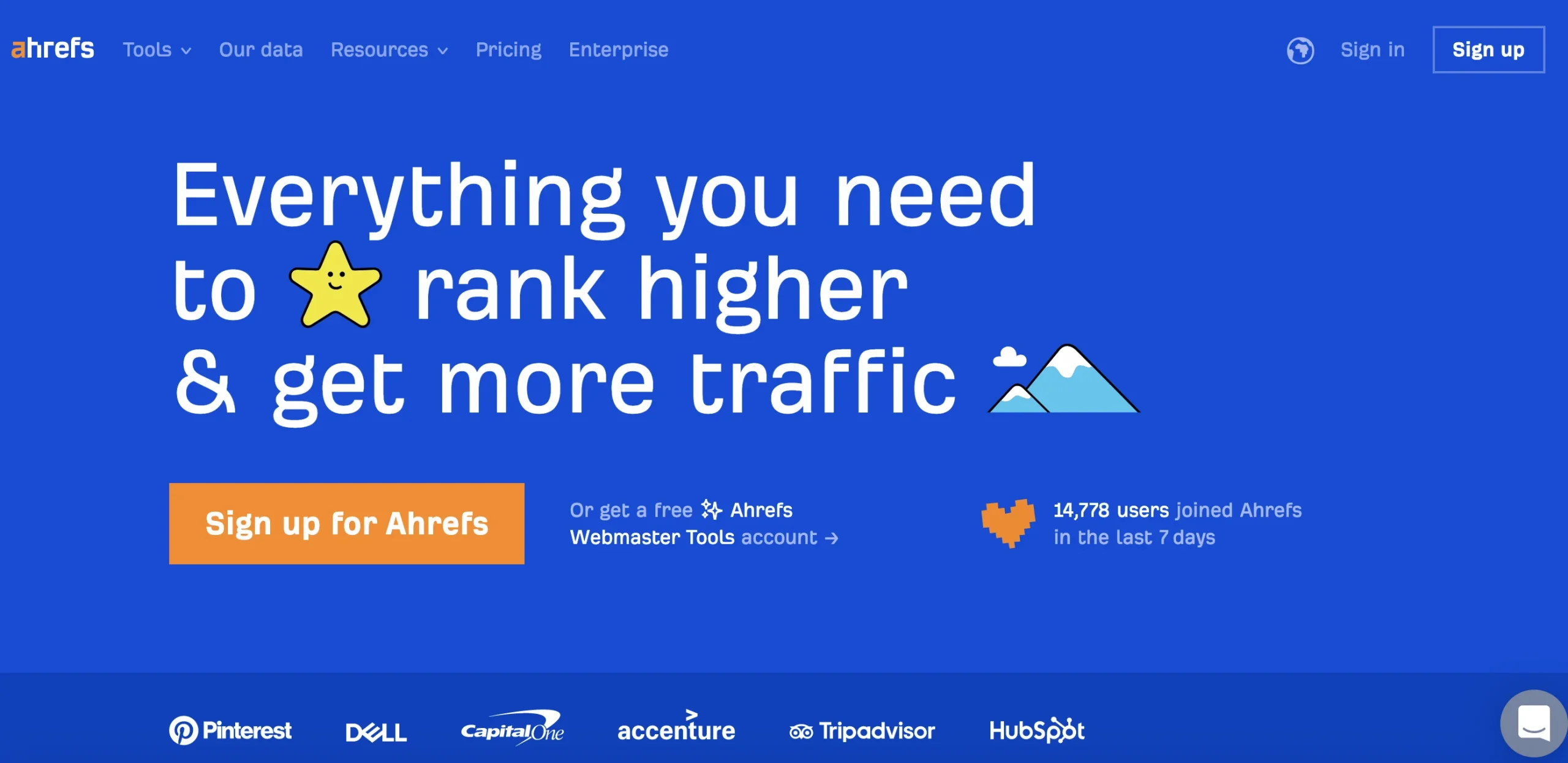 Ahrefs is a comprehensive SEO software tool that provides businesses with valuable insights into their online presence.
With Ahrefs, users can analyze their website's backlink profile, audit their site for technical issues, track keyword rankings, and much more.
Its Site Explorer tool provides detailed information about any website, including its backlink profile, top-performing pages, and organic search traffic. It's an alternative to SpyFu that can drastically help with competitive research, as it contains a database with over 475 million keywords.
Ahrefs' Content Explorer allows users to search for content related to their industry and track keyword rankings, while its Link Intersect tool compares the website's backlink profile with those of your competitors. Additionally, Ahrefs provides a comprehensive suite of tools for technical site audits and content analysis, giving users the insights they need to make informed decisions about their SEO strategy.
In contrast, SpyFu's primary focus is on competitor analysis, which lets users view their competitors' most profitable keywords, advertising strategies, and backlinks. Its PPC research tool allows users to analyze their competitors' paid search campaigns, while its keyword research tool provides users with a list of related keywords and their search volumes. Yet, SpyFu does not provide as many technical site audit or content analysis tools as Ahrefs.
When it comes to pricing, SpyFu is more affordable: Ahrefs entry-level plan costs $99, while SpyFu is only $39, and with a slightly reduced set of features.
While both Ahrefs and SpyFu provide valuable insights into a website's online presence, Ahrefs is a more comprehensive tool, offering a wider range of features and tools for technical site audits and content analysis. SpyFu is more focused on competitor analysis and provides an in-depth PPC research tool, making it a great choice for businesses looking to gain insights into their competitors' paid search campaigns.
If you're leaning towards Ahrefs but not sure it has everything you need, check out our article dedicated to Ahrefs alternatives.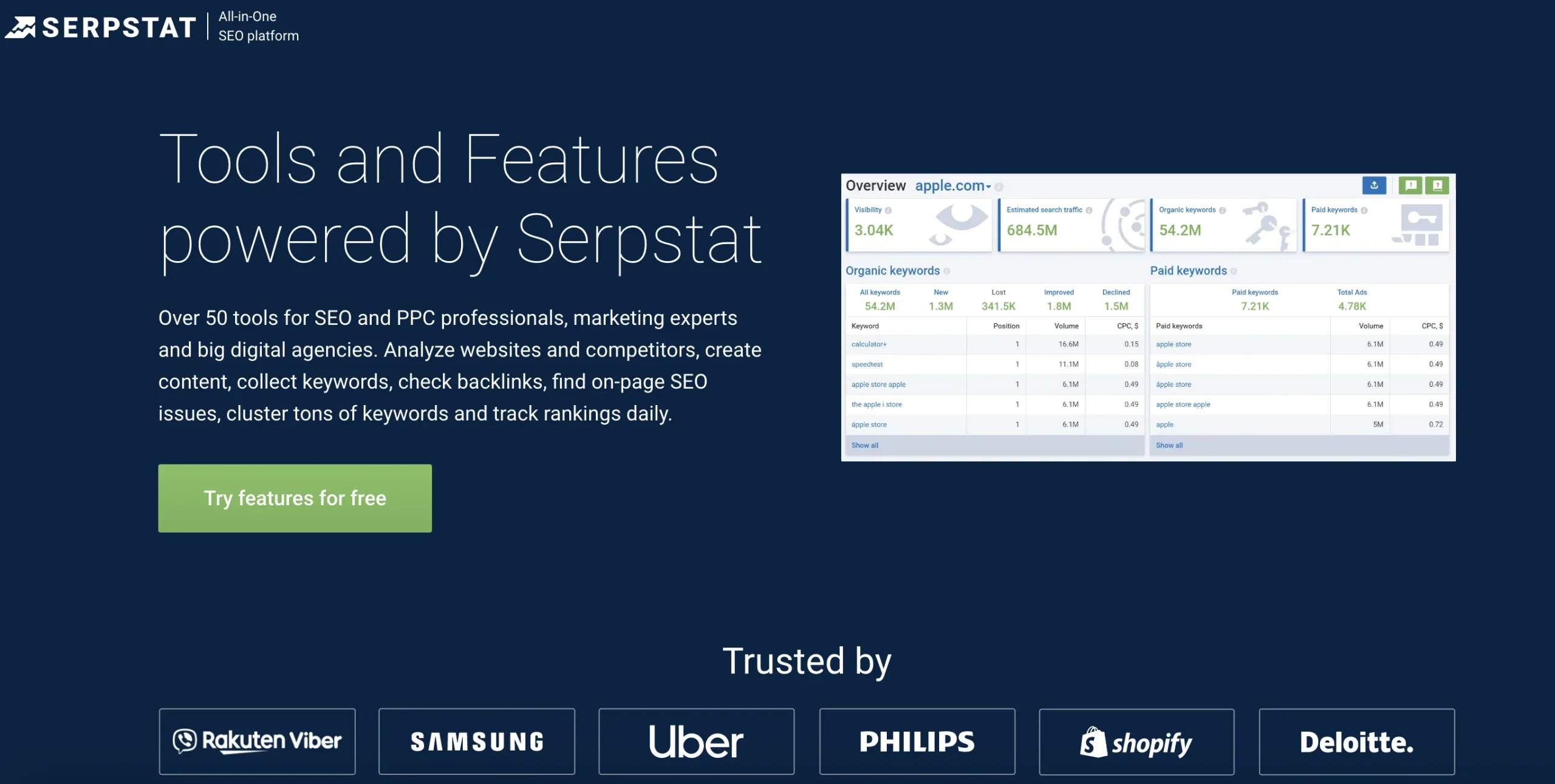 Serpstat is an all-in-one SEO tool that can help you with everything from keyword research to backlink analysis. With its user-friendly interface and powerful features, Serpstat makes it easy to optimize your website for search engines and stay ahead of the competition.
When it comes to keyword research, both Serpstat and SpyFu have powerful tools that allow users to find profitable keywords and track their rankings over time. However, Serpstat also offers additional features such as keyword clustering, which groups similar keywords together and search suggestions, which provide ideas for related keywords.
In terms of backlink analysis, Serpstat and SpyFu both allow users to see their competitors' backlinks and identify high-quality linking opportunities. Serpstat is a step ahead of SpyFu on this one as well, as it also provides a backlink index that includes data from more than 1 billion domains, while SpyFu's backlink database is smaller.
One of the main differences between Serpstat and SpyFu is their pricing. Serpstat offers a variety of plans to fit different budgets, with their basic plan starting at $69 per month. SpyFu, on the other hand, is more expensive, with their basic plan starting at $39 per month. SpyFu also offers a free version of their tool, whereas you do not get that option with Serpstat.
Both tools can contribute to your success, depending on your marketing goals. We believe that Serpstat's larger database and more extensive set of features will be a better SpyFu alternative for larger companies.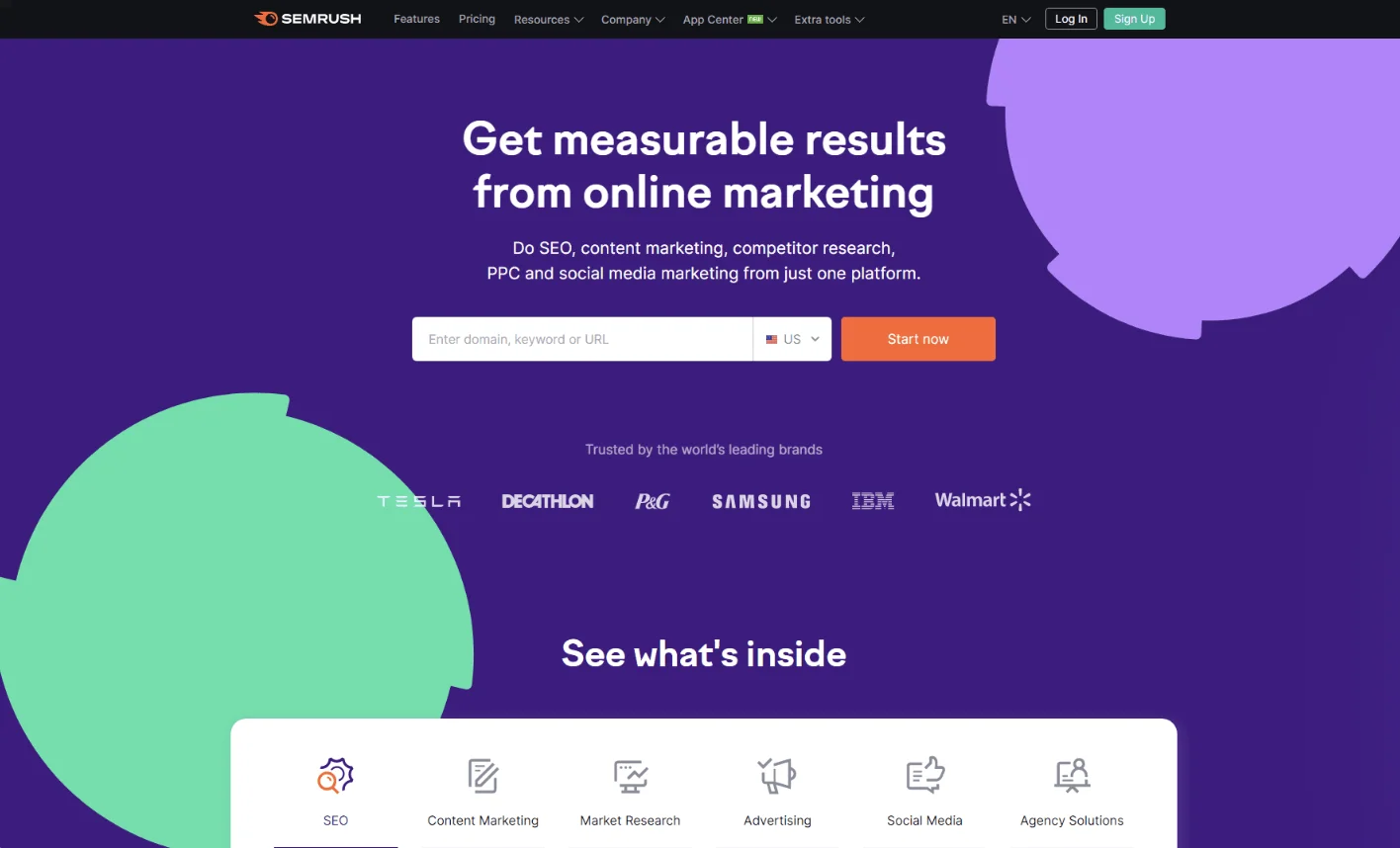 SEMRush has become a popular choice for SEO thanks to its user-friendly interface and wide range of features. The platform offers a comprehensive solution for digital marketing professionals that can help with SEO, content, marketing research, advertising, and social media.
Familiar with SEMRush? Then check out SEMRush alternatives in our article that discusses similar platforms.
You can rely on both SEMRush and SpyFu for backlink analysis, but how much you benefit from it differs depending on how deep you want your strategy to be. For instance, SEMRush provides an additional tool called a backlink index that includes data from more than 40 trillion links, which lets you perform deeper research thanks to a more extensive database.
SEMRush can be a real game changer if you are looking for a tool to effectively manage your social media presence. While SpyFu does offer valuable insights for SEO and PPC campaigns, it does not provide any specific tools for social media marketing. SEMRush, on the other hand, has a social media toolkit that provides insights and analytics for social media marketing. The toolkit allows users to analyze their social media performance, track campaigns, and schedule posts across multiple social media channels. You can also monitor mentions of your brand across social media platforms and track the performance of competitors' social media campaigns.
If we look at the prices, SEMRush offers a variety of plans to fit different budgets, with their basic plan starting at $119.95 per month. SpyFu, on the other hand, is more affordable, with their basic plan starting at $39 per month. SEMRush also offers a free version of their tool, while SpyFu's free version is more limited.

Ubersuggest is another popular SpyFu competitor that is used by SEO specialists, digital marketers, and content creators to improve their online presence and drive traffic to their websites. Ubersuggest provides a variety of features that can help users optimize their websites for search engines and identify opportunities for growth.
One of the main features of Ubersuggest is its keyword research tool. Users can enter a keyword or phrase related to their business, and Ubersuggest will generate a list of related keywords along with data on search volume, competition, and CPC (cost per click). It may serve as a legit SpyFu alternative as the platform helps users identify high-volume keywords with low competition that they can target in their content.
Besides features that greatly influence SEO efforts (keyword research, backlinks analysis, site audit), the platform also helps to generate content ideas. It has a dedicated AI tool that assists in writing SEO-optimized descriptions, headings, and other sentences.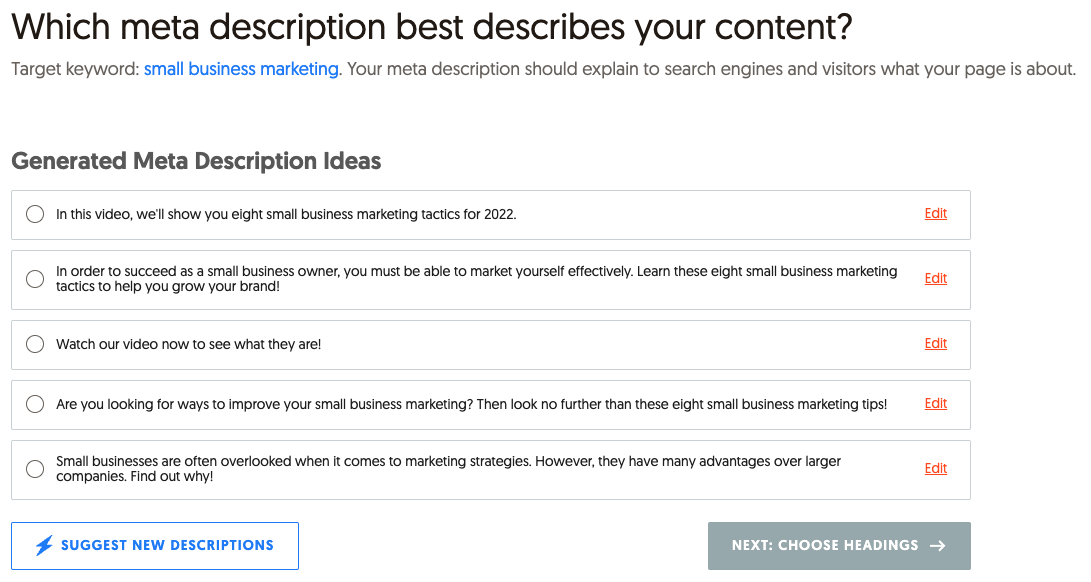 Uberssugest has one major limitation in comparison to SpyFu– no PPC features. Uberssugest does not offer tools to help you with PPC advertising but can greatly help you when it comes to SEO and content.
Ubersuggest offers a free version of its tool, which provides limited access to its features. You can also upgrade to a paid version of the tool and get additional features such as unlimited keyword suggestions and backlink data. SpyFu offers a free trial of its tool, but users must purchase a subscription to access its full range of features.
Considering the opportunities and limitations of both software, Ubersuggest is a good free SpyFu alternative if your goal is to improve your SEO efforts and focus on high-quality content — the platform will give you everything you need for this.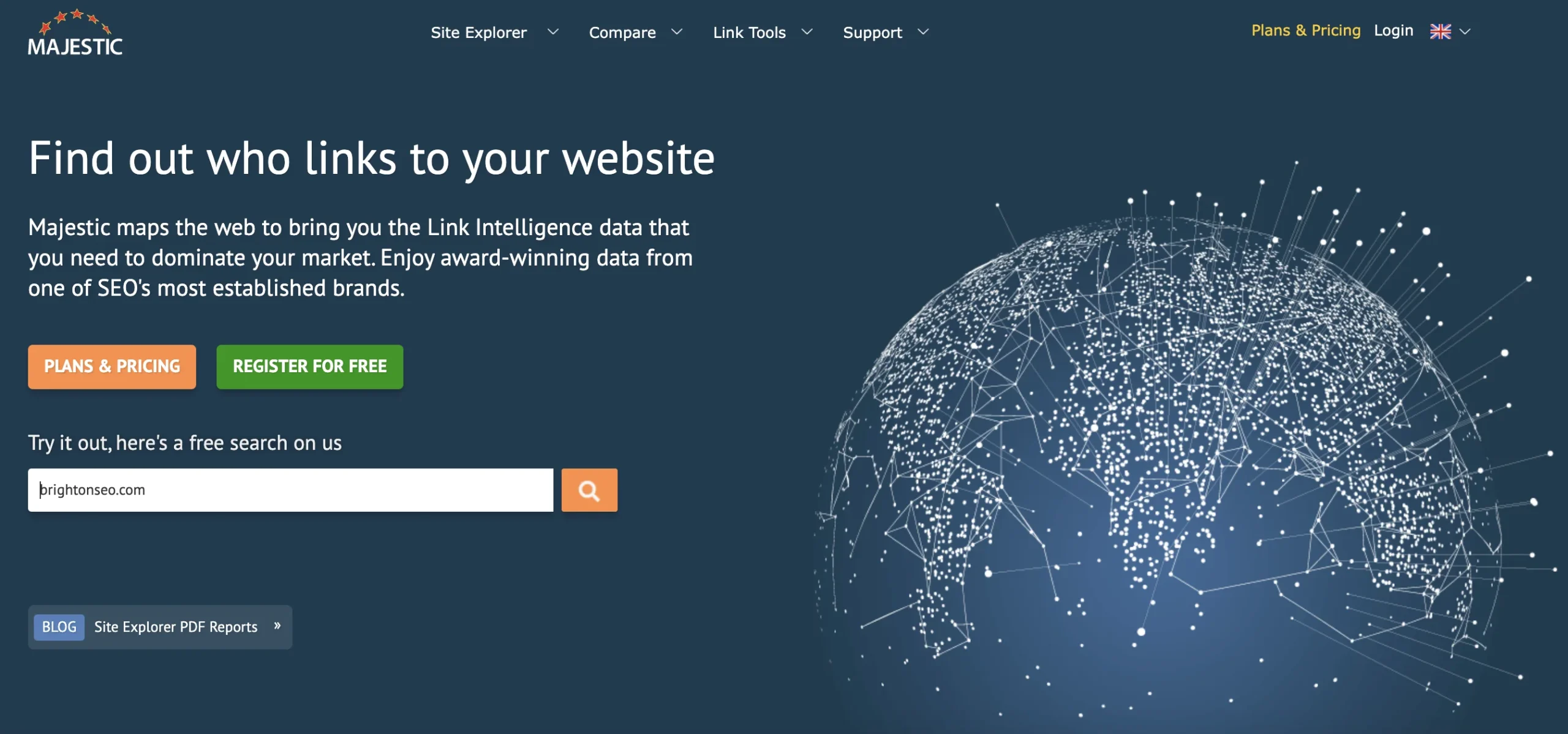 Majestic is a powerful SEO tool that offers a range of features to help users improve their website's search engine rankings and enhance their marketing strategy.
In terms of keyword research, Majestic has a slightly reduced functionality than SpyFu: if you are looking for more comprehensive keyword research features, you may want to cross Majestic off your list. The same goes for the PPC features — since Majestic does not have any, you will need to look after your advertising using some other platform.
What makes Majestic great for all SEO professionals is its backlink analysis tool. Majestic is known for its powerful backlink analysis tool, which provides detailed information about a website's backlink profile, including the quality and relevance of the links. SpyFu, on the other hand, provides a more basic backlink analysis that focuses on the number of links and their source domains.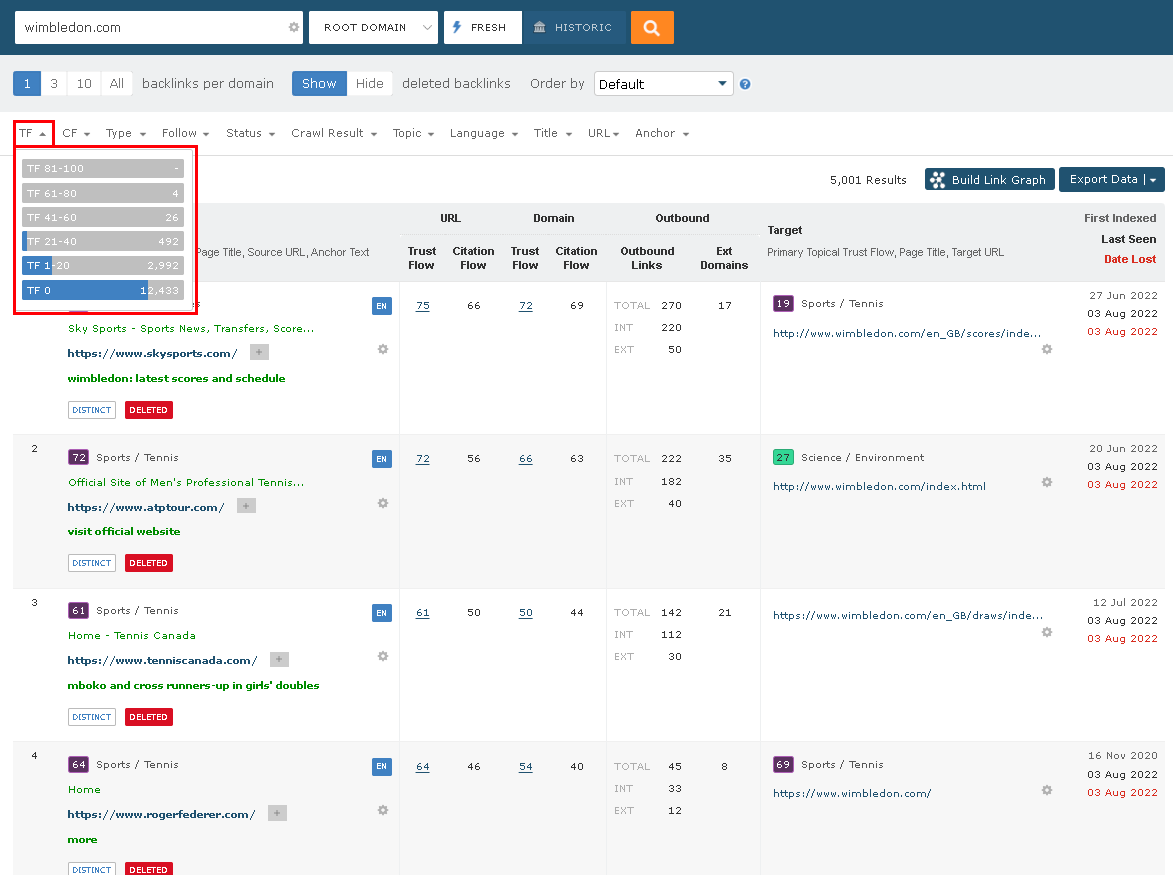 If you're new to SEO, Majestic may not be easy to comprehend — it has a complex user interface with a lot of data to process. Yet, more experienced professionals may find value in such data.
Majestic and SpyFu have different pricing models, with Majestic offering a range of plans based on the number of features and data allowances and SpyFu offering a subscription-based pricing model.
Ultimately, your choice between the two will depend on your specific needs, budget, and level of expertise in SEO and digital marketing. If backlink analysis is a priority, then Majestic may be the better choice.
You can also look at Majestic alternatives and find a set of features that best suits your needs. If PPC analysis and keyword research are priorities, then you'll benefit from SpyFu more.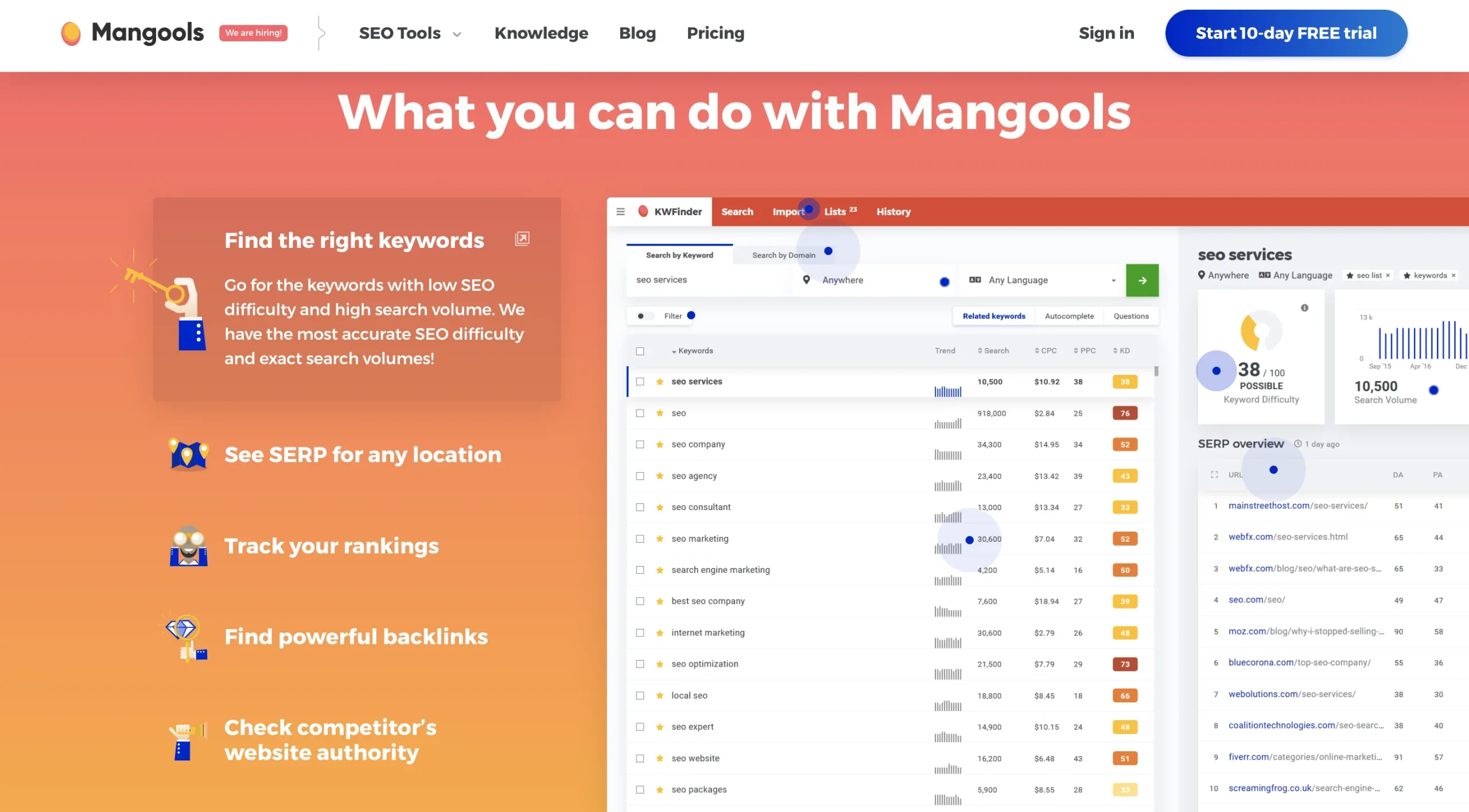 When it comes to solutions for small businesses or beginners, Mangools is among the first SpyFu competitors to consider. Mangools is an all-in-one SEO tool suite that includes a range of features to help small businesses and SEO specialists improve their website's search engine rankings and enhance their marketing strategy. It can provide valuable insights into a website's keyword strategy, content creation, backlink profile, and search engine rankings.
The Mangools backlink analysis tool allows users to analyze the quality and relevance of their website's backlinks, as well as identify opportunities for link building. While SpyFu also offers a backlink analysis tool, it is not as advanced as Mangools'. Its larger database, advanced filtering option, and visualization of data can give you more valuable insights to add to your strategy.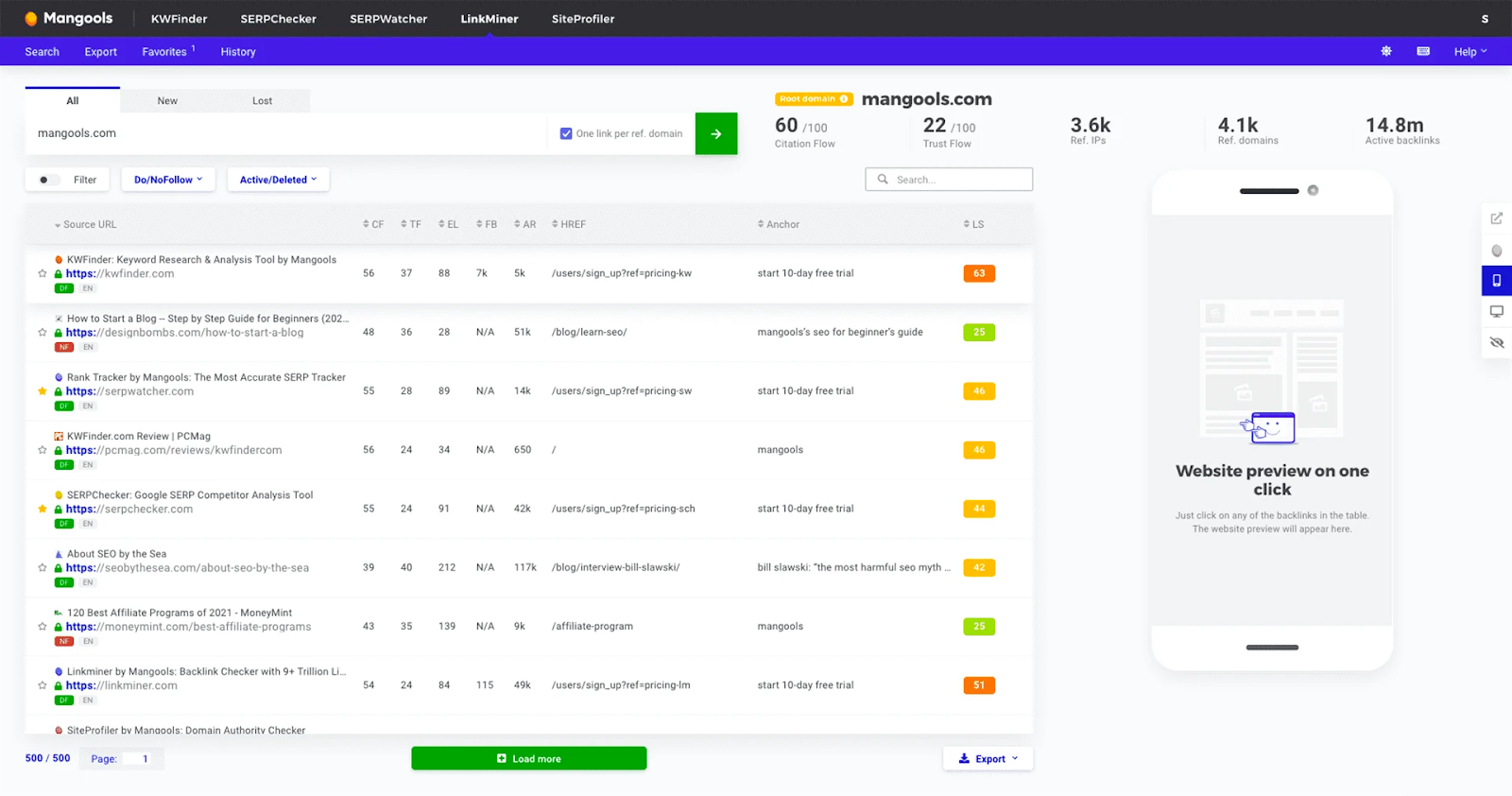 Both software offer SERP Analysis. Mangools' SERP analysis tool allows users to analyze the search engine results pages (SERPs) for different keywords and phrases, providing insights into the types of content that are performing well in the industry. SpyFu has a similar feature, but it is more focused on analyzing the paid search landscape.
In terms of dashboards, Mangools is a nice SpyFu alternative if you are looking for a more user-friendly solution, especially when it comes to keyword research and rank-tracking tools. The platform structures data in a simple way, which makes it perfect for beginning specialists or for those who do not want to feel overwhelmed by complicated data.
Mangool's basic plan starts at $30 and is pretty similar in pricing and features to the $39 SpyFu plan. So you can consider this software as SpyFu's cheap alternative.
As SpyFu outperforms Mangools in terms of PPC analysis, you should make your choice based on what is more important for your marketing strategy at the moment.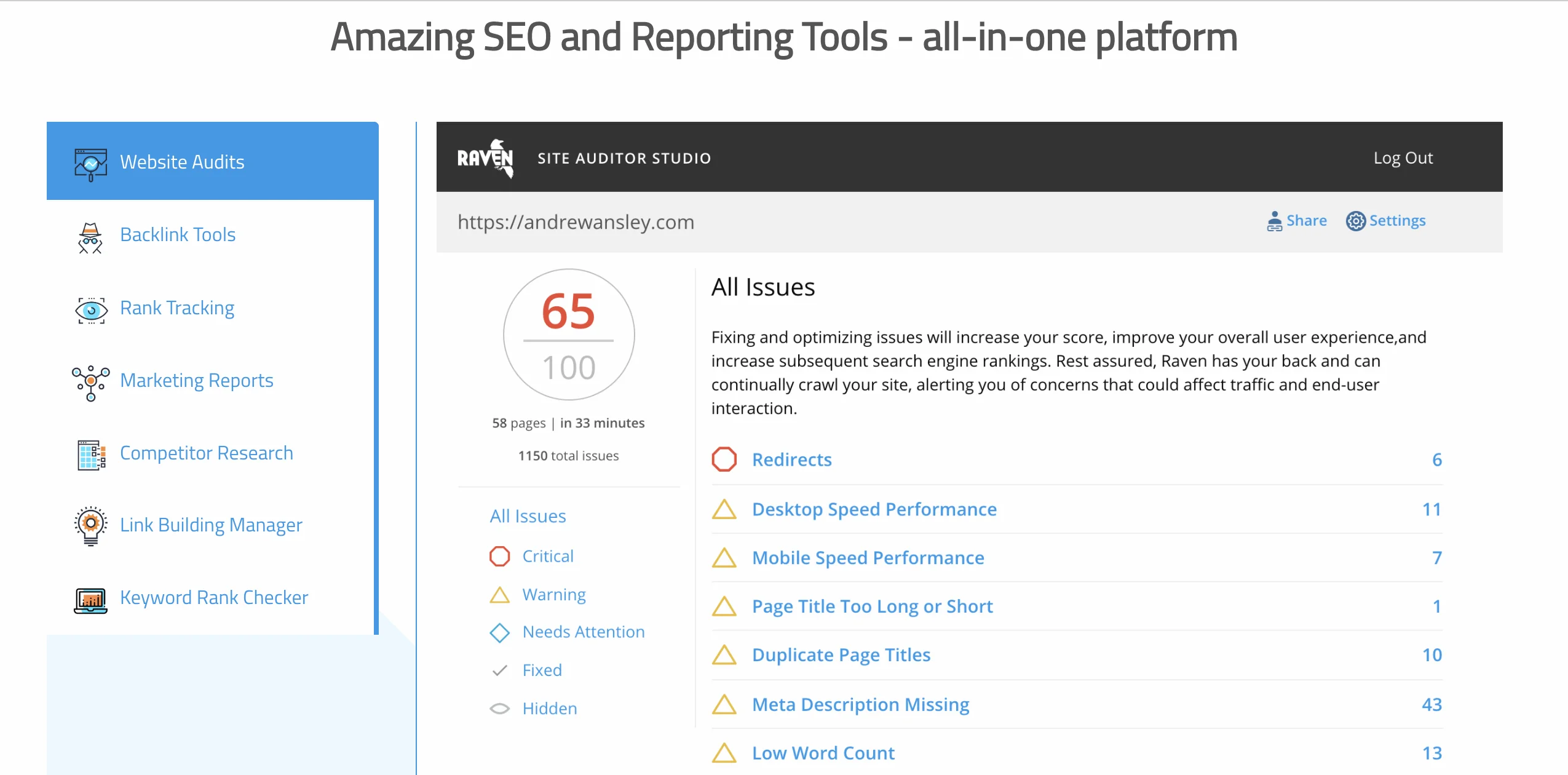 Raven Tools is a comprehensive digital marketing platform that provides users with a range of tools to manage and optimize their online marketing campaigns. Its features make it a valuable SpyFu alternative for businesses and agencies that want to improve their online visibility, increase traffic, and drive conversions.
Both Raven Tools and SpyFu have SEO analysis, PPC management, competitor analysis, and reporting tools with similar sets of features. Yet, they have differences worth considering, which include:
Social Media Management: Raven Tools offers social media management tools to help users manage and schedule their social media posts across multiple platforms, while SpyFu does not provide this feature. It supports you at every stage of the social media management process, allowing you to post content on a number of platforms, create and schedule posts, and monitor and analyze important social media metrics.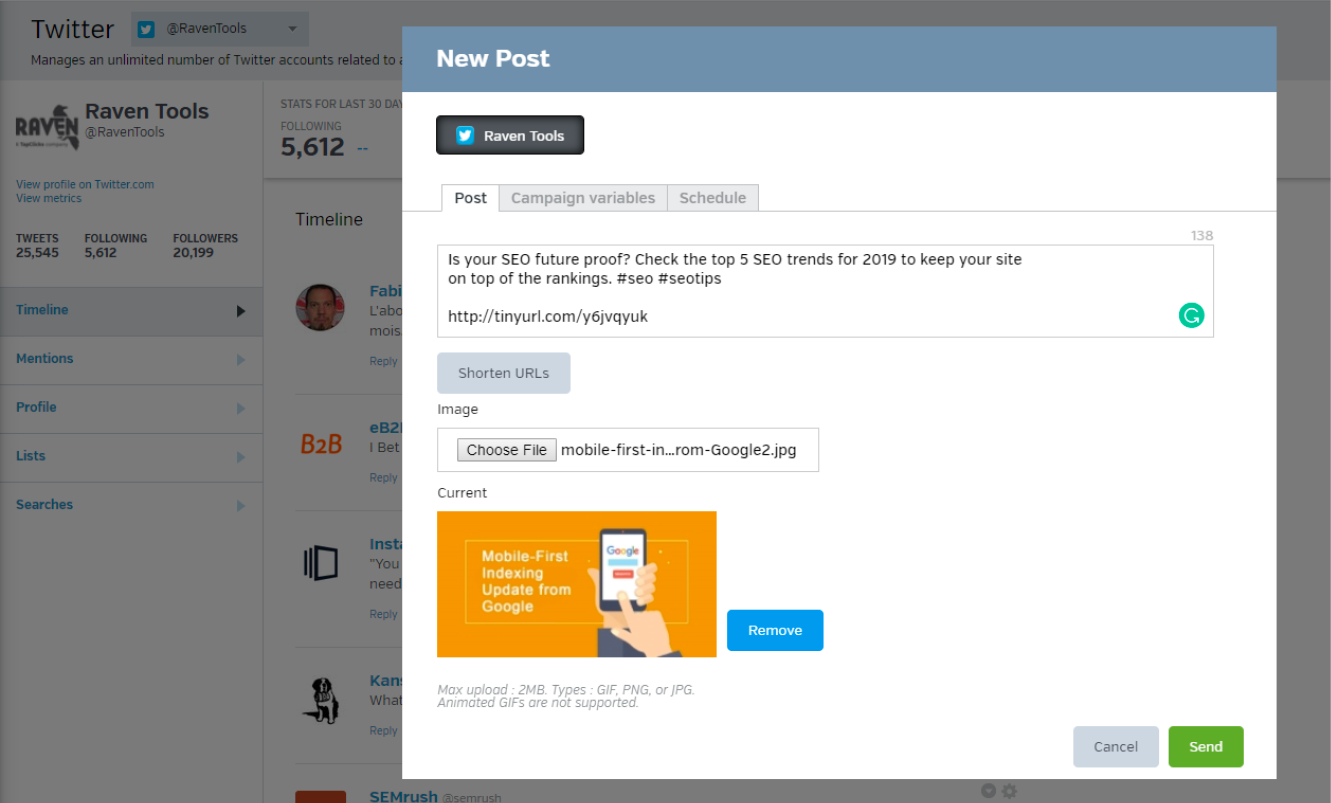 Backlink Analysis: You can build high-quality backlinks to the website with the Raven suite of tools, as it uses multiple data sources and has a range of quality metrics. SpyFu's backlink analysis tools are less extensive. It also outperforms SpyFu in terms of backlink competitors' research, helping to compare backlink profiles against competitors and identify areas for improvement.
User Interface: Raven Tools has a more user-friendly interface and is easier to navigate — SpyFu's interface may be overwhelming for some users. SpyFu's simpler solution may be more suitable to beginners, while Raven Tools is tailored to the needs of experienced digital marketing specialists who need lots of metrics to finetune their strategy.
In terms of pricing, the software has different pricing models. Raven Tools charges a monthly subscription fee based on the number of domains and features used, while SpyFu charges a flat monthly fee based on the chosen plan, yet their entry-level plan costs the same.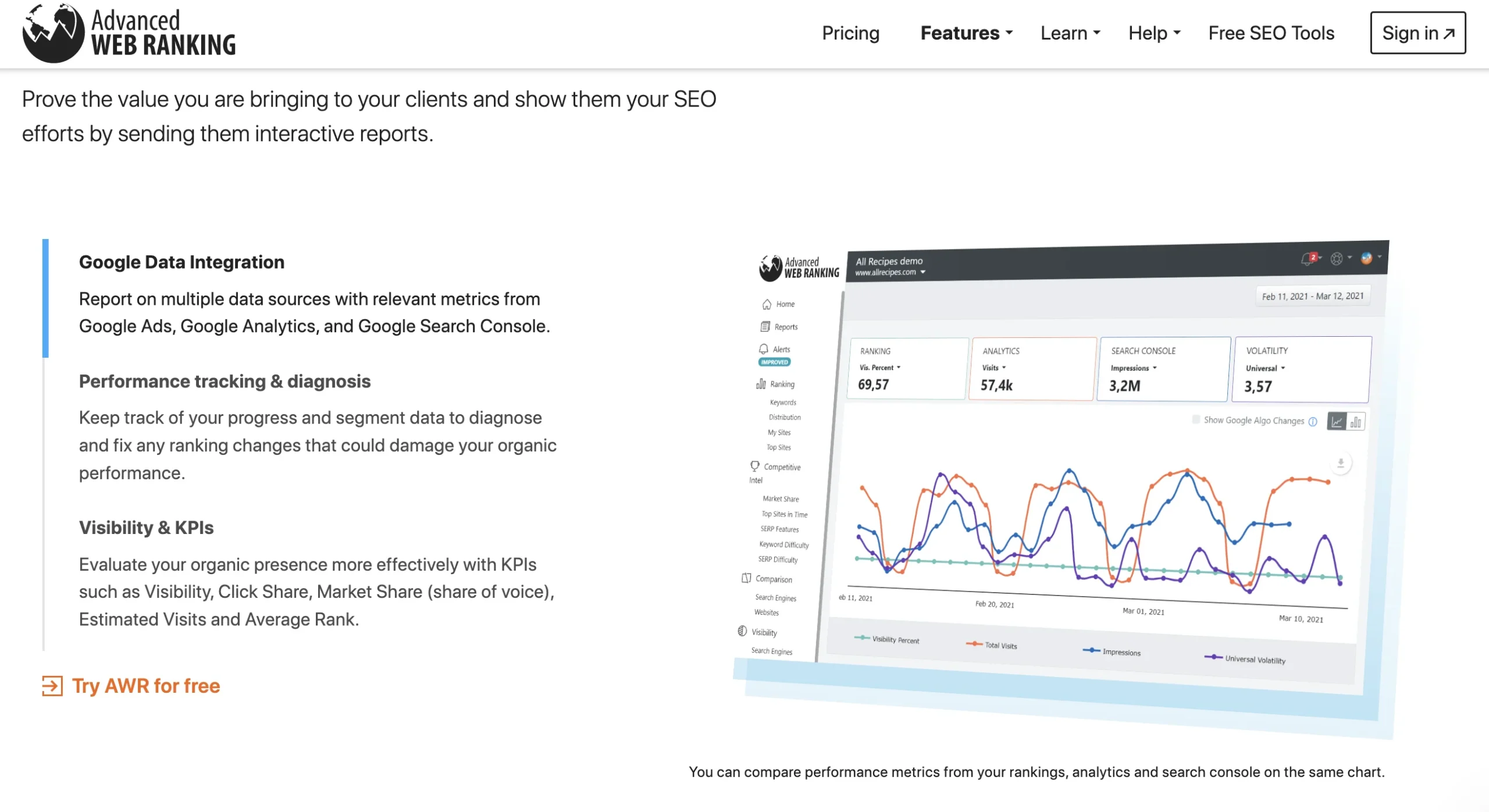 Advanced Web Ranking (AWR) includes features for keyword research, rank tracking, backlink analysis, competitor analysis, and more.
AWR's keyword research tool allows you to identify relevant keywords and phrases for the website, while the rank tracking feature provides insights into how your website is performing in search engine results pages.
With AWR's rank tracking feature, you can monitor your website's performance in search engine results pages (SERPs) and identify trends and patterns in keyword rankings. You can use this information to make data-driven decisions about your SEO strategy, such as optimizing website content or targeting new keywords and phrases.
The backlink analysis tool provides users with information on their website's backlinks, including the number and quality of backlinks. AWR also includes a competitive analysis feature that allows users to compare their website's performance with their competitors and identify areas for improvement. Overall, AWR is a powerful tool for businesses and agencies looking to improve their SEO strategy and drive more organic traffic to their website.
On the other hand, it is hard to outperform SpyFu when it comes to competitor analysis tools. Yet AWR can try, as it offers a competitive analysis tool with a set of comprehensive features for analysis.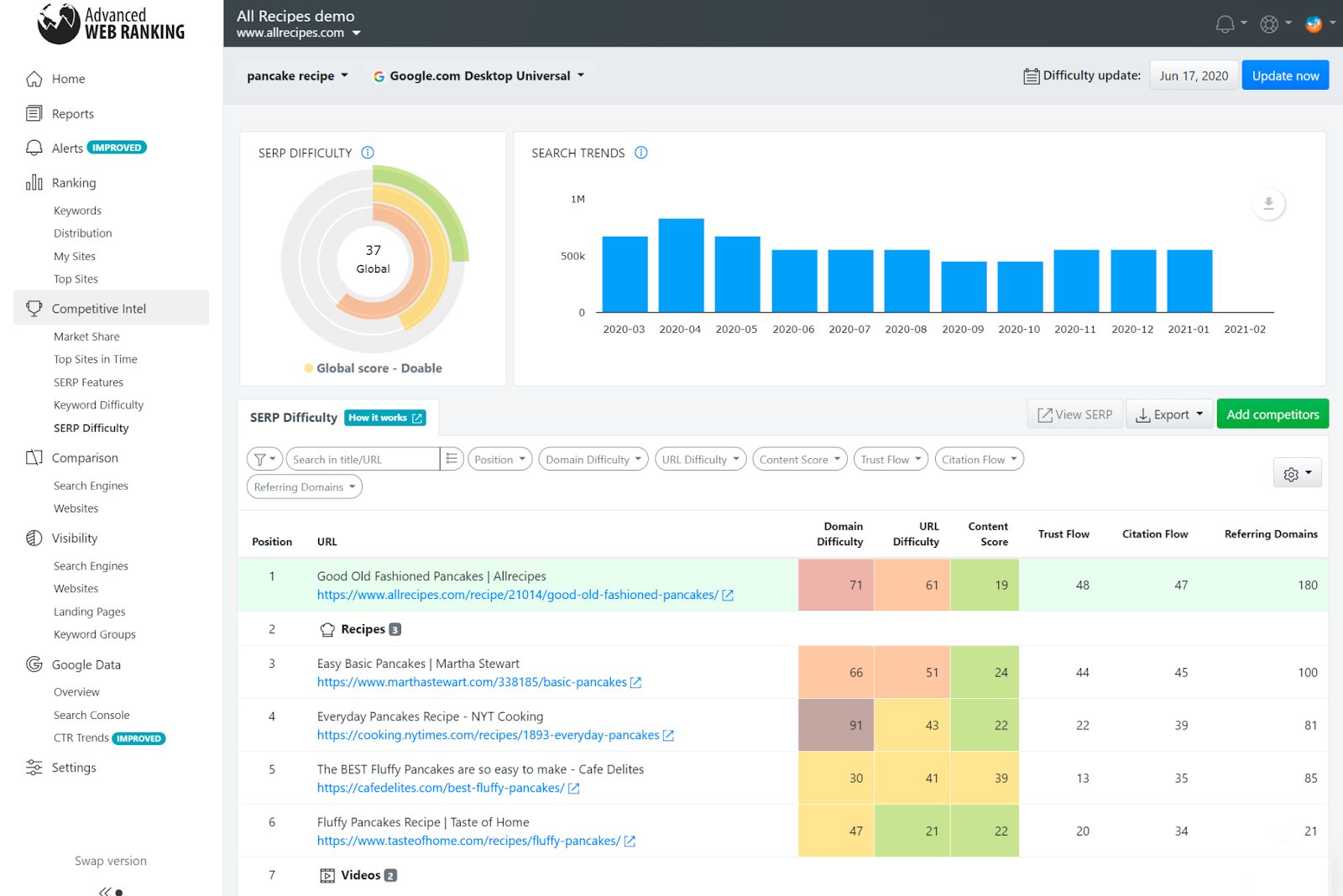 AWR's strength lies in its comprehensive reporting features, which allow users to generate detailed reports on keyword rankings, backlinks, and website performance. The software also offers a more user-friendly interface compared to SpyFu, making the platform easier for users to navigate and use.
SpyFu's pricing is more affordable than AWR, making it a better option for small businesses or individual marketers on a budget. If you need more comprehensive reporting and analysis features or you are part of a large team, then AWR is your choice.
Conclusion
There are quite a few SEO and digital marketing software options available, and each one has its own strengths and weaknesses. When selecting a software solution, make sure to consider the specific needs of your business and what features are most important to your marketing strategy. Whether it's keyword research, PPC management, backlink analysis, social media management, or competitor analysis, there is a tool out there that can help you achieve your marketing goals. When looking for an alternative to SpyFu, you may find a more comprehensive set of features or try out tools that SpyFu misses, such as social media or content management tools.
Ultimately, the success of your SEO and digital marketing efforts relies on selecting the right software tools for your needs and keeping a close eye on your metrics. Metrics provide valuable insights into how your website and marketing efforts are performing and help you make data-driven decisions to optimize and improve your strategy. That's what drives your strategy forward, identifying areas for improvement and making adjustments to your strategy accordingly.
By staying on top of industry trends, using the latest technology, and continually evaluating and optimizing your strategy, you can achieve your marketing objectives and grow your business in a competitive online marketplace.