Being a Facebook Marketing agency, you quickly find out what tools can help you save time and work with many tasks.
Using software to optimize, manage and report on your client's campaigns is necessary to running a successful Facebook Ad Agency.
In this article, we go over some crucial Facebook Marketing Tools that your agency needs to grow and thrive.
Facebook Pixel
A Facebook Pixel is a small javascript code that you install on your website or landing pages to better track and optimize your Facebook Ad campaigns. it allows you to connect your website to your Facebook Ads for insights, retargeting and conversion tracking.
You can use the pixel to:
Make sure your ads are shown to the right people. Find new customers or people who have visited a specific page or taken a desired action on your website.

Drive more sales. Set up automatic bidding to reach people who are more likely to take an action you care about, like making a purchase.

Measure the results of your ads. Better understand the impact of your ads by measuring what happens when people see them.
If you do any Facebook Advertising, then it's vital that you set up the Facebook Ad Pixel on your website.
Here are some reasons why you need the Facebook Pixel:
Track conversions on your website like sign-ups or orders.
Analyze and optimize your sales funnel with Facebook Ad Insights.
Build custom audiences to advertise or retarget to.
Create lookalike audiences that are similar audiences to a defined audience of your Pixel.
See direct ROI from Facebook Advertising and your revenue.
Build dynamic product ads so you can retarget website visitors with the actual products they were viewing.
It cost $0.
For these reasons, you should get started setting up the Facebook Pixel immediately.
Facebook Insights
Most marketers forget about the tools that come with their social media accounts such as this one from Facebook.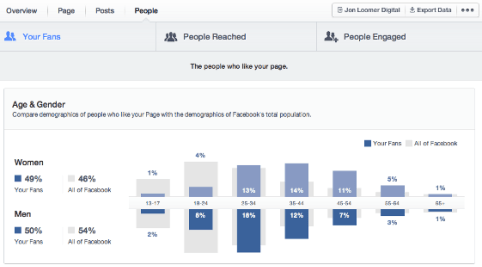 This tool lets you see information about your posts, your fans and the reach of your posts. You can also set up a list of pages that you want to monitor and get information about their performances.
Adespresso
Adespresso is a full-service digital advertising tool for use with Facebook, Instagram, and Google. Adespresso allows marketers to create and manage a wide range of ads and campaigns across the three platforms.
Adespresso's claim to fame is their ease of use for creating campaigns in minutes, instead of hours. Website owners can also use the split testing tool to drill down to specific results and performance metrics. Marketers can test anything from creatives to headlines or images. Store the results in the Adespresso cloud for retrieval at a later date.
Agencies, e-commerce and small businesses can take advantage of Adespresso's services. The company offers tracking and analysis for each ad or campaign with detailed information arriving in minutes. Adespresso's main selling point is its one-stop-shop concept. Instead of having multiple accounts, log in to Adespresso for all the tools you need for an effective campaign.
Use the 14-day free trial to see if Adespresso is right for your website. The company offers its rather expensive services in four separate plans.
Google Analytics
Google offers a myriad of resources for different types of customers and Google Analytics is one of the most used tools.
With Google Analytics, you can track your website traffic easily and evaluate some social media metrics. You can get information on all your sites, apps and even offline channels. They have solutions and products for all kinds of businesses. Use Google Analytics to measure the value of the traffic coming from your social platforms.
You can register for free and then upgrade your plan as you see fit.
Sprout Social
If you haven't heard of Sprout Social, then you are either a new Facebook ad agency or I am about to save you a ton of time with your social media campaigns!
Sprout Social is a Social Media Management Tool that allows you to combine all your social media campaigns in one spot. Not only that but they have one of the coolest reporting areas out of any social media management tool out there.
You can create a ton of different types of custom reports from engagement reports to social media profile growth.
To create a social media report for your clients in Sprout Social, just click the Reports tab at the top once you are logged in.

From here you can choose from a number of awesome reports for any of your social media profiles. Choose the timeframe your report should include and select which data you want to show in your report.
You can move around widgets to show the most important KPIs to your client first. Click on the right column to add more widgets or click the trash can to remove them… it's that easy!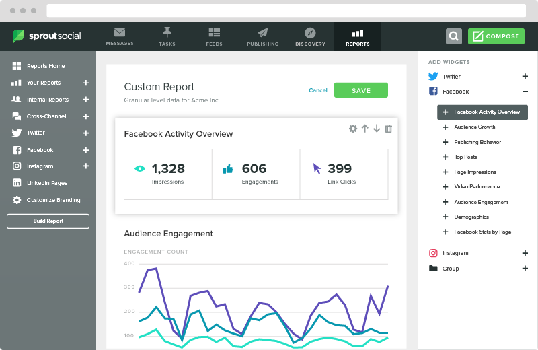 Once you are happy with your report, you can click the export button and export the report as a PDF. You can then send this data to your client so they know always know the status of your social media campaigns.
Buffer
Buffer is an all-in-one platform that allows you to schedule content for your client, track the performance of your client's content and even manage multiple social media accounts all in one place!
With Buffer, you are in complete control of when your posts go out, peak times to post and which content is performing the best. You can also create super detailed reports on the performance of your social media campaigns for clients.
You can even create UTM campaigns in Buffer so that you can track the performance of your Buffer campaigns in Google Analytics.
To view the analytics of your social media campaigns, click the Analytics tab on the dashboard of your Buffer account.

If you have the business account with Buffer then you have access to a number of great reports like:
Posts Reports: Shows analytics for all your posts
Overview Reports: Shows overviews for Twitter and Facebook Pages
Analysis Reports: Shows analytics for all social accounts excluding Twitter
Influencers Reports: Influencer report for Twitter Analytics
Once you have created the report you desire, click the export button and you can export the report and send to your clients. If you want to automate this process, you can use Ninja Reports with Buffer to send email reports atomically, containing this same data.
Adzooma
These rules-based automation tools are another way marketers can save valuable time for optimizing your ad accounts. Adzooma works with Google, Facebook, and Microsoft. Adzooma uses AI and machine learning methods for multiple ads and accounts.
The Adzooma tool ferrets out underperforming ads so you can replace or improve to get the campaign back on track. Use the popular reporting features to know where each account stands and how to improve results while saving time. With advanced machine learning Adzooma improves its results over time with 24/7 data analyzing.
The software allows users to adjust bidding strategies and fix problems on the fly. Adzooma offers unlimited scaling as website traffic grows. The service offers four separate pricing plans starting with Pilot, Advanced Pilot, Rocket Pilot, and Galaxy Class. Use the free trial to see if Adzooma is right for your site.
Conclusion
With these Facebook Marketing tools, you can scale your agency and spend less time doing manual tasks that software can easily handle. The perfect stack of tools can help you grow your business and get more clients.