A domain name is a term used to refer to the address of your website on the internet.
Generally, it is the name that people type to get to your website. In the last few years, about 330 million domain names have been registered, and the registration continues to increase by 3.7% annually. The increasing record makes it more difficult for domain name generators to come up with more unique domain names.
It is important to keep in mind that these domain name generators are not perfect as they are artificial intelligence. Nonetheless, they are good enough to help you get the creative ideas flowing effortlessly in your head. With these tools, you can choose the best domain name for your website.
A suitable domain name generator should produce domain names with the following qualities:
Unique in all aspects
A brandable domain name
One that is dependable
Easy to remember
More descriptive
Below is a detailed list of the best domain name generators, starting with those that require the least input.
1. NameStall
When it comes to choosing the best domain name for your niche or business, NameStall offers you great flexibility in that.
NameStall is a set of domain name developers. It has three most used IMO, which are: the rhyming, the three-word, and the primary domain name generator.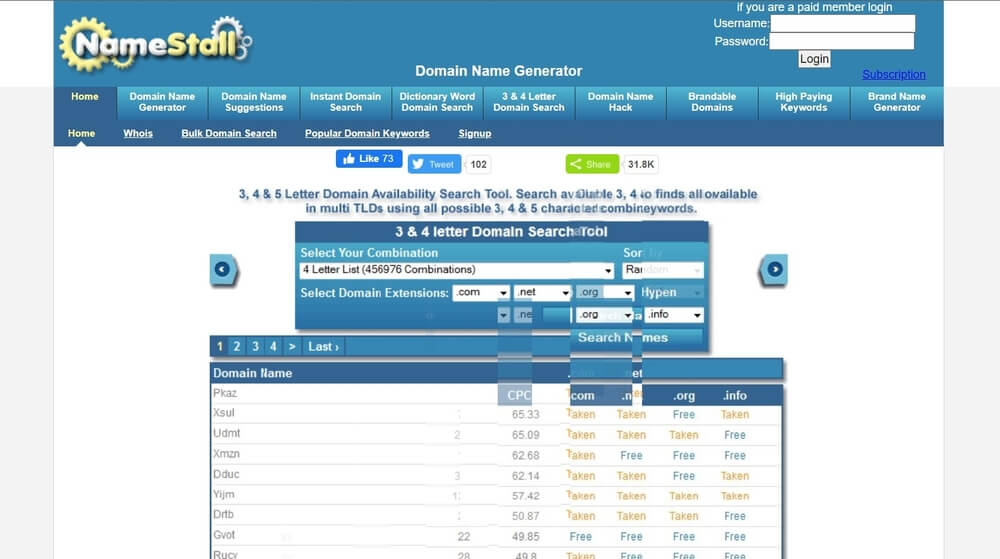 To get started, go to the domain name generator available at the NameStall. Type your main keyword and choose to either put it at the end or in the beginning. Then disable or enable hyphens and adopt a 'word group,' which will allow you to complete the domain. The final step gives you fantastic options on how you customize your search and your domain.
NameStall is the best solution for anyone who does not have ideas on how to complete the domain name they want but would love to customize the functions of the generator.
Pros
Enables you to check a huge number of TLDs and register them directly
Allows you to freely pick where to locate your main keyword in the domain name
Offers a way high customization through word groups
Cons:
It has a limit to the number of searches you can do. It only allows five searches before you are forced to buy a subscription or use your browser incognito mode.
2. Lean Domain Search
This tool primarily appears like a primary domain name developer.
However, upon keying in a word and searching it, the tool discloses more sorting options which help you in decision making. These options consist of name length, popularity, alphabetical order, and the ability to see if your domain name is existing. You can also choose where to locate your keywords in the domain name and a wide range of possible names to pick from the search results.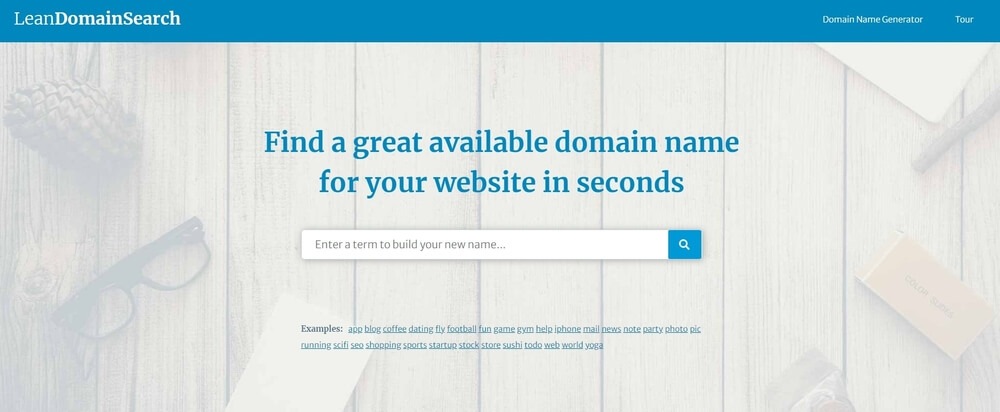 This tool is very easy to use. You are just needed to provide one main keyword.
The keyword should be something that correctly describes your business or niche. This tool gives you more than a hundred domain name ideas, with most of them being open for .com registration.
This tool is handy when you do not have an idea for your niche domain name, but only have several words that describe your business adequately.
Pros:
Displays your search history
Permits you to register domain names directly from the tool generator
Allows you to add your favorite domain, which you can review them later
Checks usernames that are available on Twitter
Cons:
It only displays the .com domain names option and not any other TLDs.
3. Bust A Name Domain Maker
Bust a Name requires more input compared to some other domain name tools.
It has two parameters, which are domain name maker and domain name search. This feature enables you to control the elements you require and how you want to build your domain name. It also helps you to generate original domains.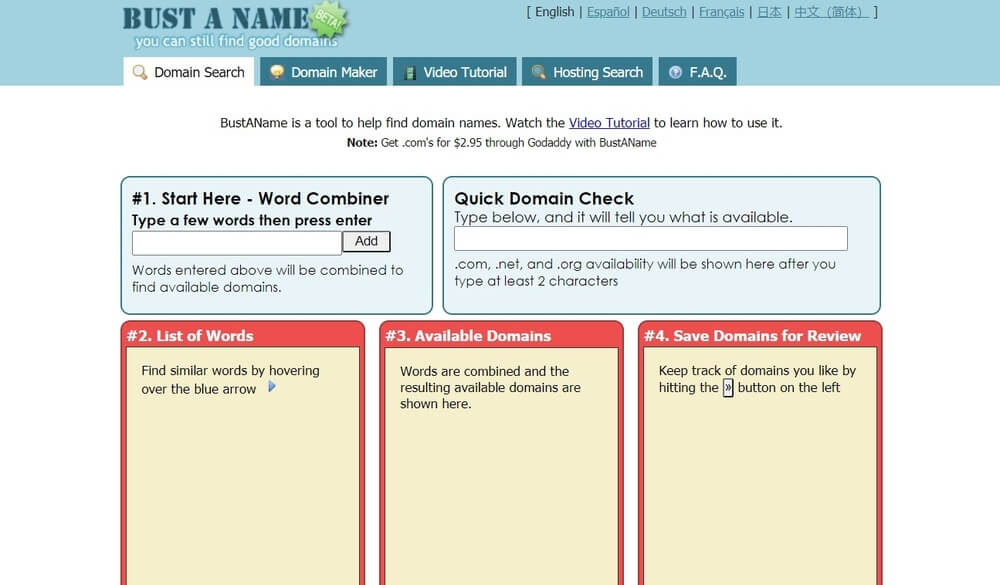 Starting with the domain maker, pick one word that is unique, natural, and relevant to your niche or business. Type the chosen name into the generator followed by filtering your options.
Filtering allows you to limit the number of characters you want your domain name to have. You may also prefer your chosen word to either be at the end or the start for it to appear natural or not.
Through the two screens offered by BustAName (domain search and domain maker), you can check if the domain name you chose is available. You can also search through the domain search the available options. Finally, you can decide to display several Top-Level Domain (TLDs) instead of the default .com.
If you would want your domain to stand out as more original and unique, and you are fully aware of what keyword to use for your domain name, then BustAName suits you.
Pros:
Domains can be saved for later
It gives comparisons of the cost incurred during domain registration by various registrars
It suggests domains that sound very interesting and original
Availability of a button which helps you make random domains ideas, in case you run out of options
Cons:
Limits you on where to put your primary keyword. You can only put it at the end or the start of the domain name.
4. Nameboy
Nameboy creates remarkable domain names, particularly if you plan on registering more TLDs rather than the usual .com. The tool works better when you have a basic idea of what your domain name ought to be.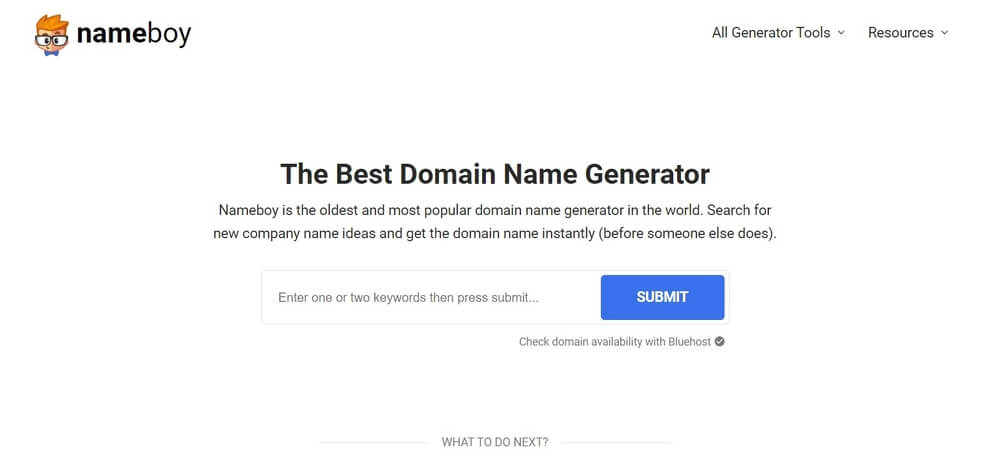 Provide the tool with your primary keyword, followed by a secondary keyword which you would like to merge into one domain name. You can also opt to allow hyphens or even request to generate rhyming domain names.
Anyone who has a general idea of what their domain name should be but still wants to look for other TLDs available and possible hyphenated variations of the name.
Pros:
You can forbid or permit hyphens.
It permits you to provide two basic keywords.
The tool shows a list of domain names that are accessible for resale.
It avails many TLDs.
Cons:
Google labels the checkout process when purchasing a domain through Nameboy as 'unsafe.'
5. Domain Wheel
Domain Wheel gives an appealing design that is simple and fun as you search for your domain name.
It can display domain extensions amounting up to 15 like .info, .biz, com, .org, among others. It also produces a variety of groupings with each search and compiles names of original domains that can fit your site's identity. If the exact names created do not meet your site, the tool gives a keyword list related to your search topic and random suggestions.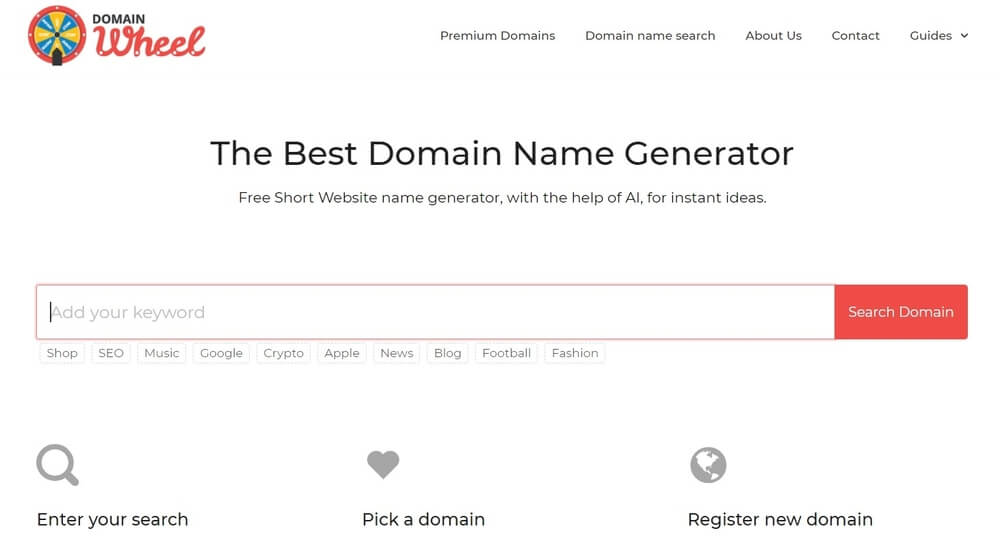 The tool can be used by people who are open to ideas or those aiming for precise plans. Domain Wheel provides fun and creative suggestions. The domain name search results consist of both random and specific names.
Pros:
Has an extension that enables to down results
Gives random suggestions of keywords related to your topic
Its interface is striking and fast
Cons:
Lacks social media availability
Offers fewer options to filter your results
6. DomainTyper
The name originates from the fact that you do not need to click on any buttons after you type your domain.
Typically the tool will automatically give you suggestions. DomainTyper is equally a domain name finder and a free domain name search. It supports all extensions and allows you to search promptly. With this domain name creator, you can check numerous TLDs available, but not fit to use when you are beginning from scratch.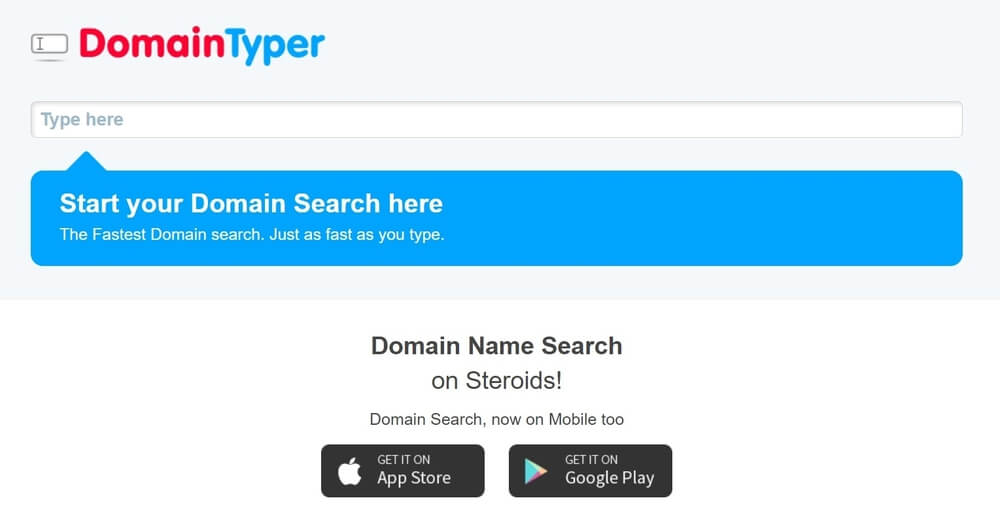 Start by typing in you whatever domain name you have in mind, and the tool will give you suggestions automatically. Having looked at the accesible domains, you can check the usernames available through social media and remove or add the TLDs that do not interest you.
The tool is recommended if you have an idea of what domain name you wish to use, but you would like to check the social media usernames and TLDs.
Pros:
Checks social media usernames
Shows you all the existing TLDs at a glance
Works in real-time as you type
Gives the option of adding custom TLDs to search
Cons:
Does not generate domain names for each search
Conclusion
Domain names are essential in every business.
As such, you should devote a reasonable amount of time to selecting the best domain name that suits your business perfectly. The domain name generators listed above can go a long way in generating an outstanding name for you and can even help with your on-page SEO.
To come up with the best domain name with the help of the best domain name generators, you need to consider factors like trademarks, length, domain name extension, memorability, catchiness, and ability to type.