[toc]
Speed is everything!
Web page load time is a critical component that determines online success or failure. Desktop sites have between 4 and 9 seconds to grab interest before the customer moves on to another site.
Advancing technologies have shortened the attention spans of consumers. 53% of mobile websites have less than three seconds to capture the eye of a customer.
If these numbers are not startling enough, every second in the delay of a page load yields 11% fewer visitors.
Website speed testing tools are essential methods for discovering and monitoring page loads of a website. Here are 11 of the best tools for testing website speed.
1. Google PageSpeed Insights
Google PageSpeed Insights; no website speed test list is comprehensive without the 800 LB. Gorilla.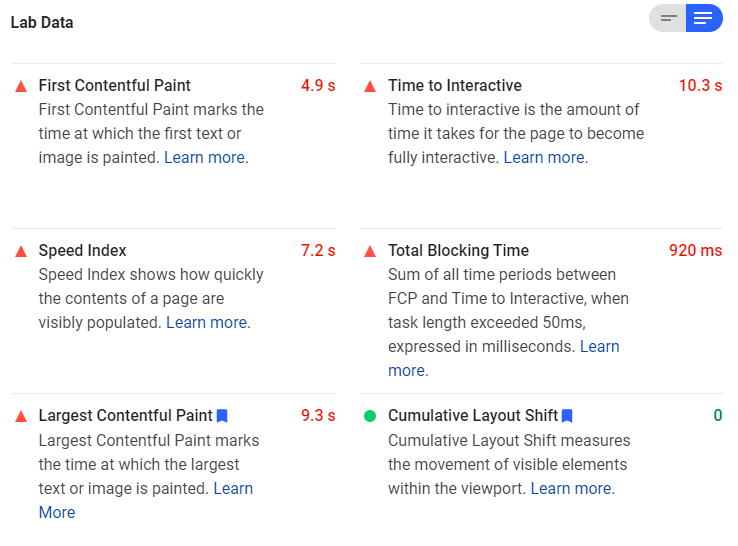 The outstanding facets of this free toolset are the mounds of support materials once you enter a URL.
Google Webmaster Central
Apache and NGINX server modules
Google Public DNS
Best practices, protocols, and standards
PageSpeed encompasses mobile performance along with a host of desktop site improvements.
Enter a URL and Google returns a performance score summarizing several aspects of a page load. They base the rating on Google's real-world performance algorithms and historical search patterns. Webmasters can improve performance with core values, selected metrics, and additional diagnostic data Google provides.
PageSpeed uses the open-source platform, Lighthouse, and its vast array of resources.
Use the platform for automating the ongoing quality of a website. Webmasters can run Lighthouse in Google's developer toolset or from the command line.
2, GTMetrix
GTmetrix has developed into a technologically advanced powerhouse with website speed testing tools and comprehensive resources.
The feature set for GTmetrix is substantial, and its learning curve is formidable. However, once you have digested the platform, a webmaster has a solid foundation for the future. There is a free version and several pro options for easing into the platform.

Analyze a site's page load performance in real-time from any of the 38 data centers around the world—track performance on the comprehensive dashboard for later brainstorming. Analyze every detail of a page load on different screen sizes and resolutions.
Record page loads with advanced video to pinpoint exact bottlenecks. Use the alert system to find DNS and COM issues in real-time. Support materials for GTmetrix are excellent, with WordPress and Getting Started Guides.
3. Pingdom Tools
Pingdom started its journey to success as an app that pinged sites to verify existence on the newly formed internet.

Pingdom has grown into a multi-faceted performance page speed test platform with a variety of tools.
Page speed test and load performance
Ecommerce transaction monitoring
Uptime and performance alerts
APIs
Pricing for the service is affordable, with a Free Trial offered. Enterprise webmasters will need to contact the service for pricing. The background of Pingdom has provided several intuitive tools like the speed test. Discover page loads from several data centers around the world.
Pingdom's website monitoring is a strong point. Easy to read and understand server response codes, content types, and different states of page load are all monitoring points or alerts.
Using speed tools to improve the performance of a website does not happen overnight. The process takes a bit of time to understand where the bottlenecks are and how to ease the problem. If a page loads less than three seconds, it will be faster than 50% of all websites.
4. WebPage Test
WebPage Test is an excellent platform to test and monitor site performance. The number of options, such as test location is enormous.
First impressions of WebPage Test make it look like a simple tool. However, knowing how a site loads from dozens of points around the world and in different browsers is invaluable.

The service provides tools not available from other testing sites.
Repeat view (loads the site, closes it, then reloads and monitors the results)
Traceroute starts with the IP or host name from locations around the globe
Visual comparison lets webmasters find loads on different mobile connections.
The best aspect of this open-source test, most tools are free. WebPage Test provides its information quickly and accurately.
5. Dotcom Tools
Dotcom-tools by Dotcom-Monitor are a suite of tools with a solid analytical foundation.
The company offers an impressive range of speed tools and monitoring solutions. Dotcom-tools start with a full battery of free testing procedures. Each free test comes with impressive documentation and a lot of options.
The Pro-Solution for dotcom-tools lets the webmaster test and monitor any number of websites with an easy to understand dashboard. Everything from load and stress testing to infrastructure monitoring is available.
Dotcom-tools pro monitoring and testing are some of the most powerful platforms available to the webmaster. Deep website integration is possible through private agents and filters. Use the schedules and alerts function to set up any type of system monitoring.
Website testing and monitoring is no longer a localized solution. Savvy webmasters set up sites to be seen in specific markets around the world. Online users are no longer bound to a 15-inch screen, and their connections are fast or agonizingly slow.
Consider testing sites that offer a variety of comprehensive services and speed testing.
6. Uptrends
Uptrends is a speed testing site that provides a variety of free tools and varied paid options. Webmasters can use the Free Trial to check their websites and the service, to see beforehand, if there is a match.
The impressive aspect of Uptrends is its variety of pricing options. Essential website monitoring includes; Starter, Premium, and Professional. Business and Enterprise offer advanced monitoring features.
Each plan offers a robust free trial and also add-ons to the service. Webmasters can add a Real-User monitoring feature based on website visits.
Uptrends has packaged an impressive line-up of tools and monitoring solutions for any number of websites or services.
7. Website Audit by Geekflare
Website Audit by Geekflare is a solution full of auditing tools to find bottlenecks and code issues. Webmasters who know how to fix their website foundations, ultimately prove to have a faster loading site
Use Geekflare Website Audit in either desktop or mobile mode against 50 metrics to see where your site falls. The service organizes its information in a series of free testing tools and a substantial number of partner sites such as CloudFlare, email marketing platforms, and making money.
8. Sucuri Load Time Tester
Sucuri LoadTimeTester is a unique site for testing page load times, then comparing to other sites that have used the platform.
Enter a URL and hit the Test Load-Time button, and Sucuri returns a full accounting of page loads from around the globe. Sucuri gives the webmaster; first connection time, first byte, and then total load time.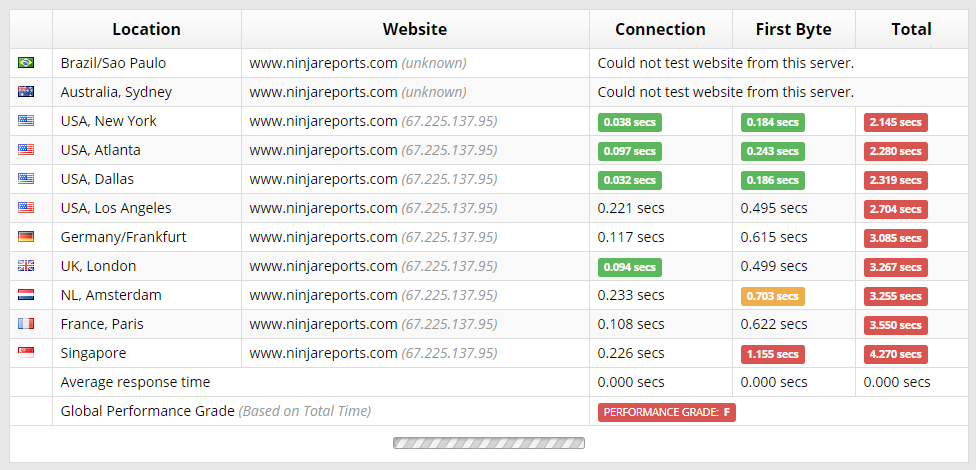 Sucuri gives the user an impressive graph showing specific bottlenecks. Another prominent feature is the comparison tables.
Recent sites using the platform
Best load times
Worst load times
Follow links to other impressive paid offerings from Sucuri.
Website Firewall
Website Security
Malware detection and removal
Blacklist
Sucuri can be a total solution for the webmaster.
9. Varyy
Varvy is an excellent platform, closely aligned with Google's best practices and SEO guidelines. Varvy has retired many of its legacy speed tools in search of more modern solutions.
Until the developers have written a new advanced code for speed tools, Varvy is doing the right thing, using Google Webmaster guidelines as their foundation.
While the upgrade is taking place, Varvy has offered an enormous amount of page speed and code materials.
10. Site 24×7
Site24x7 is a complete solution for the end-user, along with a host of developer tools for site reliability. The site offers website speed monitoring on everything from specific website features to cloud servers.
A unique feature of Site24x7 is their Synthetic Transaction Monitoring. The service is a way for webmasters to replicate and baseline web applications in a production environment. Deep dive into user flows and rendition measurement.
On the developer side, administrators are given a full suite of tools to improve website performance.
A small sampling of Site24x7s offerings:
Port availability and subnet calculator
Real-time blacklist check
AWS development
CSS and Javascript beautifier
JSON path evaluator
JSON to PHP
The tools above are just a few of the packages designed for complete website and enterprise management by the developer.
Modern websites have become technological marvels, with no sign of slowing down. Languages of the internet, such as HTML and PHP, have grown in complexity. Webmasters must stay focused on what is critical to success, fast loading times, and content.
As the internet becomes more sophisticated and robust, monitoring and speed tools have become indispensable for webmasters.
10. SEO Site Checkup
SEO Site Checkup is one of a fresh wave of website speed improvement tools. Rather than the webmaster searching endless lines of code, enter the URL, and the tool does all the work.

The site returns a score based on several SEO best practices. In addition to the score, they give explanations on a wide-ranging set of issues.
Meta title and description tests
Google search results
Keywords
Robots.txt and sitemap tests
SEO Site Checkup is one of the better sites for improving search results, because of specific actions needed by the webmaster. Each item gives specific "How to fix" results.
The service offers three pricing models from Basic to Professional, based on the number of sites, keywords, and so on.
11. YSlow
YSlow is considered by many online experts to be one of or the finest speed tools available. The software is a downloadable product, or it can be accessed from the Google Web Store as an extension.
YSlow runs on several major browser products and gives the webmaster a score computed by Yahoo algorithms. The software crawls the DOM (Document Object Model), finding issues in scripts, images, and stylesheets.
At present, YSlow has thirty-four rules each page is graded on, with each control computed differently. The open-source software gives webmasters a suggestion for each issue generated. YSlow then offers ways to improve performance and specifically page load.
YSlow gives webmasters resources to improve load times, such as SmushIt and JSLint.
Read the FAQ section and see how YSlow operates and see if the platform is right for your website.
Conclusion
If you are a webmaster, developer, or IT manager, peruse the tools above to find one that piques your interest. Most of the platforms offer free trials or free versions before you need to commit.
The website speed testing tools above, are 15 of the best tools on the market for testing website load times.