Pay-per-click (PPC) has become a necessary and essential element to the success of any website in the modern era of online marketing technologies. To become competitive in single or multiple market niches, website owners must broaden their knowledge of the available tools. In 2002, PPC started as plain text ads in Google search results. The earliest models for PPC was a fixed price for a thousand impressions on first-tier search engines. From those early templates, thousands of specialty tools and networks have been developed. PPC advertising is now a competitive advantage for those who will learn the technology. The following
PPC management software
tools are a few of the best ways to implement a successful marketing program for any size website.
For a successful PPC campaign, competitor research is crucial. It's always beneficial for your plans to find out what keywords they are using and how their ads are performing. Based on the data, you can create a strategy that will help you win the game and drive more traffic to your pages.
SE Ranking helps you do this with its competitor research tool. There, you can find information on your direct and indirect competition, their traffic volume and sources, backlinks, as well as their ads.
Find out what advertisements work the best for your rivals, see what keywords bring the most profit, and create better ads to take their place.
Historical data within the SE Ranking tool will help you see the big picture and plan your PPC strategy perfectly.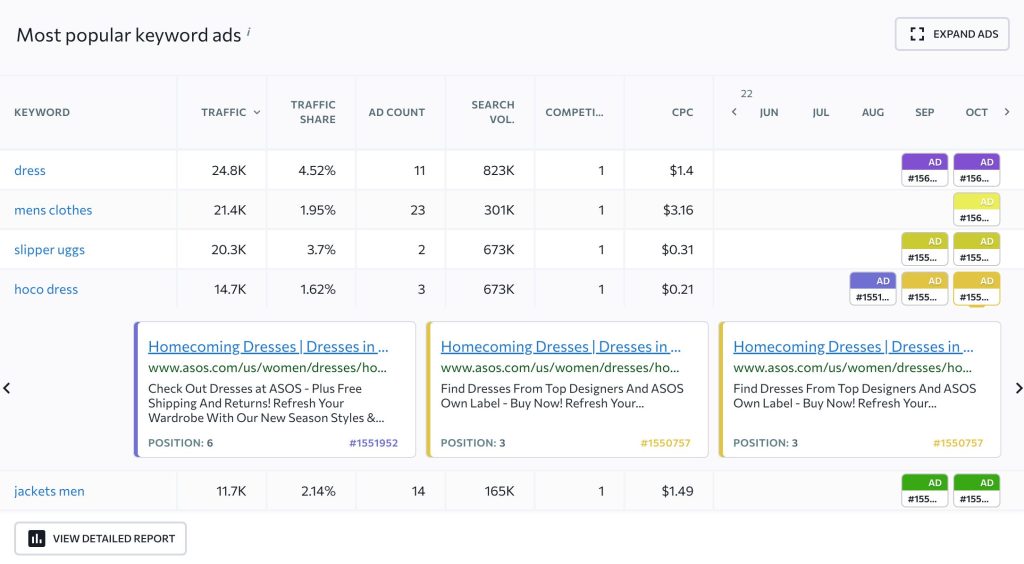 FREE TRIAL
2. Google Ads Editor
The 800 lb. Gorilla is the search engine that started it all. The
AdWords Editor
has made the process of internet advertising, simple. Be as creative or unpretentious as your budget allows. Google has made the entire process of creating ads, campaigns, and accounts, quick and efficient.

Organize or Import files and advertisements from a single dashboard. See the effectiveness of each campaign with a robust reporting framework. Change a single ad and share it with colleagues across different platforms. Google Ads Editor allows web publishers to target advertisements when and where the ad can be the most effective. Its integrations with other tools enable you to get advanced analytics insights by creating a customized
Google Ads dashboard
. Target an enormous online audience with almost any budget and reach the most relevant customer.
3. Bing Ads
The "other 750 lb." gorilla is
Bing Ads
. Integration is the key to Microsoft's advertising tool. Sign up for an account, and a huge number of portals, advertising agencies and companies are at your fingertips. Work offline, then upload your changes, intact, to the online tool. Efficiency is a key feature of the Microsoft tool. Switch to each tool with ease, and keep your efforts moving forward. Microsoft has improved several areas of Bing Ads to keep up with Google. Keywords and bid targeting have seen enormous improvements over the years. Ad targeting is simple and intuitive with Bing Ads. Real-time reporting is another strong feature throughout Bing and the entire network. The best part is the familiarity of working with the tool. Everyone knows Windows, so the interface is very similar. Microsoft has a ways to go before it catches up to Google's scope, but it is getting there. Use this Microsoft
comparison guide
for help.
The company's comprehensive online
marketing tools
offer some of the best value available. Start with a simple keyword research tool and then graduate to more all-inclusive tools as your website grows. Take away Google and Microsoft, and
SEMRush
may be the top tier
PPC management
system on the market.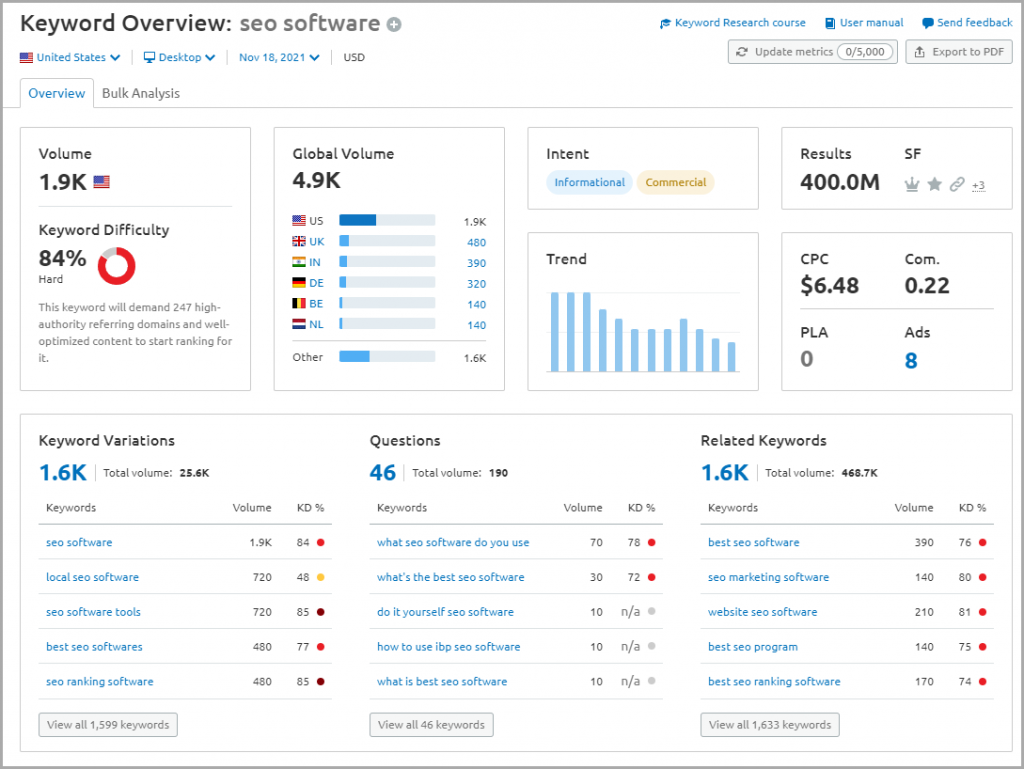 SEMRush offers an enormous collection of modules under six separate categories. The company has grown from a simple keyword research tool to a complete workflow analysis program. One of the absolute best features of SEMRush is the reporting mechanism within each category. As your business grows, reporting grows with it.

Another big advantage with the system is the tight integration withing each module and category. Change one of the social media reports, and the entire platform updates in real-time. If your website is large enough to use every module SEMRush offers, you have managers looking after the details.
5. Adespresso
Adespresso
is a full-service digital advertising tool for use with Facebook, Instagram, and Google. Adespresso allows marketers to create and manage a wide range of ads and campaigns across the three platforms. Adespresso's claim to fame is their ease of use for creating campaigns in minutes, instead of hours. Website owners can also use the split testing tool to drill down to specific results and performance metrics. Marketers can test anything from creatives to headlines or images. Store the results in the Adespresso cloud for retrieval at a later date. Agencies, e-commerce and small businesses can take advantage of Adespresso's services. The company offers tracking and analysis for each ad or campaign with detailed information arriving in minutes. Adespresso's main selling point is its one-stop-shop concept. Instead of having multiple accounts, log in to Adespresso for all the tools you need for an effective campaign. Use the
14-day
free trial to see if Adespresso is right for your website. The company offers its rather expensive services in four
separate plans
.
6. Opteo
Successful online entrepreneurs now have the tools to manage multiple websites, each with a different slant.
Opteo
is a top-notch support tool that makes the tedious tasks of AdWords efficient. Improving tasks and outcomes is what Opteo is all about. The tool is an advanced diagnostic and performance measuring system. Using advanced algorithms, Opteo provides additional metrics, Google AdWords does not offer. Drill down to find the performance of a single keyword or an entire campaign. Control bids, budgets, and automate the entire process. One of the most useful functions of Opteo is finding the effectiveness of an AdWords campaign. Set up a baseline, run the campaign, and measure the results to see what ad is working the best. Create complex or simple timelines to see how and where your advertising money is going. Opteo is a
subscription-based
service with a seven-day free trial. The basic plan will monitor up to 25 accounts. Opteo could well-be one of the smartest ways to spend an advertising dollar.
7. Spyfu
Competitor intelligence is invaluable when it is time to place a bet on the right keywords for your website.
Spyfu
provides the most profitable keywords your competitors are using. Spyfu does a lot for the modern online marketer. Place a
domain name
in the search bar, and Spyfu lists every place the website shows up on Google. Along with every AdWords keyword, every organic rank, and every different ad type. All this information is available for the last 13 years.

The power of Spyfu comes in its reporting and reliable contact information for building relationships. It is no longer acceptable to have the most incoming links and other mundane information. Google wants substance in every aspect of a site. Spyfu offers marketers a host of tools to track specific competitors and their AdWords. Spyfu is a
subscription-based
service with three separate categories Basic, Professional, and Team. Each category offers pricing for monthly and annual subscriptions. Once marketers work with Spyfu's basic tools, it is only a matter of time before you add other modules.
8. Adalysis
is a management and recommendation engine to simplify working with Google and Bing.
Adalysis
makes it easy to manage ads and get key information for PPC campaigns. The website is great for marketers who want to dig deeper into the raw numbers from their ads and campaigns. A/B testing is invaluable for website owners who know how to set up the tests and interpret the data. Adalysis takes the guesswork and time out of the testing process. Automate the entire procedure for one ad or thousands of campaigns. Knowing which ads and campaigns are losing money is essential information. Adalysis A/B testing provides costs on click-through rates, conversions, and other metrics. Use the tools from Adalysis to set-up an ad group, run the test to see the performance, and all this before going live with your ads. Use the extensive alert system and know in real-time, how each of your ads is performing. Custom scheduling and bulk tools are all part of Adalysis. The site is a subscription-based service with a 14-day
free trial
.
9. Optmyzr
is an enterprise-grade
PPC enhancement and reporting tool
. Developed by ex-Googlers in 2013,
Optmyzr
took the repetitive tasks of PPC management and reporting to make them more profitable. Optmyzr is a
Google Partner
and has received several well-deserved awards, and the tool works with Microsoft and Amazon.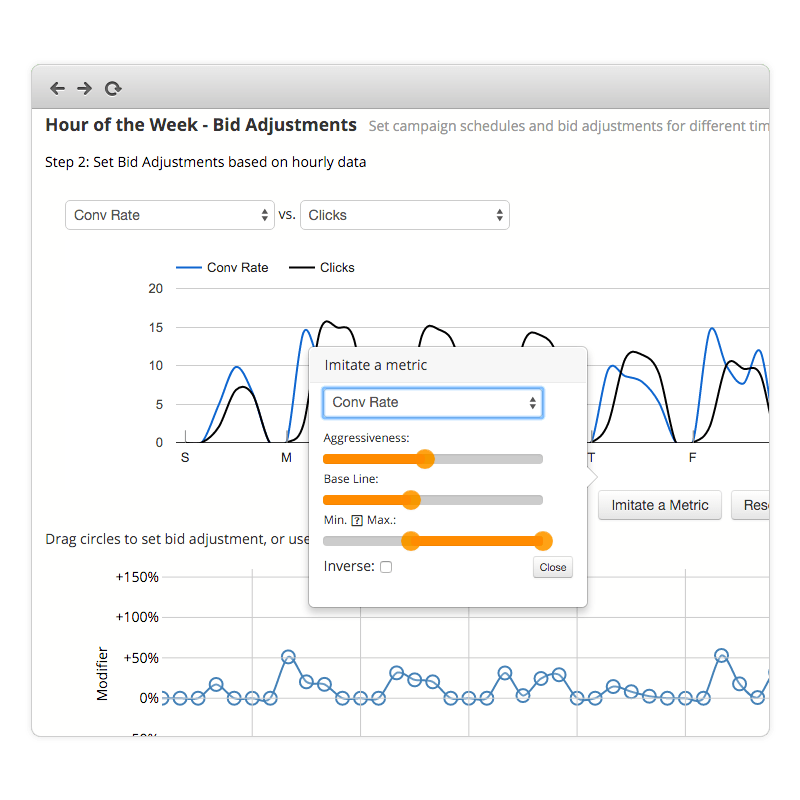 The site's machine learning algorithms lets marketers optimize campaigns with a single click. Use results to develop better budgets and bid accounts. Optmyzr automates many of the tedious tasks that once took hours. Use raw data to gain valuable insights and build better ads with optimum placements. Optmyzr provides advanced scripting tools to automate and build your ad reporting, bid and budgets. Never write a line of code. Use Optmyzr's bid management tool to put a bidding method into practice or let the tool automate the full process. The Optmyzr
service
is expensive for single websites and small budgets. However, it can be an invaluable tool for any PPC account.
10. KWFinder
Developing keyword success is more than just a few simple phrases and words found on free online tools. Modern marketers must consider the competitor's keyword, longtail keywords, local search, and the list keeps going.
KWFinder
combines all the technologies you need into an online system to find, organize, and optimize the website's key phrases. Website owners must know the specific niches their websites operate in. Enter a few ideas into KWFinder, and 1000s of suggestions pop onto the screen. Keywords will be given in suggestions, autocomplete, and question format. After deciding on a few keywords, the tool gives marketers the option to analyze trends, PPC competition, CPC average cost, and keyword difficulty. KWFinder has other tools available, however, the robust keyword analyzer is the most useful. Long-tail keywords have been a buzzword in online marketing for the last few years. No longer do websites use just one or two-word keywords and Google, Bing, and other search engines have found short phrases work best. Long-tail keywords are the short phrases clients use to search for the exact information they need. Use the
ten-day trial
to find out if KWFinder is right for your website.
11. Google Keyword Planner
Create your Google account and take advantage of all the best and original tools for online marketing.
Google Keyword Planner
has been around for a long time and is the original keyword finder and planner. Since the inception of Google AdWords and its Keyword Planner in 2013, Google has added plenty of additional reports, metrics, and tools. Google's Keyword tool is a tough competition for any other company in the market, which is why there are so few keyword tools.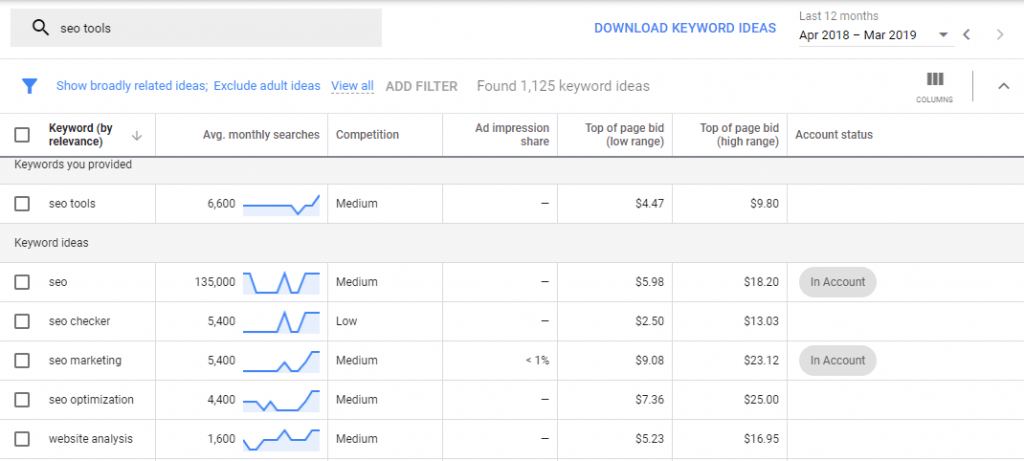 Choosing the right keywords and its integration with the rest of the system is outstanding. Right-click any ad or campaign to see the best keywords for your marketing niche. Highlight the ones you want and start using them immediately. Combine the Keyword Planner with Google Trends, and it is a powerful combination that is hard to beat. Over the years Google has improved the tool to give valuable insights, no other service can offer. Many of Google's tools are free, and you only need to sign-up for a general Google account.
12. QuanticMind
It was only a matter of time until a fully integrated artificial intelligent PPC tool came to fruition.
QuanticMind
provides, quote only services to a broad range of customers; most are at the enterprise level, however. Massive amounts of data are produced each day in every industry, especially advertising and PPC. AI is all about optimizing data by finding hidden patterns and different customer buying habits. QuanticMind integrates with other online tools to find those hidden gems in the client's data. QuanticMind helps find the intent of a particular keyword, not just the most popular one. Product feeds for e-commerce stores are continuously updated. Bid optimization is now a process of finding the exact word or phrase in a timeframe or other significant event. Artificial intelligence enhances long-tail keywords and phrases with constant updating. QuanticMind optimizes campaign management in real-time. A word of caution to site owners and marketers: it is important NOT to hand over your AdWord and bidding efforts until you are satisfied the results are in your favor. If your site is ready for the future, request a
consultation
from QuanticMind.
13. JumpFly
This company offers one thing and one thing only, PPC Management.
JumpFly
is passionate about letting everyone know, PPC is not just a side-business. JumpFly works with Google, Microsoft, and Facebook to optimize ads and campaigns. JumpFly provides a transparent process to its clients and the company offers a dedicated account executive to call if there are any problems. JumpFly offers their PPC management in two separate phases of contact. JumpFly wants to make sure they have a complete picture of your site, advertising needs, and budget. Once you have agreed to terms with JumpFly: Phase One includes a complete market analysis and comprehensive strategy. Phase Two provides everything from ongoing strategy changes to copyright infringement is handled. JumpFly has a holistic approach to its business concepts and customers. Building relationships is very important to the company.
14. DisruptiveAdvertising
The company is a Google Partner and Bing Ad Accredited Professional and offers a free PPC audit and proposal. The company takes a hands-on approach and leaves nothing to chance.
DisruptiveAdvertising
provides services in four categories PPC management, site testing, web analytics, and lifecycle marketing. They provide several tools within each category. The company works with any size ad budget but recommends their services to ad budgets over $10K. Weekly updates and
progress reports are emailed to every client
. DisruptiveAdvertising provides a long history of solid results for display advertising and PPC. Services have expanded over the years to include Facebook, Instagram, and LinkedIn. Since the founding in 2012, DisruptiveAdvertising has grown to over 152 employees and is young and ambitious. The company has great plans for the future.
Call
to get a free proposal for any size website.
15. Adzooma
These rules-based automation tools are another way marketers can save valuable time for optimizing your ad accounts.
Adzooma
works with Google, Facebook, and Microsoft. Adzooma uses AI and machine learning methods for multiple ads and accounts. The Adzooma tool ferrets out underperforming ads so you can replace or improve to get the campaign back on track. Use the popular reporting features to know where each account stands and how to improve results while saving time. With advanced machine learning Adzooma improves its results over time with 24/7 data analyzing. The software allows users to adjust bidding strategies and fix problems on the fly. Adzooma offers unlimited scaling as website traffic grows. The service offers four separate
pricing plans
starting with Pilot, Advanced Pilot, Rocket Pilot, and Galaxy Class. Use the free trial to see if Adzooma is right for your site.
16. Kantar Media
Kantar Media
claims to have the largest search intelligence database with over 900,000 PPC advertisers. Analyzing competitors and their keywords across 14 separate search engines is a huge benefit. Kantar provides several tools and solutions for specific functions for optimizing a PPC program. Using its huge database, Kantar offers its clients robust advertising and paid search intelligence products. Armed with this knowledge, marketers can target specific markets and then their keywords. A complete line-up of intelligence offerings includes the audience, consumer, and reputation management tools. One of Kantar's advanced technologies is content detection. This technology identifies what, when, and where consumers are using content. Clients can see in real-time how TV and video content is received and the impact it is having on the client. Kantar provides very robust analysis and reporting engine across each product. Using their massive intelligence database the company can understand what is driving consumer behavior for a product or service.
Contact
the company for a quote on their specific services.