As a digital agency, you have the ability to partner up with Google and show potential clients that they can fully trust you as a Google Partner.
The Google Partner badge seems like it would be very diffcult to get but it's actually not too bad!
In this guide, we are going to show you why you should become a Google Partner and what it can do for your digital agency.
What is a Google Partner?
Google Partners are individuals and organizations that perform marketing services such as advertising agencies and digital marketing organizations. Individuals can become partners as a way of showcasing their skills and advertising that they have completed the strict criterion which allows them to serve individuals and companies who need Google services.

If someone manages their own Google Ads account or provide some Ads services to clients, they are eligible for the program.
A Google partnership is something valuable for a business owner and for their organizations. The rewards for being included in the program include Partners receive marketing materials when they have completed a certification program that allows them to expand their business and complimentary training.
Benefits of the Google Partner Program
The benefits of being a Google expert include several things.
| | | | |
| --- | --- | --- | --- |
| Education | Member | Google Partner | Premier Google Partner |
| Product trainings and certifications | | | |
| Sales trainings | | | |
| Community membership and product updates | | | |
| Executive business trainings | | | |
| Support | | | |
| Phone, chat, and email support | | | |
| Eligible for dedicated account management | | | |
| Growth | | | |
| Partners badge assets | | | |
| New business strategy consulting | | | |
| Client event support | | | |
| Rewards | | | |
| Promotional offers | | | |
| Agency competitions | | | |
| Annual Partners summit | | | |
Benefits to  Individuals
When individuals apply to become a Google Partner, they can take exams at no cost. The courses that accompany the tests are free to applicants. Individuals who successfully complete their certifications can display their expertise because they receive their certification that they can print. Google displays their profiles.
Relationship with Google
When you become a Google Partner, you're given information about training, products, and research on the industry.
Partnership Ranking
By receiving the certifications and passing the exams companies can qualify to be Google Partners. Google gives Partners badges to show their achievement. A Partner can either receive a Partner or a Premium Partner badge. The purpose of a badge is to identify that agencies have Google Ads skills. Badges identify that agencies have increased their number of clients and maintained current clients.
Receive Specializations
There are specializations that companies can earn when they are Google Partners. These specializations allow agencies to identify that they have special product knowledge. The specializations can help Google Partners earn new business.
Generate New Business
When a company becomes a Partner or Premier Partner, companies that need services can search for them in the Google Partner site. Companies that need help with their advertising use these search engines to find agencies that can help them with advertising and online sites.
Association with Google
Google provides its Partners with information on advance training sessions and other information. They also provide Ads to Google Partner agencies to share with their current and potential clients.
What do you need to do to become a Google Partner?
The initial steps are to sign up for the Google Partner program by creating an account for an individual and a business account.
| | | |
| --- | --- | --- |
| Criteria | Partner Badge | Premier Partner Badge |
| Certification | 1 user certified in Google Ads who has admin or standard access to your company's Google Ads manager account or sub-managers. | 2 users certified in Google Ads who have admin or standard access to your company's Google Ads manager account or sub-managers. |
| Spend | Meet a 90-day ad spend requirement of $10,000 USD across your managed accounts to show that your company has a healthy amount of activity. | Meet a higher spend requirement across your managed accounts to show that your company has a healthy amount of activity. |
| Company performance | Meet the performance requirement by delivering solid overall ad revenue and growth, and maintaining and growing your customer base. | Meet the performance requirement by delivering solid overall ad revenue and growth, and maintaining and growing your customer base. |
Individual Registration
An individual would sign up on the Partner Portal and complete the demographic information for their personal account. They will need to list their role in the company and provide information on the company that they work for or they own. If a company is not listed in the Partner database, then a representative must register the organization when they add their individual profile.
The individual would need an Ads manager account. Promotional material for Google Ads is only distributed to individuals who have an Ads Manager account. An Ads manager account is required for a Google Partner.

The individual would list their advertising and marketing interests. This may include describing the advertising channels you use, and how you market to your clients and identifying the services you provide to provide Google insight on your skills and abilities.
After you create an account for your company, Google will make you the account administrator. Next, you'll have information sent to you by Google on the status of your partnership badge. It's not required for you to be the administrator of the company's account, but you will need to identify somebody who you want to have that status in your organization.
Registering your company as a Google Partner
To register your company its necessary to sign in to the Google Partners platform when you sign in select your company from the overview portion of the screen.
Add your company to the partner database if it is not in the database. You need to complete the information by providing the name, the country where the business is, the website, and the company email address where Google will email confirmation after you've registered. Also, remember that:
The company must have a website to become a Google Partner.
One person must have a Google Ads certification for Google to award the partners badge.
Completing those steps will allow the company and individual to receive a Google Partner account.
Google Premier Partners
Google received many organizations that completed the Google partnership program qualifications. This led Google to implement a higher partnership level. There are more requirements and responsibilities for a Google Premier partnership.
How to Become a Premier Partner with Google?
Work is necessary for an organization to become a Premier Partner with Google to receive the badge that identifies Premier Partner status. It's necessary for a Premier Partner to have frequent communication with the support team at Google. Your corporate structure and client satisfaction are examined to earn Google Premier Partner status.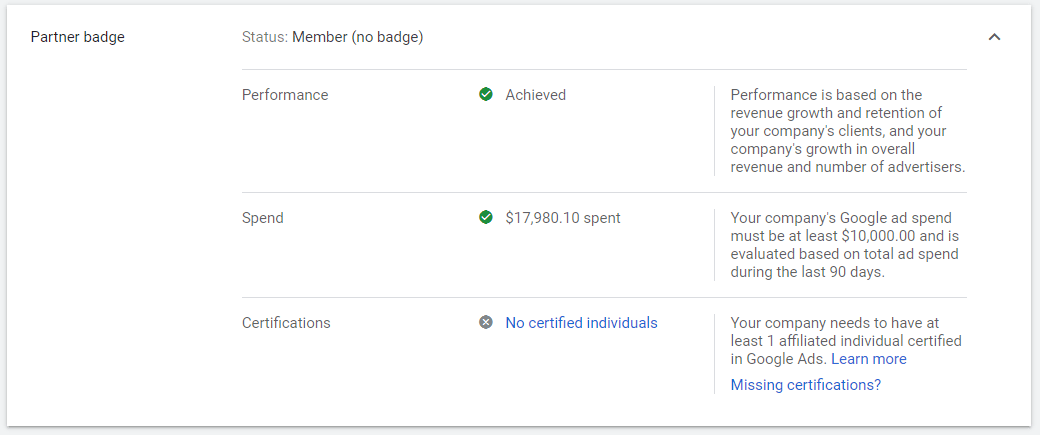 Google examines a business's performance by reviewing the Ads manager account. Additional areas that are reviewed for the Premier Partner review include the following: Customer revenue, customer retention, and the overall increase in revenue, and an increase in the number of advertisers.
Spend
Premier Partners must fulfill spending requirements to be eligible for the Premier partnership. These spending requirements include having an Ads account open a minimum of 90 days. The organization must have spent at least $10,000 during at least 60 of the past 90 days on Google ads.
It's necessary for a company to show that it has spent money at a higher level to achieve the Premier Partner badge. Google determines what spending thresholds are for different countries around the world. A company would need to refer to Google to determine if it meets the spending thresholds for its country.
Certification
Certification requirements for Google partnership include the following to receive a partnership.
At least one individual in an organization must have a Google Ads certification.
However, Premier Partnerships requires that there is a minimum of two individuals in an organization that have Google Ads certification. There are different certifications that an individual can pass to complete the Google Ad certification requirement.
The certifications include:
Google Ads video certification
Google Ads search certification
Google Ads shopping and certification
Google Ads display certification
After certification, a Google Partner must access their information located on Skillshop and share certification details.
It's required that a company's performance is evaluated for the Partner program. They require that a Partner has a Google Ad manager account for a minimum of 12 months. The evaluation of the partnership account to evaluate the ad manager account for a Google partnership status occurs over an 18-month time span.
Are there Rewards for  Becoming a Premier Partner?
Google provides its Premier Partners with an exclusive relationship. Premier Partners have ongoing communication with Google in different areas of the business which include products and administrative levels. One advantage of the Premier partnership with Google is that the Premier Partners have advantages over their competitors in their industry. These Partners can provide their clients with superior packages because of the insight they receive from Google.
The Premier Partner program has a goal of allowing smaller businesses to compete with large companies operating in their industry by leveling the playing field. The benefits that Premier Partners receive help them have a fair competition with larger organizations.