If you run a PPC (pay per click) or digital advertising agency, then you know that updating your clients on the progress and performance of their campaigns is vital. But manually sending reports to clients every day is not a good way to scale your digital advertising agency.
Automating your Google Adwords reports for clients can save your agency hours of time while also adding more value to your agency by offering automated reports of campaign performance or progress.
In this article, I am going to show you some great tools you can use to automate Google Adwords reports for clients.
SE Ranking
By using SE Ranking SEO Report Generator Tool, you save lots of time and effort when it comes to compiling paid campaign data in reports and sharing them with your team and clients.
The tool has several neat templates focused on various analysis spheres, including a pre-set Google Ads template. Just make sure that  your Google Analytics account is authenticated with your project on the SE Ranking platform. Then, just click on the corresponding report template or create your own, set up the date range and download your report in a format that is convenient to you.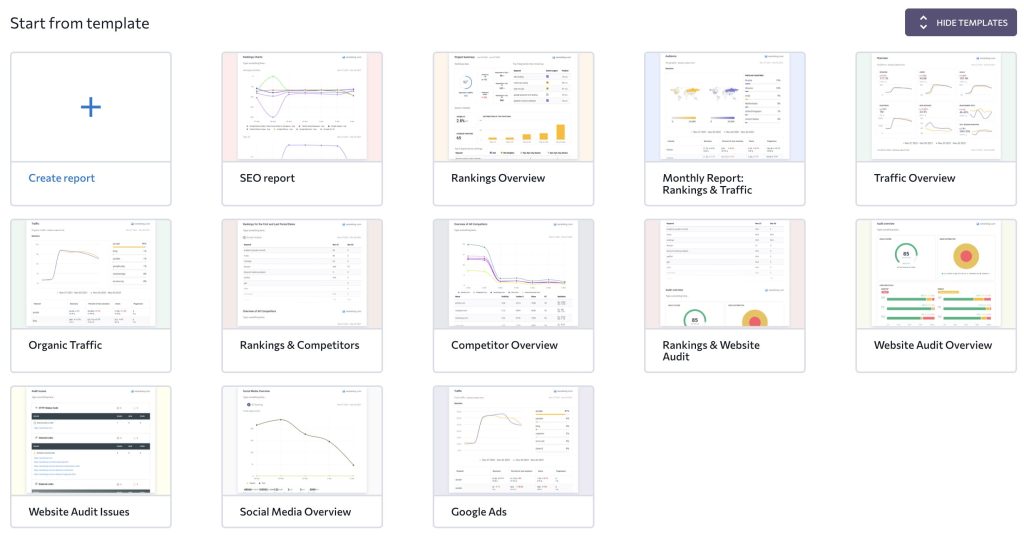 You can customize any report by adding more data, your own notes or by using the white label feature to create personalized reports for your customers. 
The Report Generator Tool by SE Ranking offers manual and automatic reporting. The latter can be scheduled beforehand with any convenient frequency and time.  
Create worry-free reports on the paid and organic performance of your or your customers' websites, their traffic, SERP results, brand reputation on social media, and more – everything at the single place.
Google Adwords Reports
You may not have known this but you can actually send automated reports to your clients inside Google Adwords. Their interface is a little more confusing and advanced but if you are a Google Adwords whiz, you can create super-detailed automate reports to send to your clients.
To create reports in Google Adwords, just click the Reports link at the top in the main menu.
This takes you to the report page where you can create and manage all of your reports. You can create a report from a pre-made template or you can create a report from scratch. Simply create a report, and then select 'Email and schedule report' and you will see options to schedule the report to send to any users in the account.
You will not be able to add any email like you can in Ninja Reports, but if the email is connected to the Adwords account, you can.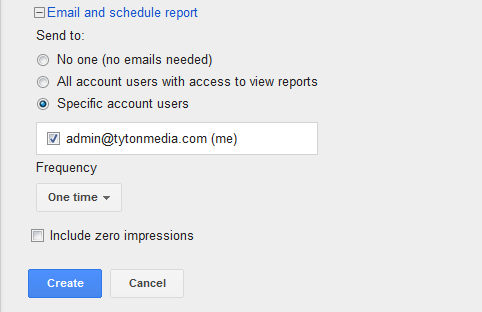 Click create and the emails added will receive the report on the day/time you selected.
Google Analytics Reports
If you have Google Analytics and Google Adwords connected, then you can also send automated reports to clients using Google Analytics. When you connect your Adwords, you can see pretty much all the data in Analytics, which I'm sure you know, you can create automated email reports in.
To create automated Adwords reports in analytics just go to an Adwords based report like Paid Keywords Report or any of the Adwords tab reports. Once you see the data you want to send to your clients, click the share button at the top of the Google Analytics page.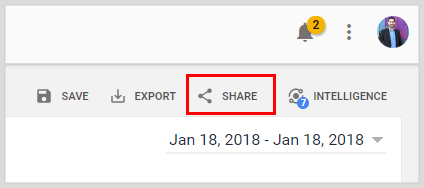 From there you can add as many emails as you want, choose a custom subject line, add attachments and set the frequency of the reports. If you want to add a custom message to the reports you can do that as well.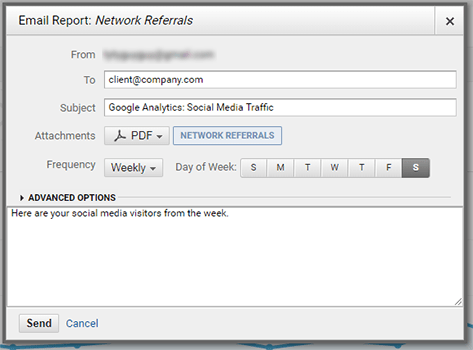 Once, you are finished, click the send button and your report will now be scheduled to send at the requested time.
To remove or edit reports go to Admin->View->Scheduled Emails and you can view a list of all your scheduled email reports.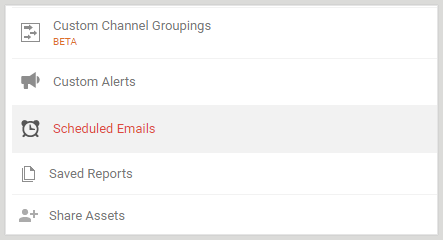 Adstage
If you are looking for closed-loop online reporting, then Adstage will blow your mind. Adstage allows you to connect ad spend to conversion data and see which paid channels (like Adwords) are working the best. They also offer reporting for Adwords and a number of other paid advertising networks.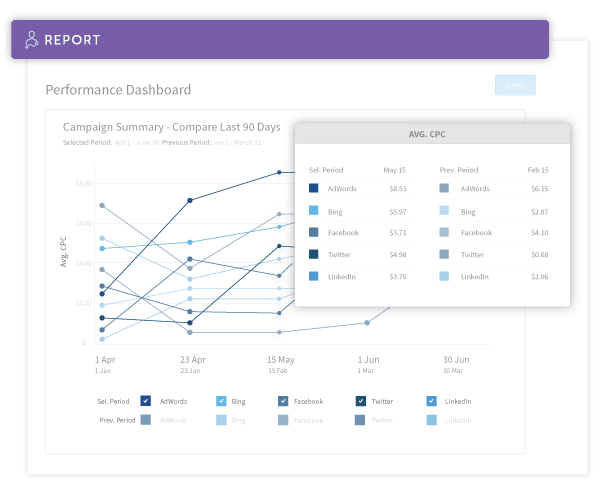 With Adstage, you can connect and import all of your data and bind it together into super reports that your customers/clients can login to a special URL and see. If you want to measure the performance of your clients Adwords campaigns then Adstage is a good option.
Not only can you automate reporting with Adstage, but you can also let it automate your Google Adwords optimization. Create conditions and rules that will trigger whenever you need, 24/7, 365.
DashThis
If you want your clients to have a 24/7 look at their Google Adwords campaigns, you can sign up for DashThis and create an Adwords Dashboard with all the most important KPIs.
It's perfect for agencies as you can add your agency's own logo, drag, and drop widgets to create a dashboard and then share it with your clients.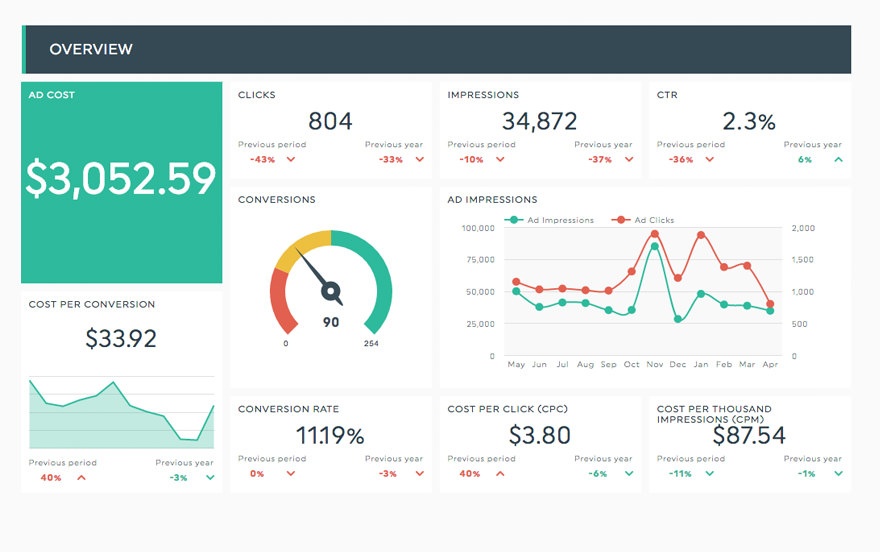 With DashThis, you can keep a constant eye on your client's Adwords reports with up-to-date data about campaign performance and ROI. Your clients will love being able to see their campaign performance in real-time.
Zoho Reports
Zoho Reports can help automate your Google Adwords reports by providing clients with a  real-time dashboard and up-to-date analytics of your Google Adwords campaigns. With Zoho Reports, you can create visually insightful reports and dashboards with a drag and drop interface.
They provide a variety of reporting components, KPIs, pivot tables and even data blending. So you can measure the performance and ROI of your client's reports.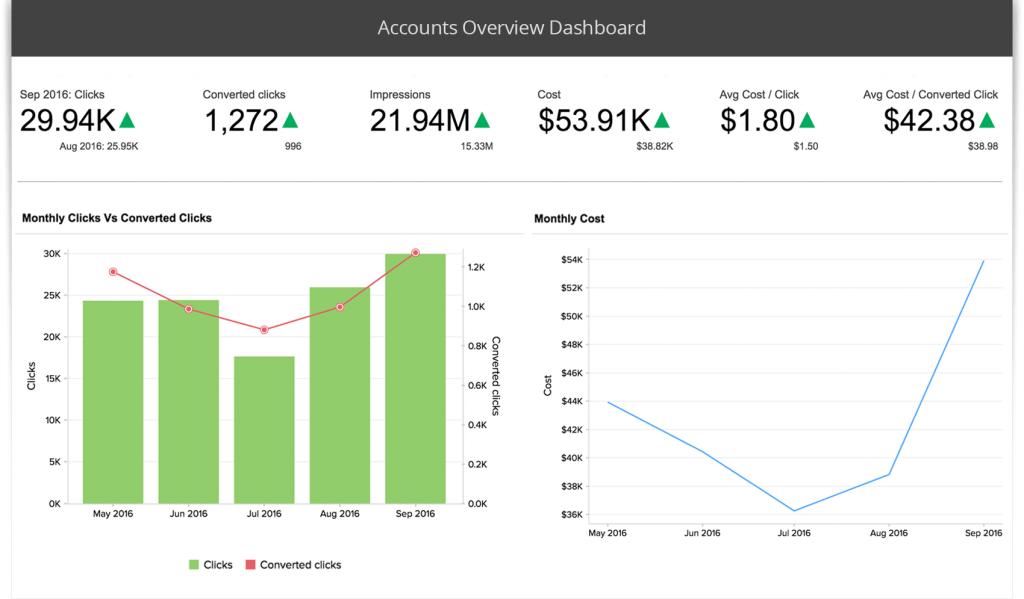 You can even invite your clients to view your reports, collaborate, and analyze this important data. Reports can be embedded almost anywhere and you can even print them for clients. If you like the spreadsheet type of interface, then you will love Zoho Reports for automating client reports.
Wrapping Up
In conclusion, there are a number of great tools out there that allow you to free up your time by automating your Google Adwords reports for clients. If your agency is growing really fast and the burden of updating your customers on their campaign keeps you up at night, then you should start using some of these tools.
Whether you want to send automated Google Adwords email reports or create an awesome dashboard for your client, there are plenty of great tools to choose from.