[toc]
Millions of businesses around the world rely on Facebook to reach customers, and understanding how this platform works is an integral aspect of achieving success on Facebook.
To help you develop the best social media strategy possible, we've compiled 53 of the most relevant Facebook statistics.
Facebook Demographics Statistics
1. Younger people use Facebook the most: Approximately 83 percent of worldwide Facebook users are under 45 years of age.
2. More men use Facebook than women: This platform's users who are over the age of 18 are 56 percent male and 44 percent female.
3. An equal number of Facebook users are married and single: About 39 percent of Facebook users are single, and about 39 percent are married.
4. Young males constitute the biggest portion of Facebook's users: Men aged 18-24 make up 18 percent of all Facebook users.
5. The majority of Facebook users have spent time in college: Approximately 62 percent of users have received some form of higher education while 30 percent report that they have only attended high school.
6. Facebook is predominantly popular outside of North America: Nearly 85 percent of daily Facebook users are located in areas beyond the United States and Canada.
7. The United States has the most Facebook users, but India, Brazil, and Indonesia are close behind.
Facebook Usage Statistics
8. Facebook has 2.01 billion active users.
Facebook has 2.01 billion active users.
Click To Tweet
9. Facebook is incredibly widespread in the United States: An unbelievable 79 percent of Americans use Facebook, and the closest runner-up is Instagram with 32 percent.
10. More than half of Americans are daily Facebook users: Around 53 percent of U.S. residents report using Facebook more than once per day.
11. More than 50 million businesses use Facebook Pages. New messaging tools have made it easier than ever for businesses to stay in touch with customers.
12. Facebook is taking over the world: More than 22 percent of people around the world use Facebook.
13. Facebook has millions of fake pages: More than 83 million Facebook pages are duplicates, accounts for pets or inanimate objects, or dedicated spam accounts.
14. 400 new Facebook accounts are made every minute.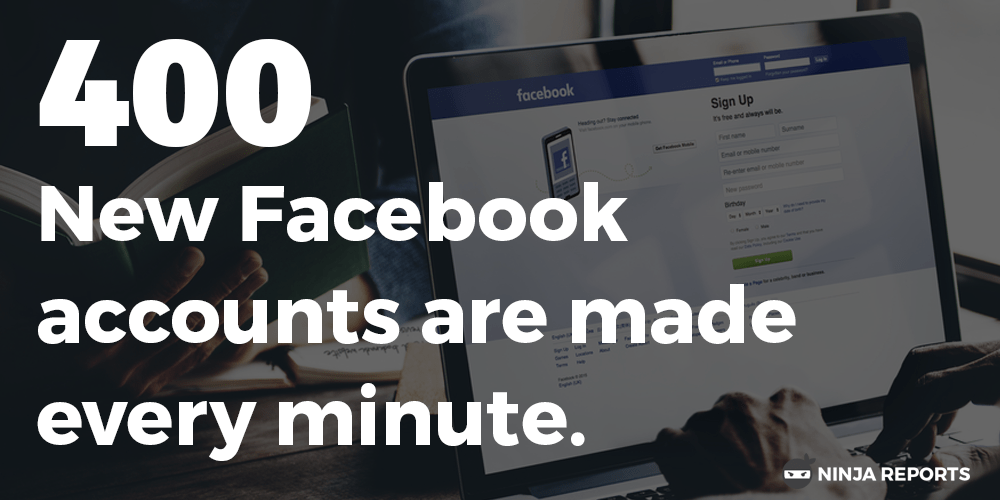 15. Facebook Messenger has gone viral: Over 1.2 billion monthly active users use this messaging app.
16. Facebook users can't walk away: The average user visits Facebook eight times per day.
17. Status updates are all the rage: More than 35 million users update their statuses on Facebook every day.
Inspiring Facebook Statistics
18. People seek help on Facebook: More than 100 million Facebook users belong to "meaningful communities" that help specific groups such as disease sufferers and new parents.
19. The pushback on meaningless connections is working: Facebook's administrators and algorithms helped 50 percent more users join meaningful communities in the first two quarters of 2017.
20. Facebook is helping governments keep track of disaster victims: After an earthquake in Nepal in 2015, 8.5 million people were marked as safe with Facebook's Safety Check tool.
21. Facebook is facilitating philanthropy: Facebook donated $2 million to help victims of the 2015 Nepal earthquake, and it helped its users donate $17 million more.
22. Facebook is helping the developing world stay connected: Millions of people in developing countries use Facebook Lite, which requires less bandwidth.
23. Facebook helps with hurricane relief: After Hurricane Maria hit Puerto Rico, Facebook donated $1.5 million to relief organizations, reserved ad space to disseminate safety information to Puerto Rico residents, and sent communications experts to help restore telecommunications in the area.
Facebook Connectivity Statistics
24. You're closer to each other than you think: The average Facebook user is separated from every other user by only 3.57 degrees of separation.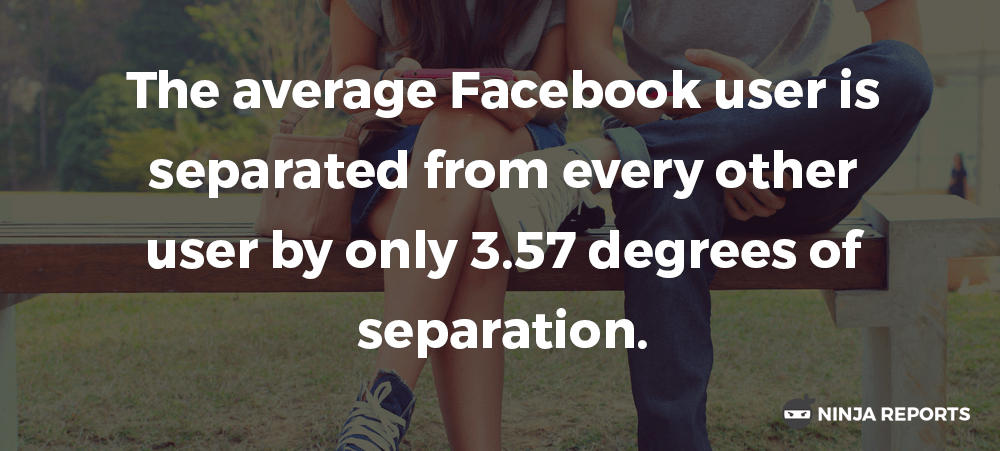 25. There's a crisis of friend inflation: While the average Facebook user has 155 friends, they only trust four of them to help them out of a bad spot. This just goes to show that most so-called Facebook "friendships" don't account for much when it matters most.
26. The average Facebook user only considers 28 percent of their Facebook friends to be genuine friends.
27. Parents stay connected online: Around 83 percent of parents who have a child between 13 and 17 years of age are friends with their offspring on Facebook.
28. Incognito amigos run amok: Approximately 39 percent of Facebook users report being friends with people who they have never met in person.
Approximately 39 percent of Facebook users report being friends with people who they have never met in person.
Click To Tweet
29. Facebook is on it: This company responds to 42 percent of customer service inquiries within 60 minutes or less.
30. What's good in the neighborhood? Around 36 percent of Facebook users report that they are Facebook friends with their neighbors.
31. Facebook users mix their professional and personal lives: More than 58 percent of users report being friends with their colleagues.
32. Facebook is compatible with 101 languages, which is a feature that was made possible by the dedicated efforts of over 300,000 users.
Facebook Advertising Statistics
33. The average click-through rate (CTR) for Facebook ads is 0.90 percent.
34. Legal businesses have the highest click-through rates: The average law firm has a CTR of 1.61 percent, but the average employment and job training company has a CTR of 0.47 percent.
35. The average cost per click (CPC) for Facebook ads is $1.72.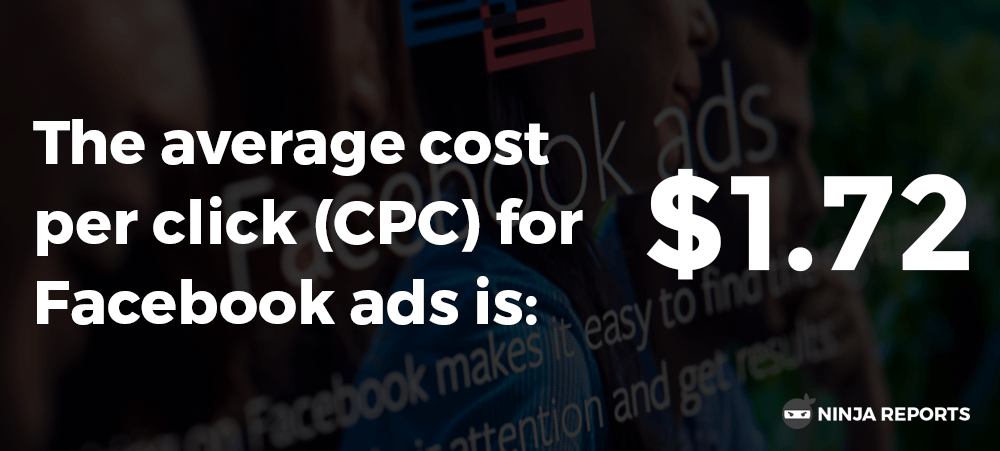 36. While the award of the highest cost per click goes to the finance industry at $3.77, the cheapest cost per click goes to the apparel industry at $0.45 per click.
37. Almost all social media advertisers use Facebook Ads: More than 93 percent of businesses that advertise on social media use this platform, and the closest competitor is Instagram with 24 percent.
38. Instagram is paying its way: About 20 percent of Facebook's ad revenue comes from its subsidiary Instagram.
39. Short and sweet can't be beaten: Facebook ads with titles that are four words long perform the best. The best-performing link descriptions are 15 words long.
40. Facebook Ads is getting more and more popular: Facebook reported advertising revenue of $9.16 billion for the second quarter of 2017, which represents a 47 percent YOY increase.
41. Facebook Ads is relatively effective: About 26 percent of Facebook users who clicked on ads went on to make purchases.
About 26 percent of Facebook users who clicked on ads went on to make purchases.
Click To Tweet
Facebook Marketing Statistics
42. Experts consider between 1 PM and 3 PM on Thursdays and Fridays to be the best times to post organic posts on Facebook.
43. A big following isn't always better: Facebook Pages that have smaller followings generally have better engagement rates.
44. Most marketers consider Facebook to be their most important advertising platform.
45. The average brand posts on Facebook eight times per day.
46. Brand content isn't popular: User-generated content generates 6.9 times the engagement of brand-generated content.
Facebook Mobile Statistics
47. Mobile users consume Facebook content faster than desktop users.
48. In the second quarter of 2017, mobile content made up 87 percent of Facebook's overall ad revenue.
49. Over 19 percent of the total time spent on mobile devices takes place on Facebook.
Over 19 percent of the total time spent on mobile devices takes place on Facebook.
Click To Tweet
50. Almost half of Facebook users don't even use this social media platform on their desktop or laptop computers.
Facebook Video Statistics
51. Over eight billion videos are viewed on Facebook every single day.
52. More than 85 percent of Facebook users watch videos with the sound muted.
53. It's estimated that 75 percent of the world's mobile data traffic will be video in 2020.
Conclusion
In conclusion, Facebook is growing more than ever and there are some pretty amazing statistics about the company. Facebook reporting tools have become more popular due to the rise of Facebook's user base.