[toc]
Do you run a popular YouTube channel? Did you know that your channel can become even more popular, if you buy real views from people really interested in your videos content? Did you know that you can view amazing analytics about your viewers using YouTube Analytics?
In this guide, I am going to show you how to use YouTube Analytics, Create Reports and understand your audience a lot better.

To get started with YouTube Analytics, simply login to your Google account and head to the Video Analytics area in YouTube. This is where you will find a treasure trove of data and some great functionality to keep a close eye on your Channel and its subscribers.
Overview & Real-time
In the overview tab, you can see an overall look at your channel and how its performing. You can view statistics like watch time, views, likes, comments, revenue and more.
Use the filter at the top to select a date range to view specific data about that range.  You can also enter in a search or even filter by all sorts of great options:
Below, you will see a number of analytics about the date range chosen and some of your top videos, geographies, genders, traffic sources and more. You can then use this data to make your videos better and more aligned with your audience.
Note: When you view the other tabs,  the date range you selected on the overview page will be set so if you want to change this date range, now is the time!
Revenue Reports
Revenue
If you have enabled Adsense on your YouTube channel then you can see the analytics for all your revenue in the revenue tab. If you have not enabled Adsense and linked it to your YouTube channel you will see this message:
You will need to connect your YouTube account to your Google Adsense account in order to view analytics about your revenue.
Ad rates
The Ad Rates report gives you data on your YouTube ad revenue, playbacks CPMs and ad impressions. You can get a great idea of which ad types are working and which ones need work.
Watch time Reports
Watch time
The Watch time page will show you the amount of time, in minutes, that your viewers watched your videos in the time frame selected. You can choose from a number of different graph styles to view the data in.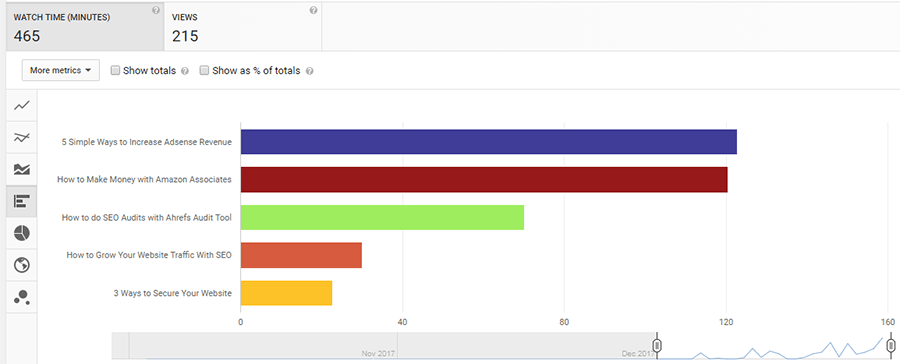 Below the graphs, you can view a list of all your videos and their watch time, views, view duration, and average percentage viewed. The % viewed statistics is a really important number to look at. It will show you on average, the percentage that people watched your video. You want people to watch 100% of your videos so the higher the number the better.
Audience Retention
Audience retention will show you the average view duration and average percent viewed. Obviously, with these, you want it to be the highest number possible. It's important to note that if you are making short videos, you shouldn't worry much about view duration. This just measures the number of time people watch your video. The percentage viewed shows you if they are watching the whole video or just some of it.
Demographics
The demographics tab is a really awesome tab because it will tell you some great information about your viewers. You can view watch ages and genders view your videos and which ones view more. This can help targeting your videos to the demographics that watch your videos longer and more.
As you can see from my YouTube Channel analytics, My best performing demographic is Males from the ages of 18-24 years old.

Playback locations
Knowing where your viewers are watching your YouTube videos is quite important. The Playback locations tab shows you where your videos are being watched, whether its on YouTube or embedded in external websites and applications.
You can also click on one of these options and see a lot more data and analytics about geography, device type, subscription status and more.
Traffic sources
The traffic sources are the places that people are finding your YouTube videos from. If a lot of your YouTube videos are on external websites, then you will be able to see that stat here.
Here is a list of the traffic sources your viewers can be coming from:
External
Other YouTube features
YouTube advertising
Suggested videos
YouTube search
Channel pages
Browse features
Direct or unknown
Devices
The devices tab will show you what devices most of your viewers are watching your videos on. It can be a computer, mobile phone, tablet or unknown.
This is an important analytic data point to look at to see what the majority of your viewers are watching on. If most of them are watching from a mobile device, then you should think about making the layout of your video better for mobile users.

As you can see from my YouTube analytics, most of my users are viewing on Desktop or Computer.
Translations
The translations tab shows you if any of your videos were translated (video info, subtitles, or audio) into another language. This can show you how many non-English speaking users are watching your videos. If so, you may think about translating your videos so it translates accurately.
Interaction Reports
Subscribers
Knowing how many subscribers you have and where they come from can be very important for growing your YouTube channel. The subscriber's tab on the interaction reports area will show you how many subscribers you have and some nice graphs to show the subscribers over time.
You will also see a list of where all your subscribers came from. You can even see the date, geography and status of the users that are signing up to your YouTube channel. This can show you which areas and sources are giving you more subscribers.

Likes and dislikes
This tab will show you the likes and dislikes of your videos both on a graph and in a list format. The first graph section will show you the likes and dislikes over time.
Below, you will find a paginated list of all your videos where you can sort by likes or dislikes. Here, you can sort your videos by most liked or disliked to see what viewers like and what they are as interested in watching.
Videos in playlists
This next tab is a really cool one. It will show you which of your videos are added in playlists on YouTube. You can even see how which videos were removed from the playlist as well.

Comments
Do you want to see which videos are being commented on the most? It's pretty hard to go to each video to see comments. The comments tab allows you to see which videos have the most comments and provides an easy way to get to commented videos.
You can also select the geography button to see where most of your comments are coming from in the world.
Sharing
People sharing your videos is the best way to get the most exposure and watches. The sharing tab shows you which videos are being shared the most and provides a great insight into what videos are going viral and which ones aren't so much.
If you select the sharing service button, you can see which social platforms your videos are being shared on the most.

I was very surprised when I saw that Twitter and Reddit were my top shared social platforms. This shows me that I need to share my YouTube videos around Facebook more since it has the most users of any.
Annotations
If you use Annotations on your videos, you can see the CTR and close rate of your annotations in the annotations tab. This provides a great look at the analytics of your annotations and which ones are getting the best CTR.
Cards
YouTube Cards are a special feature of YouTube that allows you to add polls, messages and teasers to your YouTube videos. If you use cards on your videos, you can see some great analytics for your cards.
In Conclusion
YouTube Analytics provides some great insights into your YouTube channel and its subscribers.