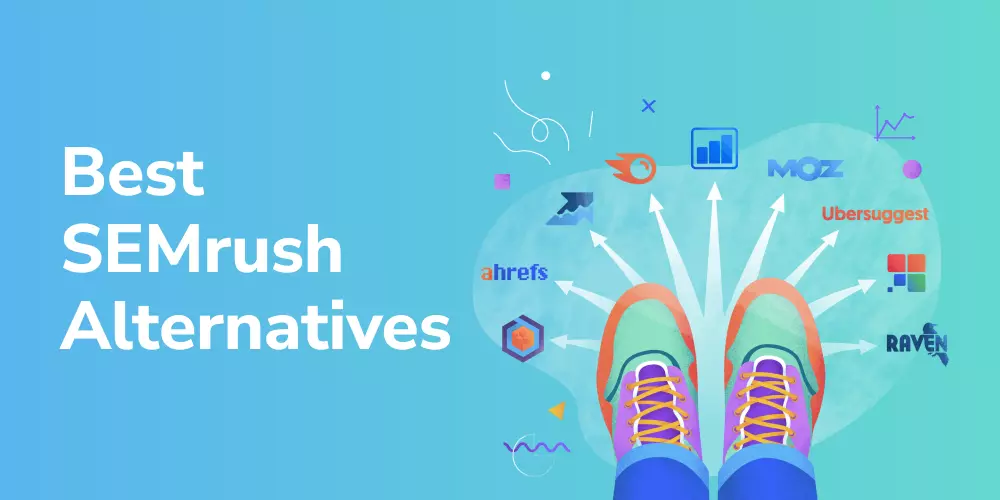 As we shift towards a data-driven approach in business and marketing, keeping an eye on metrics is becoming more important than ever. Companies that have made data-driven decisions when investing in software to bring them the data they need have seen game-changing results.
When it comes to SEO and digital marketing in general, it is challenging to make any decision without information about the market, competitors, keyword research, or website metrics. Businesses need to understand where they're at to set goals and project into the future, while specialists should be able to offer this information to clients.
All of this can be accomplished with one or two solutions, yet it requires some research and an understanding of exactly what it is you need. We have done the research for you to prove that you can find reliable, comprehensive alternatives to SEMRush (some of them even free). Some of the platforms we discuss have fewer features than SEMRush, and others outperform it. Check out these 15 alternatives to find the perfect fit for your business or clients.
SE Ranking is a powerful SEO software that offers a diverse set of SEO and digital marketing tools. This platform has been around for quite some time, offering unique features that set it apart from competitors like Semrush.
One standout benefit of using SE Ranking is its exceptional accuracy in tracking keyword rankings. The platform allows you to monitor positions across five search engines for any location, device, or language, providing daily updates free from personalization. You can also use the platform to analyze data from organic and paid searches and track your competitors' rankings.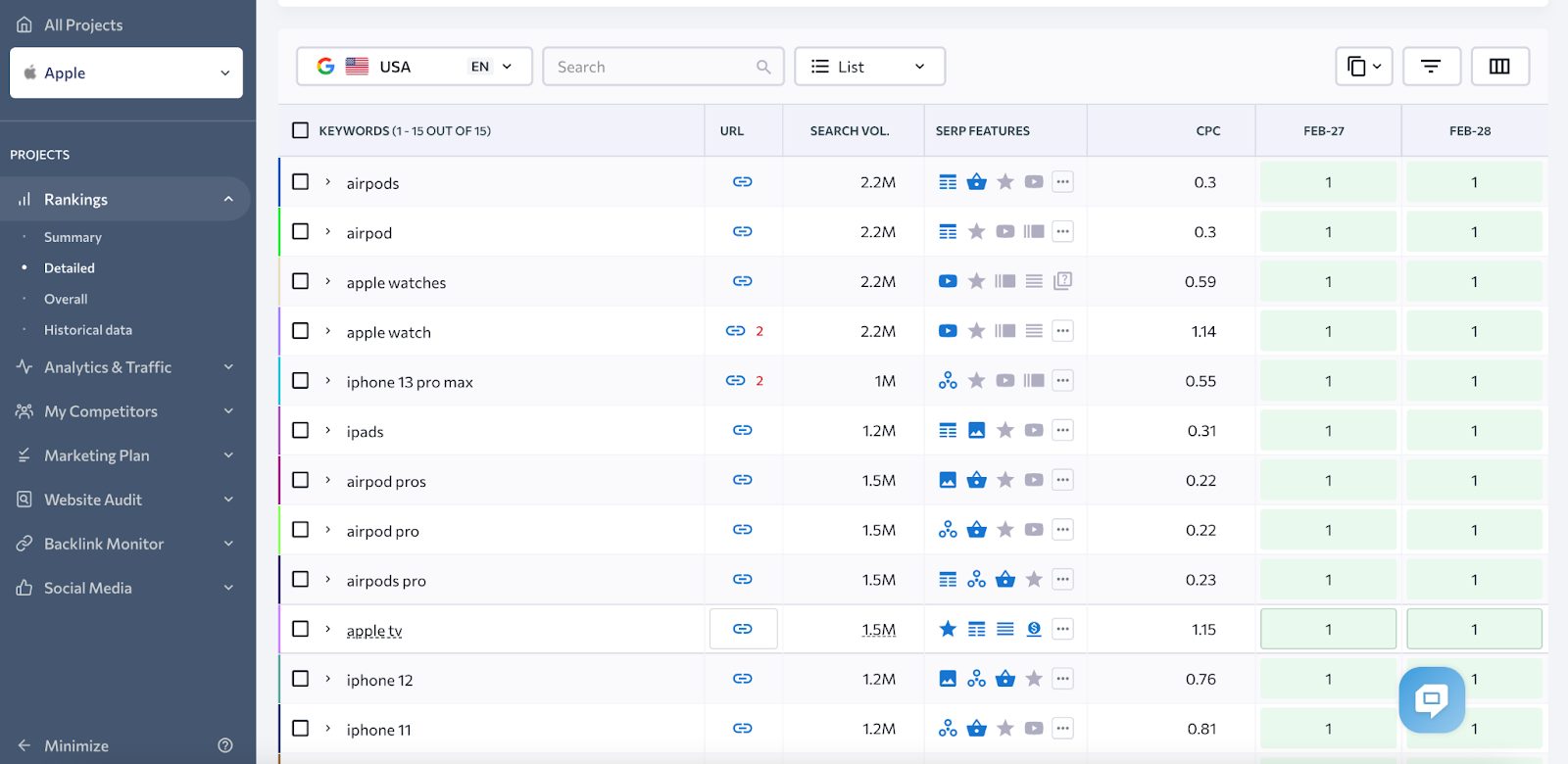 Another feature that sets SE Ranking apart from Semrush is its competitor research capabilities. Its competitor analysis tool offers comprehensive insights into your competitors' SEO strategies, including their organic search rankings, keywords, PPC ads, etc. The tool gives you a ton of information that you can use to better understand what's working in your industry and identify areas where you should focus your efforts for the greatest impact.
SE Ranking's Competitor Research Tool covers 190 countries, whereas SEMruch only supports 120. It also provides you with higher account limits, letting you check 5000 domains daily for a more complete competitor comparison.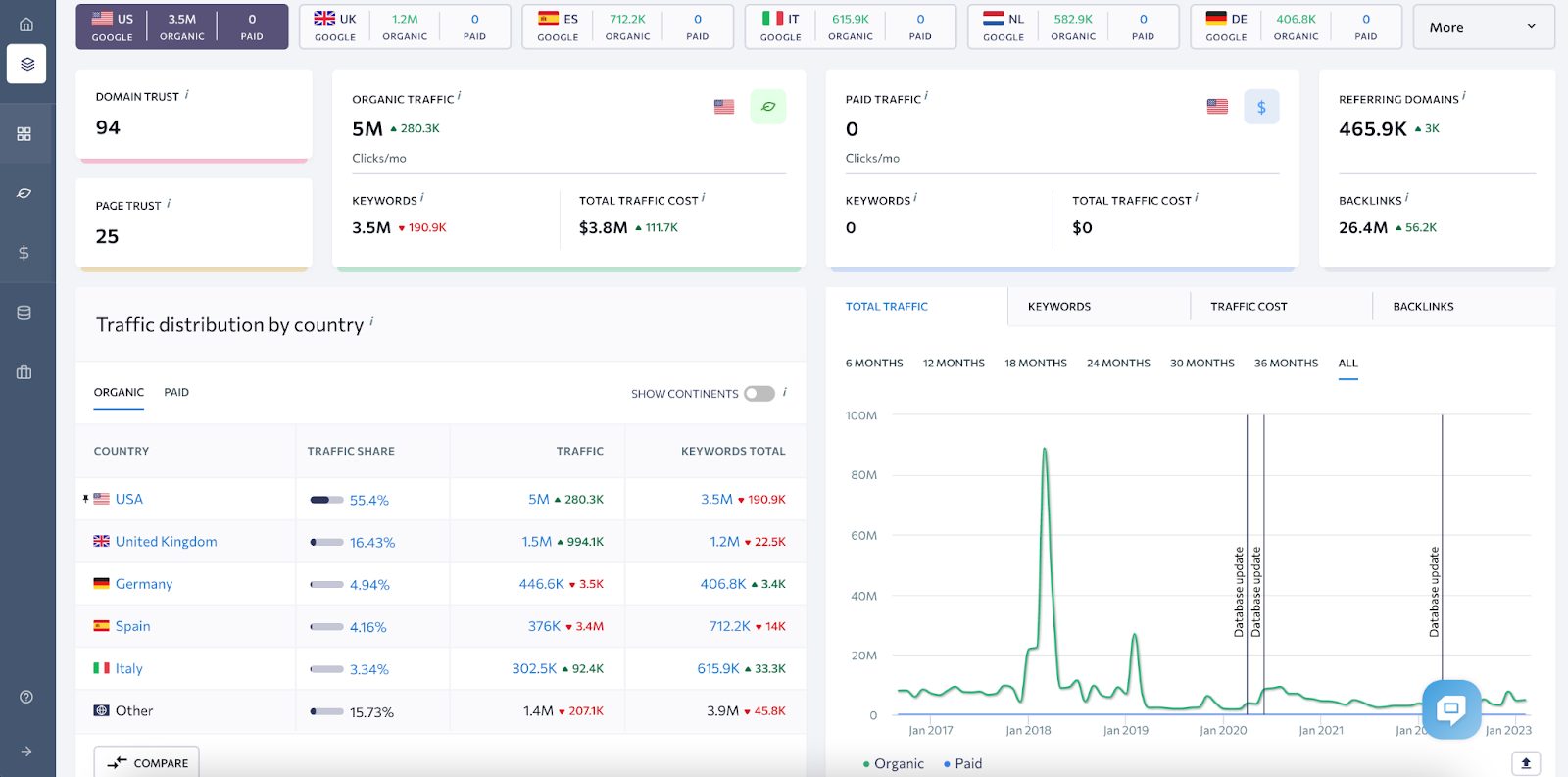 SE Ranking's keyword research tool also surpasses Semrush in its coverage of countries and provides a more comprehensive view of keyword data. You can enter a seed keyword or several and get a list of related, similar, low-search volume, and question-based terms, complete with their search volume, keyword difficulty, CPC, competition level, and other metrics.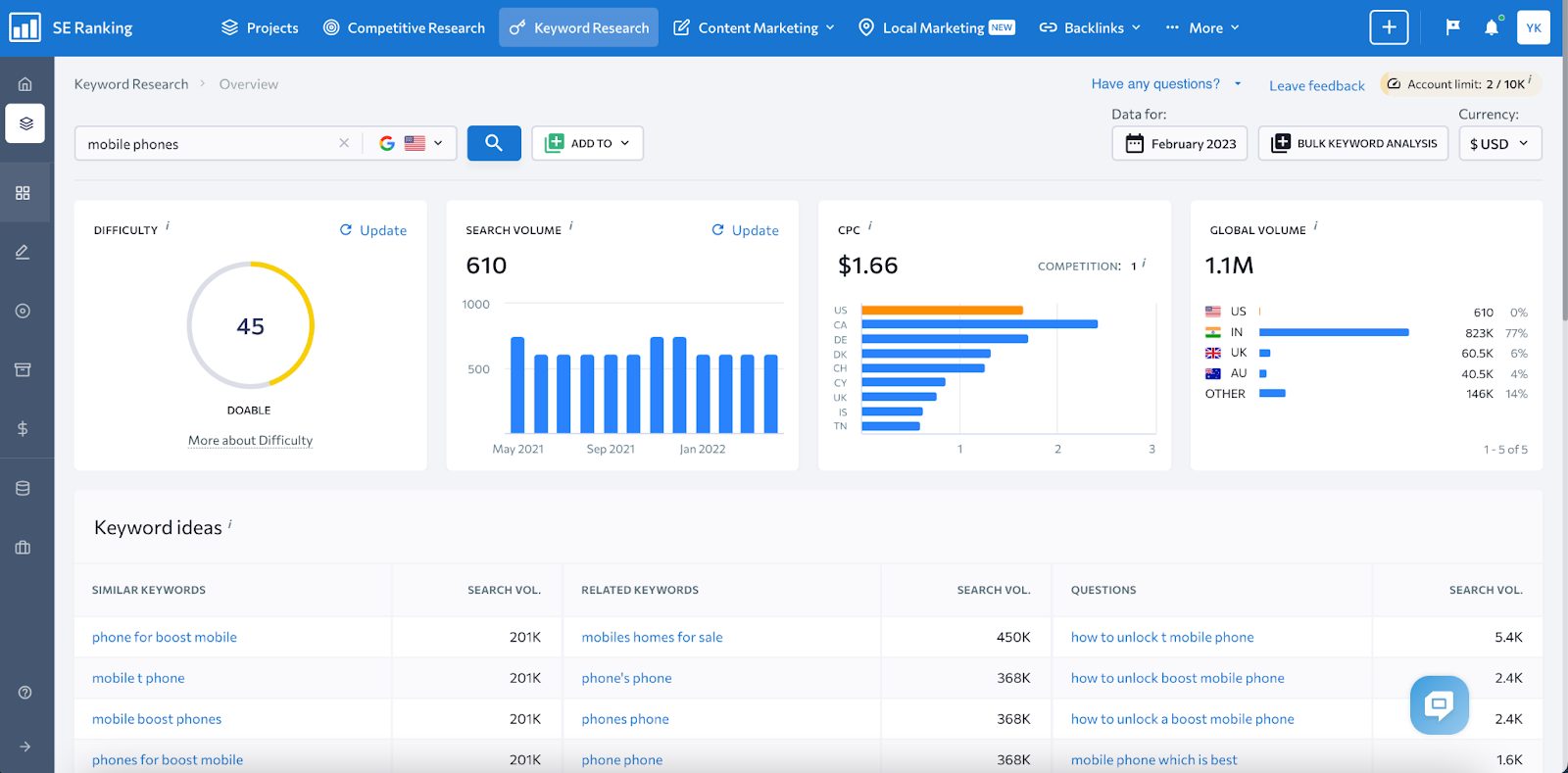 SE Ranking also offers a broad range of website and page investigation tools. Its Website Audit, for example, provides a detailed analysis of a website's technical performance, highlighting issues such as broken links, duplicate content, and missing alt tags. What sets SE Ranking apart from Semrush is its nifty page changes monitoring feature, which alerts you to any changes made to your pages.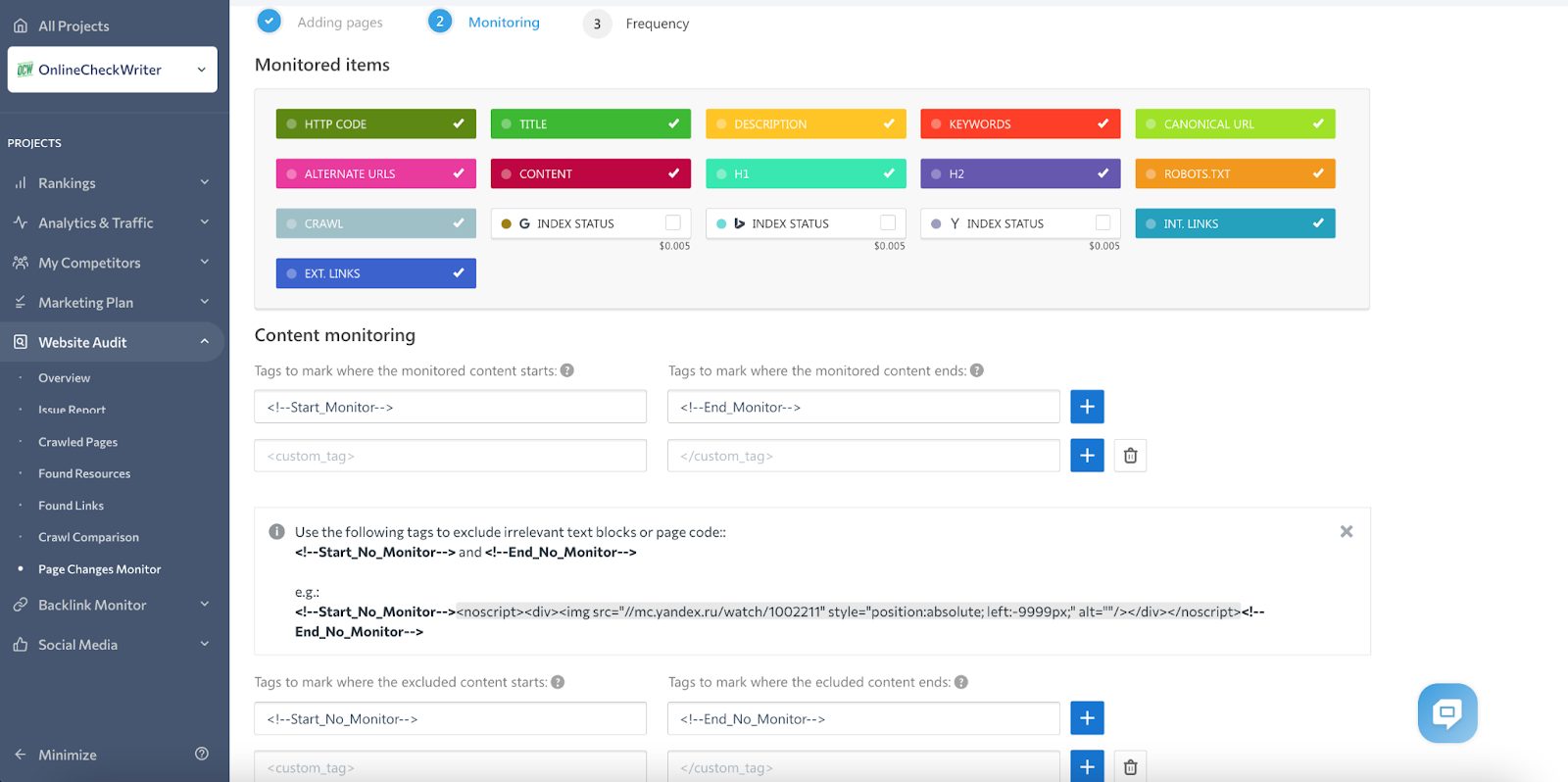 SE Ranking stands out in its backlink analysis, regularly crawling over 220 million domains and using 15 parameters for in-depth link research, while SEMrush uses only seven.
SE Ranking leverages AI technology to enhance its tools and deliver more accurate results. Its On-Page SEO Checker, SERP Analyzer, and Content Marketing Module now use AI-based algorithms to process data, and the platform continues to refine this technology.
In addition to its powerful features, SE Ranking offers a user-friendly interface that is easy to navigate. The platform presents data in convenient tables, graphs, and charts, making it intuitive for users.
SE Ranking's pricing plans are also more affordable than Semrush, making it a better choice for businesses on a limited budget or those looking for more value at a lower price. SE Ranking's plans start at just $31.20 per month, while Semrush's plans start at $99.95 monthly. SE Ranking's free trial is also longer, giving you ample time to test the platform and see if it's right for your business.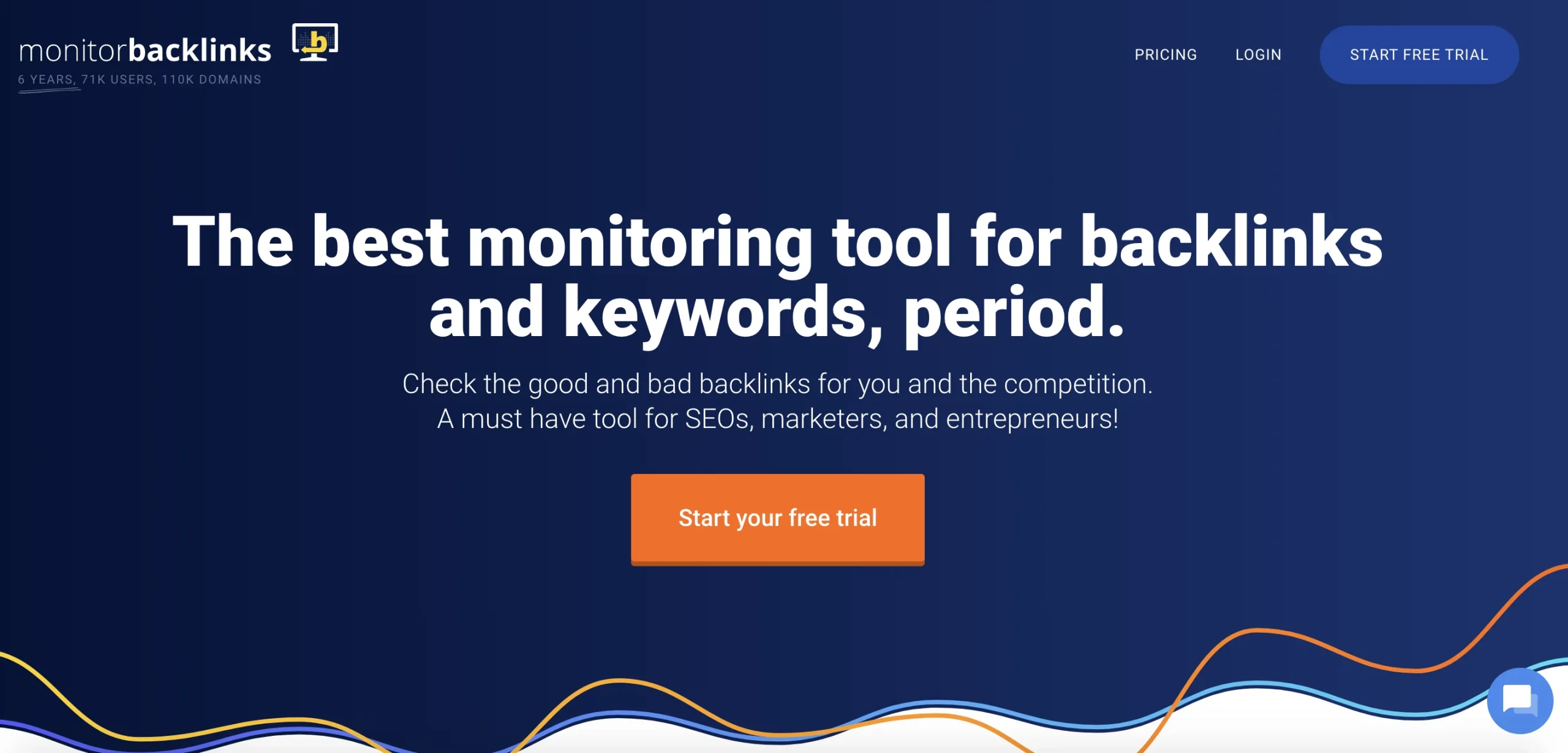 Monitor Backlinks is an appropriate tool for monitoring backlinks and keywords as it offers comprehensive functionality in those areas.
In terms of backlinks, the platform helps to automatically monitor the status of backlinks, including those collected from other resources, like Moz and Majestic. It also has a comprehensive set of metrics, including the ranking history, tools for recovering lost links, backlinks analysis, competitors monitoring, reports generation, and much more. You can filter results and view the necessary metrics all within one easy-to-use dashboard. For effective keyword analysis, you can track keyword ranking — see whether your keywords are working and how they benefit your SEO strategy. You can also use the platform to analyze competitors in terms of both keywords and backlinks.
Users have benefited from the user-friendliness of the interface and dashboards that display only relevant information. It is perfect for specialists who need to monitor SEO progress and get insights without wasting time interpreting results.
Yet, if you are looking for content management software, Monitor Backlinks will not be a lot of help. SEMRush has lots of tools for content marketing that help you craft and analyze your content, while Monitor Backlinks does not offer similar features. You can use Monitor Backlinks to generate and look after keywords, which can support your SEO strategy in terms of content, but it will hardly provide any marketing insights.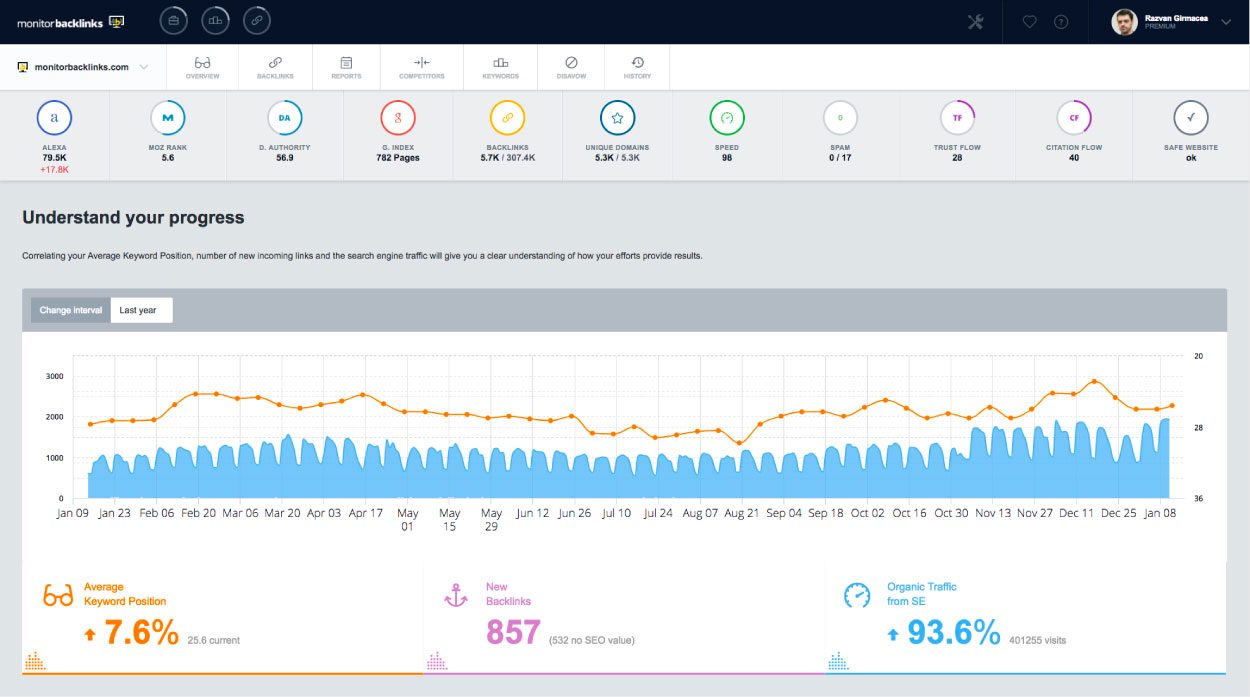 The price depends on the number of domains you need to manage. You can check out various plans on their website that include different features.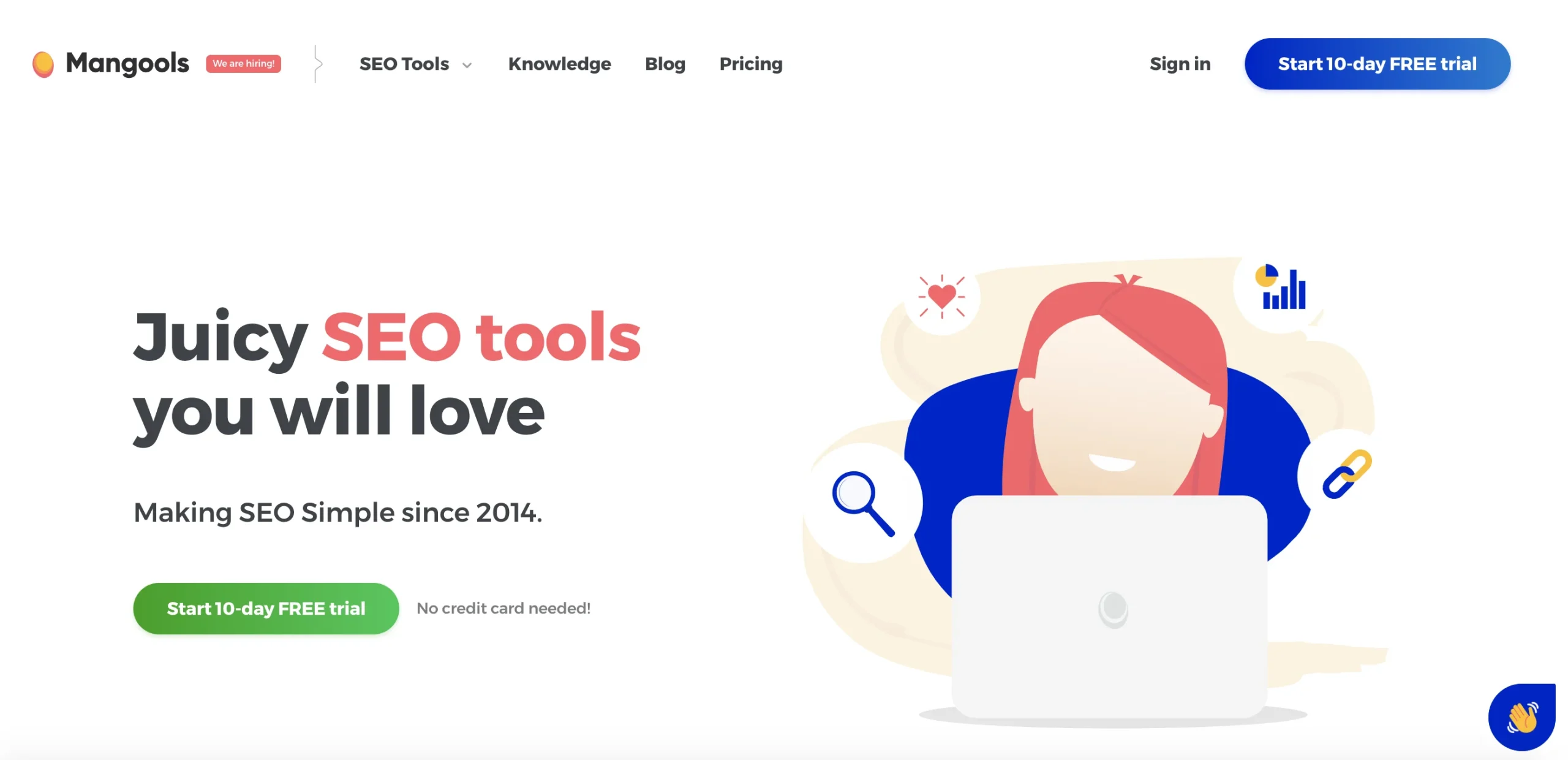 Mangools software can become an effective SEMRush alternative in terms of SEO. While SEMRush has tools for advertising and social media, Mangools has a slightly reduced set of features. With Mangools, you can find relevant keywords, analyze competitors, track your ranking, and check backlinks. If you work as an SEO specialist or have a small agency, it may be enough for you. Mangools makes it possible to look after numerous websites and get insights about each of them, helping you track your daily SEO progress. If you're taking new clients on board, the platform does a good job of providing search terms and search volume insights, which helps in offering relevant content ideas to clients.
What definitely sets Mangools aside from its competitors is its interface, which has been developed with the goal of being as simple as possible. You will not need much time to make sense of all the metrics, as the service has worked well on the UI part.
You can use Mangools as a free SEMRush alternative and benefit from using some of the free tools it offers, including a browser extension, SERP simulator, and SERP volatility checker. It can give you basic information about your SEO campaigns and be of help when performing competitive research.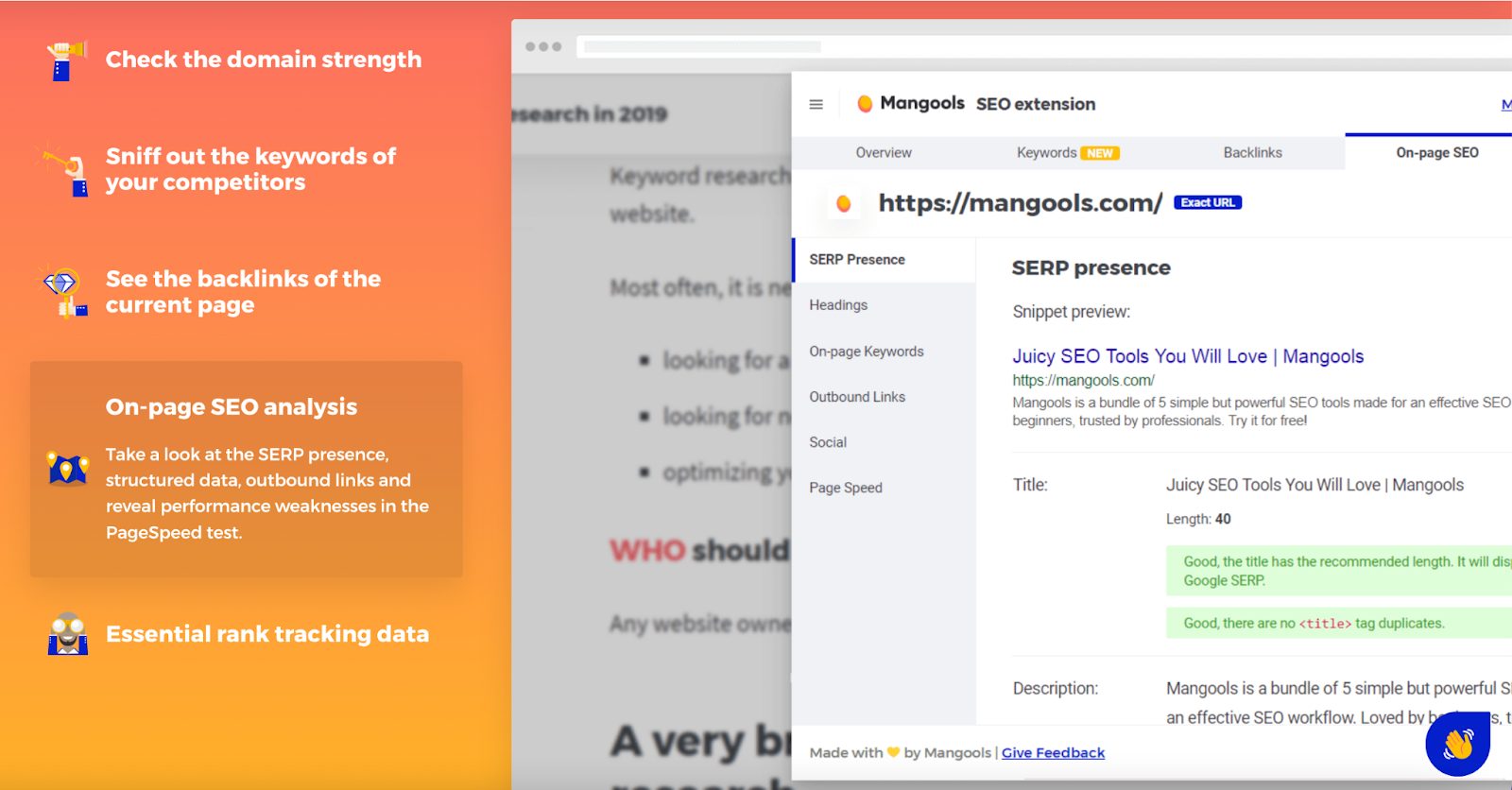 The SERP simulator gives you a snippet preview when you enter the title tag and meta description to make sure everything looks fine before posting. Lastly, the SERP volatility checker is a free tool that helps you see if any significant changes in Google policies have happened — if any changes have occurred, it can greatly influence your campaigns.
If you decide to try all the features the platform has to offer, prices are much more affordable than what SEMRush offers. You can purchase a plan for $30 a month or increase the number of daily keyword/backlinks research by upgrading the plan for $45 or $90. The prices are slightly higher if you decide to pay monthly instead of annually.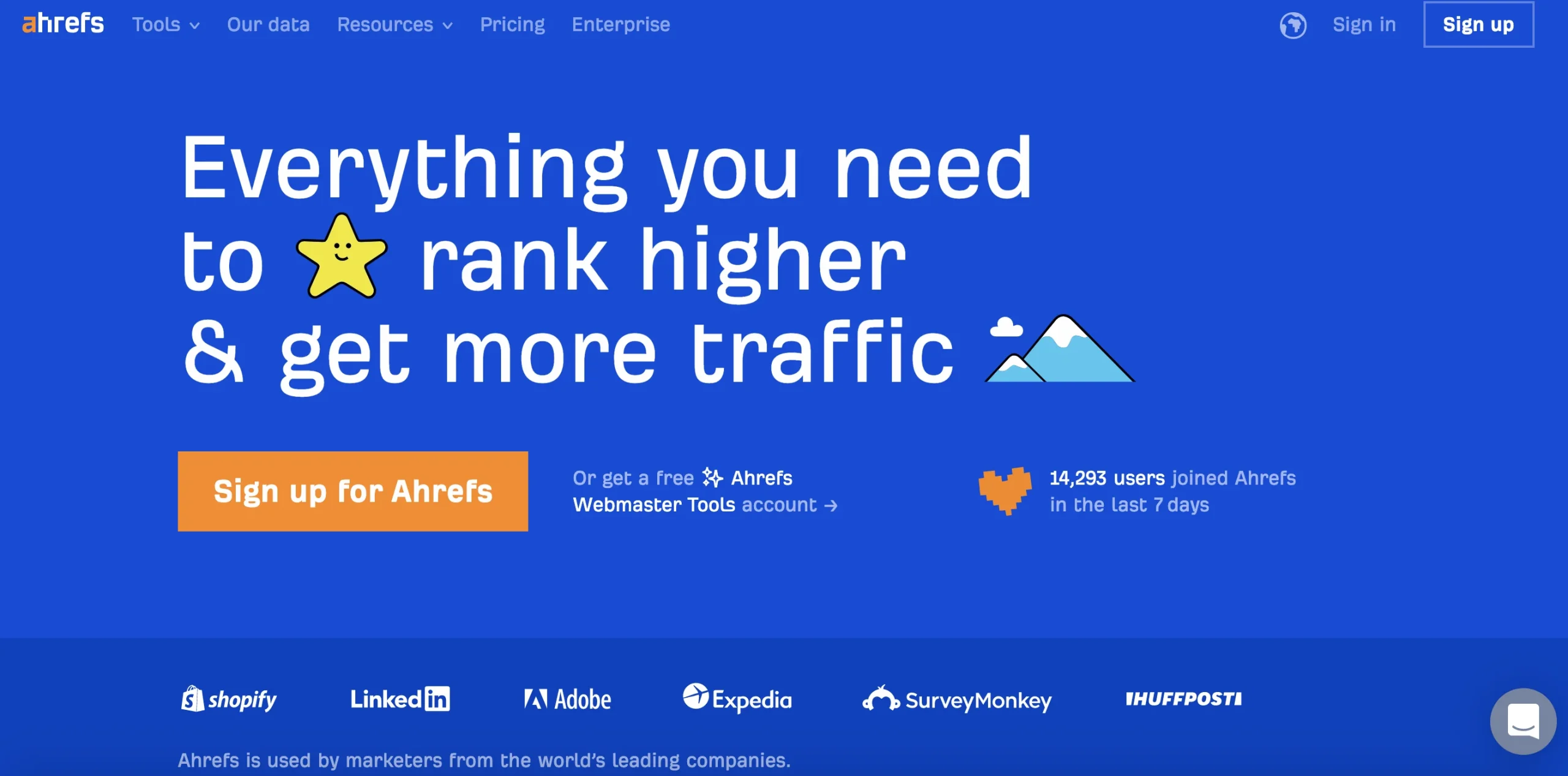 Ahrefs is somewhat similar to SEMRush, especially when it comes to interfaces, design, and approach. Ahrefs also aims to offer an all-in-one SEO toolset and has a wide range of features: site audit and explorer, rank tracer, keywords and content explorer.
Additionally, Ahrefs has many similar alternatives that offer comprehensive functionality. If you're looking for such solutions, check out our article on Ahrefs alternatives.
With a site audit tool, you can monitor issues, and see details and proposed solutions for each one, making it easy to investigate them right away. Besides, you can prioritize them, moving the most critical ones up.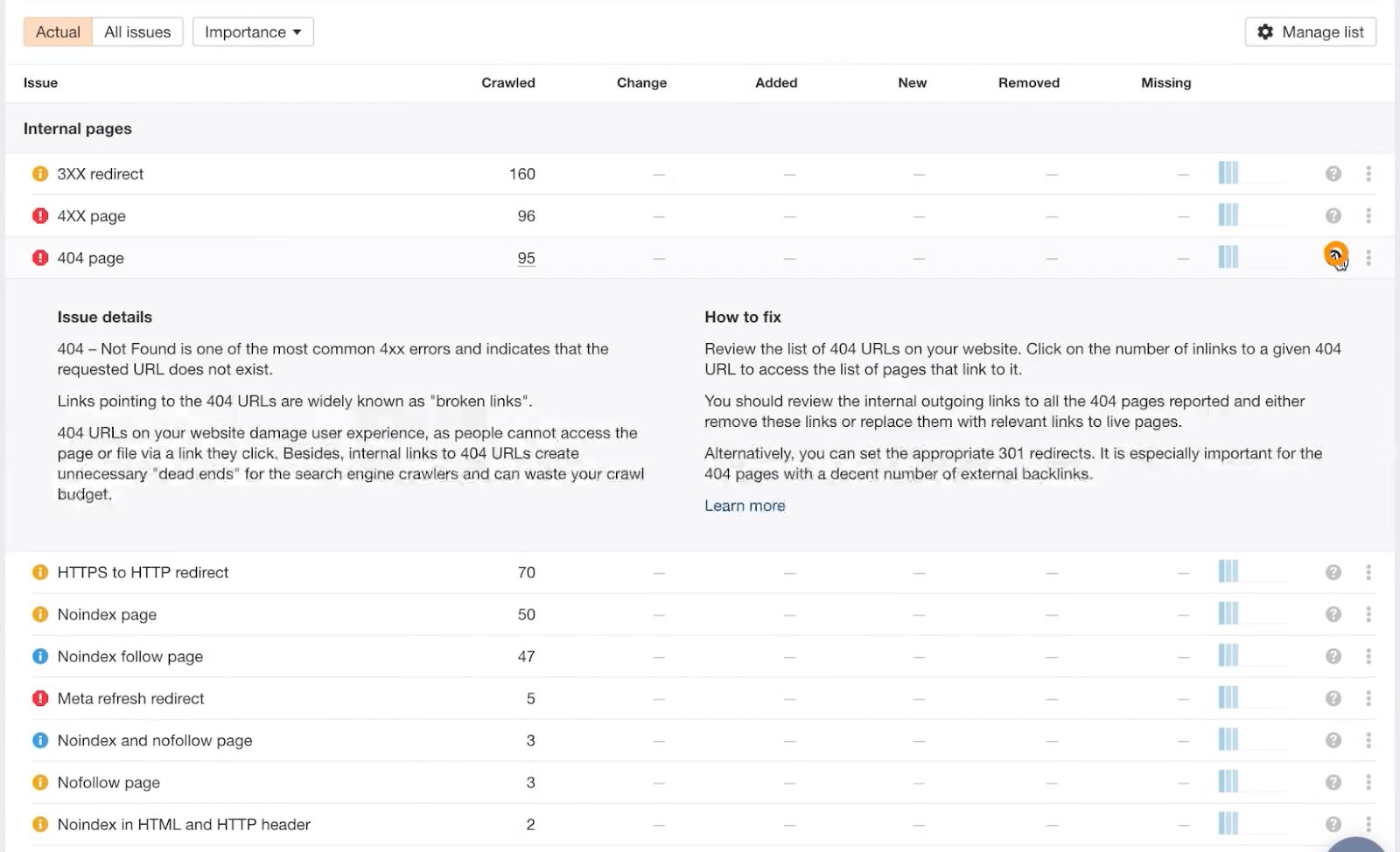 The site explorer can give lots of insights into your competitor's performance, in terms of both organic and paid traffic. It is easy to make sense of the data and trust it because Ahrefs has an extensive database that includes 475 million keywords and 1.9 trillion backlinks. The data can help you make data driven decisions on building your strategy, which is the goal for most companies nowadays.
Content Explorer offers data that can help you search for content ideas, analyze your content and copies of others, and interpret the data into a robust strategy. If you have the time, it can definitely strengthen your strategy. In addition to the features that Ahrefs offers, SEMRush allows you to create, schedule, and post content directly from the service, which Ahrefs does not. The last core tool of Ahrefs is a rank tracker that lets you monitor the progress of keywords ranking — you can easily visualize the most important metrics and see how traffic grows over time.
Given the number of core tools and their quality, Ahrefs can be considered one of the most comprehensive SEMRush alternatives. Pricewise, the platforms are similar. While SEMRush starts at $120, you can purchase the basic Ahrefs plan for $99 a month.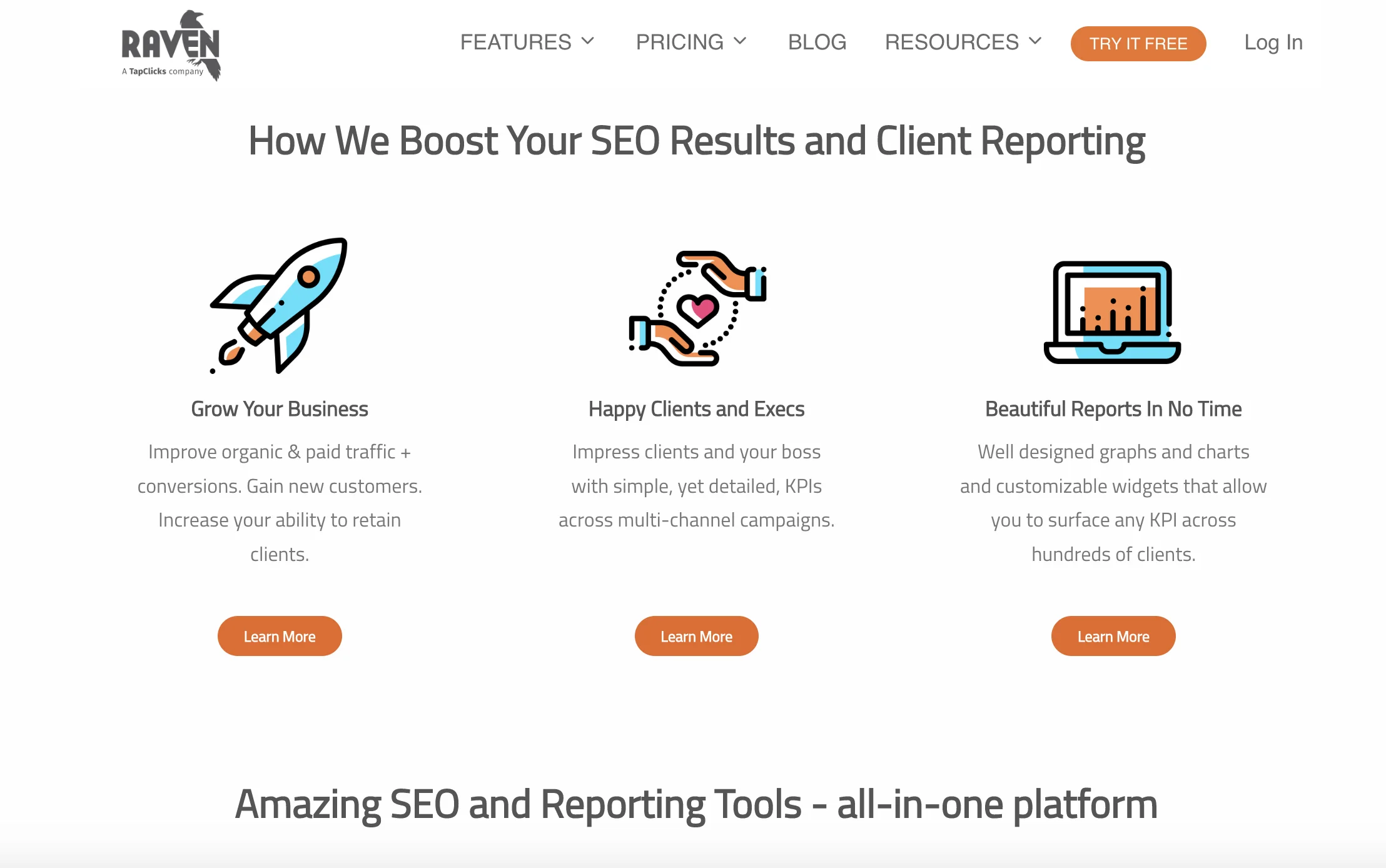 It is barely an adequate alternative in terms of backlinks research, as most users who want to build a strong backlinks strategy are not satisfied with the number of metrics the platform provides.
Raven Tools has various reporting features, which may come in handy if you need to generate custom reports for your clients. As the tool integrates with other services, you can request to visualize only the most important information you need to display in the report. You can also automate and schedule reports, saving you time and giving you a chance to concentrate on more critical tasks.
Like other tools, RavenTool can be a SEMRush alternative, yet the set of features and databases are not that advanced. You can perform competitor research, website audit, research and analyze keywords, and benefit from the backlink checker tool.
The platform also has a feature for social media that lets you monitor and manage several campaigns on various platforms, including Facebook, Instagram, Youtube, and LinkedIn. If you are working on improving your engagement with customers, Raven Tools can help by allowing users to like and respond to comments other users leave all within one dashboard without the need to switch between apps.
As for prices, an offer for small businesses starts at $40 a month and reaches $400 for a more advanced plan. For a single professional or a small team, it is a much better deal price-wise than SEMRush.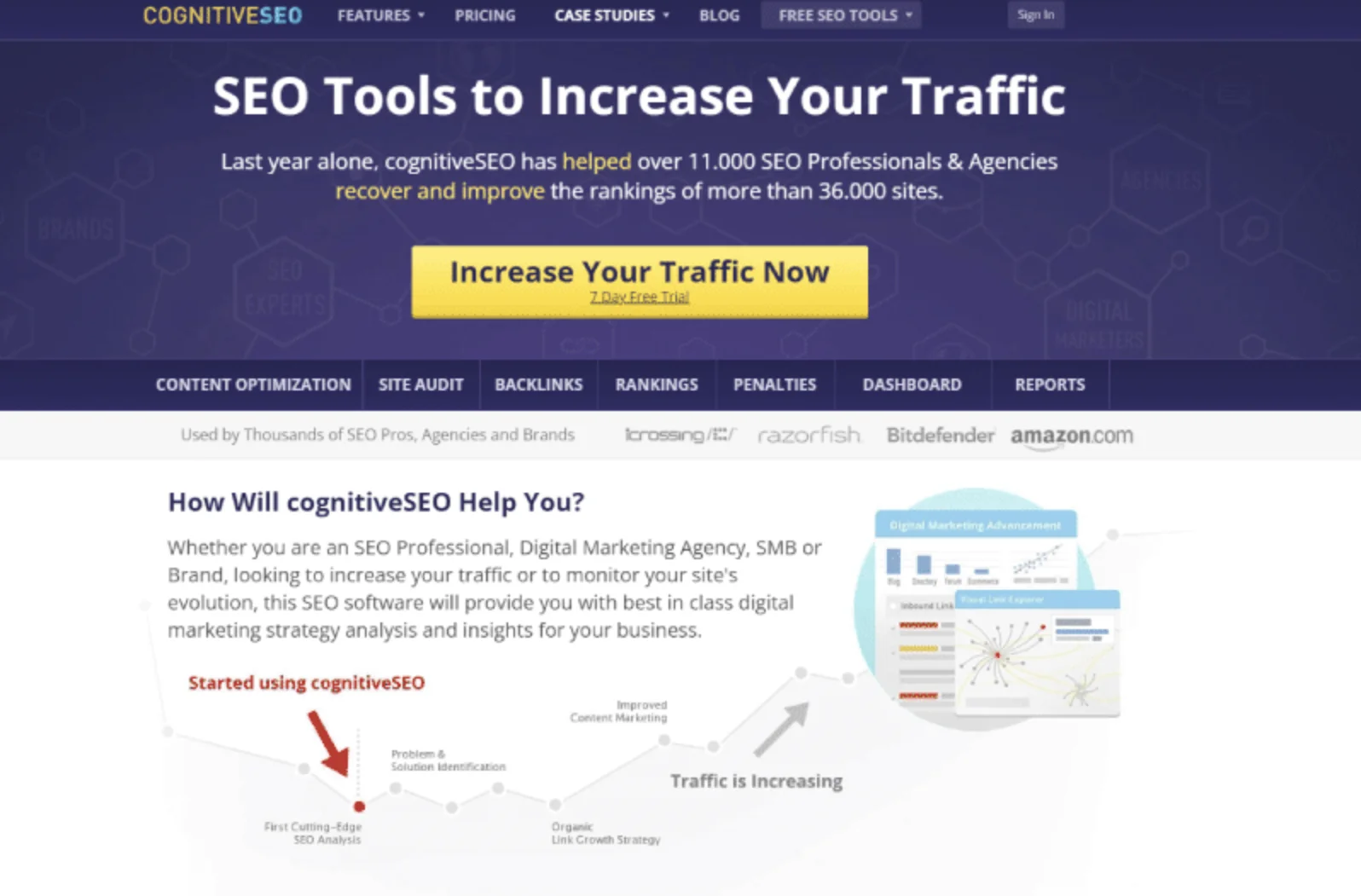 Cognitive SEO offers digital marketing analytics tools that can help you at various stages of your marketing development. The main goal of the platform is to help specialists and digital firms to increase their traffic — it offers numerous tools that are tailored to reach those goals.
Cognitive SEO may be helpful if you are running a local business and need to look after SEO at specific locations. With the rank tracking tool, you can choose the country in which the business operates, along with the language and city for all the keywords. This way, you get the most accurate information and insights related to the specific locations. Besides, the tool integrates desktop and mobile keyword research, so you get a detailed perspective on the ranking data and keyword position.
If you are looking for a tool as a SEMRush alternative in terms of competitor research, Cognitive SEO may help you gain valuable insights. You can see which strategy your competitors implement, what worked for them, and get a fresh perspective on what can work for your strategy (and what will not work, which is equally as valuable).
While you manage campaigns, this tool can also be a source of new clients. You can use backlink analysis, rank tracking, and social visibility tools to find relevant contacts and pitch your services to them. While the platform provides comprehensive data on most SEO metrics, it can be challenging for beginners to make sense of. The tool is perfect for more experienced specialists who want to enhance their expertise and strengthen their marketing with advanced data.
The price for Cognitive SEO is almost the same as SEMRush: the basic plan costs $130 a month and includes all the tools except the ones used in large digital agencies (white label, API access, and customer success). The service lets you manage from 5 to 25 campaigns at a time — the highest number of campaigns is included in the most expensive plan for $499 a month.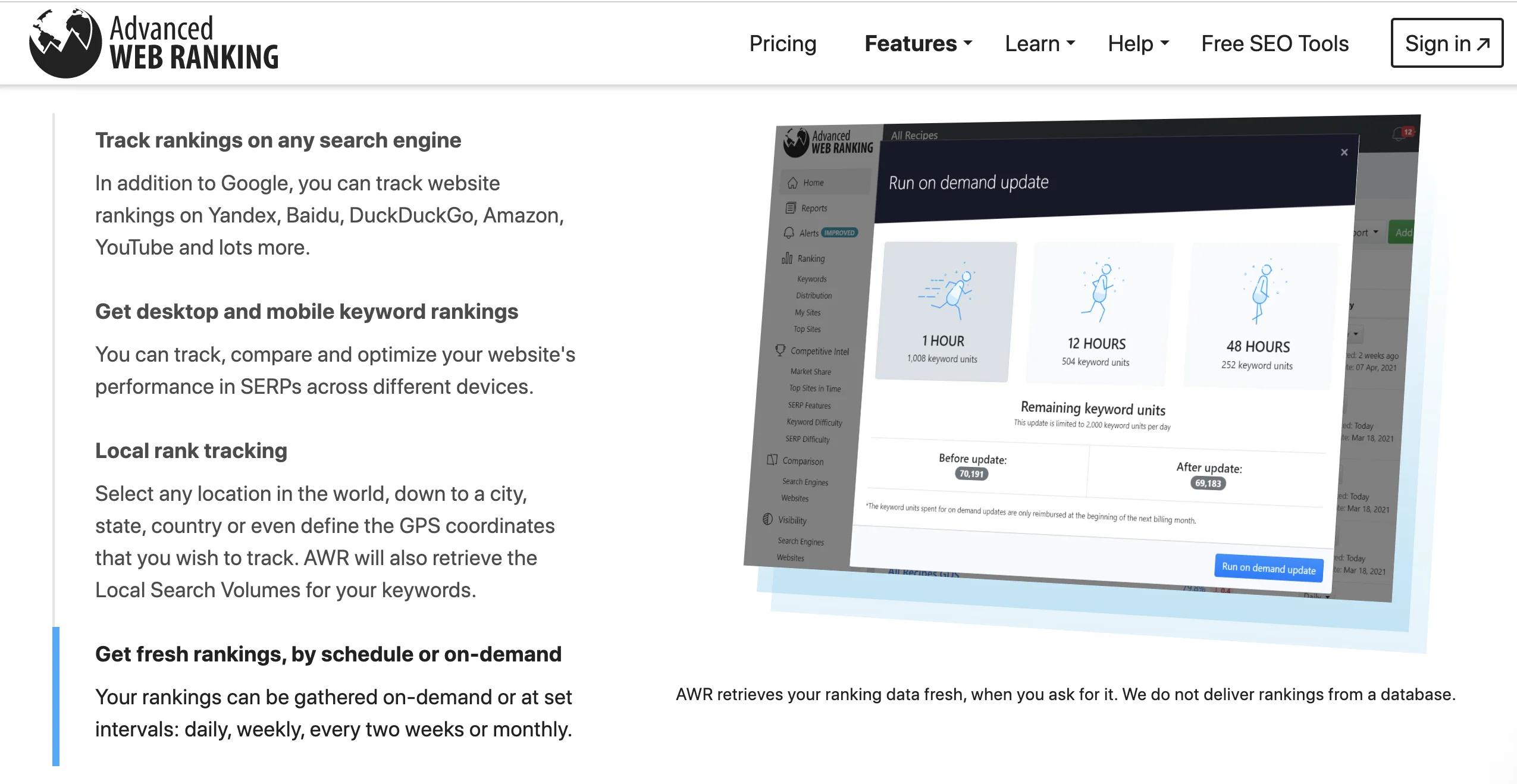 This service focuses on offering the most comprehensive rank-tracking features and covering the needs of any search with continuous updates. You can get fresh reports whenever you need to and get them gathered within 1 hour. The website ranking tracking is available in 170 countries and lets you monitor over several search engines, which means you get data relevant to your location and needs.
Besides, you can benefit from the reporting tool if you need to send regular updates to your clients. As clients have different goals and only want to see relevant visuals, you can edit, customize, and integrate with other reporting tools. You can also run performance tracking and diagnosis to check the overall progress and look after ranking changes that may influence your organic traffic.
Additionally, Advanced Web Ranking can be used for analyzing your competitors. You can find their weak spots by comparing their visibility evolution over the targeted keywords set, see which keywords are worth pursuing, and see if any new competitors appear.
While the service offers a variety of tools to analyze SEO campaigns, send reports, get insights, and look after competitors, it is missing the content marketing and social media tool SEMRush has. You can use it to make sense of key data to successfully run a campaign or kick off new projects with competitor analysis, but everything else is on you.
The pricing starts at $99 a month and reaches $700 a month for a customized plan. In a custom plan, you can extend the number of keywords — if you need more than 50,000 keywords, the plan's price will change. If anything goes wrong, you can request your money back within 30 days or start with a free monthly trial.
Moz's set of features includes everything you need to run an SEO campaign: keyword research, site audit, backlinks analysis, and rank-tracking tools. You can use one software to perform most of the tasks and track all the necessary data, which makes it a legit SEMRush alternative.
It is one of the few platforms that offers advanced features that large companies can benefit from, including link data and intelligent metrics. More experienced specialists may need linked data to find other related data to use for strengthening technical SEO. Intelligent metrics include domain authority and page authority — both developed by Moz over the years. Domain authority is a score that predicts whether the website has the potential to rank high in the search engine results pages. It is not a direct search ranking factor, yet it can guide you through technical and non-technical aspects you should consider in order to drive more traffic to your website. Page authority is similar to the previous score described but focuses on predicting the ranking success of a specific page. The data is based on a variety of factors and uses a machine learning model to find the algorithms that align with ranking across thousands of SERPs. While Moz was the one to develop these metrics, you can find an option to calculate this score on most other platforms.
A monthly subscription to Moz will cost you $250 — that's the most affordable price available. Depending on the number of features, you can choose more advanced plans that cost from $500 to $10,000 a month.
For those who have experience using Moz Pro and want to know if there are other platforms that provide a similar set of features, we suggest reading our article on Moz Pro alternatives.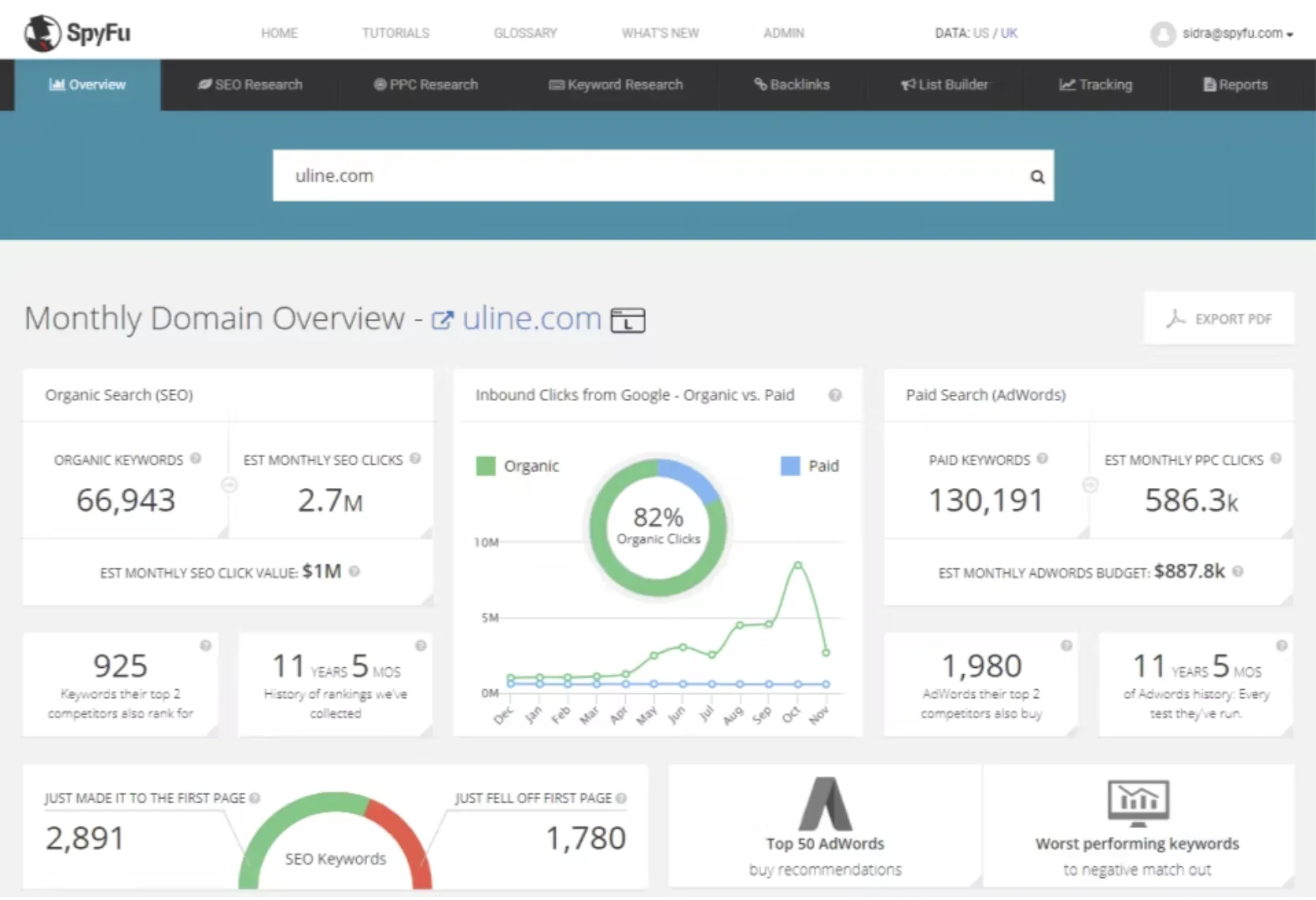 This software can be used for running an entire marketing campaign and is a reliable SEMRush alternative. SpyFu gives you all the data you need on SEO, PPC, and competitive analysis. Besides, you can generate, customize, and schedule reports according to your needs.
While SEMRush only offers a comprehensive PPC keyword tool that gives you insights into paid traffic, SpyFu goes deeper. It lets you see the campaigns of your competitors, including ones that did not work, and even see the history of competitors' campaigns. Besides, you can choose keyword groups and track their ranking progress along with impressions. SpyFu has many tutorials on how to use the platform and provides tips directly on the platform. That way, even if you do not have much experience, you can still benefit from the platform.
Since the software offers such a comprehensive set of features for getting insights from competitors, it may be an extremely helpful tool at the market research and analysis stages. Using the data, you can understand which direction to take in terms of marketing and develop a comprehensive, effective strategy. Tools for competitive analysis include traffic and domain analysis, along with tools to uncover the best SEO strategies of big and small players in the industry.
SpyFu has much more affordable monthly plans that start at $39/month. If you pay annually, the price for the basic plan goes down to $16 a month. You can run custom reports every month on any chosen plan, and the only thing that changes is the number of reports.
If you want to discover platforms that offer similar features, we've prepared an article that discusses SpyFu alternatives.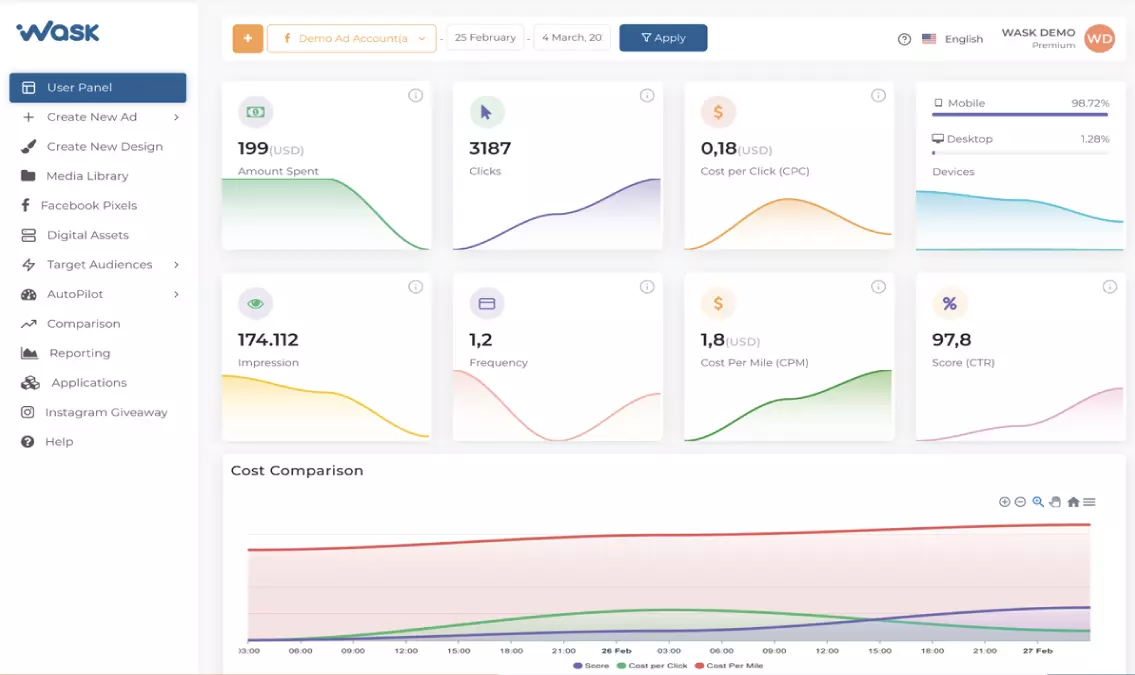 Wask mostly focuses on digital marketing features related to advertising. It can help you look after all of your advertising campaigns on a single software, collecting data from Facebook. Instagram, Google, and Youtube.
Wask can be a great tool for PPC and social media specialists, as you can design, manage, and publish all ads within one platform. While SEMRUsh offers features for PPC keyword research, it does not offer such a comprehensive set of features for advertising.
On the other hand, Wask lacks SEO metrics — you may need to have another software to analyze and manage SEO campaigns. It has a competitor analysis tool that helps to analyze traffic, keywords, and backlinks, but the number of metrics it shows is limited.
If your strategy focuses on attracting new customers through paid media, Wask can be a lot of help. It saves time when it comes to placing ads, letting you send smart ads to various channels through one screen. Additionally, it offers monitoring features that tell you how well ads are performing and what can be improved. All the dashboards have a well-developed UI design, which makes it easy to grasp the data on the most critical metrics and send easy-to-understand reports to clients. Besides, you can try out new audiences if you need to extend your potential clients pool based on algorithms and then test what works best.
Thanks to its affordable price, you can combine it with other software and use Wask for ad monitoring/competitor research, using a plan that starts at $19 and goes up to $89 a month.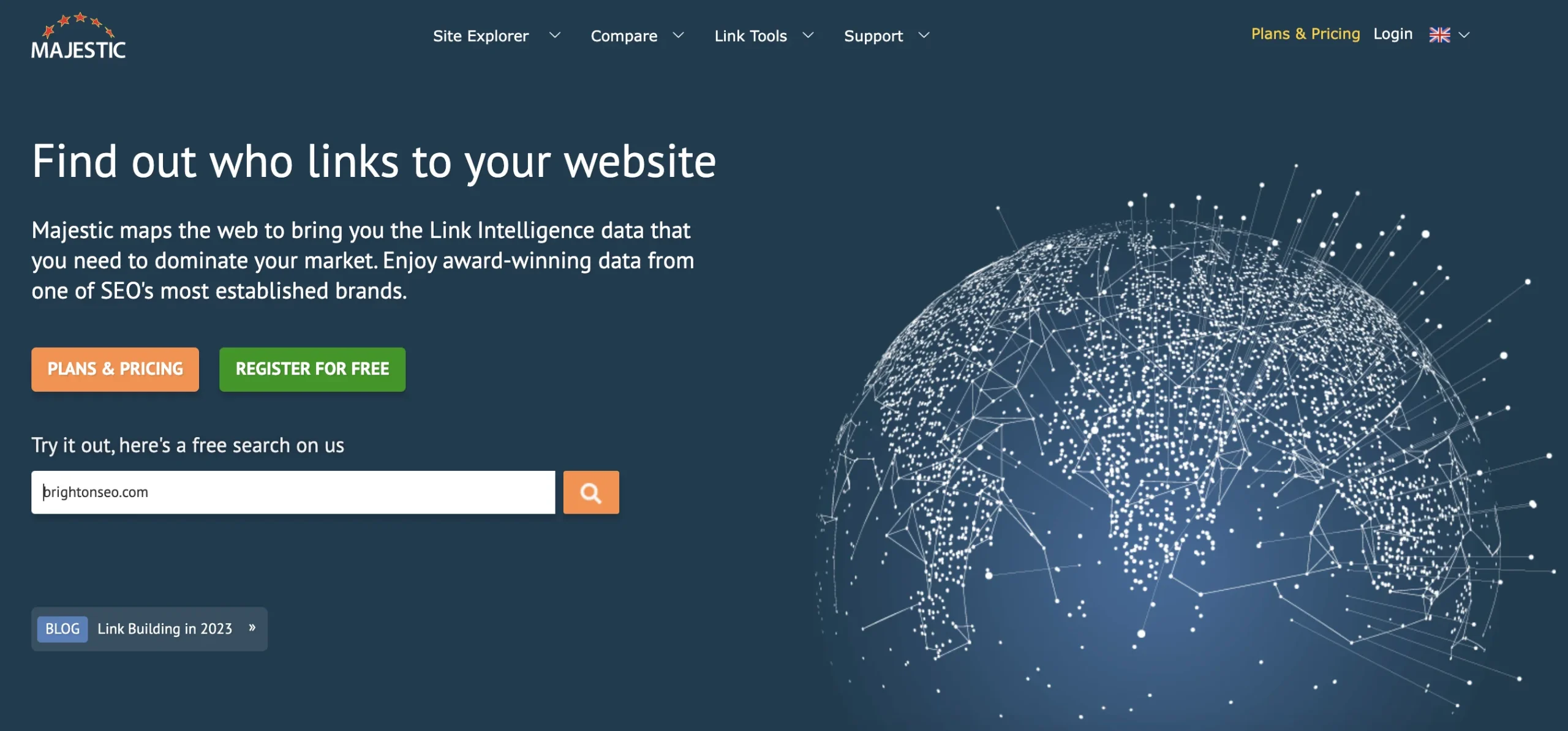 Majestic is a piece of software suitable for specialists of all levels that helps to perform backlink research. It has robust metrics that can potentially take your website to the next level, yet it depends on how well you manage the received data. The platform is especially valuable to more experienced specialists who are ready to spend some time digging through data and making decisions based on it. While it can seem a bit complicated for beginners, they can still get lots of valuable information if they are ready to invest their time in it.
To build a better content strategy, you can use a keyword generator. Majestic's keywords generator is different in the sense that it uses an AI-based NLP algorithm, which allows it to generate keywords relying on an extensive dataset. While it does not have a separate tool for content management like SEMRush, it has the data to help you gain new content ideas to target. For instance, you can find lots of variations for every keyword, which can be a source of fresh ideas.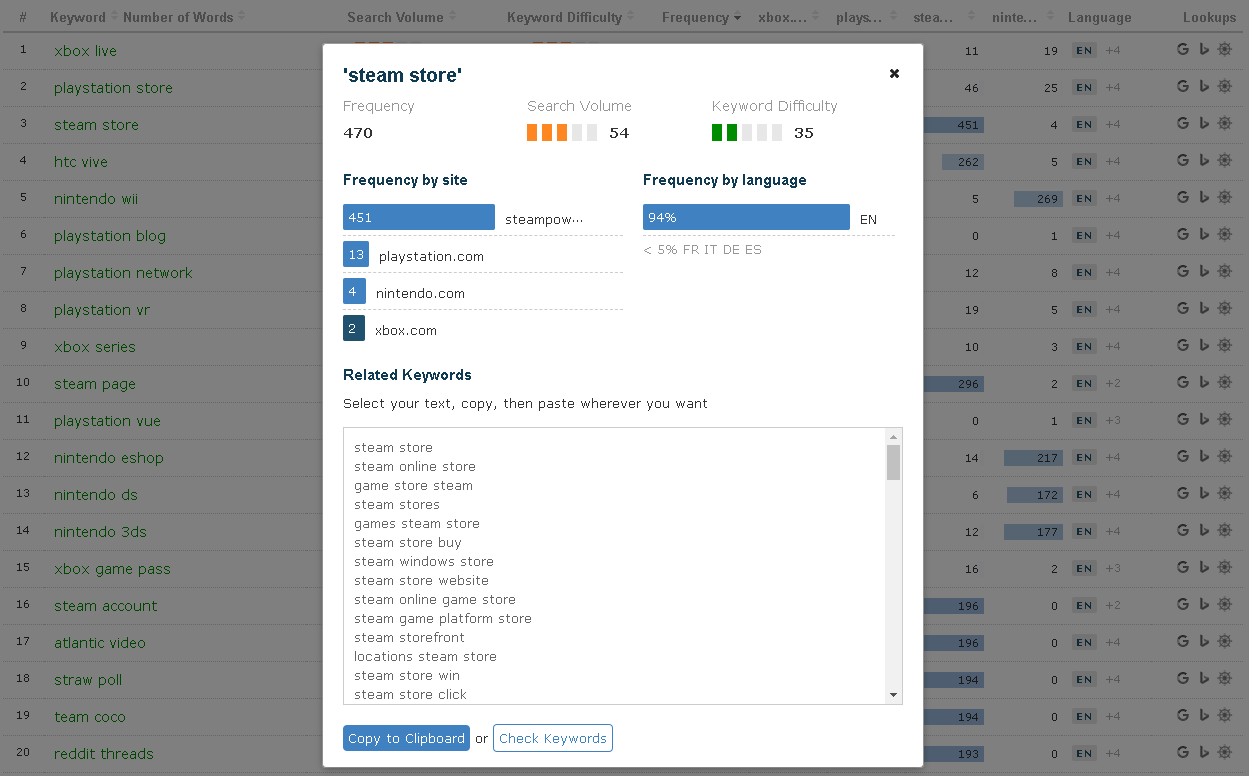 For bigger agencies, the software offers API with a connector library and extensive documentation, which can help build time-saving apps. It also means that besides marketing professionals, developers can use the service to find relevant data when building applications.
If you need to use an API feature, the plan will cost $400 a month. For a less advanced set of tools and amount of searches, the price varies between $50 and $100. You can use a 7-day guarantee option or try out a free trial subscription to make sure this software is right for your needs.
You can also check Majestic alternatives with similar features — they have diverse plan and functionality options.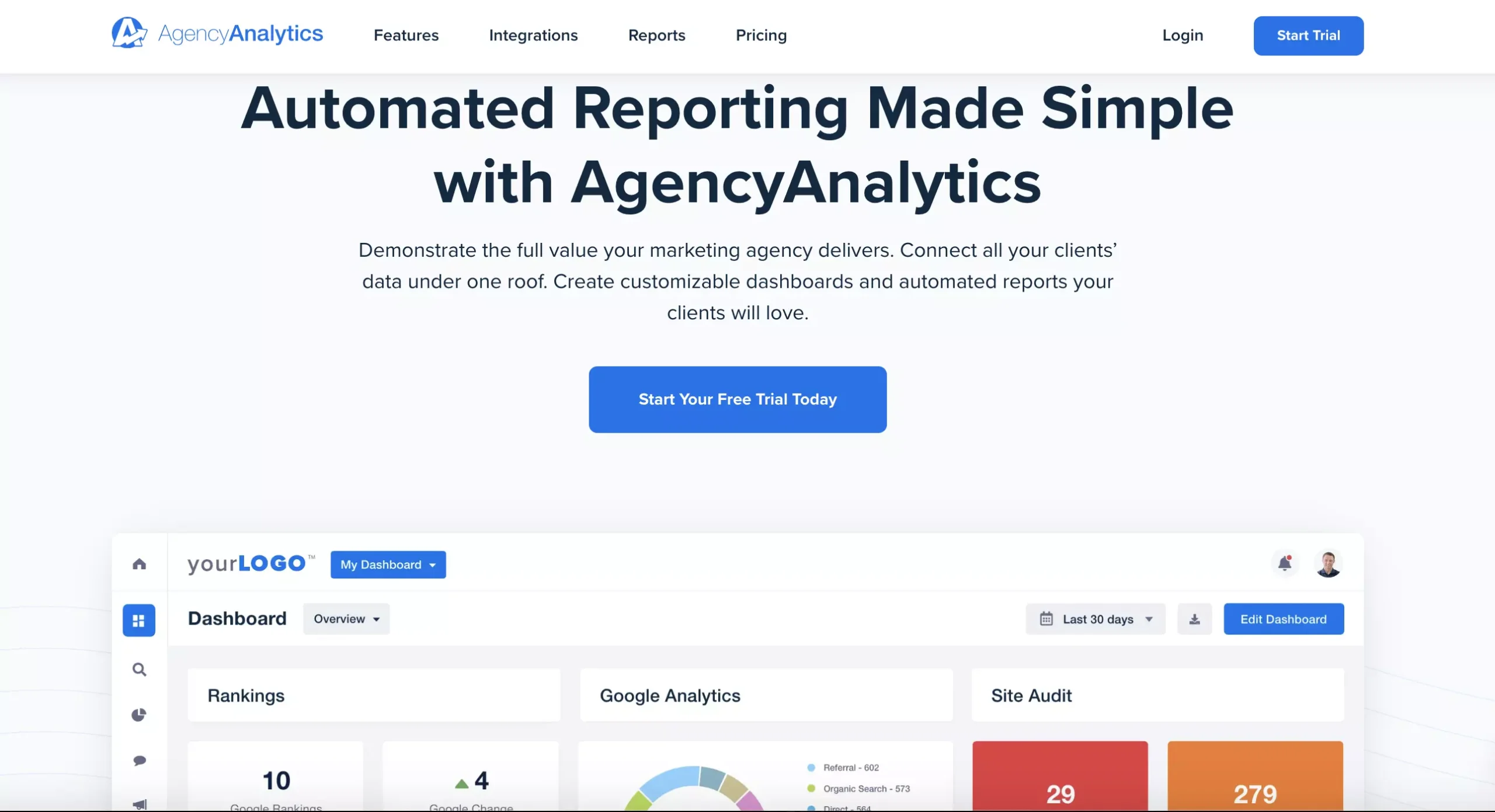 AgencyAnalytics can hardly be considered as a full SEMRush alternative, but it can be a valuable addition to reporting and SEO. The service provides a pretty comprehensive set of features that can cover rank tracking, backlink monitoring, and site audit. You can look after key SEO metrics and see what can be improved for higher ranking.
The rank tracker is updated daily and can help you track keywords for any location and language. With the backlink checker tool, you can track lost links, find new ones, check how much authority your domain and domains of your competitors have, and create customizable reports. The site audit lets you discover numerous technical issues that are keeping you from ranking higher in search engines and lets you know if any new issues arise. This way, you can look after the websites of your clients and address any issues in a timely manner, improving the overall performance.
Since the platform mostly focuses on reporting tools, there is a neat dashboard with a nice-looking design that shows only relevant information.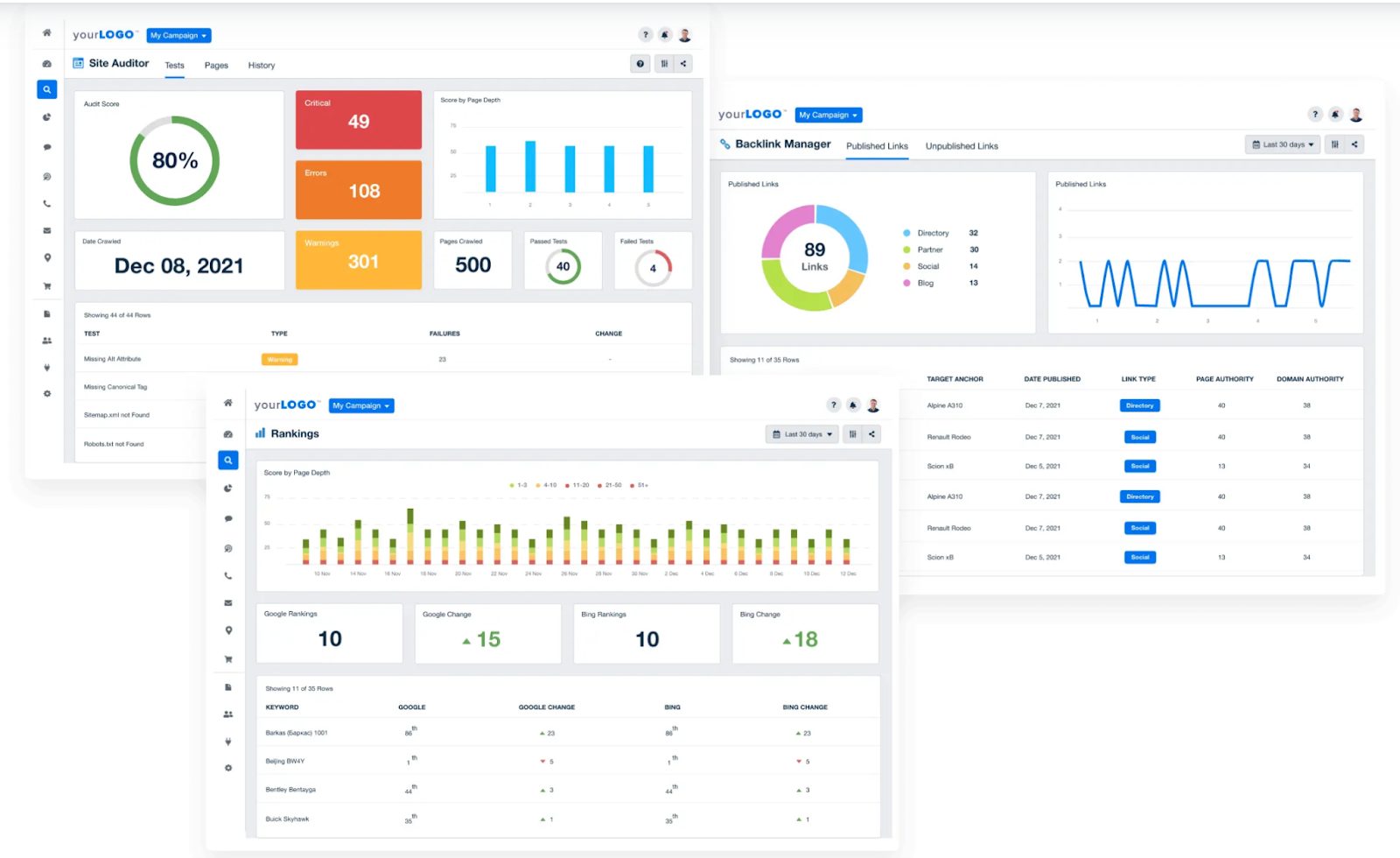 AgencyAnalytics focuses on its reporting tool the most, which offers to automate your reports. All you have to do is create the first report and then set it to autopilot, indicating how often the report should go out. This can save lots of time for specialists and agencies that have a large number of clients. Besides, it has an option for white label, which means you can make sure every report includes your logo and branded colors on it. If you need to adjust anything in the report, it is fully customizable, and possible to drag/add metrics to make it look the way you want. 
You can either purchase a plan just for reporting for either $12 or $18 a month, or add an SEO tool, for $50 a month. Even if you subscribe for all the tools, the price is still more affordable than SEMRush.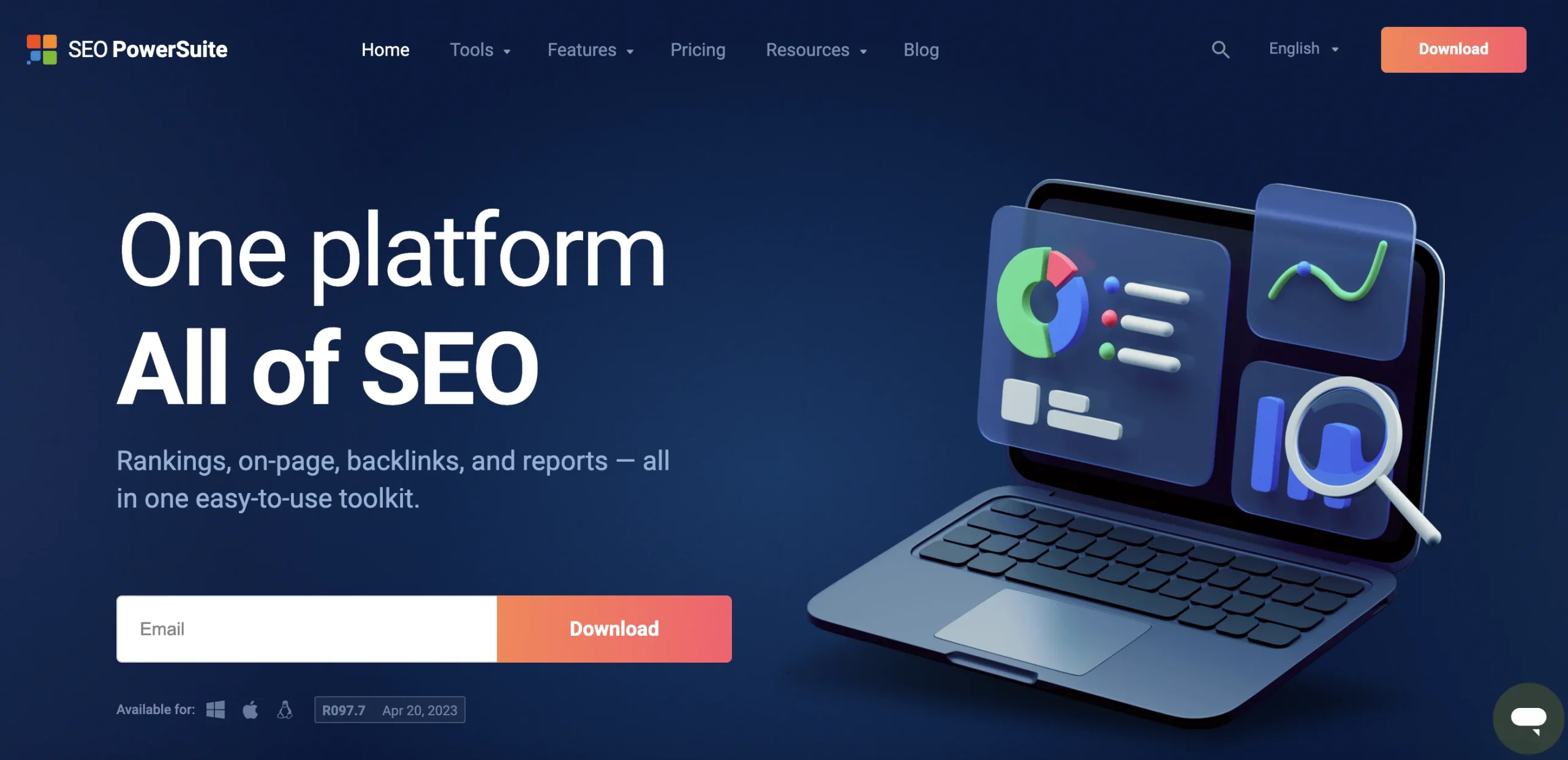 SEO PowerSuite is a software that aims to cover all possible SEO needs, including rank tracking, website audit, backlinks research, and link building tools. The website audit tool can be used for both freelancers and professional agencies — you can choose among the list of features you need to measure before purchasing a certain plan. Besides a common technical audit, it helps you with technical SEO, including robots.txt files management and help with building XML Sitemaps.
As for the backlink tool, the software provides a large base of backlinks and domains for you to access during your search. Moreover, its database is continuously updated to assure the most accurate information. 

One of the features the platform provides is a content management solution that helps to create the perfect content for SEO optimization. The tool tells you how many keywords to use in a content piece and suggests additional keyword ideas, as well as shows the SEO rate of your content with tips on how to improve it. You can also analyze the content of your competitors and find inspiration in their topics by finding which keywords they target.
Considering the number of features and its quality, SEO PowerSuite can be considered one of the most comprehensive SEMRush alternatives. It can also serve as a free SEMRush alternative, as you can use up to 4 key SEO tools free of charge without any time limit. The professional plan costs $300 a year and goes up to $500.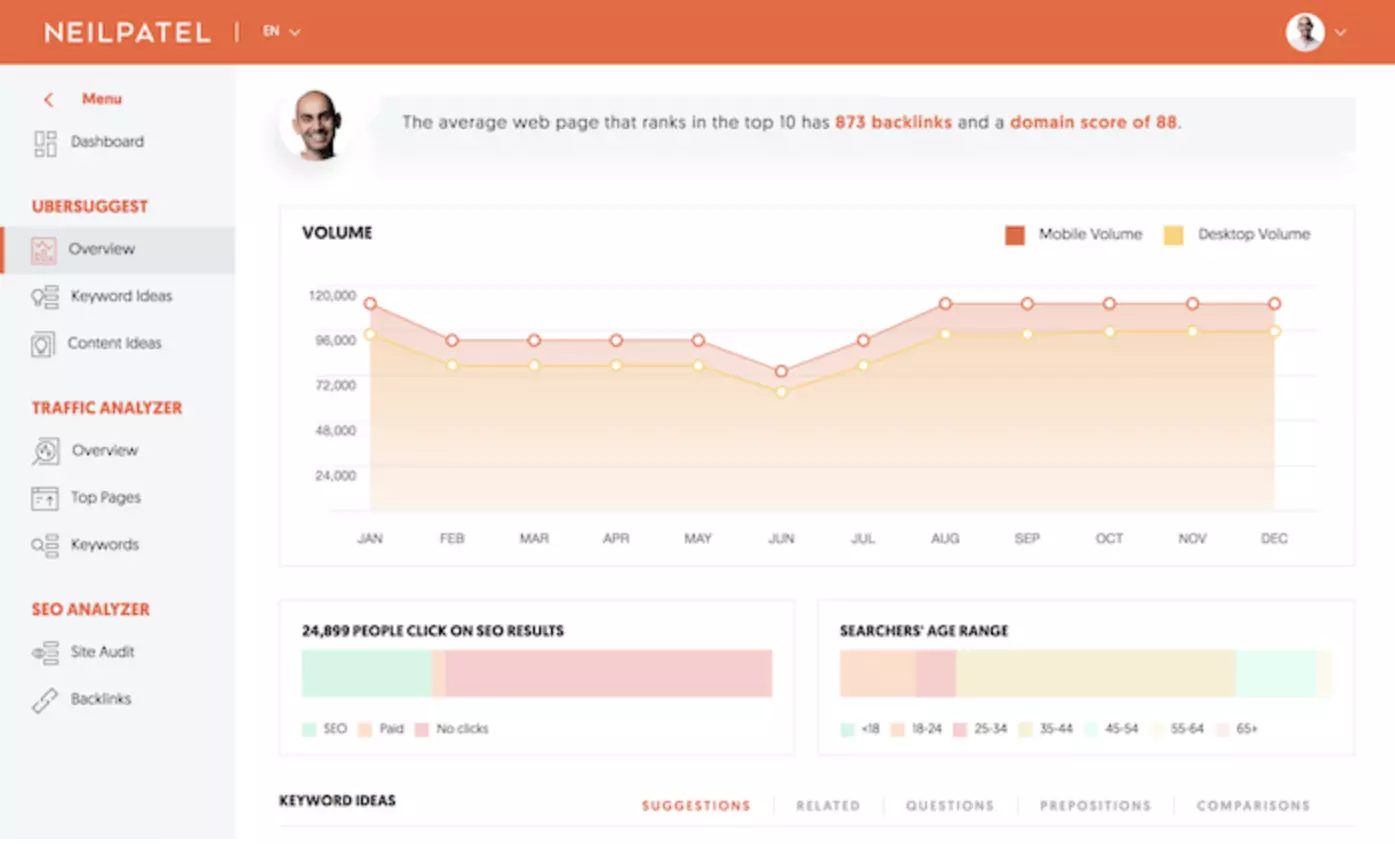 Ubersuggest is an effective platform for content creation according to SEO, advertising, and website audit. You can use it for keywords research and analysis when running campaigns, perform SEO analysis to see where you are at, and check what is preventing you from ranking high on Google.
It also has a Chrome extension that allows you to look after key metrics and get fresh ideas within minutes. As for content creation, you can benefit from several AI tools that help you improve your content. For instance, there is a tool that helps you rewrite any sentence you type in: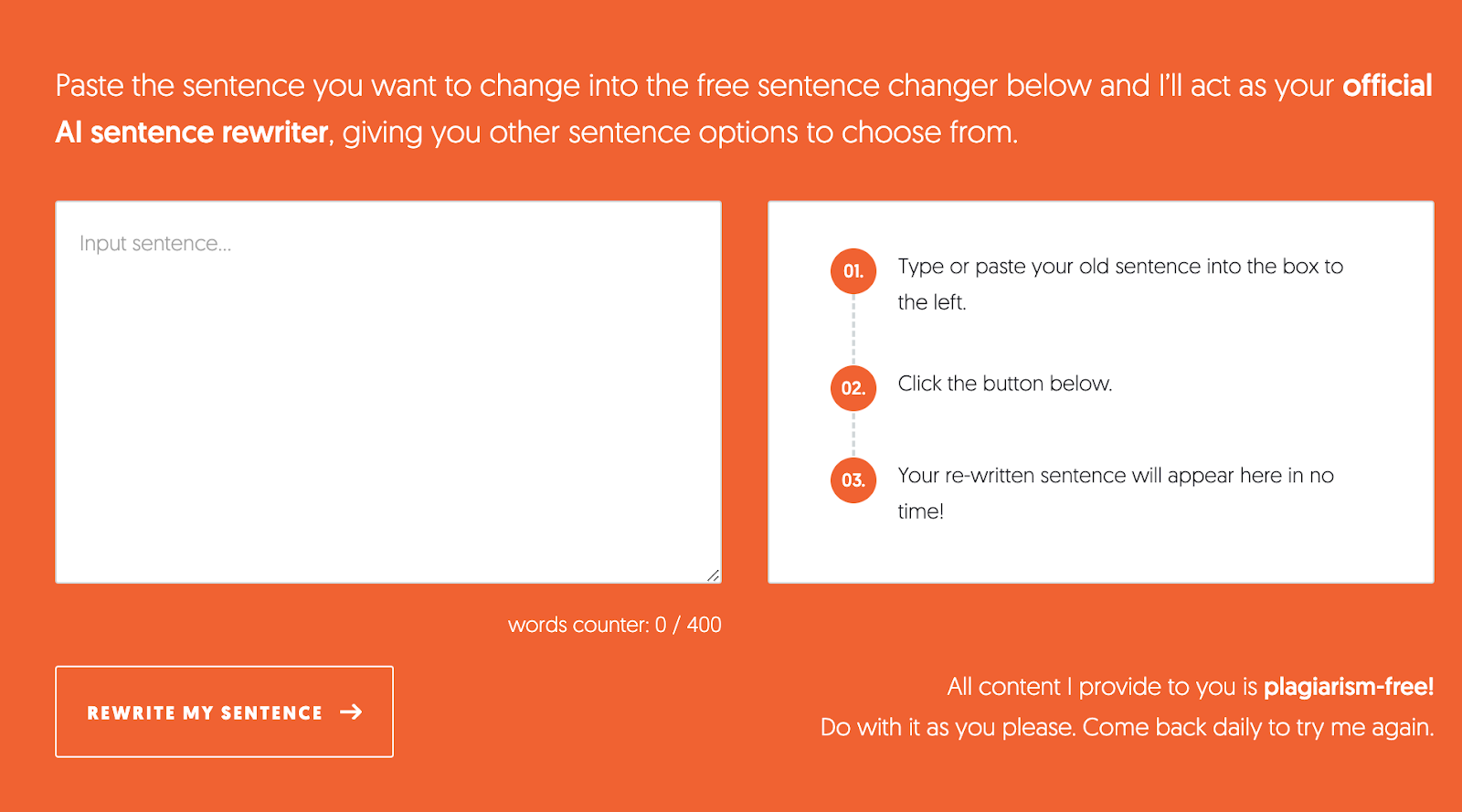 Besides, it helps you with meta titles and descriptions, page headings and other content valuable for search engines. You can use some of the tools, including the website traffic checker, for free — it collects data from over 250 countries and offers accurate information on the traffic of your website. 
The platform also contains video lectures that let you dive into the world of SEO and deepen your knowledge in certain areas. Whether you are just starting your journey as a digital marketing specialist, own an agency, or have experience in SEO, you can find insights that will help you create or deepen your strategy.
Unlike SEMRush, Ubersuggest offers plans that range from $12 to $40 a month, which makes it one of the most affordable solutions on the market.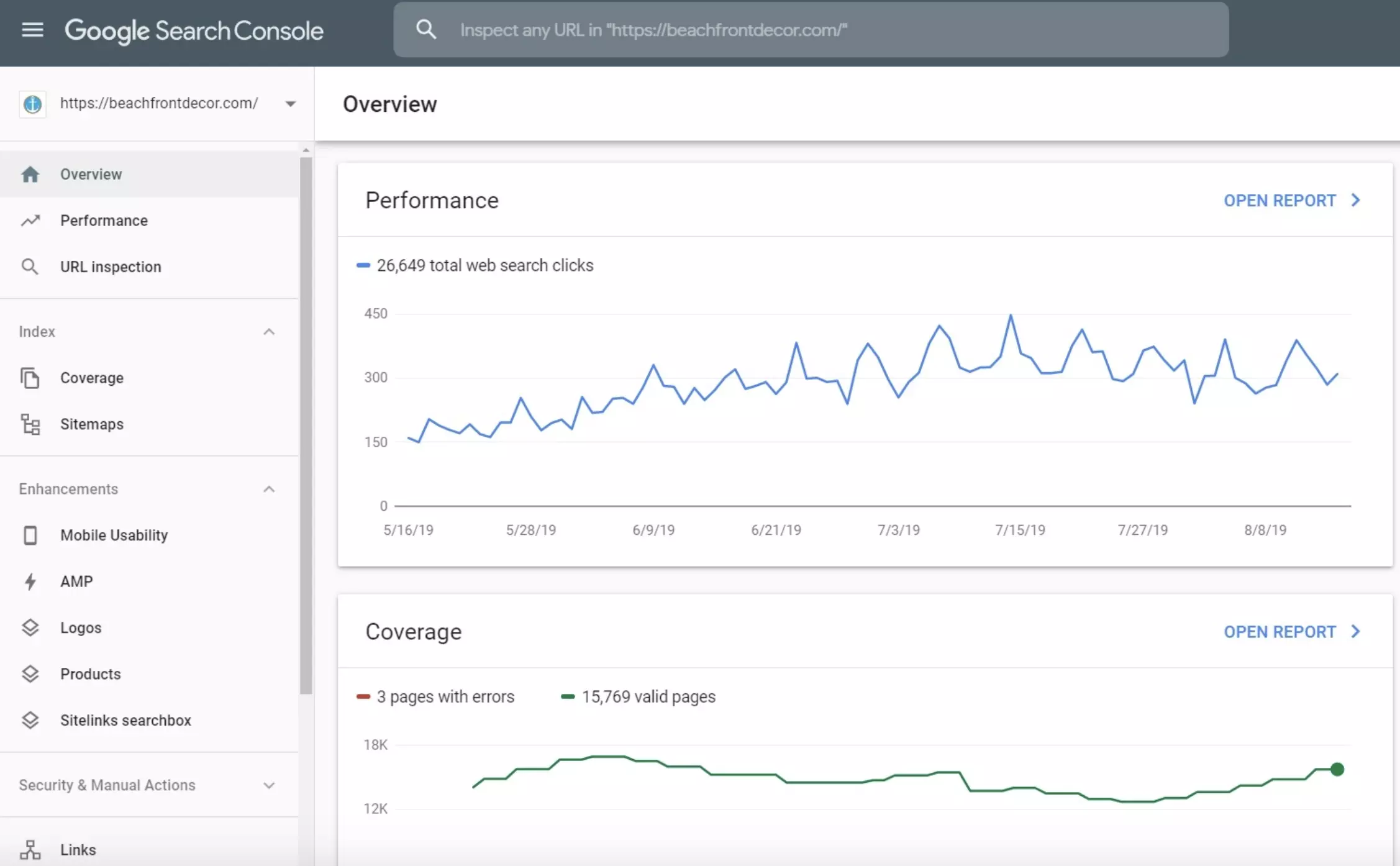 If you are looking for a completely free SEMRush alternative, Google Search Console has got you covered. It shows the most important metrics on Google performance that can help you in predicting the behavior of search engines, making decisions on further campaigns, and analyzing the data to start your data-driven journey.
Google Search Console can be helpful to specialists at all levels as it adjusts the service based on your needs and experience. When you start to work with the platform, you can choose your role among the suggested ones and get related materials to discover.
You can find numerous guides, videos, and other supporting materials that will help you get the most out of the app. For sure, it is not possible to track all the marketing data with Google Search Console. While it provides a comprehensive set of features for search engine optimization, it may lack features to track paid traffic, perform a competitive analysis, or schedule content. In terms of SEO efforts, Google Search Console can be used as a free SEMRush alternative, so long as you do not need advanced metrics to track your performance. It can help you analyze what attracts users to your website, receive crawl, index, and serving information, and help you in looking after technical SEO.
Conclusion
If you want to run your marketing as a pro, you do not necessarily need a costly solution. Nowadays, you can find numerous options that match your needs, despite your level of expertise. Beginners can quickly get into the flow of what it is like to work with high-quality software with the help of the educational materials most platforms offer. More experienced specialists can get metrics that can make a tremendous impact on their efforts.
You can choose a platform based on the area you want to focus on. While most of the software we have discussed in this article offer a set of features for SEO, they all focus on different areas. You can find platforms that focus on reporting, or ones that dive deeper and focus on advertising. Make sure you understand your strategy before you invest your time into researching a platform. Some platforms have very comprehensive features, making them the only software you will need.