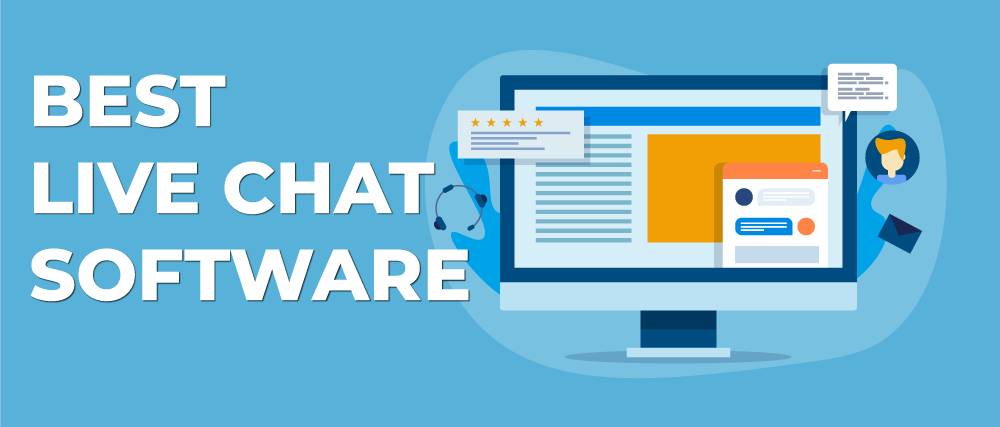 Live chat has evolved to become an essential part of customer service. When a customer visits your website and needs help, has a question, or a complaint, they expect to be able to contact your company via live chat.
It's also more efficient for your customer service personnel. For example, service representatives can only take one phone call at a time. However, they can reply to several live chat conversations at once. They can also use this software to automate responses to the most typical client questions and requests.
Customers nowadays anticipate quick responses when they contact a company's customer service department, especially during a pandemic when internet usage has increased. And firms that keep clients waiting risk losing them to competitors and may damage their brand's reputation in the process.
Overall, live chat is more efficient and cost-effective than any other kind of customer service. Moreover, it outranks phone, email, and social media in terms of consumer preferences.
What is Live Chat Software?
Live chat connects a prospect or a customer with the appropriate customer service representative in real-time. Its goal is to deliver client service almost immediately without making the client wait.
According to the American Marketing Association, live chat raises conversion by a whopping 20%. A live chat platform may be used for more than simply customer service; it may also help you enhance sales and customer retention.
The website's live chat window allows visitors to communicate with reps by just typing a message. It's the simplest and fastest way to contact customer service representatives. Furthermore, providing a seamless chat system that handles entire client administration increases the overall productivity of your customer service staff.
Let's take a look at the top products, how they differ, and how to choose the one that will add the most value to your company.
In the market, LiveChat is a well-known brand. This software is excellent for companies that would wish to scale their business.
It is considered one of the top live chat software because it offers services such as online chat, online surveys, converting prospects into qualified leads, reports, and analytics. In addition, it offers integrations with over 170 apps.
You may interact with website visitors via the cloud-based platform's web, mobile, and desktop applications. With LiveChat, your salespeople can manage every customer engagement across different platforms in real-time. It gives a better customer experience with exclusive live chat tools like Message Sneak-Peek. You may also qualify leads and prioritize hot leads using the pre-chat survey feature.
Key features
The ability to track the performance and sales of your customer service team
LiveChat Increases Conversion Rates by a Significant Amount
When the representative is unavailable, the visitor can leave a message on a ticket form.
With Agent Accounts and Chat Supervision, you can easily manage your team.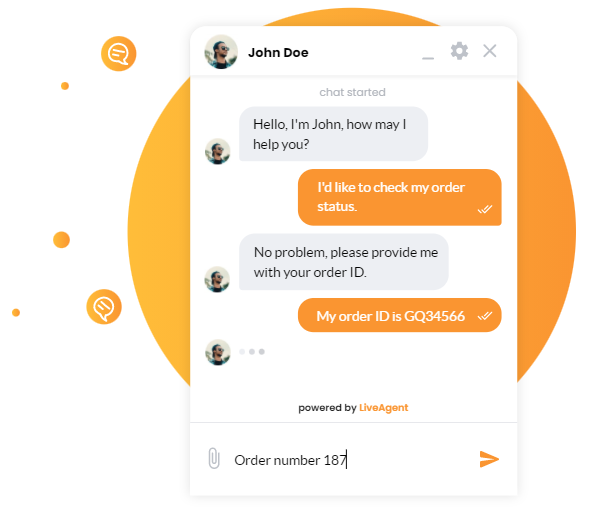 LiveAgent is a comprehensive program that allows you to communicate with customers across numerous media. LiveAgent is a fantastic helpdesk option if you wish to give a better user experience.
By assigning tickets to each visitor, its dynamic automation allows you to link them with the appropriate salesperson. This customer segmentation and universal inbox offer you a simpler way to view and respond to customer tickets. In addition, the conversation history and contact details provide context, allowing you to better serve your customer.
It has a time tracking feature that allows you to analyze your sales team's performance.
From a single platform, you'll have access to all your customer's information.
Key features
Sort Conversations Into Tickets Automatically
Transfer and assign tickets to various representatives and departments
From the Universal Inbox, you can view and respond to tickets.
If The Condition Is Met, Time Rules Runs In The Background And Is Executed.
Olark is simple to set up and use, making it an excellent choice for small businesses that have never used a service like this before.
It is one of the most popular live chat programs on the market. Most businesses use it because of its simple communication approach and excellent automation. You can customize the messages based on the activities of your website visitors. Even before the chat begins, your sales agent can gather context by gathering consumer information. Olark's sophisticated integrations allow you to create a great customer relationship.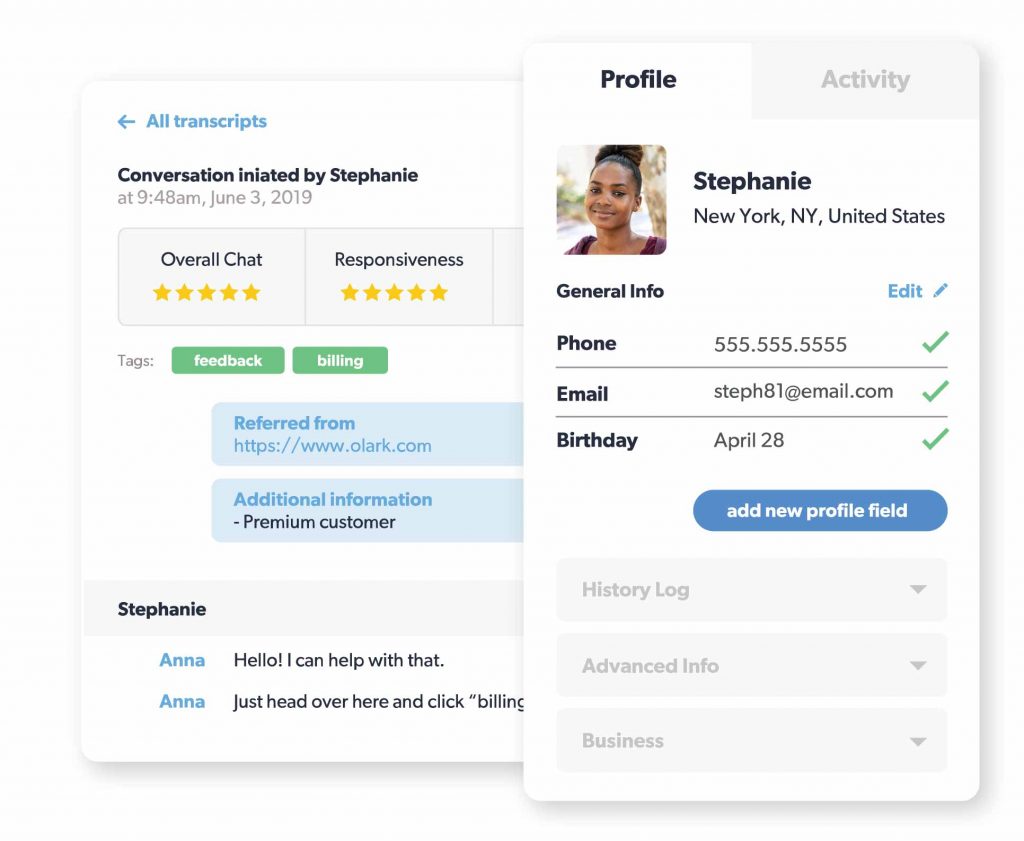 One of the finest features of Olark is how configurable it is, allowing you to modify the colors, position, and form of chat windows. You may personalize your live chats by adding welcome text and a photo of a customer care employee. It also allows you to keep an eye on your sales rep's performance as well as the distribution chats in order to maintain efficiency.
There are also some helpful automation capabilities on the platform. For example, you can communicate with people automatically, generate scripted responses, route discussions to different departments, and more. Olark also delivers real-time data and analytics on variables such as the number of chats in your business, customer happiness, the activity of your support agents, and more.
Olark also integrates with CRM software such as HubSpot and Salesforce, automation tools such as ActiveCampaign and Zapier, email services such as MailChimp, reporting platforms such as Google Analytics, eCommerce platforms such as Shopify and Magento, and content management systems such as WordPress and Drupal.
Key features
You can qualify more leads with pre-chat surveys and custom chatbox forms.
You can access visitor information from their social media profile to personalize the conversation.
You can use co-browsing to assist your customer in real-time.
You can use automated messaging and gather contact information to save time.
Drift is a feature-rich live chat platform that gives sales professionals and clients a fantastic experience.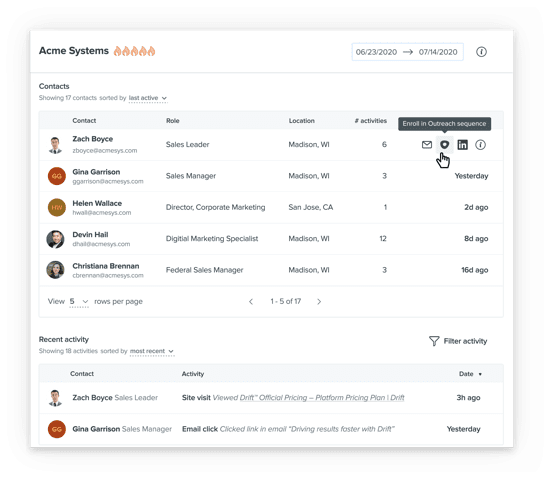 You can deliver customized communication to crucial clients using its robust automation. Conversational AI assists visitors in real-time, ensuring that no leads are lost in the shuffle. In addition, it provides a consolidated data center through which you may obtain all of the necessary information and insights from customers.
Key features
Conversational AI Can Help You Communicate More Effortlessly
Option To Connect With Visitors Via Live Chat
By gaining insight into each visitor's profile, you can provide a personalized experience for them.
Easily route essential leads to the appropriate sales rep.
Sendinblue streamlines the communication process while also assisting with marketing. Its live chatbox allows you to personalize and customize it to match the look and feel of your website.
Sendinblue's marketing capabilities, such as email marketing and customer segmentation, are also well-liked by its consumers.
Key features
With a targeted and personalized visitor experience, it is easier to convert more leads.
Building Strong Customer Relationships Through Personalized Communication
To Save Time, Marketing Messages Are Segmented Automatically.
Keep Track Of All Activities With Real-Time Statistics
JivoChat brands itself as a "one-stop-shop" for business messaging. Customers may be contacted via email, phone, social media, and even live chat, all from a single platform.
It works with a variety of essential tools and services, including Slack, Wix, Pipedrive, Weebly, WordPress, Shopify, Zapier, and others.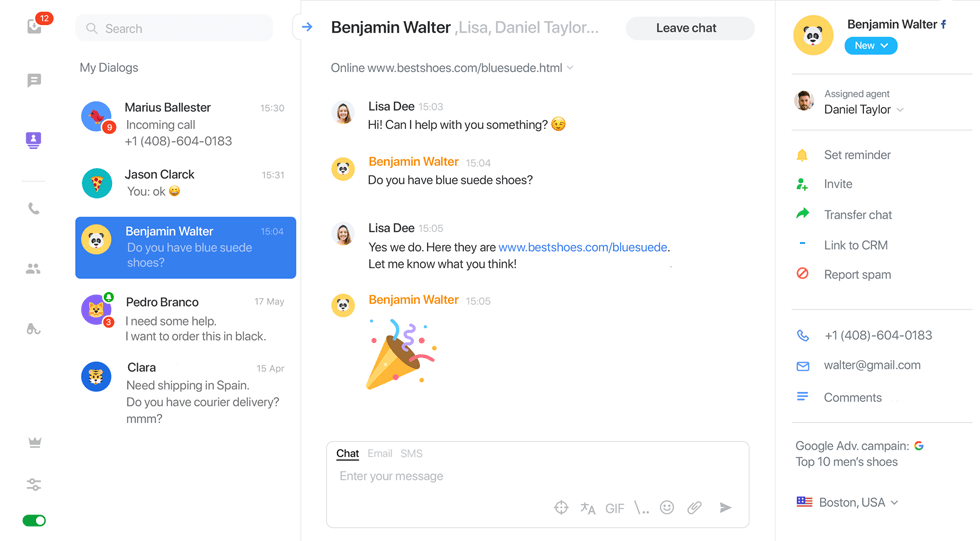 JivoChat is used by over 284,000 websites throughout the world, making it one of the most popular live chat systems available. It's fully customizable and can be translated into 20 other languages. Its ability to support other platforms like WhatsApp, Facebook, Apple Business Chat, Email, and Telegram makes it really convenient as it enables you to handle all customer communications through a single interface..
Key features
Every device, browser, and operating system can use the live chat widget.
Proactive messages sent automatically in response to specific triggers
Integrations with CRM systems and visitor data (for example, location and click source)
Customers and agents' chat logs and reports
Intercom bills itself as a "platform for conversational relationships." It's a creative way of saying it aids in the development of client relationships via messaging and live chat.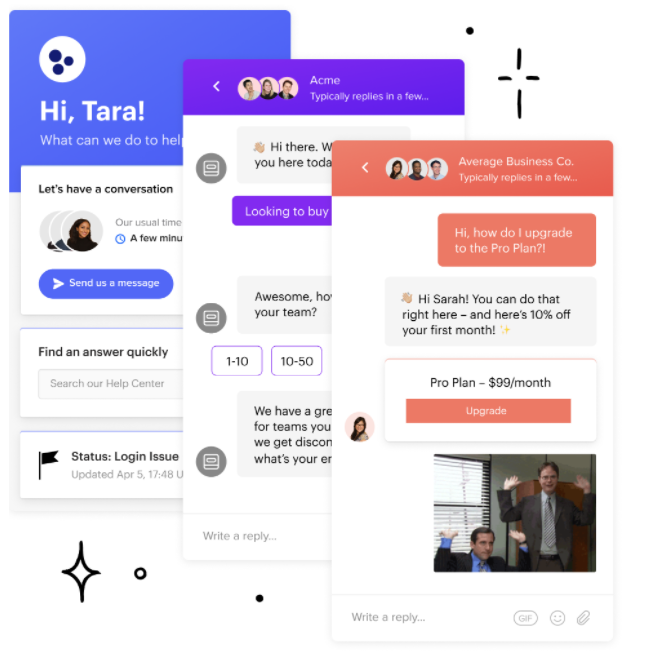 Microsoft, Udemy, IBM, and Sotheby's are just a few of the 30,000+ companies that use the program.
Key features
Targeted messages, bots, and real-time chat can help you increase site conversions.
Outbound communication can be used to onboard, activate, and re-engage clients.
Self-help features and proactive support live chat tools
You can manage customer interactions across all channels from a single dashboard.
Acquire is a cloud-based communication platform that strives to bring customers and businesses closer together by providing better and more effective communication techniques through its excellent live chat services. It's a one-stop-shop for customer experience across all channels, integrations, including video chat. Acquire also has the most user-friendly and advanced chatbots and co-browsing options for sharing screens and resolving customer issues.
Acquire is an excellent alternative for those of you wishing to integrate the most advanced chatbots into your website. Large companies, including Lexus, Audi, the US Air Force, Discover, and others, use it.
You can use AI chatbots to automate the routine functions as well as sync articles from your knowledge base with the chatbots. When the bots are unable to give a solution to the client, it automatically routes chats to human agents. This may sound advanced but the bot deployment does not necessitate coding or the use of developers. In addition, you get access to collaboration live chat tools for teams.
Key features
Connect to customers easily by funneling VOIP and SMS messages to the dashboard.
From a single inbox, you can manage all email, social media, live chat, and other channels.
Troubleshooting with on-page markups using co-browsing software
Customers can video chat with you.
Zendesk, formerly Zopim, is a configurable live chat system designed for businesses who wish to reach out to customers and connect with them based on their actions. It has pre-chats, fantastic automated triggers, chatbots, online forms and analytics for tracking sales effectiveness.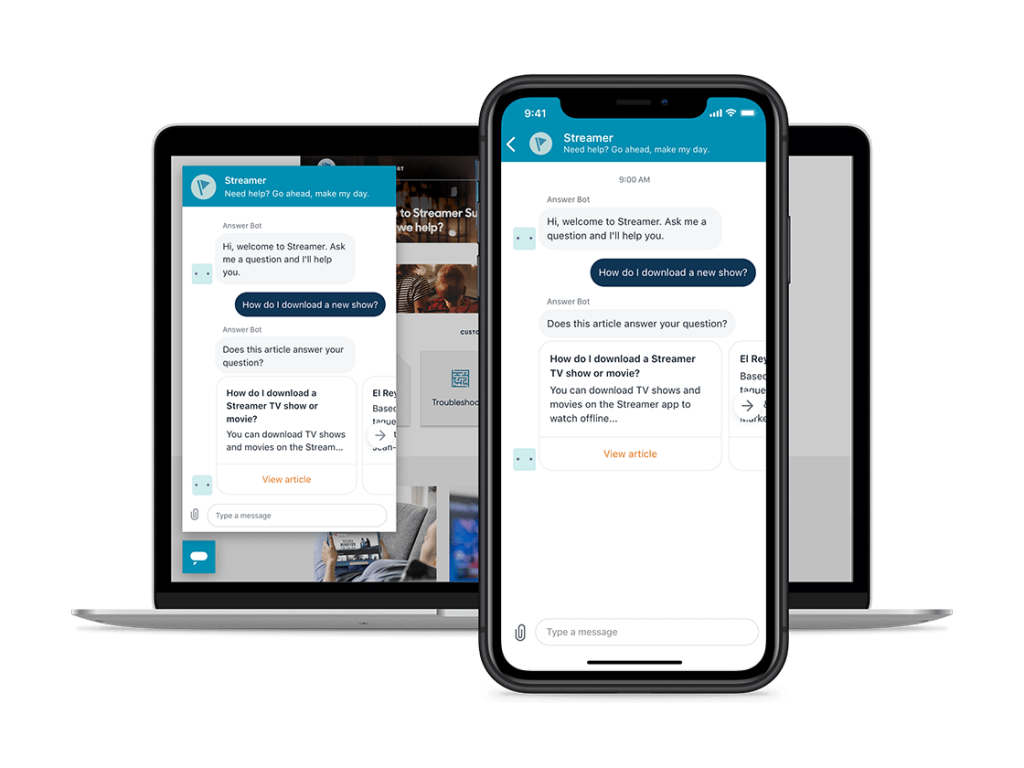 Zendesk allows you to track your team's work and predict your customers' requirements so that you can reach out at the appropriate moment. You can use automated Triggers to Reach out to Targeted Customers to Improve Customer Outreach. Before customers arrive on your site, you can reach out to them with proactive interaction. Pre-chat and offline forms allow you to interact with customers even while you're not online. What's even better, you can access conversations from multiple channels in one place.
Key features
Chat Routing Assigns The Conversation To The Appropriate Representative
Use chat analytics to identify issues and track the performance of sales reps.
You can find knowledge base tools and self-service resources in over 40 languages.
Machine learning and AI predictions based on context clues
Podium is your one-stop shop for improving customer satisfaction. It's a conversation-based solution that allows you to communicate with every visitor to your site. Connect with users across platforms and respond from a single location. You can use the automated answers feature to aid with Frequently Asked Questions.
Key features
Widgets That Can Be Customized To Your Website's Standards
Podium's Live Chat Window Allows for a Smooth Conversation
For Better Insights, You can use Google Analytics Tracking
Conversations can be routed from one location to another.
How do I pick the right Live Chat software?
When you've decided to add a live chat option to your website, there are a few things to think about before diving into the possibilities. Before making a decision, consider the following elements to achieve optimal team productivity and customer happiness.
Get the software that has features that will help your sales reps. There are plenty of software for common needs, and there are also software that are designed specifically for sales, lead qualification, and so on. So, please do your homework on the different software and what they have to offer.
Customers nowadays approach companies from a variety of platforms, so it's critical to choose software that supports and can work with other channels to enable you to engage with your customers quickly.
What is the maximum number of agents that the software can support? The number of customer service representatives who can use live chat is limited by a plan. Check The Software Plan and compare it with the number of sales reps you have.
Any business would benefit from an intuitive live chat tool with automated features. Customers are not bound by time; they can make purchases at any time of day or night. As a result, your automated software must be capable of sending prompt responses or connecting customers with the appropriate representative.
Aside from the main features, you should also pay attention to the software's add-ons and plans. This can be beneficial if you want to grow your business.
After you've assessed the benefits and drawbacks of each software, you'll be able to find a live chat that works best for your business.
There are several amazing live chat solutions available. The best one for you will depend on your needs as well as your intention for getting one. Some live chat solutions will work well with customer service whereas others are particularly designed for sales teams. The methodology above will guide you through the selection process and make it easier for you to narrow your options.