[toc]
Do you have a website that you want to install Google Analytics on but you aren't sure where to start?
Well, you are on the right path to being able to see some great data about your website and visitors. No matter what platform your website is on, I am going to show you how you can install Google Analytics.
Whether you have a Shopify store or a HTML based website, you can find how to install Google Analytics below:
First, you will need to create a Google Analytics Account if you don't already have one.
Installing Google Analytics on Squarespace
Squarespace has its own analytics in the backend.. but its just not as good as Google Analytics. Did you know that you can actually install and use Google Analytics on your Squarespace website?
Its pretty simple really. Just go into your Squarespace backend and then do the following:
Click the Settings Link
Click Advanced under the Website Section
Click External Services
Enter Your Google Analytics Tracking ID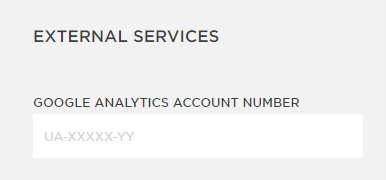 Installing Google Analytics on WordPress
WordPress is a content management system that is open source and completely free. WordPress uses plugins to make installing Google Analytics super easy.
There are two different ways you can install WordPress on Google Analytics. You can either install it hard-code by pasting the tracking id in the header.php file or you can use a plugin to easily add Analytics to your site.
Plugin Method
Installing Google Analytics on your WordPress website is really easy with a plugin. Here is how you do it:
Create a Google Analytics Property for your Website
Login to your WordPress website
Go to Plugins->Add New
Find the plugin GADWP and install
Connect Your Google Account
Choose the site to track
Hard-code Method
If you do not want to install a plugin but you want to install Google Analytics, you can install the Tracking Code directly into your themes files. To install your Analytics code the fun way:
Create a Google Analytics Property and Copy entire Code
Login to WordPress
Go to appeareance->Editor
Find your Header.php File
Paste the tracking code before the </head> tag
And now you have Google Analytics installed on your WordPress website. It may take 20-30 minutes to start seeing any data in your Analytics account. If you want to check and make sure that the code is installed and tracking, you can try the Tag Assistant by Google to make sure installed right.
Installing Google Analytics on Shopify
Shopify also has their own Analytics system that can show you traffic, orders and abandoned carts…but if you want to see even more vital information about your customers, you should install Google Analytics to track goals, demographics, conversions and user behavior.
If you want to use Analytics on Shopify, its pretty simple to install:
Create a Google Analytics Property and Copy entire Code
Login to Your Shopify Store
Click 'Online Store'
Choose 'Preferences'
In the Google Analytics input, paste your entire Analytics Code
You are now tracking analytics on your Shopify website using Google Analytics. To enabled tracking of your e-commerce orders you will also need to enabled the e-commerce feature:
Login to Google Analytics
Click 'Admin' on the left menu
In the 3rd (view) column, click 'Ecommerce Settings'
Click 'On' to enable Ecommerce.
Now, you will be able to track order revenue, funnels, conversion rates and a ton more great data about your customers. To learn more about what you can do with Shopfify and Analytics connected, check out this article by Shopify.
*Note: It may take up to 24 hours to start seeing ecommerce data.
Installing Google Analytics on YouTube
Did you know that you can actually install Google Analytics on your YouTube channel? If you do not like the YouTube Analytics interface and you want to see a ton of great data about your YouTube channel, then you can install Analytics on your own channel.
Create an Analytics Profile with your Channel as the URL
Go to YouTube and click 'Settings'
Click 'View additional features'
Click Advanced on the left
At the very bottom, enter your Analytics Property ID

You will now be tracking the analytics of your YouTube channel. See which videos are the most watched, see demographics, geography and how many people visit your channel.
Installing Google Analytics on Joomla
Joomla is a popular CMS that allows to create website with a simple to use interface. If you run a Joomla website and you are wanting to install Google Analytics, this guide will help.
Installing Google Analytics on a Joomla website is pretty simple. All you have to do is:
Create a New Google Analytics profile with your Joomla URL
Copy the Tracking ID
Go to Joomla and click Extensions->Plugins
Search for 'Analytics' and choose the Siteground Plugin
Enter your Google Analytics Tracking ID into the input
Click Save

Your Joomla website will now be tracked in Google Analytics. You can see vital statistics about your Joomla website and get daily Google Analytics Reports for your website.